We've travelled to a lot of places in our lifetime and never have we encountered a town that so beautifully recognizes the charm in isolation as Salla in northern Finland.
Rather than marketing itself in relation to its accessibility to larger cities and attractions in the country, Salla proudly owns its remote Arctic Circle location with the tagline "Salla – In the Middle of Nowhere".
It's that kind of refreshing honesty that made us smile to ourselves and think that this is a place worth visiting. A place that values what it's got and doesn't pretend to be anything else.
We took a rent-a-car from Rovaniemi Airport, which incidentally is right opposite Santa's village, and drove a few hours to our cottage in Salla. The airport has a number of rent-a-car desks making your onward journey very easy to arrange. Within minutes we had our keys in hand and were making our way to "The Middle of Nowhere".
Being a summer trip, the entire drive was in complete daylight, despite the fact it was already early evening. Along the way we spotted our first reindeer and revelled in the fact that we were finally driving on the "wrong" side of the road. When we pulled up to the cottage office, it was already closed for the day (as we had already been informed before our trip). But, as arranged, we found our cottage key and local area map, along with a welcome note in the mail box. In a place that seemed so dreamily at the far reaches of the planet, these small gestures that said "we've been expecting you" gave a very human touch against the glorious wild backdrop. We liked this place already.
Many Finns laughed at our reaction at having own private sauna at the cottage, which we had not been expecting. After coming to understand just how usual this is and how much the sauna means to the Finns, we had a chuckle at that footage too. It's now our 'you can tell it was our first time in Finland' video.
Another interesting feature of the cottage was the black-out curtains, which are really necessary for luring your body into slumber in a place where summer means virtually 24 hours of daylight, part of the unique experience of being in the Arctic Circle during the warmer months.
You could literally just rent a summer cottage and simply enjoy the beauty of getting away from it all. But just because it's a remote location, that doesn't mean there aren't lots of things to keep you occupied. Salla receives the most visitors during winter when the expansive natural surrounds become the perfect place for winter sports and the classic white Christmas. But summer has its own suite of activities that in the low season can be enjoyed with very few people around. And how often in our everyday lives can we feel like we have a magnificent place like this all to ourselves?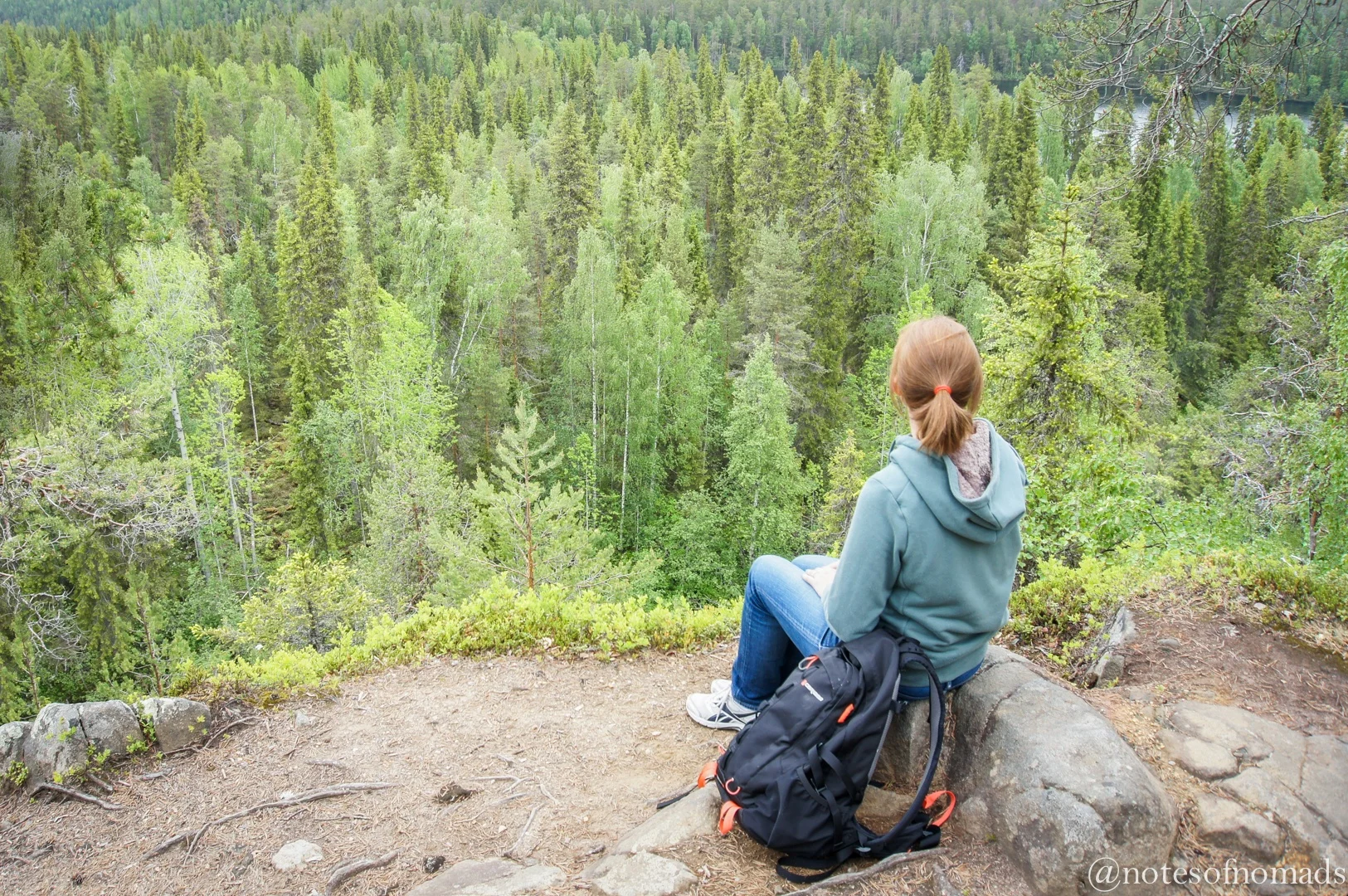 So what exactly can you get up to in Salla? Here are some of our suggestions.
See reindeer up close
While many people around the world keep cats and dogs, people in Salla keep reindeer. You can actually visit the Salla Reindeer Park, where you can learn about the local reindeer management culture and even get the chance to feed them.
One of the highlights of our trip was learning to call the reindeer and, after a minute or two, seeing them appearing out from the far reaches of the park and running towards us in the middle of the forest floor. It's quite something to see a reindeer up close with their wild and rugged antlers. They can grow up to 2cm per day and each set are unique, meaning they are like a reindeer fingerprint.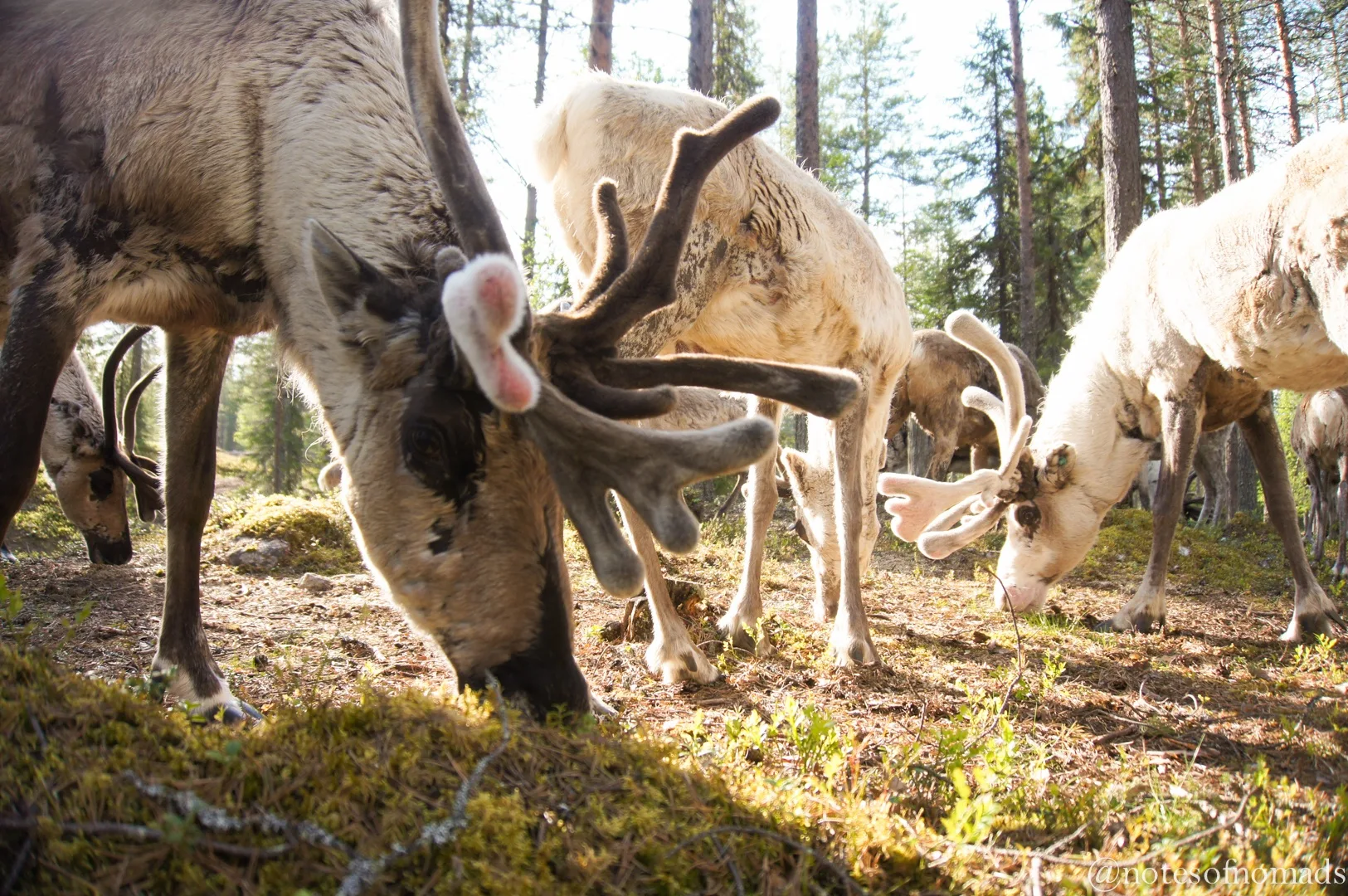 Go hiking
Unsurprisingly, there are also numerous hiking routes around the area, from the easy and family-friendly to more rigorous multi-day hikes. The nearby Oulanka National Park with its incredible canyon is a recommended spot. When you get hungry, pop into one of the rest stops and cook up some lunch. There are cabins where you can rest and even sleep free of charge.
Experience the amazing camping facilities
In fact, Finland has one of the coolest outdoor camping systems we have ever encountered. Basically, all throughout Finland you can find these cabins and camp spots. They don't cost anything and are equipped with ample firewood. Anyone can stay there and drop in anytime, no reservation required.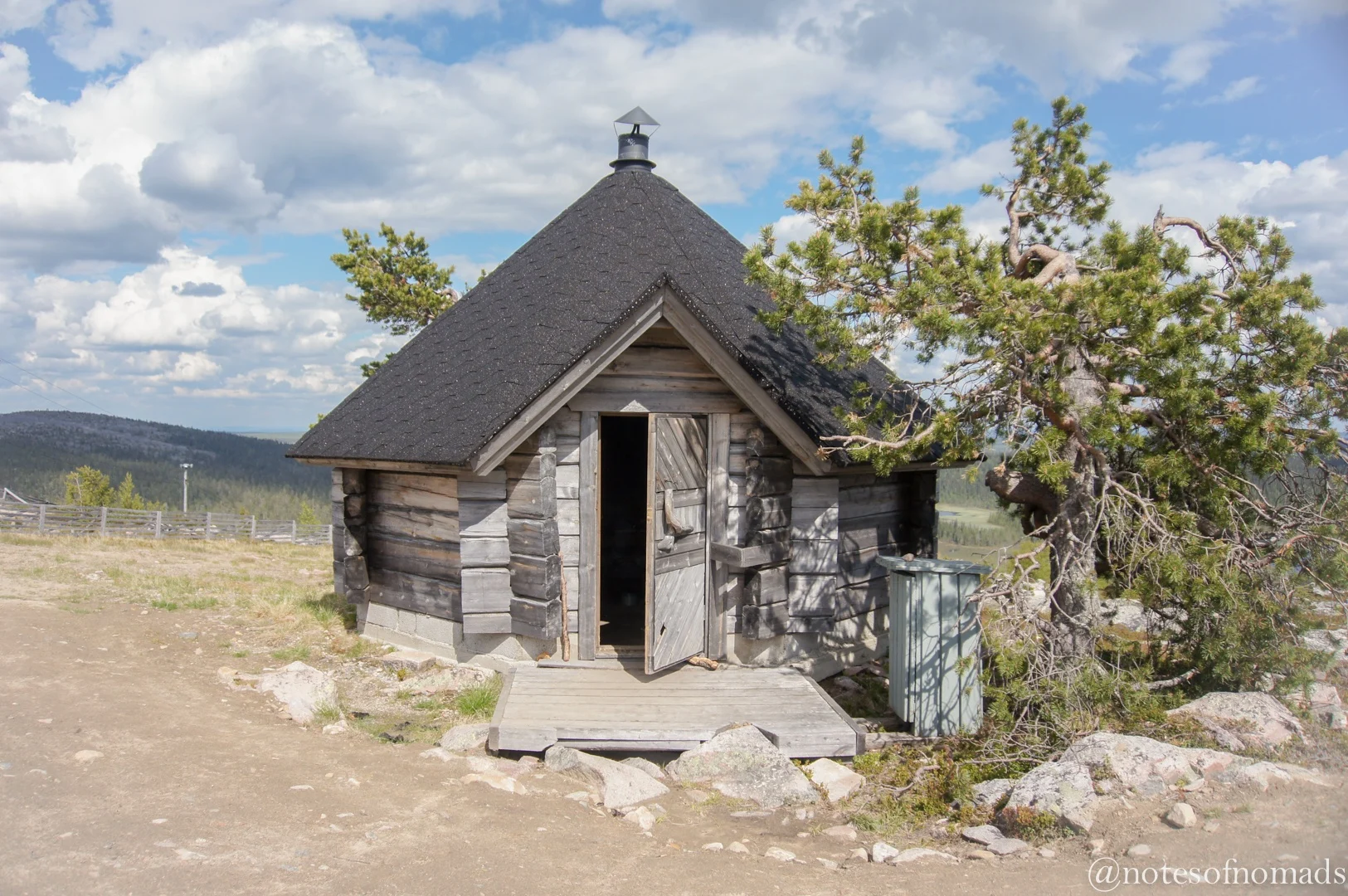 There is just one simple rule, if more people arrive than the facilities can accommodate, then the people who have been there the longest move on. It's a wonderful time-share arrangement that is more than just something that sounds good on paper. It actually works because the local culture is embedded in the principle of something known as "Every man's right", something that you'll likely hear being referred to more than once on your travels in Finland.
Enjoy "Every man's right"
Every man's right refers to the right of all people, whether local or not, to enjoy Finland's natural environment, as well as the shared responsibility that comes with that. We've never experienced a country where so collectively the people have consciously placed such high importance on their natural environment – both in terms of protecting it and using it in a sustainable way, and also the role nature plays in a balanced and healthy lifestyle. It's almost as if nature is a kind of therapy for the Finns and more than a few locals told us they get antsy if they don't get out into nature on a regular basis. To me this sounds like the perfect way to curb stress and find grounding, while at the same time creating an environment where nature is truly valued by everyone. It is this interplay of enjoyment and collective responsibility that is so impressive.
Go cycling/mountain biking
If biking is more your thing, there are also various cycling routes around Salla. If you're up for bit more of an adventure, then you can rent a mountain bike and head up one of the fells (basically a hill or mountain-like formation) where you can get a pretty spectacular view of the entire area. From the Sallatunturi viewpoint (a 3.2km course), you can even see over the border into Russia!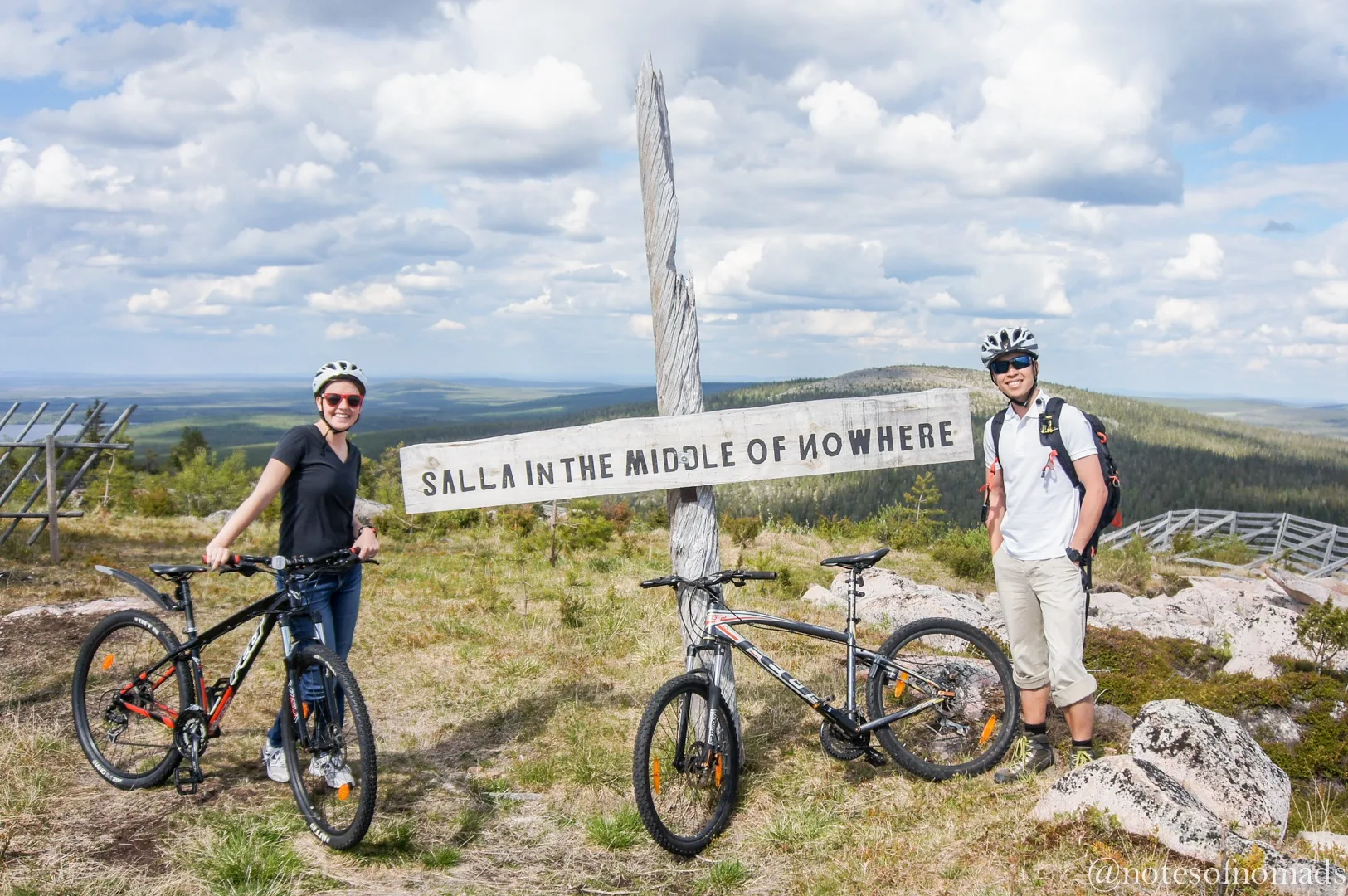 Of course, you'll find these miraculous free shelters on the top where you can make a cup of coffee, some lunch and use the toilet facilities.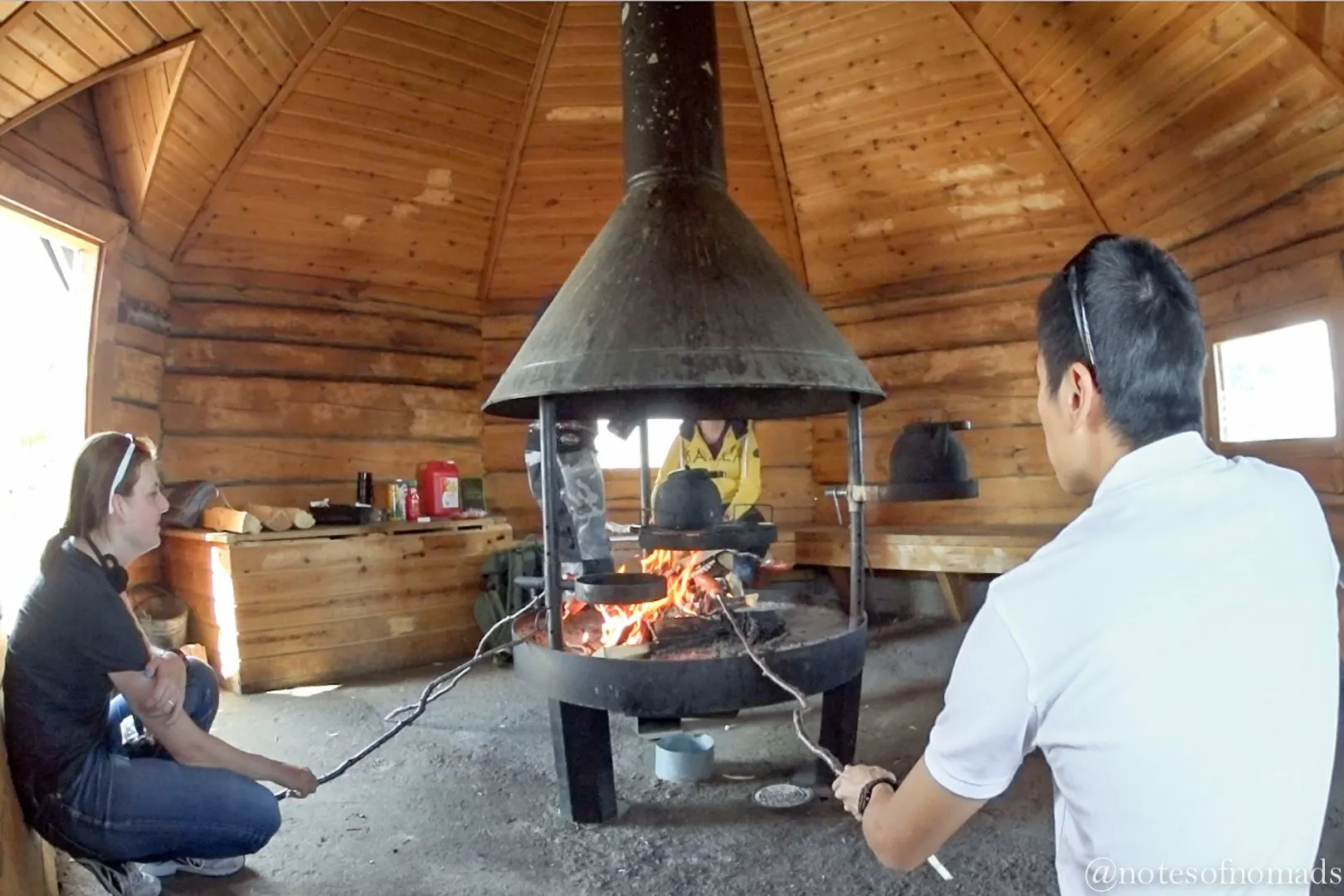 Try your hand at a new sport
In Salla, we also got to experience a sport we had never heard of before. It's called frisbee (or disc) golf and, as the name suggests, it's just like golf, except using frisbees instead of balls. For a minimal rental fee, you can grab some frisbees and head over to the frisbee golf course, which you can use free of charge. We were lucky enough to meet up with a local frisbee golf pro who gave us some pointers.
Interestingly, the frisbees where different weights and thicknesses and named after golf clubs. Part of the sport is knowing when to choose the correct frisbee for the desired result. The start of the course is through a forested area, before making its way onto the open expanse of the fell. Playing on a hill keeps the game interesting as it's easy to overshoot the target, especially on the way down, when a miss can see that frisbee roll its glorious way all the way down the hill! Cheap, fun and family-friendly, it's a great way to spend an hour or two.
Eat, drink and be as active as you like
If you're looking for a great buffet breakfast or a place to wine and dine in the evenings, check out Sallatunturin Tuvat with the attached Papana Pupi Pub, where the rustic decor and friendly staff make you feel at home right away. At the Kiela Restaurant you can try local dishes, including reindeer.
This place also works as an information and rental center, so it's your one-stop shop for getting oriented, finding out about seasonal activities and renting equipment like those bikes and frisbees we mentioned in this post. Ask them about canoeing, birdwatching trips, husky ranch visits, saunas, hiking and cycling routes, reindeer activities, gold panning, quad bike tours and more.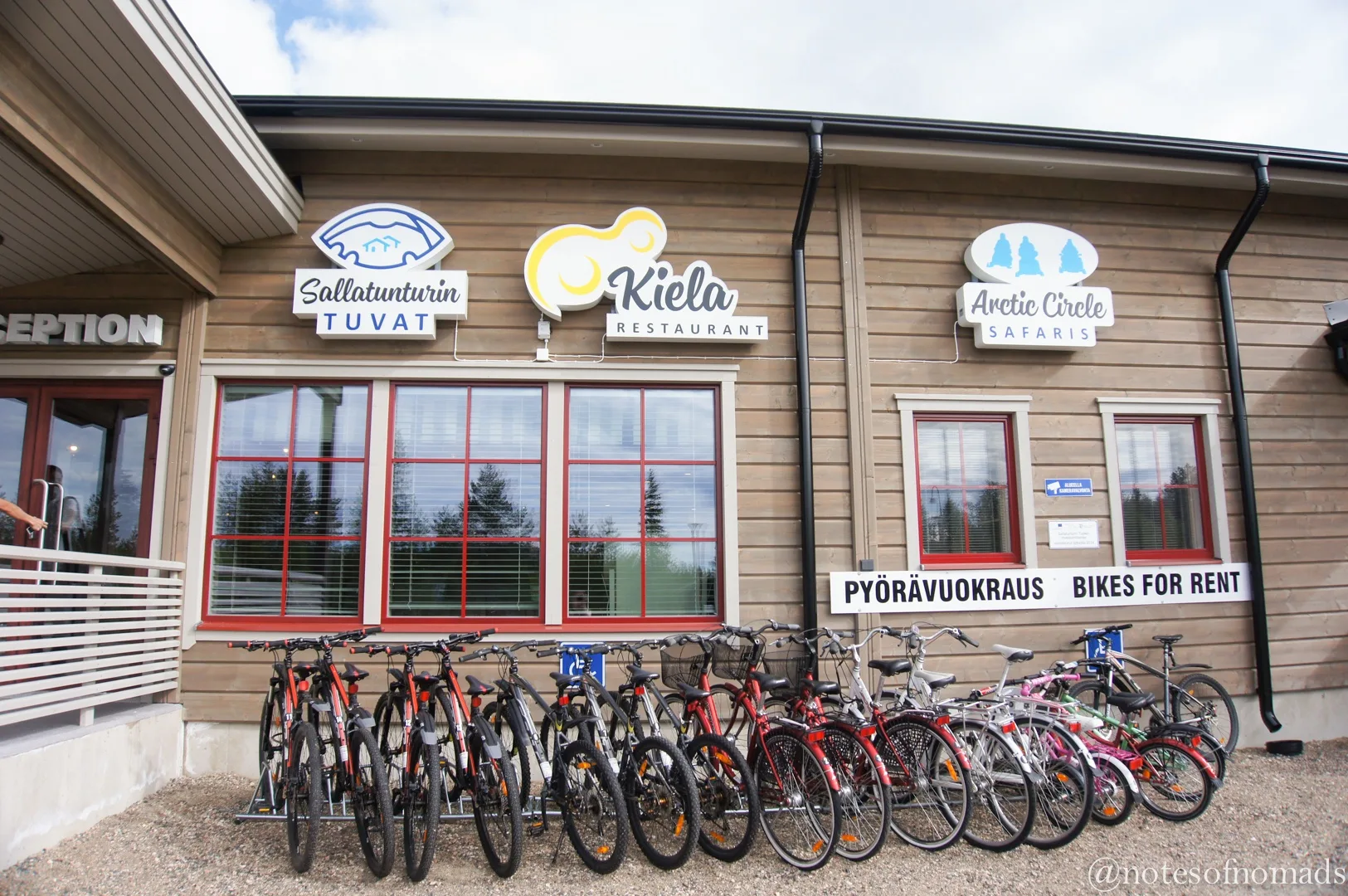 Other places you might want to check out:
Holiday Club Salla – If a refreshing dip in the pool sounds like the order of the day, head to these indoor pool facilities, which you can access for a small fee even if you aren't staying at the attached hotel. They aren't huge but are more than adequate, and include a spa and traditional Finnish sauna.
Salla Museum of War and Reconstruction – This museum is an interesting look at the history of the local area, in times of war and peace. The exhibit is all in Finnish but we were given an English translation to carry around with us so we could make sense of it all and the in-house movie had subtitles.
Have you been to Salla? What did you do there? Or what would you most like to do on a trip there?
Thank you to Visit Finland and Salla Tourism who hosted us on this trip. As always, we keep it real and tell it like it is.
Want some more inspiration for a Finland summer getaway? Check out these other posts.
10 Reasons to Visit Finland in Summer
Summer Cottage Getaway in Finland (Including Fishing Under the Midnight Sun)