Mongolian gers have been an intrinsic part of Mongolian culture for thousands of years. Yet rather than simply a relic of former times, Mongolian gers are still very much a part of modern-day living.

Even today, more than half of the Mongolian population continues to live in gers. This includes 60% of people who live in the capital Ulaanbataar, who set up their gers in specific designated quarters within the city for the purpose, and a whopping 90% of people who live in the countryside.

If you head to the interior of the country, which you absolutely should, you will almost definitely stay in a ger.

With ger life spanning centuries and centuries, this Mongolian dwelling is full of symbolism and traditions, and while it may not be possible to observe every last one, it is important to understand at least some basic etiquette.

Firstly, let's clarify what exactly a Mongolian ger is.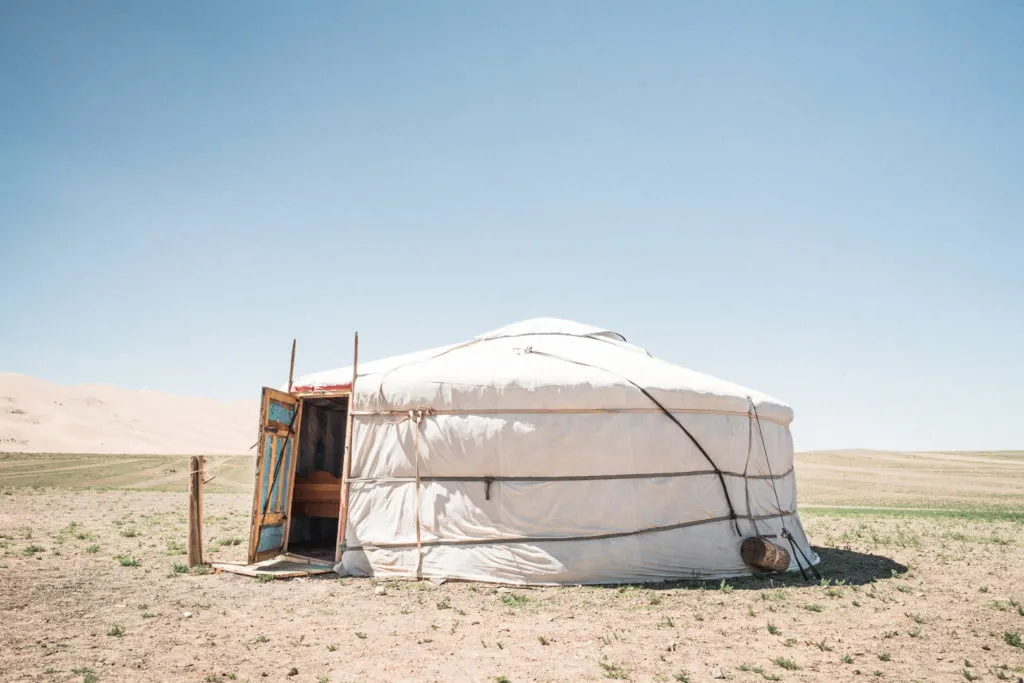 What is a Mongolian ger?
A Mongolian ger is a circular, domed tent-like dwelling. It is often referred to as temporary housing because gers are regularly moved, however, while they may be temporary in terms of location, they are the permanent accommodation type for a vast percentage of the population.
The structure is formed from wooden lattice and poles, tied together with rope made of horse hair. It's then covered in several layers of felt made from the hide of animals, and often is covered in canvas to furhter protect from the elements.

The most popular ger is the 5-sided ger, which uses 81 poles to create the peak in the roof. The number nine is auspicious in Mongolian culture and 81 is 9 times 9. However, Mongolian gers may be bigger or smaller depending on their use, and can have up to 108 poles, an auspicious number in the Buddhist religion.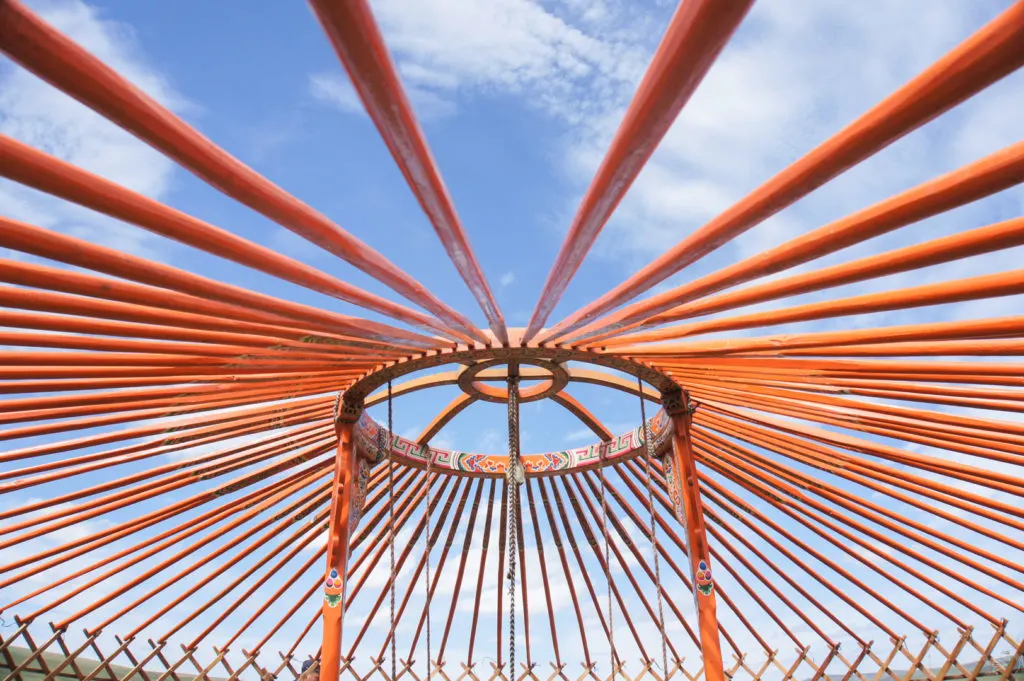 Hang on, is it Mongolian yurt or ger?
Yurts and gers are very similar. The tradition of staying in this tent-like structure is popular across Central Asia, from Russia to Turkey, and "the Stans" in between, and of course in Mongolia.

While the terms yurt and ger are often used interchangeably, the key difference is in the roof. In a ger, the central peak is supported by two posts and appears more "domed", whereas a yurt tends to have a more pointed roof and may not have any central poles in the middle.

Basically, these dwellings are a yurt in most of Central Asia. What you do need to know, however, is that in Mongolia it is always called a ger, never a yurt. In fact, ger means 'house' or 'home' in the Mongolian language – another indication of just how integral ger life is for the Mongolian people.

If you call it a yurt in Mongolia, you may be corrected. And a good way to show your effort to understand Mongolian customs, especially related to this fundamental part of daily life, is to call it by its correct name.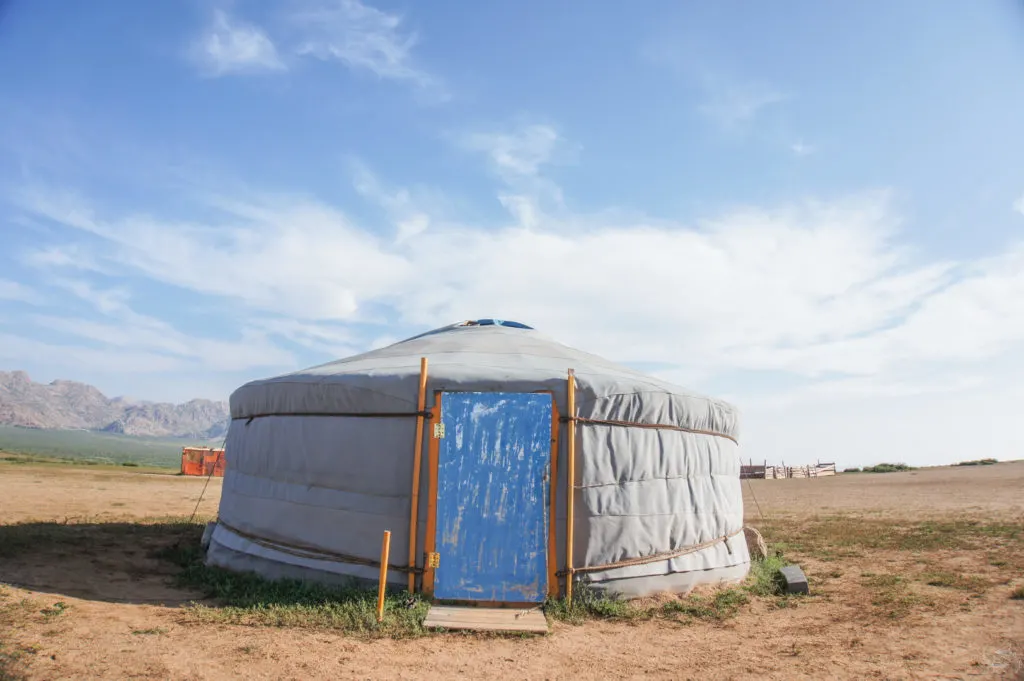 Why do Mongolians live in gers?
Mongolian gers are the perfect design for weathering the steppe biome, the flat, grassy and mostly tree-less, semi-arid expanses of the Mongolian interior.
This topography means that there is very little in the way of windbreaks, and temperatures can be extreme – the sun intense during the day and nights freezing, with snow in the winter.
The flatter dome is more aerodynamic and allows the winds to sweep over the roof more easily, keeping the structural integrity of the ger in tact. This is very important as gers are not anchored to the ground, part of the Mongolian ethos of honoring the environment and having as minimal impact as possible on the land on which they live.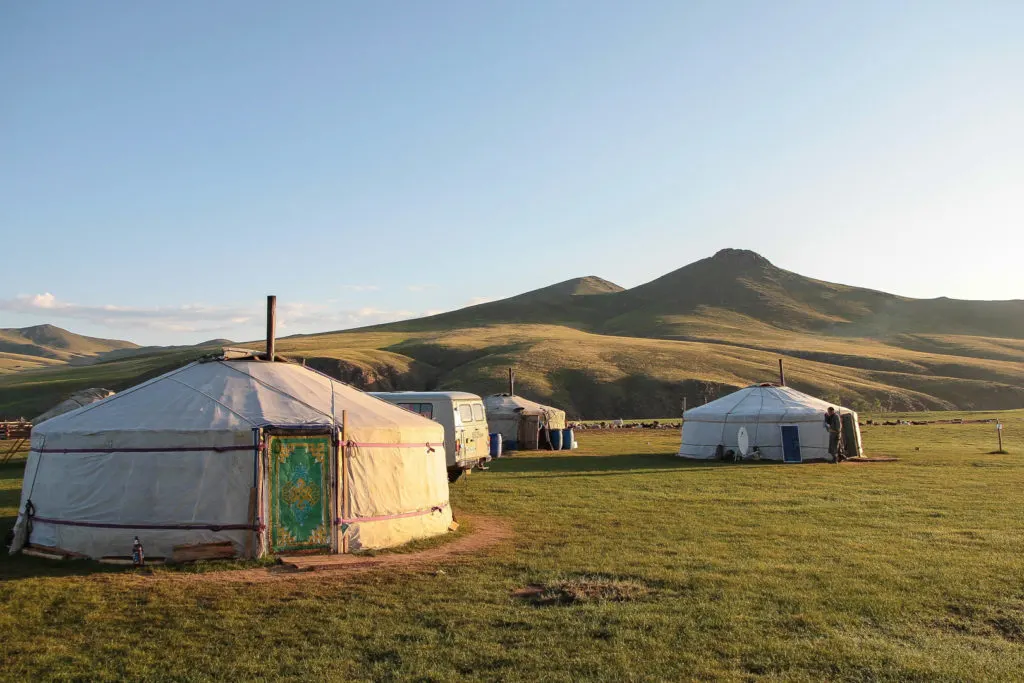 The circular shape also makes Mongolian gers very easy to heat and cool. There is a fireplace in the middle for heating and cooking, and when the fire's going the tent becomes a toasty haven out of the elements.

When the ger needs to be cooled, you simply roll up the outer layers of the tent a little to create a gap between the ground and the walls, and warm air very quickly escapes. It is therefore suitable for both hot and cold conditions.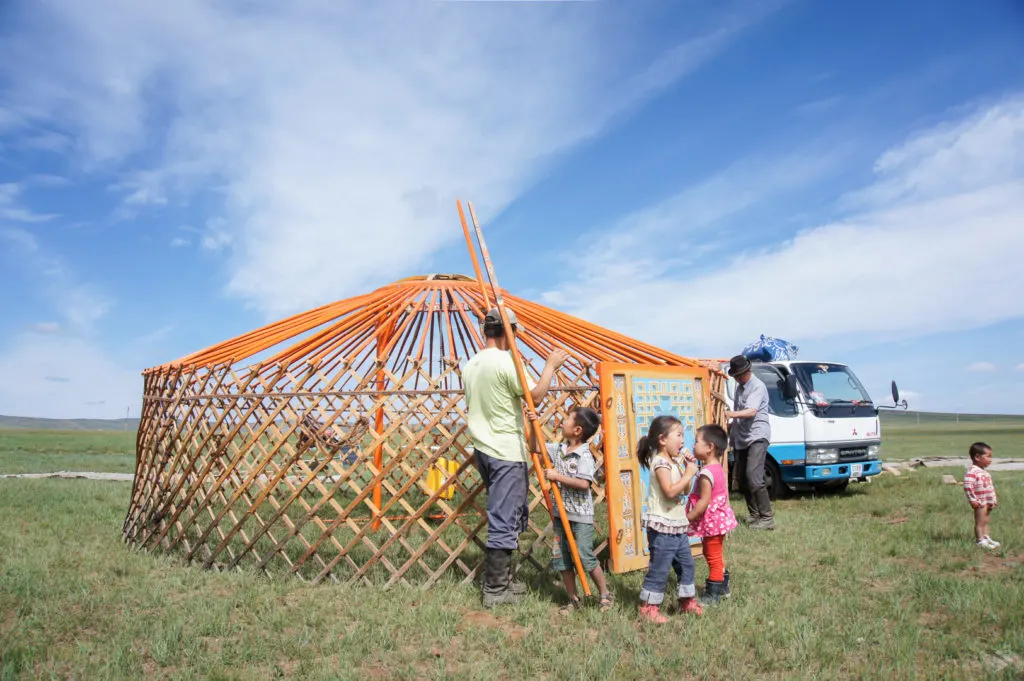 A fundamental reason Mongolian people live in gers is because of their portability. Mongolians are a nomadic people and they usually move their gers two or three times a year, based on seasonal and climactic changes, and the needs of their herds.

Therefore Mongolian gers are designed to be packed up and reassembled relatively easily. A basic ger can be packed up and moved with several pack animals. However, these days gers are often furnished with TVs, beds and other furniture, and so are usually moved by truck.
How long does it take to set up a ger?
It can take anywhere from 30 minutes to 3 hours to erect a ger, depending on size and the number of helpers. But all-in-all a very quick process, especially considering you are "rebuilding" your home from scratch.

Because gers are still the accommodation of choice for most people around the country, you have a great chance of potentially seeing a ger being reassembled, especially if you venture outside of Ulaanbataar, which, again, you definitely should!

On our trip to Mongolia, we came across a family who had just moved their ger and were setting it back up. It was a great opportunity to see what goes into setting up a Mongolian ger and what the structure looks like without the exterior fabrics. We stopped and chatted, and they were happy to show us the process.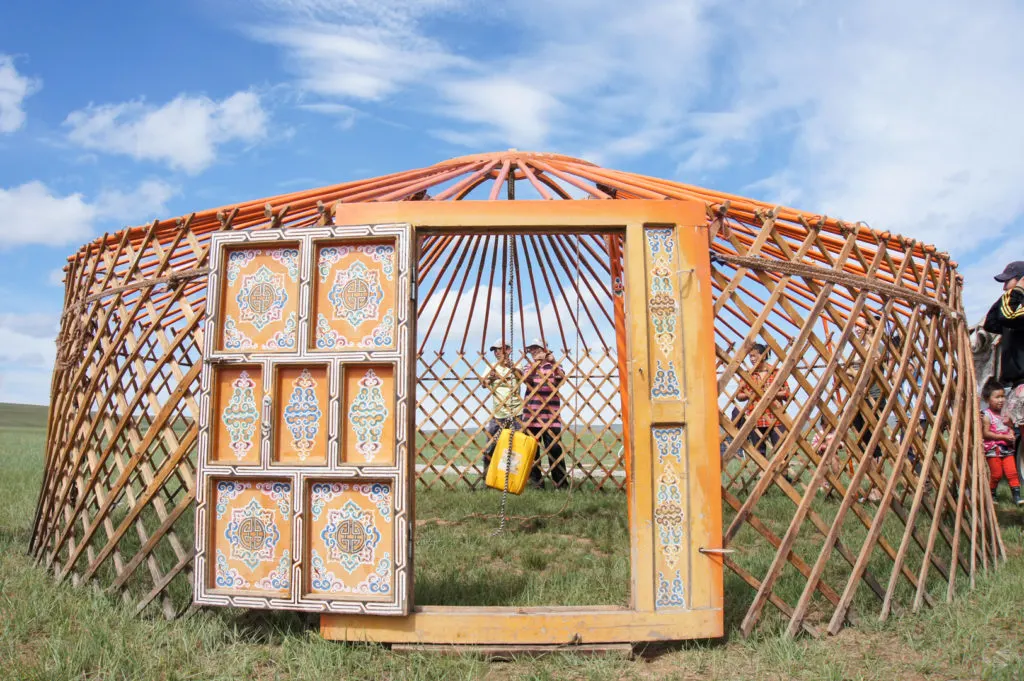 There were several young children wandering around with rosy red cheeks, covered in fluff from the animals. We gave them some candy and cookies. They struggled to open the cookie packets, just kind of sucking and biting down on them, rather than using the precisely-designed edge to their advantage. I offered to open it for the youngest boy who pulled it closer and then ran away about to cry.

I asked the older brother and the others, gesturing opening it and then giving it back, but they refused to hand them over. Finally, I sought out the language skills of the guide to tell them what I was saying in Mongolian. "I'll give them back. I promise," I reiterated. They just shook their heads. "They don't believe you," she said. Tough cookies!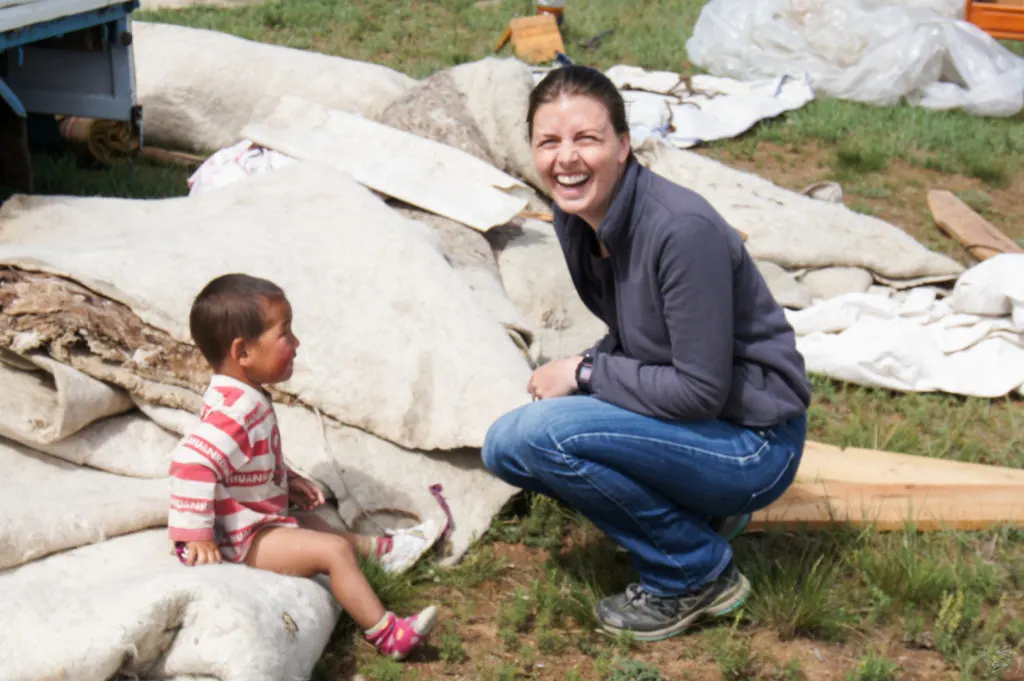 What does a ger look like on the inside?
Many people are quite surprised about the interior of a Mongolian ger, given the generally rather basic-looking exterior.

Even the most humble of abodes are incredibly homely with rugs and blankets, and the hearth in the center, and are wonderfully inviting spaces out of the heat, cold and rain.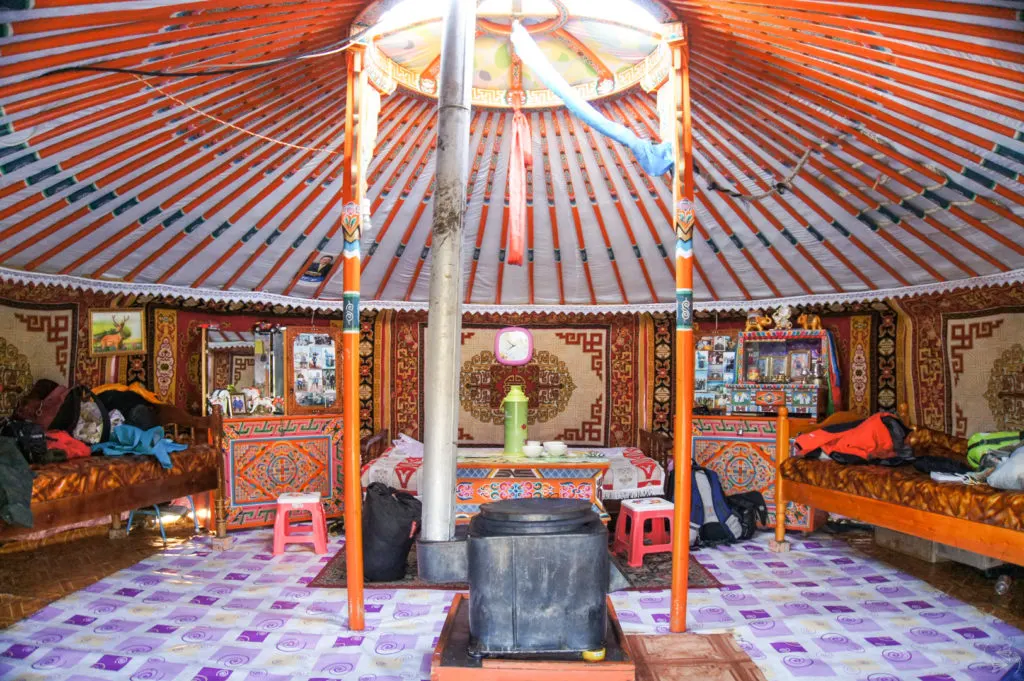 They may also feature beds, tables and chairs or stools, dressers and mirrors, colorful fabrics and rugs, and even electronics like TVs and radios. It is not uncommon these days to see gers with solar panels to power lighting and electronics. In fact, the open steppe biome is ideal for this as there is ample sunlight.

Gers usually only have one door and no windows, although the central portal in the center of the roof can be opened to allow light in. Cooking takes place on the central hearth and there is no bathroom. Calls of nature are tended to in the great outdoors.
Interesting Mongolian ger facts
When you visit the Mongolian countryside, you will almost definitely stay in a ger.

You may stay at a tourist camp where a bunch of gers are set up for visitors, or actually stay in the ger of a local family. We stayed in both and they were both great experiences.
Here are some interesting facts and what do you need to know when staying in a ger.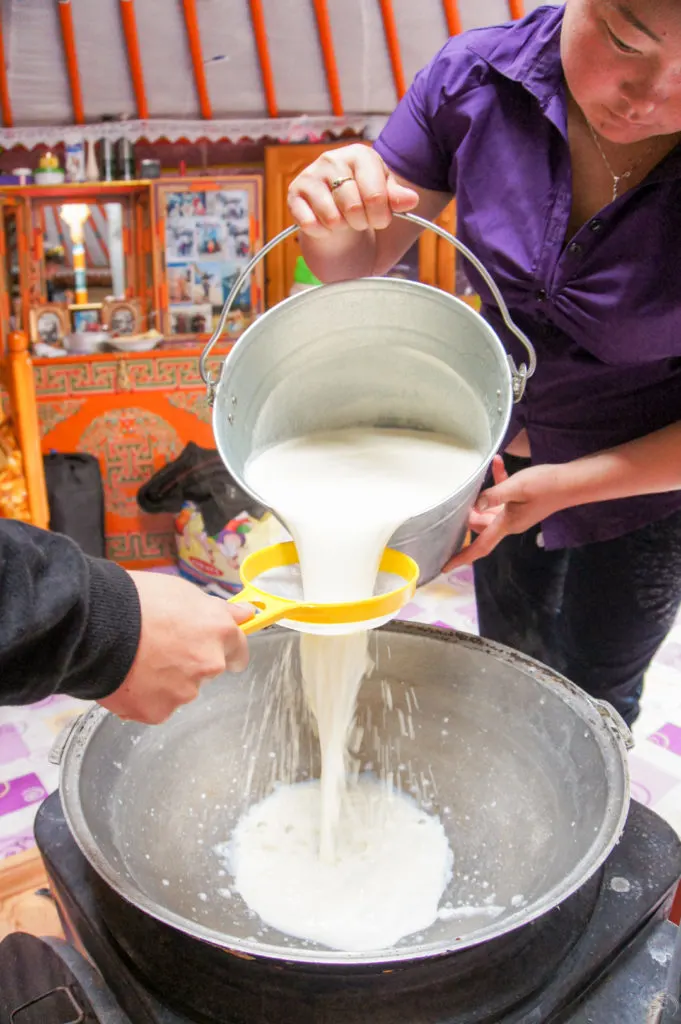 Gers always face south
The doorway of a ger always faces south. This allows for light and warmth of the southern sun to enter through the doorway. It is also an ideal position for wind protection, as the wind mainly comes from the north-north-west.

That's why when you arrive at a camp with several gers, they'll always be facing the same way, as opposed to gathered in a circle with doors facing each other, which may seem like the more community-oriented option.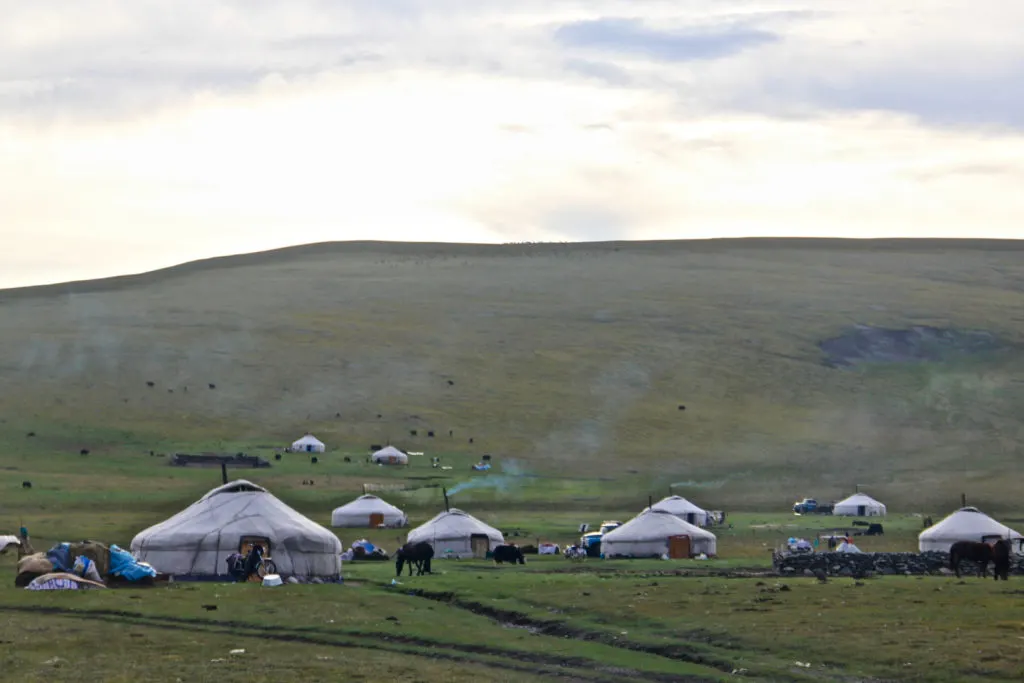 Doors are orange and blue
Some Mongolian gers have a simple slit in the felt for entering, however, many nowadays have a more rigid wooden door and frame that protects the ger even further from the harsh winds.

The door is often elaborately painted in either orange or blue. The orange represents the sun over the grasslands or fire, and the blue is a sign of good luck and the color of the eternal blue sky.
A microcosm of the universe
The Mongolian people have lived off the land for thousands of years, with great respect being placed on the connection between humans and the natural world. The ger itself is considered an ancient symbol for the entire universe and the occupants' place within it.
This symbolism can be seen throughout the ger structure, with the roof being like the sky, and the opening at the top the sun and a portal to the world above. The fireplace in the center represents the five basic elements of Earth: Earth, wood, fire, metal and water, and is the portal to the world below.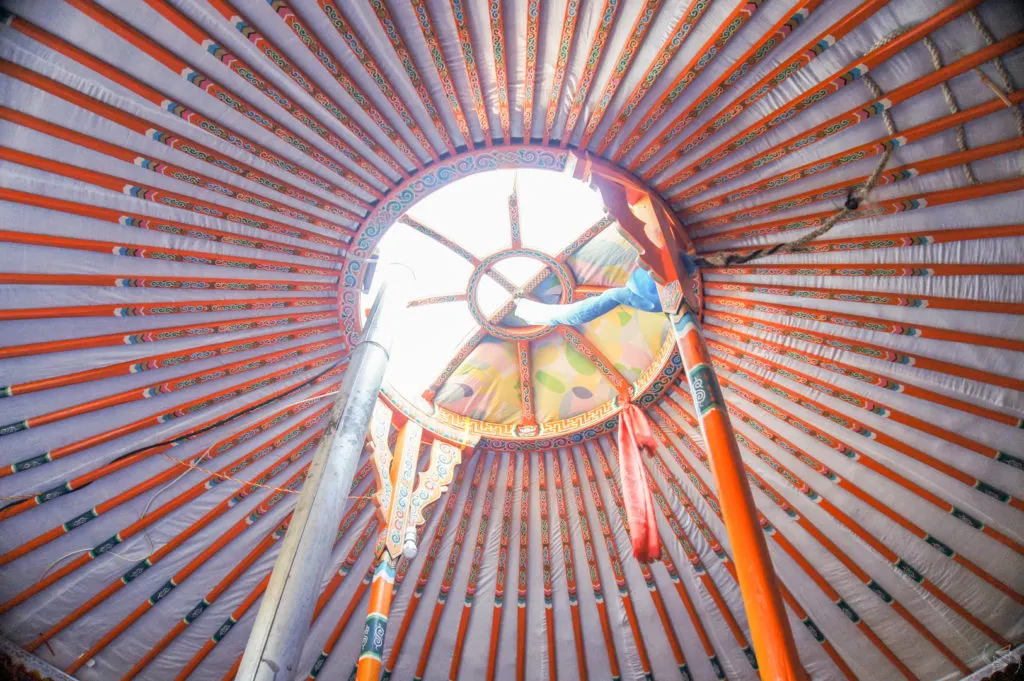 The layout of a Mongolian ger
The northern end is the most sacred part of the ger, a place of honor. This is where Mongolian people place their altars.
As the door is always south facing, this will be at the opposite end of the ger as you enter. The west side of the ger (left) is the man's side and it is where the men will store their saddles and other gear, and the east side of the ger (right) is for the women and is where the cooking equipment is stored.
Visiting the owner's ger and gift giving
Even if you are staying in a tourist camp and your visit is expected, it is customary to visit the owner's ger to ask permission to camp on their land and bring a gift. This visit should happen before you settle into your own ger.

Cookies, sweets and alcohol, particularly vodka, are common gifts. If you are going to go horse riding or hiking away from shops, you should arrange these gifts beforehand.
In our case, we were going to be staying on the land of four different families on our trip to the interior so we organized a bottle of vodka and a box of sweets for each. Plus some extra candies for any people we met along the way (like the family who allowed us to see their ger being reassembled).
Your guide will be able to advise, and a visit to a store before you arrive is usually a set stop on the itinerary.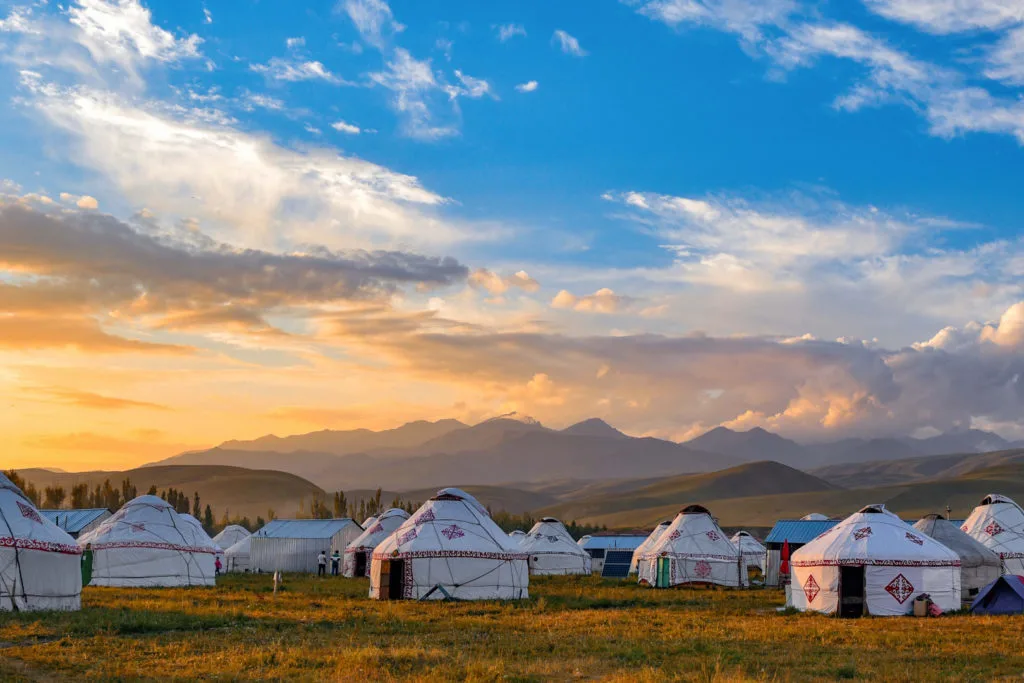 Ger etiquette: The Do's and Don'ts of Entering a Ger
When approaching a Mongolian ger it is customary to say, "Nokhoigo Khorioroi" which means "Hold the dog," even if you don't see a dog. This is because guard dogs are common and a dog may be aggressive towards visitors, but it in general alerts the occupants to your presence so they can come out and greet you.
Never knock on a ger door. It is considered rude. You simply enter.
When entering a Mongolian ger, step with your right foot first and never stand on the threshold. The threshold is said to be the "neck" of the ger and standing on it tantamount to "strangling" the home.
Mongolians don't chat to each other over the threshold. Step in rather than asking things through the doorway.
To greet your hosts say, "Sain bain uu?" (pronounced "Sey-Ben-Oo") – meaning "how do you do?" If you are entering for the second, third, fourth time, you can just say "Sen-ooo", meaning "Hi!".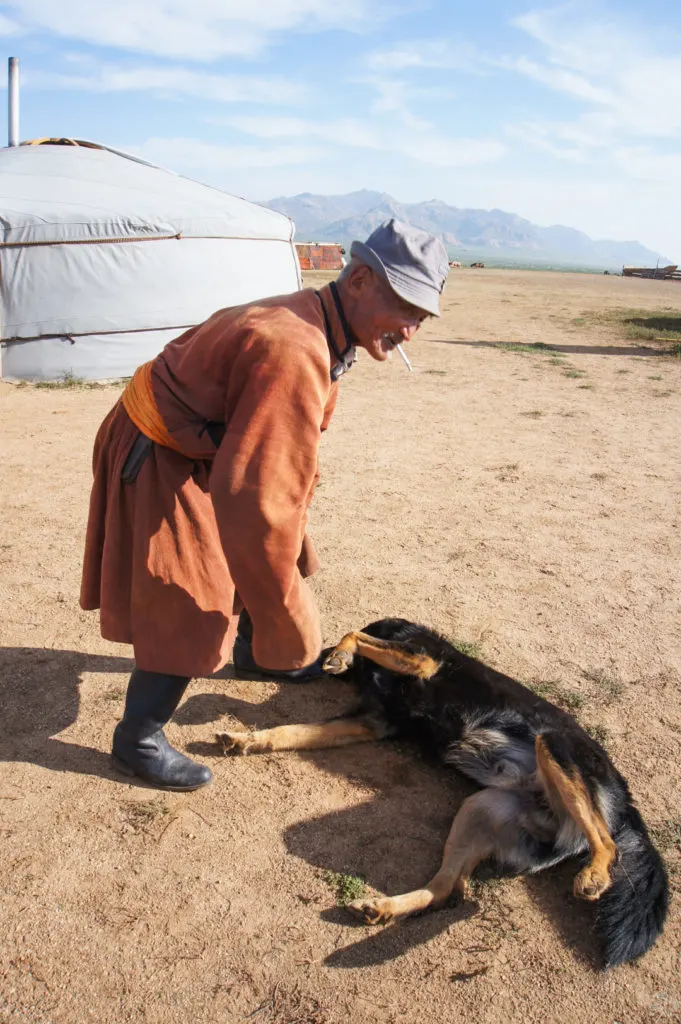 What to do once inside a ger, gestures of hospitality
When you enter a ger, immediately walk to the left side of the tent, this is the guest side. The family sits on the right and you should only sit there by invitation.
You do not need to wait to be invited to sit down, it is considered polite to sit rather than stay standing.
If there are stools provided or a bed, you can sit on those (it is not impolite to sit on a bed in a ger as they double as seating) or if not, then sit on the floor. Do not squat.
Do not lean against the ger structure or furniture.
Give your gift at the start of the visit.
You will be offered something to eat and drink. You will not be asked if you want it and it is impolite to refuse, so accept anything you are offered.
It is not considered rude, however, to not finish everything. It is about accepting their offer of hospitality. So simply try it and you can place it back down if you cannot or do not want to finish it.
When receiving something, take the item with both hands, or with your right hand and your left hand supporting your right elbow.
Keep your sleeves rolled down when giving and receiving. It's impolite to show your wrists during an exchange.
Common drinks offered include alcohol, fermented horse milk (the national drink) or salted cow's milk. Fermented and salted milks are common in Mongolia, and can take some getting used to, but are all part of the experience!
Typical snacks include bread, dried curd or sweets. Sometimes you may be offered a full meal. Click here for our hilarious "curd turd" encounter.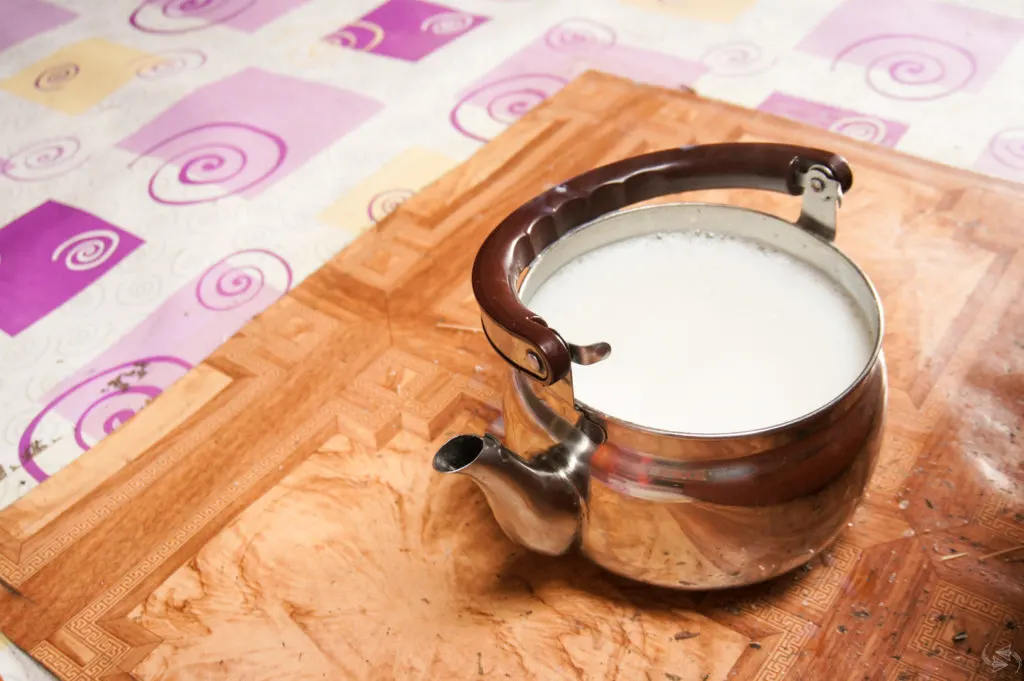 Moving around a ger and other important notes
Always proceed around the ger in a clockwise direction.
Never pass through the two poles in the center of the ger even if it's the most convenient way to get to where you want to go. This is bad luck.
It is considered rude to point with your index finger; gesture with an open palm instead.
Do not whistle in a ger. This is believed to summon the wind, which is not preferable when your shelter is made of sticks and felt!
Hats are very important in Mongolian culture. Never touch someone else's, even just to move it. When removing your own hat, always place it face down (opening down) and never place it on the floor.
The head is sacred so never touch someone's head, even a child's.
Feet are considered dirty and so be careful not to step on someone or touch them with your feet. If this happens accidentally while moving around the ger, it is customary to offer a profuse apology by way of a hearty handshake.
For the same reason, it is rude to step over someone on the floor. It's more polite to ask them to move.
As feet are considered dirty and the fire sacred, never face your feet towards the fireplace.
Never throw trash directly into the fire – in Buddhism it is believed spirits that protect the home live in the flames. There is a dedicated bucket by the fire where you can place your trash. Items placed there will be used to start the next fire.
If you stay overnight, face your feet towards the door, not towards the altar.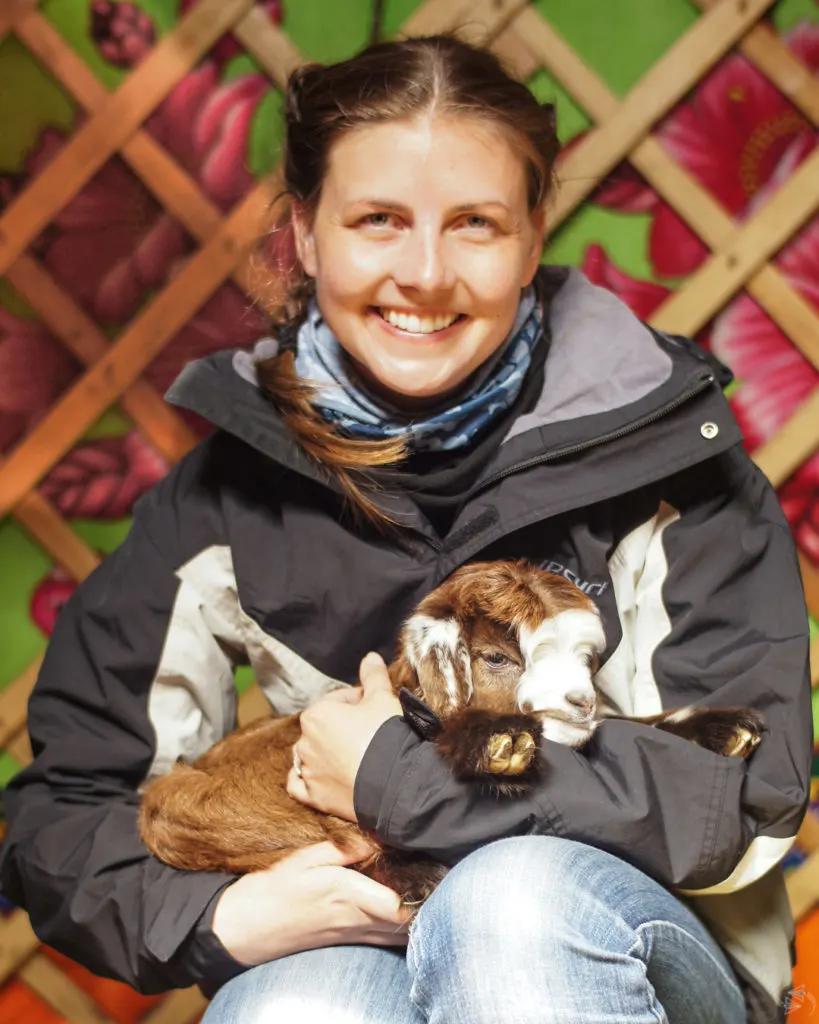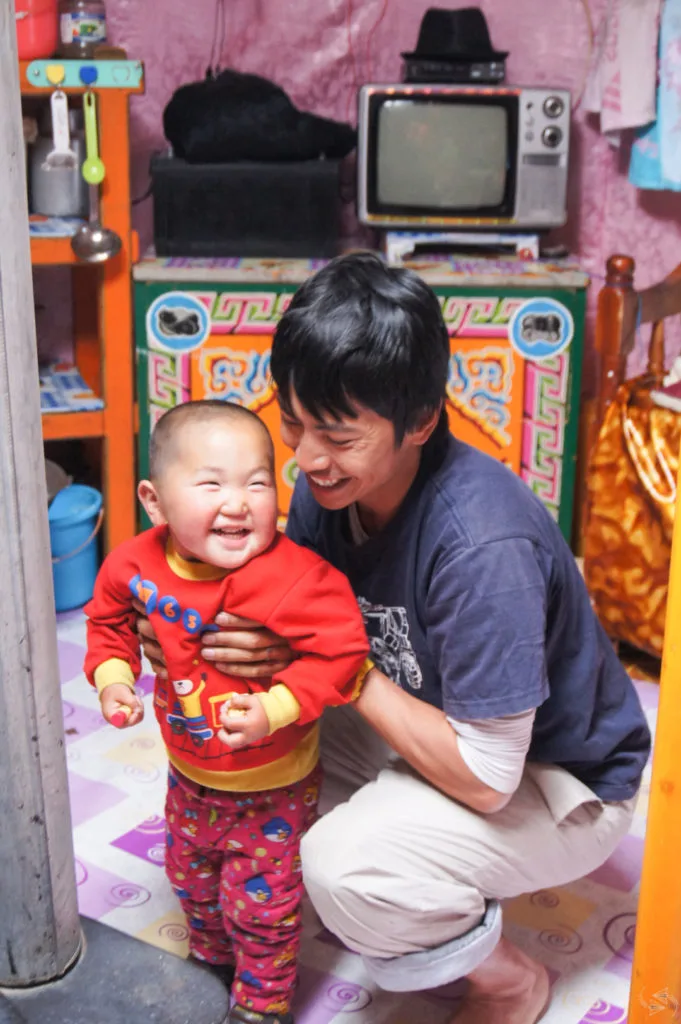 Drinking alcohol in a ger
Drinking alcohol is a group experience and traditionally consumed from the same cup in Mongolia.

If you are offered vodka or local alcoholic drinks like milk vodka (arkhi) or airag, fermented mare's (female horse) milk, here's what you need to know.
The host will pour the drink and pass it to you. Remember to receive with both hands, or with the right hand and your left hand supporting your elbow.
If you like, you can observe a Mongolian custom by dipping the ring finger of your right hand into the vodka, and then flicking this finger with your thumb four times for the four winds. This is an offering to the gods and ancestors.
Drink and then pass the cup back to the host who refills it and then passes it to the next person moving in a clockwise direction.
Never pass it on to the next person yourself; always pass it back to the person who gave it to you.
If you do not drink or want to drink (much), simply offer some to the gods by way of the ring finger ritual above or by politely touching the glass to your mouth, so as to "receive" their gesture of hospitality, and pass it back full or partially full.
The remaining drink is not wasted and will be topped up to pass onto the next person.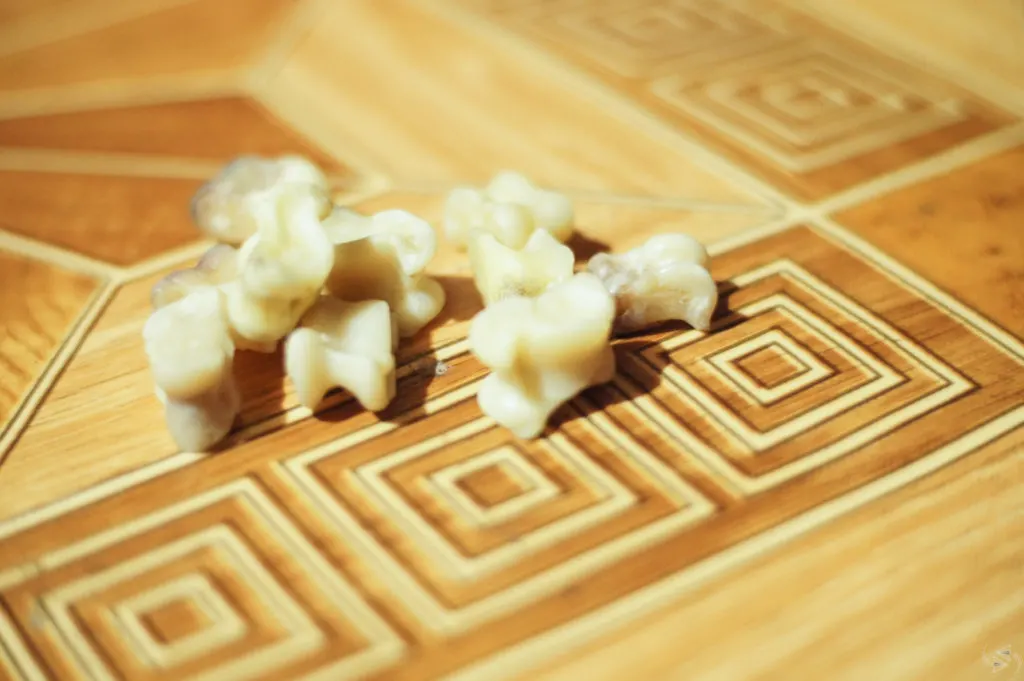 Staying in a Mongolian ger
Staying in a Mongolian ger is a wonderful experience. Even though ger etiquette may sound quite complicated, Mongolian people are very warm and friendly, and are quick to forgive innocent mistakes.

Unlike many countries where it is easy to travel alone, due to lack of public transportation and facilities, and complicated terrain, Mongolia really is a destination that requires a local guide for countryside travel. Rest assured that as you learn about ger etiquette, you can lean on the direction of someone who knows and seek clarification when you're not sure.

Like most travel experiences, go into it with an open heart and mind, smile and embrace Mongolian hospitality. Locals will often be delighted to see visitors observing their local customs. Learn the tips in this article and you'll be off to an amazing start.
Have you been to Mongolia or visited a ger? Would you like to? Were any of these rituals surprising to you? Tell us in the comments!