Planning on climbing Mount Kinabalu, one of Southeast Asia's tallest mountains?

There are a few different options for getting from Kota Kinabalu (KK), Malaysian Borneo's capital, to Taman Kinabalu (Kinabalu Park), the location of Mt Kinabalu.
Book your Mount Kinabalu climb with a tour operator that includes transfers (see this post on Climbing Mt Kinabalu for a list of tour operators and 2023-2024 pricing)
Book an independent climb and arrange your own transportation to the mountain (details on how to arrange these climbs are also included in the above link)
This post will outline the ways you can get to the mountain independently, including how to get to KK city centre from the airport (this part will likely apply to all climbers as tours usually depart from somewhere in KK city centre).
How to get from KK Airport to the City Centre
Transportation to the Park leaves from the city centre. It is also where you will likely be staying if your plan is to spend some time in KK before the climb.
Airport Shuttle Bus
If you are flying into KK Airport, the cheapest way to reach the city centre is by the airport shuttle bus. Tickets cost RM5 for adults and RM3 for children.

The shuttle bus ticket counter is located right outside the arrivals hall at Terminal 1 (next to Tourism Malaysia's office). The shuttle bus operates from 7:30am to 8:15pm, departing every 30-45 minutes, and goes from Terminal 1 to Terminal 2, and then onto KK city centre.

Shuttle buses stop at Centre Point, Horizon Hotel, and Padang Merdeka. For onward transportation to Kinabalu National Park, you'll be wanting to get off at Padang Merdeka.
Pre-paid Taxi
Alternatively, pre-paid taxis operate for RM30 (up to 4 people) to any address in the city centre. This is probably the most convenient option as you can leave as soon as you wish to depart, can be dropped off directly to your accommodation or onward transportation point, and is only marginally more expensive if you are travelling in a group.

To take a taxi from KK Airport to KK city centre, simply buy a coupon from the Airport Taxi counter to the right of the arrivals gate. Go to the taxi rank outside and hand your coupon to the next available taxi driver.
Ride-sharing Services
With the advent and proliferation of the ride-sharing economy around the world, KK now also has a range of app-bookable ride-sharing services available.

These include:
Grab Driver
Maxim
AirAsia Ride
Note that Uber ceased operation in KK in 2015.

E-hailing services MyCar and Riding Pink are also available, however are not so popular locally.

The price from KK Airport to KK city centre will depend on the time you wish to take the service (for example, if it is peak hour), but as a general guide, you can expect to pay RM10-15.

Therefore this option could be cheaper or comparable to the Airport shuttle bus depending on the number of passengers, but would require downloading and setting up of an app, which might be more hassle than it's worth, unless you plan on using it more than once.
How to get from KK City Centre to Kinabalu National Park
For those wanting the cheapest way to get to Mount Kinabalu from KK, you can catch a mini-bus to Kinabalu National Park from Padang Merdeka.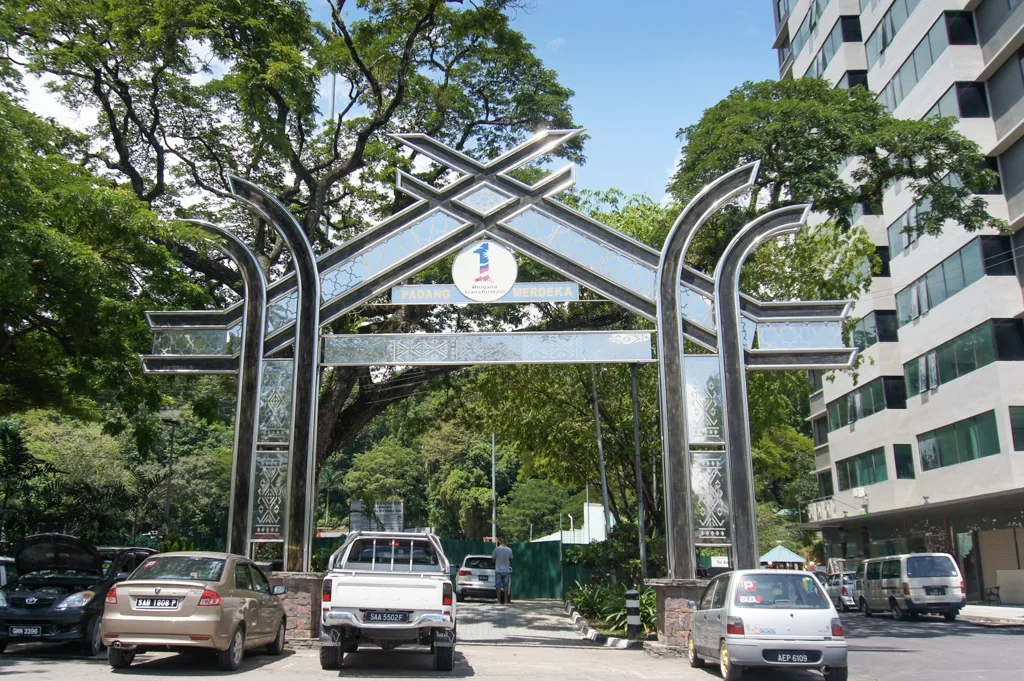 Getting a bus to Mount Kinabalu from Padang Merdeka
Look out for vehicles that are bound for Ranau.
There is no timetable and they operate on a "when they fill up" basis, which means you may need to wait a while for it to depart. While the drivers obviously want to leave with a full bus, they too have limits and ours said that he would be leaving at 2pm regardless. Despite there still being a couple of seats left, we did depart at 2pm (an hour and a half wait), as promised.
Expect to pay around RM25 per person for the two hour journey.
Don't leave your journey until too late in the day as public bus services tend to wind down late afternoon. As a general rule of thumb, departures are usually more frequent until noon so heading there in the morning should decrease waiting time.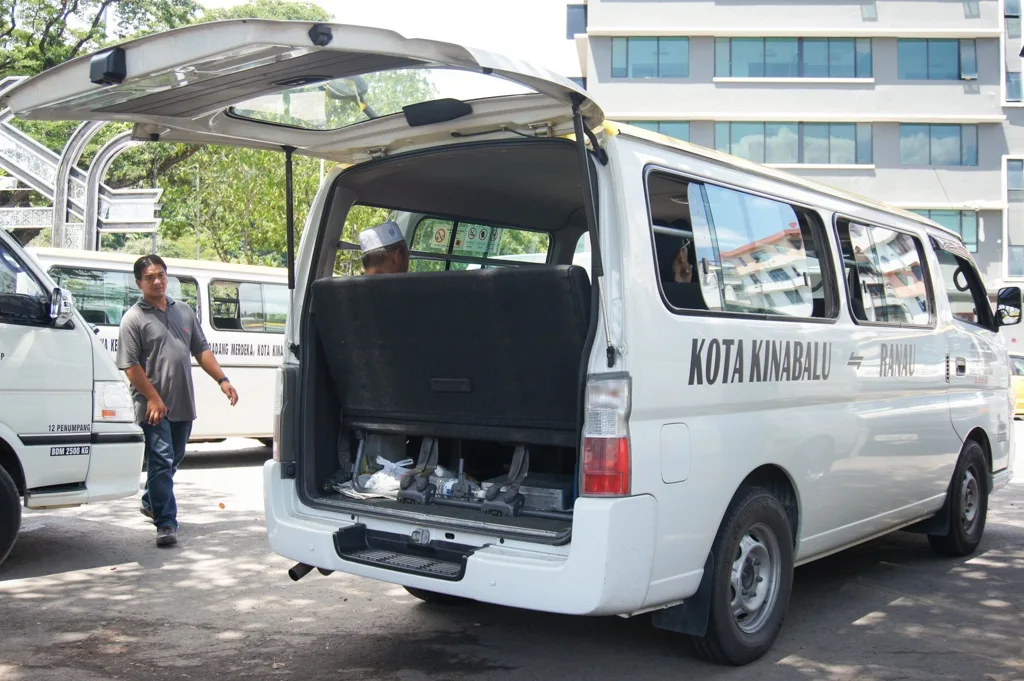 Getting off near Mount Kinabalu
Keep in mind that Ranau is further afield than Kinabalu National Park so you'll need to be getting off before the final destination.

The driver will likely assume that, as a visitor, you are headed to the Park. In fact, they probably called you over to their bus by saying they are stopping there. You can be dropped off at the Park entrance, but chances are you will not be climbing the same day you arrive, given that you need to be at the Park early to start the climb (and a night to acclimatise to the altitude is recommended).
Despite being a destination highly frequented by visitors, there aren't many options in the way of accommodation, restaurants or transportation near the Park entrance. There are lodges inside the Park itself, but they can be on the pricey side.

We stayed outside the Park at the popular Flypod Kinabalu Mountain Lodge (formerly Kinabalu Mountain Lodge), just a 5 minute drive or 30 minute walk from Park HQ. At the time, it had a combination of dorms and privates, all with shared bathrooms, but it has since undergone quite an extensive renovation and now focuses on private queen rooms with double beds. There is the option of shared or ensuite bathrooms, and extra beds for children can be accommodated subject to room size and availability.
There are other budget options also in the vicinity of the Park (try searching in the Kundasang area), but if you do decide to stay here, tell the driver to drop you off at "Haleluja" – they will all know what you are talking about.

Accessibility note: Flypod Kinabalu Mountain Lodge is a hilly 1km walk from the main road. If you are taking the bus, you will need to walk it with your luggage (stairs are also present in the facility), so may not be suitable for all visitors. The lodge is, however, beautifully located. If you are interested in seeing moths as big as your hand, Borneo has their fair share of interesting insects, many of which you can see on the lodge balcony at night.
On the day of the climb (or whenever you want to head to Park HQ), the staff at Flypod Kinabalu Mountain Lodge can arrange a taxi to pick you up from the Lodge directly and take you to the Park entrance (2kms away) for RM15 (max. 4 people). Talk to the staff about this ahead of time so that arrangements can be made (particularly pertinent for the day of your climb, as if you do not arrive within a certain window, you will not be able to proceed with your climb). We'd recommend taking a taxi as you'll want to conserve your energy for the climb itself. However, for reference, it is about a 30 minute walk from the Lodge to Park HQ.

Click here to find out how a Mount Kinabalu climb works – from registration at Park HQ, taking the shuttle bus to the starting gate, accommodation and meals on the mountain, getting back to Park HQ, and everything you should expect from a climb up one of Southeast Asia's highest mountains.
Taxi and Ride-sharing Service to Mount Kinabalu
Of course, if you don't have the time to wait or inclination for the bus, you can reach Mount Kinabalu from KK by taxi or ride-sharing services (as listed previously).

Expect to pay several hundred ringgit, especially for a taxi (be sure to confirm the price beforehand). Travel time will be about the same (around 2 hours), but you will have the benefit of being dropped directly to the destination of your choice.
Prefer to have your transfers arranged for you?

See our Mount Kinabalu Booking Guide for a list of reputable tour operators who include transfers to/from KK in their packages.
Returning from Kinabalu National Park
Taxi
After the climb, you shouldn't have a problem getting a taxi to take you back to Flypod Kinabalu Mountain Lodge or wherever you may be staying. There are a bunch of taxi drivers that hang out across the road from the Park entrance near the shop.

Expect a taxi taking you all the way back to KK to cost several hundred ringgit. Remember to confirm the price before getting in.
Bus back to KK
The cheapest way to return to KK on your own is the bus, which you can take from across the road (i.e. opposite the Park). Buses passing by the Park may be minivans or regular-sized buses.

There is no dedicated bus stop and while there supposedly is a timetable (not listed by the road but we did see one at Flypod Kinabalu Mountain Lodge), they don't really seem to stick to it. It's basically a matter of waiting by the side of the road and hailing a bus bound for KK as it goes by.

Remember to indicate to the driver that you want them to stop, otherwise they may very well just keep on driving. Note that services on this route do operate in the evening.
Onward bus to Sandakan
Instead of returning to KK, we continued on to Sandakan the day after the climb by hailing a bus from the Park entrance (i.e. the same side of the road as the Park).

You'll have to pay attention as the buses will be coming around a blind corner so you only have a few seconds after seeing it to flag it down. Remember that destinations may be abbreviated on the front of the bus. Sandakan, for example, was written as Sdkan.

Expect to pay RM25 for the four hour journey. You can purchase a ticket on the bus. They will probably get you to sit down first so the bus can get moving (since it is just around the blind corner). Someone will come down to collect your money once you are away.
We stayed at Sea View Sandakan Budget and Backpackers Hotel and also booked our Kinabatangan river cruise through them.
Returning from KK City Centre to the Airport
Most travellers will end up back in KK for their flight out. To return to KK Airport from Kota Kinabalu city centre by shuttle bus, simply wait at any of the airport shuttle bus locations – Centre Point, Horizon Hotel or Padang Merdeka.

Tickets can be purchased at counters at Centre Point and Padang Merdeka. As for the Horizon Hotel, tickets can be purchased directly from the driver as there is no counter available at that location. Operating hours and ticket prices are the same as from the airport – 7:30am to 8:15pm, departing every 30-45 minutes, RM5 for adults and RM3 for children.
Have you taken this journey? Do you have any further advice to add? If you visit and find that any of these details have changed, we'd love for you to add a comment for the benefit of future travellers.
You might also find useful:
Climbing Mt. Kinabalu on a Budget (Where and how to book)
Climbing Mt. Kinabalu (Tips and practicalities for the climb itself)