If you're planning on going to Sabah (Malaysian Borneo) and have already done some research on climbing Mount Kinabalu, you've probably quickly realized that it's not exactly cheap to sign yourself up for physical duress. Many prices quoted on the Internet are quite steep and have many travelers wondering whether it's worth forking out their well-earned ringgit.
What we can say is the climb is definitely worth it, but paying more than you have to isn't. This guide is intended to help those wanting to climb Mount Kinabalu find the best deal for their needs. Since we climbed ourselves in 2013, we have updated this guide many times and continue to do so.
Climbing Mount Kinabalu is becoming increasingly popular and with only 163 climbing permits issued per day, we recommend booking your climb well ahead of your trip to avoid disappointment.

For smaller groups (1-4 people), you should look at booking your climb at least several months in advance (longer if around a major holiday) to secure your preferred dates. For larger groups, even 6-8 months in advance may not be sufficient, especially in the busiest seasons. If you're wanting to secure one of the discounted (and super limited) accommodation options on the summit trail, 8-12 months in advance is the norm. Essentially the earlier you book (or get on a waiting list) and the more flexible you can be with dates, the better.
You should note that March to September is the busiest season, as well as around any major holiday, including and especially Lunar New Year (sometime in late-January to mid-February, depending on the year's lunar calendar), which sees a high influx of domestic tourists as well as travelers from neighboring countries.

This post will outline the options available for a Mount Kinabalu climb, latest pricing and tour operators on offer, and how to book a climb in the most budget-friendly way possible in 2023-2024.
Mt Kinabalu climb at a glance
Mt. Kinabalu is one of the highest mountains in Southeast Asia at 4,095.2m above sea level.
A summit climb from the trailhead covers 8.72 km.
A Mount Kinabalu summit climb takes two days and one night (2D1N). This is the shortest available option for a Mt Kinabalu climbing package.
Longer packages generally do not include an extra night on the summit trail but within Kinabalu National Park (KNP) or at the nearby Poring Hot Springs (POR).
You may choose to do a standard summit climb or Via Ferrata.
A standard 2D1N climb can only be booked 30 days in advance and is becoming increasingly difficult to secure. This is because preference is given to those doing 3D2N+ packages or Via Ferrata, which can be booked further in advance. For standard summit climbs, 3D2N packages have become the norm.
Sleeping overnight at mountain accommodation is mandatory.
In addition to mountain accommodation and meals, you must pay for a climbing permit, climbing insurance, the Kinabalu Park entrance fee and a mountain guide (self-guiding on the summit trail is not an option).
There are only 163 climbing permits issued per day.
It is highly recommended to pay the small additional fee to take the shuttle bus from Park HQ to the starting point of the summit trail (the distance between Park HQ and Timpohon Gate is 4.5km and takes approximately 10-15 minutes by vehicle).
Porters can be hired to help carry your gear for an additional fee.
A certificate can also be obtained for a small fee to commemorate your achievement.
On average (without porter fees), a Mount Kinabalu climb costs between US$600-700 per person (discounts apply for children and Malaysian climbers).
This post will cover the different options you have for booking your Mount Kinabalu climb and the pricing for each.
In order to decide the climb and accommodation that's right for you (and for a complete rundown of what to expect during a climb up Mt Kinabalu from start to finish), we recommend reading 'Mount Kinabalu Climb Experience – What to expect'.
Mount Kinabalu Climbing and Accommodation Options
Firstly, to understand how climbs on Mount Kinabalu work, it's essential to get to know the organizations involved and how they operate.

There are four accommodations available at Panalaban (the mandatory overnight rest stop on the summit trail) and depending on where you want to stay and what kind of climb you'd like to do, this will dictate with whom and how you can book.
Sabah Parks
This is the mountain authority responsible for Taman Kinabalu (Kinabalu Park) including the on-site logistics of Mt Kinabalu climbs, and can be found at sabahparks.org.my. (Please be aware that the website mountkinabalu(dot)com is NOT the official website for the mountain, but is simply another private tour company website.)

There are mandatory Sabah Parks fees that every climber must pay, regardless of who you book through and which accommodation you stay at.

These include:
Kinabalu Park entrance fee (also called the Conservation fee) (RM50)
Climbing permit (RM400)
Climbing insurance (RM10)
Mountain guide (can be shared by up to 5 climbers 16 years+)(RM350)
Shuttle bus transfer (10-15 minute drive) between Park HQ and Timpohon Gate (optional but highly recommended) (RM34 return total for groups of 1-4 (RM17 each way) or RM4.50 per person each way for groups of 5 or more).
Note that the above pricing is for international adults. There are discounts on the Kinabalu Park entrance fee and climbing permit for climbers under the age of 18 as well as Malaysian climbers. The climbing insurance, mountain guide and shuttle bus transfer fees are the same for everyone. However, please do note the differing rules for mountain guides below if anyone in your climbing party is under the age of sixteen.
International climbers under the age of 18
Kinabalu Park entrance fee (RM25)
Climbing permit (RM200)
Important: While the cost of the mountain guide is the same, please note that when any climbers under the age of 16 are involved, they are deemed a child and the mountain guide fee will then only cover a maximum of 1 adult and 2 children (or 2 adults and one child). If there are more adults and/or more children in your climbing party, you'll have to pay for an additional guide(s).
For Malaysian climbers
Kinabalu Park entrance fee (RM10, 13-17 years old RM5, 12 and under as well as those over 60 and OKU are exempt from this fee)
Climbing permit (RM100, 17 and under RM50)
Mountain guide: Same rules apply as for international climbers. A guide can be shared by up to 5 people 16 years+, or by 1 adult and 2 children under the age of 16, or by 2 adults and 1 child under the age of sixteen.
Other fees that go to Sabah Parks are:
Porter fee (only applicable if you decide to use this service) (RM130 for up to 10kg, RM13 for every kilogram after that)
Certificate of completion (RM10 for Summit and RM1 for Laban Rata) (optional)
Luggage storage services at Park HQ (if required, RM12 per bag)
The other mandatory fees for the climb are for accommodation and meals at Panalaban. This part of the payment can go to a few different places depending on where you book.
Sabah Parks offers two discounted accommodations at Panalaban: Lemaing Hostel (for Malaysian citizens and permanent residents only) and Panalaban Hostel (for both Malaysian and International climbers). Spots at these accommodations are extremely limited and typically sell out at least 8 months in advance (12 months is the norm for Lemaing).
These "no-frills" packages only include accommodation (one night), three meals (as opposed to five with other options), the climbing permit, climbing insurance and a service charge for the online payment.
You will need to make your own way to Kinabalu Park and pay the other Sabah Parks fees at Park HQ in cash in Malaysian ringgit on the day of the climb. Packages for Lemaing Hostel and Panalaban Hostel can only be booked through Sabah Parks directly.

Check availability and book Lemaing and Panalaban Hostels here.
Sutera Sanctuary Lodges
Sutera Sanctuary Lodges (SSL) are an accommodation provider with properties at Laban Rata (Mount Kinabalu summit trail), Kinabalu Park, Poring Hot Springs and Manukan Island. They manage the largest accommodation at Panalaban called Laban Rata. As the aforementioned Sabah Parks hostels are difficult to book, they have a monopoly on this aspect of the climb for standard summit climbs.

All climbers will have their meals (dinner, supper and breakfast) at Laban Rata regardless of where they are staying (except for Via Ferrata climbers who will only have dinner at Laban Rata; other meals are provided at Pendant Hut, explained below).

SSL offer accommodation at Laban Rata (one night) and five meals in their rate. In addition to the three meals at Panalaban described above, you will also receive a packed lunch to take with you on Day 1 and a meal voucher to exchange for a hot meal (lunch) after completing the climb on Day 2.

With SSL packages, you will need to make your own way to Kinabalu Park and pay all Sabah Parks fees at Park HQ in cash (Malaysian ringgit only) on the day of the climb.

Bookings for Laban Rata can either be made directly via the SSL website or via a third-party tour operator. The advantage of booking with a tour operator is that they usually include transportation to/from Kota Kinabalu (where most travelers will be coming from), offer advanced payment methods (such as via credit card) so that you do not need to arrange the Sabah Parks fees in local currency on the day of the climb, and are more readily available to assist with any questions or concerns you may have (historically SSL have been a bit hit and miss with their replies).

The shortest available package is 2D1N, however, in a bid to encourage longer stays in their facilities, SSL have made the availability of these packages limited and will not allow third-party tour operators to book them more than 30 days before the climbing date. Therefore to secure your preferred climbing dates or to be able to get a package at all, 3D2N packages have become the norm.

The additional night's accommodation (either before or after the climb) is not on the summit trail itself, but at one of SSL's properties in Kinabalu Park or the nearby Poring Hot Springs. Even longer packages, such as 4D3N options, are also available. These tours will likely be a combination package, with other activities and meals included.

To book direct with Sutera Sanctuary Lodges, either visit the SSL website (then click 'Book Now' and select Laban Rata) or go directly to the booking page here.

For those looking for a reputable third-party tour operator who can take care of their Mount Kinabalu climb arrangements from start to finish, we will include a list further down in this post.

First, there is one more option for you to consider.
Mountain Torq
Mountain Torq operate Via Ferrata activities on Mount Kinabalu and operate out of Pendant Hut, an accommodation about 100 meters from Laban Rata up a set of stairs.

With this option, you can summit in the early hours of Day 2 along with the standard summit climbers, but on the way down you participate in a more challenging obstacle course while hooked up to a harness. You can think of it more like rock climbing or mountaineering and should only be considered if you do not have a fear of heights and/or are willing to conquer them.

There are two courses available:
Walk the Torq (WTT)
This is the best option for beginners wanting to try the Via Ferrata experience.
The course is a length of 390m (109m vertical traverse) with the highest point at a height of 3,520m above sea level. Highlights include the Cable Monkey Bridge, Tyrolean Traverse and balancing beam.
This course takes approximately 2-3 hours.
Low's Peak Circuit (LPC)
This option is for more experienced climbers and active individuals.
The course is 1.1km in length with a vertical traverse of 365m. The highest point is 3,776m above sea level, making it the world's highest Via Ferrata!
It also includes one of the world's highest suspension bridges at 3,600m. It takes approximately 4-6 hours to complete and requires above-average levels of fitness.
As this is a physically demanding course, there are packages available both with/without the Mt Kinabalu summit.
Mountain Torq do not take bookings directly, so if you want to make a reservation for Via Ferrata/Pendant Hut, you must book through a third-party tour operator.

Interest in Via Ferrata has grown over recent years because it's not only an exciting added element to the climb for those who want to further challenge themselves, but also because it is a separate company from SSL so their 30-day rule regarding 2D1N bookings does not apply. So you are free to book a 2D1N Via Ferrata climb much further in advance.

If you have booked a standard summit climb and think you might like to give Via Ferrata a shot on arrival at Panalaban, you can do so provided there are spots still available, that you pay the added fee and arrive in time to attend the Safety Briefing held on Day 1 (more details on this can be found in our post about the practicalities of a Mt Kinabalu climb).
To summarize, if you want to reserve the discounted packages at Lemaing or Panalaban Hostels, you must book through Sabah Parks directly. To book at Laban Rata for a standard summit climb, you can book directly through Sutera Sanctuary Lodges or through a third-party tour operator. If you want to do Via Ferrata, you must book through a third-party tour operator.
Booking Mount Kinabalu Climbing Packages with a Tour Operator
Here are some reputable options for booking a Mount Kinabalu climb with a tour operator.
River Junkie Tours
River Junkie Tours are a Borneo-based tour operator with years of adventure travel experience. Hundreds of our readers have booked climbing packages with them over many years without complaint.
They claim to guarantee the cheapest Mt Kinabalu climbing packages and will price match if you find a cheaper published rate for the same package.
Accommodation and meals
Mandatory Sabah Parks' fees
Transfer between Park HQ and Timpohon Gate
Transfer between Kota Kinabalu and Kinabalu Park
Optional climbing certificate
SPECIAL OFFER TO OUR READERS: Simply mention 'Notes of Nomads' when booking and receive a FREE 'Mount Kinabalu' refillable water bottle!
Please mention this website during your first contact to be eligible.
Pricing for bookings from April 1st 2023 to March 31st 2024

International Climbers (prices per person)
| | | |
| --- | --- | --- |
| Package | 2D1N LR | 3D2N KNP-LR |
| 1 pax | 2790 | 2890 |
| 2-3 pax | 2390 | 2490 |
| 4-5 pax | 2250 | 2350 |
| 7+ pax | 2190 | 2290 |
International Climbers
Malaysian climbers (prices per person)
| | | |
| --- | --- | --- |
| Package | 2D1N LR | 3D2N KNP-LR |
| 1 pax | 2070 | 2170 |
| 2-3 pax | 1680 | 1780 |
| 4-5 pax | 1580 | 1680 |
| 7+ pax | 1520 | 1520 |
Malaysian Climbers
Climbs including Via Ferrata (prices per person)
2D1N WTT
2D1N LPC
3D2N WTT/LPC
1 pax
2990
3290
4440
2-3 pax
2630
2875
4025
4-5 pax
2530
2775
3925
7+ pax
2480
2725
3875
Malaysian
discount
RM340
RM340
RM340
Laban Rata private room upgrades may be added to 3D2N (LR dorm/KNP private) packages for SSL cost price of RM275 per person.
A climbing certificate can be obtained for RM10.
Pros: Fast to reply to emails; easy-to-follow website with clear information on their tour packages; they offer a price match guarantee on published rates for identical packages; can have a private guide if you want one or be potentially matched with other climbers to receive a reduction on the mountain guide fee.
Cons: Nothing specific to report at this stage.
More information can be found on their website: www.river-junkie.com
Borneo Trails
Borneo Trails are a popular choice for our readers. With reasonable package costs including transfers to/from KK, they are a strong competitor in the market.
Accommodation and meals
Mandatory Sabah Parks' fees
Transfer between Park HQ and Timpohon Gate
Transfer between Kota Kinabalu and Kinabalu Park
Optional climbing certificate
Pricing for 2023
| | | |
| --- | --- | --- |
| Package | International (p/p) | Malaysian (p/p) |
| 2D1N (min 2 pax) | RM2,575 | RM1,695 |
| 2D1N (Via Ferrata WTT) (1 pax) | RM2,640 | RM2,455 |
| 2D1N (Via Ferrata WTT) (2 pax) | RM2,198 | RM2,030 |
| 2D1N (Via Ferrata WTT) (3 pax) | RM2,110 | RM1,934 |
| 2D1N (Via Ferrata WTT) (4 pax) | RM2,070 | RM1,895 |
| 2D1N (Via Ferrata LPC) (1 pax) | RM2,855 | RM2,674 |
| 2D1N (Via Ferrata LPC) (2 pax) | RM2,415 | RM2,233 |
| 2D1N (Via Ferrata LPC) (3 pax) | RM2,260 | RM2,079 |
| 2D1N (Via Ferrata LPC) (4 pax) | RM2,210 | RM2,030 |
| 3D2N (min 2 pax) | RM2,775 | RM2,045 |
Pros: All-inclusive packages; many readers of this blog have used them and were satisfied with their service.
Cons: Guide sharing (you may be sharing a guide with other climbers), 2 pax minimum for regular summit climbs
More information on their website: www.borneotrails.com.my
Booking Mt Kinabalu Climbs in KK
As mentioned earlier, it is now rather difficult to secure climbing slots at the last minute. That said, if you're in KK and would like to find out if anything is available in-person or you'd just like to visit the offices of the tour operator you have already booked with, here is where you can find them.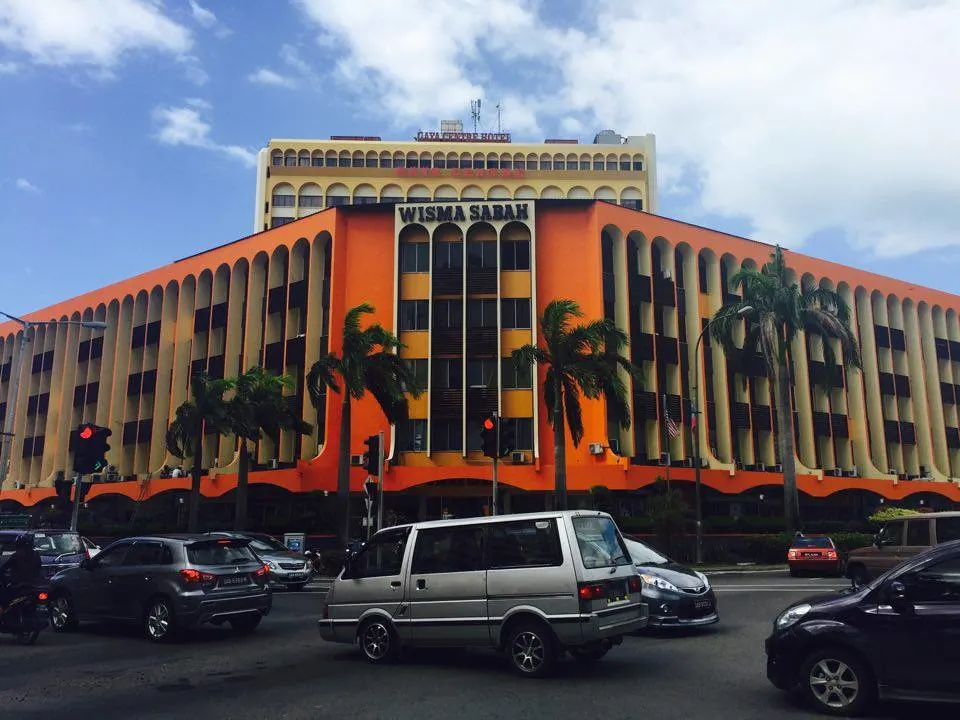 The Wisma Sabah building can be found on the corner of Jalan Tun Fuad Stephen & Jalan Tun Razak, opposite the Wisma Merdeka shopping mall.
As for the tour operators mentioned in this post, it contains the offices for River Junkie Tours and Borneo Trails.

Marvelous Borneo can be found in the Star City Mall about 1.5km away from the Wisma Sabah building.

SSL is further down on Sutera Avenue, opposite KK Times Square.
Mt Kinabalu Tour Providers to Avoid
Now that we've covered the suggestions for Mt Kinabalu climb tour operators to look into for your climbing experience, we also feel we should mention the businesses that have unfortunately lost our trust.
Jungle Jack Backpacker
Jungle Jack's had been a top choice for many readers in the comments for budget Mt Kinabalu climbs in the mid-2010s and hence we had been mentioning them as one of the tour providers for you to check out.
Positive remarks included that his packages are cheap; that "Uncle Jack" is an interesting/nice guy; he has helped travelers out with last-minute climbs; and that the meals are excellent.
However, it came to light that his backpacker lodge near Kinabalu Park (where he accommodated climbers and organized his climbs from) was operating at the site illegally and he was forced to vacate the premises in mid-2016.
There doesn't seem to be much information about it online, but you can read an article from one local newspaper here that a reader was kind enough to post in the comments and we also found this article posted by someone on his Facebook page.
His Facebook page remains active and it seems that he has now moved to a new location, and is continuing to offer accommodation and climbing services. He now also has a blog and lists his accommodation on platforms such as Airbnb.
His sudden more "public" profile seems to indicate that he has the necessary permits for operation this time, but we are unable to confirm and no longer feel that we can list him as a credible option in good faith.
If the illegal operation didn't make you think twice already, one of the most alarming recurring stories from climbers on his own Facebook page as well as other review sites is the fact that he has not provided refunds to many climbers he had promised them to – whether because the mountain was closed (such as due to the earthquake in 2015), climbers needing to cancel their bookings, or because guests were unable to climb due to Jack not having actually secured a spot for them (some of these climbers only finding out after their arrival at Jungle Jack's, despite having booked and paid months in advance).
Many people have reported that he stopped replying to their messages after he promised to refund the money, and after long, drawn-out attempts to recover their costs have given up on ever seeing their money back.
Many others have expressed frustration by the whole booking process. Due to Jack not issuing any kind of official receipt or booking confirmation for reservations (in the past at least), many climbers have felt anxious as to whether their spot is secured or not.
Communication seems to halt abruptly after payment has been received, only to resume very close to the climbing date, if at all, and only after repeated attempts from guests to confirm their climbs.

He may be running things more efficiently now (and have more of a paper trail with online booking platforms), but the lack of credibility he has exhibited towards his guests in the past gives us massive pause.
Batangan Leisure
A reader has reported that they were scammed out of their climbing money (for a group of 6) and hence lost the climbing slot they thought they had secured by a company operating as Batangan Leisure.
Upon looking into this company further, we found that their homepage was simply a shell with no content and that their Facebook profile (a personal profile rather than a business page) hadn't been updated since 2012.
Please be sure to do your research on any companies you are thinking of booking with. Just because they have an office and list a website, doesn't mean they are reputable. Check out their website, read reviews online and do your best to prevent getting caught up in a situation like this.
Essential further reading
Via the following link, read about what to expect on a Mount Kinabalu climb. In this post, we set out the climb from start to finish, from registration at Park HQ, getting to Timpohon Gate, the sleeping arrangements and meals at Panalaban, what to expect while climbing, right through to returning to Park HQ at the end of your climb. Be sure to read this post BEFORE you climb! It might even influence the kind of climb you'd like to book.
Help us keep this page the most up-to-date and useful independent Mt. Kinabalu climb resource on the Internet by contributing your experiences in the comments.
If you have found another tour provider you think we should add to this list, please let us know.
When listing quotes and prices, please be sure to include the number of people in your group so readers can compare packages more easily.
You may also contact us directly anytime via email at jessica(at)notesofnomads(dot)com
Thank you for taking the time to give us your feedback.
You might also find useful
Climbing Mt. Kinabalu (Tips and practicalities for the climb itself)
Top #5 Travel Tips for Malaysia
How to get from KK to Mt Kinabalu (and from KK Airport to KK City Centre)
Kinabatangan River Cruise/Sepilok Orangutan Rehabilitation Centre