I read a lot of things before heading to Myanmar, especially about the practicalities of trip planning and what to expect in country. In reality, some of them ended up being true, others were not, at least not anymore. The situation is changing rapidly in Myanmar and it's not nearly as difficult to travel there now as one might imagine. In this post, I want to talk about what it's like to travel in Myanmar in 2017 and report back on some of the topics, and dispel some of the myths, I read about before our trip.
Let's look at what you need to know to plan your trip and some of the questions you will no doubt have before travelling there.
Contents:
Flights to Myanmar
Myanmar Visas
Snapshot of popular destinations in Myanmar (itinerary planning)
Getting around Myanmar (transportation)
Exchanging money in Myanmar (do you really need new US$100 bills?)
Accessing ATMs in Myanmar (our almost nightmare)
When to use Myanmar kyat and when to use US dollars
Is it safe to talk politics in Myanmar?
Is it safe to travel in Myanmar in general?
Pricing in Myanmar (what can you expect to pay for accommodation, food and attractions)
Accessing Wi-Fi in Myanmar & buying data SIMs
Communication in Myanmar (is it difficult to get around with English?)
Flights to Myanmar
There are an increasing number of airlines flying in and out of Myanmar, making it easier to plan a trip than ever before. There is, however, a lot of ground to cover in country if you want to visit the major cities and sights. It is therefore advisable to fly into Yangon in the south and fly out of Mandalay in the north (or vice versa) so you are not having to backtrack. In our case, it was not cost effective for us to return to Japan out of Mandalay, so we flew both in and out of Yangon with an airline called Hong Kong (HK) Express, and ended up leaving Mandalay for a future trip.
Myanmar Visas
Most visitors to Myanmar require a visa. A tourist visa is valid for 28 days and you can now conveniently apply and pay for it online. Visas are single entry only and cost US$50. See here for more information on how to apply for a Myanmar tourist visa.
Snapshot of popular destinations in Myanmar
Like with any destination, it can be difficult knowing where to start with your travel planning when you may not know what many of the popular places to visit are. While this list is by no means exhaustive and is certainly expanding all the time as previously lesser known or more difficult places to travel to/in become more accessible to the foreign tourist, here are some of the most popular places for travellers to visit.
Yangon
The former capital, location of the magnificent Shwedagon Pagoda (must see in our opinion) and the major hub for flights in and out of the country.
Here are 12 things you can do in Yangon for under $20 total!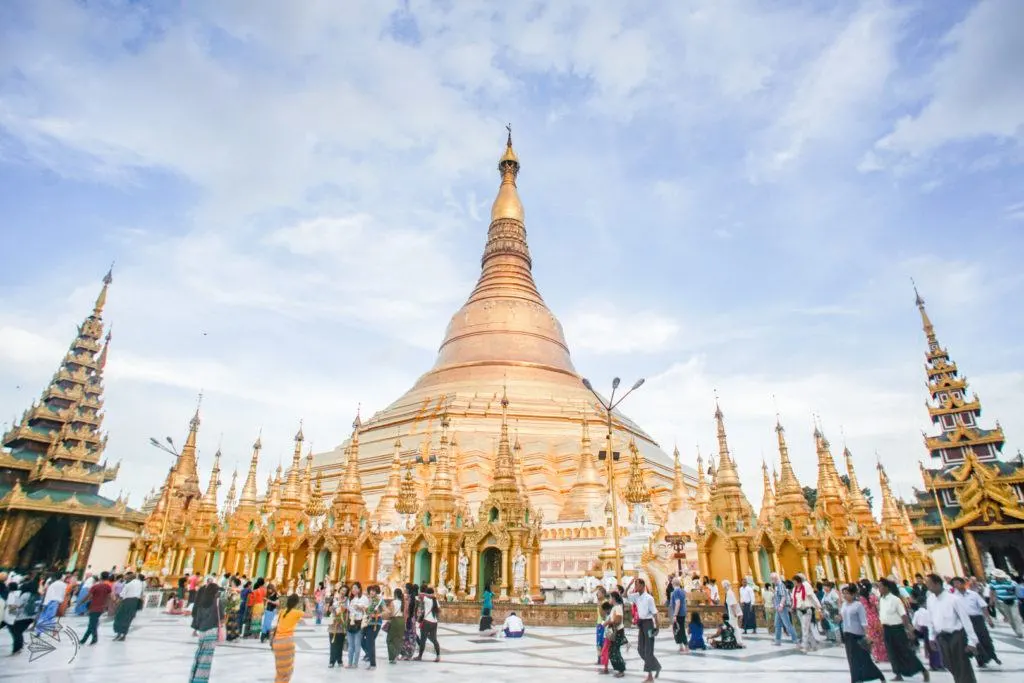 Bagan
An ancient city that dates back to the 9th Century, reaching its height between the 11th and 13th, and which served as the capital of the Pagan Kingdom. Today more than 2,000 temples, pagodas and stupas survive over an arid plain spanning an area of 13 by 8km called the 'Bagan Archaeological Zone'. Known for its breathtaking sunrises and sunsets with silhouettes of these ruins on the horizon, it's often the sight that draws foreign visitors to Myanmar in the first place.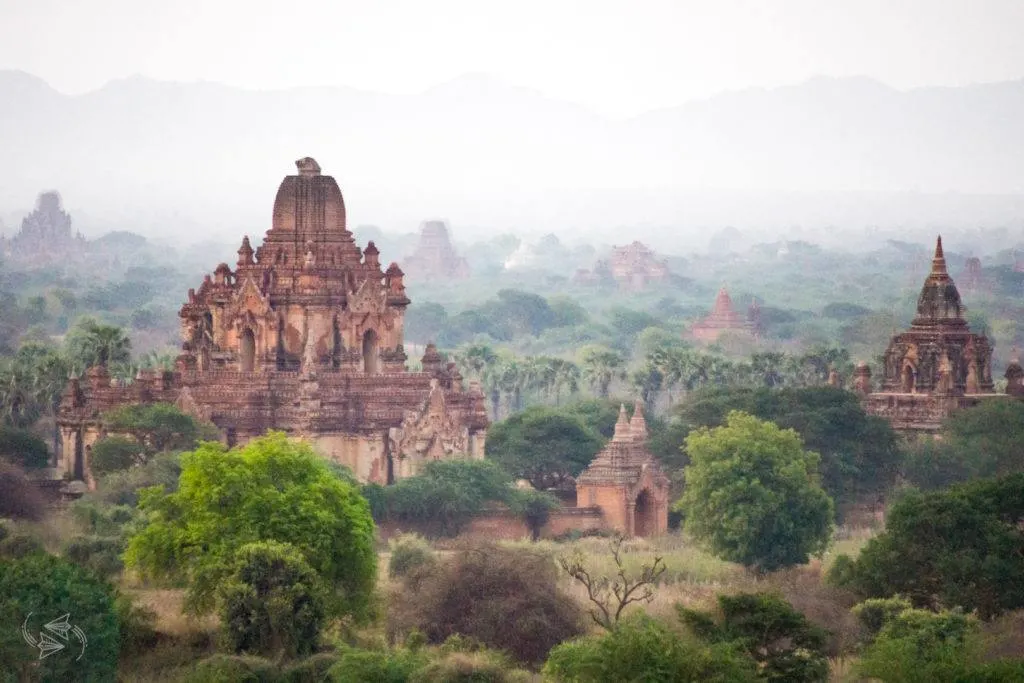 A popular half-day side trip is to Mt. Popa, a small, distinctive volcanic plug with a golden temple at its peak and a band of pesky monkeys lining the way, ready and waiting for opportunities to pilfer snacks.
Watch this video on YouTube here.
Inle Lake
A quiet and peaceful lake in the country's north-east. It is well known for its traditional fishermen who row their canoe paddles with their feet while simultaneously using their hands to catch fish with net or basket. Boat tours are the most popular activity here and can be arranged from the main jumping off point for the lake, a town by the name of Nyaungshwe, sometimes referred to as the center of the country's backpacking scene, however small and evolving that may currently be.
Watch this video on YouTube here.
Watch this video on YouTube here.
Read more about things to do in Nyaungshwe apart from boat tours.
You can also hike to the lake from Kalaw, a distance of 60km that is usually done over 3 days 2 nights. This hike, which sees you trekking down from the mountains and interacting with local hill tribe families, is often noted as a highlight for many. We hope to do this on a future trip.
This time, we wanted to make sure we had enough time to experience the lake itself and Bagan, so we instead opted for the 'Slow Train from Thazi'. It's still a 10-hour journey so we felt like we had plenty of time to soak up the beautiful surroundings. The train will take you from Thazi to Shwenyaung, another town by the lake, from where it is only a 12km journey by road to the aforementioned Nyaungshwe.
The train will do a series of switchbacks, taking you to incredible heights, and as it stops at Kalaw, those who'd like to hop off and do the trek can do so, allowing you to experience both. You will have seen the best of the train by the time you stop at Kalaw, which you'll reach about 7 hours in. Read more and watch a video of the Slow Train from Thazi here.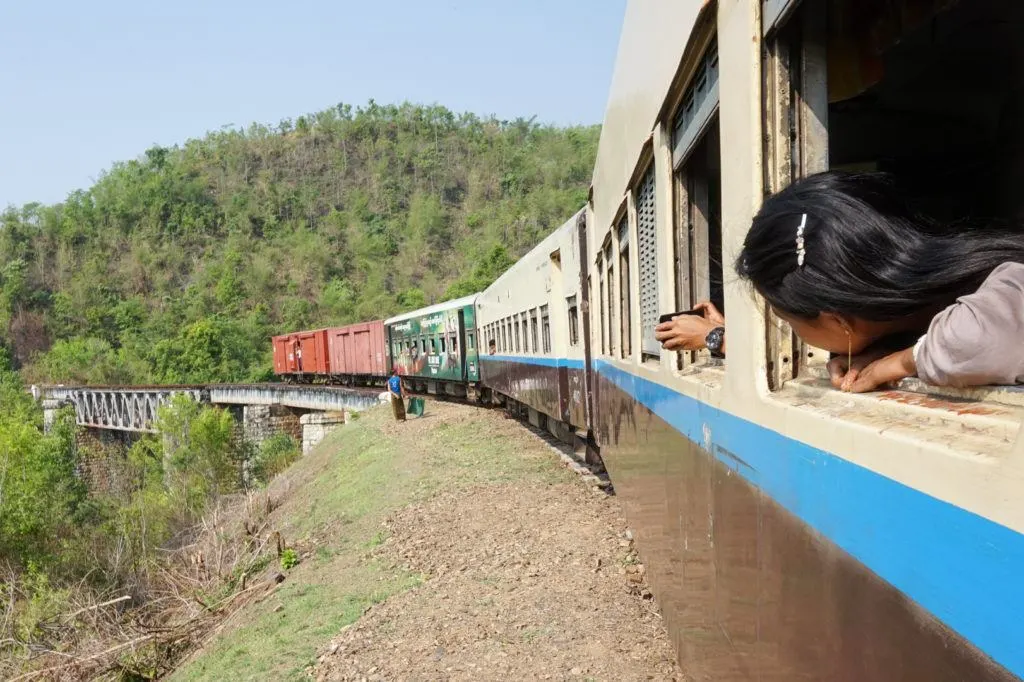 Mandalay
The last royal capital of Myanmar (then Burma) and the country's second largest city. It was from the Mandalay Palace here that the final king of Burma, King Thibaw, was captured and exiled to India in 1885. The city holds great importance as a center of learning and culture, and has many temples and pagodas to visit.
South of Mandalay, located in Amarpura, you can find the U Bein Bridge, a famous 1.2km wooden stilt bridge that is said to be the longest teak bridge in the world.
Goteik Viaduct
Approximately 100km northeast of Mandalay, you can take a very special train ride over the Goteik viaduct, a railway trestle that connects the towns of Pyin Oo Lwin and Lashio. The bridge stretches close to 700 meters across and sits more than 100 meters above the ground, making the crossing quite the breathtaking and adrenaline pumping experience. Construction was completed on the bridge in 1900 and was built as a way to expand the British Empire's influence in the region. At the time, it was the highest railway trestle in the world.
Read Borders of Adventure's account of taking the train over the Goteik viaduct.
In the same area, the town of Hsipaw is also a popular trekking destination.
Golden Rock
A Buddhist pilgrimage site that features a 7-meter-high rock that seems to defy gravity by balancing on the side of Mt. Kyaiktiyo.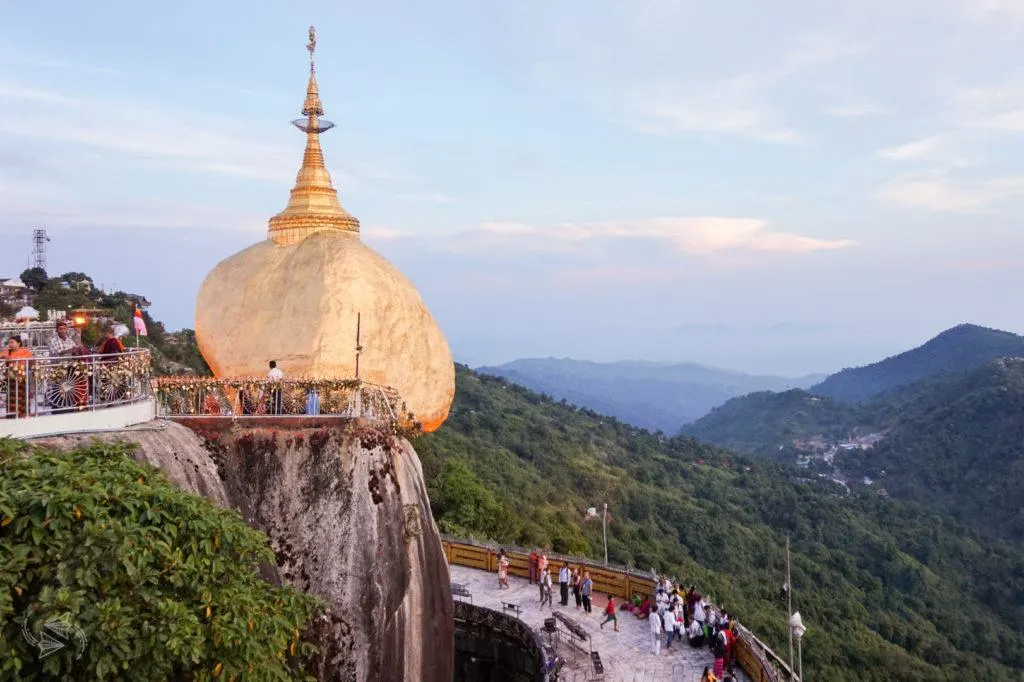 Buddhists believe that the rock remains in place by balancing on a single strand of the Buddha's hair. This special rock has been covered in gold leaf, making it even more of a spectacle under the gleaming sun and lights after sundown.
Watch this video on YouTube here.
More gold leaf is added every day by male worshippers, who are the only ones allowed to cross the small bridge and touch the rock itself. Getting to and from the rock involves an adrenaline pumping 40-min pick-up truck ride from the base town of Kinpun.
Watch this video on YouTube here.
While it may be visited as a (very long) day trip, we recommend staying the night to enjoy the sunset and sunrise.
Watch this video on YouTube here.
Bago
Bago is a small town about 50 miles northeast of Yangon, but was once the southern capital and a very important holding in the game of thrones of centuries past. Today you can still see an abundance of religious sites and the remains of its former palace. It can be visited as a day trip from Yangon, but is often visited in combination with Golden Rock over two days.
Getting around Myanmar
Buses in Myanmar
The transport option of choice for most travellers is bus. By travelling on overnight buses you can cover a lot of ground and save on accommodation costs too. One of the most popular companies is called JJ Express, who claim to be "like an airplane on land", with reclinable seats, blankets and TVs.
The buses you get will vary but, in our experience, they were always adequate and stopped a couple of times for toilet breaks. Sometimes they include a meal at one of the rest stops or a 'snack box'. You might want to ask beforehand so you know how to plan your meals or what you might like to organize to bring onboard with you. Expect to pay around $10-20 depending on where you want to go. JJ Express tickets from Bagan to Yangon, for example, cost $19.
Watch this video on YouTube here.
Trains in Myanmar
Trains are slower and bumpier, but we wanted to have the local train experience, so we went from Yangon to Thazi and then took 'the Slow Train from Thazi' to Shwenyaung, before taking a tuk tuk the extra 12 kilometers to Nyaungshwe, the most popular town for tourists by Inle Lake. We also took the train from Yangon to Golden Rock (don't do it on the way back, as it's almost always delayed by several hours on the return journey).
Tickets are incredibly cheap and only cost a few dollars, even for overnight services. The difference between ordinary class and first class is often only a matter of cents, or a dollar or two. Even if you don't use the train to get between cities, we highly recommend the City Circular train in Yangon, which allows you to ride around and get a look into local life in the city's suburbs for 3 hours, and all for the grand price of just 15 cents!
Watch this video on YouTube here.
Flights in Myanmar
You can also take domestic flights to a number of locations around the country. Only local airlines are permitted to fly domestically and with a less than glowing safety record, we decided to skip the flights and opt for land travel, which was much cheaper too. You can of course do your own reading and decide if flights are something you want to do or not.
Exchanging money in Myanmar – do you really need new US$100 bills?
If you've done some research on accessing money in Myanmar, you'll no doubt have come across a lot of talk of the need to bring pristine US$100 bills to exchange for local currency, the Myanmar kyat (pronounced chat). The large denomination may have been more to do with getting a better exchange rate than necessity, I'm not sure, but in any case, in 2017 you can exchange any US bank note, even $1 bills. The larger the denomination, the slightly better the exchange rate though. You may want to keep smaller notes as you can use $US in many places in Myanmar and being able to give exact amounts and not ending up with lots of local change can be useful.
I also tested the pristine theory with some old cash I had from a previous trip. I tried exchanging a $20 bill that was still in tact but far from new, and it was exchanged without a problem. While it makes sense to err on the side of caution and bring the best quality notes you can get your hands on, the idea that it needs to look like it was minted yesterday doesn't seem to apply now.
In addition to US currency, you can also exchange Euro, Singapore dollars, Thai baht and Malaysian ringgit, at least at the airport, and Myanmar is one of the few places where exchanging money at the airport is advised. The exchange rate is set by the government each day and airport counters don't charge commission, so there isn't any advantage in exchanging at money changers elsewhere. Previously many people encouraged exchanging on the black market, but with many instances of short changing, it makes better sense to just go to airport exchange counters.
What's the deal with accessing ATMs in Myanmar?
Not so long ago, there were no ATMs in Myanmar, meaning that as a traveller you would have to bring all the cash you needed for your trip with you in US dollars. However, ATMs are now being installed at a rapid rate and you can now find ATMs at airports, and in most cities and tourist spots. That being said, it is not as simple as just going up to any ATM and accessing money, even if that ATM bears the same international symbols that your foreign card does. Many travellers still have difficulty accessing money from ATMs in Myanmar, even if their bank has assured them they can use their card in country.
I wanted to test this too. We usually rely on ATMs when we travel and bar an ATM here or there, we've always found ATMs that will accept my ANZ Visa debit card from Australia and my Shinsei bank card from Japan. I tried both of these cards, plus other Japanese bank cards from two of the three major Japanese banks, at the three ATMs in arrivals at Yangon Airport, and none of them worked. None of them. Hai tried his Japanese cards as well, but no luck.
As we travel a lot, I went through some old currency we had accumulated on previous trips before we went, so we did have some US currency, as well as some Euros and Singapore dollars on us that we were able to exchange at the airport currency exchange counter. But it was nowhere near enough for our trip. In fact, it would have only been enough to get through a couple of days. I tried my cards again in the city, but again none of them were accepted, despite Cirrus and Maestro, and Visa signs, that all should work with my cards.
I've used my ANZ card all over the world and this was the first time I've encountered this kind of problem. In my research, I had read reports from other travellers that ANZ cards don't work in Myanmar, but I had hoped that this may have changed since ANZ now have a branch in Yangon (not a regular branch but some kind of foreign investment office) and that when you inform the bank that you are travelling (which I highly recommend you do, especially if you are travelling to some "off-beat" places), Myanmar was one of the options from the drop-down list. I wondered why it was an option if you can't actually use your card there.
By this point, I was starting to get anxious about what we would do about the money situation. We had one hope left and that was Hai's Commonwealth Bank card from Australia. I didn't have high hopes because historically we have had a lot of difficulty accessing money from this account anywhere we have travelled. We usually rely on my ANZ card and our Japanese cards. Hai tried it at the popular KBZ bank ATMs but it didn't work. But miraculously it did work at an MAB bank ATM. Never before has the sound of an ATM flipping through bank notes been so sweet! Now we could relax knowing that we would be able to pay for upcoming nights' of accommodation and get food and everything else we needed.
If I had been travelling alone, my next step would probably have been trying a cash advance on my credit card. It wouldn't have been the best scenario with the added fees, but better than no money at all. Or if all else had failed, I might even have had to buy a cheap flight to, say, Thailand online with my credit card, accessed enough money from an ATM there and then flown back!
As we weren't expecting to use Hai's Commonwealth Bank card for this trip, it didn't have enough cash for the entirety of our travels. But thanks to the modern miracle of Internet banking, we were able to transfer money from another account to get us through. Phew!
Usually I would recommend using ATMs rather than bringing cash to exchange, but Myanmar is one of the few places where I still think it is advisable. Unless you have been to Myanmar before and you know for sure that your card(s) work at certain banks' ATMs, then I would save yourself the stress and just bring enough money for the entirety of your trip. Be wary about assuming you can use your card just because someone else online said they could use theirs. I've read many accounts where people with the same card from the same bank have had varying levels of success. It's all rather fickle and the only way to really know is to go there and try your card for yourself.
If you do use ATMs, also don't assume that you'll be able to access money everywhere. Even if there are ATMs in the destination you are heading to, they are known to be out of service frequently. It is advised to go to ATMs earlier in the day if possible – sometimes the software seems to have a meltdown and other times they just simply run out of cash. The maximum withdrawal is usually 300,000 kyat (around US$200) and in exchange you'll receive a wad of notes that will probably cause your wallet not to close. It's easy to understand why the machine physically cannot contain enough money for lots of withdrawals, especially in high traffic areas.
We were leaving Yangon the day after our arrival in Myanmar, so technically didn't need to withdraw cash again before departing, but given the difficulty we had getting cash in the first place, we didn't want to risk it and withdrew again to tide us over for a while. There are ATMs in major places like Inle Lake and Bagan, and if your card works in Yangon, you shouldn't have problems at the same ATMs in other cities. However, don't wait until you are too low on cash to withdraw as you never know what the situation may be like where you are headed and if or when ATMs may be temporarily out of service.
When to use Myanmar kyat and when to use $US
The local currency is kyat and you should keep some on you at all times for everyday spending. However, most hotels and guesthouses, and some attractions and services, will give you the option of paying in US dollars or in kyat. We booked our accommodation on Booking.com (affiliate link) and even though all the booking confirmations said that payment was to be made on arrival in kyat, all of them asked whether we wanted to pay in $US. The current exchange rate is around 1,300 kyat to the dollar.
If you have both currencies, whether to pay in US dollars or kyat depends on the exchange rate they are using. One of the guesthouses we went to pulled up the day's exchange rate online to make the calculations, others used the 1,300 kyat to the dollar rate as a recent average, and another place we stayed at used 1,200 to the dollar, which meant it was better for us to pay in kyat.
Many attractions in Yangon still go with a 1,000 kyat to the dollar rate. For example, one of the biggest attractions in the city, the Shwedagon Pagoda, charges 8,000 kyat or US$8 for foreign entry. The same goes for the Sule Pagoda – it's 3,000 kyat or US$3 entry. Based on current exchange rates, it's more advantageous to pay in local currency.
If you're really pinching pennies, how much it costs in bank ATM and currency conversion fees to get kyat, and/or to get US$ in your home country, if you don't use that currency where you live, could be a factor in what works out better for you.
For us, we just exchanged the foreign currency we had already for kyat at the airport and then got more kyat from ATMs (and thankfully we could!). We did keep some $US though, including a whole stack of one dollar bills I had from when I was working on a cruise ship. As we were often in port for only a few hours, carrying the smallest of denominations was advised as you could either purchase things in US$ in some places or exchange only what you needed and not end up with lots of loose local change. While it is not really necessary, there were times when it came in handy as we had the exact change required to pay for something in US dollars. We used those bills to pay for bus tickets once and also to buy some drinks at the airport when we had some kyat on us, but didn't want to break big notes. You can of course change your money back at the airport, but as we fully intend on coming back to Myanmar, we decided just to keep what we had left for our next trip.
Important note: Remember that you can only exchange your kyat in Myanmar and you won't be able to use it once you leave, so if you want to exchange it for a currency you can use elsewhere, be sure to do so before you go through immigration. There is nowhere to exchange your money after that.
Is it safe to talk politics in Myanmar?
Myanmar has a complicated history to be sure and is still developing its relationship with the modern outside world, but the country today is probably far more 'worldly' than many people might imagine. Everyone we met had smartphones and were knowledgeable about issues the countries has faced and is facing, whether through personal experience, what they have read or watched online, or a combination of both. Many local people will openly talk about the country's history and political situation. Be prepared to hear a lot about 'The Lady' (AKA pro-democracy leader and politician Aung San Suu Kyi) and how the country has and is changing. I know that her standing has become much more complicated internationally over recent months, and that many of you, myself included, will have strong opinions about that.
As a foreign traveller, I would probably avoid voicing my opinion everywhere I went and asking too many pointed questions. But I would say this in a lot of places. My advice would be to stick to home dinner party etiquette – as a guest, stick with more general topics unless your host brings it up. And, believe me, if you engage with local people, there will be the chance to talk and learn more about politics in the country. There's just a time and a place for it.
Is Myanmar safe in general?
We felt absolutely safe as travellers in Myanmar. The people are really kind and helpful, and you'll no doubt notice the signs posted at train stations and at tourist spots around the country that say, 'Warmly and welcome the tourists.'
We didn't even feel worried about sleeping on the overnight train with our unlocked bags on the overhead racks. I wouldn't do this in many places, but for whatever reason we didn't even feel the slightest apprehension. The atmosphere was just really warm and we had lots of broken conversations with our seat mates. We shared photos of us and our families on our phones, and they were keen to show us photos of General Aung San and Aung San Suu Kyi. See how easy it is for politics to come up without bringing it up yourself!
That's not to say that crime never happens in Myanmar; it does. There was one place we stayed where we didn't feel comfortable leaving valuables in our room, but that was only one night on our two-week trip and we would mostly advise just taking the usual levels of precaution and care just like when you go anywhere.
The guesthouse we stayed at in Nyaungshwe (by Inle Lake) (affiliate link), warned us to be careful not to leave our bags unattended in our bicycle baskets. They said that a month earlier some tourists staying with them took a bike ride to one of the small villages and left their wallets and passports in the baskets on the side of the road while they wandered off somewhere, and when they came back their stuff was gone. To us, that was just a careless thing to do. We should expect that this kind of petty crime of opportunity happens almost everywhere around the world. In our experience, Myanmar was not a place where we felt concerned about money belts and locking up our backpacks. In fact, the helpfulness and general honesty of the people was really refreshing.
Prices in Myanmar
Many people say that Myanmar is an extremely expensive place to travel, but it's only expensive if you choose to travel that way. It will be expensive if you stay in 5-star hotels and indulge in luxurious meals, but isn't that the same anywhere?
To give you an idea of accommodation costs, we spent an average of US$30-40 a night for a double room with private bathroom. Every place we stayed included A/C, Wi-Fi and breakfast.
As for meals, we could easily get a meal with drink, like a fresh fruit juice, for about US$3-4 per person, and you can certainly stretch your budget further if you stick with the cheapest offerings. Even when we "splurged" on slightly more upmarket restaurants, the bill usually didn't come to more than US$20 for the two of us.
Probably one of the reasons we felt so at ease in Myanmar was that people were generally very honest about pricing and didn't try to overcharge you. I'd done quite a lot of research on prices before going and also asked for the cost of things from the guesthouses we stayed at, and it was so nice to have most people ask for the exact going rate, even when they probably could have asked for more and many visitors would have been none the wiser or just paid anyway. Even at markets, haggling wasn't really a thing. Local people didn't seem to be doing it and when we saw other people paying for items, they paid the same amount we did.
There is sometimes a time and a place for negotiation, and there will be the odd taxi driver who tries their luck with an exorbitant ask (mostly those waiting at bus stations), but most didn't and we were able to get the going rate anyway with minimal effort. It was quick and friendly, and nothing like some of the drawn-out haggling situations we have experienced in other countries.
One thing you should note about travel in Myanmar is that there are many places that have fees for foreigners and not for locals, or higher fees for tourists. This is, however, an official pricing difference, and is the way the country seems to be trying to capitalize on tourism. You'll have to get used to that if you are planning a trip here! Some fees that apply to foreigners that don't apply to locals include the 25,000 kyat fee for Bagan (valid for 5 days), 12,000 kyat for Inle Lake (valid for 5 days), 6,000 kyat for Golden Rock (valid for 2 days) and 12,000 kyat for Bago (validity unclear).
Accessing Wi-Fi in Myanmar & data SIMs
Oh, did we hear so many stories about the terrible state of Wi-Fi in Myanmar. "The worst in Southeast Asia," many people said. "A waste of time," said other frustrated travellers. I'm sure it probably was annoyingly unreliable even just a few short years ago, but infrastructure and services have developed a lot of late and we had no problems whatsoever with getting online or slow connections during our visit.
Every place we stayed at had free Wi-Fi and quickly offered the Wi-Fi password upon check-in. And for the ability to freely use maps and search for things while out and about, we picked up a SIM card at the airport. There were three companies lined up in a row, with clear signage in English on pricing and what was included with each package. We went with a company called Ooredoo and got a 1-month 3.5GB data plan that also got us a local number and 30 minutes of local calls for the ridiculously low price of 7,500 kyat. That's about US$5.50.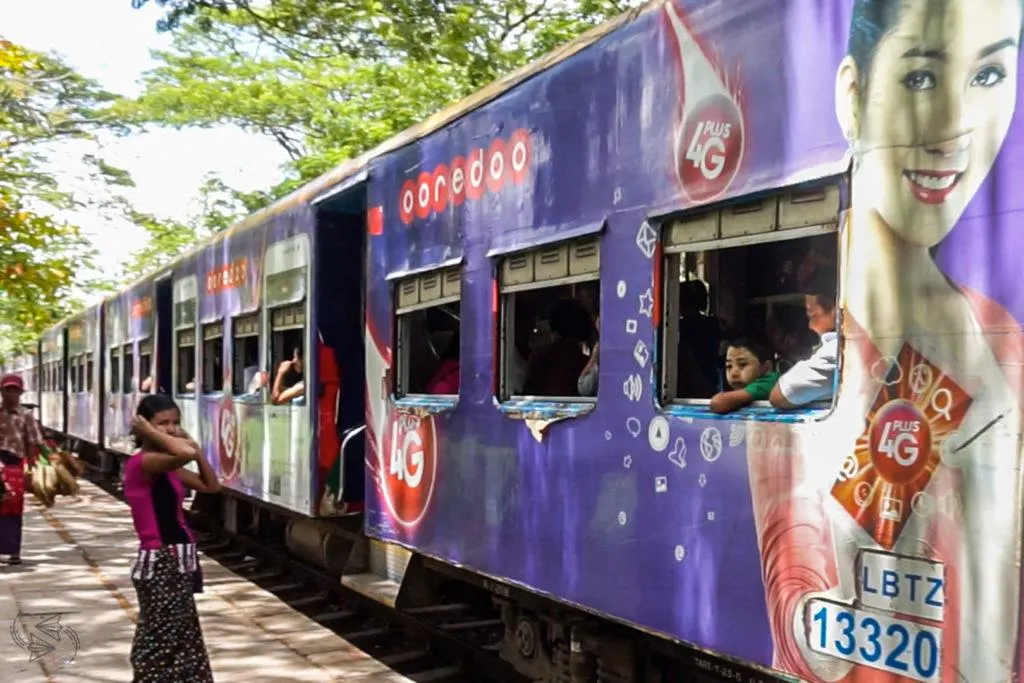 It was so simple to pick up and only took a couple of minutes. Just choose the plan you want and then show them your unlocked phone so they can set up the SIM for you. They seemed to be doing it anyway, but just make sure they test it works before you pay and leave. The phone of the person being served next to us wasn't picking up the signal from this company, but the staff said there was a signal from both of their competitors showing up, so they should buy from one of them next door.
We highly recommend picking up a SIM card for your travels in Myanmar. It's so cheap for such convenience. We didn't have troubles with the signal cutting out even when were on old rickety trains in the middle of nowhere. And while you may not use it, it's useful to have a local number to be easily contactable and to communicate with hotels or guides anywhere, especially if for some reason you can't get Wi-Fi.
Blackouts are a common occurrence in Myanmar. We experienced the first on our trip when we were still in immigration on arrival, and there were a few more during our trip, mostly because of short storms. However, this didn't cause any problems for us getting online. Most accommodations have their own generator nowadays, so while you may lose connection, the Internet (and everything else) is usually back up and running within moments, or at least very quickly. This is where the data SIM is also handy. If you happen to experience a black out and the place you are staying doesn't have a back-up option or it will take a while to switch it on, then you can still look up the things you need to without worry.
For added convenience, we also carried around a charged power bank so that we could keep mobile phones and camera batteries charged in such instances, or just for when we were using them a lot and needing to charge before getting to back to or finding our next accommodation.
Is it difficult to communicate in Myanmar?
We had no issues using English in Myanmar. Most people who work at hotels and attractions, or who provide services to tourists, have a solid base of English. It was easy to buy train tickets on our own, even when the signs were all in Burmese. There was always someone who came up to point us to the right counter and communicating where we wanted to go and getting departure information wasn't a problem. Almost all other people we interacted with, such as taxi drivers and people working at train station tea stalls, had some basics and could at least tell us the price.
There was only one restaurant at Golden Rock where the staff didn't speak any English at all, but when it came time to pay the bill, one staff member just communicated the total by putting up the appropriate number of fingers. While another came along with a calculator to show us the price for good measure. And one taxi driver didn't understand when we asked to be taken to the train station or my 'choo choo' sounds either (haha) – they still use diesel trains in Myanmar – but that was easily solved with our data SIM. We pulled up a photo of the location on Google maps and he instantly understood where we wanted to go.
Anything we didn't cover that you'd like to know about? Leave your questions in the comments and we'll do our best to answer them. Have you been to Myanmar? What was your experience like?
Pin me for later!