Like a number of Western holidays in Japan, Christmas seems to be getting bigger every year. Christmas in Japan is an interesting mix of traditions from abroad with some unique Japanese Christmas interpretations thrown in.
Here are 8 things that make the Japanese Christmas experience its own.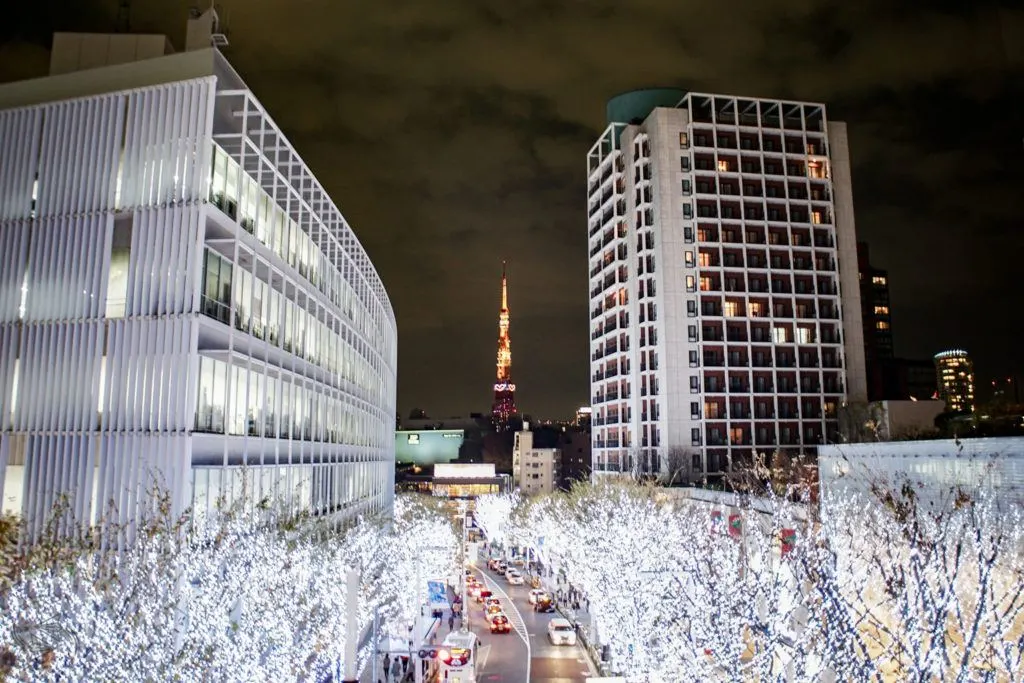 1. Christmas Eve is the main event
When Japanese people say Christmas, they are almost exclusively referring to Christmas Eve.

While Christmas Eve is the focus of Christmas festivities in many countries around the world, in Japan, things go a step further as Christmas Day is not a holiday, making December 25th a virtual non-event (more on that in a moment).
2. Christmas in Japan is similar to Valentine's Day
Christmas Eve in Japan is essentially an evening for couples and friends to get together, have a meal, perhaps take in some Christmas lights, and exchange gifts.

If you plan on eating at a restaurant or visiting a popular date spot on December 24th, it's best to plan ahead and make reservations wherever possible. Consider it an early Valentine's Day, if you will.
While it is mostly a romantic holiday or a time to spend with friends, an increasing number of families celebrate it too. It's generally not considered an important family event though; rather a fun Western thing to do in the spirit of the season.

Children nowadays grow up with knowledge of Christmas traditions (however Japanized) and do expect a visit from Santa. Although the extent to which Christmas is celebrated still very much depends on the family.
3. Japanese Christmas, KFC for dinner?
Chicken is the staple main dish for Japanese Christmas Eve dinner, while a sponge cake with cream and strawberries simply referred to as "Christmas cake" is popular for dessert.

Many restaurants offer these or other special Christmas menu items for eat-in or take-away, but many require a reservation to be placed in advance so it's best to check ahead of time.
Interestingly, one of the most popular places to get your fill of Christmas Eve chicken is at KFC. In fact, we can probably say that it is thanks to KFC that the whole chicken on Christmas Eve thing became popular in Japan in the first place.
The popularization of KFC for Christmas in Japan came about as a result of a very successful marketing campaign in the 1970s that just seems to have stuck around.

The idea for the marketing campaign can actually be traced back to a foreigner who went to the Aoyama store in Tokyo one Christmas and ordered such a large amount of chicken that he felt the need to explain to the store clerk that he was having a Christmas party and since he couldn't find any turkey, he'd decided to just get a whole stack of KFC chicken instead.
The store manager picked up on this and was savvy enough to take the idea of promoting KFC for Christmas to the higher management. In 1974, they launched a campaign called "Kentucky for Christmas" that went so well it sparked a new tradition.
Nowadays, KFC's in busy locations can have queues around the block on Christmas Eve, with waiting times of several hours. While stores stock up big on chicken for the evening, they can and do sell out. That's why they recommend placing an order in advance, either online or in-store. Doing so means that your order is guaranteed and you can use a special express queue when you pick it up.
4. A WHAM Christmas
Just like in many Western countries, it is not uncommon to hear Christmas music being played in stores in the lead-up to Christmas in Japan.

Except there is one song that you're likely to hear on repeat wherever you go, and that's WHAM's 'Last Christmas'. Consider it Japan's 'All I Want for Christmas is You'.

It is for this reason that virtually every Japanese person knows the name WHAM, but don't expect them to know who George Michael is. You should have seen how confused my clients were when I mentioned that George Michael had passed. "Who?" "You know 'Last Christmas'?" "Oh, yeah, WHAM." "Well, he was the leader singer of WHAM." "Oh, really?" (ehhhhhhh)

It just wouldn't be a Japanese Christmas without WHAM.
5. By Christmas morning, it's over
If you're used to Christmas Day being the main event or at least for festivities to continue on the 25th, a Japanese Christmas may take you by surprise.

I clearly remember our first Christmas in Japan and going out to try to buy one of the aforementioned chicken packs on Christmas Day. They were perplexed why we would be asking when Christmas was "over" and we were wondering why on earth a Christmas special wouldn't be until Christmas Day.

Nowadays, there are places that extend their Christmas meals until the 25th, but Christmas Day itself is rather uneventful. Neither Christmas Eve, Christmas Day or Boxing Day are holidays for the Japanese so after a fun night on the 24th, everyone is back at work as usual on Christmas Day and the festivities feel more or less over.
However, with the increasing popularity of Christmas in Japan, Christmas parties may often extend to any of the days around Christmas Eve. For three decades, many foreigners would relish the national holiday on December 23rd, the previous Emperor's birthday, and use it as a day to celebrate holiday parties with other expat friends missing Christmas festivities back home. However, with the change of Emperor in 2019, this date is no longer a national holiday.
6. Next level Christmas Lights
Something that many people don't know about Japan is their extensive winter lights displays or "illuminations". We're talking millions of LED lights and interactive audio-visual displays, each location usually having a designated theme each year so that visitors can enjoy something different each festive season.

Some are specifically Christmas orientated that wrap-up on Christmas Day, while others extend all the way to Valentine's Day, giving couples ample opportunity for the perfect winter date night.
Here are some Japanese Christmas light displays we visited in Tokyo to give you a taste of the holiday season in Japan.
7. German Christmas Markets in Japan
An interesting trend over the past 8 years or so has been the adoption of the German-style Christmas market.

In the few weeks leading up to Christmas, the Japanese celebrate the season with wooden market stalls selling hot mulled wine, bratwurst and trinkets.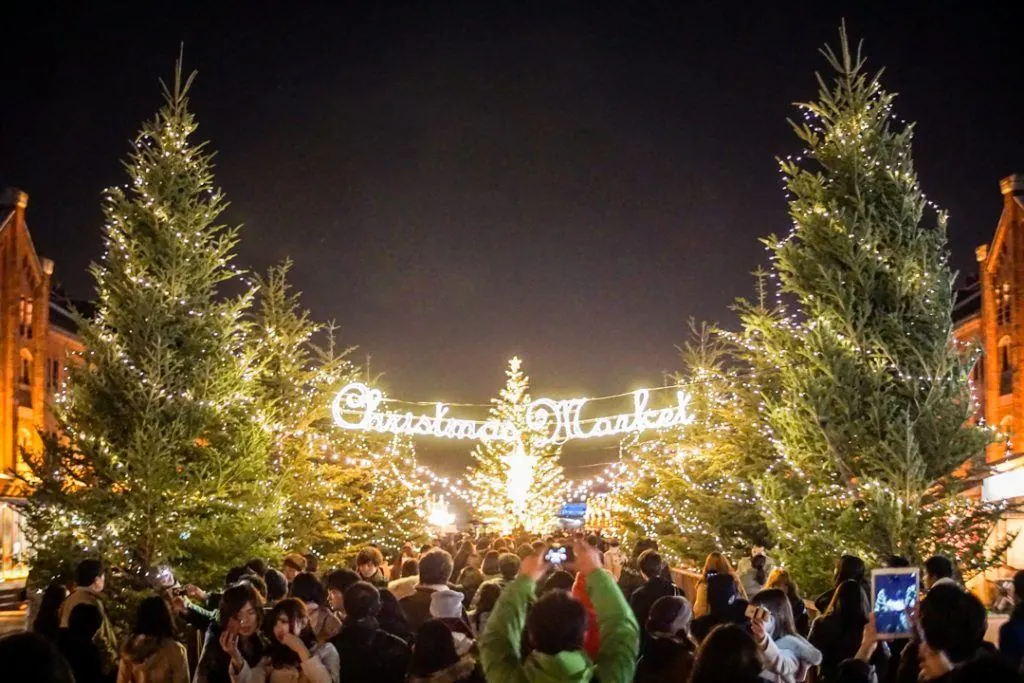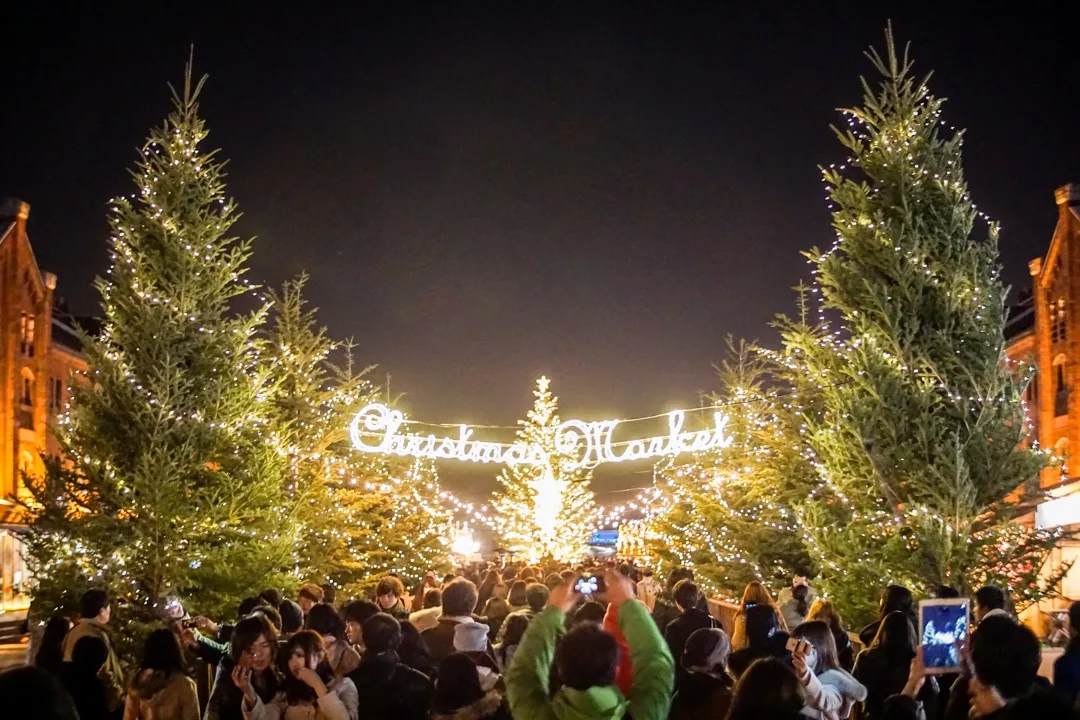 My top pick for a German Christmas market that is actually very true to Christmas markets you find in Germany is 'Tokyo Christmas Market' held at Hibiya Park, Tokyo.

Tokyo Christmas Market along with the other popular German-style Christmas Markets in Tokyo are held until December 25th, perfect for those looking for some festive cheer on Christmas Day itself!
Here are 5 places you can visit German-style Christmas markets in Tokyo.
8. Japanese Christmas shopping and gift-giving
While it is quite commonplace for couples and friends, especially female friends, to exchange gifts, and for presents to be given to young children, whether one gives gifts or even celebrates Christmas in Japan at all really depends on the person.

As a non-traditional holiday that often falls in the middle of the working week, it's not uncommon for some people to pass on marking the occasion altogether.
Having a small get-together on Christmas Eve followed by watching TV at home and getting an early night for work the next day is a common response from Japanese. Check out this video from That Japanese Man Yuta as he interviews Japanese women on what they plan to do/want for Christmas.
One of the things I love about Christmas in Japan is that there isn't pressure to buy presents for everyone you know, the stores aren't overly crowded and there isn't a huge sales rush. The sales in Japan actually start in the New Year when stores package their unsold stock into "lucky bags" known as fukubukuro.
They are usually sold at quite heavily discounted prices but the catch is you don't know the contents until after purchase!
Have you spent Christmas in Japan? Would you like to? How do you celebrate Christmas in your part of the world?