The Japanese seem to be taking Christmas to a whole new level every year. Of course, being a non-traditional holiday, adopting celebratory practices from other cultures is somewhat of a given. One of the most trending adoptions of the past couple of years is German Christmas markets, where the Japanese trade grilled fish for bratwurst and hot sake for mulled wine.
Like most things "foreign" in Japan, expect to pay more for your market fare, but unlike a lot of foreign cuisine in the country we'd label it as reasonably authentic. At the very least it seems to be the general consensus that the Glühwein recipe has not been lost in translation. You can trust us; we made a point of visiting almost all the major Christmas markets in Germany on our last visit.
So if you feel like joining the Japanese in their European take on the season, or perhaps just taking a night off Japanese cuisine for some foreign fare, here are five German Christmas markets in Tokyo where you can get your glow on this holiday season. Prost!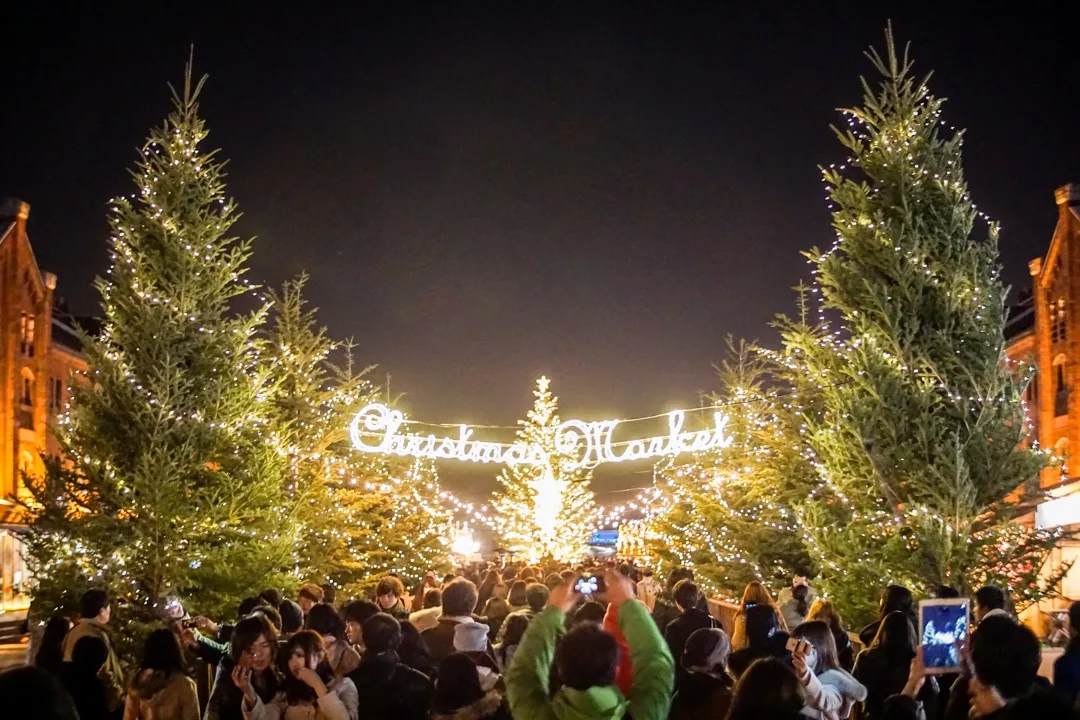 1. Soramachi Christmas Market 2018 (Solamachi Christmas Market)

Located next to the most recent attraction to hit the Tokyo skyline, this German Christmas market by Tokyo Skytree, said to be bigger than last year's, is sure to get a lot of foot traffic this season. The wooden stalls selling holiday trinkets, Glühwein and stollen certainly give a homely vibe amongst the downtown city-scape.
Combine your visit with a look at the twinkly illuminations on the pathways connecting the Skytree's Soramachi Mall 4th floor Sky Arena and Tokyo Skytree and Oshiage Stations. Visitors can enjoy an 8-minute projection mapping show involving a 340m large screen every 30 minutes from 5:30pm (last show 8pm), while Tokyo Skytree itself will also be lit up in festive colors from 5:30-10pm (alternating between green and red each day).
Location: Tokyo Soramachi (Tokyo Skytown), Oshiage
Dates: Until December 25th, 2018
Time: 11am-10pm (last order for food 9pm, drinks 9:30pm)
Access: Tokyo Skytree Station (Tobu Skytree line); Oshiage Station (Tobu Skytree, Keisei Oshiage, Asakusa, Hanzomon lines)
More info: Official website
2. Christmas Marche 2018

Replacing the usual farmers' markets that take place at Yebisu Garden Place's Clock Plaza throughout the year, this Christmas market will offer the usual European favorites.
Check out the beautiful Christmas tree by the stalls and head into the shopping complex for a look at the illuminations display, including the impressive 5m x 3m Baccarat chandelier.
Location: Yebisu Garden Place, Ebisu
Dates: Until December 25th, 2018 (shopping complex illuminations until February 28th, 2019, Baccarat chandelier 'Eternal Lights' display until January 14th, 2019)
Time: 11am-8pm (illuminations 4pm until midnight)
Access: Ebisu Station (Yamanote line), east exit; (Hibiya line), exit 1
More info: Official website
3. Yokohama Red Brick Warehouse Christmas Market 2018

Minato Mirai is a popular date spot anytime of year with its ferris wheel and waterside promenades, but this German Christmas market at the ever-evolving Red Brick Warehouse space in Yokohama gives one an extra incentive to brave the chilly evenings.
Apart from stalls with good bratwurst and even better Glühwein, there are also a bunch of special events, including the chance for the kids to meet Santa on December 14th, 18th, 20th and 21st.
For even more winter holiday fun, head to the adjacent 'Art Rink', an open-air ice skating rink on until February 17th, 2019.
Location: Minato Mirai, Yokohama
Dates: Until December 25th, 2018
Time: 11am-9pm (until 10pm from December 15th onwards). The Christmas tree and decorations will be lit up from 4pm until market close. The Christmas tree only will remain on until 11pm.
Access: Bashamichi Station (Minatomirai line), Nihon-Odori Station (Minatomirai line)
More info: Official website
4. Roppongi Hills Christmas Market 2018

A small market area set-up within the Roppongi Hills shopping center, this one perhaps feels a little more manufactured than the outdoor markets. But rest assured, if a German bier, sausage, mug of mulled wine or a snow globe is what you're after, you can find them here. Goods on offer include Christmas decorations imported from Germany and advent calendars.
If you're looking for a Christmas tree or plants to add a bit of festive cheer to your Tokyo apartment, the Fir Tree Shop on Hillside (4-8pm), located on the first floor of Roppongi Hills, has miniature sized ones starting at 1,500 yen, along with wreaths and other decorative items.
While the market on its own is probably not worth a special trip, if you combine it with a visit to the Keyakizaka Illuminations display within the same complex and the Tokyo Midtown illuminations, you've got yourself a very nice winter holiday outing.
Location: Roppongi Hills, Roppongi
Dates: Until December 25th, 2018
Time: 11am-9pm (until 10pm on Fridays, Saturdays and Christmas Eve).
Access: Roppongi Station (Hibiya line), exit 1C; (Oedo line), exit 3
More info: Official website
5. Tokyo Christmas Market 2018

Of all the German-style Christmas markets of the season, this installation at Hibiya Park is perhaps the one we are most looking forward to. Along with the usual German fare, expect a 14m tall traditional 'Christmas Pyramid' imported straight from Seiffen, Germany's renowned Christmas craft town with a history of woodcrafts dating back to the late 1800s. What's more, this event has the official backing of the German Tourism Association and the German Embassy!
Location: Hibiya Park, Hibiya
Dates: December 14th-25th, 2018
Time: 11am-10pm (last order 9:30pm)
Access: Hibiya Station (Hibiya and Chiyoda lines), exit A14 (1 min); Kasumigaseki Station (Marunouchi line), exit B2 (5 mins); Uchisaiwaichō Station (Toei Mita Line), exit A7 (5 mins); JR Tokyo Station, Marunouchi Exit, (20 mins); JR Yurakucho Station, Hibiya Exit (10 mins)
More info: Our on-the-ground blog with photos from last year's event.
Are you interested in visiting any of the German Christmas markets in Tokyo? Have you been to any? Let us know what you think in the comments.
Other winter events in Tokyo
Setagaya Boroichi – a 400-year-old flea market in Tokyo! (held on select dates in December and January)