New Year is a particularly auspicious holiday period in Japan and despite having to pay attention to changes in attraction/shop schedules, it's a very interesting time to be in the country. In case you're interested in the specifics, we outline the customs and their significance here.
But in this post we wanted to talk about a more modern tradition that amongst the family time and shrine visits, captures the first few days of the New Year for an increasing number of Japanese, and that is the hunt for a good bargain.
New Year is the start of the biggest sales of the year in Japan, and while some shops remain closed until a few days into the New Year, more and more are opening on New Year's Day itself, offering early birds the best of the season's bargains.
On top of having general sales that can earn you a substantial discount, what many are on the hunt for is the best fukubukuro, or lucky bags.
So, what are fukubukuro exactly?
These lucky bags are essentially New Year sales bags containing a bunch of items that you can snag for a price significantly lower than retail. While this is totally dependent on the store and the deal they decide to give customers on any given year, very roughly you can expect to get about twice as much in retail value as what you pay for the bag. So if you pay ¥10,000 (about $100), you'll generally get around ¥20,000 (about $200) worth of items in the bag. The only catch – and where the "lucky" part comes in – is you have no idea what is in the bag when you purchase it! And according to some of my Japanese friends, trying to get a sneak peek into the bags is likely to earn you some stern words from staff!
Essentially, it's like a game of chance in which sometimes you get a great hand and other times you don't. To try to avoid disappointment, here are some tips to get the most out of the fukubukuro experience.
Getting the best lucky bags in Japan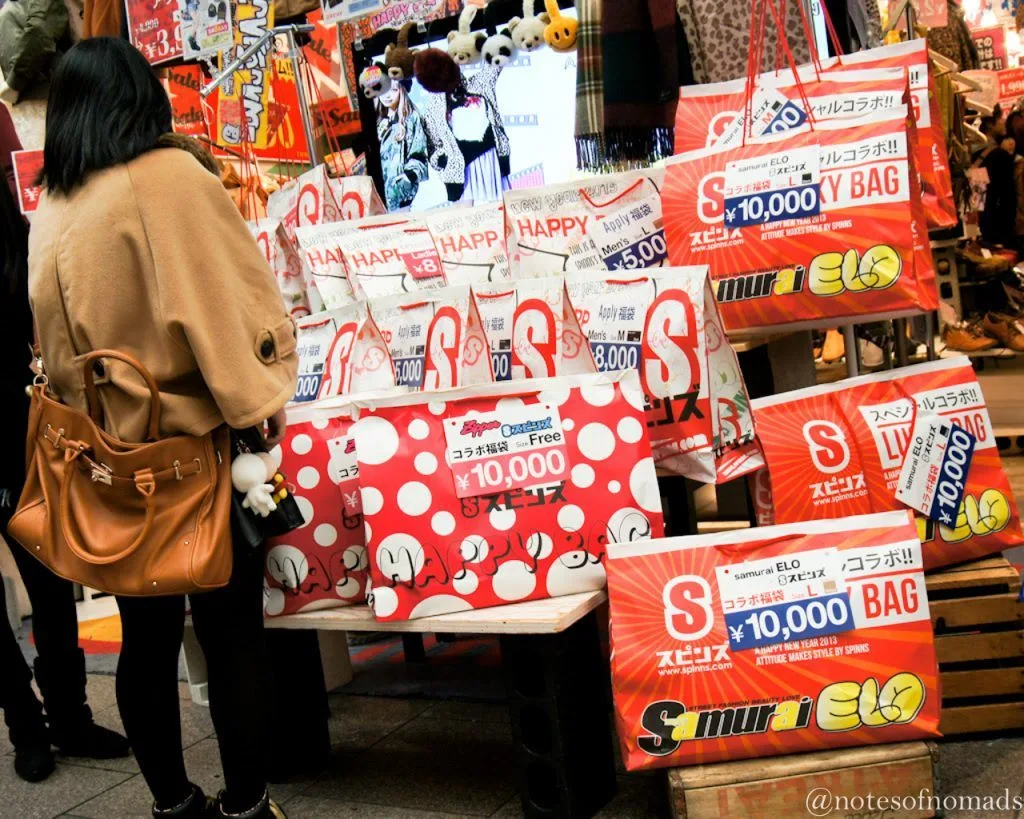 Buy from brands you already love
While this might sound a bit obvious, it is easy to get carried away in the pursuit of a bargain. Keeping with brands you already love or whose items really appeal to you when you visit their stores, will help keep that post-buyer's regret in check.
Know your size
Clothing fukubukuro are sold in bags for men/women/kids and in size. There isn't really time, or much space among the crowds for that matter, at the most popular stores to try on something else for reference. So, if you don't have some items in your wardrobe from that brand already, best to check out the stores before the New Year to confirm the best size for you.
Do your research
You might not know exactly what you're going to get, but taking a look at blogs and unboxings from previous years can give you a pretty good indication of what you might come to expect from a particular brand when it comes to fukubukuro.
Most lucky bags contain at least one "big ticket" item with other more moderately priced or cheaper ones filling out the mix. For some people, the one prized item already makes the cost of the bag worth it. While there are also people who enjoy trying items that they might not have picked up otherwise, and in the process discovering some new favorites.
The brand may also advertise how many lucky bags they will have on offer at each location – sometimes it can be as little as ten, while bigger stores will likely have closer to fifty to one hundred, or more. Knowing this will help you better plan your strategy for on the day.
Get there early
For the best lucky bags, prepare to wake up early and wait in line. To snag the most prized fukubukuro, such as the ones from the Apple Store, in which one lucky customer will walk away with a MacBook(!), some people go to the extent of sleeping in front of the store, reportedly for 2-3 days! While camping out is not necessary in most cases, you should prepare to get there well before opening and join the queue for popular brands.
Be sure to research changes in opening times for the holidays too. The most popular bags will sell out quickly and stores will already be posting sold out stickers on their lucky bag advertising within an hour or two of opening. Moral of the story: it pays to go early!
Team up with friends
Joining forces with some buddies can be beneficial for a couple of reasons.
The first is that you can spread out and grab fukubukuro for each other from a number of different brands. Just be aware that many shops place a limit on the number of bags per customer, so try to find that information out in advance if possible.
Secondly, you can pool your money for a bag and each take an item you like, so you can sample different bags without having to go all in and getting items you don't want. How you decide who gets what though might be the most challenging part of this arrangement!
Switch with strangers
The national news on New Year's Day often features chaotic scenes from outside select shopping malls in big cities, such as Tokyo's mecca of youth fashion Shibuya 109, where swathes of young people can be seen holding up unwanted items in the hopes of finding someone to switch with.
If you're in the area and get some items you don't want, consider joining the masses in what has to be one of the biggest informal clothes swap parties out there!
Take to the Internet
If you end up with some items you really have no use for, you can always turn to the Internet to pass them on to someone who has. You can also buy things from other people's fukubukuro that you missed out on. In fact, some people even make a business out of going super early, buying the maximum number of these limited edition bags and then selling them online for a profit.
Also, some brands offer an online ordering service, in which you can purchase lucky bags without having to go to the store and have them delivered to you. Some may be advanced orders, while others may only become available after the New Year. While the in-person pick-up still seems to be the only way to get the majority of fukubukuro, it doesn't hurt to check if your favorite brands offer this.
Buy from brands that tell you what's inside
To make customers feel more confident in parting with their cash, some shops may actually tell you what's inside their lucky bags. Some will give you a general idea, without giving away color or style, such as one coat, two tops, two bottoms. While others will actually list each item and even have an example on display.
If you want to take (most of) the risk out of your purchase, then these are the way to go.
Consider edible lucky bags
Clothes, handbags/accessories, beauty products and electronics are some of the most popular lucky bags. But if all of that sounds a bit hit and miss to you, why not consider buying a food fukubukuro? If it's a food you like, then you can't go too far wrong, and, of all the shops, these ones are more likely to tell you the contents.
This year, we picked up a lucky bag, or "happy bag" as many brands also like to call it, from Krispy Kreme for ¥2,400 (about $24). It contained 12 glazed donuts, a huge tote bag (seriously, it could hold a sack of potatoes) and a "Doughnut Passport" that is good for 12 donuts of your choice, valid from a week into the New Year until the end of June.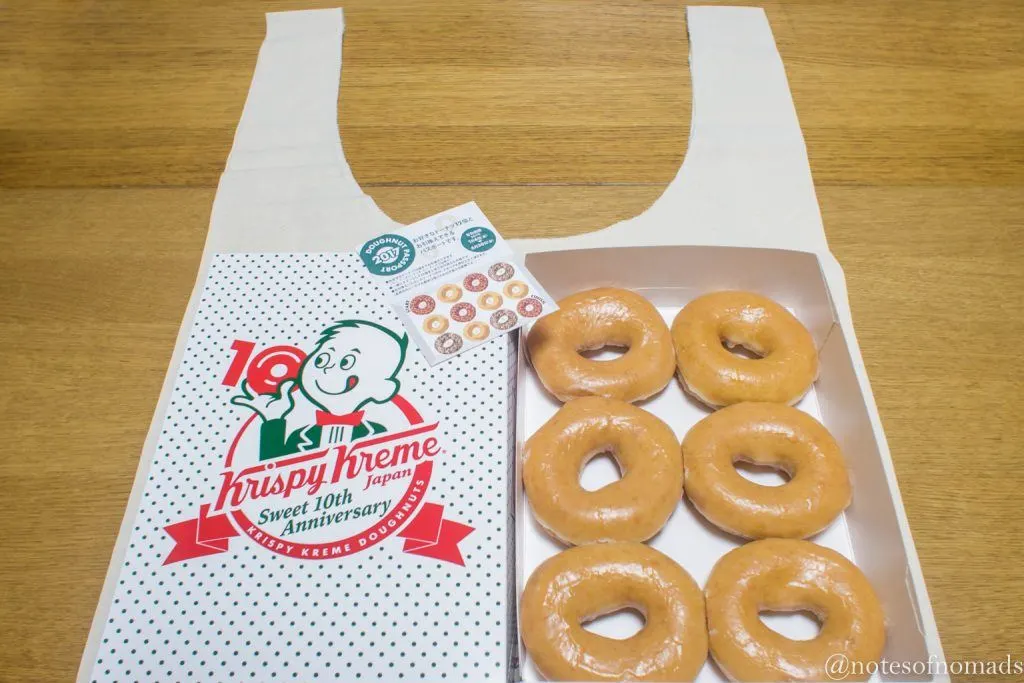 Check out the general sales
And if fukubukuro don't sound like something for you at all, New Year is definitely the time to splurge on things you've been eyeing off in any case, simply because, apart from the lucky bags, stores generally also have great savings off much of their other merchandise too. In fact, I have been putting off buying new shoes for the past couple of months, knowing that I can get them so much cheaper in the sales. I picked up these two leather pairs from Marui yesterday, one for 40% off and the other for 30%.
So if you're in Japan for the first week of the New Year, consider joining the New Year rush and grabbing some winter bargains!
Have you done some New Year shopping in Japan? What did you get? What would you most like to seek out if given the chance?