Don't you love it when a city you've always wanted to visit turns out to be just as awesome as you'd hoped?! For us, this was Istanbul. Colourful, historic, dynamic and full of fabulous fare, there's a whole lot to keep you satisfied.
Here are 10 great tips and things to do in Istanbul!
1. First things first, get ready to explore
Sometimes it's not worth getting electronic public transport cards for short stays in cities, but an 'Istanbulkart' is seriously convenient – you can use it on trams, trains, buses and ferries – AND it gives you a discount. It depends on what you take and where you go, but a regular tram fare, for example, is 3TL. With the Istanbulkart, it's 1.95.
While the cost of the card is 7TL (about $3.50), you can easily make this up over a couple of days of sightseeing with the fare discount. Plus you don't have to worry about getting tokens each time. In addition, you can share one card between as many people as you like. Just make sure you have enough funds on the card and you can just keep passing it back over the ticket gates to be swiped by the next person in your travelling party.
Istanbulkarts are available at Atatürk Airport (IST) Metro station and from some small shops and kiosks in town, where you can also top-up. You might have to ask around, but a number around Sultanahmet, Taksim Square and Eminönü, for example, do stock them and being in the heart of many of the city's attractions, is a convenient spot for travellers to pick one up or recharge. You'll also find top-up machines at popular stops and transport hubs.
2. Consider getting a Museum Pass
While not as awesome as the Müzekart that's available for Turkish citizens, the Museum Pass Istanbul that's designed specifically for foreign visitors can save you some holiday lira. Check out the official website for details on the included museums (plus other discounts) and do a quick calculation of the ones you want to visit to see if it will work for you.
Perhaps the best part of the card is the fact you can skip the ticket queues, which can be a godsend during the high tourist seasons when lines at the most popular museums can be an hour or two. The Museum Pass is available for 3-day and 5-day periods and is available online (deliverable only in Turkey), from some museums including Topkapı Palace and the Hagia Sophia, and at select hotels. Check out this post on Turkish Travel Planner for some great tips on planning your time to get the most out of the Museum Pass.
3. Visit the Basilica Cistern
You won't spend all that much time down there and it's not included on the city's Museum Pass, but this cistern under the city was my favourite attraction in Istanbul. Unless you really prefer to take things in aurally, you can skip the audio guide. It's simply an audio version of what's written on the signboards, which you can read for free. There's usually a bit of a bottleneck to get down and see the Medusa heads, but don't skip it, it's the best part! Read this short post on why the heck you really need to know about who Medusa was and how you'll see her watching all over this part of the world.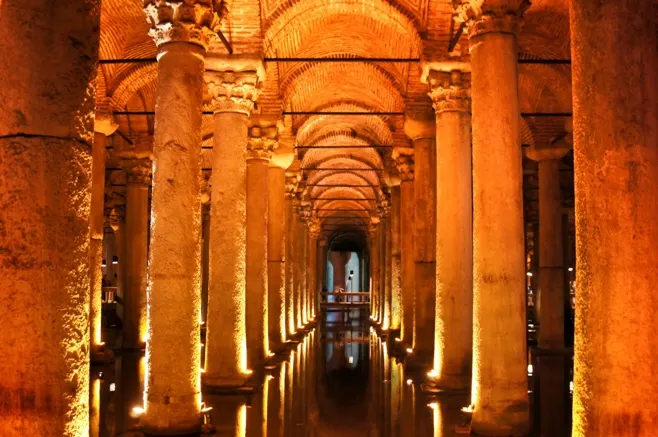 4. Dress for a mosque
When visiting mosques, be sure to dress appropriately. This means long pants for the guys and covered legs, arms and heads for the ladies. Should you not have the correct attire, many mosques (including the Blue Mosque) have robes and coverings which you can borrow for free for your visit. Note that mosques close to general visitors during prayer times. Tip: The visitor entrance to the Blue Mosque is not the one from the central courtyard (this is for those coming to worship). Head outside to the left of the mosque and join the queue. My personal favourite mosque in the city is Rüstem Pasha by the Spice Market.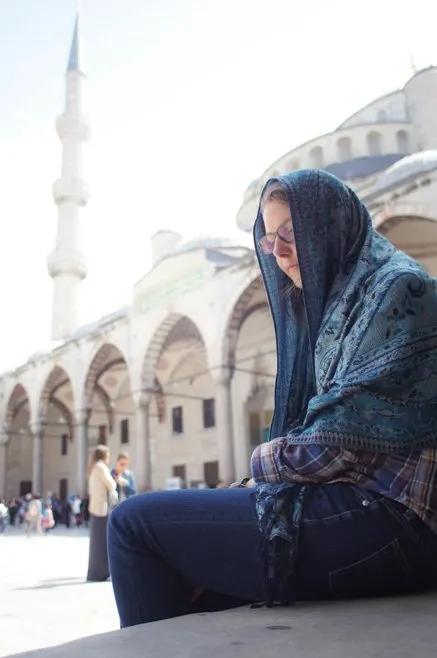 5. Bask in the call to prayer
Muslim or not, there's something so moving about the call to prayer. No where is it more beautiful than in Sultanahmet Park where the Blue Mosque, Hagia Sophia and surrounding mosques do the call to prayer a few seconds off one another, making this magnificent cacophony of sounds. Sometimes the Blue Mosque and Hagia Sophia wait for each other to finish each line completely before the next one begins, as if they are calling out and answering one another. It's the perfect place to spend a summer's evening as the light is dimming and the fountain's lit up with the superb backdrop of two of the city's most iconic structures on either side.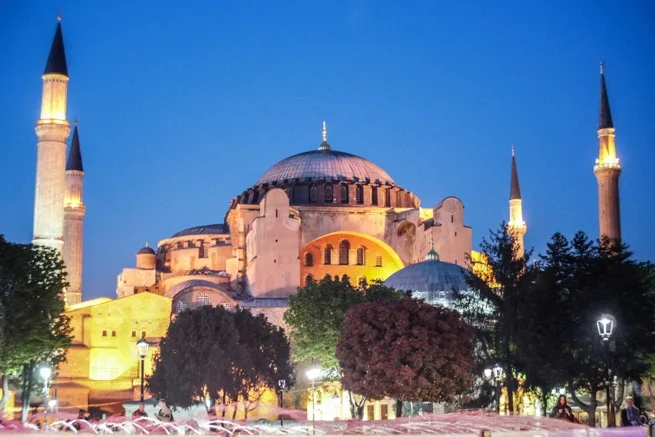 6. Eat, eat, eat
Turkey has some of the most delicious dishes in the world, juicy grills, top salads and the freshest bread. And who knew they did an awesome baked potato! When you're not sitting down for a meal, there's lots of great quick street options.
For breakfast or a snack on the go, it's hard to go past simit, the pretzel looking bread with sesame seeds sold in bakeries or by street vendors. At 1TL a pop, they're cheap and satisfying.
A must-try Istanbul only specialty is the 'wet burger'. It's a veal patty smeared with garlic and a tomato-based sauce in a bun, which is then placed in a glass cabinet where it sweats it out hammam-style. Here it's all about the sog. Never heard anything more unappetizing in your life? Trust me, it works. And you probably won't be able to stop at one. They are the perfect snack size and are the preferred late night (or early morning) snack for party goers. Only available around Taksim Square, this is a truly Istanbul-esque activity. Open 24 hours, the stores are most lively around 3am.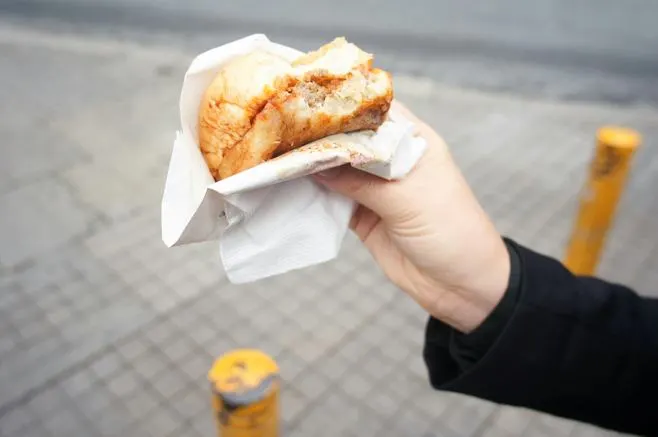 For something sweet, a traditional Turkish ice cream might take your fancy. Check out this vlog post that gives you the scoop on how to tell the difference between a Turkish ice cream and regular ice cream seller and shows you what to expect when you order one.
As for drinks, despite all we hear about Turkish coffee, tea is definitely the drink of choice here. Made from tea leaves from along the Black Sea, Turkish tea has its own distinct taste. And grab a freshly squeezed pomegranate juice when it's in season. I was getting two a day! If that's too strong for your tastes, try the pomegranate-orange "mix".
7. Try Turkish coffee and Turkish delight for free!
Yes, that's right. Head to the store called Tuqba on Istiklal Avenue for free Turkish coffee served the proper way (no plastic cup samples here!). Try whatever kinds of Turkish delight you want by simply asking at the counter. They have some beauties – I love the rose flavour. In case you're wondering, there's no obligation or pressure to buy. In fact, this place is usually so busy that they'll hand you your samples and then already be looking to serve the next person. Should you wish to take some home, however, you can select precise quantities from the counter or buy pre-packaged ones. We got a large box of assorted double-roasted ones on recommendation from our Turkish friends for 18TL (around $9).
8. Go vintage shopping
Whether you're looking for a great wearable souvenir or just a laugh, head to 'By Retro' in the basement of Suriye Pasajı, just off Istiklal Avenue. This vintage store not only has racks and racks of wonderful clothing and accessories, but it's also where many of the costumes from Turkey's TV and theatre scene come to retire. Search the nooks and crannies for the most fantastical outfits and have your camera phone at the ready to snap a few pics! Trying on and photos permitted.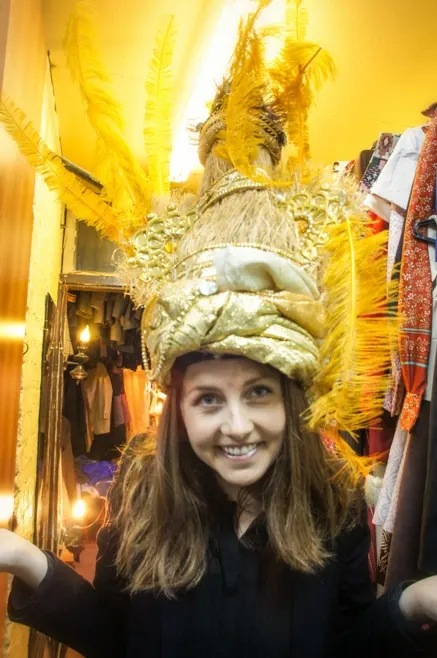 9. Skip the Bosphorus cruise and take a local ferry
Why pay for a Bosphorus cruise when the view from the local ferry is no different?! For a couple of lira with your Istanbulkart, you can catch one across to the Asian/European side of the city or, for a little more, even all the way to the Princes' Islands, more than an hour away!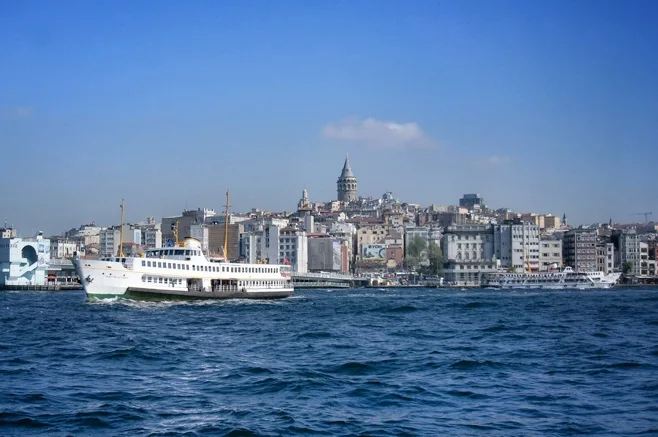 10. Catch a sunset on the Asian side
If you're looking for the perfect Mediterranean sunset, head to the Asian side and look out over the Bosphorus to the European one. What makes the oranges and pinks even more spectacular are the clear silhouettes of the Hagia Sophia and Blue Mosque along the horizon. It's a view that'll stop you in your tracks.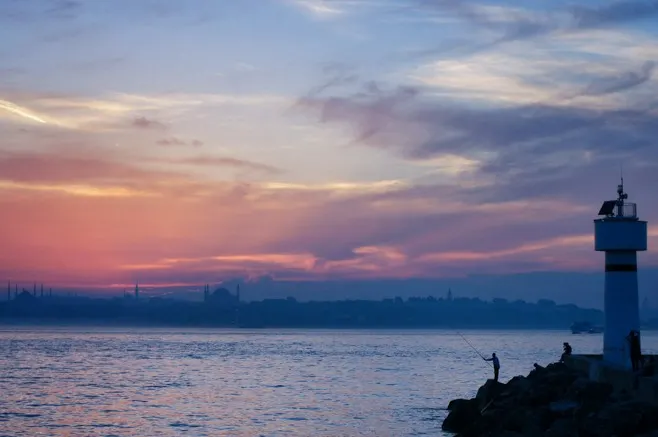 Have you been to Istanbul? What are your favourite things to do there?