Tropical islands may not be the first thing that comes to mind when you think of Tokyo, but let me assure you, they exist, palm trees and all. While there are technically over 200 physical islands that fall under Tokyo's jurisdiction, for the purposes of beach and resort tourism, there are 11. And today we're going to introduce you to one of them by the name of Hachijojima or Hachijo Island (also written as Hachijoujima or Hachijōjima, 八丈島 in Japanese), which we visited for the first time last month.
The Tokyo Islands are broken up into two island chains: the Izu Islands and the Ogasawara Islands. Hachijojima is the southernmost island of the Izu Island chain, and is located 287 kilometers (178 miles) from central Tokyo. Hachijo Island covers an area of around 70 square kilometers – that's about the same as the inner area of mainland Tokyo's central train loop, the JR Yamanote line.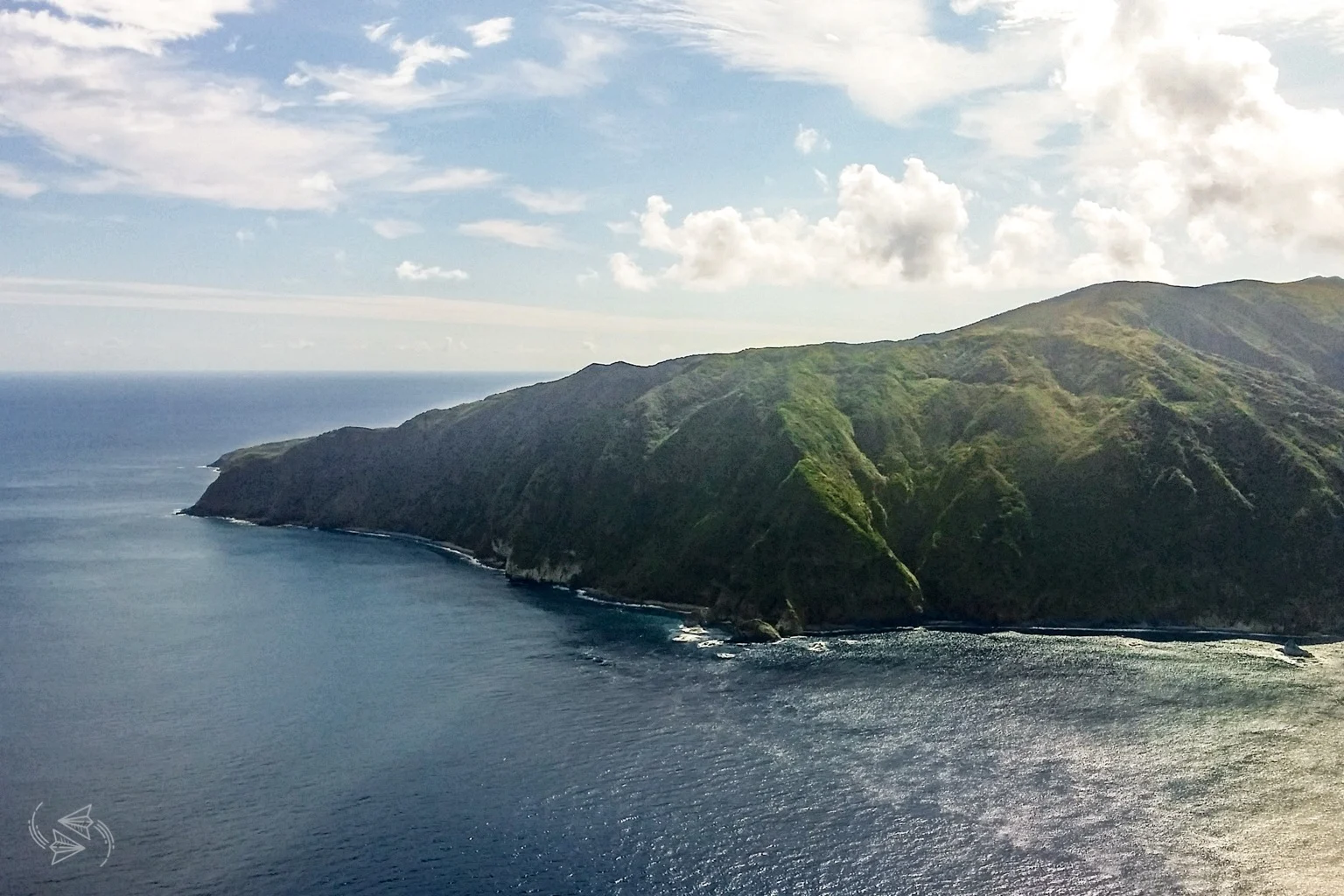 There are three flights from Tokyo to Hachijojima daily. They are run exclusively by the Japanese airline carrier ANA and take less than one hour (select Tokyo Haneda as departure airport and find Hachijojima under the Kanto/Koshinetsu tab for the destination). The Hachijojima ferry runs once daily to/from Tokyo mainland and takes around 10 hours (overnight on the way there and a daytime ferry on the way back). Once in the islands, a Tokyo Island helicopter service links a number of them if you'd like to go island hopping.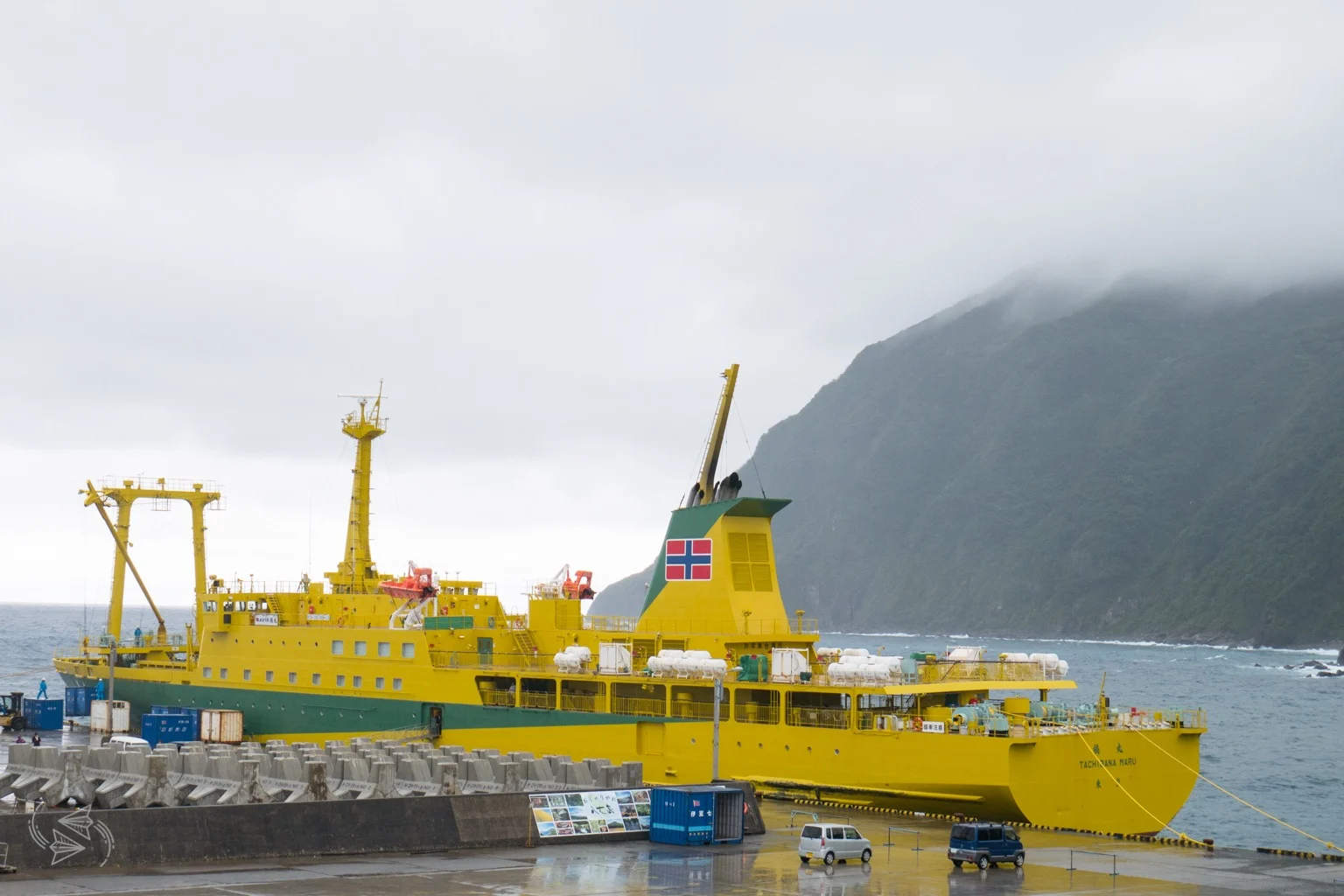 There are a range of Japanese style inns, guesthouses and a couple of larger hotels on the island to choose from. We, however, decided to have a little tropical island camping adventure at Hachijojima's free Sokodo Campsite. If you plan on camping on Hachijojima, they'll be some more notes at the end to help you plan your trip.
Before we move on to the things to see and do there, here's a little bit of background that will help inform your stay.
Hachijo Island's topography and convict history
Hachijojima was actually formed by two stratovolcanoes. So you essentially have one volcano on the eastern side of the island and one on the west, with a lower-lying area in the center where the two merged. This area is equivalent to the island's "downtown" and is where you can find several small shops, restaurants and supermarkets.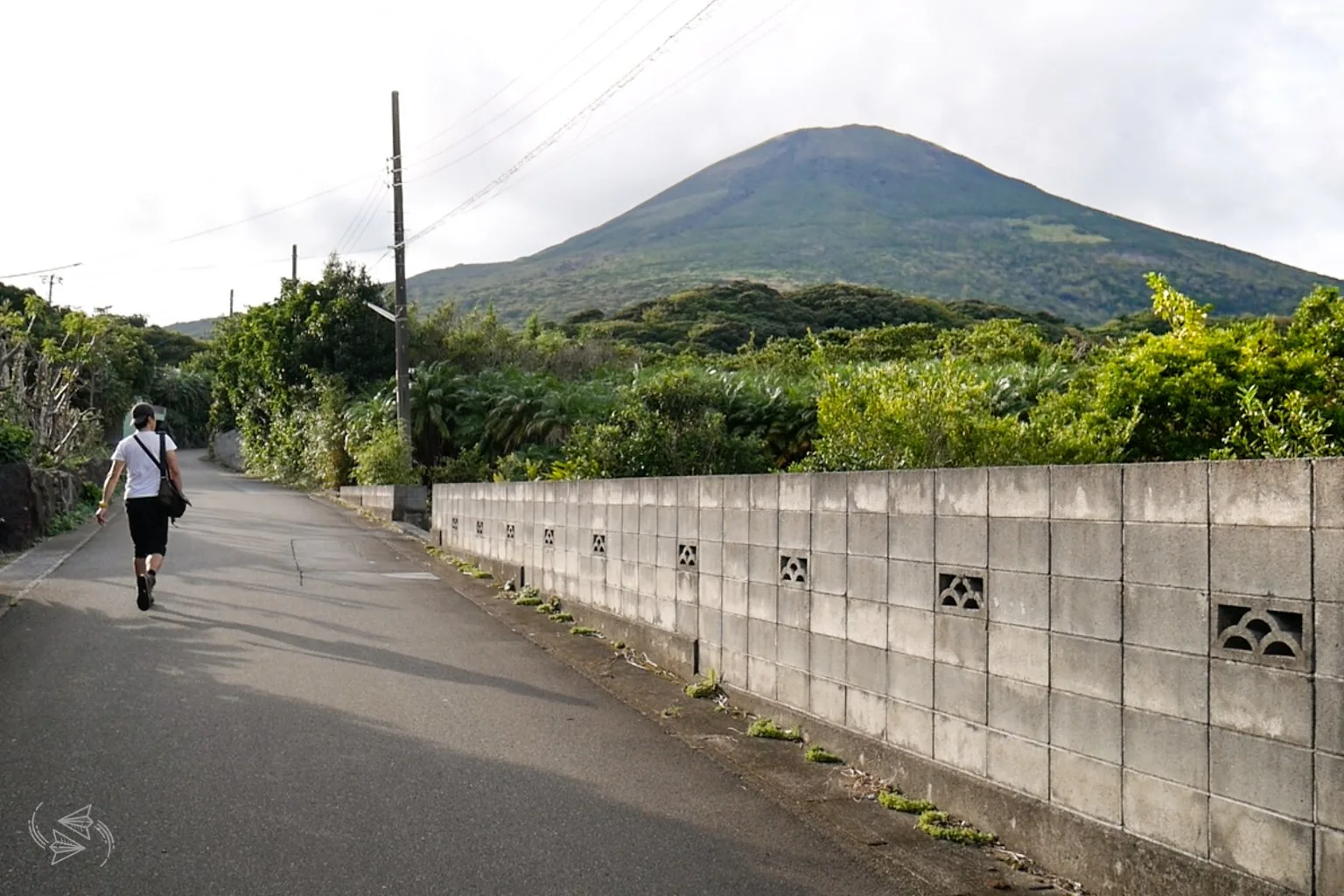 Interestingly, Hachijojima was used as an exile island during the Edo Period, firstly for banished political figures and then for general citizens convicted of various crimes. On the west side of the island, you can still see the distinctive tamaishigaki, round-stone walls, which were built using smooth, round stones that convicts were forced to carry from the beach. They received one onigiri (rice ball) per stone – not as generous as it sounds when you consider some of the walls are several kilometers from the sea. Convicts were not told the length of their sentences and there were many foiled escape attempts, a crime punishable by death.
Hachijojima's days as a prison island ended after a general amnesty in 1868 during the Meiji Restoration, at which point most islanders decided to move to the mainland. Although the policy of banishment was not officially abolished until 1881.
Hachijo Island as a base during WWII
A place you likely won't hear islanders talk about is the tunnel complex dug by Korean slave laborers during World War II, the building of which resulted in an untold number of deaths. During the war, Hachijojima was an important base for the Imperial Army, based on the belief that the Izu Island chain could be used as a potential route of attack on Tokyo by the United States.
Elderly local islanders estimate that the tunnels run for about 65km. They are still accessible and you can see items that were left behind by soldiers who lived and worked there, including evidence of what were once offices, storerooms and soldiers' quarters at the tunnel headquarters.
Becoming the "Hawaii of Japan"
After WWII, the government promoted Hachijojima as the "Hawaii of Japan," in an attempt to increase tourism to the island. It worked, especially as it was difficult for the average Japanese citizen to get a passport before the 1960s, meaning they had to look closer to home for their trip planning. Hachijojima was an ideal domestic destination – a semitropical island within a short distance from Tokyo mainland. The tourism industry developed rapidly on the island during the 1960s, including the emergence of a slew of hotels.
Now as world-class beaches in Guam, Thailand and Hawaii itself have become more accessible and affordable, the island's tourism industry has suffered a natural decline. Some of the buildings erected during the island's tourism boom, today stand as an eery testament of the island's tourist heydays. The most commonly cited example is the Hachijo Royal Resort, a now-abandoned French Baroque-style hotel. The luxury hotel was built in 1963, and at the time was one of Japan's largest, attracting visitors from all over the country. It underwent several name changes, but amid declining tourism and a struggle to reinvent itself, it finally closed its doors in 2006. Today it remains filled with furniture, office papers and toys that appear to have been abandoned mid-play; a place that seems frozen in time on the date of its closure, while plants and rust slowly devour it.
Hachijojima may not be as bustling as it was back in the 1960s, in fact it's quite the opposite, but that's exactly the appeal of the island to me. It feels like enough of a tropical island getaway without the downsides that come with high-levels of tourism. You can often have many of the island's attractions nearly or all to yourself, something that is hard to say of many popular island destinations.
So what can you see and do on Hachijojima? Here are some spots to get you started.
Things to do on Hachijojima
There are a number of hiking trails all over the island, including those heading to the peak of the two volcanoes on either side of the island. Hachijo-Fuji is generally considered, however, to be the best and most interesting hiking trail.
Climb Hachijo-Fuji, the highest peak in the Izu Islands
At a height of 854.3 meters (2,802 ft), Hachijo-Fuji is the highest point on the island and is in fact the tallest peak in the entire Izu Island chain. It is also referred to as Nishi Yama (West Mountain) as it's the one on the west side. You can either climb all the way from the bottom or drive up to around the halfway point and start on the summit trail not far from the Fureai Farm.
Towards the summit, you start along a very narrow path, that requires the use of your hands in some parts. Be sure to wear appropriate footwear that you don't mind getting muddy. By this point, you're actually circling the perimeter of the 400-meter wide, 50-meter deep caldera (1,300 feet wide x 160 feet deep). In my opinion, this is the best part of the trail and makes you feel as if you're venturing into some kind of mystical terrain, especially in the rain and mist we were climbing in. The movie 'Jurassic Park' was mentioned more than once as we traversed this unique landscape.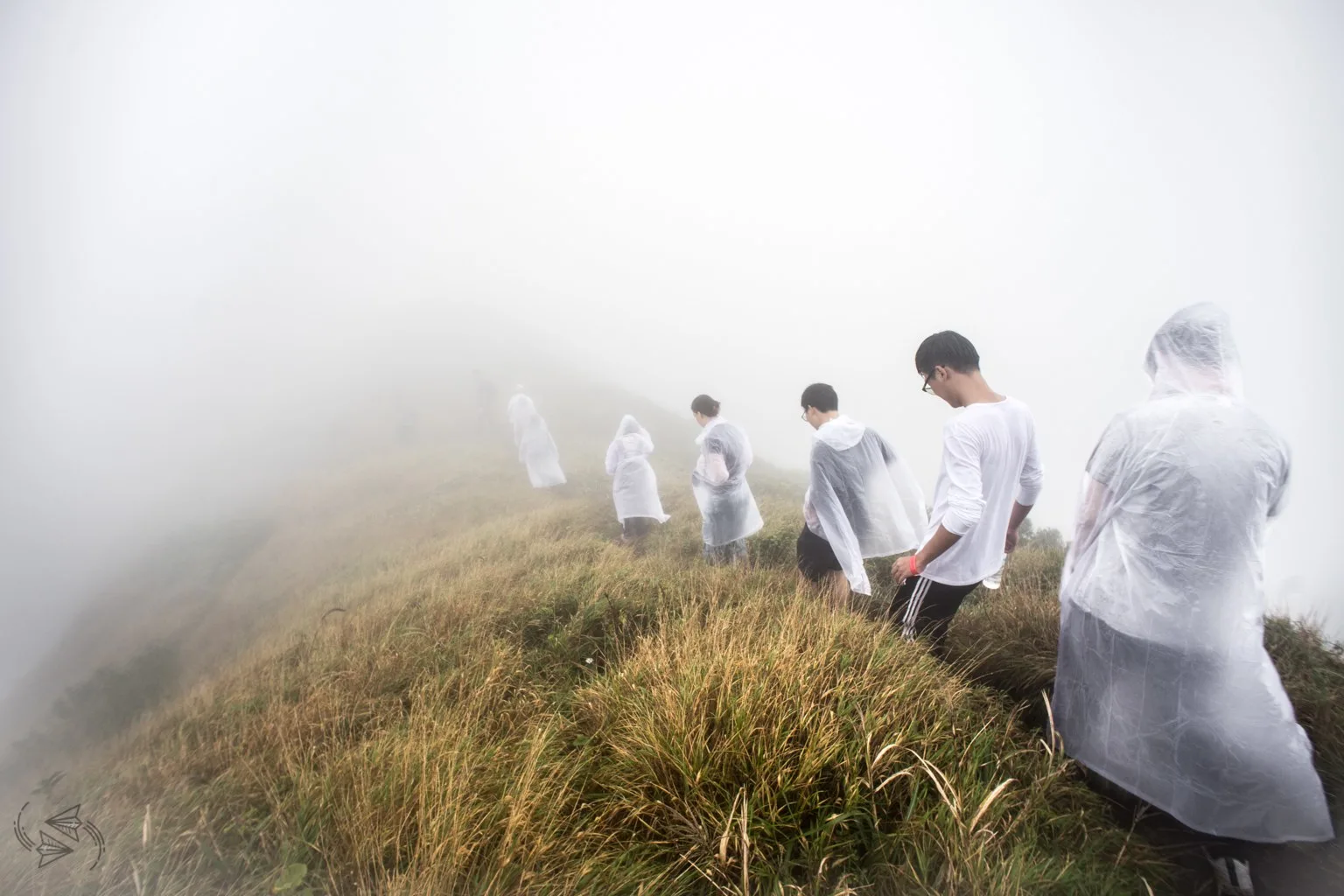 Visit Hachijo-Fuji Fureai Bokujo (Dairy Farm)
This dairy farm is located on a distinctive cleared patch of land about halfway up Hachijo-Fuji.
Here you can see dairy cows, take a look at the rugged coastal terrain from their lookout and even buy fresh soft cream (soft serve ice cream) during the warmer months.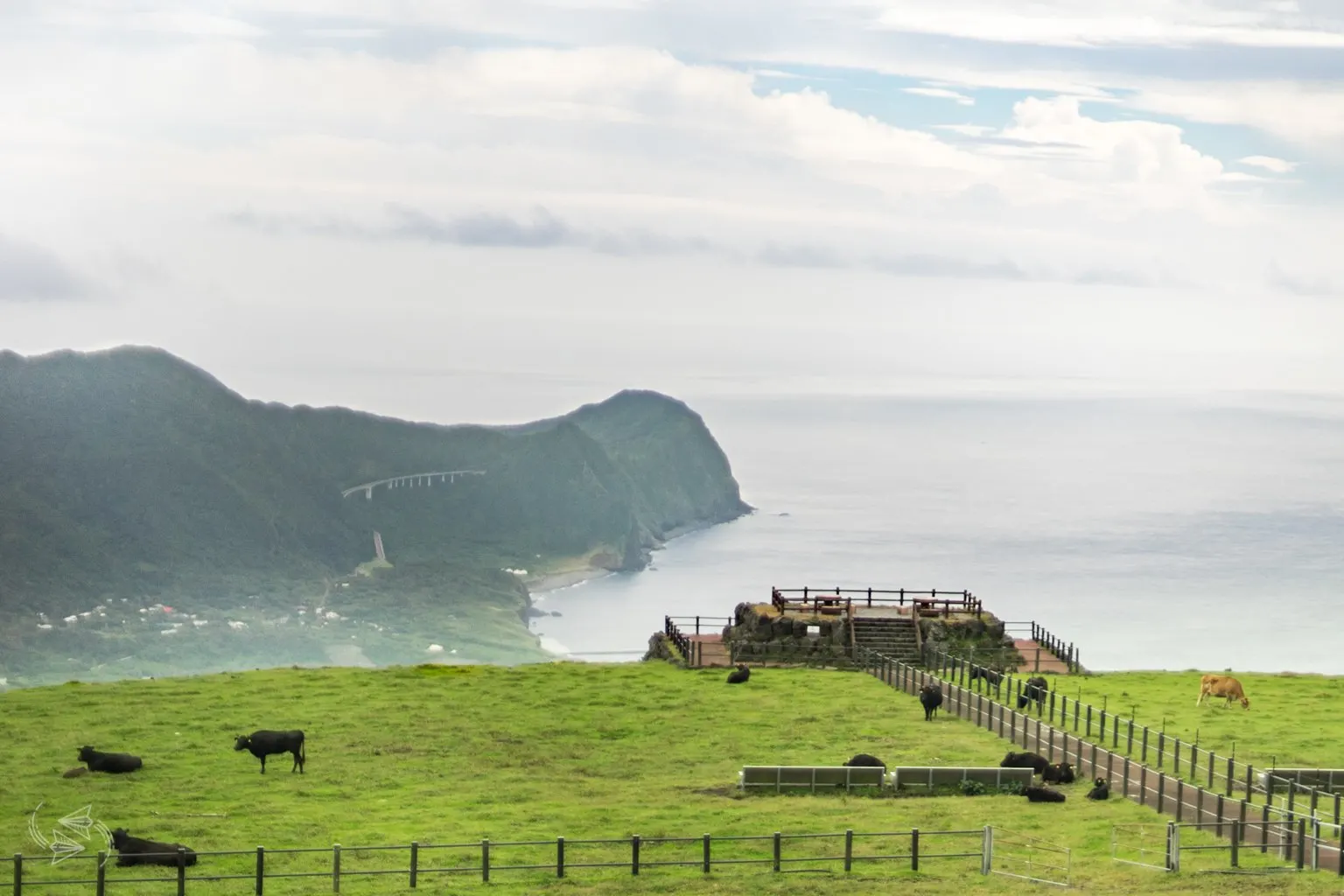 Soak in hot springs
Being a volcanic island, Hachijojima is also blessed with ample hot springs (onsen). A pamphlet we picked up listed 7 that they consider "must-visit". Honestly, I wouldn't consider many of these baths particularly out of the ordinary, however, I would say that you can have a typical onsen experience here that allows you to see what onsen culture is like in Japan.
As Hachijojima is a small island and is relatively isolated, most of the clientele is local. So visiting onsen is a great way to meet local people. Apparently some islanders just go to their local onsen every day instead of spending money on water for an inferior bathroom experience at home. Don't blame them; I'd probably do the same if I lived there!
Onsen with a view
There is one onsen on the island though that I think is pretty special and that I absolutely recommend. It's called Sueyoshi Hot Spring, although it is also called 'Miharashi-no-yu' – which literally means "bath with a view." From the outdoor bath, which is perched on a cliff face, you get an incredible view of the sea and that tremendous Hachijojima coastline.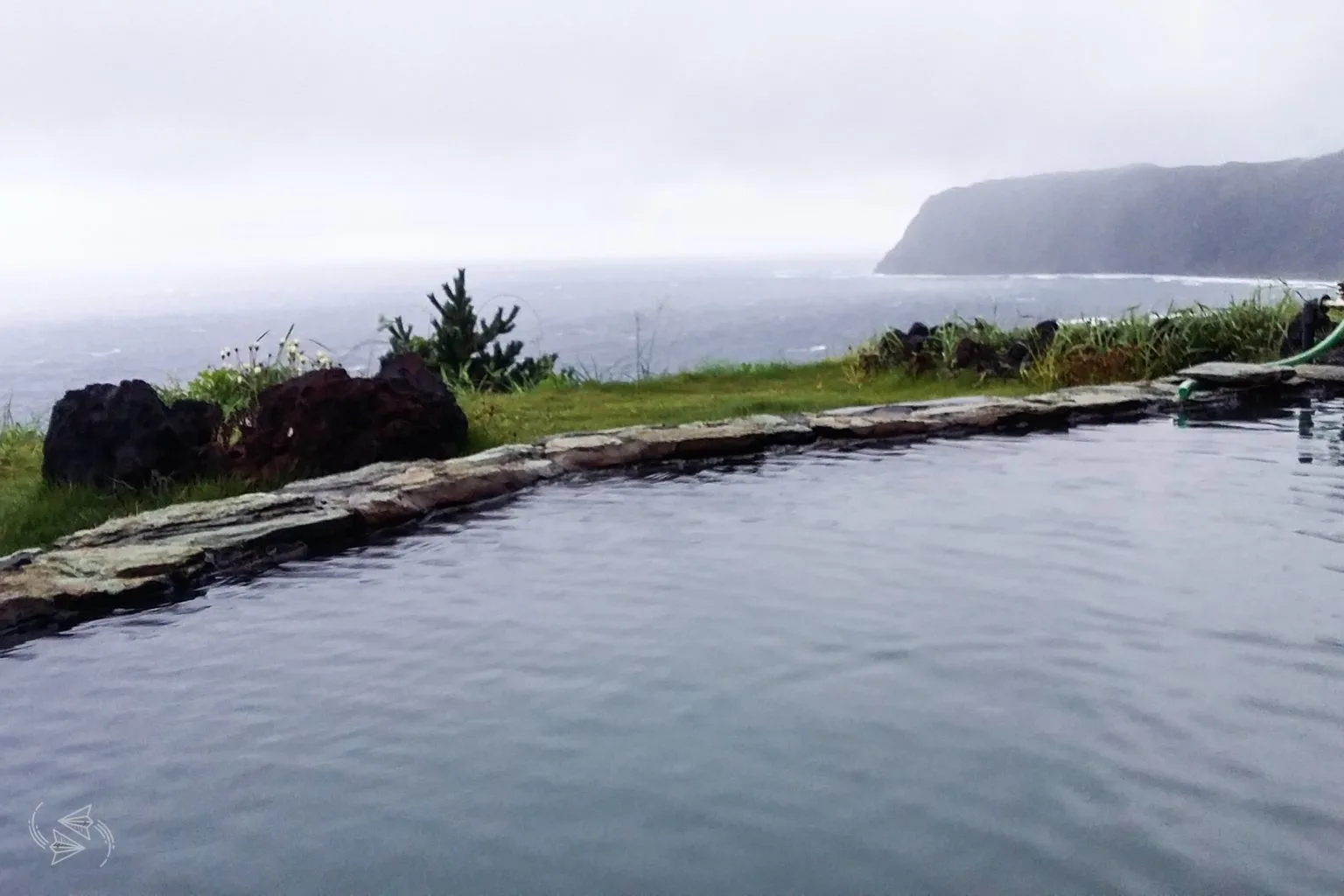 We visited on a day when the weather was pretty poor, but I couldn't have been happier as I gazed out onto that scene with the cool drizzle from above that meant I didn't have to keep sitting up on the edge to cool down, while watching the visible steam that rose in steady clouds and ventured off over the cliff, seemingly merging with the blustery seas below. If you only visit one hot spring on Hachijojima, let it be this one!
Adults 500 yen, children 200 yen. Hours 10:30am – 9:30pm. Closed Tuesdays. Bus stop: Sueyoshi Onsen Mae.
Mixed gender swimsuit onsen
For those who'd prefer to bathe in their swim suits with everyone in their traveling party, there is a completely free mixed gender option by the name of Uramigataki Hot Spring, near the Uramiga Waterfall. The waterfall is an attraction itself on the island and gets its name from the fact you can see it from the back, 'ura'.
Free. Hours are 10:00am – 9:00pm. Bus stop: The BOON Mae.
Special Hachijojima onsen bus ticket
If you want to do a tour of several hot springs and don't have a car, you can utilize the municipal bus service, which can get you to most hot spring facilities. You can purchase a special ticket called 'BU.S.PA' – a clever merging of the words 'bus' and 'spa'.
The ticket is valid for two days, during which time you can ride the bus as many times as you like. The ticket costs 1,000 yen for adults and 500 yen for children. It can be purchased directly from the bus driver or at the Municipal Bus Ticket Window located in the former Town Hall. Be sure to check the bus timetable when planning your island exploration as services may be infrequent.
1,000 yen for adults and 500 yen for children (valid for 2 days).
Visit the Hachijo Island Museum of History and Folklore
If it's your first time on Hachijojima, I'd recommend a visit to the quaint Museum of History and Folklore. The museum is only in Japanese, but you can get a complimentary multi-page English brochure at the reception which summarizes what's contained in each room, and explains in more detail some of the more important artifacts. This is a great place to gain some historical understanding and to put into context some of the things you are seeing while on the island.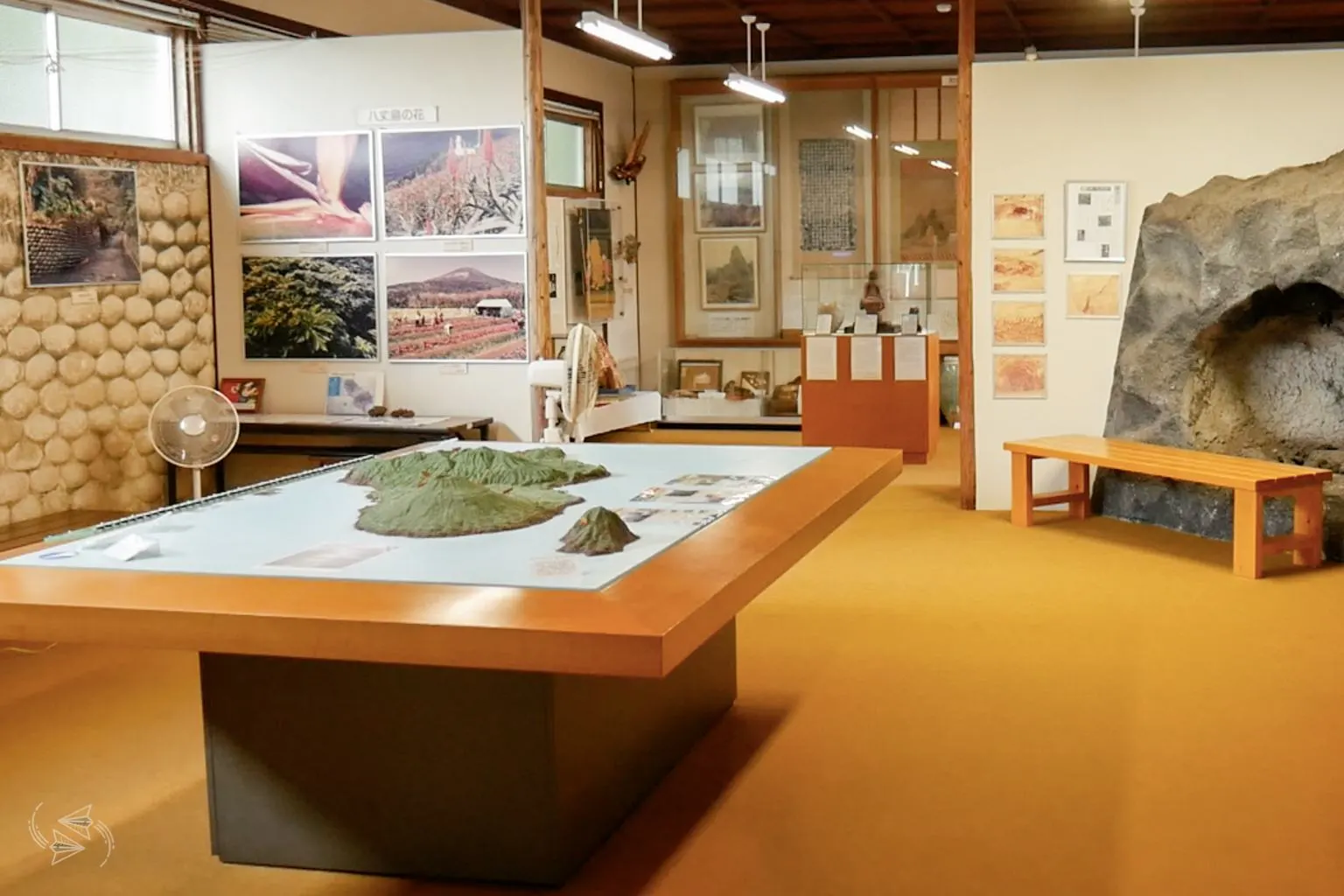 Since it rains a lot on Hachijojima, this is a perfect stop for escaping heavy downpours.
Adults 360 yen, Children 170 yen. Open 9:00am-16:30.
Hachijo Botanical Gardens
Hachijojima boasts an array of flora and fauna, some endemic to the island. Its warm and wet climate thanks to the Kuroshio Current means that plants tend to grow taller and with thicker leaves compared to similar species on the mainland. Birds also grow to be larger and with darker wings!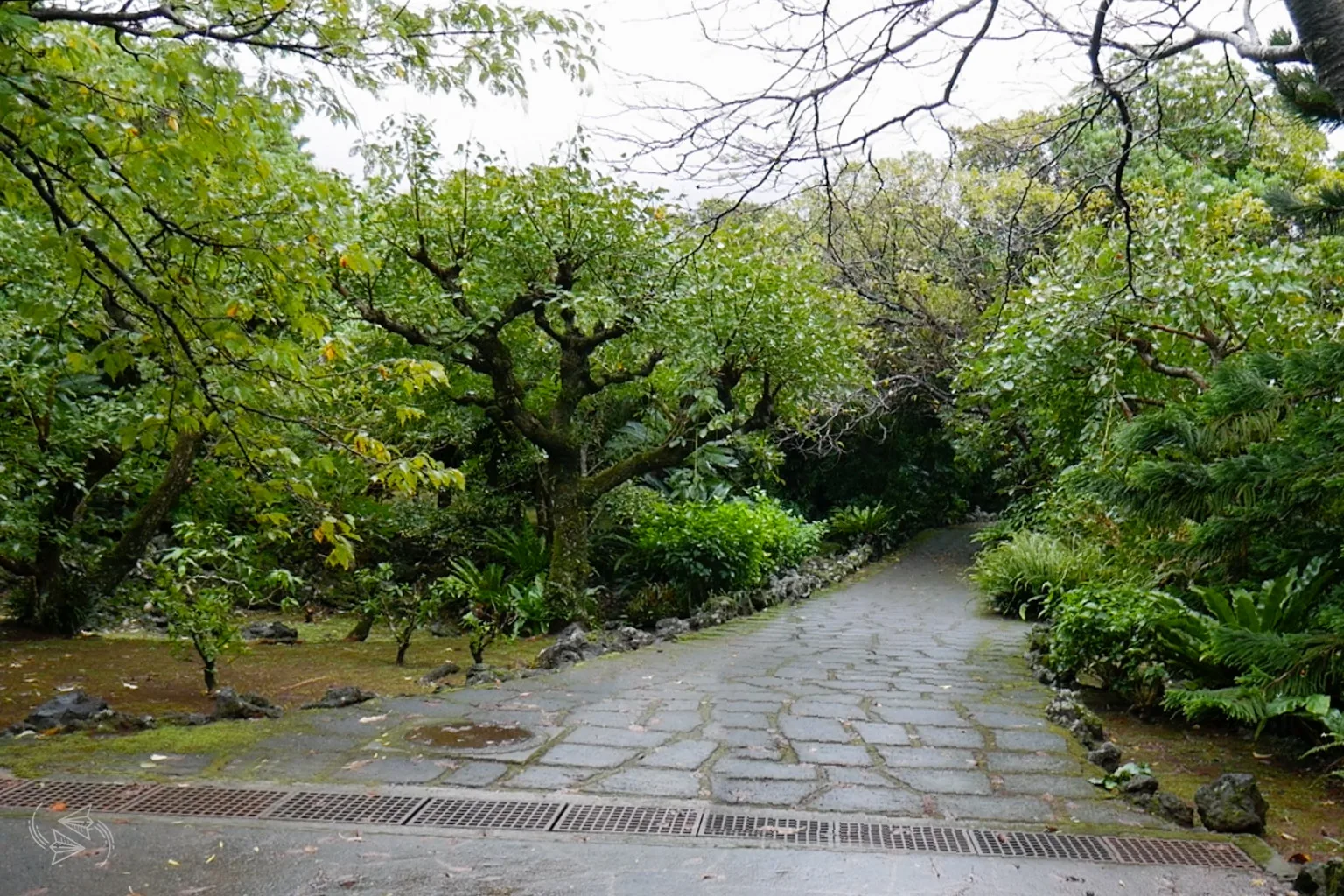 At the Hachijo Botanical Gardens, you can see a collection of species over eight zones. It's free to enter and is an ideal spot for families, with several play areas as well as exhibits geared towards learning.
Entrance free. Opening hours 24/7. Hachijo Visitor Center 9:00am-16:45pm (Greenhouse closes at 16:30).
Black sand beaches and water sports
Hachijojima is ideal for enjoying water sports, such as swimming, snorkeling and surfing, as well as for those looking for great spots for diving near Tokyo. The water is so clear and blue in parts around the island, that there is even a name for this unique color: "Hachijo Blue".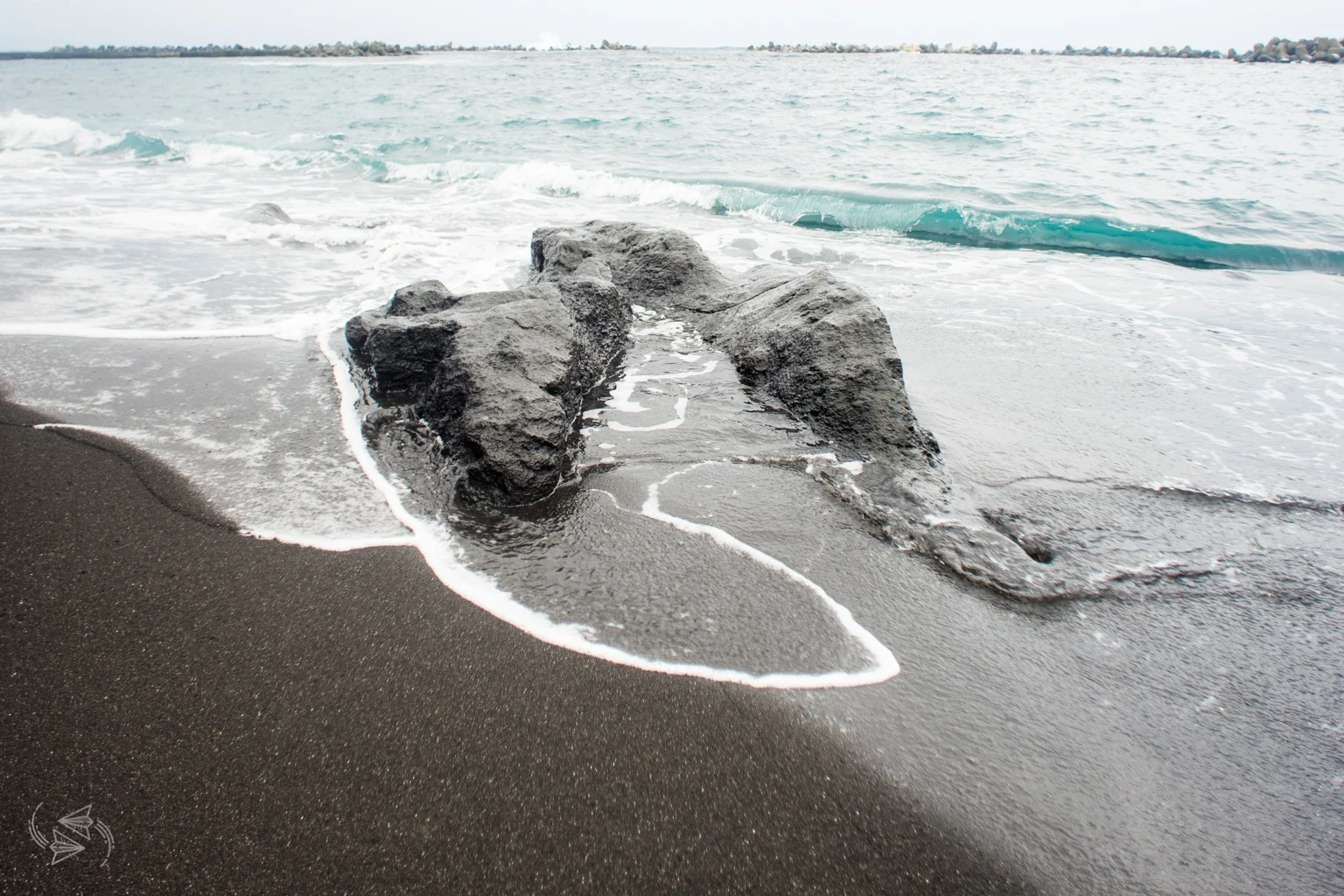 The black sand beach by Sokodo Port, and right by the free camping grounds, is a popular spot during the warmer months. Near Yaene Port on the other side of the island, you can find Nanbara-senjojiki, a 500m-long and 100m-wide blackened flatland of hardened lava, that once flowed from Hachijo-Fuji. Erosion has carved out a jagged ledge by the sea that is the perfect perch for surf-fishing.
Food and souvenirs on Hachijojima
Island sushi
Originating on Hachijojima, island sushi is made with a sweeter shari-style rice and fresh, local fish. The dish is now also eaten throughout the rest of the Izu Islands as well as the Ogasawara Islands. My favorite is medai (メダイ), known as Pacific barrelfish in English.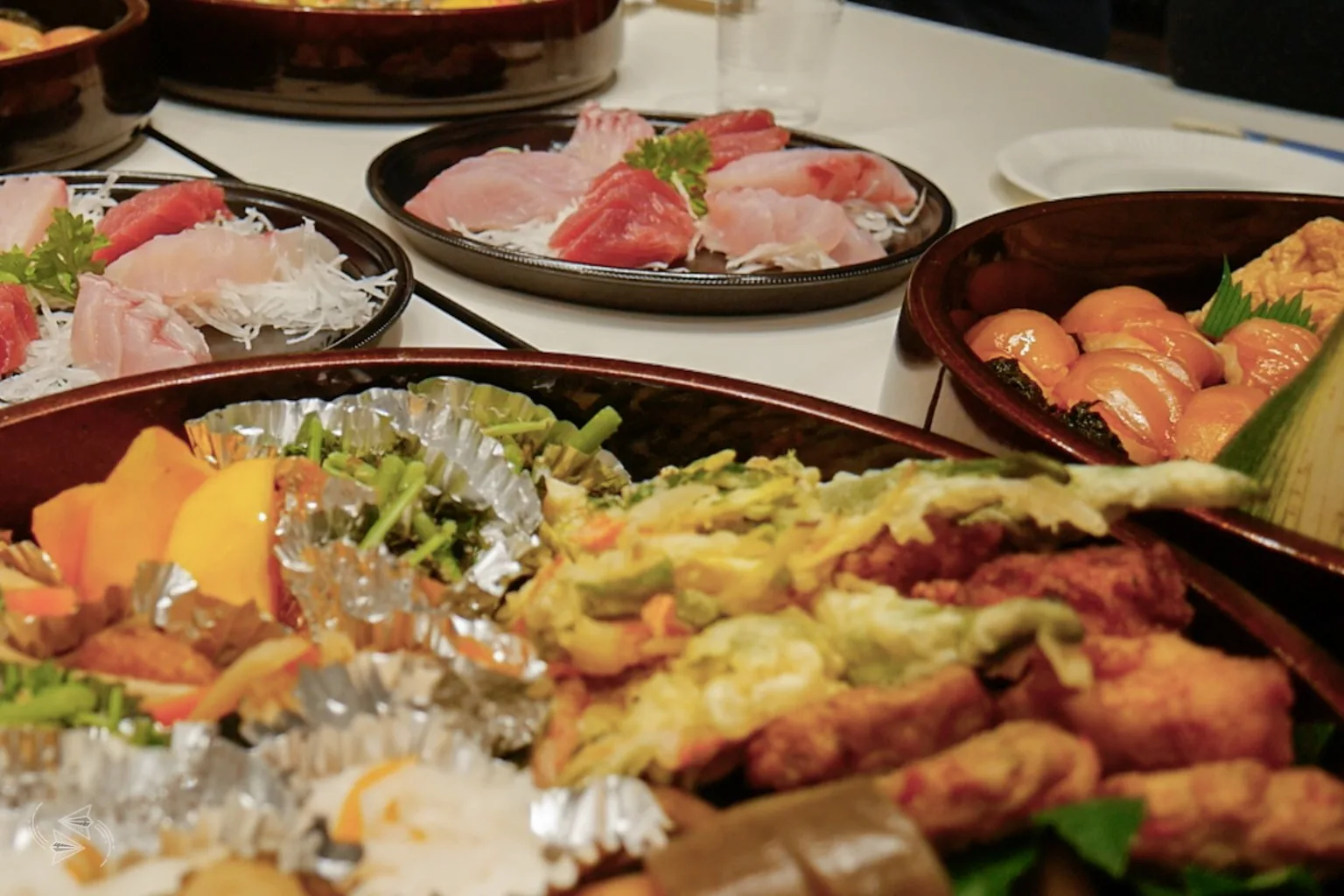 Kusaya – preserved fish
This is a traditional method of fish preservation developed in the islands. The fish, usually mackerel-scad or flying fish, is preserved in a brine for years (yes, years!) and then dried. The result is smelly and polarizing. It was always destined to have its lovers and haters, but it's worth a try on your trip.
Ashitaba – mountain vegetable
This nutritious, wild mountain vegetable is a feature of Izu Island cuisine and you won't have to go far to find it at restaurants on Hachijojima. Its name, meaning "tomorrow's leaf," is an ode to its remarkable regenerative abilities. It's said that the leaves you pick today will have regrown by the next. It is commonly served as soba, tempura, konnyaku and even soft cream!
Island shochu
This locally distilled liquor can easily be found at restaurants and lodges, as well as at souvenir shops. Hachijojima's shochu is made from a blend of sweet potatoes and wheat.
Hachijo lemons
The lemons on Hachijojima are said to be particularly delicious with their rinds being edible and not bitter. A popular souvenir is locally-produced lemon jam.
Kihachijo – woven silk
Kihachijo is woven silk fabric dyed using trees and plants indigenous to the island, a technique that has been handed down through generations of Hachijo islanders over hundreds of years. It was an important commodity used for paying taxes to the Tokugawa Shogunate during the Edo Period. The designs feature warm yellows and nowadays you can buy a range of kihachijo products including wallets and ties.
Camellia oil
Camellia oil is used in a range of local products including soaps and hair oils. The older gentleman at the Hachijo Island Museum claimed this is the female islanders' secret to long, lustrous locks, showing us a photo of a woman meticulously combing her knee-length hair. The camellia seeds on Hachijo Island are sent to Oshima Island for pressing and then Hachijojima buys them back as oil. Interestingly, we saw a seed collection box at the supermarket and we're told that camellia seed collection is a common activity for school children.
Language of Hachijojima
According to Wikipedia, "The Hachijō language is the most divergent form of Japanese; it is the only surviving descendant of Eastern Old Japanese. The number of speakers is not certain; it is on the list of endangered languages, and is likely to be extinct by 2050 if counter-measures are not taken."
I'm not sure how accurate that is, but what I can tell you is that the Japanese on the island was noticeably different. It was one of the strongest Japanese dialects I have encountered on my travels in Japan and, upon further research, it seems there are some quite distinct differences in grammar and vocabulary used. If you speak some Japanese already, don't fear, you will be understood as locals are used to hearing Japanese from the "mainland," but it will likely be a little bit of a test of your listening skills at times.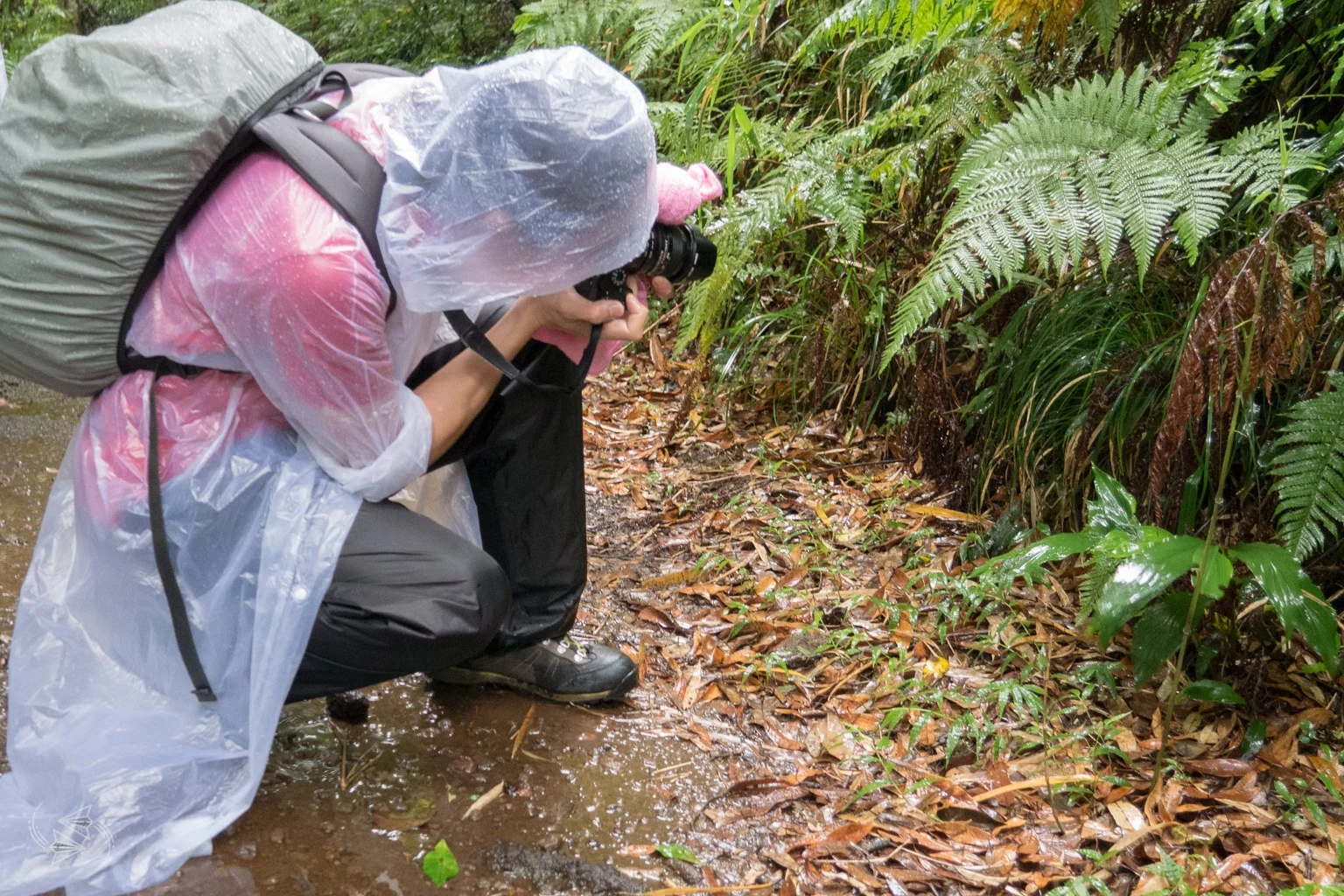 Our trip to Hachijojima
Personally, we really enjoyed our Hachijojima trip, despite our five-day holiday essentially being rained out thanks to two typhoons (we were quite unlucky). We already have a list of more things we'd like to do on our next trip, and it really is quite surreal to be in a Hawaii-esque tropicana, yet still within the governmental confines of the world's largest metropolis. I tried to be careful using the word "Tokyo" as a place I had come from, rather than the place I was still in (I didn't want to offend people), but then found that local people use the term 'Tokyo' to mean the "big city" too. You needn't worry about it; they embrace their difference.
And Hachijojima really sits in distinct contrast to mainland Tokyo. There are only a few small supermarkets and don't expect to find many convenience stores. The supermarket with the most variety is Hachijo Store (八丈ストア), which also has a pharmacy and 100 yen store attached (open 9am-8pm). One night when we were having dinner with some local people at Sokodo Port, I asked one of them if they lived around the area, a part of town that for all intents and purposes would be considered rural by most visitors. She said, "Oh, no, we don't live around downtown." You'll have to reevaluate your definition of what you consider a busy area if you're visiting from one of Japan's major tourist hubs!
While it lacks some of the conveniences of the mainland, we definitely recommend visiting Hachijo Island for a change of pace and to experience a really unique side of Tokyo that you may not have ever imagined existed. Its volcanic landscape and onsen, locally-produced food and liquor, and the genuine warmth and island hospitality of its people, are just some of the wonderful experiences that await you.
If you're planning a visit to Hachijo Island, we have listed some additional words of advice for your trip planning below.
Travel tips for visiting Hachijojima
Be prepared for wet weather
Although we were pretty unlucky on our trip, caught between two typhoons and having basically constant rain because if it, do be prepared for rain on your trip. Rain is a frequent occurrence on the island.
Have a flexible schedule
The daily ferry, flights and helicopters may be cancelled due to poor weather conditions. We recommend being flexible with your schedule and not putting Hachijojima right at the end of your trip when you are relying on a transport service to get you back for connecting flights.
If possible, rent a car
Car is definitely the most convenient way to get around Hachijojima and there are a number of rent-a-car companies on offer. We went with Airport Rent-a-Car (空港レンタカー) based off the name alone because it sounded like it would be easy for us to drop the car off right before our flight. We could have easily walked to the terminal, but the owner insisted on driving us. We rented a small 'kei' car for 4,500 yen a day. However, there were other options for larger vehicles and wagons for groups of 6-8 people, as well as for shorter time frames too. Grab some tourist brochures from the Hachijojima Airport, the ferry ports or other spots around town. A number of them have lists of rental and taxi companies. If you don't speak Japanese, go to the airport or ferry port information counters and have them arrange it for you. While it didn't seem difficult to get a rent a car when we visited, to be on the safe side, you may want to inquire ahead of time if you're visiting during the height of summer or holiday periods.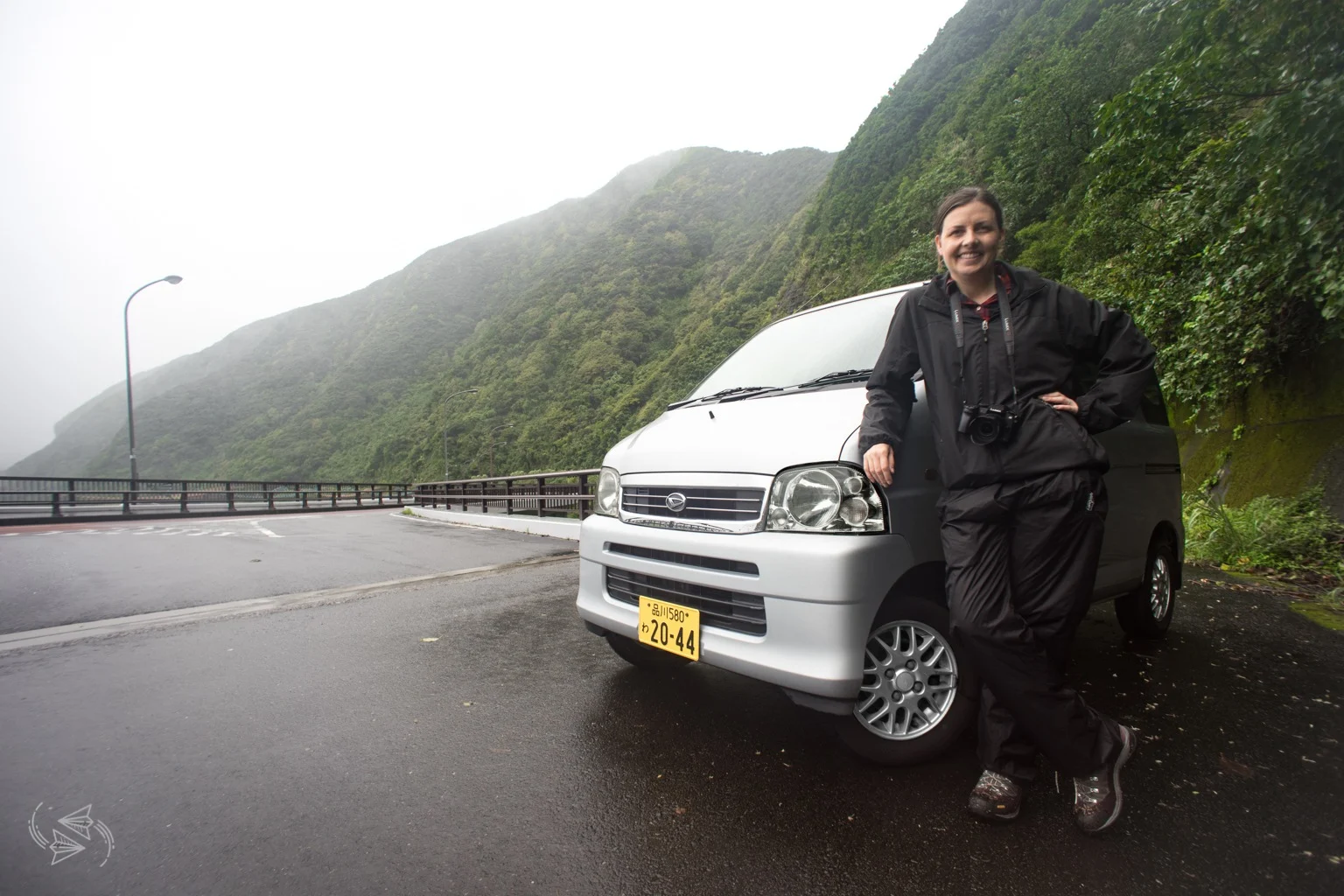 Other transport options, taxis on Hachijo Island
If you cannot or prefer not to drive, you can also take the local bus (suitable for some locations, but not all), rent a bicycle or motorcycle, or take a taxi. Unless you're around the airport or ferry port at the time of arrivals/departures, however, it may be difficult to find a taxi off the street. If you're venturing off sightseeing and you don't feel confident to call a taxi and possibly having the person on the other end of the line unable to converse in a language other than Japanese, you can either ask a local business to help call one for you, or, if more off the beaten track, arrange for the taxi driver who dropped you off to pick you up at a set time.
Free Sokodo Camping Site specific advice
The Sokodo Camping site is located within walking distance of Sokodo Beach and Port or about 5 mins by road from Hachijojima Airport. It is completely free and extremely well maintained. No reservation is required and you can simply show up and pitch your tent wherever you like. Facilities include an undercover food preparation and cooking area, including ample grills for those who'd like to BBQ. Sponges for washing dishes were available when we visited, but no detergent (unless someone leaves some behind like we did; it pays to check before buying your own at the supermarket). There are also hot showers and washlet style toilets, with bathroom facilities for families and those in wheelchairs. It's pretty impressive, especially for a completely free campsite! Here is some additional advice for those wanting to camp out there.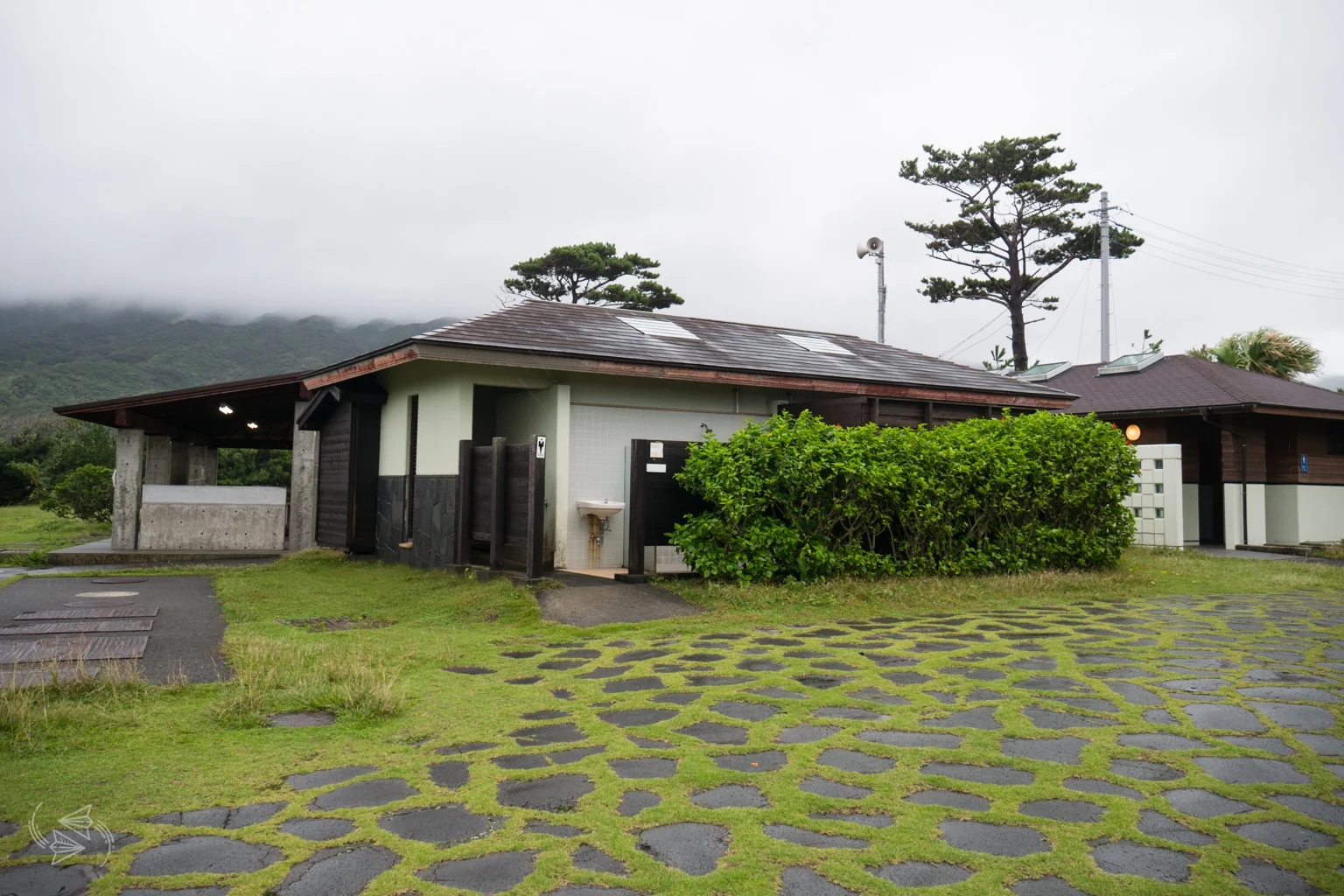 Bring a swimsuit for showering
The showers are open air with a partial wall around them. It's easy to imagine it more of a place to rinse off after going to the beach. The facilities are getting better and better, now with one hot shower available for each gender, but it is still rather open with no partitions between showers and the women's side can be seen from the street. A swimsuit will likely be in your backpack already if you're planning on visiting the beach or the mixed gender onsen anyway.
Take care of your food around the resident cats
There are about 5 or so stray cats that frequent the campsite. They are very cute, but are quite cunning when it comes to snagging food from campers. We left a tied-up bag of vegetables outside our tent and it was pulled into the bushes and torn open within the couple of minutes we left to brush our teeth. Another group had a bag of uncooked rice torn open on top of one of the counters while they went to their car. While another camper, who perhaps had something open and that smelled tasty to the cats, had her tent actually ripped open. It's nothing to be alarmed about. Just make sure you don't leave any food unattended outside your tent, even if you think it's unappetizing to cats, and refrain from storing any food that is open and may smell appealing in your tent, especially at the sides.
Be sure to lock the garbage cage
There is a garbage cage for disposing of trash. Be sure to lock it after use so rubbish doesn't get blown around by the wind/rain, and to prevent the aforementioned cats from getting into it and littering the campsite.
This post contains an affiliate link, meaning, at no additional cost to you, we may receive a commission for the referral. We always tell it like we see it and only add links that we think are useful to you as the reader. Thank you for keeping this site free by supporting us through the use of our referral links.
Pin me for later!
Have you been to Hachijojima? Any places or advice to add? Would you now add Hachijo Island to your list of places to see in Tokyo/Japan?