"If Toyota catches a cold, Nagoya does." This local saying expresses just how much influence Toyota City, Aichi Prefecture's second largest city with around 420,000 residents, has on the prefectural capital's financial health and well-being, and indeed on the entire country's.
So, what makes Toyota so vital to regional and national economic success? Well, it's probably no surprise based on the name of the city that there's a connection to the Toyota car company. The Toyota Motor Corporation has its headquarters here and nine of its twelve plants in Japan are located in Toyota City.
In fact, the now global automobile manufacturer has been so much a part of the city's prosperity and growth that the name of the city was changed from Koromo to Toyota City in 1959. There have only been two instances of a town name change of this nature in Japan, the other being Tenri near Osaka, named after Tenri-kyo, an offshoot of the Buddhist religion, which has its headquarters there.
Today, a staggering 80% of the city's workforce is employed directly or indirectly by the car manufacturer, making it truly the lifeblood of the region. And despite having such a unique history and being only one hour by train from Nagoya, Japan's fourth largest city, it doesn't get nearly as much tourist attention as you'd expect. However, that is all set to change when the Rugby World Cup comes to Japan in 2019 and Toyota City is broadcast around the world as one of the twelve cities to host World Cup matches.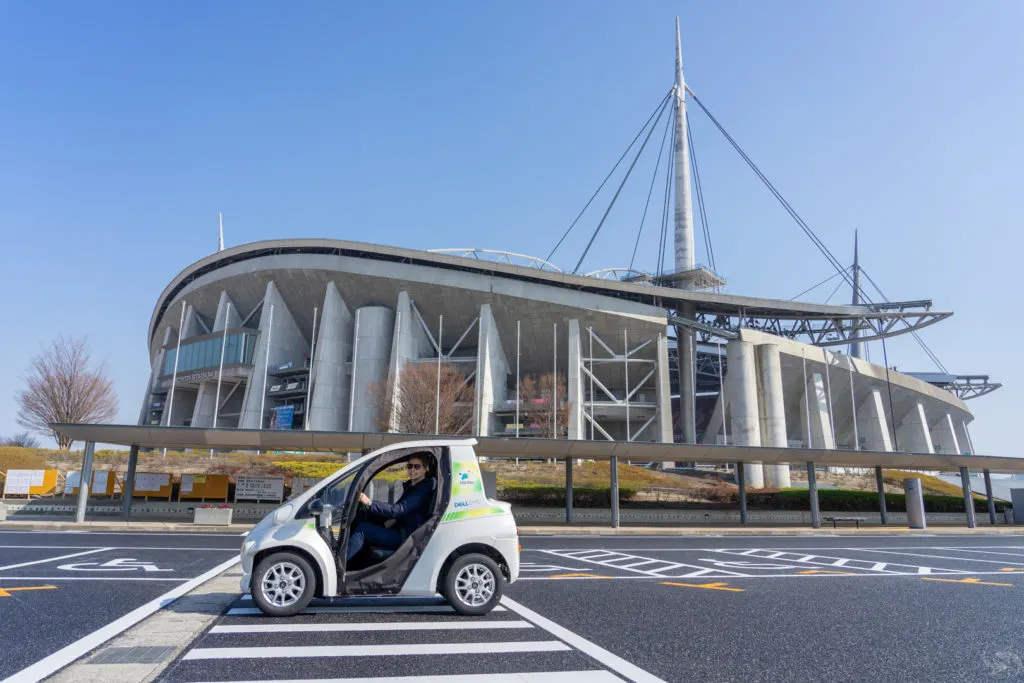 A total of four matches will be played at the state-of-the-art Toyota Stadium, the second largest stadium in Japan. The 45,000 seat stadium was built for the 2002 FIFA World Cup, which was jointly hosted by Japan and Korea, the first time ever that the FIFA World Cup was held in Asia. Now, Toyota is excitedly anticipating its next global sporting event with the 2019 Rugby World Cup in September and October, and the city is once again looking forward to welcoming players and tourists from all over the world.
This Toyota guide will assist you in planning your stay whether before, during or after the World Cup, with suggestions on things to see and do, great local products to buy, and where to stay.
Things to do in Toyota City, Japan
Sightseeing options in Toyota City cater to a range of different travelers. Of course, those who like cars or are interested in how the city revolves around one brand, will find lots of interest. However, there is also nature, history, hot springs and opportunities for hands-on crafts that make it appealing for varying interests, ages and group sizes.
Toyota Kaikan Museum and Toyota Plant Tour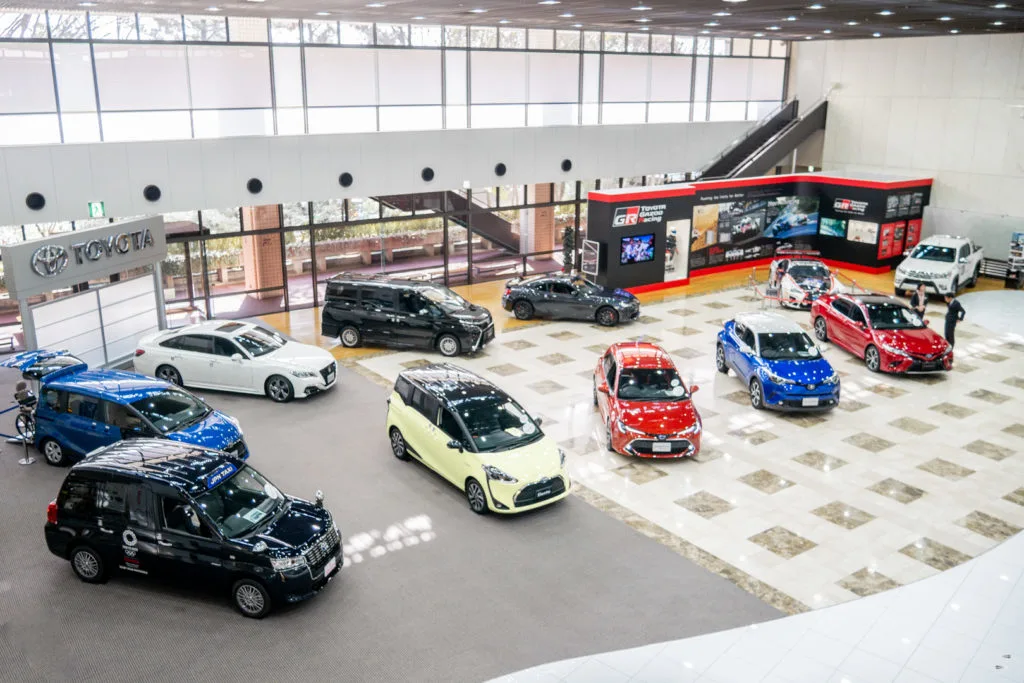 If you're visiting a city that has been so impacted by a manufacturer that it was renamed after it, it makes sense to start your exploration by learning more about the company and its products.
At the Toyota Kaikan Museum, you can visit various exhibitions that showcase the company's approach to eco and hybrid technologies, safety, creation and the production process, and society and the future. Various interactive displays make learning hands-on and fun. I particularly liked seeing a robot in action and learning about how robots are used on the production line. Interestingly, the entire welding process is done exclusively by robots and it only takes 24 hours to complete a car from start to finish! There is also a showroom where you can see the latest Toyota and Lexus models. You're welcome to sit inside them, take photos and get a sense for the look and feel of their fleet.
Those who would like to see cars being made on an actual production line can book a Toyota Plant Tour. A complimentary bus departs from the Toyota Kaikan Museum and will take you to one of three plants in Toyota City. Tours are available in English and Japanese and as there is only one tour per day, spots fill up fast, so be sure to plan your tour as far in advance as possible. Toyota Plant Tour reservations can be made online starting at three months prior to the tour date.
Both the Toyota Kaikan Museum and the Plant Tour are free of charge. Those wanting to learn about the history of the company and its founder, may also like to visit the Toyota Kuragaike Commemorative Hall.
Asuke Townscape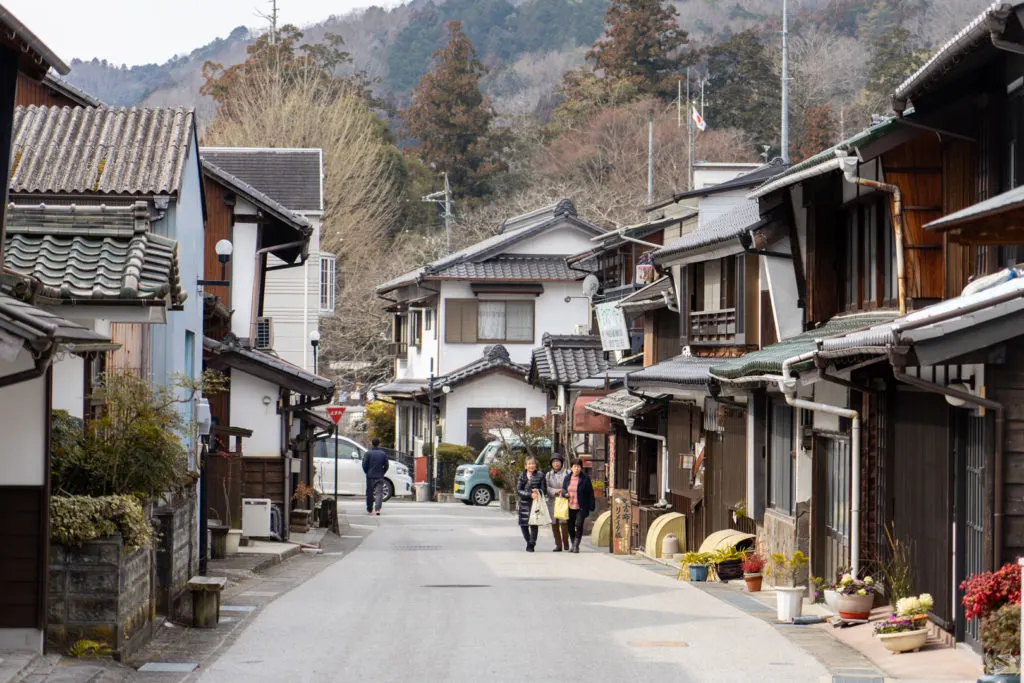 Asuke Townscape is Aichi's first 'National Important Preservation District of Historic Buildings'. In the past, Asuke served as an important merchant and post town along the Ina Kaido Road (Chuma Kaido Road). The basic layout of the town dates back to the Sengoku Period (mid 1400s to late 1500s), while many of the buildings that still exist today are from the latter part of the Edo Period (1776-1830).
The best part of a visit to Asuke is that it isn't simply an "old town" that is preserved for tourism purposes, but is a fully functioning township and its buildings continue to be used as active places of living and work. Be sure to spend time wandering into the old, public buildings and seeing what kind of local secrets you find beyond each door.
Along the 2km stretch of buildings, you can find a mix of restaurants and shops, exhibition spaces displaying locally made crafts, places of worship and old-style hotels. If you're looking for something sweet on your wanderings, I recommend paying a visit to Nichigetsu Monaka Sohonten Kawamuraya for freshly-made Japanese sweets.
Asuke's Korankei Valley, with its 4,000 Japanese maple trees has become a well-known spot to view the autumn colors, but even so it's still a relatively unknown gem to even many Japanese, so you'll definitely be among few foreign visitors who've caught wind of it.
Sanshu Asuke Yashiki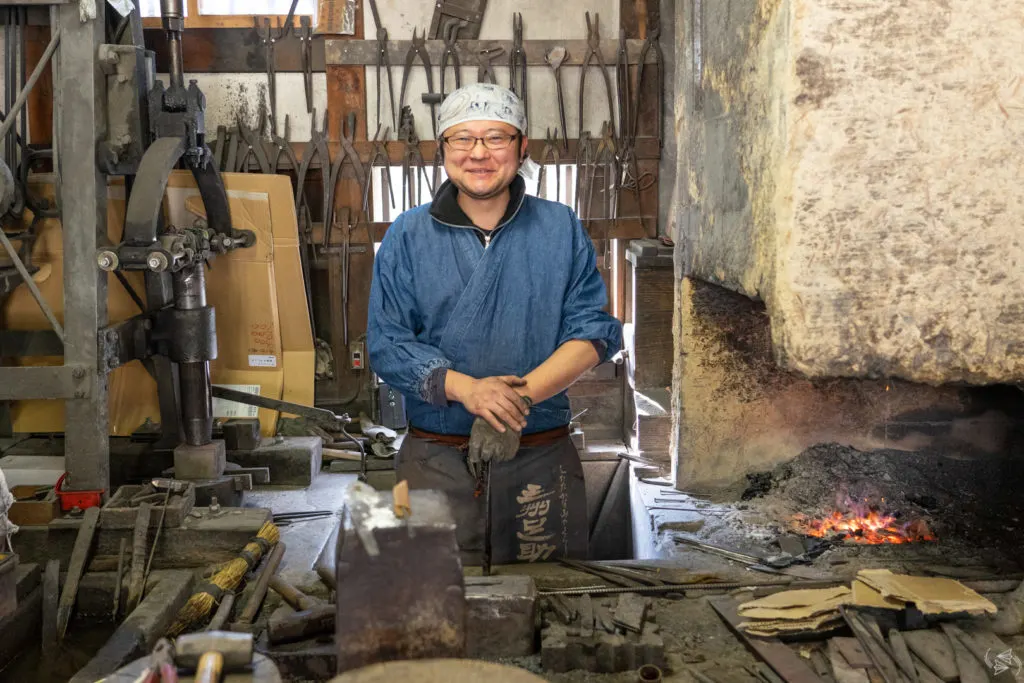 Nestled in the Korankei Valley is Sanshu Asuke Yashiki, a working open-air museum that showcases traditional Japanese handicrafts. The museum mimics a self-sufficient farming community set around 100 years ago in the Meiji Period, complete with thatched dwellings, cows, chickens and crops.
Wander into almost any one of the farmhouses and you'll find local artisans making traditional handicrafts in real-time, allowing you to see what goes into making them, and interact with and ask questions directly to the artisans themselves.
If you're feeling crafty or just want to make a one-of-a-kind souvenir, you can actually try your hand at some of the handicrafts yourself. You can try hand loom weaving, paper making, letter opener making, straw sandal making, Japanese indigo tie dye, and making bamboo products. Some crafts (making gohei mochi, paper making and waraji straw sandal making) require advanced reservation by phone or email ([email protected]) so be sure to plan ahead. Admission is 300 yen for adults and 100 yen for children and young adults aged 6-18. Crafts are an additional fee.
The cherry blossoms of Obara
Obara is home to a rare type of cherry tree called the Shikizakura that blooms in both the spring and autumn. This creates an incredible scene in early to late November when the cherry blossoms are blooming at the same time as the fall colors reach their peak.
With about 10,000 trees offering this vibrant and incredible natural display, it's not to be missed.
Washi no Furusato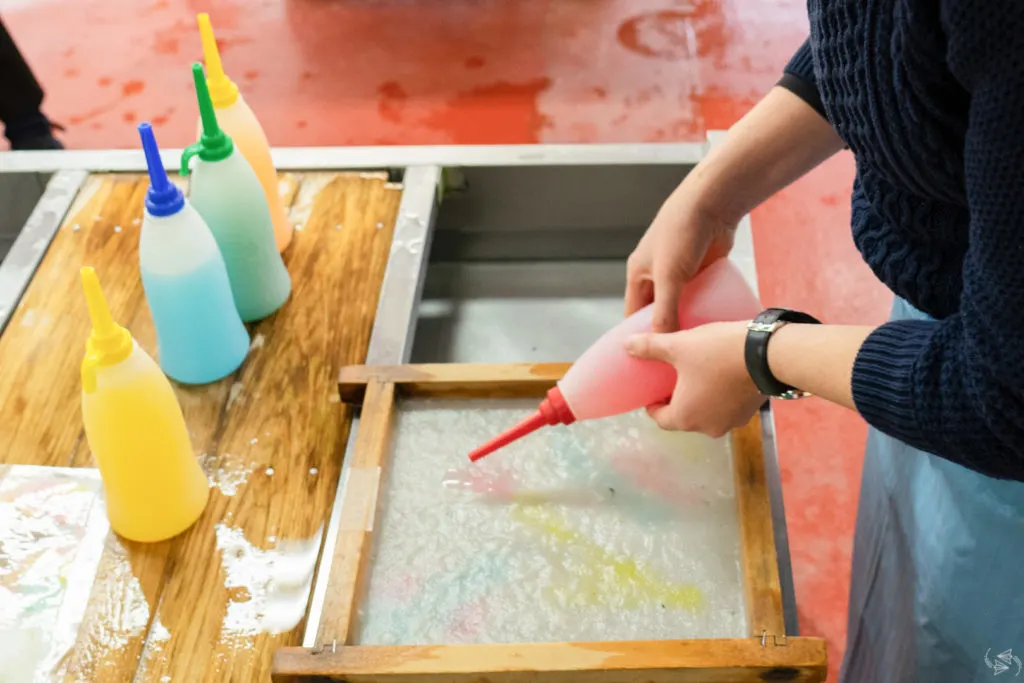 If you're looking for an activity to do in Obara any time of the year, you can visit the Obara Paper Art Museum known as Washi no Furusato, which includes the Washi Art Gallery and an Art and Crafts Center.
Washi, or traditional Japanese paper, is such an important art form that it is registered as UNESCO Intangible Cultural Heritage and Obara knows all about it. Washi-making began in Obara in the northern part of Toyota City as early as the 1500s. The mountainous Obara area had little cultivatable land for crops, but had clean water and plenty of kozo trees, the most popular fiber used in washi production, and it was the perfect means of creating job security during the colder winter months.
Obara become known as the "washi village" with its oiled paper called Mikawa Morishita Gami, popularly used for rain umbrellas. And, later, Obara Washi Art, which uses various colored fibers to create an image, rather than painting it on, created a unique art form that is now known internationally.
At the Art and Crafts Center, you can see first-hand the various stages of the washi-making process, learn from local Obara Washi experts and produce your very own piece of Obara Washi Art for a small fee. The workshops on offer are simple and short enough that they're suitable for the whole family. What do you think of our designs?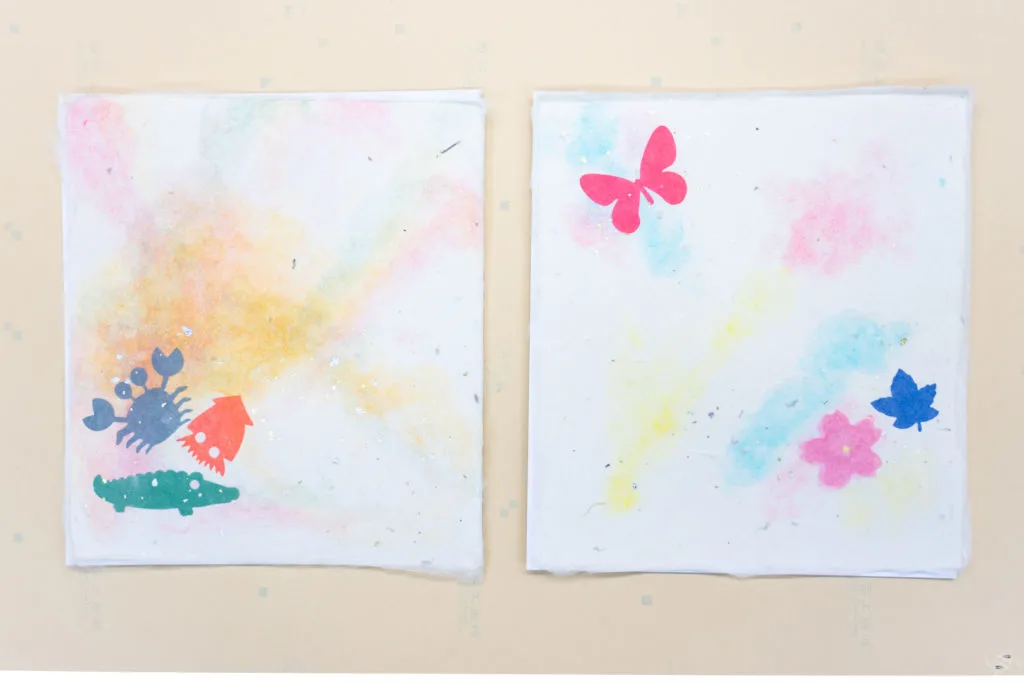 If you have a group of fewer than 10 people, workshop reservations are not required. Those who love paper and art supplies should also check out the Center's gift shop, which has a range of washi products for purchase.
Matsudaira Toshogu Shrine
Matsudaira Toshogu Shrine stands in commemoration of Tokugawa Ieyasu, the founder and first shogun of the Tokugawa shogunate. So pivotal was his role in Japanese history, you'll no doubt hear his name mentioned several times during your trip to Japan.
Tokugawa used to use the family name Matsudaira, hence the name of the shrine. Matsudaira Chikauji, the founder of the Matsudaira clan and to whom Tokugawa Ieyasu can trace his roots, is also enshrined here. It is believed that the shrine is a way of passing Tokugawa Ieyasu's legacy down to his descendants.
The water from the shrine's well is considered to have special properties and was supposedly used to bathe Tokugawa after he was born. Nowadays, the water is given to worshippers and is said to bring longevity and to also aid in a safe birth.
The urushi, or lacquerware, ceiling of the outer shrine, which depicts an exquisite representation of the four seasons, is one of the shrine's unique features. It was painted by local veteran urushi artist Ando Norioshi san using the very best Japanese lacquer. By advanced reservation, visitors to Matsudaira Toshogu Shrine can book a lacquerware experience and have the honor of learning the art of 'urushi' from a local lacquerware artist in the workshop space next door.
During the workshop, you will have the opportunity to paint your own design using the earthy red-brown lacquer onto a spoon handle and then tap over color to create your very own usable souvenir. As it takes up to six hours to dry, the teacher can arrange to send your final product to your next accommodation or even the airport. The lacquerware experience costs 4,000 yen per person plus postage.
Sanage Onsen
For those who want to enjoy Japanese hot springs, Sanage Onsen, Aichi Prefecture's largest natural radon hot spring, is a popular choice. It bubbles up from 1,200m below ground and is said to have many medicinal properties.
One very special aspect of visiting Sanage Onsen is that you can actually drink the hot spring water! You can buy pre-packaged bottles at the gift shop or bring your own containers to fill from the water fountains (included in the cost of entry – up to 10L per person).
The biggest public bathing facility is Sanage Onsen Iwaburo Kinsennoyu. Those staying at the nearby Sanage Onsen Hotel Kinsenkaku can enter free of charge. Day trippers are also welcome to come and enjoy the facilities for an entry fee of 1,500 yen for adults and 300 yen for children (3 years-elementary school students). Towels and yukata robes are provided to all visitors for no additional charge, and the usual shower amenities are provided, making it easy to just turn up empty-handed.
What to buy in Toyota
Toyota City has a number of products that make for great souvenirs.
Kokaen Tea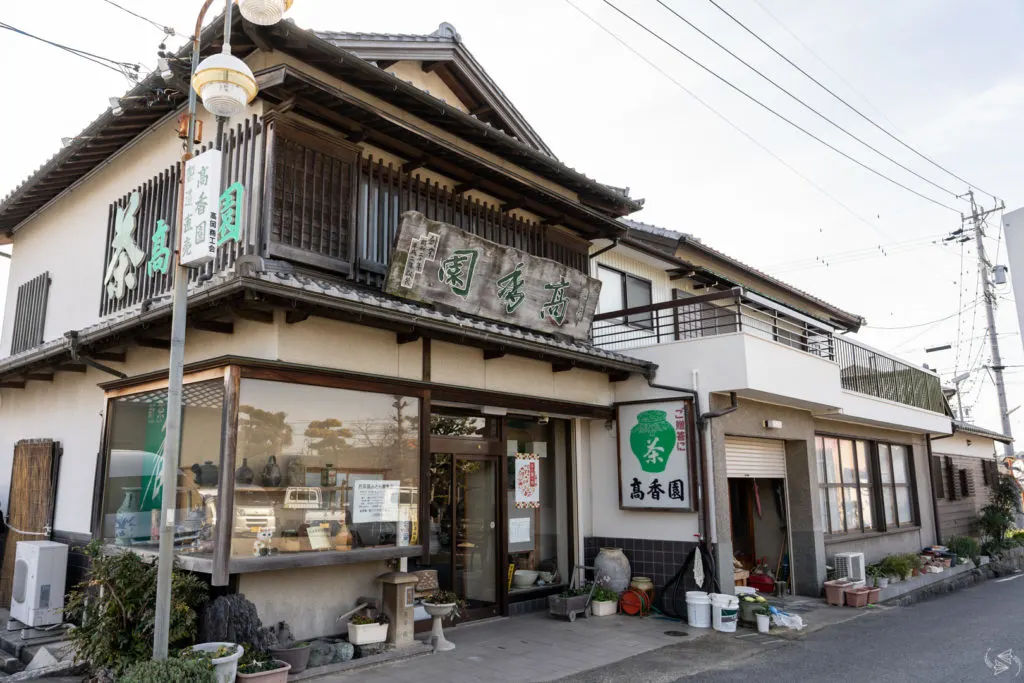 The tea industry in Toyota actually predates the Toyota car company's arrival in the city, and while many local people are now employed in the car manufacturing industry, a small handful are keeping the tradition of tea production alive.
Kokaen is an award-winning third generation family business run by the Noba Family. They have ten plantations in total, all in Toyota City, and while many operations now rely solely on machines, they continue to pick a substantial amount of their tea by hand, producing high-quality tea products that are second-to-none.
We've tasted a lot of green tea in Japan, but never have we experienced tea like this, nor did we expect a tea shop to end up being such a memorable part of our trip. The Noba Family produces six kinds of tea and offers free tea tasting to all visitors to their quaint store. The thing that struck me most was how easy their delicious concoctions were to replicate at home. Their matcha au lait and roasted green tea au lait taste exquisite, yet all it takes is a couple of teaspoons of their instant green tea powder mixed with your choice of hot or cold (soy) milk. Seriously, you have to try it. Their green tea cakes are also extremely popular and make for great sightseeing snacks or take-home souvenirs.
Masuzuka Miso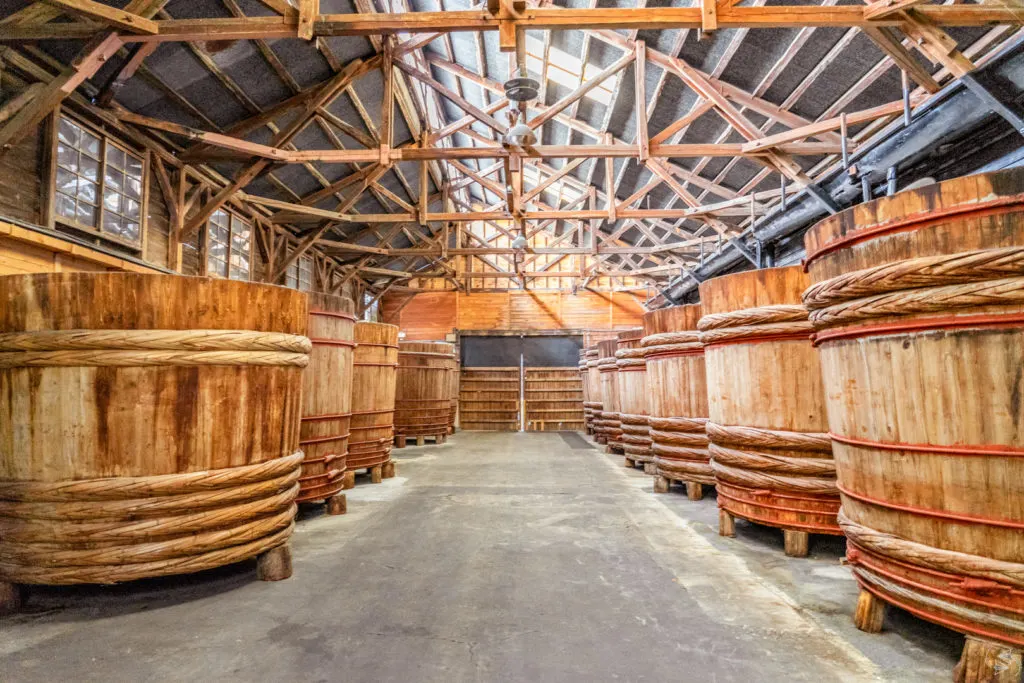 No doubt you've tried red or white miso soup or other miso products, but have you heard about Aichi's dark and flavorful soybean miso? Mamemiso as it is called in Japanese is an almost black miso paste that is predominantly consumed in Aichi (where Toyota is located), Mie and Gifu Prefectures.
Masuzuka Miso in Toyota City, a brand of Noda Miso Co., specializes in soybean miso made in wooden barrels using a process of natural fermentation. Of the one-thousand miso companies in Japan, only 5% use wooden barrels and natural fermentation.
Fermentation takes between one and a half and two years, and just like wine or cheese, the specific taste is different every time. The original miso factory on the site is 200 years old and has now expanded into the surrounding aircraft hangers that were part of a working military base until the end of WWII.
Nowadays, demand for soybean miso is increasing outside of Aichi with the rise of worldwide foodie culture and has been praised by a number of well-renowned chefs. You can buy Masuzuka soybean miso products at the on-site store (and across supermarkets and department stores in Toyota City), including instant miso that's perfect to take back home. Those who want to understand miso production at a deeper level, can book one of the monthly miso classes (Japanese language only, reservations a few months in advance required). Tours of the factory in English may be possible depending on staff availability (please email in advance to inquire [email protected]).
Sake from Sekiya Brewery
There are around 1,300 sake breweries in Japan, but only Sekiya Brewery produces order-made sake, allowing customers the option of having full creative control over the taste, aroma and consistency of their unique brew, the label, and even the color of the bottle. Designing your own custom sake is by reservation with a minimum order of 100 bottles, and is particularly popular for weddings and events.
If that's a little too much commitment, there are two other activities that you can experience at Sekiya Brewery by reservation from September to June. The first is a free 30-40 minute tour of the factory, followed by a tasting. The second is the "taiken" self-experience which allows you to be able to mix some sake yourself in the factory and do a tasting. The 10,000 yen fee includes two bottles of sake to take home and a lunch box. Reservations can be made in English by email: [email protected]
The on-site shop at Sekiya Brewery is open all year round, allowing you to purchase a range of different sake products to suit a range of tastes. They have even produced a special Toyota Stadium sake ahead of the Rugby World Cup called "Toyo Suta," a shortened version of the name Toyota and the Japanese word for stadium! You can pick up a bottle directly from Sekiya Brewery, at several souvenir shops around town and, of course, at Toyota Stadium itself.
Where to stay in Toyota
There are many accommodation options in Toyota. Downtown choices are great for access to the train station, restaurants, shops and entertainment, and Toyota Stadium. While others further out of town allow you to feel the beauty of the Japanese countryside without venturing far from civilization.
Hotel Toyota Castle
Draw: Comfortable, convenient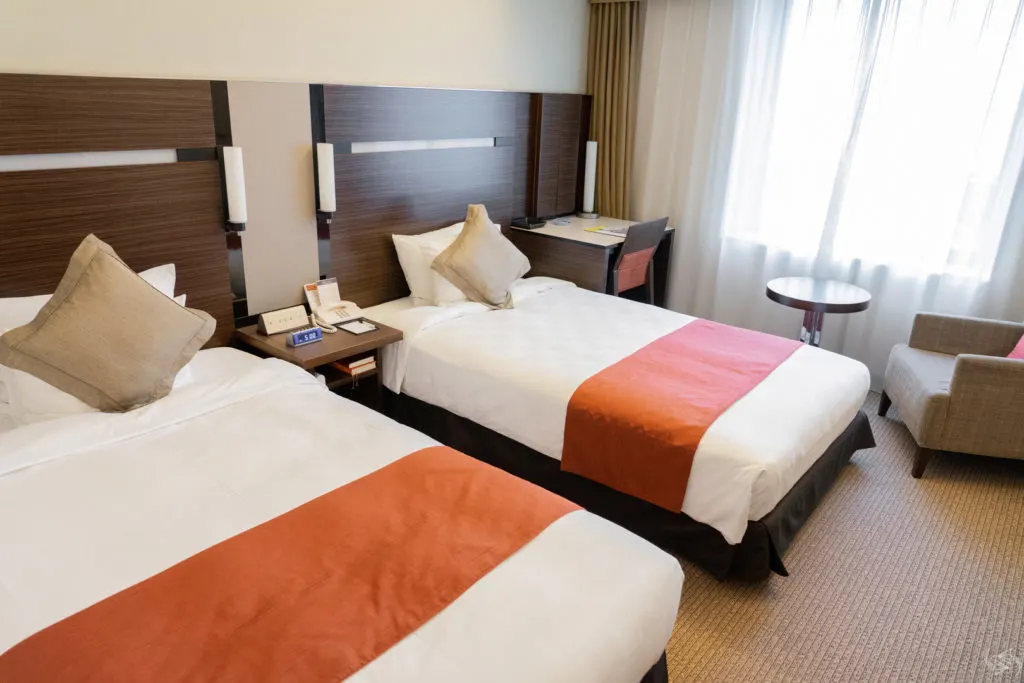 Hotel Toyota Castle is a comfortable, Western-style hotel conveniently located in downtown Toyota, just 2 minutes' walk from Toyota-shi Station, and only a 17-minute walk or 5-minute taxi ride to Toyota Stadium.
The rooms are clean, modern, and smoke-free, and there is a range of different layouts on offer from singles to multi-room suites, including a barrier-free twin room, all with free Wi-Fi.
Check current availability and rates at Hotel Toyota Castle.
Meitetsu Toyota Hotel
Draw: Comfortable, convenient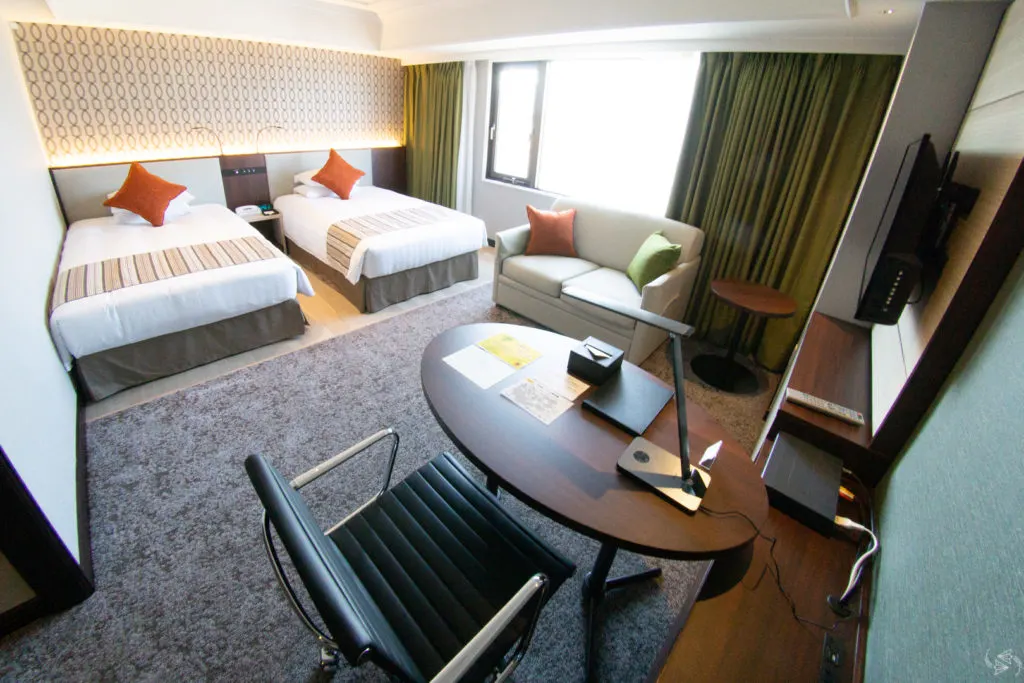 The Meitetsu Toyota Hotel is another very convenient option in downtown Toyota, just one-minute walk from Toyota-shi Station. Rooms range from singles, doubles, three-person multipurpose rooms to suites, and all have free Wi-Fi.
The best part about the Meitetsu is that they are doing a full upgrade of their ninety-nine rooms ahead of the Rugby World Cup, bringing a stylish, modern and smoke-free environment to their guests. Single beds are also being widened from 120cm to 140cm, making them closer to a double, and from some of the rooms you can even see Toyota Stadium, making it no doubt an exciting place to stay during the Rugby World Cup.
Check current availability and rates at Meitetsu Toyota Hotel.
The Ninja Mansion
Draw: Traditional Japanese home, cultural experience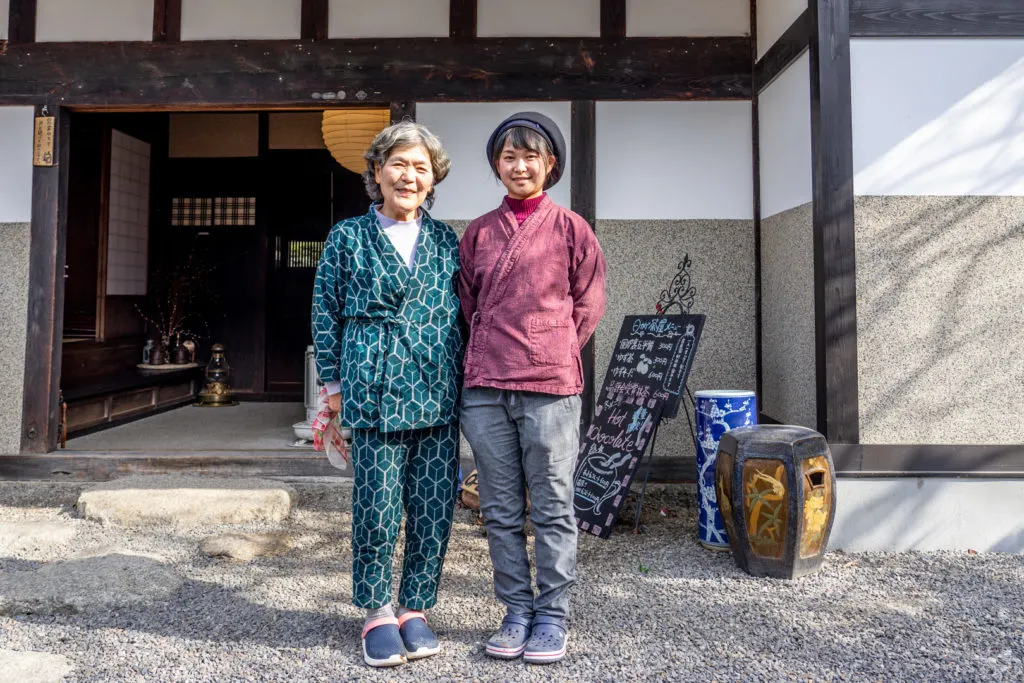 The Ninja Mansion is a 150-year-old traditional Japanese home turned tourist accommodation owned by 76-year-old Katsuse Michiko san, who now operates her exciting accommodation and café business with her one staff member, 28-year-old Sakasegawa Chihiro san.
Although the Ninja Mansion is only twenty-five minutes' drive from Toyota-shi Station, you already feel like you're in countryside Japan. It's calm and peaceful and when you book the Ninja Mansion, you get the entire place to yourself! Michiko san has solo guests, couples, as well as groups of up to the maximum of nine people.
Guests enjoy the opportunity to experience a traditional Japanese home, including sleeping on futons on the tatami mat flooring, and can either entirely self-cater using the kitchen, buy hot pot ingredients and rent out the café area in the evenings for a small fee (Michiko san will prepare the pot, charcoal and can even teach you how to prepare the dish), or on weekends, you can also reserve a chef to come to the house and cook for you.
Check current availability and rates at the Ninja Mansion.
Where to watch Rugby World Cup 2019 matches on the big screen
If you're visiting Toyota during the World Cup, you'll no doubt be wondering where you can catch games on the big screen.
Booby's British Pub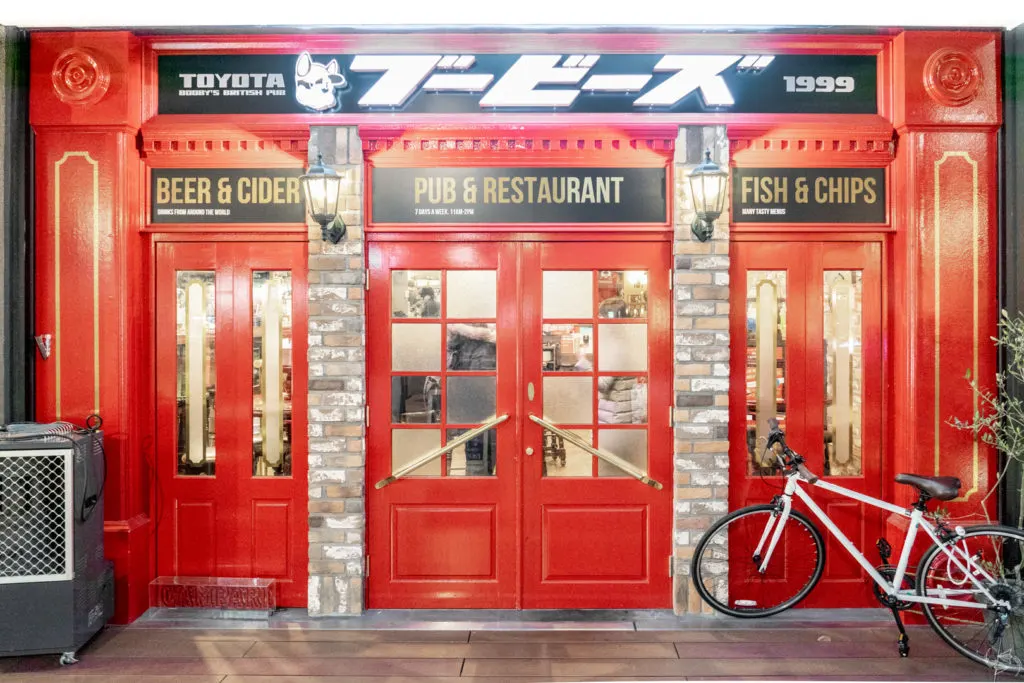 This friendly and inviting sports bar is just a stone's throw away from Toyota-shi Station, Hotel Toyota Castle and Meitetsu Toyota Hotel and, short of being able to get stadium tickets yourself, is the perfect place to catch games during the Rugby World Cup, or just to grab some dinner and drinks.
The staff here eagerly welcomes foreign visitors and are actively trying to improve their services to cater to their expanding foreign clientele. There is an English-speaking staff member available every night, a number they are planning on increasing to 2-3 during the Rugby World Cup, and menus are available in English and Chinese. They have also noticed many foreign groups tend to prefer to split the bill, and they welcome anyone who wishes to do so to opt-out of using the tablet system on the table that automatically generates a combined bill, and order and pay directly at the bar instead.
Booby's has a lot of traditional pub favorites like fish 'n' chips, hamburgers and Mexican, as well as some more Japanese-style pub food. A new vegan menu is also currently under consideration.
Who's ready to explore Toyota City? Raise your hands in the comments and feel free to share any experiences or questions you might have. Got any other attractions to add to the list?
This trip was supported by the Toyota City Government. As always, our opinions remain our own.