Taipei remains one of the most underrated cities in Asia. It's dynamic, modern, eclectic and the perfect place to base yourself for trips throughout Taiwan. Tradition and history can be found in pockets all over the city and it has a living and breathing foodie culture that's hard to beat.
If you're wondering about things to do in Taipei on your Taiwan trip, here's a list of Taipei attractions to get you started.
Longshan Temple
Mengjia Longshan Temple (艋舺龍山寺) is a great place to begin your Taipei exploration. Located in the historic Wanhua District, this almost 300-year-old temple is a constant hive of activity in the best of ways.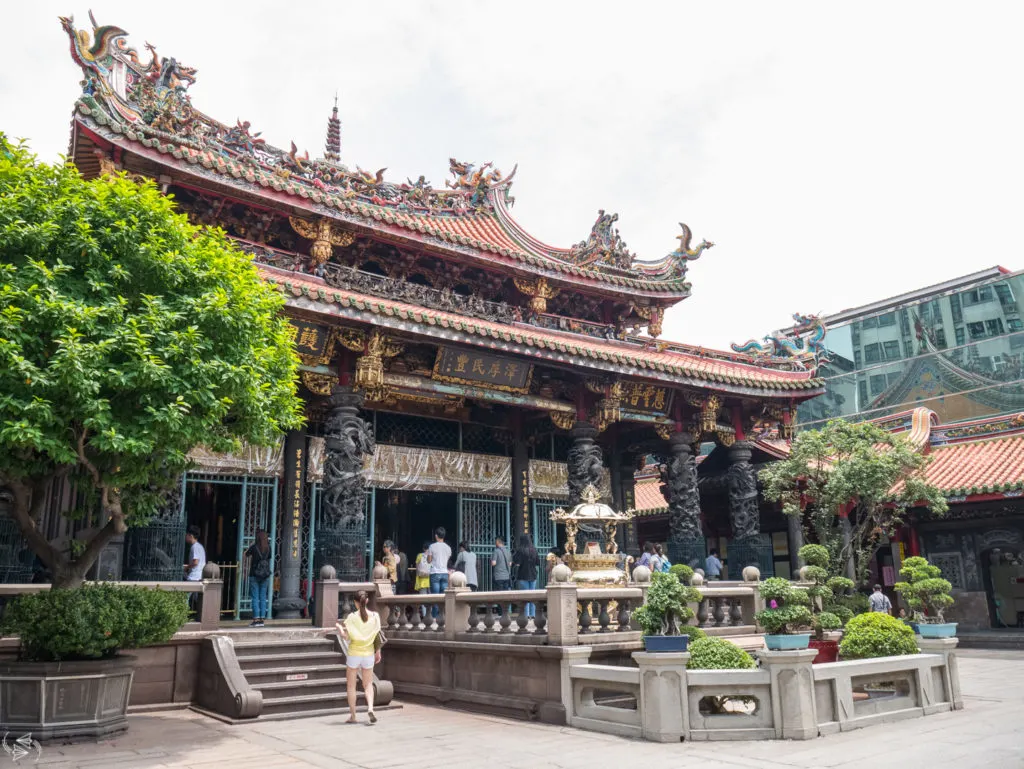 You enter to immediately inhale the incense rising in spiralling wafts, walk down the side passages to see worshippers quietly reciting holy texts and thumbing prayer beads, while out the back sounds of divination blocks hitting the concrete create a distinct accent to the audible atmosphere.
There are always people here, yet it somehow never feels overly crowded. The temple was originally intended to serve immigrants from the Fujian province in mainland China who had settled in the area, and the temple has carried with it that same sense of community and refuge throughout its years.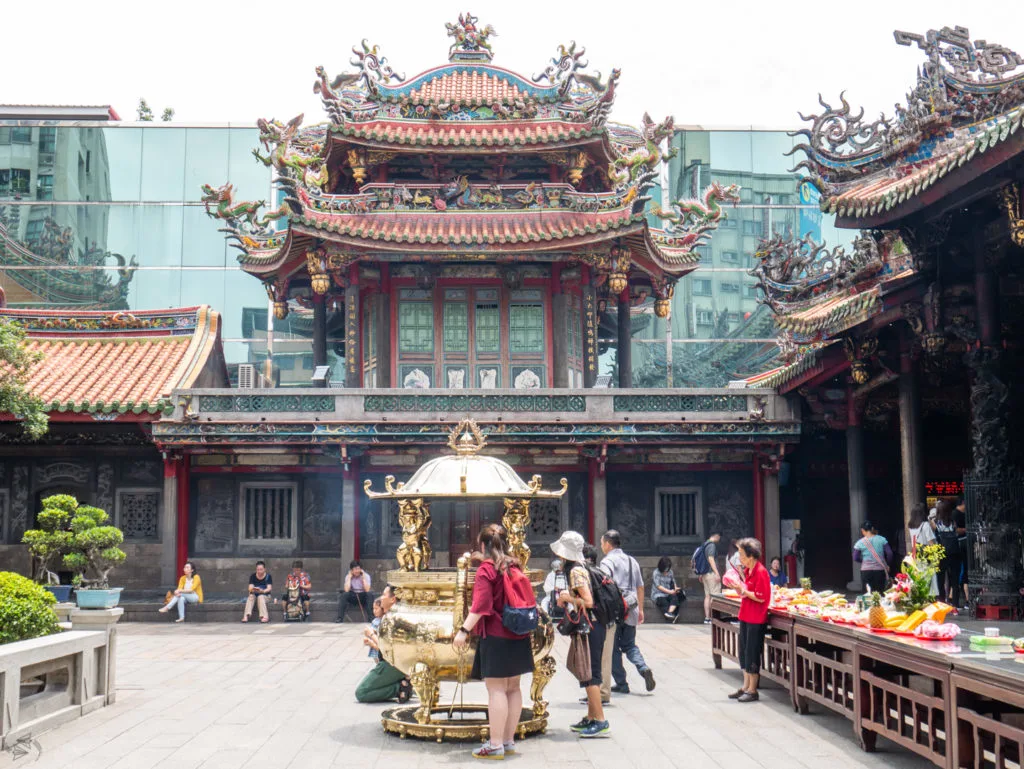 It has been rebuilt on several occasions – due to earthquakes and other natural disasters, and after being severely damaged in bombing raids during World War II in 1945. While the main hall ignited into flames, the Buddhist bodhisattva of compassion and mercy, Guanyin, famously survived with a dusting of ash at its base.
Longshan Temple is a source of great pride for the local community and each time the temple has needed to be rebuilt, it has been the community who has come together to fund it. It's a meeting point of people, culture and religions, intersecting Buddhist, Taoist, and folk beliefs, and is a place where anyone is welcome to light some incense, respectfully people watch and find respite in the cool air of its waterfall on a hot day. Did I not mention it has a waterfall?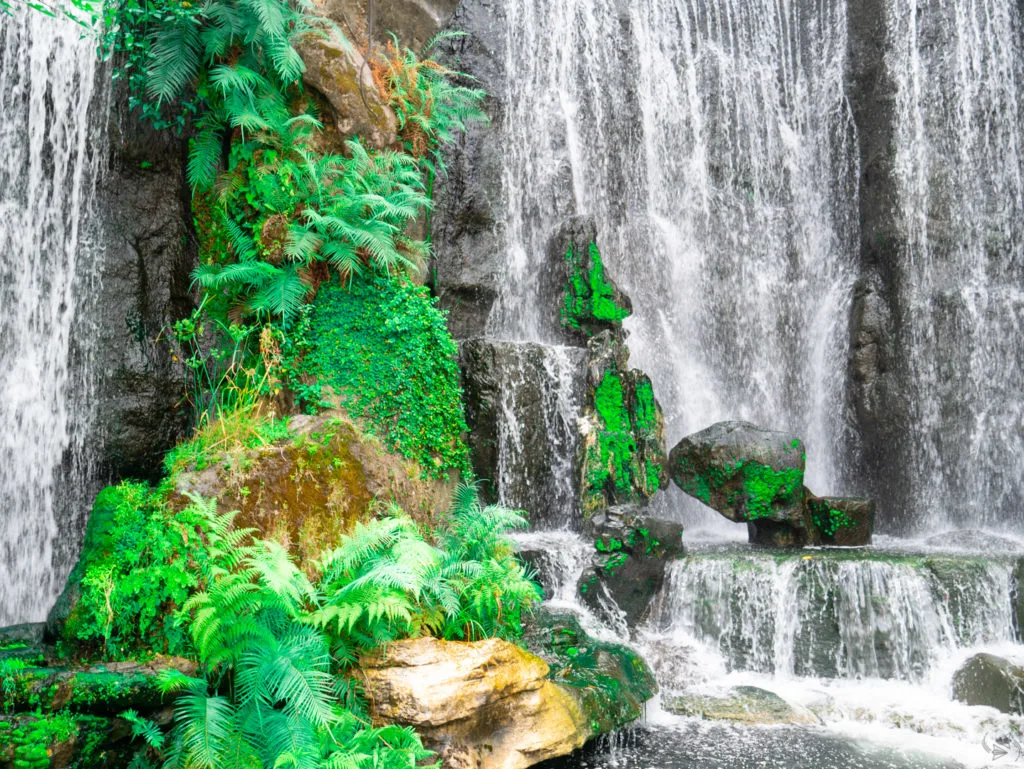 Closest MRT station: Longshan Temple Station (blue line), Exit 1.
Entrance: Free
Opening hours: 06:00-22:00
Night Markets
Night markets in Taipei are the go-to for dinner and evening snacks. You can easily eat your way across Taipei at a different night market every night.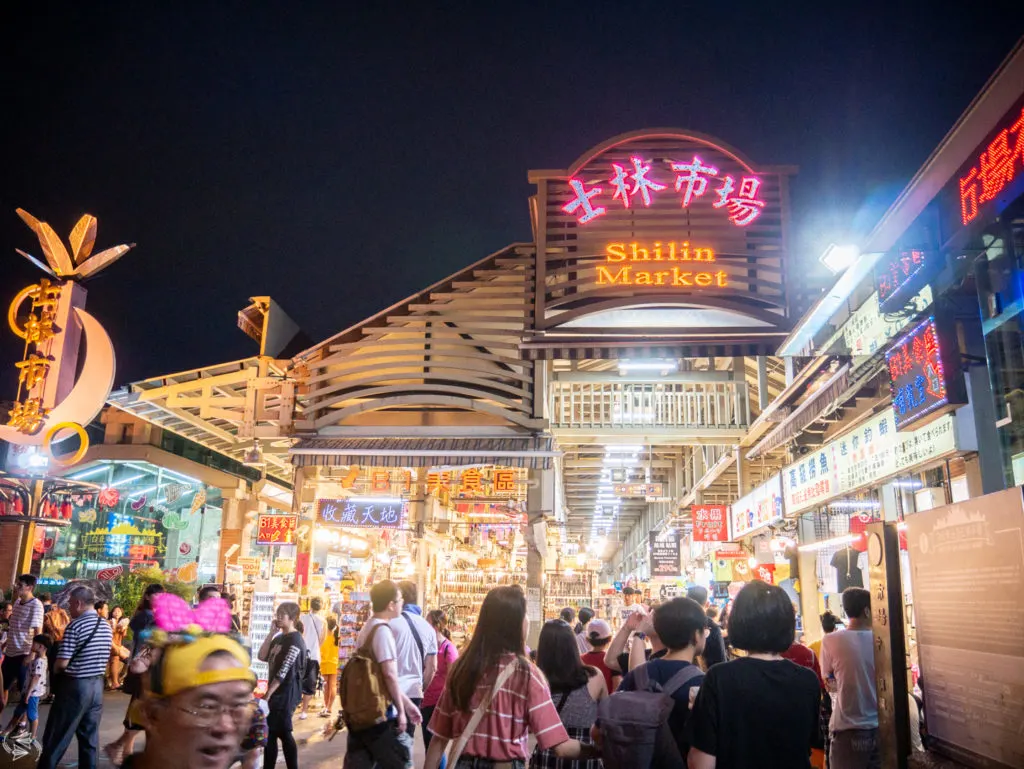 One of the most popular is Shilin Night Market. Granted, it's the most touristy of them all, but it's large with a variety of options, and there is a stall here with the most delectable hot and sour vermicelli soup. Its sign claims it was mentioned in the Michelin Guide and that's what caught my attention on my first solo trip to Taiwan.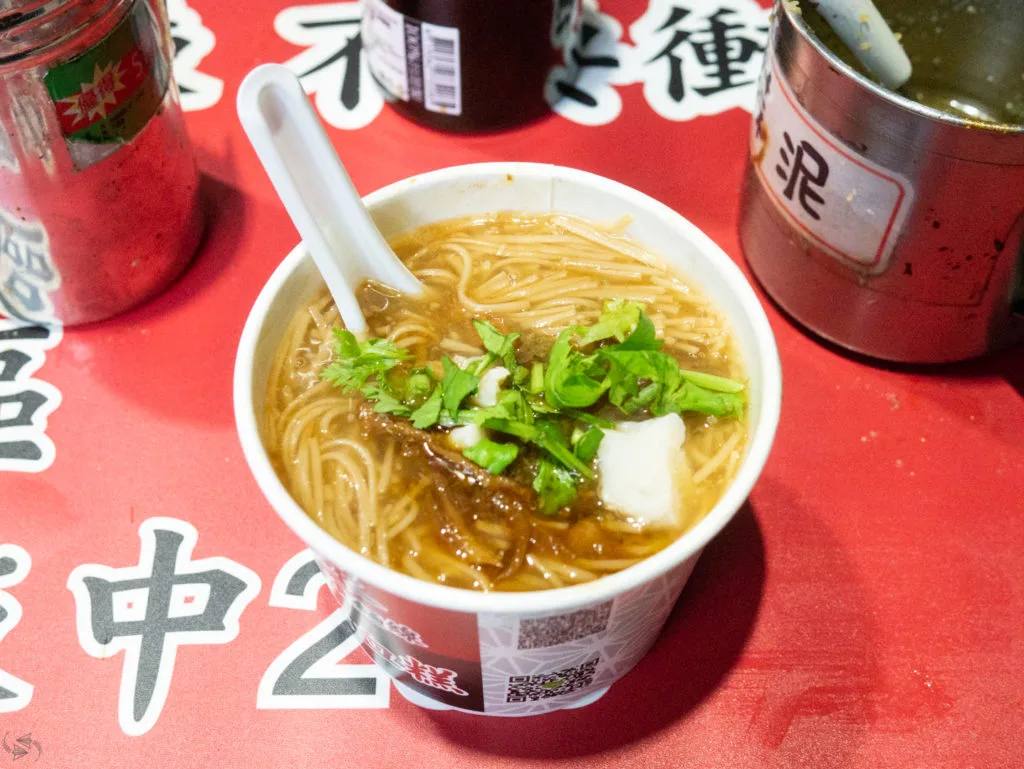 I talked about this soup so longingly upon my return to Japan, that on a subsequent trip together my husband asked if I could take him there. He insisted we go back a second time on our final night in Taipei, just to have one last taste before departure.
There's always a queue, but it moves quickly. It's right in front of the Shilin Cixian Temple and the steps of the temple are used as the stall's "eat-in" area. One steamy bowl costs NT$25 (small) or NT$40 (large), that's 80 cents or $1.30 in US dollars respectively.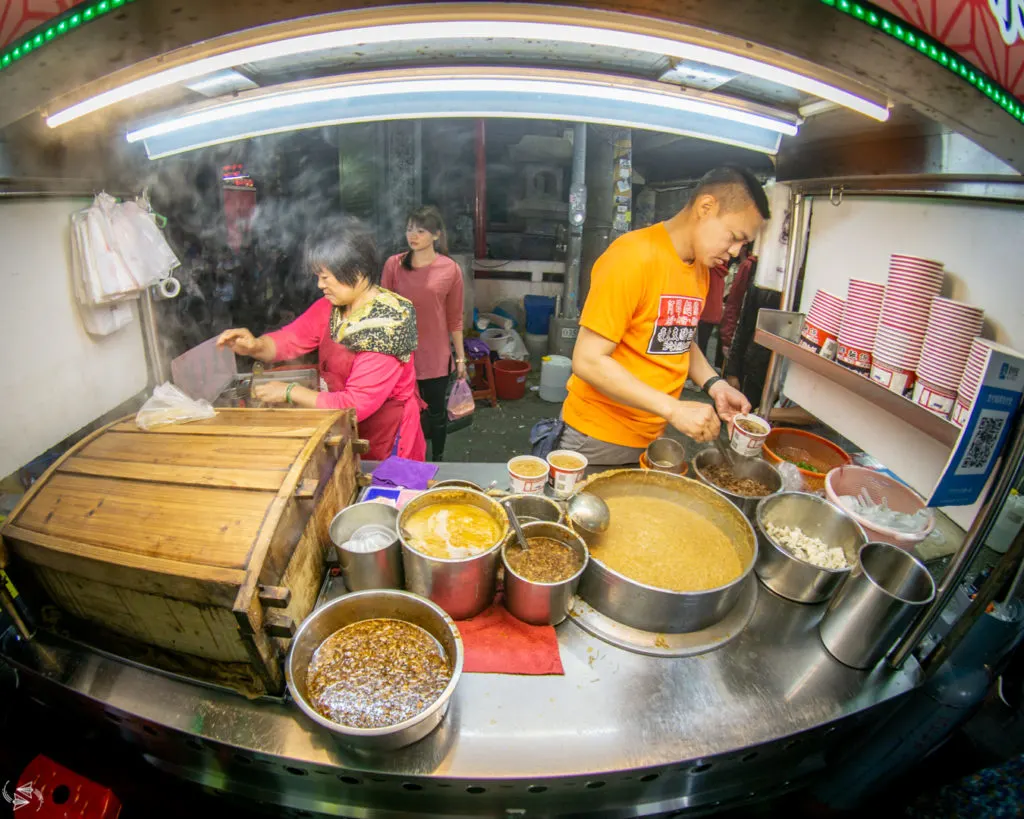 The stall can be found on Google maps as 士林廟口阿輝麵線 and is open daily from 15:00-23:30. If you only go to Shilin Night Market for one thing, make it this!
Closest MRT station: Shilin Night Market is located between Jiantan and Shilin Stations (red line). If coming from central Taipei, it makes sense to get off at Jiantan, as it is the closer station and the market itself is also ever so slightly closer to Jiantan.
Entrance: Free
Opening hours: Open daily 16:00-00:00, (15:00-01:00 on Saturdays and Sundays).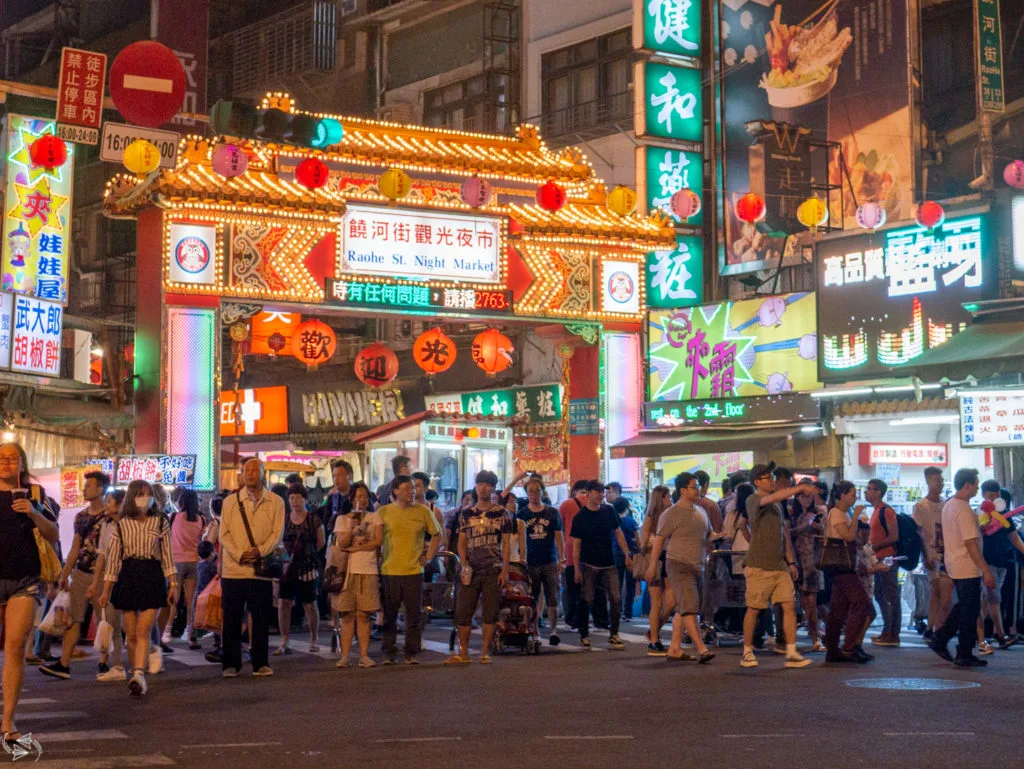 For a less tourist-frequented night market, I recommend Raohe Street Night Market. It has all the usual options and runs the length of a sizeable street, allowing for a full night market experience, without getting too overwhelmed.
Accessing the market from Songshan Station, walk down the right side of the market and come back on the left (right again from your perspective). Even though it doesn't see as many tourists, it's extremely popular with locals and in order to allow easy movement, try to keep with the flow of traffic. Luckily there are several points where you can cut across the stalls, so you can move to the other side if something catches your eye.
It's also worth checking out the beautiful Songshan Ciyou Temple to the right of the entrance to the market. Raohe Street Night Market is listed as Raohe Night Market on Google maps.
Closest MRT station: Songshan Station (green line), terminus station, Exit 5.
Entrance: Free
Opening hours: Daily from 16:00-00:00.
One of my very small, local favorites is Dalong Street Night Market. It's within walking distance of Baoan Temple (below) and while it is really just a tiny collection of stalls, many extensions of existing restaurants on the street, it has a decidedly lovely atmosphere about it.
It also has the most wonderful fruit shop halfway down. You can't miss the colorful yellows, greens, pinks and oranges of the tropical fruit, and the misters that keep everything cool and delectable. This is a local green grocer, so it doesn't stock cut fruit, but it's perfect for taking back to your accommodation or for stocking up on healthy sightseeing snacks. Keep a tote in your bag for plastic-free shopping.
Closest MRT station: Yuanshan Station (red line), Exit 2, about 8 minutes on foot.
Entrance: Free
Opening hours: Daily from 16:00-00:00.
Night market tip: While most night markets officially open at around 16:00, you'll probably find that many stalls are not yet open or are still setting up at that time. You can expect the full selection of stalls and a more lively atmosphere by around 18:00 or 19:00 when the dinner crowd starts arriving.
Dalongdong Baoan Temple (Bao'an Temple)
Dalongdong Baoan Temple or just simply 'Baoan Temple' is one of Taipei's "big three" temples (台北三大廟門), along with the Mengjia Qingshui Temple and the previously mentioned Mengjia Longshan Temple.
These temples are not the largest or oldest temples in Taipei, but are community institutions that have played a vital role in early immigrant culture and Taiwan's history over the past couple of centuries.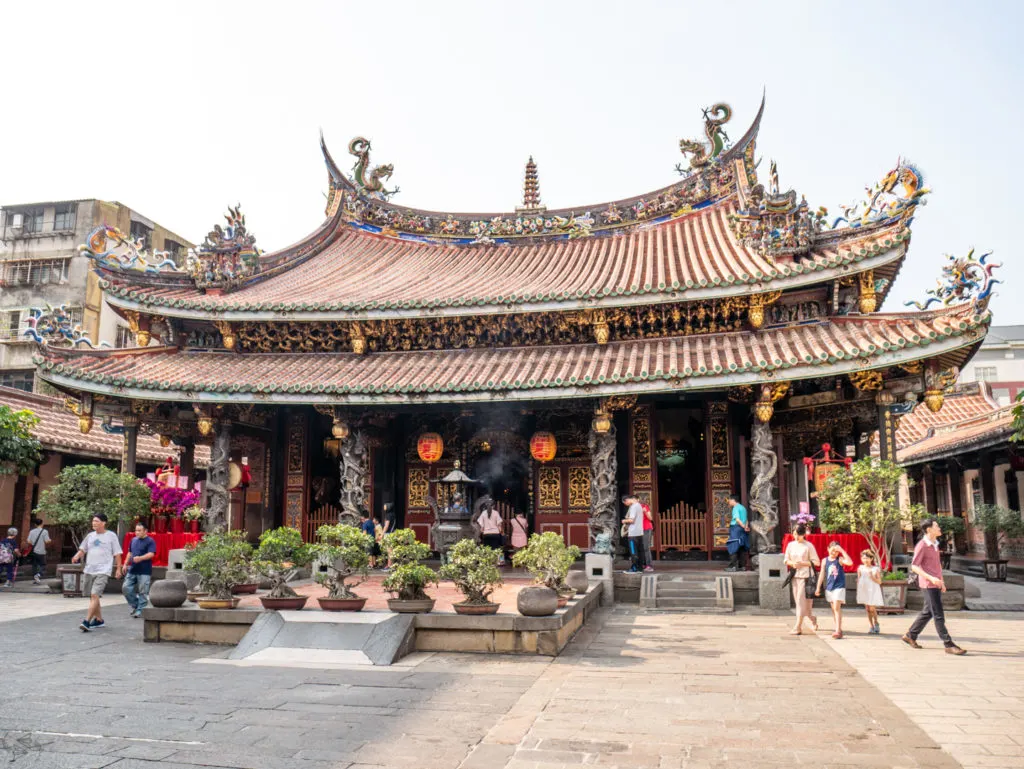 The history of Baoan Temple dates back to 1742 when new immigrants to Taiwan constructed a small shrine to the Bao-Sheng Emperor (保生大帝), a Taoist folk religion deity. As the population in the area grew, the shrine became insufficient and plans were made to construct a much larger temple.
The funding and construction of the temple was initially undertaken by immigrants from Tong-An (同安縣) in Fujian Province. As it was built to 'protect those of Tong-An' (保佑同安), it was named "Bao-An" (保安宮), which is a clever play on words that pays homage to the Bao-Sheng Emperor for which the temple is dedicated, as well as having the meaning of "protecting" (保佑) the people of Tong-An.
Work began on the new temple in 1804 and when it was completed in 1830, excess materials were sold off at cheap prices to locals to build up their residences and businesses. If you walk along the cobblestone street next to the temple today, you can still see these old buildings uniform in style, although they have since been rebuilt with stronger materials.
Over the years, Baoan Temple has had many iterations – it was used as a trade office and language school during Japanese colonial rule, and as an unofficial shelter for refugees following World World II. The temple, although in a state of disrepair from the war, became home to some 130 families, who remained there as semi-permanent squatters for the next 20 years.
By 1966, when the housing situated had improved and the families has been rehoused elsewhere, sights were set on reconstructing the temple. Work continued until 1974, until funding ran out. Reconstruction resumed in 1988 and was finally completed in 1991, giving us the impressive 3,000 square meter Baoan Temple that we see today. In 2003, these efforts were recognized with the UNESCO Asia-Pacific Heritage Award for Cultural Heritage Conservation.
The beauty of Baoan Temple is really in the details – its intricate carvings, gilded shrines and ornate dragons that adorn the roofs. If you wish to pray, there are seven prayer points that should be visited in a set order and an incense stick placed at each one. You can find this guide that indicates the order.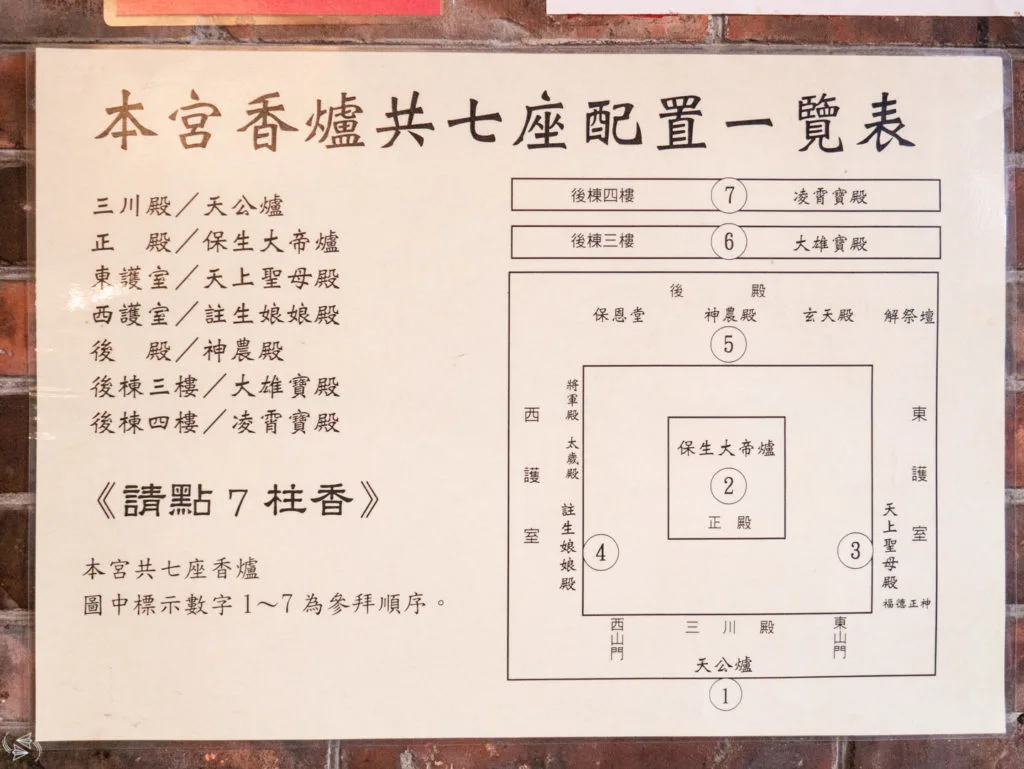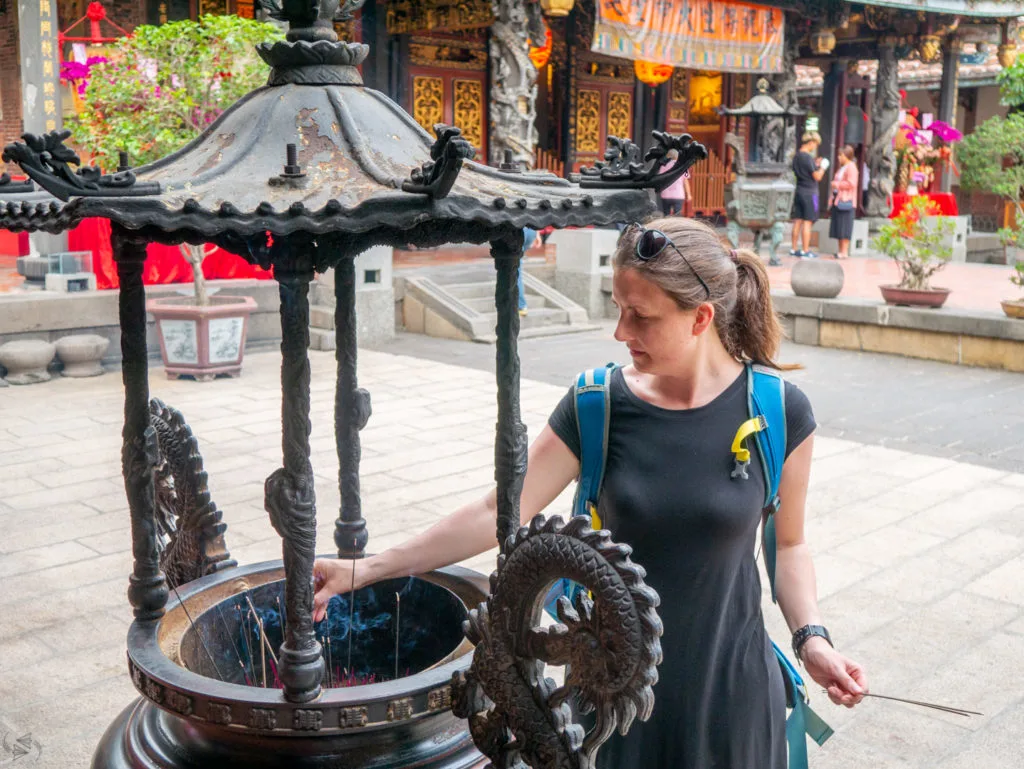 On my visit, I was lucky that a local resident took me and another solo traveler under her wing and escorted us around, explaining the deities we were praying to at each point. She explained the importance of telling the deity your name and address before your wish, so that the deity would know how to find you.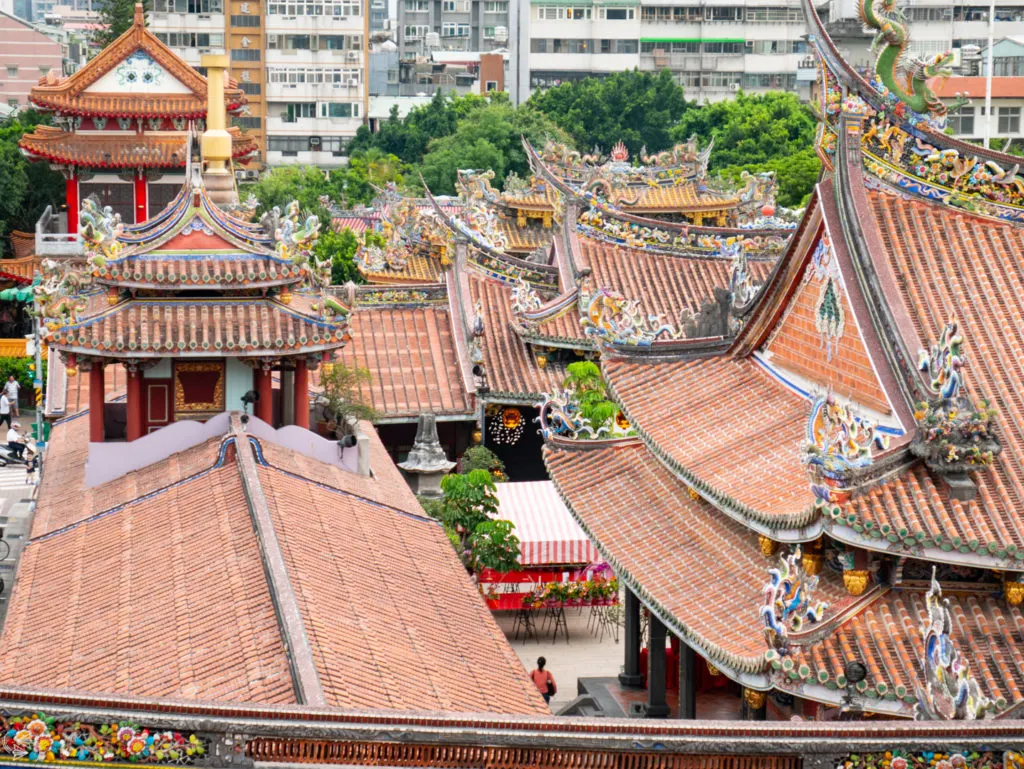 Tip: Don't miss the stairs out back. They will take you to various levels, the third and fourth floors of which are the final spots for your last couple of incense sticks (if you decide to participate) and from there you can get a great view of the intricacies of the temple's roofs. There are also toilets and there's a place to fill up your water bottle with free drinking water. It's also a great spot to watch the planes descending into Songshan Airport overhead, as is the nearby Dalong Night Market, which is directly under the final runway approach.
Right by Baoan Temple is the Taipei Confucius Temple, another popular place of worship in Taipei.
Closest MRT station: Yuanshan Station (red line), Exit 2, about 10 minutes on foot.
Entrance: Free
Opening hours: Baoan Temple is open daily from 07:00-22:00.
The Taipei Confucius Temple is open from Tuesdays to Sundays and national holidays from 08:30-21:00, closed on Mondays. Time your visit for Tuesday to Sunday if you want to visit both Baoan Temple and the Taipei Confucius Temple on your visit.
National Chiang Kai-Shek Memorial Hall
The commanding Chiang Kai-shek Memorial Hall, often shortened to CKS Memorial Hall, is one of the most prominent historical landmarks in Taiwan.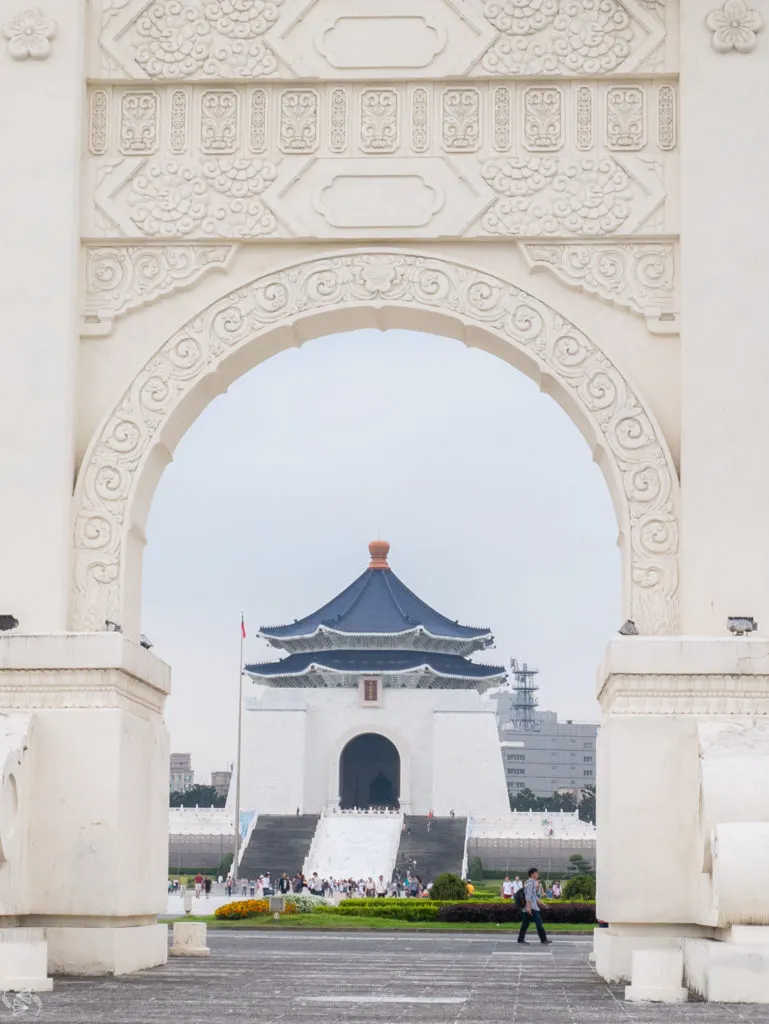 It was erected in honor and memory of Generalissimo Chiang Kai-shek, a controversial political and military figure who served as the leader of the Republic of China between 1928 and 1975, the longest of any non-royal leader of China, first on the mainland until 1949, and then in Taiwan until his death.
The Memorial Hall has quite the striking presence, standing at 76 meters tall, constructed of white marble and topped with an octagon-shaped roof covered in contrasting blue-purple roof tiles. The white of the building, blue of the roof and red of the flowerbeds is often said to represent the colors of the Taiwanese flag, while others say that the blue represents the dominant color of the flag of the Kuomintang (KMT), the political party President Chiang headed, as well as "freedom". Perhaps it is both.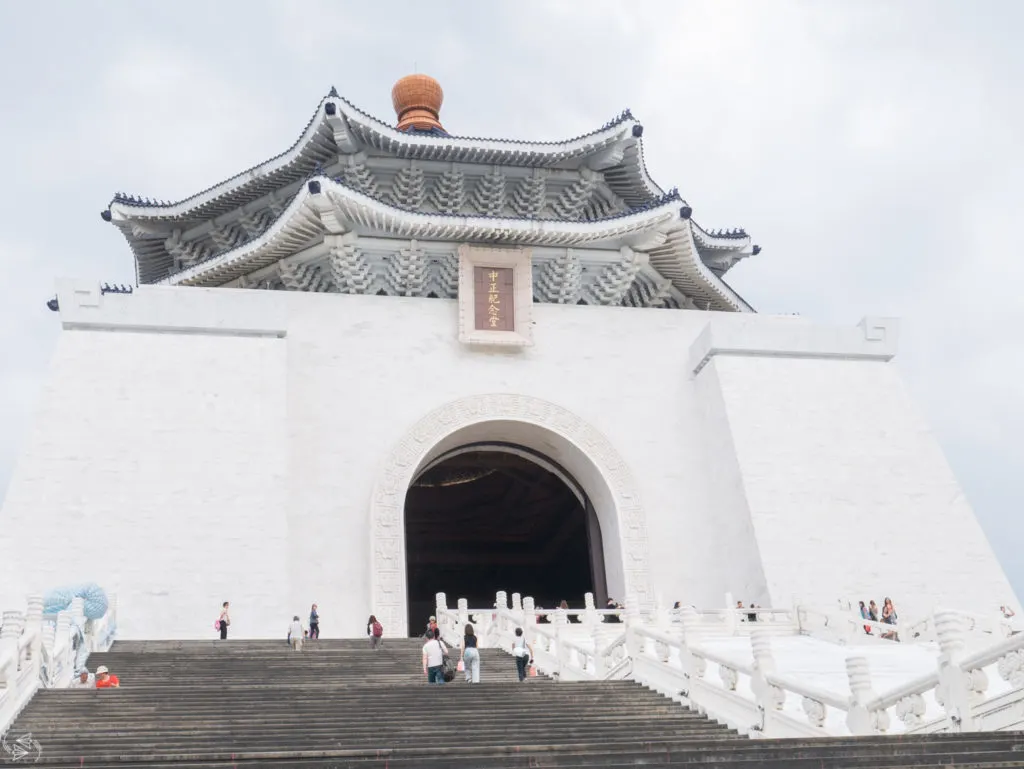 The eight-sided roof is an ode to the number eight, an auspicious number in Chinese culture associated with good fortune, and is supposedly arranged in such a way that no matter what angle you look at it from, it looks like the Chinese character for "people" (人), carrying the meaning that Chiang was a "man of the people". The 89 steps to the top symbolize Chiang Kai-shek's age at the time of his death.
The grand building is architecturally stunning and you can't help but be awe-struck by the imposing sight as you enter the spacious 240,000 square meter grounds of the complex, which also includes Chiang Kai-shek Memorial Park (中正紀念公園), the National Concert Hall (國家音樂廳), and the National Theater (國家戲劇院), the latter two being the premiere venues for arts performances in the country.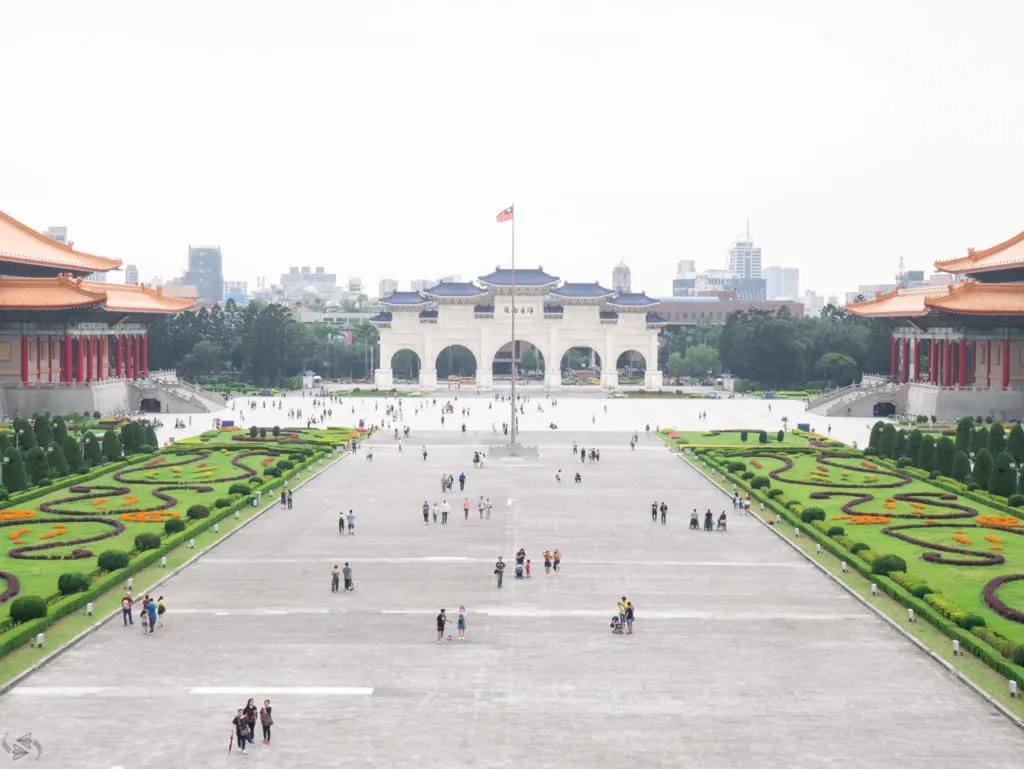 However, there is a dark and painful history here that must be acknowledged and that is often missing from most Taipei guides, and that I only wish I'd taken the time to research before my own visit. There are two events in particular that I encourage you to read up on before you visit Chiang Kai-shek Memorial Hall – the February 28 Incident and the period of White Terror.
The February 28 Incident, also known as the February 28 massacre and the 2.28 incident, was an anti-government uprising that was violently suppressed by the President Chiang-led KMT party, which resulted in the slaughter of thousands of civilians beginning on 28 February 1947. This sparked the beginning of nearly four decades of martial law, during which tens of thousands of people suspected of being anti-government were arrested and detained, and up to 28,000 executed. Martial law was not lifted until 15 July 1987.
In March 1990, a six-day student sit-in on the grounds of the CKS Memorial Hall, now known as the Wild Lily Student Movement, was the impetus for the abolishment of the National Assembly and one-party rule system, ushering in a new era of democracy and political landscape for Taiwan. In the year 2000, after more than fifty years of single party rule, the Chinese Nationalist Party was defeated by the Democratic Progressive Party in free and open elections, and taking measures to reconcile the bloody history of Chiang Kai-Shek's military dictatorship came to a head.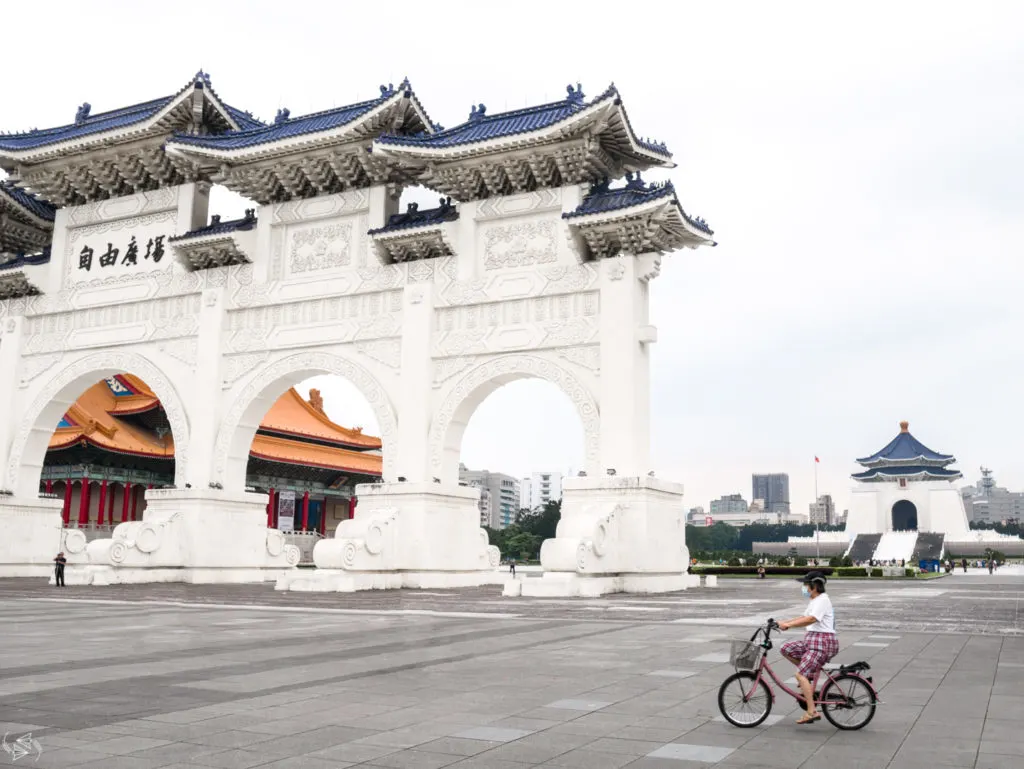 In 2007, Chiang Kai-Shek Memorial Hall was renamed the Taiwan Democracy Memorial Hall, among other changes that included renaming the walkway leading up to the hall Democracy Boulevard and the square in front of it Liberty Square (自由廣場), replacing the words "Great Centrality and Perfect Uprightness" (大中至正) on the main gate, in addition to the removal of the ceremonial ROC Honour Guards.
However, the changes came close to the end of the DPP President's second term (President Chen Shui-bian) and the KMT presidential candidate Ma Ying-Jeou promised an immediate removal of all of them. When Ma won the election, the name was reverted back to Chiang Kai-shek Memorial Hall and honour guards reinstated. However, in a politically-motivated concession, so as not to appear to be transgressing from the democratic progress that had been made in recent years, the names Democracy Boulevard and Liberty Square were maintained.
Before visiting, keep in mind that the Memorial Hall continues to be a sore point for local Taiwanese and those who suffered under Chiang's regime. Protesters gather in Liberty Square in March every year to commemorate the Wild Lily Student Movement and it is often used as a site for pro-independence demonstrations.
I personally will not be re-visiting the Memorial Hall itself until it no longer represents and glorifies an authoritarian regime. The changing of the honour guards who salute and pay homage in front of a 6.3m-tall bronze statue of Chiang is particularly contentious, and I urge you to consider whether this is an activity you wish to support by viewing.
You may be wondering why I included this sight on a list about interesting things to do in Taipei if I myself do not recommend it. It's not that I do not recommend it as an architecturally beautiful landmark in Taipei, it's that I do not support what it currently represents. There is a difference between preserving something for historical and educational purposes, and glorifying past wrongdoings, and I believe this falls into the latter. As this is a Taipei attraction that most people visit, I think it is important to mention it here and provide more context, the context I wish I had on my visits, so you can make a more informed decision on yours, and to conduct yourself with cultural sensitivity in regards to this issue.
I also want to include it because change is happening, and it appears that the reinvention of Chiang Kai-shek Memorial Hall is not too far away. With the election of a second DPP President in 2016, the passing of a transitional justice law to open an inquiry into the reign of White Terror, and creating spaces for a "bottom-up" approach to the transformation of the Memorial through such events as the "Chiang Kai-shek Memorial Transition" dialogue and an exhibition at the Memorial Hall itself seeking public reflection and input on what the next iteration of the Hall should be, we can expect Chiang Kai-shek Memorial Hall will not be so-named or revered forever.
In a statement from the Ministry of Culture, "in the pursuit of historical accuracy, the National Chiang Kai-shek Memorial Hall has to be transformed on the basis of facing history, recognizing agony, and respecting human rights."
The report on the inquiry is expected at the end of 2019. After which, plans are set to move forward for transforming the sight into one that recognizes the wrongdoings of the past and the will of the people.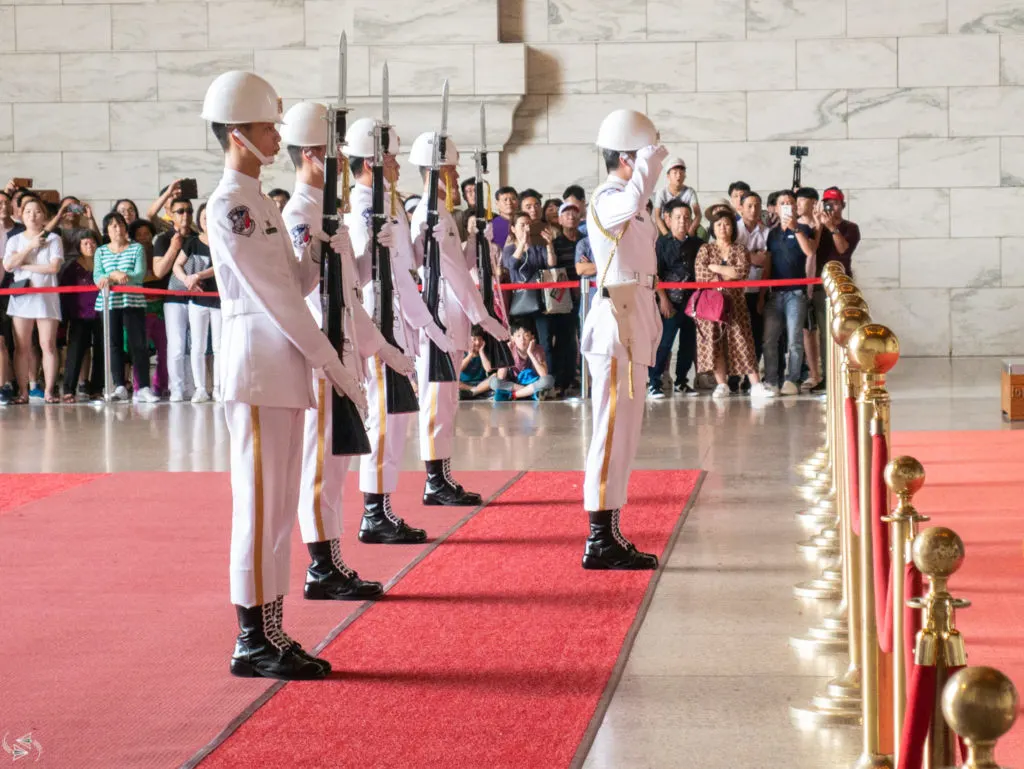 Closest MRT station: Chiang Kai-Shek (CKS) Memorial Hall (red or green lines).
Entrance: Free
Opening hours: Daily from 09:00-18:00, except select holidays. The changing of the guard happens in the main hall (top of the steps) every hour on the hour, last 17:00. From the side entrance, you can view an exhibition about President Chiang and Taiwan's road to democracy. The surrounding Memorial Park is open from 05:00-24:00.
Eat dumplings
For those wanting to explore all the culinary delights of Taiwan, xiao long bao (小籠包) or Chinese steamed soup dumplings are often top of the list. Filled with pork and an exquisite steaming broth, and eaten with a dark vinegar (soy sauce and vinegar) and ginger, they really take any dumpling you've ever had to a whole new level.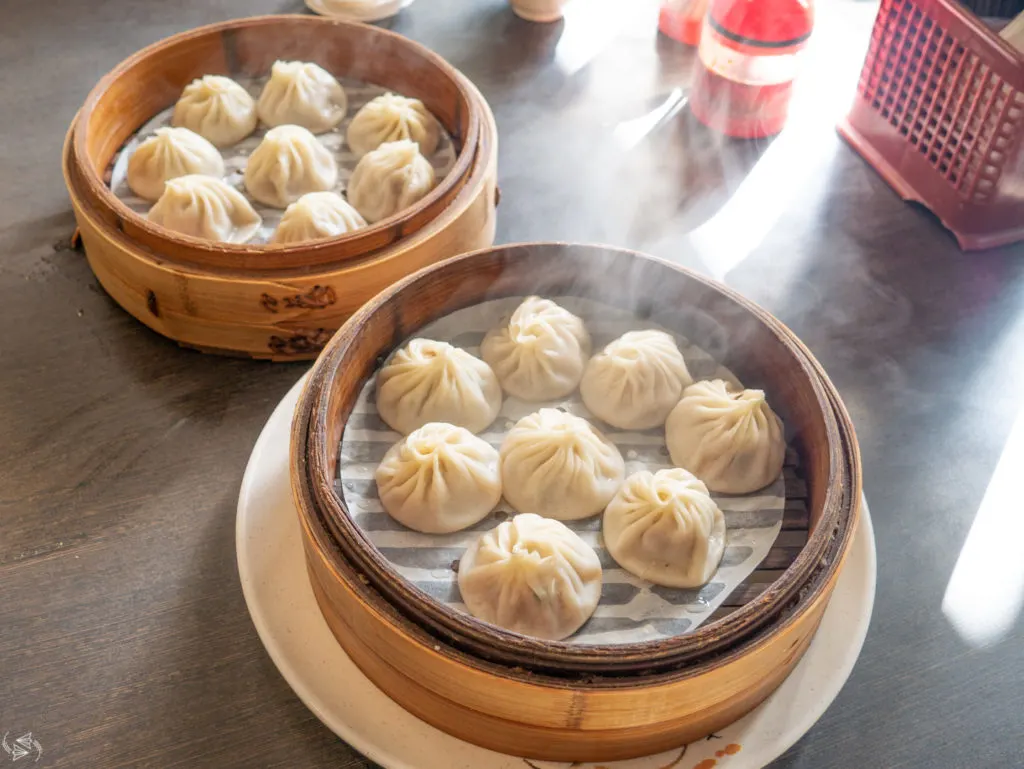 I've read many blogs and watched a number of videos on how to eat xiao long bao, and it seems there is quite a bit of passioned variance on the "correct way to eat xiao long bao," even among Chinese people. However, there is certainly consensus on the importance of the spoon in consuming these soup-laden dumplings.
What you definitely don't want is to simply pick up the dumpling with your chopsticks, bite into them, then having all the glorious soup spurt out. You want that soup in your mouth, so whatever you do, don't let it go to waste by piercing the dumpling with your teeth, or with your chopsticks over your plate or in the vinegar bowl.
The second big consideration is ensuring that you don't burn your mouth with the steaming broth. Most people recommend dipping your dumpling in the vinegar or placing some directly on your spoon with a little ginger (some seem to do both) and letting the dumpling sit on the spoon until it is cool enough to eat.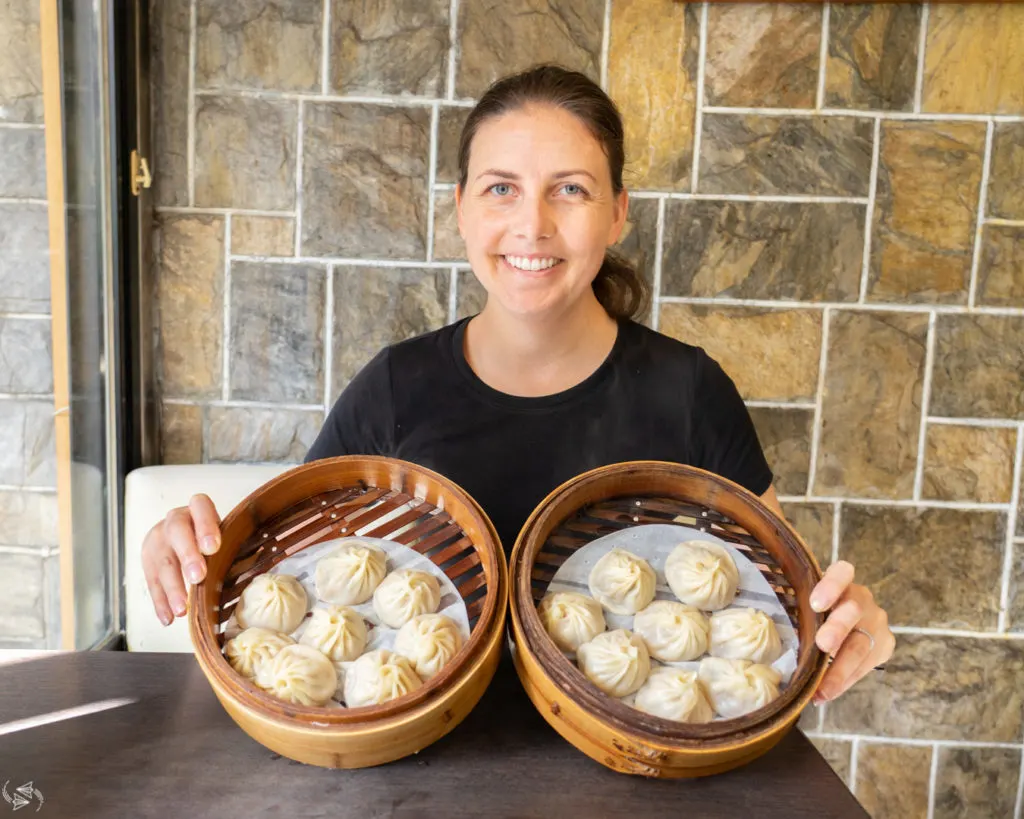 Some people recommend making a small hole with your chopsticks at the top of the dumpling, creating a little valve through which the steam can escape while not spilling the soup, in order to expedite this process. You can then consume the dumpling from the spoon in one bite. Others advocate a technique of taking a small bite into the side of the dumpling and then instantaneously sucking all the soup from it. Then you can immediately follow up by spooning the rest of the dumpling with the vinegar and ginger into your mouth.
Others, like the infamous dumpling house Din Tai Fung, recommend gently piercing the dumpling on your spoon and letting the soup pour into it. Some others say that the pure joy of xiao long bao comes from placing the whole dumpling in your mouth and having the soup explode over your palette.
While I can't say with any authority which is the "correct" way, being cautious of not scalding yourself and saving that precious soup for your mouth, and not dribbling down your chin or cascading over the table, seems to be the aim of the game with all techniques.
Din Tai Fung is certainly the most popular dumpling house for visitors to Taipei with restaurants at Taipei 101 and their original store near Yongkang Street, but that can also mean a wait during peak times. I'd actually recommend trying a place called Jin Ji Yuan (好公道金雞園) at the quiet end of Yongkang Street. I stumbled into this place completely randomly on my first solo trip to Taiwan simply because I had a good feeling about it. It has an unassuming facade and you can't tell how busy it is from downstairs, but with the constant batches of dumplings being swiftly and expertly made by hand on the first floor, you can sense that this is a place that doesn't need advertising.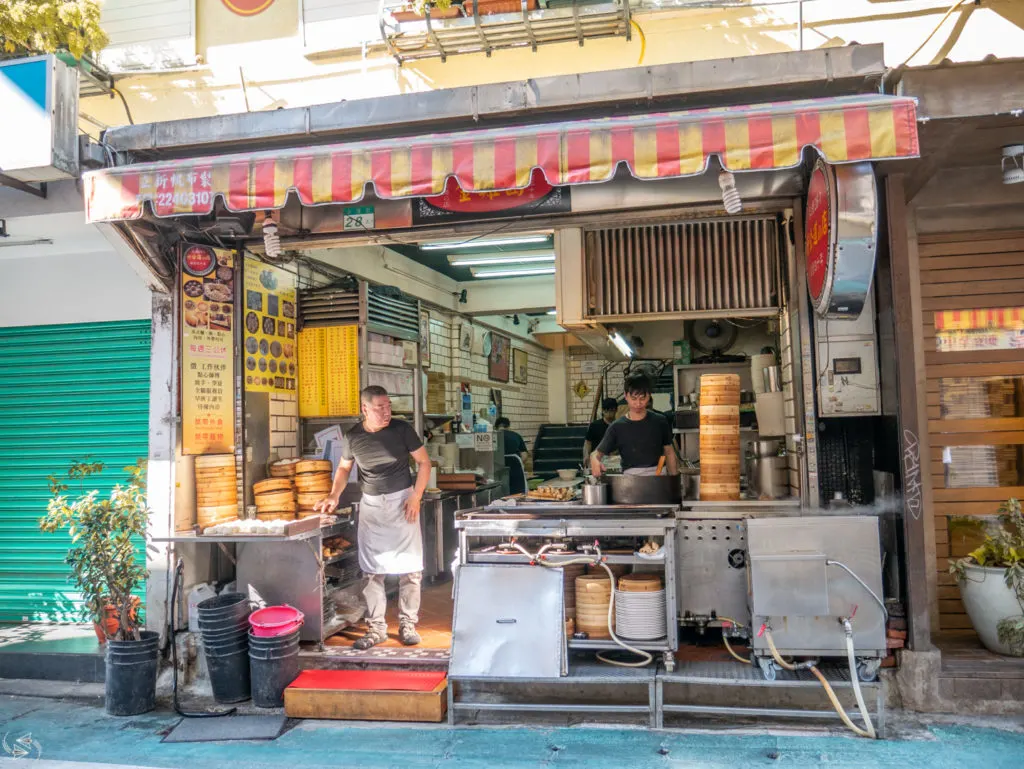 On a recent trip to Taipei with my husband, he was set on trying xiao long bao and finding out what all the fuss was about. After doing research over many days, he announced he had found a smaller, local restaurant that "all the Chinese bloggers are talking about." Funnily enough, it ended up being the exact same restaurant that I chose on a feeling earlier in the year.
Yongkang Street is considered a "foodie street," if all the others aren't already. It's especially famous for its beef noodle soup, mango shaved ice and, you guessed it, xiao long bao. Personally the beef noodle soup with its super dark, intense broth is not to my tastes. I tried it at Jin Ji Yuan and wouldn't order it again (stick to their dumplings).
If you want to follow up your dumplings with something sweet, the must-try dessert here is mango shaved ice. The mango shaved ice is now a staple on Yongkang Street with various stores selling the sweet dessert. What really sets this mango shaved ice apart is how creamy it is – not just ice made from water, but milk too. It's topped with generous amounts of fresh mango and often mango sorbet as well. Be warned though, the servings are huge and difficult to finish as a solo traveler. The smallest serving I could find was at King Mango and could easily have been shared between two, even three, people.
Closest MRT station: Dongmen Station (red or orange line), Exit 4 or 5.
Entrance: Free
Opening hours: Street 24/7, restaurants have varying opening hours. Jin Ji Yuan is open from 09:00-21:00 (closed Wednesdays). Din Tai Fung's Xinyi Road location (near Yongkang Street and only a minute's walk from Dongmen Station) is open from 10:00-21:00 Monday to Friday, from 09:00-21:00 on Saturdays and Sundays.
Accessibility note: Jin Ji Yuan has a step into a narrow entrance and a set of stairs to the main dining area, making it unsuitable for some travelers. Din Tai Fung is wheelchair accessible.
Special dietary requirements: Jin Ji Yuan only has pork xiao long bao, although there are shrimp and crab roe dumplings available. Jin Ji Yuan doesn't have any vegetarian dumpling options. Din Tai Fung has vegetarian dumpling options, but no non-meat xiao long bao options. There are some xiao long bao options in addition to pork here, but non-pork eaters should enquire about the kind of animal gelatin used in the soup to confirm its suitability.
Climb Elephant Mountain
Elephant Mountain is the go-to spot for "that night time shot of Taipei," in particular Taipei 101, the city's tallest landmark, that easily stands out above the rest of the city's skyline.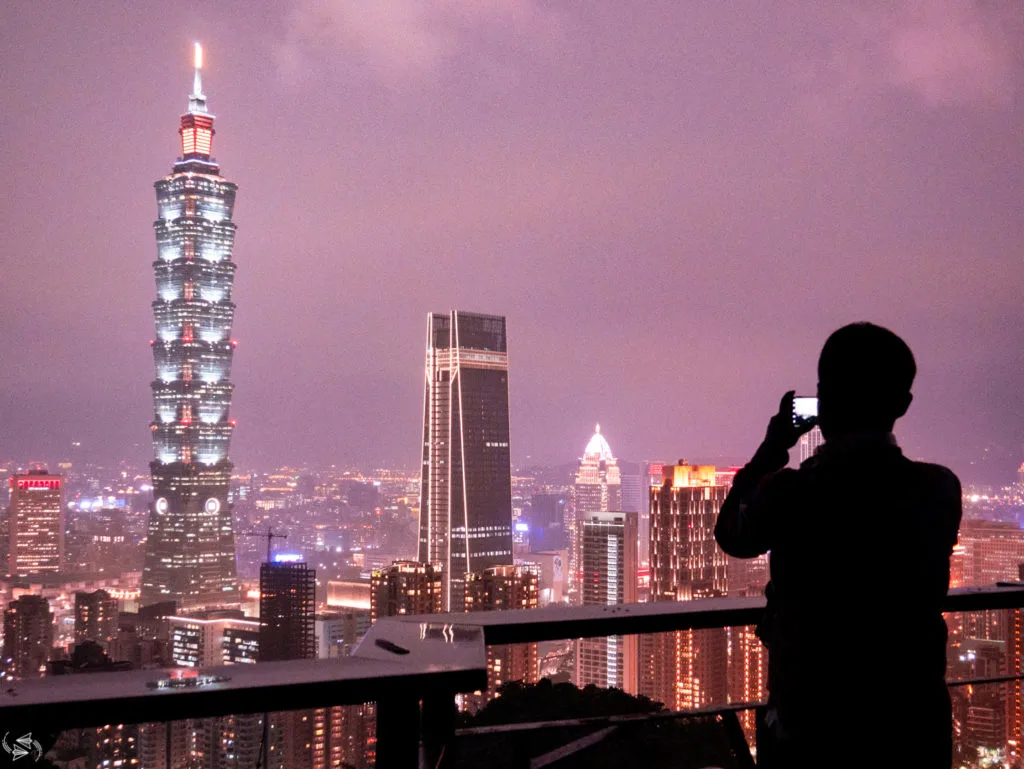 While it is called a mountain, consider it more of a hill that fortunately doesn't really require any preparation to climb, apart from sensible non-heeled shoes.
The climb takes approximately 20 minutes, which is pretty reasonable considering the incredible vantage point it gets you over and so close to the city center. There are several viewing platforms on the mountainside. Most people go up until the platform after the large boulders, but you can continue on to some other look-out spots that have fewer people if you wish.
Sitting on the large boulders known as the Xiangshan Six Rocks at sunset with Taipei 101 in the background is the classic shot that most people want to get. There is one boulder in particular that most people use to get this shot, although those who don't want to wait sometimes try with one further back and I guess try to angle their bodies and cameras so that the person on the other boulder cannot be seen or wait for those moments between someone getting down and the next person getting up to snap their shot.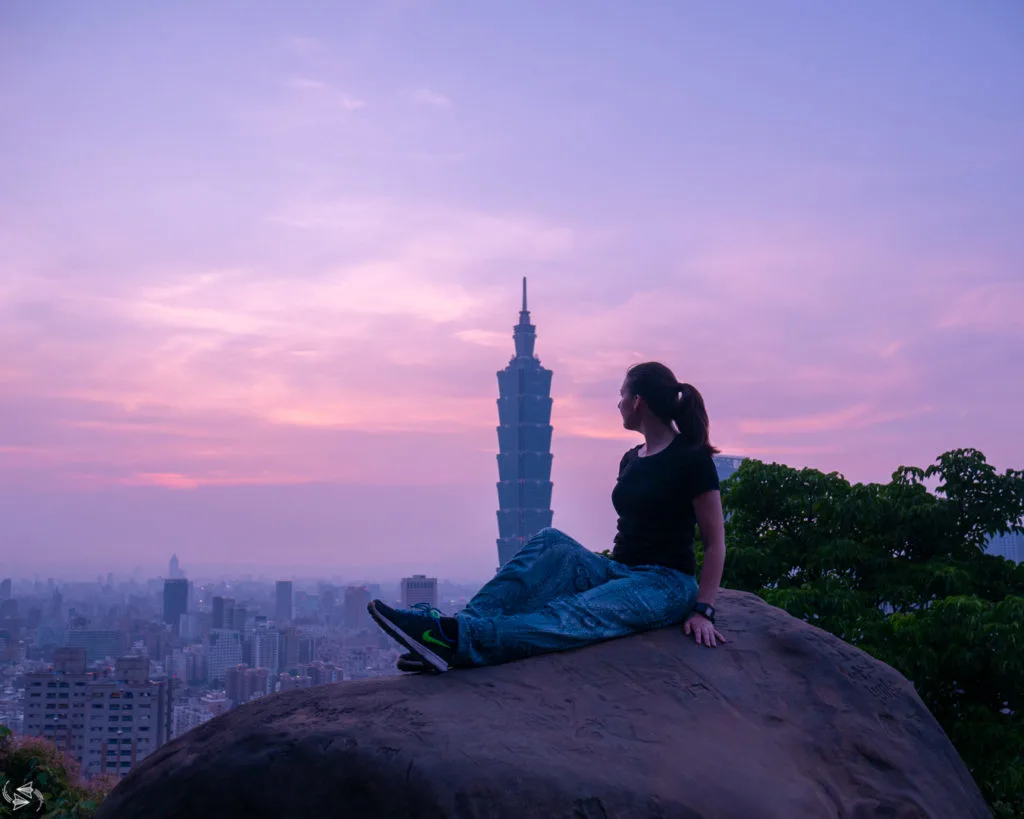 Expect to queue up for a photo here and do be careful getting up and down. You'll see signs that advise against climbing, so no climbing aids are made available to help you get up there. The boulders are far higher off the ground than I think many people imagine and it's a little difficult to get a foothold. It was certainly a personal challenge for me as someone with a fear of heights and I needed help with a boost to get me up and a hand to help me down. The boulders are set back away from the edge and are surrounded by earth, so if you struggle to get a foothold, you will only slip a few feet. However, even that can be nerve wracking and you can certainly hurt yourself. Only attempt this if you feel comfortable, and do help out fellow travelers in getting up and down and taking their photos so that everyone can enjoy this beautiful spot safely and to limit any risky selfie-taking behaviour.
Overall, the view is definitely worth the sweat it takes to reach the viewing areas. If you like working out, you can join locals who use the steps for daily exercise, going up and down multiple times and using the outdoor gym equipment that is nestled in a small clearing along the trail.
Closest MRT station: Xiangshan Station (red line), terminus station, Exit 2.
The entrance to the trail takes around 10 minutes from the station. When you emerge from the escalators at Exit 2, you'll find yourself facing Xiangshan Park. Continue straight down the path to the right of the park (or wander straight through it, either way). There are toilets in the park, so if you haven't been already, this will be your last chance, as there are no toilets on the trail. When you get to the end of the park, go left up the slope, then turn right and walk down the street for about 100m. The trailhead is on your left. It can be found on Google Maps as Xiangshan Trail.
Entrance: Free
Opening hours: 24/7, however you should note that Taipei 101's light are switched off at 22:00. The tower displays different colored lights (based on the color spectrum) depending on the day of the week (red on Mondays, orange on Tuesdays, yellow on Wednesdays, green on Thursdays, blue on Fridays, indigo on Saturdays and purple on Sundays).
Accessibility: Steep stairs that are not suitable for all travelers. The pathway is not wheelchair accessible.
What to wear: Footwear suitable for steep steps, avoid short skirts (especially if you plan on climbing the boulders), wear or bring insect repellent as there are quite a lot of mosquitoes, especially around dusk. Although lights are switched on along the path from sundown, I'd still recommend bringing a headlamp onto any mountain trail at night. If you have one, bring it. Also bring a waterproof jacket as well as waterproof pants if you have them. Although it's not a very tall peak and that if pressed you could make your way up and down without these items, you can certainly make your climb more pleasant (and safer) by being prepared. The first time I climbed Elephant Mountain, the weather turned right around peak sunset time, when most people are on the trail. This resulted in many people getting stranded and saturated at the top, and many others rushing on slippery stairs, all because they hadn't prepared waterproof outer layers. And each of the three times I've climbed, I've always seen women wearing high heels and platform shoes, and I've witnessed some subsequent tears too. Don't do this to yourself and wear comfortable walking shoes with a bit of grip.
Visit the tea plantations
Most people are quite surprised to learn that you can visit tea plantations in Taipei city. Don't expect rolling tiered hills of tea, but you can see some small plantations and have plenty of opportunities to taste different varieties of tea at the many tea houses that command an excellent view over Taipei.
One of the attractions of the tea plantations is that you can take a gondola (cable car) to reach it, which becomes part of the experience. You can take a regular cabin or a "Crystal" cabin with a transparent floor for the same price. When you reach the top, there are basically two major routes. One is to the Tea Promotion Center and the other a walk through the tea plantations. If you're wanting to visit one of the many tea houses, go left towards the Tea Promotion Center.
The Taipei Tea Promotion Center, about 20 minutes' walk from the Maokong Gondola Station, is rather underwhelming. There is a small exhibition about tea and free tea that you can sample, however, with virtually no staff to be found to point visitors in the right direction, the whole process – where you can go in the center and how to access services, was rather baffling for non-Chinese speakers. The outdoor gardens were locked when I visited, but I somehow managed to join a weekend tour of the grounds given in Chinese. It was lengthy and required insect repellent, and I would only recommend it if you have plenty of time, don't mind being lost in translation and have an interest in plants.
Having a cup of tea at a tea house while enjoying the view over the city is one of the highlights of a trip to Maokong. The tea is undoubtedly pricey, especially when you consider how cheap food and drink is in the country in general, but what you are essentially paying for is the view, and also a window into how to prepare and drink the tea. I was really surprised about all the steps involved – it's definitely more complicated than adding hot water to tea leaves. There are lots of tea houses to choose from, however, I ended up going to a place that was simply named "Mountain Teahouse".
The second floor is definitely better for photos than the third floor as the second floor has wooden seating rather than the generic cafe-style metal tables – see if you can get one of the booths by the window. The tea I chose was a local green tea that the waitress recommended. It cost NT$350 + $100 clean-up/service fee (about US$15). If you don't use all your tea leaves, you're welcome to take the rest of the bag home.
The walk through the tea plantations along the Camphor Tree (Zhangshu) Trail is rather lovely and worth checking out. On my visit, the tea plants were very sparse, although I may have caught them after a harvest. In any case, you should expect some rows of tea in locals' gardens or mini-farms, but not rolling hillsides of it, and you won't be walking "among" them. I have seen some decidedly better photos of the tea plantations online though with dense plants along both sides of the path, so I think it's a combination of the season and also the exact portion of trail you're on. If you have further time to explore some of the other paths and staircases around, I'm sure you can find other photo-worthy spots. In any case, it's an extremely pleasant walk, winding past mountain homes and seeing locals tending to their vegetables patches, all while getting some rather tropical vibes from the palm trees and lush foliage, and a pretty commanding view of the city.
Rather than walking back to the station just to take the gondola down, I took bus #15 from the bus stop at end of the walk, which took me all the way back to MRT Taipei Zoo Station for NT$15. A half-day at Maokong Tea Plantations is usually considered a sufficient amount of time here by most travelers, however, if you want to take more time exploring the areas and the various hiking trails and leisurely enjoying your many cups of tea, you could certainly stretch it to a full-day or near full-day activity.
Closest MRT station: Taipei Zoo Station (brown line), terminus station.
Entrance: Maokong Tea Plantation entry is free.
Opening hours: The Maokong Gondola is around a 350m walk from Taipei Zoo Station and operates from Tuesday to Sunday, closed on Mondays except the first Monday of the month. General operating hours are 09:00-21:00 with slightly extended hours on weekends and holidays. Check the Maokong Gondola opening hours for the day you want to visit. NT$120 adults one-way (EasyCard holders can get a discount of NT$20 on weekdays), NT$50 for children 6-12, disability ID holders, local senior citizens aged 65 and above, and select foreign senior citizens. The Maokong Gondola is wheelchair accessible.
The Taipei Tea Promotion Center is open from 09:00-17:00, closed Mondays. Wheelchair accessible lift.
The many tea houses operate based on their own hours, however, you can expect the majority to be open until the end of the operation of the gondola, with some others open until 2am, and one (Yao Yue Teahouse) that is open 24 hours, although I think this is only useful if you have your own transportation. Yao Yue Teahouse is further past the Tea Promotion Center and will take you around 25-30 minutes by foot from Maokong Station. You will, however, find many other options closer to Maokong Station.
Bring: Insect repellent!
Other things to do in Taipei
If you are looking for additional Taipei attractions to visit, here are a couple of other places to visit in Taipei. As you can probably sense, since they were not on the main part of this list, I wouldn't consider these must-see attractions, however, depending on time and interest, they may be just the activities you are looking for.
The National Palace Museum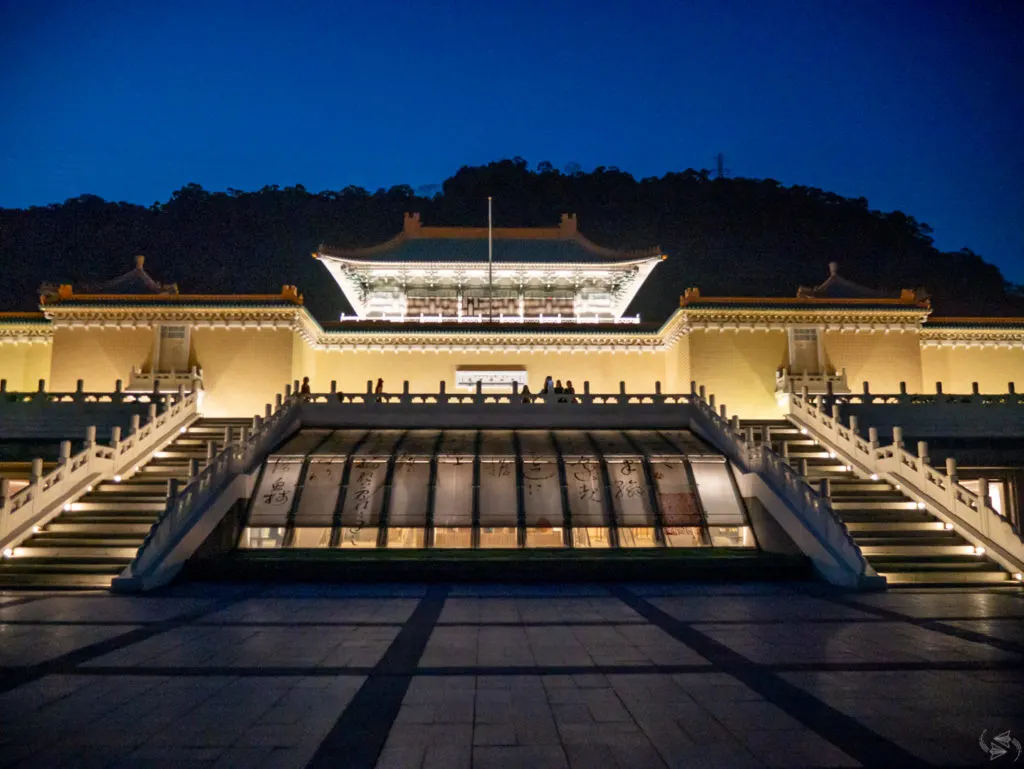 You may be surprised to see this on my secondary list, since just about everybody goes here, however it was definitely one of my least favorite attractions in Taipei. The building itself is certainly very grand, but the contents of the museum were underwhelming. It's relatively small and pricey at NT$350, and as much as I hate to say it because I usually love a good museum, big or small, it verged on boring.
I visited on a Saturday night when the museum is open until 21:00, as it also is on Friday evenings. If you are going to visit, I certainly recommend an evening visit as even if you are not wowed by the exhibitions, at least you can wander around in the kind of decorum befitting of a museum. During the day-time, expect tour groups and mic-ed tour guides galore. I arrived at 7pm and worried that two hours wouldn't be enough, but I ended up forcing myself to stay until closing, simply because I had paid and wanted to visit all the rooms to give it a fair assessment. Still, in the end, I left feeling like this attraction is totally skippable.
Closest MRT station: Shilin Station (red line), Exit 1, then take bus R30 to the National Palace Museum (about 15 minutes). From Exit 1, walk straight through the square and when you reach the street, turn right. The bus stop is right in front of the Watson's Pharmacy/Pizza Hut.
Entrance: NT$350.
Opening hours: Open daily 08:30-18:30 (until 21:00 on Friday and Saturday nights).
Ximending Pedestrian Street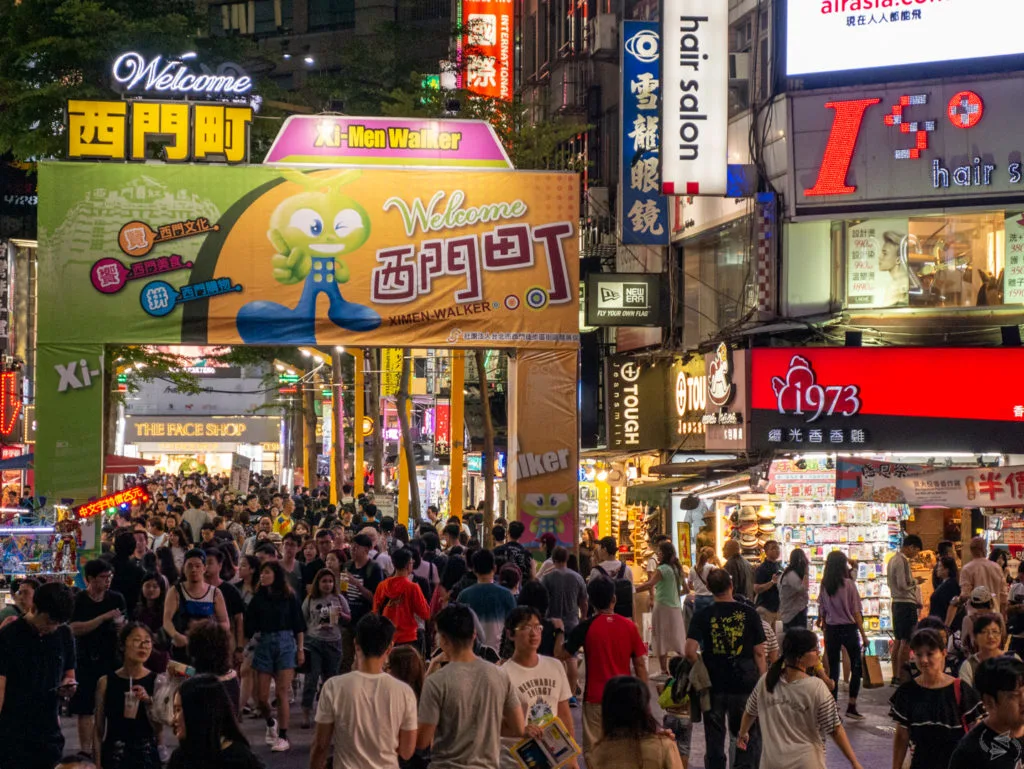 Ximending is often referred to as the Taiwanese version of Tokyo's Shibuya or Harajuku. This certainly isn't wrong – it is an area full of lights and youth culture, and reminiscent of youth districts in Japan. But as someone who has lived in Tokyo for the past decade, it was a pretty everyday scene for me and the street food here was expensive to boot, which is painful when you know that super cheap and equally delicious options are available at just about any night market.
If you haven't been to Tokyo or you just really enjoy that vibe, however, you may enjoy yourself here. Although I would probably recommend eating elsewhere if you want to stretch your travel fund.
Closest MRT station: Ximen Station (blue and green lines), Exit 6.
Entrance: Free.
Opening hours: Open daily.
Bopiliao Historic Block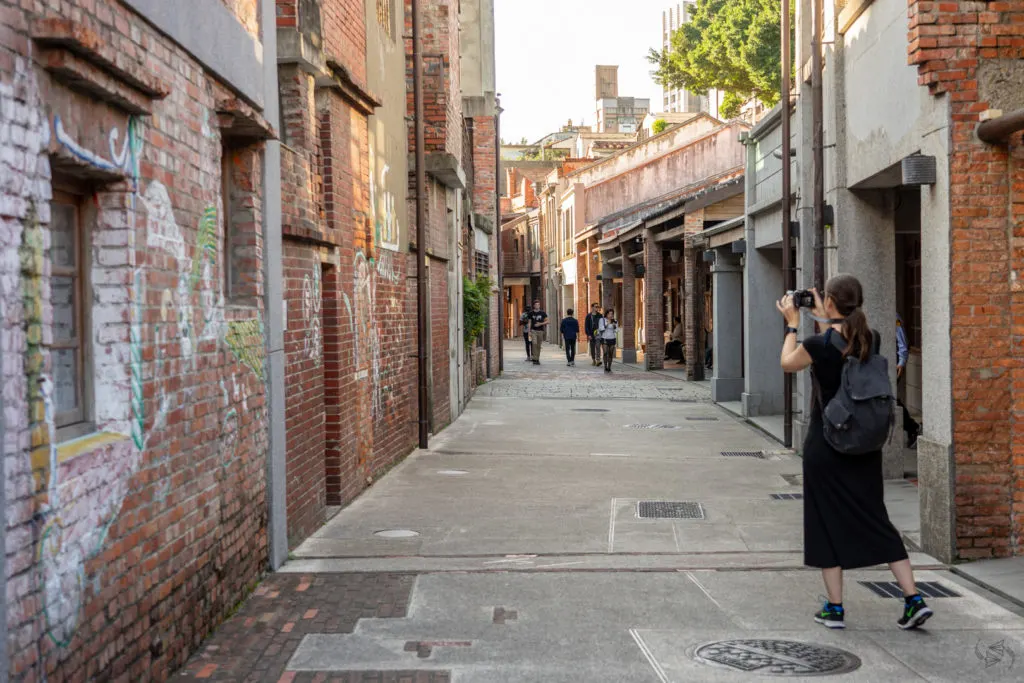 This red brick historical block dates back to around 200 years ago to during the Qing Dynasty. Bopiliao was once a bustling, commercial district with many merchants. It was later relegated to a side street as bigger, newer roads were built during Japanese occupation, and subsequently fell into a state of disrepair. It was restored and finally re-opened to the public in 2009. Now it is essentially a short narrow pedestrian street with some commercial spaces either side, some which are used and others that remain empty, or are in the process of being renovated. It's mostly used for Instagrams in front of the several pieces of graffiti art.
While I wouldn't say Bopiliao Historic Block is a must-see, it doesn't require much time to visit and is also right around the corner from Longshan Temple, so could easily be incorporated into your itinerary in the area.
Closest MRT station: Longshan Temple Station (blue line), Exit 3, then a 3-minute walk.
Entrance: Free.
Opening hours: Open Tuesday-Sunday, outdoor spaces from 09:00-21:00, indoor spaces from 09:00-18:00. Closed on Mondays (even outdoor areas are blocked off).
Taipei Botanical Garden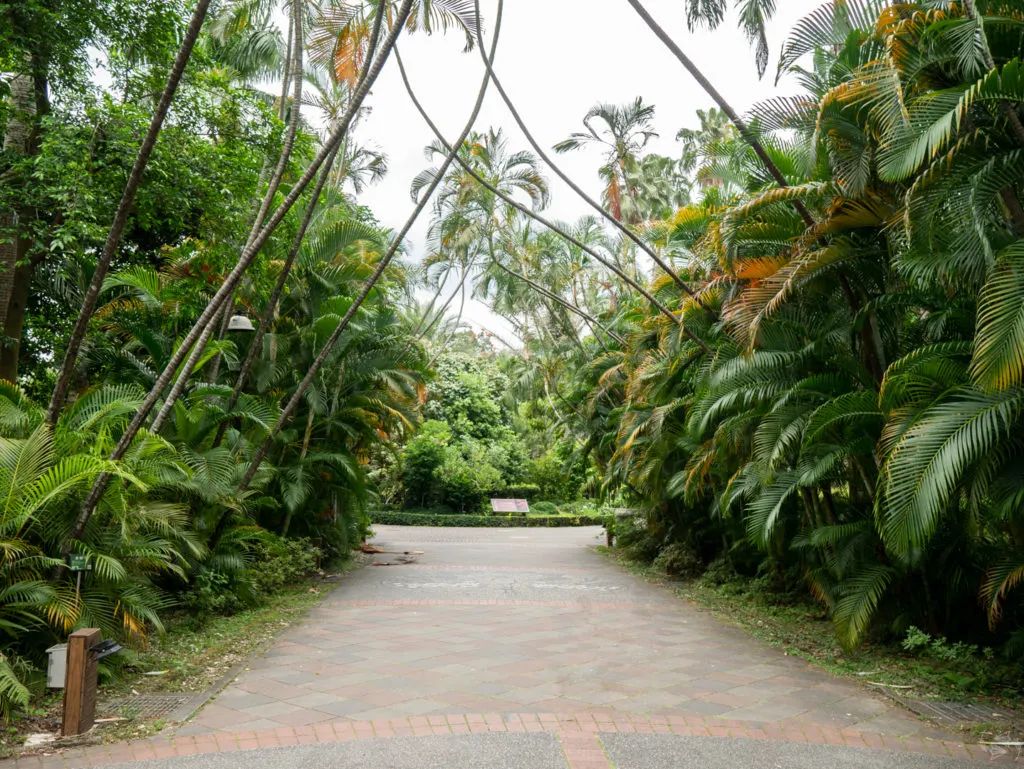 The Taipei Botanical Garden covers 8.2 hectares and contains a collection of more than 2,000 plant species. The Garden is quiet and has a lot of shade, making it the perfect respite from busy streets and hot temperatures.
The Lotus Pond is considered one of the highlights of the Garden and if you visit around July you can see the East Indian lotus in bloom.
Closest MRT station: Xiaonanmen Station (green line), Exit 3, then a 5-minute walk.
Entrance: Free.
Opening hours: Open daily from 05:30-22:00.
Daan Forest Park (Da'an Park)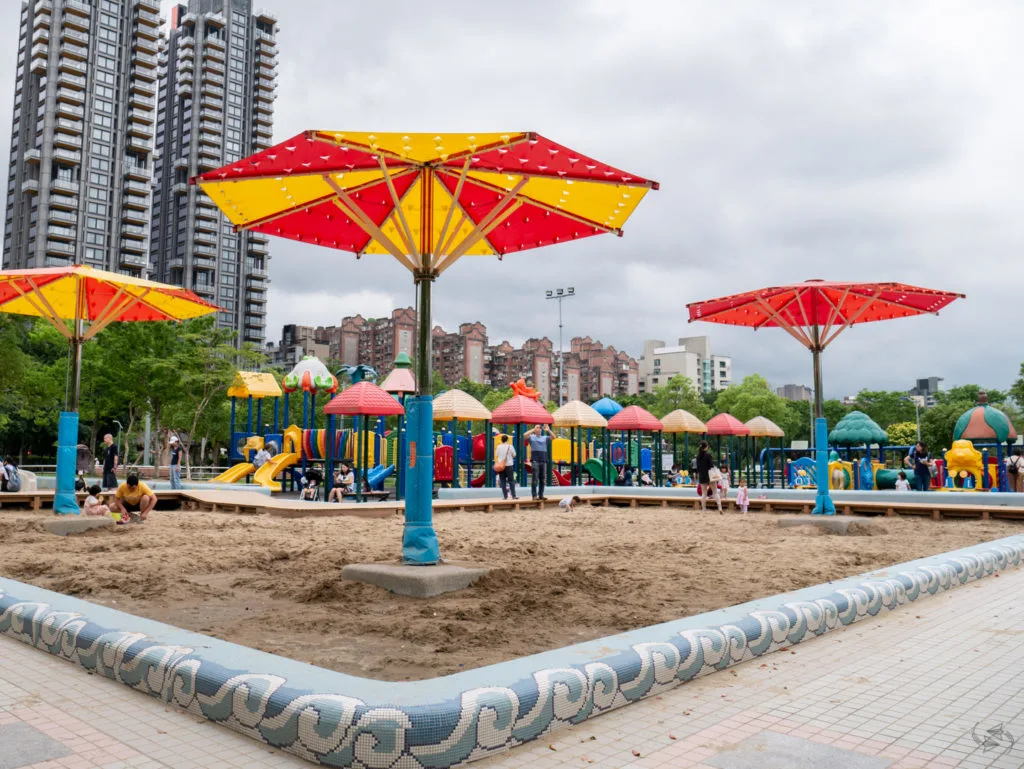 Da'an Park is a 26-hectare public park in central Taipei. This large park has open grassed areas for picnics as well as paved walking trails.
It's a great choice for families with young children as the park not only has lots of space to run around, but there's also a children's playground, a sandpit, a paved area for rollerskating, and a pond with ducks and other wildlife.
Closest MRT station: Daan Park Station (red line).
Entrance: Free.
Opening hours: 24/7.
Huashan 1914 Creative Park and Songshan Cultural and Creative Park
Taiwan's creative parks are extremely interesting concepts. They are essentially art and design spaces where you can find exhibitions and events, public artworks, interesting architecture, shops selling the work of local artists and entrepreneurs, and cool cafes and restaurants. Huashan 1914 Creative Park is also home to an independent cinema.
Both utilise the grounds and buildings of former factories – Huashan a former rice wine factory and Songshan a former tobacco factory – both of which were established during Japanese colonial rule. This gives them a real industrial feel that works well with the artsy and hipster vibes.
There wasn't a whole lot going on at either one when I visited – they both seemed to be setting up for some kind of show or event in the pavilions – although there was a small free photography exhibition at Huashan that I rather enjoyed. Exhibitions and openings are constantly changing, so it can be a little hit or miss depending on your timing and interest, however, if you happen to have time in your schedule and just want a relaxed place to hang out for a little while, there are fewer places with more social cache.
Closest MRT station: Zhongxiao Xinsheng Station (orange or blue lines), Exit 1.
Entrance: Free, although some exhibitions and events may require an entry fee.
Opening hours: Public spaces 24/7, indoor facilities and shops have their own opening hours.
Songshan Cultural and Creative Park
Closest MRT station: Sun Yat-Sen Memorial Hall Station, Exit 5, or Taipei City Hall Station, Exit 1 (stairs) or Exit 2 (escalators). Both stations are on the blue line and will get you 550m and 400m from the park respectively.
Entrance: Free, although some exhibitions and events may require an entry fee.
Opening hours: Depends on space. The Information Center is open from 09:00-18:00 and is a good place to start if you're wanting some guidance on the 6.6 hectare park or to take a break in the resting lounge. Complimentary wheelchair and baby stroller rental is available with a valid ID as deposit.
Have you been to Taipei? Would you like to? Which places on this list would you most like to visit? Any that you'd add?