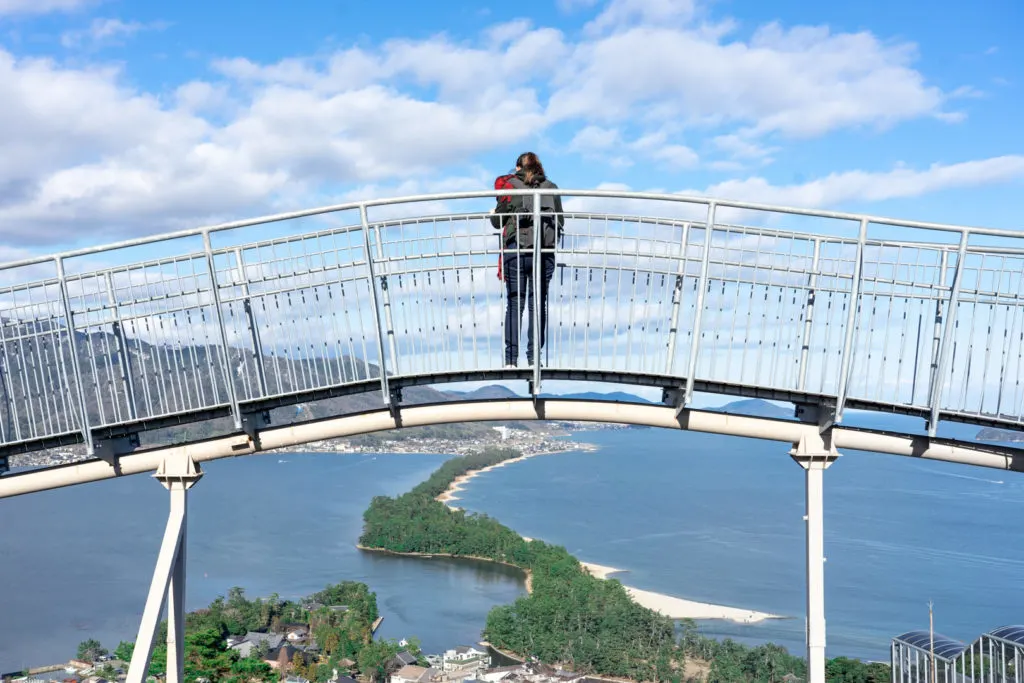 Kyoto is one of the most popular tourist destinations in Japan. Often seen as the perfect counterbalance to modern and futuristic Tokyo, Kyoto is the go-to city for all things "traditional Japan" – temples, shrines, geisha, kimono and green tea.

Allbethey exquisite, most people limit their Kyoto exploration to a circuit of the most famous temples and shrines, and with that has come an intense overtourism that makes it difficult to enjoy these sites in relative solitude like you once could. What most people don't know is that beyond Kyoto City is an entire Kyoto Prefecture filled with off-the-beaten-path things to do.

If you're wanting to see a completely different side to Kyoto and beat the tourist crowds while you're at it, here is a list of top things to do in Kyoto, Japan that doesn't include the usual suspects. There will be no mention of Kinkakuji or Fushimi Inari Shrine here, I promise.
Kyoto Inaka Cycling
Inaka is the Japanese word for 'countryside'. And while it sounds difficult to get to, you can reach the starting point for this relatively unexplored area of Kyoto's inaka by train in just 30 minutes from JR Kyoto Station.

A Kyoto Inaka Cycling tour will take you on a leisurely bike ride between JR Yagi and JR Kameoka Stations, allowing you to experience riding among the ricefields, along rivers and visiting workshops of dying traditional arts that are difficult to access if not now nonexistent in others parts of Japan.

A half-day tour costs 8,000 yen per person and includes bicycle and helmet rental, an English-speaking guide, entrance fees to all places visited and insurance.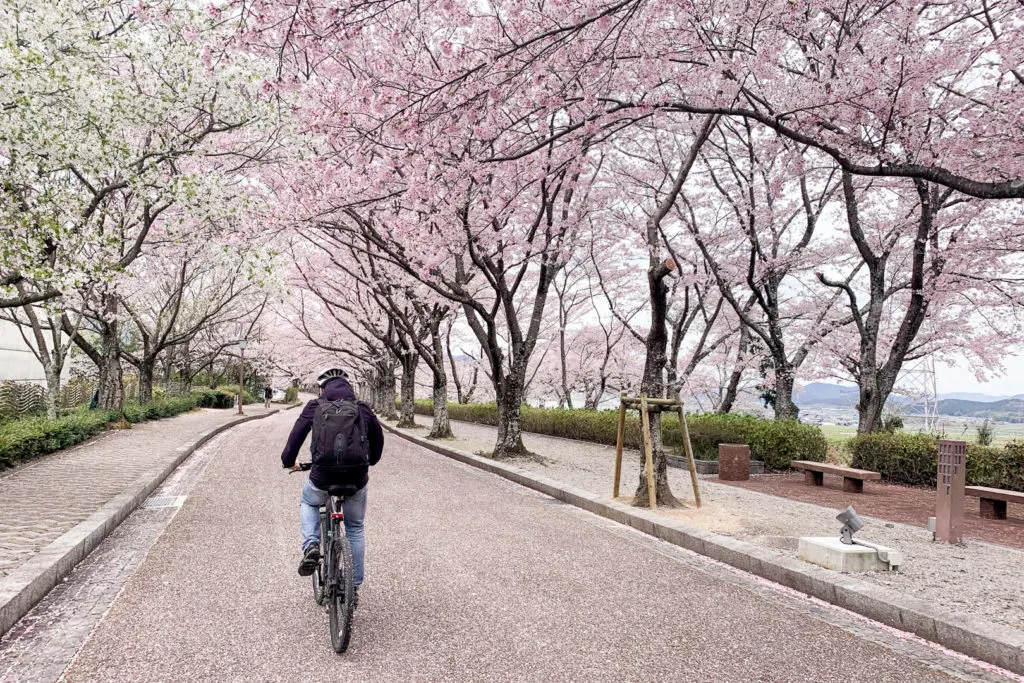 Wazuka Tea Plantations
Many visitors stock up on the myriad of green tea flavoured snacks and souvenirs on their trip to Kyoto, but most don't realise that they can take their green tea fantasies to a whole new level by actually visiting a tea farm, picking tea leaves and learning about the whole process from leaf to cup.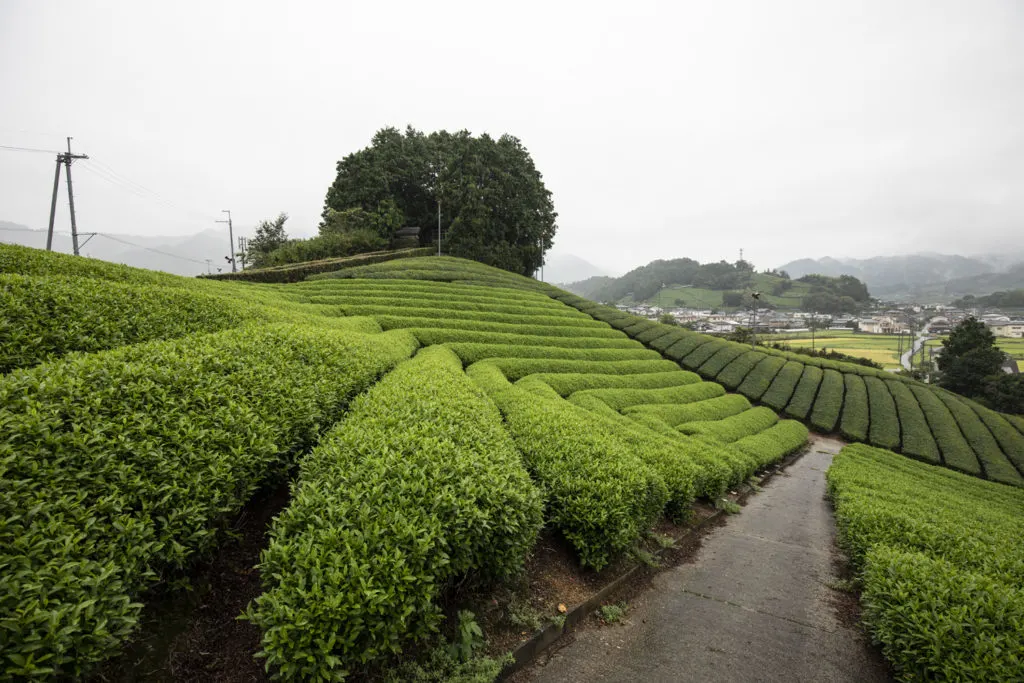 Uji in Kyoto is the birthplace of green tea in Japan, boasting the oldest tea farms in the country and Japan's most famous tea, 'Uji green tea'. There are several tea plantations in the area that offer tours, but one that comes highly recommended is d:matcha.
d:matcha is located in Wazuka and provides a unique opportunity to experience the tea fields with an English-speaking guide.
A two-hour tea picking experience costs 6,250 yen and includes some light hiking on Mount Jubu, stunning views of the tea plantations, tea picking, tea tasting and a matcha whisking experience. You'll even get to eat the tea leaves you picked as tempura back at the cafe!
Chirimen Kaido
If you're interested in Japanese textiles, you might like to visit Chirimen Kaido or Japan's 'Silk Road' in Yosano Town.

Chirimen is a type of very high-quality flat-woven silk. It's usually translated as 'silk crepe' so don't be confused when rather than snack stores, you find shops selling fabrics instead.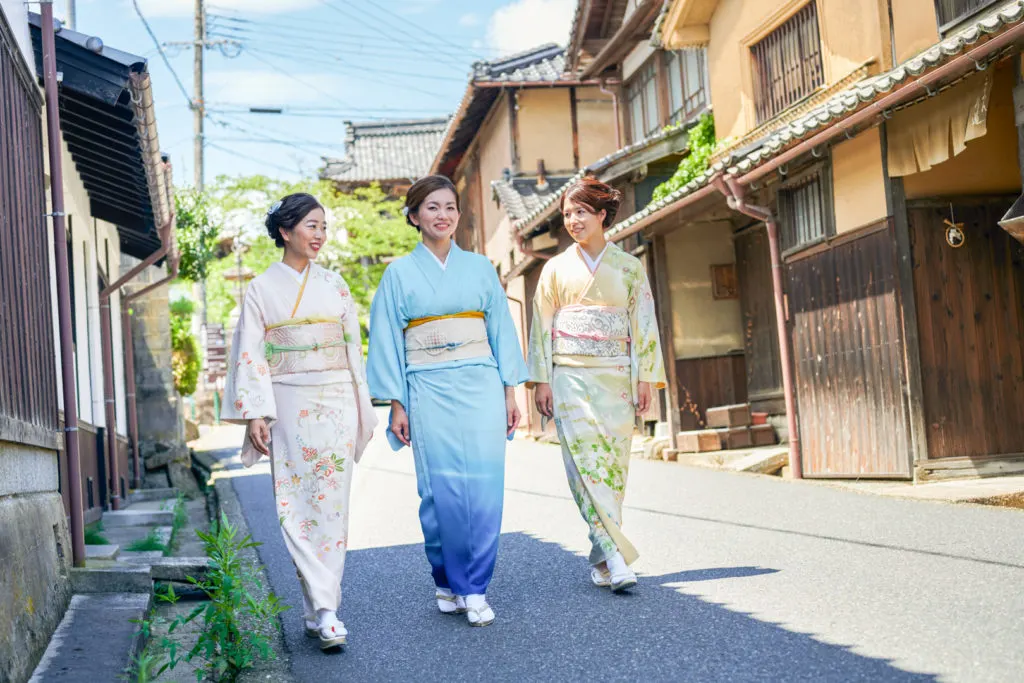 The road is lined with traditional houses and shops where you can learn about the history of the Tango chirimen. While different kinds of chirimen can be found across Japan, Kyoto's Tango chirimen, produced in what was formerly the Tango Province of northern Kyoto Prefecture, uses a particularly unique method of twisted and untwisted raw silk. The end result is a very refined, bumpy pattern that is incredibly soft to the touch and is less prone to wrinkling.

Unlike other chirimen that exclusively use silk, Kyoto's Tango variety may also employ the same traditional techniques using other fabrics, such as polyester and rayon, making it a popular choice for fast-drying and wrinkle-free travel clothes.
Eat barazushi – Kyoto's square sushi
A must-try dish in Kyoto's Tango region is barazushi. It's a special kind of sushi dish that comprises of two layers of rice with salty-sweet mackerel "crumbles" sandwiched between them, and then topped with a colourful array of ingredients, including thinly sliced omelet, red pickled ginger, fish cake, shiitake mushrooms and green peas.

The dish is assembled in a wooden box called matsubuta and then cut up into squares using a wooden spatula. Traditionally it is served at home or at festivals for celebrations and special occasions, but has now become popularised as a regular restaurant and bento box item.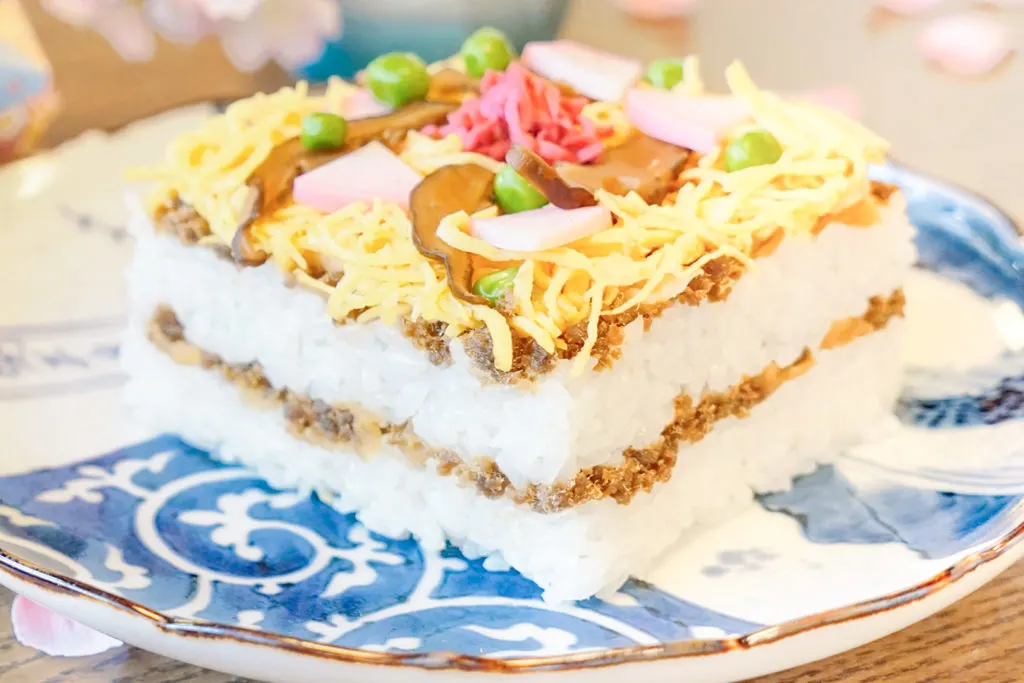 Amanohashidate
Amanohashidate is considered one of the "three most scenic views in Japan". Roughly translated as 'bridge to the sky' or 'bridge to heaven', it is a 3.6km pine-covered sandbar that extends across the mouth of Miyazu Bay on the Tango Peninsula.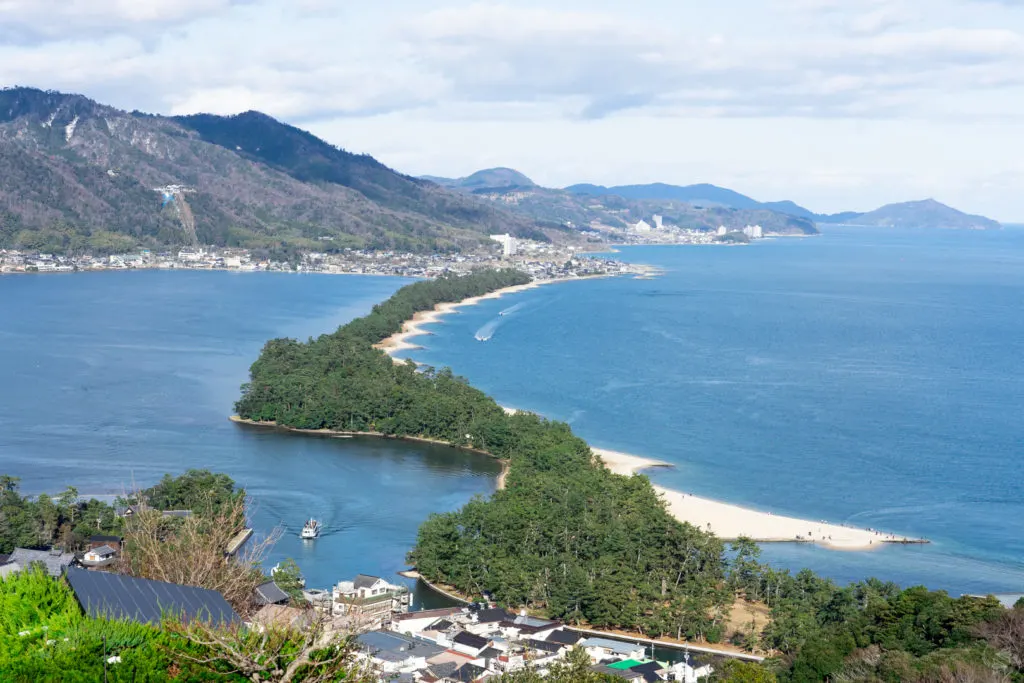 The best way to view the sandbar is from viewpoints on the surrounding hills, accessible by chairlift or monorail/cable car. Perhaps the most popular is Amanohashidate View Land, a small theme park, which is located on the south side behind Amanohashidate Station. Here you can find a number of amusements geared towards children, as well as several lookout points.

A popular activity is to stand on stone benches and look back at the view from between your legs. By doing so you can apparently see the shape of a dragon, but after several attempts I still couldn't see it. Can you?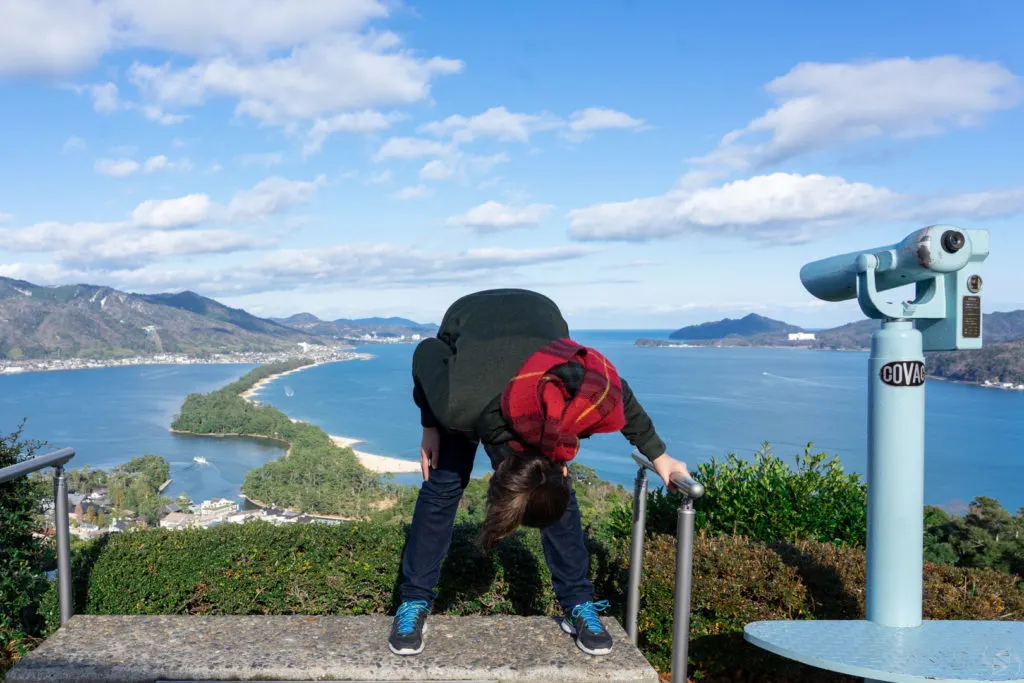 If you like, you can also get up close and cross the narrow sandbar yourself. It takes 45 minutes to walk or 15 minutes if you rent a bicycle from one of the nearby rental shops.

On the other side, you can access another lookout point called Kasamatsu Park, from where you can take a public bus at the lower cable car station (or from Motoise Kono Shrine) to the next destination of Ine (30 minutes, 200 yen).
The 'funaya' boat houses of Ine
Venturing about 15km north of Amanohashidate, one can find the quaint fishing village of Ine.

What makes Ine noteworthy is the row of some 200 boat houses that line the bay. These stilted dwellings, known as funaya, allow for small boats to be moored on the first floor like a private water car park, while the upper floor is utilised as living space.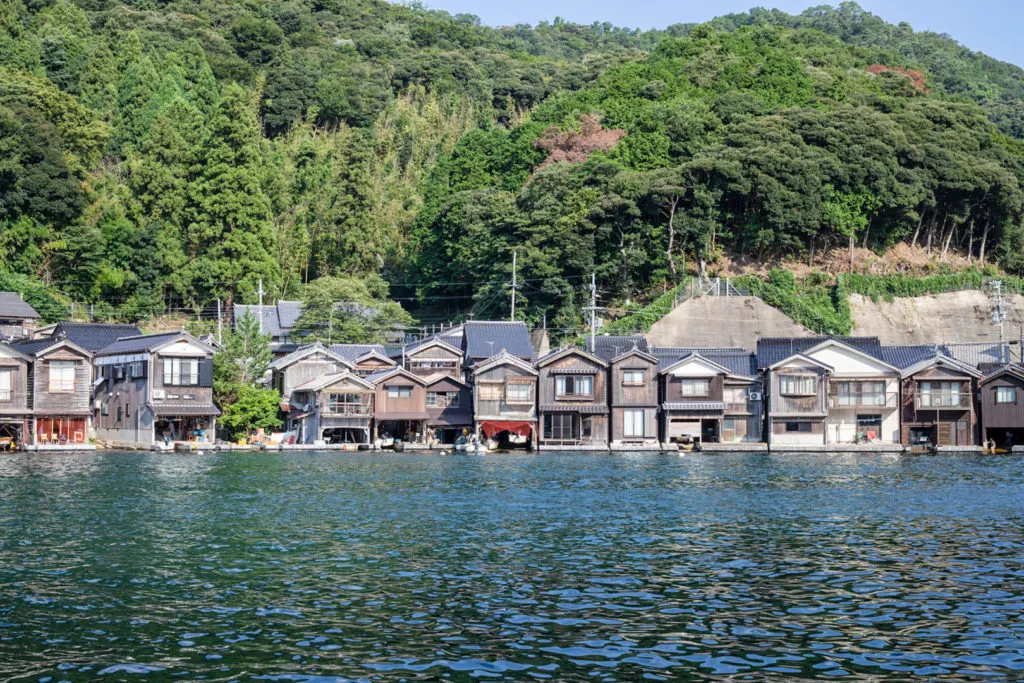 Most of the funaya remain residential, while some have been converted into rentable accommodations and cafes.
The best way to view the funaya is from the water. Sightseeing boats do a 25-minute loop of the bay, while smaller boat tours with local fishermen are also available by reservation at the tourism office at Funaya no Sato Park, where you can also find a small concentration of amenities, shops and restaurants.
Hozugawa-Kudari Boat Ride
This two-hour boat ride down the Hozugawa River is a magnificent way to enjoy the natural beauty of Kyoto Prefecture without venturing far from Kyoto city.

The 16km journey takes you from Tanba-Kameoka, a 10-15 minute walk from Kameoka Station where the Kyoto Inaka Cycling tour finishes off, and will take you to Arashiyama, a popular tourist destination in its own right largely thanks to its well-known bamboo forest and being only 15-20 minutes from Kyoto Station.

Passengers sit on the floor of a fibreglass boat as they are expertly maneuvered through the exciting rapids and deep pools of Hozu-kyo Ravine by crew with bamboo oars.

Each season brings with it varied scenery with cherry blossoms in the spring, rock azaleas in the summer, the vibrant foliage of autumn and snow in the winter.

Check the Hozugawa-Kudari website for information on timetables and ticketing, and more details.
Have you visited Kyoto? Which of these experiences would you like to try?
This post was sponsored by ANA with the support of the Kyoto Prefectural Government. As always, our opinions remain our own.
Pin me for later!