Located just 15-20 minutes by train from Kyoto, Arashiyama is a popular day trip from the ancient capital.
Just what is there to do there? Here are five things to do in Arashiyama that make it worth the trip.
1. Visit the Bamboo Forest
Probably the town's biggest claim to fame and one of the most photographed sights in Japan, the Sagano Bamboo Forest should be on any Arashiyama itinerary. Its small windy paths flanked by tall bamboo on either side create an otherworldly atmosphere that feels calm and peaceful no matter how busy it gets.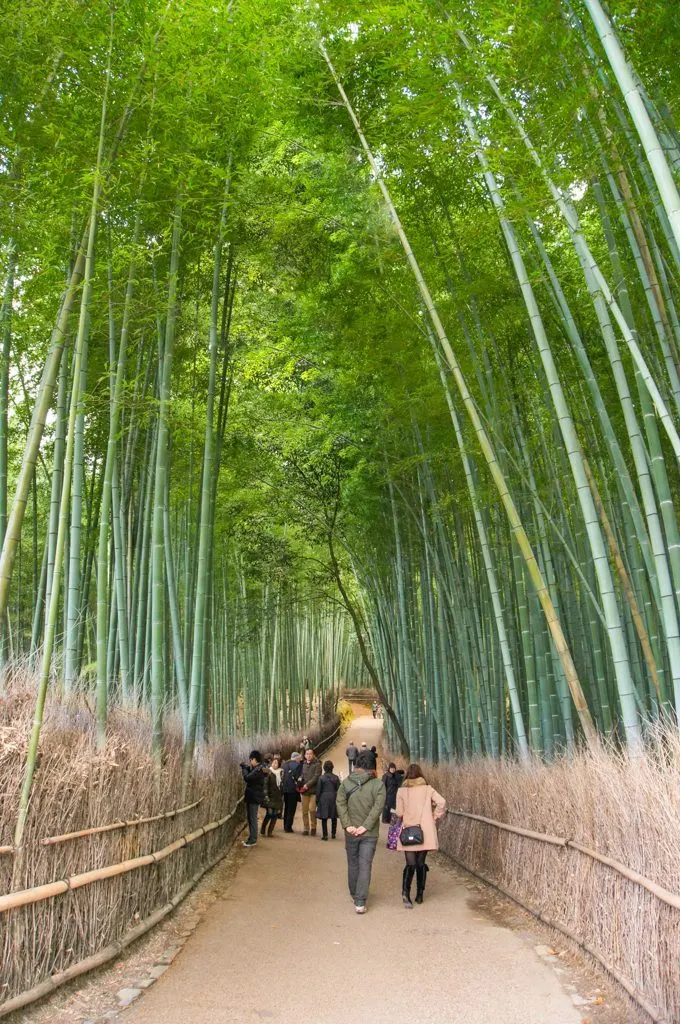 There are a number of shrines and temples in the vicinity, however, you'll find Nonomiya Shrine right along the main path and, like the Bamboo Forest itself, it's also free to enter. If you're looking for love, you might want to drop by and make a wish as Nonomiya-Daikokuten, the god of matchmaking, is said to be enshrined there.
The best time to visit the Bamboo Forest is early morning/late on weekdays as you'll find fewer visitors. If you'll be visiting during the Kyoto Arashiyama Hanatouro illuminations in December, you can view various points of interest lit up at night, including the Bamboo Forest and Arashiyama's iconic Togetsukyo Bridge.
2. Visit Tenryu-ji Temple
Founded in 1334, Tenryu-ji is considered one of Kyoto's five great zen temples. While the buildings that stand today are from the more recent Meiji period due to a history involving no less than eight fires(!), the surrounding Sogenchi Garden remains in its original 14th-Century state. This magnificent garden is a testament to the timeless nature of Japanese landscaping and is well worth dedicating some time to explore it. The complex was declared a UNESCO World Heritage Site in 1994. Entrance costs ¥500 (+¥100 if you want to enter the halls). You can access the Bamboo Forest directly from the temple grounds.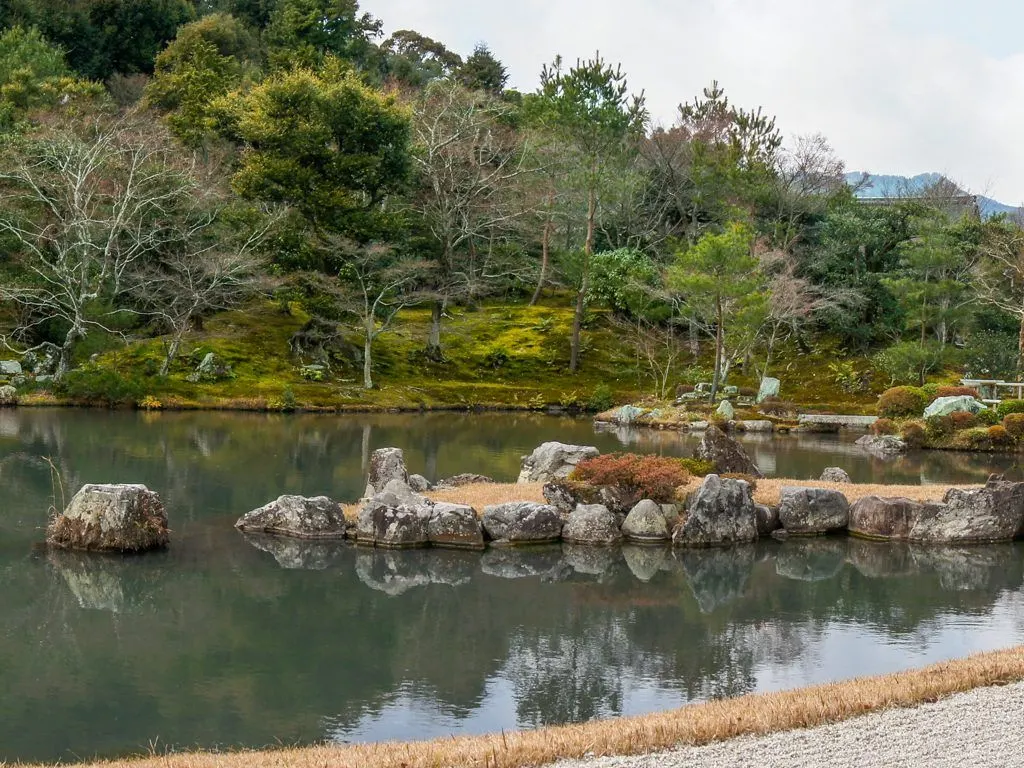 3. Go inside Arashiyama Station
If you've arrived in Arashiyama from Kyoto, you'll have most likely arrived at the Saga-Arashiyama train station. The station I'm referring to here is a short walk away on the central shopping strip. The Randen Arashiyama Station doesn't look like much from the front, but head out the back for a couple of hidden gems.
Past the food shops, you'll quickly notice the colourful art display known as the 'Kimono Forest'. Take a walk through the pillars decorated in vibrant kimono fabric and get some one-of-a-kind travel pics.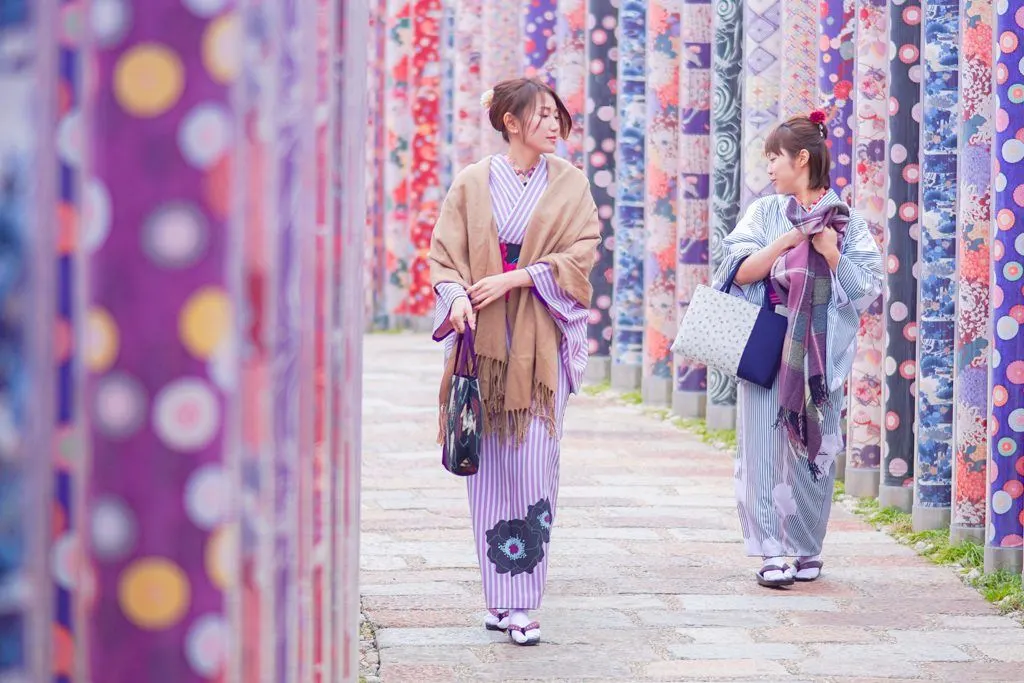 Then go take a break and rest your weary legs at the station foot bath. It's a hot spring just for feet! Simply grab a ticket for ¥200 from the station office and try it out for yourself.
4. Get a taste of "old" Japan
Similar to parts of Kyoto, Arashiyama is a place that could be taken straight from the pages of a stereotypical Japanese history text. Think wooden buildings, wooden bridges and the clickety clack of wooden shoes. Full of old-style shops, it's the perfect opportunity to eat traditional foods, try green tea everything and pick up Japan-esque souvenirs.
5. Dress the part
With Arashiyama's old-world charm, it's the perfect place to get dressed up and take some holiday snaps. Get dressed in kimono and take photos on the bridges and around town. You can even be transformed into a maiko or geisha apprentice. For these services, it's best to book ahead. Simply ask your accommodation or a tourist information office in Kyoto to assist you.
Although the main tourist area is quite compact, if you'd prefer not to walk, you can hire a rickshaw to take you around. Fun fact: Did you know that the word rickshaw actually originates from Japanese? It comes from the word "jinrikisha", which means "human-powered vehicle"!
There are various operators and courses but, as a general guide, expect to pay ¥2000 (for one person) or ¥3000 (for two people) for the shortest courses (about 1km or 10 minutes), ¥5000/¥8000 for 30 minutes, up to around ¥9000/¥15,000 for 60 minutes. More extensive sightseeing courses are also available.
Access
There are various ways to reach Arashiyama by train and bus, however, the most direct way is to take the JR Sagano Line (also known as the JR Sanin Line) from Kyoto Station and get off at Saga-Arashiyama. Travel time: Around 15 minutes. Cost: ¥240.
Accommodation in Kyoto
These are referral links that we may receive a commission on, at no extra cost to you. As always, we keep it real and only promote services we use ourselves and can 100% stand behind. Thank you for supporting us.
Search for affordable accommodation options in Kyoto here: notesofnomads/Booking.com
Stay in a ryokan in Kyoto (traditional Japanese style inn) here: notesofnomads.com/RyokanKyoto
Looking for an Airbnb? Sign up and get free credit towards your first stay here: notesofnomads.com/Airbnb
Have you been to Arashiyama? Would you like to? Tell us your thoughts and experiences in the comments section below.