Japan is no stranger to the concept of bathing in nature and its therapeutic benefits. You only need to take a dip in any of the thousands of natural hot springs across the country to understand the importance of this activity within the Japanese cultural context and the positive effects of a long, relaxing soak. In a country that can teach us so much about bathing, it seems rather fitting that it is Japan who is redefining, or let's say broadening, the very idea of what it means to take a 'bath'.
What I'm referring to here is the Japanese concept of 'shinrin-yoku' or 'forest bathing'. The term was officially coined in 1982 and refers to the idea of 'soaking in the forest atmosphere' and its relationship to improved health and well being.
How is forest bathing different to any old forest hike?
Forest bathing is much more than simply spending time in nature, or about hiking or mountain climbing. In fact, forest bathing guides will tell you it most definitely isn't the latter, which has more of a focus on achieving a goal or reaching a certain destination. Forest bathing is rather more of a mindful practice in which you 'take in' the forest through all five senses. And, yes, that includes taste. Bark tea, anyone?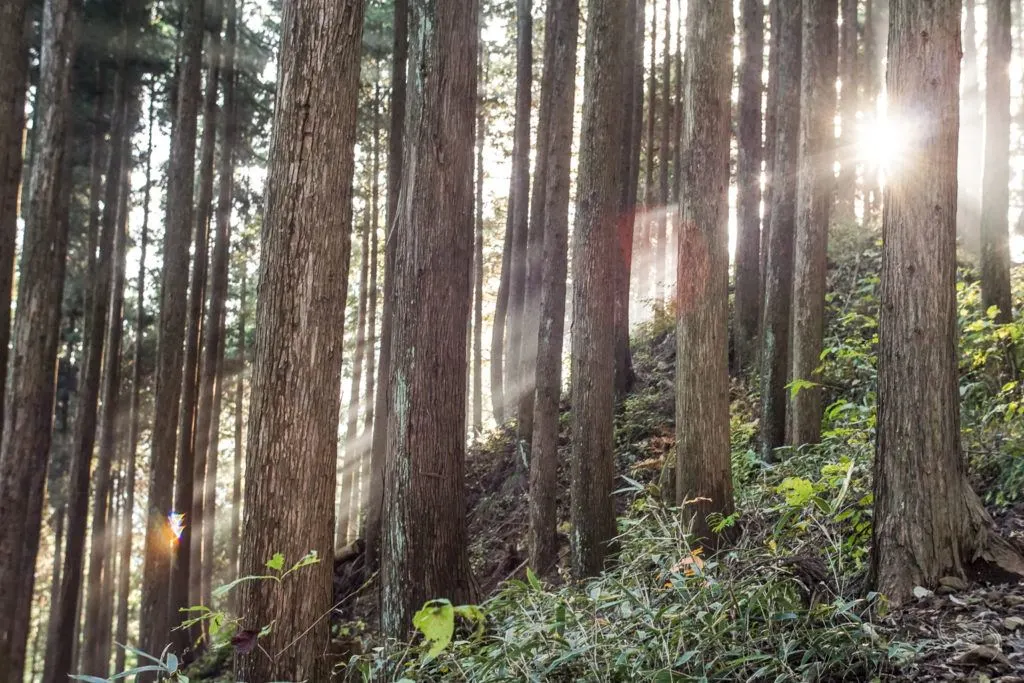 What are the benefits of forest bathing?
Forest bathing has numerous benefits, including, but not limited to:
A boost to the immune system, with an increase in the count of the body's Natural Killer (NK) cells

An increase in anticancer protein production

Reduced blood pressure and pulse rate
Reduced concentration of the "stress hormone" known as

salivary cortisol

Decrease in

sympathetic nerve activity, also linked to stress

Elevated mood
Increased ability to focus
And not only do studies show these benefits both during and immediately after forest bathing, but research suggests that the positive benefits can stick around well after. For example, a study in 2006 in which 12 men from Tokyo, aged 37-55, took a two-night trip to a forest in Nagano Prefecture, during which they went on three leisurely strolls and stayed in a hotel in the woods, saw their NK cells increase by around 40-50%. Not only that, these stats remained elevated for up to 30 days after the trip, even after returning to an urban setting and their day-to-day jobs and lifestyle. Another trip involving 13 female nurses in 2007 yielded similar results.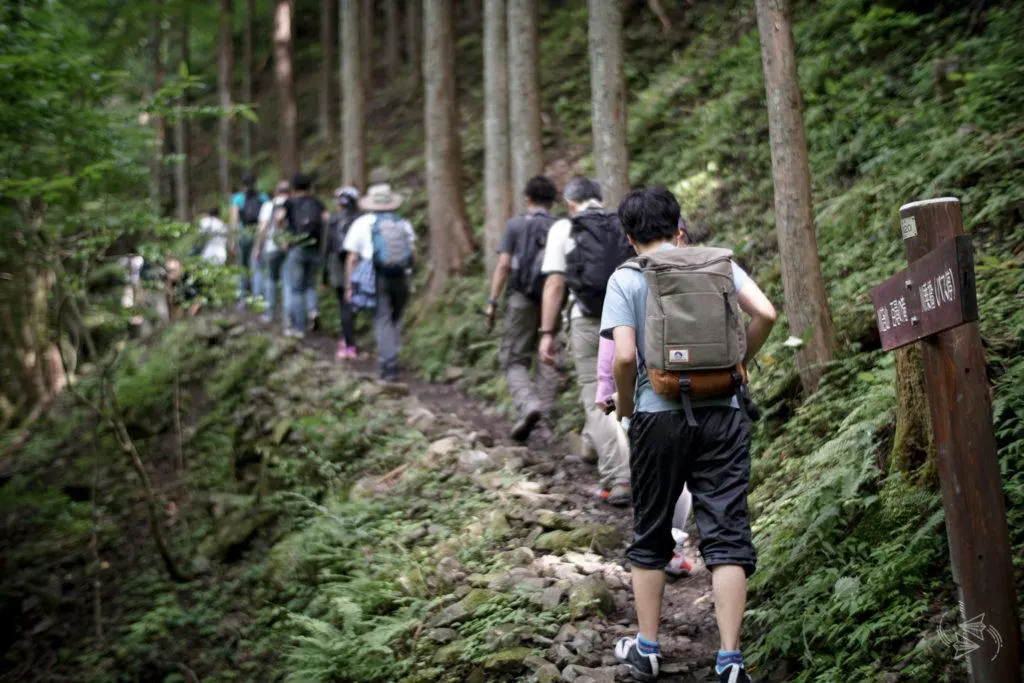 Japan's leading scholar on forest medicine, Yoshifumi Miyazaki, director of the Center for Environment Health and Field Sciences at Chiba University, has been conducting physiological studies for years to examine the connection between forest environments and their ability to make one feel at ease. One study he conducted on 576 people at 24 sites in 2005 and 2006 found that the average concentration of salivary cortisol, a stress hormone, in people who gazed at forest scenery for 20 minutes was 12.7 percent lower than that of people in urban settings, proving that even short periods of time in a natural environment have demonstrated benefits on our health and well being.
Japan's 'forest therapy bases' and 'forest therapy roads'
Japan has now officially recognized 62 forests as 'forest therapy bases' or 'forest therapy roads'. To qualify as a base, the destination must have a minimum of two 'forest therapy roads' that have been scientifically proven through accredited field research to have physiological and psychological benefits on visitors.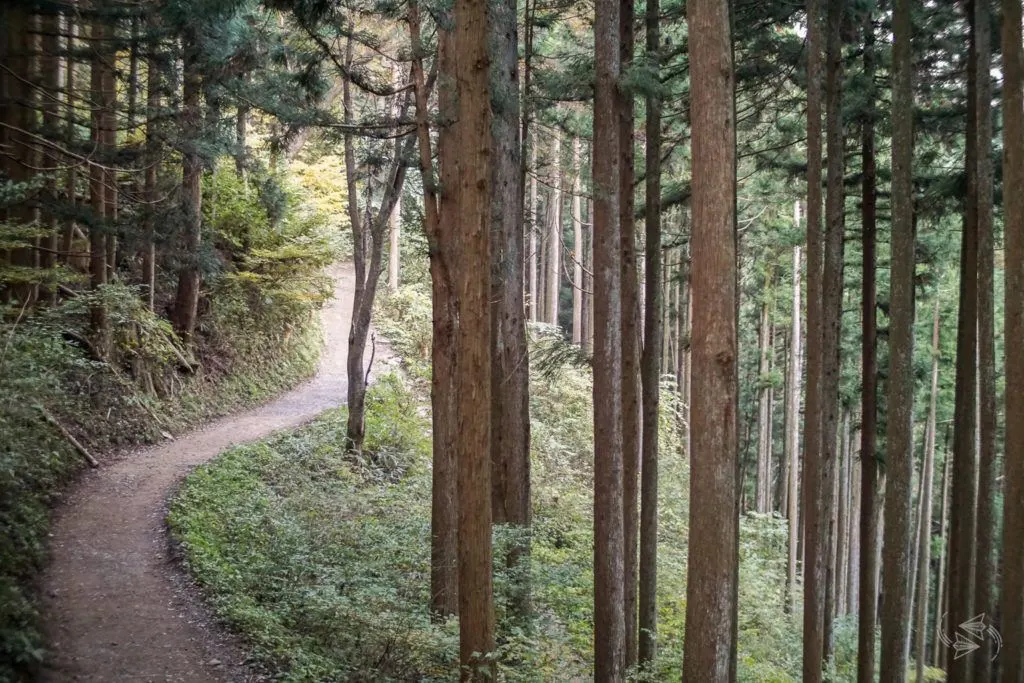 They must also fulfill other criteria, including the forest's ability to gratify the five senses. The sound of moving water or the whispering of wind through the trees, the feel of soft moss or grasses and a strong forest aroma all contribute. In fact, some forest therapy researchers believe it is the high levels of phytoncide, an immune boosting chemical substance emitted by trees, that one might refer to non-scientifically as "that woodsy smell", that is responsible for the increase in NK cells seen in research participants. Forest therapy roads have been found to have high levels of the phytoncide Isoprene and Alpha-Pinene, Camphene and Beta-Pinene have also been detected.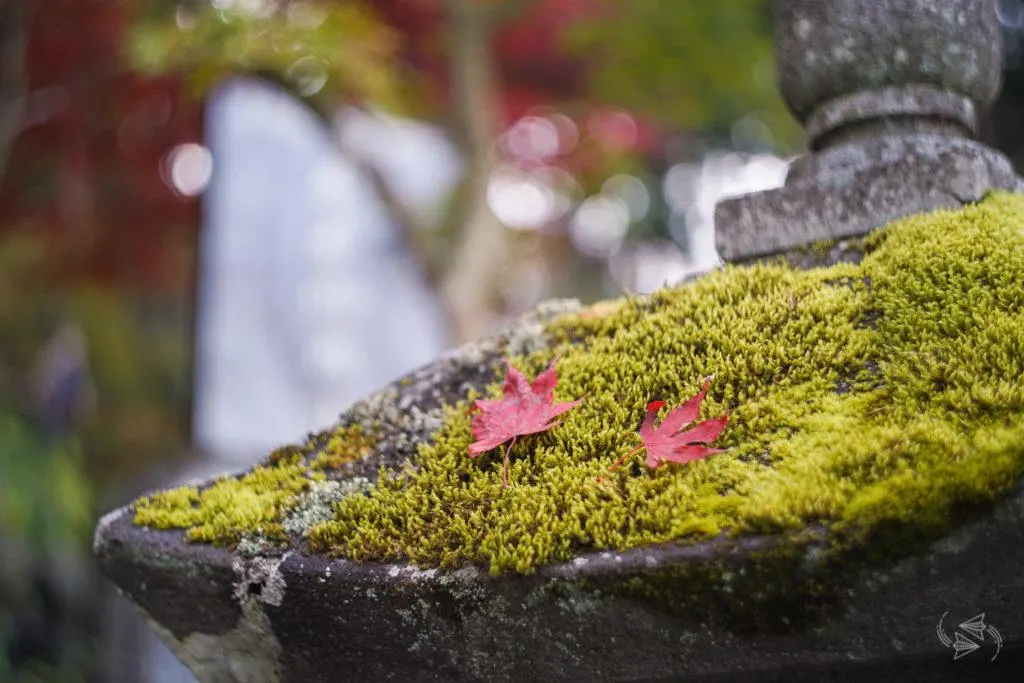 In addition to scientific studies, to qualify as a forest therapy base a site must also demonstrate good and sustainable management practices, be wheelchair accessible and offer 'forest therapy' services. This means that visitors can go to a forest therapy base for the weekend, experience the area with a trained forest therapy guide, and have the change on their physical and mental state tracked through stats such as blood pressure and heart rate. This also means that there must be demonstrated backing from the local community to support a base, as there must be enough people willing to gain accreditation as a forest therapy guide.
What happens on a forest therapy walk?
You might be wondering what actually happens on a forest therapy walk. As forest therapy is about taking in the forest through all five senses, forest therapy walks usually last several hours yet only cover very small areas, often just a few hundred meters.
Forest therapy guides facilitate safe and gentle walks in which they give instructions – referred to as "invitations" – for sensory opening activities along the way. It's about having direct contact with the forest and experiencing it on a deeper level than ever before. Forest guides are trained in getting people to slow down and facilitating these sensory experiences that allow the forest to do its therapeutic work. Activities may include controlled breathing, aromatherapy and drinking tea made from foraged ingredients.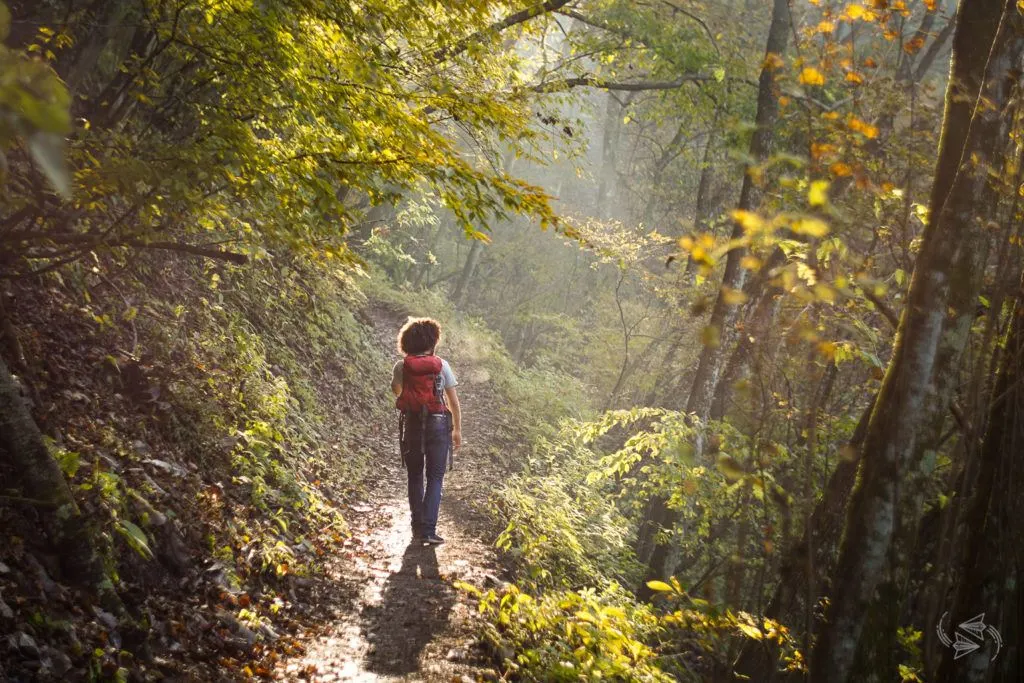 Japan's new approach to preventative health and stress management
The official recognition of forest therapy roads and bases, and the hard scientific results that now support their benefits, is completing revolutionizing the way the country is approaching preventative health and stress management. Not only are more Japanese people making an effort to visit forest therapy bases in their leisure time, but some companies are starting to send their employees on forest therapy weekend retreats as an alternative means of alleviating a stressed out workforce.
The official stamp of approval has also come with other benefits, namely that 'forest therapy' can now be prescribed as treatment by a physician and visits to a 'forest therapy base' can as such be claimed on health insurance.
What we have always known about the healing power of nature
The idea that spending time in nature is good for us is not a new one. In fact, going out and getting some "fresh air" is something we are intuitively drawn to when we've spent too much time indoors or have been working for prolonged periods of time at our desks. Dr. Miyazaki credits this to the natural order of things. "Humans had lived in nature for 5 million years. We were made to fit a natural environment. So we feel stress in an urban area," says Miyazaki. "When we are exposed to nature, our bodies go back to how they should be."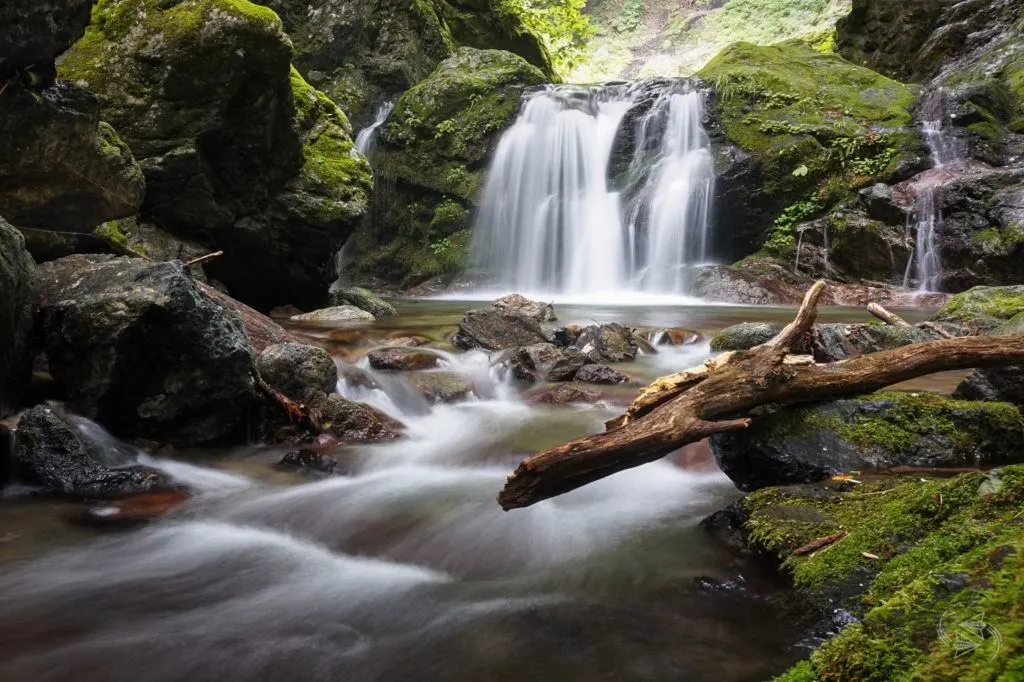 Forest bathing is not only popular in Japan but also in neighbouring South Korea, where it has also gained official recognition as therapy. In 2016, forest therapy was also cited as one of the hottest new health and lifestyle trends to hit the US and a search on the topic already brings up a number of groups organizing forest therapy walks and seeking people interested in training as accredited guides.
Have you tried forest bathing? Would you like to? How do you deal with stress?

For those visiting Tokyo, the closest forest therapy base is in Okutama, about 1.5-2 hours from central Tokyo by train. Find accommodation for an overnight or weekend stay in Okutama (affiliate link*). A full list of forest therapy bases and roads in Japan can be found here.
If you're interested in alternative methods of bathing, you may also like to read about sand bathing in Japan.
For those wanting to experience regular hot spring bathing in Japan, we recommend Kusatsu Onsen, a hot spring town accessible from Tokyo with more than 100 onsen on offer. If it's your first time visiting an onsen in Japan, we suggest reading our guide on how to use a Japanese onsen and also our FAQs on hot springs in Japan.
*We may make a small referral commission, at no extra cost to you, for sales made via this link. We only promote services we use and love, and that we think will be helpful to you in planning your trip. Thank you for supporting our blog.