Japan is well known for its onsen (natural hot springs), but did you know you can experience the benefits without even getting your feet wet?
Located in Kagoshima Prefecture on the southern island of Kyūshū, the Yamakawa Sunamushi Onsen or Yamakawa Sand Baths (also known as Yamagawa Sunamushi Onsen or Fushimesunamushi Hot Spring), provides an interesting way to enjoy the benefits of the heat and minerals associated with a long hot soak.
The onsen water bubbling beneath the coastline (thanks to nearby volcanoes) naturally heats the beach sand above, making way for a most unique bathing experience.
So how does it all work?
Entry to the sand baths costs ¥820 (¥460 for kids up to elementary school age) which includes a towel and yukata (robe) rental. Head to the sex-segregated change rooms to change into your yukata. Remember to put the left side over the right. The first time we came to Japan, we visited a hot springs resort with our homestay family and I emerged ready for the baths with my yukata tied the opposite way, unaware that it made any difference. My homestay brother looked as if he had just seen a ghost – and rightly so. This is how the Japanese dress their dead. So avoid frightening people and wear yours the correct way!
Then bring your towel and camera, and head down to the beach. Once called over to a pit, you'll be instructed to lay down in it and on how to place the towel to cover your head. The towel acts to protect your head and neck from the heat as well as your mouth from the sand. At this point, you'll also want to be making sure that the yukata is covering you as best as possible to avoid getting burnt in any sensitive areas.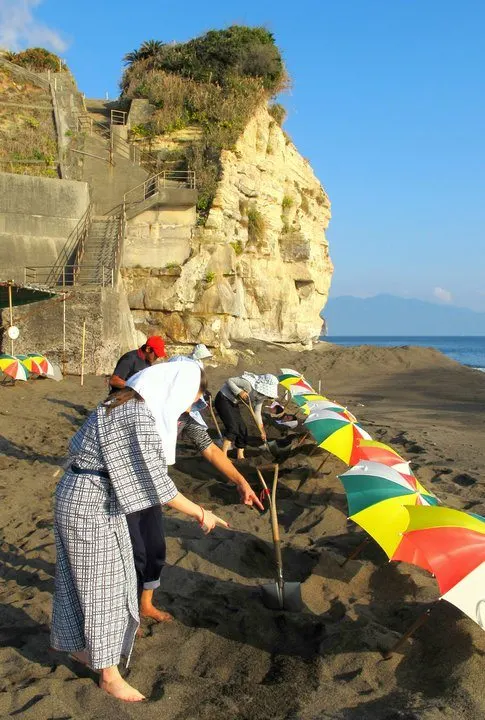 The "burial ladies" (and the occasional man) will then proceed to shovel the scorching hot sand over you until you are buried up to your neck. Despite my words of advice on not dressing like it's your funeral, you may at this point feel some surreal sense of being laid to rest.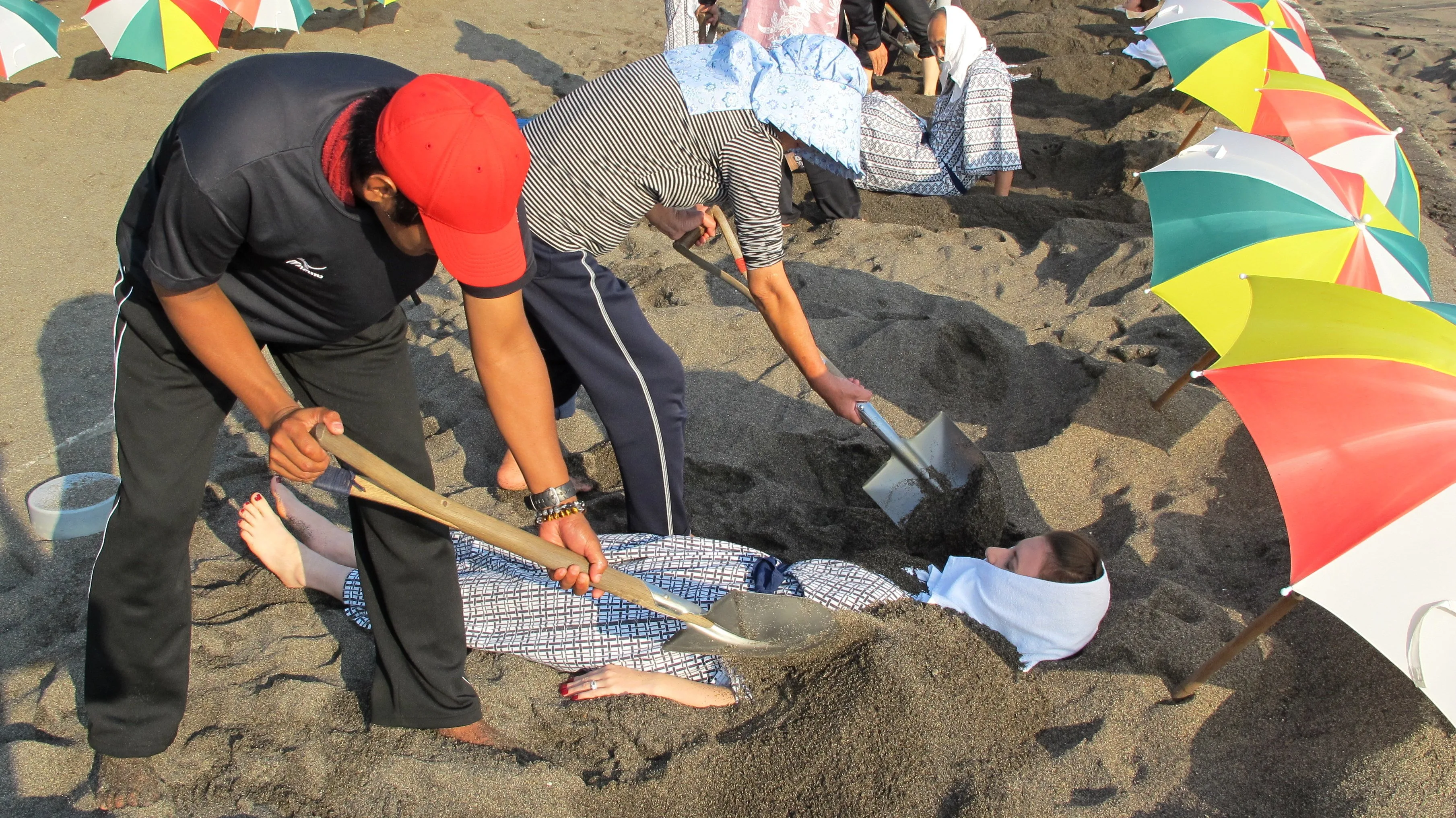 You'll start to feel the heat and weight of the sand on you quickly. And sweat you will. The volcanic sand is said to provide health benefits similar to onsen, yet in a more concentrated form, some say 3-4 times more beneficial than a traditional bath. It improves circulation, ridding the body of impurities and increasing blood-oxygen levels, and is said to provide relief from and even cure all manner of ailments including arthritis and rheumatism. Many women these days visit the sand baths as a beauty treatment as the intense heat works to open the skin's pores.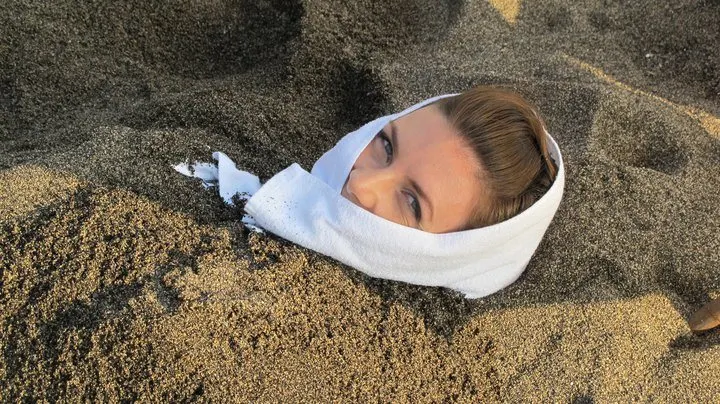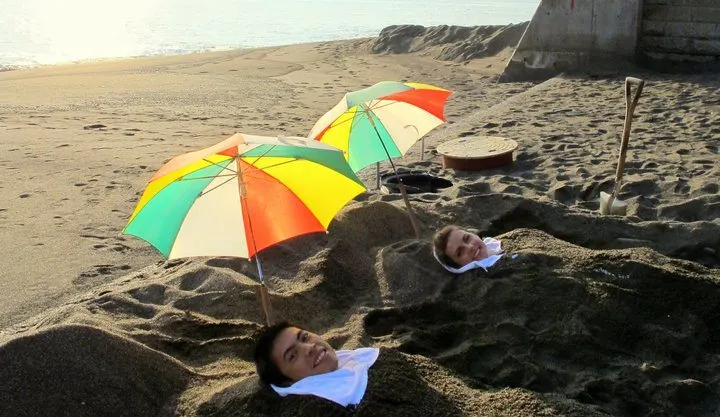 The recommended time to spend in the sand is 10-15 minutes. Ten minutes is enough to reap the health benefits, while fifteen minutes, if you can stand it, gives you "full charge". I lasted 13 minutes before the burning was enough for me. With a little effort, you can free yourself without too much trouble. But rest assured the burial ladies stick around to help you out whenever you need it. They even come by during the bath, given your incapacitated state, to wipe the sweat from your brow.
You'll emerge looking like you've been swimming in that yukata and with enough sand left on you to make a little beach of your own. Luckily the sand baths also have an onsen on-site where you can give yourself a good rinse and, if the sand heat wasn't enough for you, take a dip in the hot spring waters.
If you're heading to Kyūshū, Ibusuki is not the only place where you can experience sand bathing. Beppu in Ōita Prefecture is another popular location. Kyūshū is a spectacular travel destination whether you come for the sand baths or not. But if you do visit, why not add this unique travel experience to your itinerary?
The Yamakawa Sunamushi Onsen is located approximately 15 minutes by taxi from Ibusuki Station (approximately 3000 yen each way) or 10 minutes from Yamakawa Station. In front of Ibusuki Station you'll also find a complimentary foot bath! There is a free on-site carpark at the sand baths for those traveling by car.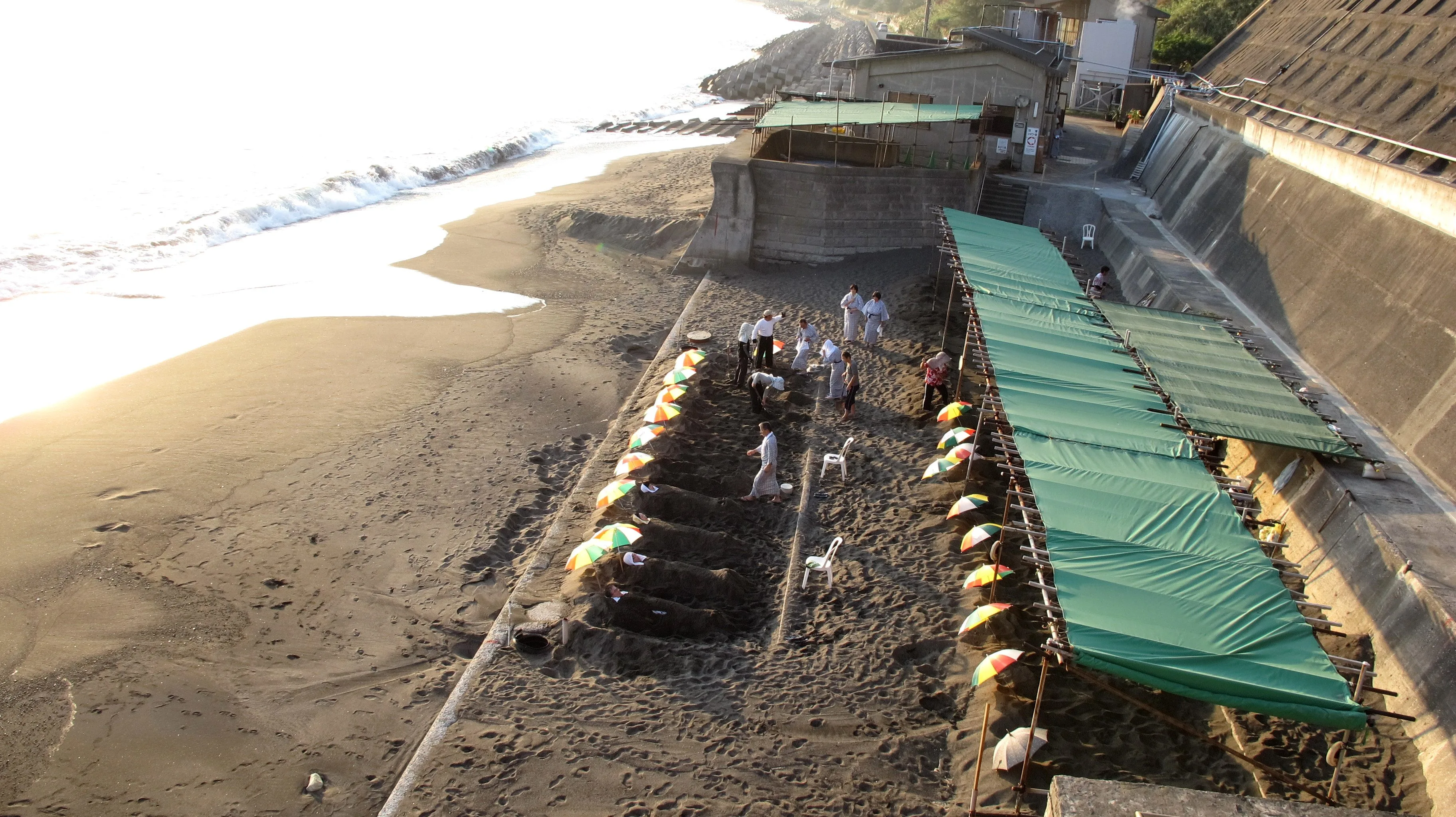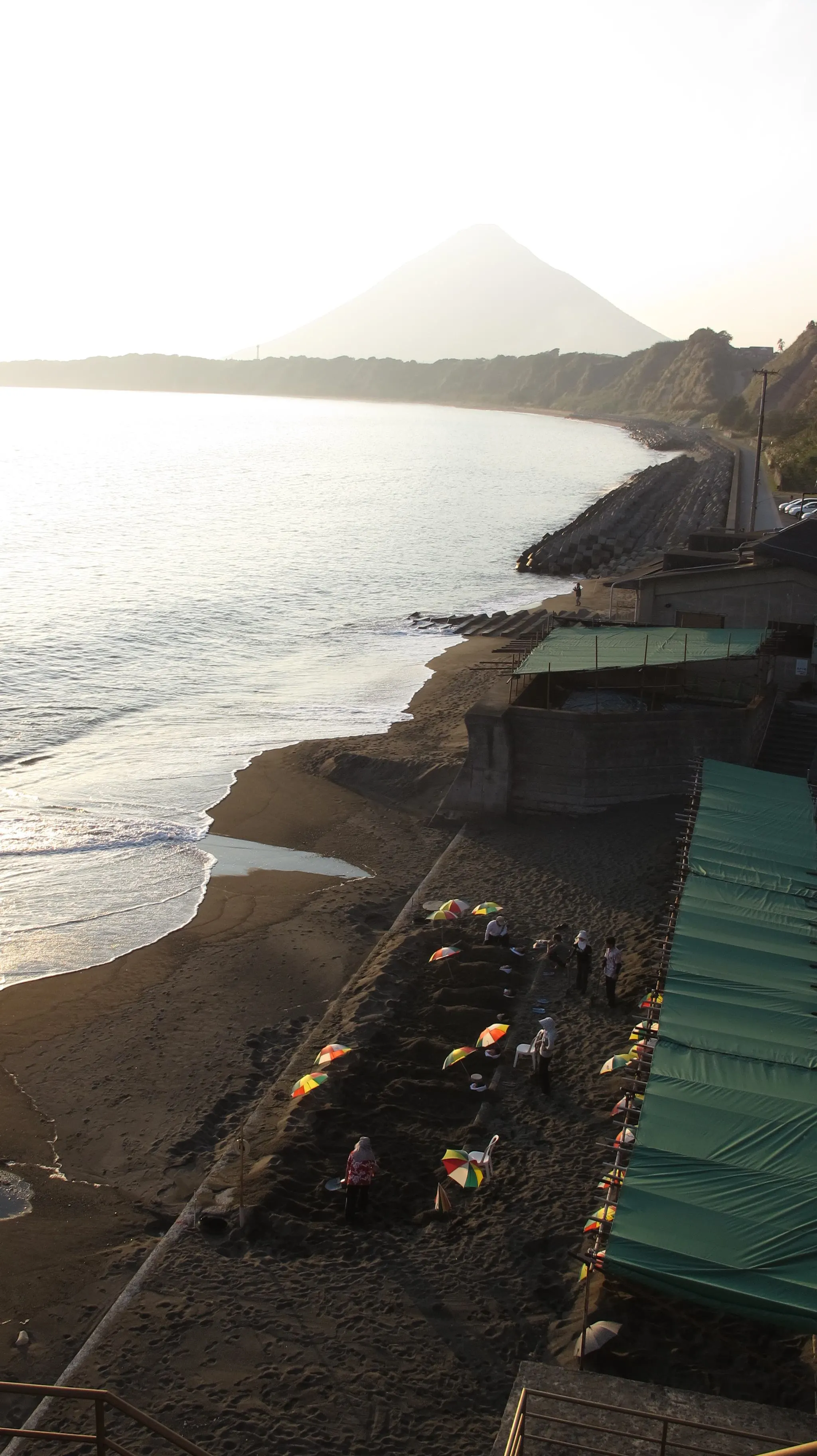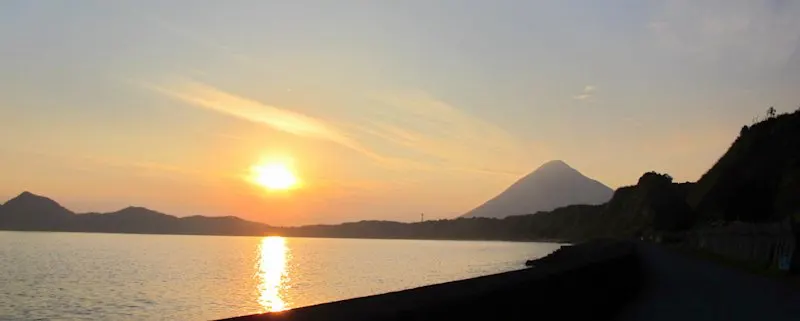 ACCESS
Address: 〒891-0511 鹿児島県指宿市山川福元3339-3
3339-3 Yamagawafukumoto, Ibusuki-shi, Kagoshima-ken 891-0511
Phone: 0993-35-2669
Cost: ¥820, including towel and robe rental
Opening hours: 9:00-17:30 (September – June), 09:00-18:00 (July and August)
More info: Please see their website (Japanese only)
Accommodation in Kagoshima (referral links): Search all types of accommodation on Booking.com or find traditional Japanese style accommodation (ryokan) here: notesofnomads.com/RyokanKagoshima
Why are ryokan worth the splurge at least once on your trip to Japan? Read more about ryokan here.