Visiting onsen or hot springs is on the "to do" list of quintessential Japanese activities for most travellers on their trip to Japan. Yet with literally thousands across the country, it's no wonder we often get asked to narrow it down for visitors who may only have a week or two to explore. Here we'd like to introduce you to one of our top destinations for trying Japanese hot springs, a small town by the name of Kusatsu Onsen in Gunma Prefecture, just a few hours from Tokyo.
Not only is Kusatsu Onsen considered one of the best onsen resort towns in the country with an amazing variety of bathing opportunities, but it's also tourist friendly – being accessible by public transport and the town itself easily explored by foot. Plus it's full of chances to check off many of the other "Japanese" things that no doubt made their way onto your list in one fell swoop.
While it is possible to do a day-trip from Tokyo if you're pushed for time, we'd highly recommend a one-night stay so you can relax and get the most out of your visit. You're here to enjoy the process of elongated and relaxed bathing, after all.
So here it is. Seven reasons why you should head to Kusatsu for your onsen experience in Japan.
1. Visit the Yubatake
The yubatake or "hot water field" in the center of town is the symbol of Kusatsu. It pumps out an incredible 32,300 liters of natural onsen water with a pH value of almost 2.1 every minute; the highest volume and most acidic of any hot spring in Japan!
You can't go in it, but it is the hot spring water source (or at least one of) for many of the onsen around town.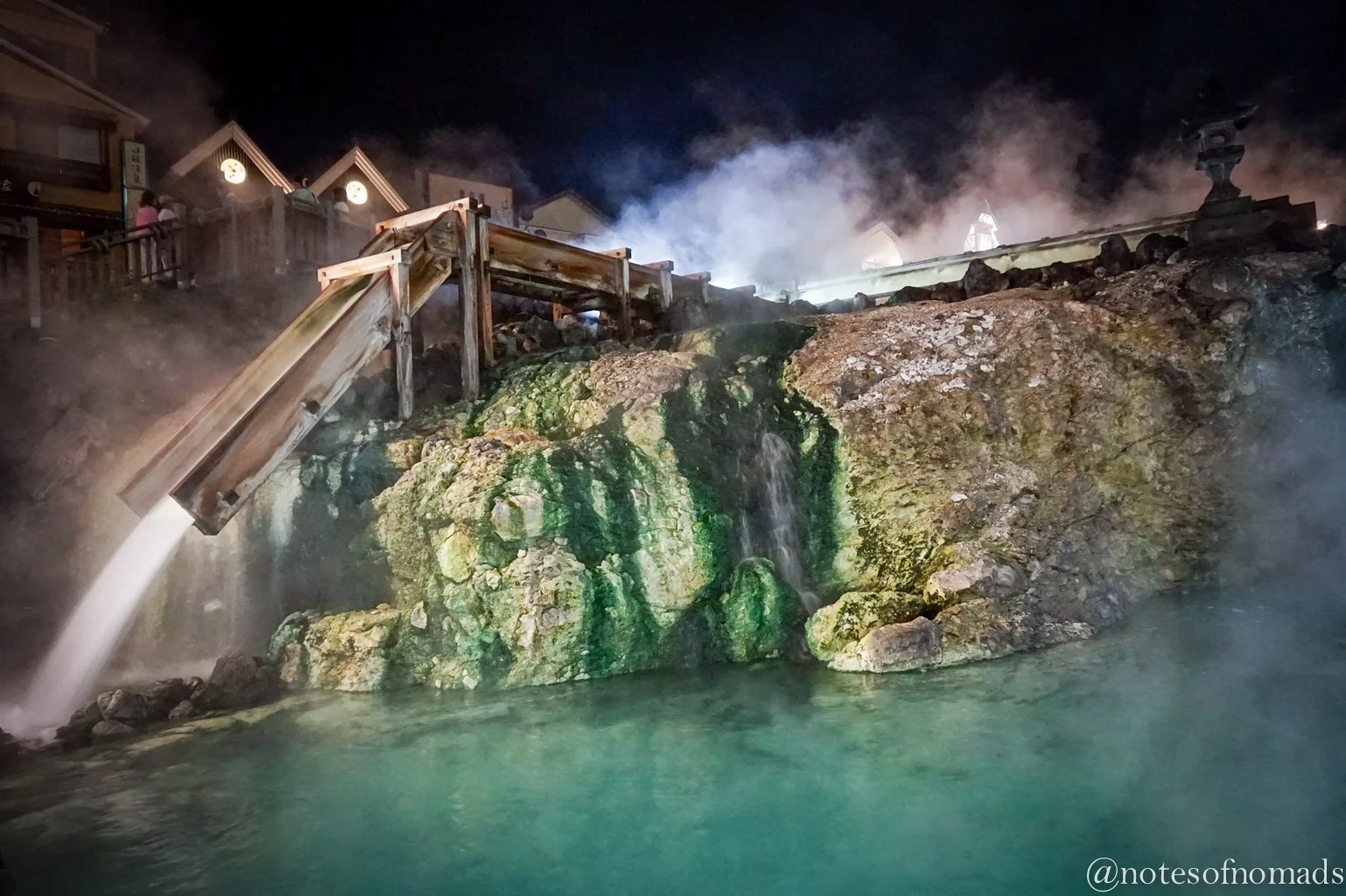 2. Take your pick of onsen
With more than 100 onsen on offer, you are spoilt for choice in Kusatsu. Some of the biggest onsen include Sainokawara Rotenburo, Otakinoyu and Gozanoyu.
Sainokawara is your best choice for the outdoor bathing experience. The men's and women's baths combined cover a staggering 500 square meters, making it one of the biggest outdoor baths in the country.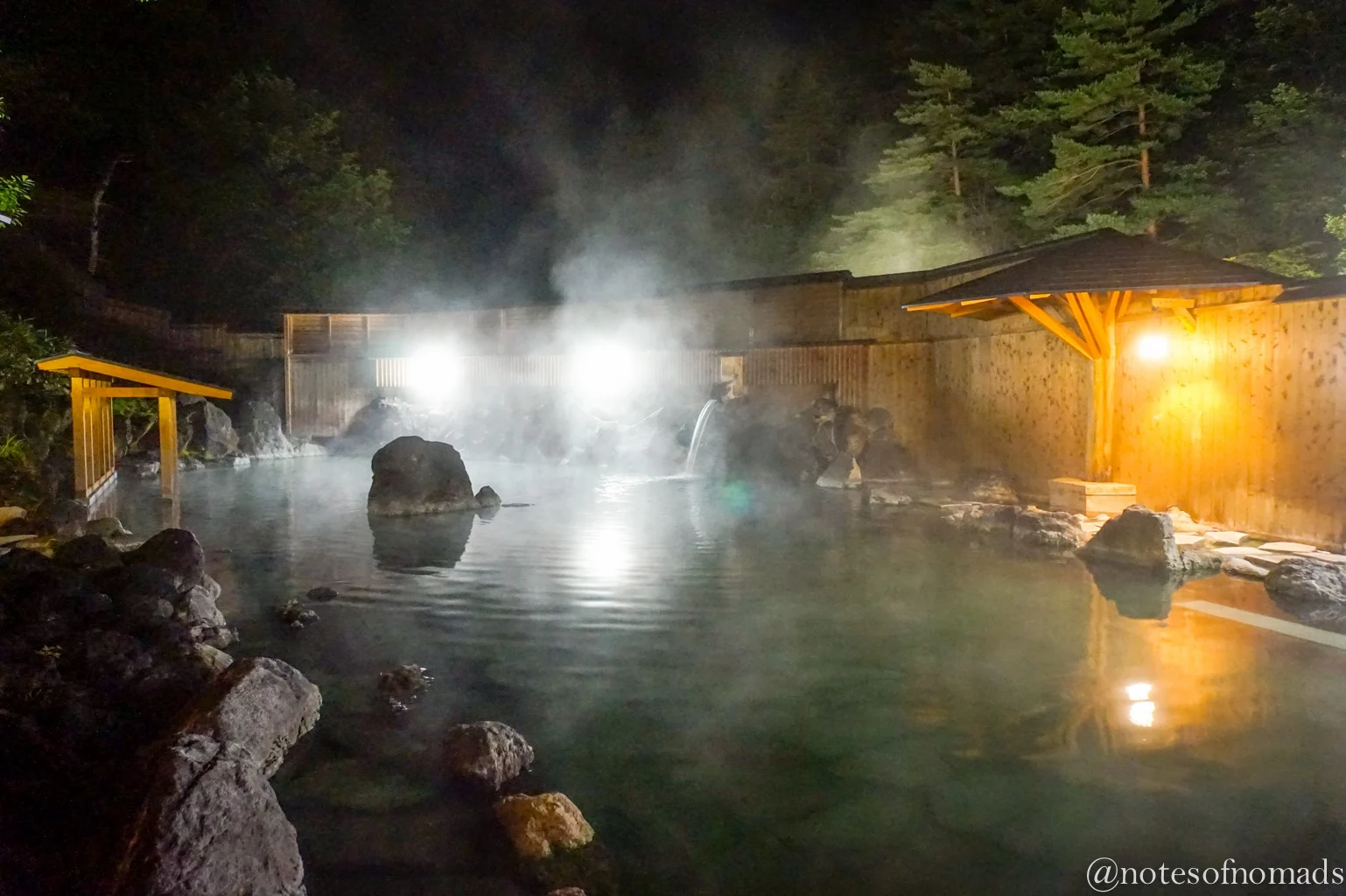 Otakinoyu provides the most variety, with both indoor and open air baths, a sauna and massage rooms. The awaseyu (or partition baths) is a unique bathing tradition of old that's not easily experienced elsewhere. In this style of bathing, you start at a bath of lower temperature and slowly make your way up to the hottest one.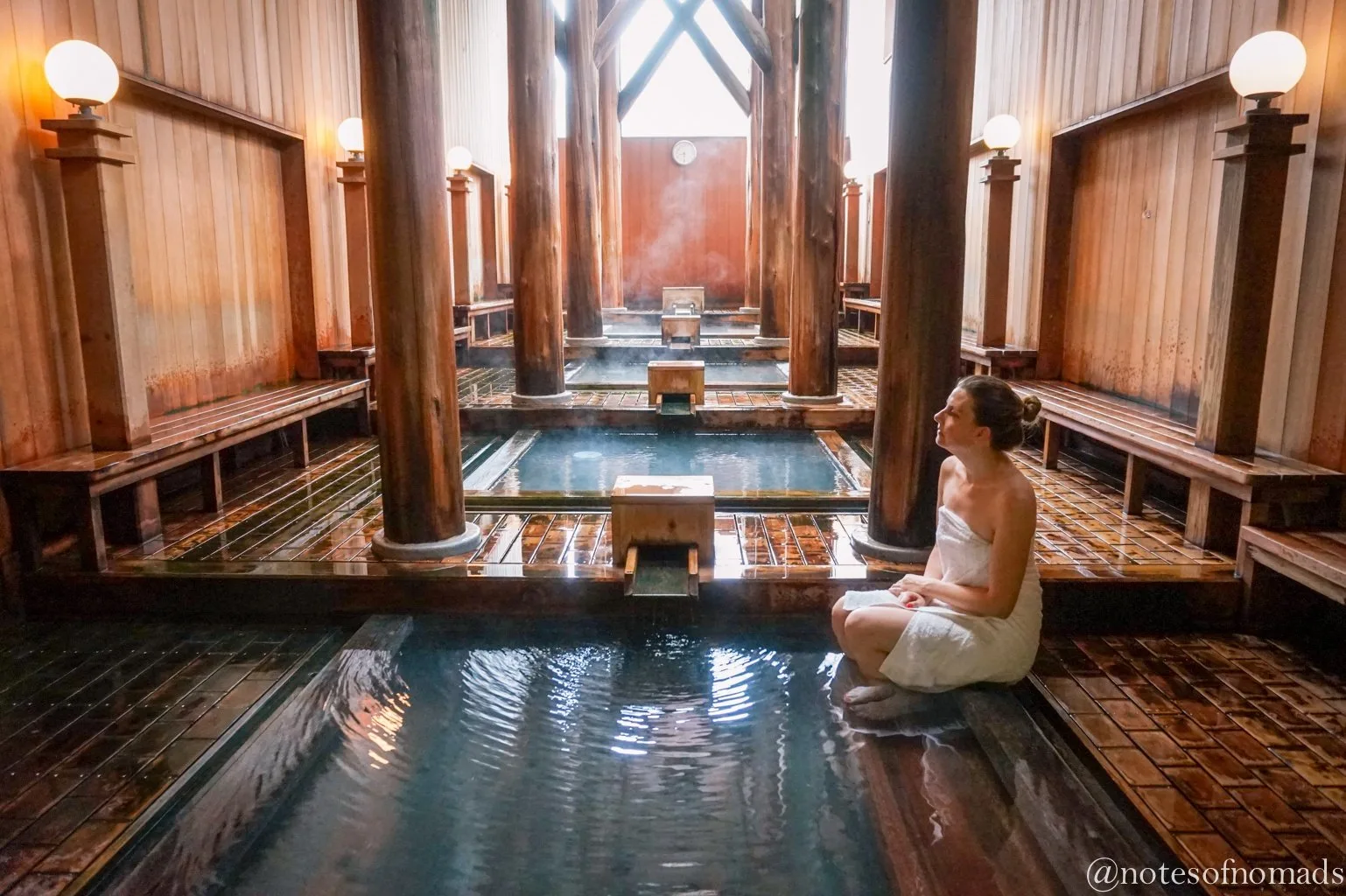 Gozanoyu is one of the newest onsen on the Kusatsu scene, built only in 2013. It is not as large as the others and has simpler stone and wooden baths, each of which is alternated between use for men and women each day. However, its second floor tatami relaxation room with a balcony looking right out over the Yubatake makes it a prime perch to people-watch and take in the charm of the town.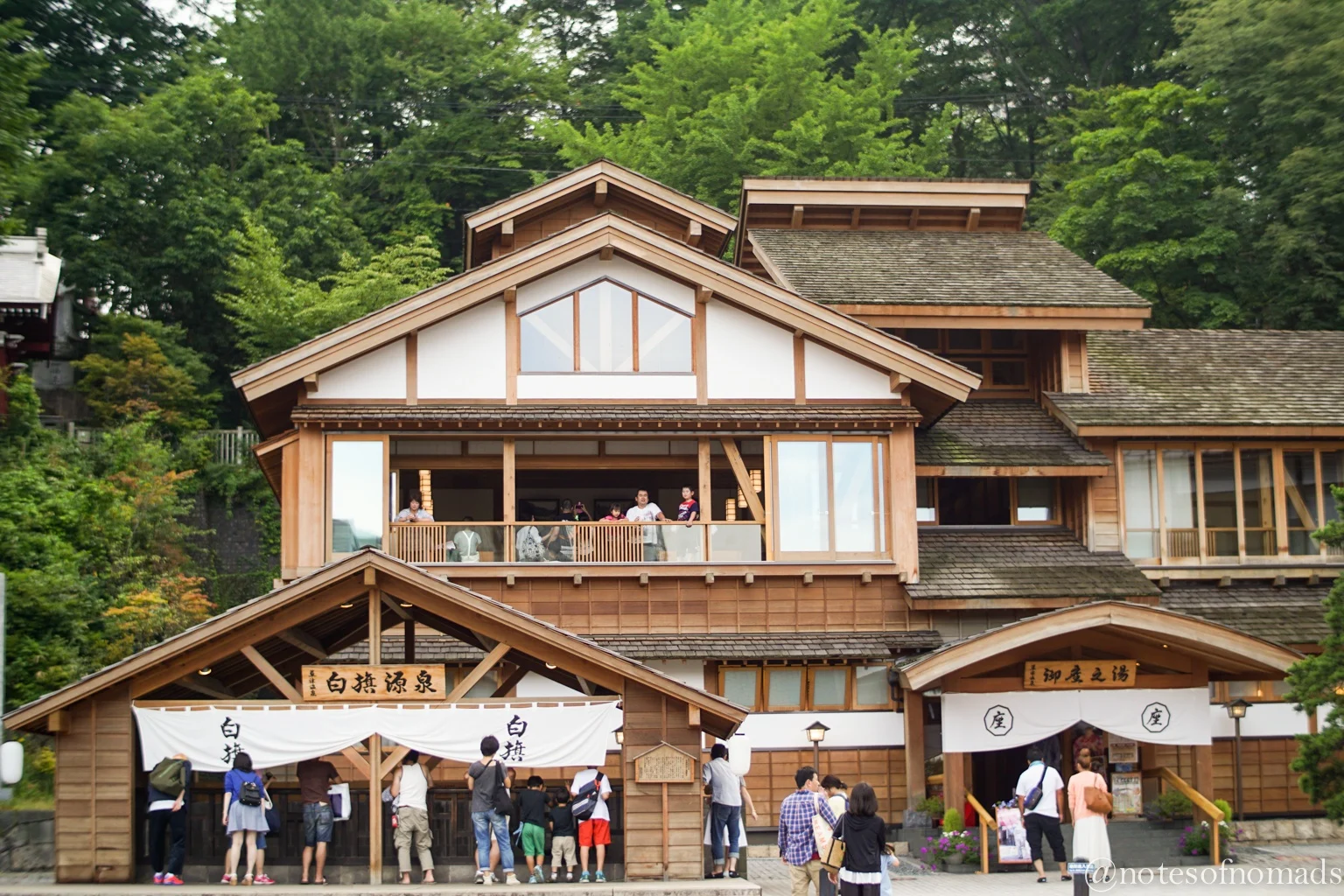 You can visit all three of these onsen (once each) on the special Choina Triple Hot Spring Tour Pass. An adult pass costs ¥1,600 (a saving of ¥500), while children from 3-12 can get the same deal for ¥700 (a saving of ¥300). The pass never expires so you can take advantage of unused entries on your next visit(s) or, as it is printed on a postcard, you can easily put a stamp on it and send it to a friend. The pass can be bought at any of the three participating onsen. Receive a commemorative certificate once you visit all three.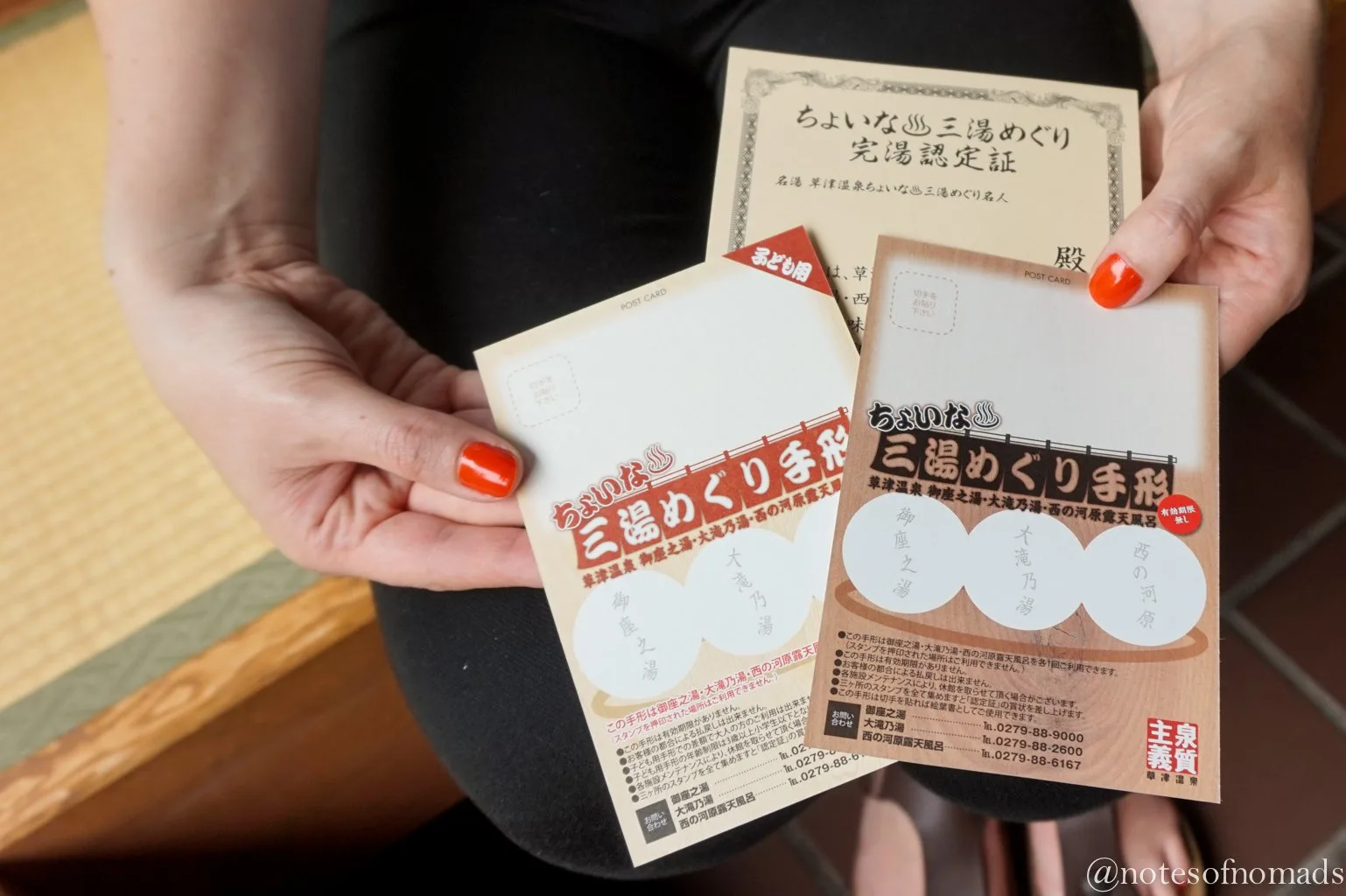 3. Wear yukata
From April to November, you can rent a yukata (summer kimono) from Gozanoyu and enjoy taking pictures around town. Rental costs ¥2,500 for three hours and includes entry to the baths.
Both men's and women's yukata are available, and once you've chosen the kimono pattern and obi (bow) combination you like, a staff member will help tie it for you. The look is completed with gehta (traditional wooden footwear), and a hair pin and bamboo basket for the ladies. Lockers are available for your things while you self-tour around town. With the added bonus of a soak afterwards, this activity offers great value.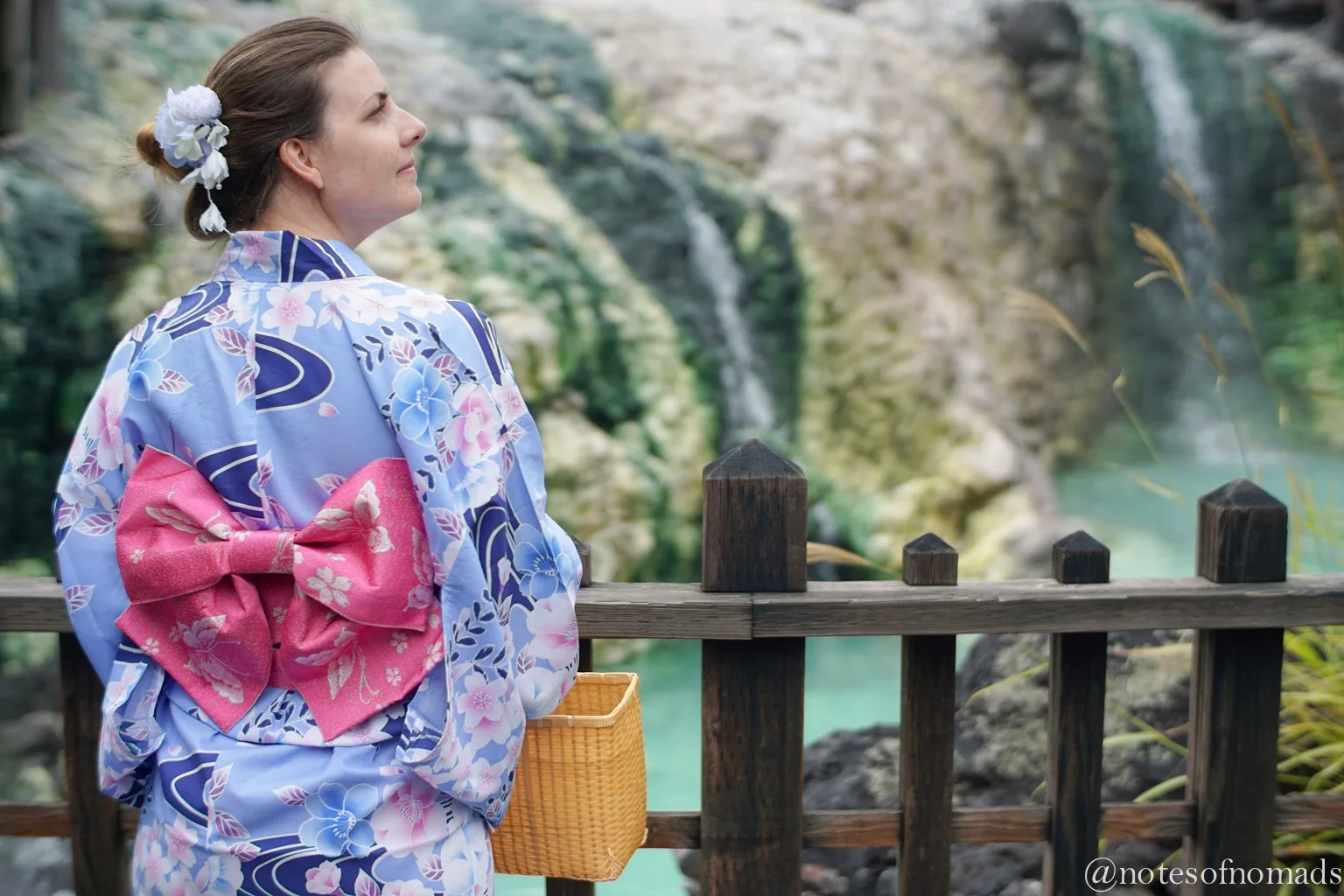 4. Experience yumomi
The onsen water in Kusatsu is too hot for bathing, reaching temperatures of up to 95°C or 203°F! Because of that, the yumomi method of naturally lowering the water temperature was developed. In this method, 180cm-long wooden boards are used to stir the water to a comfortable bathing temperature without diluting the restorative properties of the onsen water.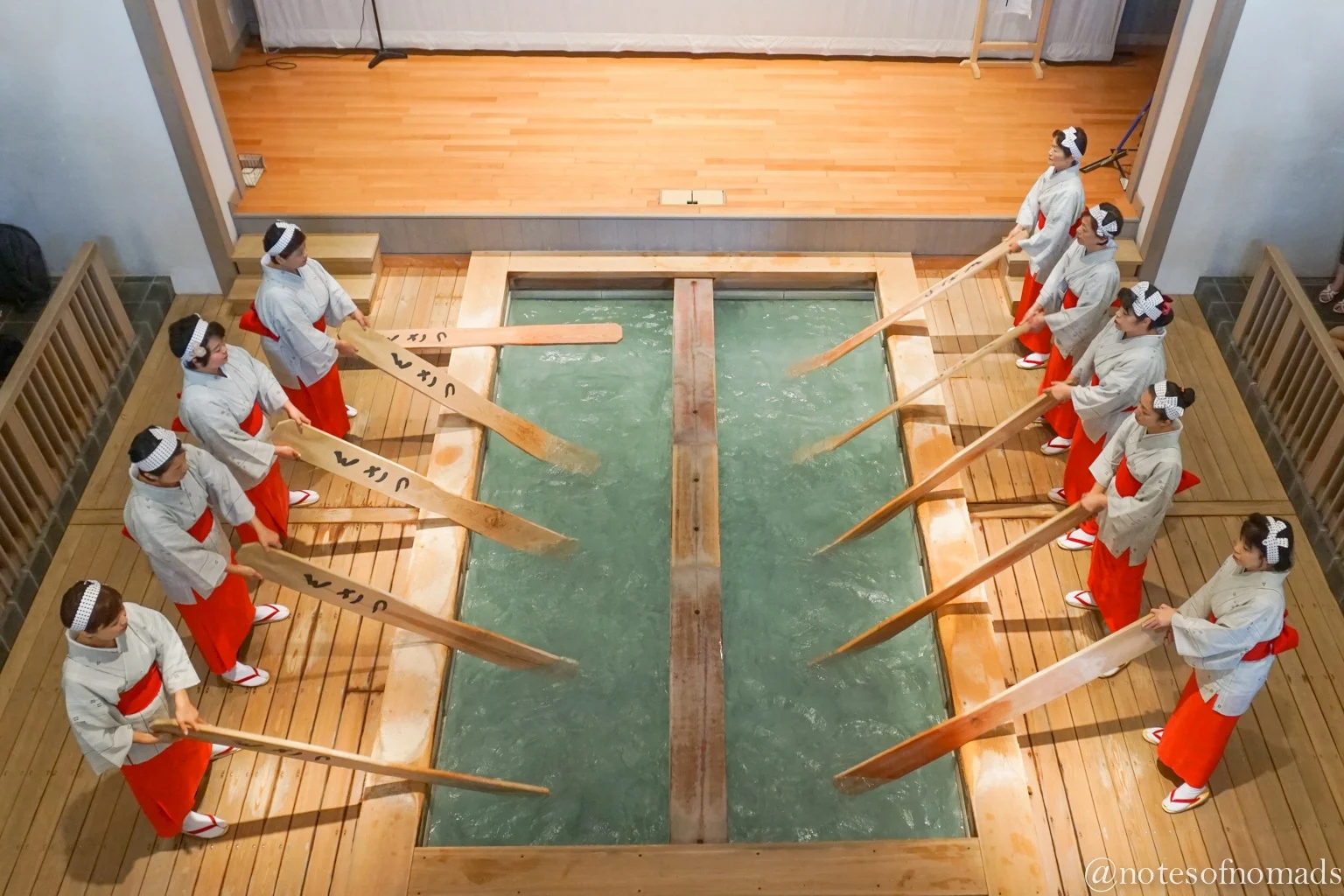 You can see this process in action at Netsunoyu, right by the Yubatake. Depending on the season, there are 3-6 shows daily of roughly 25 minutes duration, which include song and dance, and, if you're lucky, the chance to try your hand at the process yourself. For the best odds of being chosen, sit on the lower level closest to the stage. The gap in the railing there is where they'll invite people to participate. There are two chances to participate with the paddlers changing over twice each time. If you don't get chosen, however, and are keen on giving it a try, you can purchase a ticket for a special session for the small fee of ¥250.
5. Stay at a ryokan
A visit to Kusatsu is the perfect opportunity to stay at a ryokan or traditional Japanese-style inn. At such establishments, you can enjoy staying in a tatami mat room, eat kaiseki (traditional multi-course cuisine) and enjoy the hotel's own onsen in one of the most famed hot spring areas in the country.
While we highly recommend trying the public baths, if communal bathing really isn't your thing, many ryokan (and some of the public onsen too) offer private hot spring facilities that can be used by couples or families.
There are dozens of ryokan within a stone's throw of the Yubatake. They aren't cheap but if you haven't read our post on ryokan yet, take a look here for why we recommend staying in one at least once during your trip to Japan.
6. Enjoy the foot baths
To enjoy the healing properties of Kusatsu Onsen without getting fully undressed, the various free foot baths around town provide the perfect pick-me-up.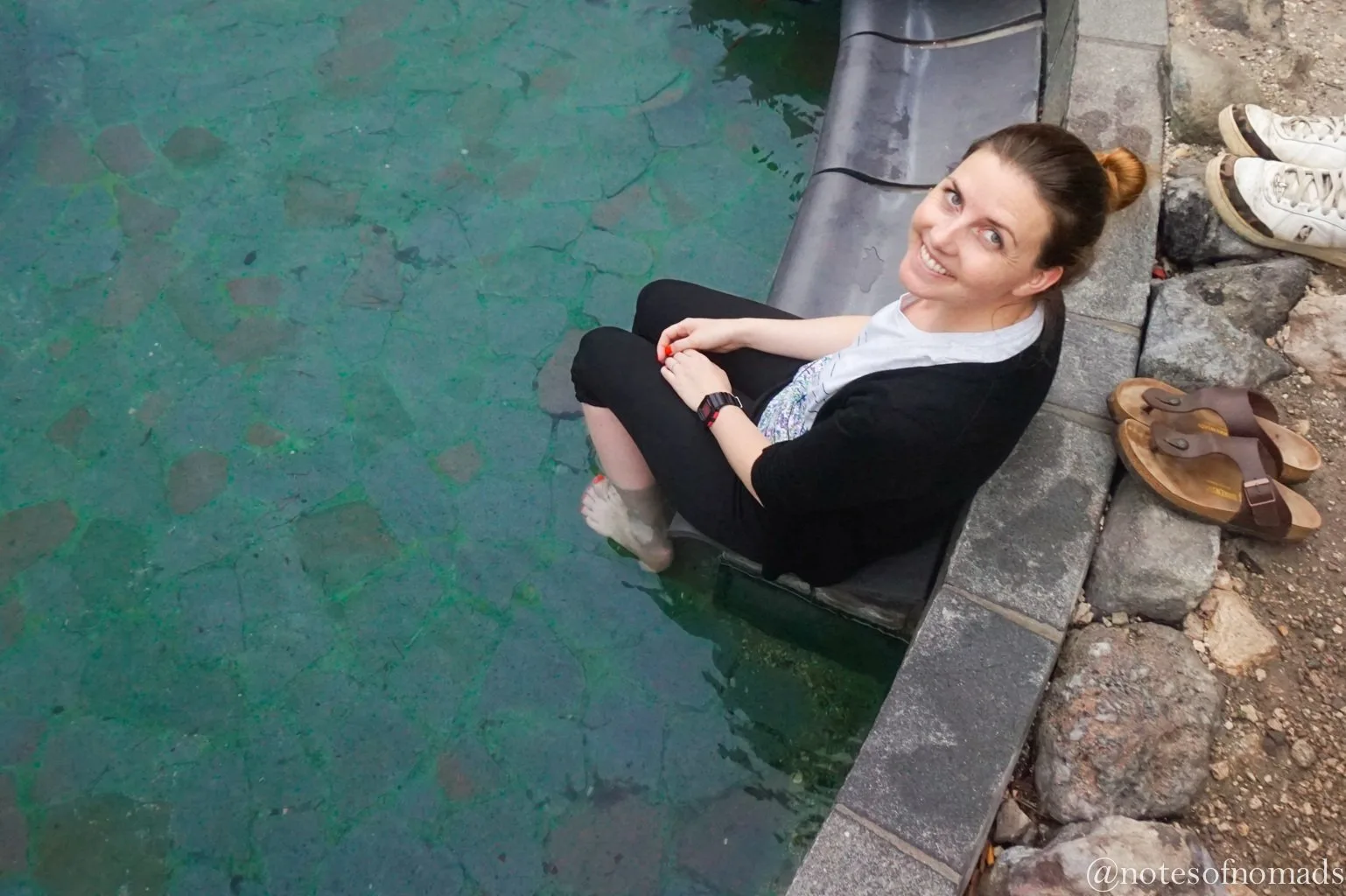 Locations include the Yubatake, the bus station and Sainokawara Park, found via the road that leads from the Yubatake's 7-11 convenience store to Sainokawara Rotenburo. These natural park foot baths are frozen over during winter, but are certainly worth the gorgeous snowy stroll in any case.
7. Enjoy snacks cooked with onsen water
The use of Kusatsu's hot springs is not limited to bathing. You can try some snack food along the same route from the 7-11 to Sainokawara Park that use the onsen water for cooking.
Try eggs soft-boiled in onsen water with a splash of dashi broth (around ¥120) or the local manju, a sweet steamed bun with a red bean paste or other filling. The manju shop staff are usually out front giving passersby one to try for free, along with some green tea. The bitterness of the green tea is the perfect combination with this sweet snack. Give it a try!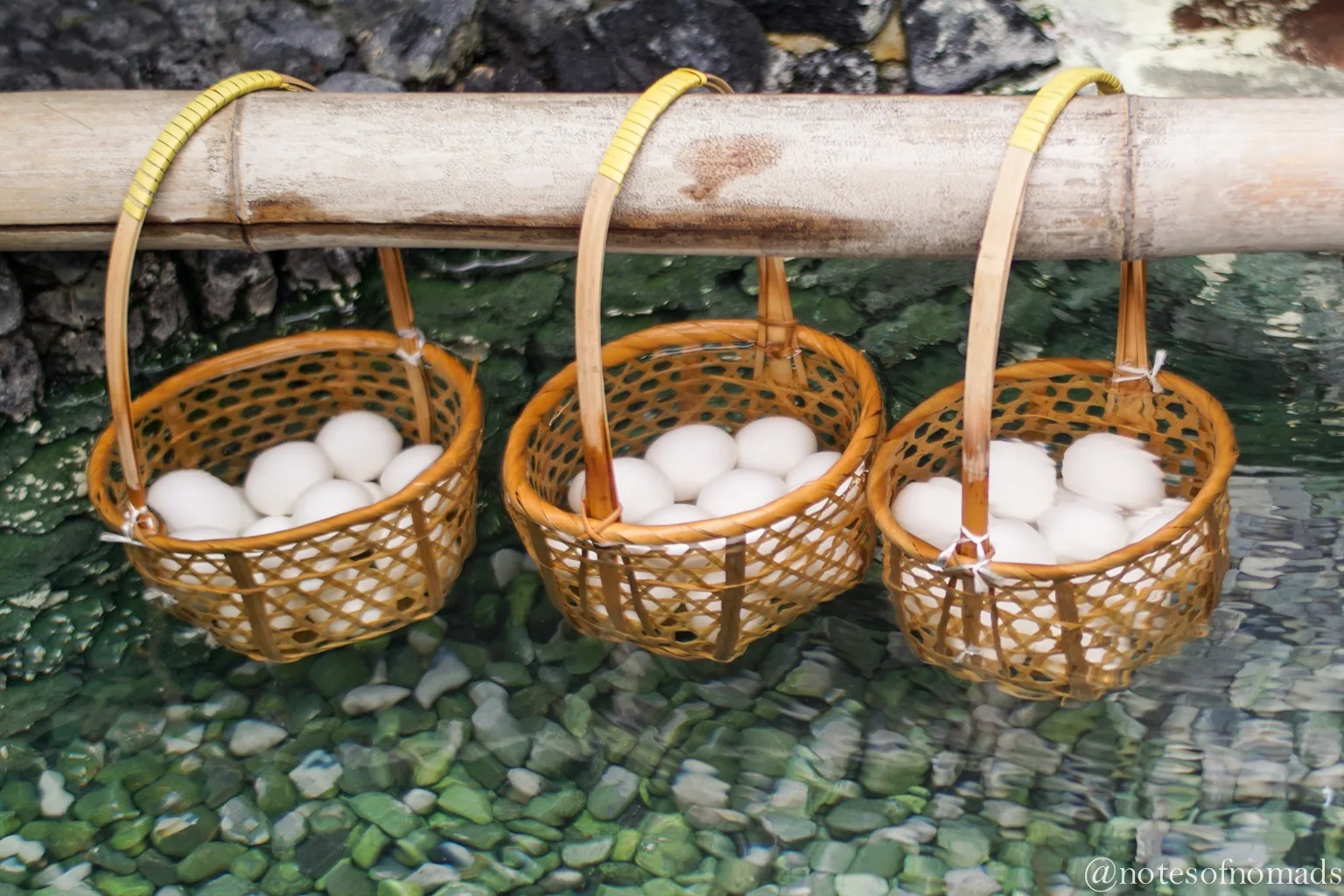 Getting around Kusatsu Onsen
Kusatsu's main attractions are all walkable from the bus terminal, however, there is also an old-style "nostalgic" bus called the Kusatsu Onsen Loop Bus to help you get around. The bus fare is just ¥100 per ride and takes 4 different routes (A, B, C and D).
Route A caters best for sightseers. This bus departs from the Kusatsu Onsen Bus Terminal and stops at the Yubatake, Otakinoyu, Sainokawara Park, Kusatsu Kokusai Ski Resort, the Roadside Station and other major tourist spots before returning to the terminal.
How to get to Kusatsu Onsen from Tokyo
Route 1: From Ueno Station, take the JR Limited Express Train to Naganohara-Kusatsuguchi (approx. 2.5 hours. Then take the JR Bus to Kusatsu Onsen Bus Terminal (25 mins). Total cost approx. ¥4,000 (one-way).
Route 2: From Ueno Station, take the Joetsu Shinkansen (bullet train) (approx. 1 hour) to Takasaki. At Takasaki Station, change to the JR Agatsuma Line and get off at Naganohara-Kusatsuguchi (approx. 1 hour 15 mins). Then take the JR Bus to Kusatsu Onsen Bus Terminal (25 mins). Total cost approx. ¥5,000-6,000 (one-way).
Route 3: From Tokyo Station, take the Hokuriku Shinkansen (bullet train) to Karuizawa (approx. 1 hour 10 mins). Then take the Kusakaru-Kotsu/Seibu-Kogen Bus to Kusatsu Onsen Bus Terminal (between 1 hour 20 mins – 2 hours. Total cost approx. ¥8,000 (one-way).
Route 4: From Shinjuku Express Bus Terminal (Shinjuku Station), take the Joshu Yumeguri-go Expressway Bus to Kusatsu Onsen Bus Terminal (approx. 4 hours 15 mins). The one-way advance purchase fare costs ¥3,290, fare when boarding is only ¥10 yen more at ¥3,300 (children pay half). However, be careful during busy periods, as seats may sell out in advance. Bookings can be made direct at ticket counters, at major travel agents, online and by phone. Use the code "Hayauri 1" for a ¥2,570 rate and complete payment online for an additional 5% off.
For more information on access routes, costs and transfer guidance, please see this link.
Have you been to Kusatsu Onsen or other hot springs in Japan? Are you planning a trip? Share your experiences and ask questions in the comments section below!