"I travel not to go anywhere, but to go. I travel for travel's sake. The great affair is to move." ~ Robert Louis Stevenson
Today I walked. Everywhere. Nowhere. Without purpose. A venture of the best kind.
I love going shopping without the intent to buy. Istanbul is full of alluring things, let me tell you. Stunning tea sets, exquisite jewellery, chic fabrics. What's more, they're all totally my style. In a former life, I'd want to buy it all. God only knows what will be discovered one day when a family member decides to clean out their spare closet. Where these boxes are and what they contain, I couldn't tell you.
Now, many years on, I'm happy just to admire these temptations. I'm not saying that buying souvenirs is inherently a waste of money or that I won't in fact buy any on this trip. It's just that I haven't so far in an entire year of travel, bar a scarf for mosques, and I don't feel like I'm missing out on anything.
Travelling frequently and in the nomadic style we often do, I've started perfecting the art of deciding between a need and a want. It's not only about the fact that if I buy it, I have to take full responsibility for carrying it everywhere we go. It's about those boxes in random family members' closets. The ones with the mystery contents. I can't tell you what's in them because they ultimately don't mean anything.
It's easy to feel like we need to commemorate every place we visit with physical things, as if we haven't really travelled to a place unless we acquire everything that is popular there and souvenirs for all our family and friends to show for it. Yet how quickly the impulse to have those items disappears when we are removed from the situation. Much of it ends up in one of those boxes, stuffed in the back of a closet somewhere. Maybe you'll find mine while you're at it. Please tell me what's in them. I'd really like to know what I was thinking.
So I've basically stopped buying random souvenirs for myself and other people, and I cannot tell you the freedom of walking through the Grand Bazaar with no list of people to buy for, or intention to buy anything. Then the joy of shopping actually returns for me. The looking at stuff because I want to. Discovering all the random things that I probably would have missed by being a woman on a mission with my list. I can stop where I like, when I like. There's time to high-five that shop owner who goes "up high" as you walk past and to have a laugh with the one who welcomes you with "Please let me sell you something you don't need." I almost wanted to buy something from him just for saying that, yet he knows I'm on to his reverse-psychology tactics. He smirks.
So I walked and walked. Turning here or there. To anywhere that caught my eye. And it was nice. No stuff, no plans; it's liberating.
But I do have to admit something. You know the scarf I mentioned buying earlier? You could say that this was a practical purchase, and it was, but I also could have lived without it. The mosques here in Istanbul at least seem to provide head coverings for those who don't have one and if worse comes to worse, I do have a hoody jacket that I could use to cover my head.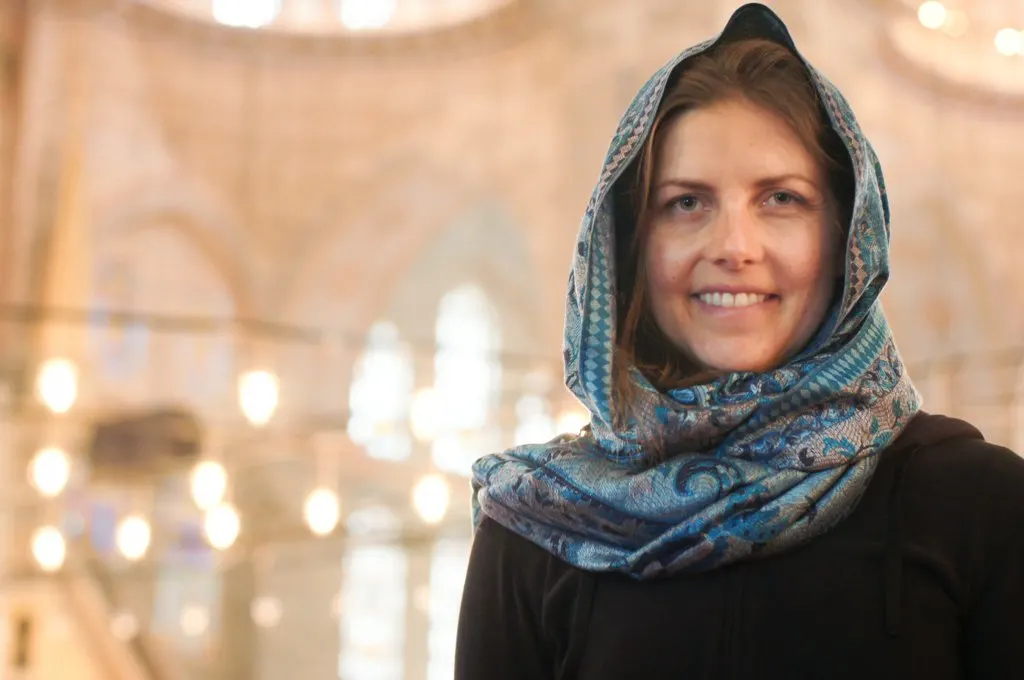 But the fact is, I wanted to get a scarf. It serves a practical purpose (beyond just mosque visits) and makes said visits convenient, while it also does something to change up my look when I get tired of feeling like the eternal backpacker with my three outfits. The truth is, I really like this scarf. And while I'll never go back to the frenzied souvenir buying like before, sometimes it's OK just to get something because you want it. If you get use out of it, if it makes you smile, then by all means, get it.
Perhaps the line is not so clear between a need and want for me. Maybe I draw the line at purely ornamental and things that I cannot use or wear. I certainly don't need a brick in my backpack, but these little pieces of indulgence we afford ourselves that come from a place of genuine joy, we live for these feelings. It's the excess born out of some sense of societal expectation that I've learned to let go. Now I prefer to keep things simple, enjoy the things I do have, and to only gather what improves my quality of life as I see it.
And to just smile.
Do you like buying souvenirs on your travels? What's your take on travel shopping?