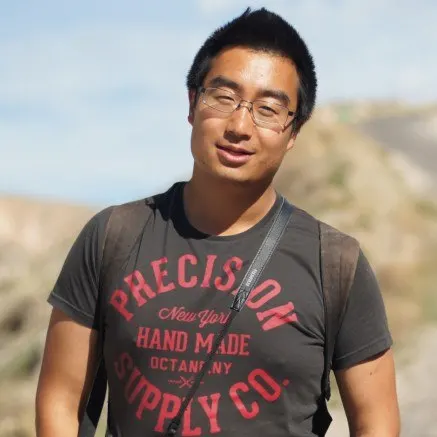 Meet Andrew Shi, a twenty-five-year-old physiotherapist from Sydney and our first fellow Aussie Featured Nomad!
Andrew loves to travel and he made sure he utilised his gap year to explore much of South-East Asia. Wanting to travel further north but not having the funds to do so at the time, he says Japan and Korea are still on his list.
Andrew enjoys mountain biking and photography so it's no surprise we found him in the unique landscape of Cappadocia, Turkey where we ended up spending several days hiking and exploring the valleys and underground cities together.
Keen to travel as much as possible while he's young, Andrew left his physiotherapy job in order to travel for four months around Europe. Relaying the amazing experiences he has had to date, he described his decision to take a break in the early stages of his career as "the best one I've ever made".
His passion for seeking out interesting and authentic travel experiences is obvious, and his description of his time in Plovdiv, Bulgaria made us change our own travel plans.
Here's what Andrew had to say about his travel adventures so far.
1. Where are you now and what are you doing?
I'm now back in Istanbul after previously spending a week there. It is such an amazing city so I plan on spending another 5 days exploring its wonders. I've seen the major tourist sites on my recent visit so now it'll all be about being lost in the city and wandering around with no destination in mind. As long as I make my flight on Monday morning, I don't care where I end up!
2. How heavy was your baggage at last check-in?
My backpack was 12 kgs and my small carry-on was probably around 4kg. I tried to half my original list as advised but I may have overdone it on the jackets given my original plan was to head into Norway and Iceland.
3. Apart from your passport, what item can you not travel without?
My camera – my biggest regret this trip was leaving my DSLR at home and opting for a more compact and travel friendly camera. A good travel guide probably comes in a close 2nd but I left that at home in Sydney…
4. What was the first foreign country you ever travelled to?
China, the majority of my family are there so I've been going back since a young age to visit my relatives. We usually try to stay for Chinese New Years as the festivities are just too good to miss and my brother and I love playing with fireworks!
5. What has been your favourite destination to date?
Berlin and Vietnam bring the biggest smiles to my face when I think about them so it's a tough choice between the two. Vietnam probably wins though as we motorbiked through the country and experienced it on a much more cultural level. The near death experiences now make for great stories but I couldn't say the same when they were actually happening!
6. Preferred accommodation: Hotel? Hostel? Randoms' couch? Other?
Hostels – I sleep like a log and the majority of travellers are quite considerate so noise isn't usually an issue. It's a great place to meet people of different cultures who share your love of travelling and also being able to swap stories/experiences. It's easy to make friends and the added bonus is that you'll have someone to visit the next time you're in their city.
7. Given an unlimited budget, where would you most like to go?
Scandinavia, primarily Norway and Iceland in the warmer months. I would love to hike/mountain bike through the amazing landscape of Iceland and the fjords of Norway. Afterwards I would just backpack through more of Europe before heading back to Iceland during winter to see the northern lights.
8. What do you most like about travel?
Exploring cities/regions, discovering hidden gems, experiencing cultures, meeting awesome people of varying backgrounds and getting out of my comfort zone. I read a quote on the John Lennon Wall in Prague which stated that "life begins at the end of you comfort zone" and now I've adopted it as my new life motto.
9. What do you most dislike about travel?
Having to say goodbye to people. I believe in the saying "you always meet twice in life" and given the awesome people I've crossed paths with, I can't wait to meet them again!
10. What is your most memorable travel experience?
Motorcycling through Vietnam. We were lucky to have perfect weather along the way, add in the friendliness of the Vietnamese people and top it off with the stunning backdrop of the countryside and you have one experience I will remember fondly for the rest of life.