When there's a mountain there, we just have to climb it, and Mount Kinabalu in Malaysian Borneo was one of those accessible peaks that we had been keen to conquer for some time.
So when we once again found ourselves in Southeast Asia it seemed like the perfect time to check the Mt Kinabalu climb off our list.
Here's what to expect when planning and completing your Mount Kinabalu climb in 2023-2024.
What you need to know about climbing Mount Kinabalu
Mount Kinabalu is one of the highest mountains in Southeast Asia at 4,095.2m above sea level.
A summit climb from the trailhead covers 8.72 km each way.
A Mount Kinabalu summit climb takes two days and one night (2D1N). This is the shortest available option for a Mt Kinabalu climbing package.
Sleeping overnight at mountain accommodation is mandatory.
You may choose to do a standard summit climb or Via Ferrata.
There are only 163 climbing permits issued per day.
There are four accommodation options on the summit trail: Laban Rata (for standard summit climbers, run by Sutera Sanctuary Lodges), Pendant Hut (for Via Ferrata climbers, run by Mountain Torq), and Panalaban Hostel and Lemaing Hostel (discounted accommodations for standard summit climbs offered by Sabah Parks, which though on offer are difficult to book). More on these options later on.
To climb Mount Kinabalu, you must pay the Kinabalu Park entrance fee, and for a climbing permit, climbing insurance and a mountain guide (self-guiding on the summit trail is not an option).
A standard 2D1N climb can only be booked 30 days in advance and is becoming increasingly difficult to secure. This is because preference is given to those doing 3D2N+ packages or Via Ferrata, which can be booked further in advance.
The busiest period on Mount Kinabalu is March through September, with the busiest months usually being April, July and August, or around any major holiday. Be sure to pay special attention to the Lunar New Year (around late January to early February) when there is a surge in local tourism and from neighboring countries.
For smaller groups (1-4 people), you should look at booking your climb at least several months in advance (longer if around a major holiday) to secure your preferred dates. For larger groups, even 6-8 months in advance may not be sufficient, especially in the busiest seasons. Essentially the earlier you book (or get on a waiting list) and the more flexible you can be with dates, the better.
On average, a Mount Kinabalu climb costs between US$600-700 per person (discounts apply for children and Malaysian climbers).
At least 50% of the fee is usually required upon booking and 100% within 30 days of the climb itself (will vary depending on package provider).
Mount Kinabalu climb bookings can be made via River Junkie or one of the tour operators listed in this post. If booking with River Junkie, be sure to mention this website 'Notes of Nomads' during initial inquiry to be eligible for a free 'Mount Kinabalu' refillable water bottle.
Kota Kinabalu to Mount Kinabalu
Most people will arrive at Kota Kinabalu Airport and will spend one or multiple nights in Kota Kinabalu (locally known as KK). It takes around two hours to reach Mount Kinabalu from KK.
Most tour operators will include return transfers between KK and Mount Kinabalu in their packages. However, if you are looking for alternate ways to reach the mountain independently, please see this guide to getting from Kota Kinabalu to Mount Kinabalu.

Note that it is preferable to spend at least one night near the mountain before climbing to acclimatize to the altitude.
Registration at Park HQ and making your way to Timpohon Gate
Before starting your climb, you will be required to register with Sabah Parks, the mountain authority, at Park HQ. You will need your physical passport (no copies) in order to register (or Malaysian IC for local climbers), so be sure to have it handy. If you are an independent climber who has booked accommodation and meals directly with Sutera Sanctuary Lodges or Sabah Parks, it is best to also bring your booking number.
There are three steps to the registration process at Park HQ – paying the park entrance fee at the entrance booth, visiting the Sutera Sanctuary Lodges counter, then the Sabah Parks counter to pay the remainder of your fees. Each climber/group will need to be present through this process as it requires some forms to be signed and information to be confirmed. This process is the same regardless of whether you are an independent climber or have booked via a tour operator. However, you may not need to pay anything here if your fees are included with your already paid for tour package. Independent climbers should prepare their fees in cash (Malaysian ringgit only). Credit cards are not accepted.

Mt Kinabalu climb registration at Park HQ takes place from 7am-10:30am. You must be registered by 10:30am. After this time, you will not be allowed to proceed with a climb for the same day. After registering, you may start the climb any time between 7am-11am. If you do not start the climb by 11am, you will not be able to proceed with your climb.
During registration you will receive an ID tag. Your ID tag must be worn at all times during your climb. It is required for checking in and out of your mountain accommodation, passing through checkpoints, and ensures Sabah Parks knows who is on the summit trail at any one time and your approximate location. Please help mountain authorities keep everyone safe by wearing your ID tag and presenting it at checkpoints.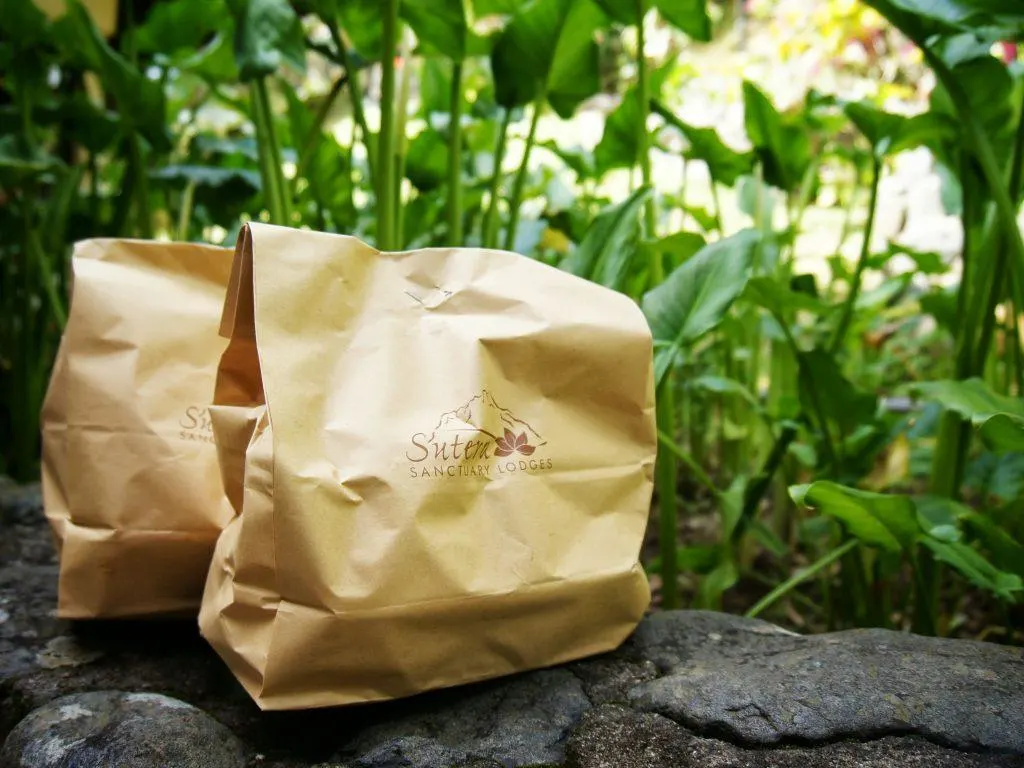 The usual place to your redeem your meal vouchers (received during registration for your first day packed lunch and second day after-climb meal), Balsam Restaurant, is currently closed and scheduled to re-open in August 2023. Until such time, you will receive your packed lunch at the Sutera Sanctuary Lodges counter during the registration process. Your meal voucher for after the climb can be redeemed at Liwagu Restaurant, about a 10 minute walk from Park HQ.

Once you have your lunch and have been assigned a mountain guide, you will proceed together with your guide by shuttle bus to Timpohon Gate, the starting point for the climb. The distance between Park HQ and Timpohon Gate is 4.5km and takes approximately 10-15 minutes by vehicle. This bus (KOKTAS) is run by Sabah Parks and costs a small fee in addition to the mandatory ones. It is standard and, given the distance, taken by essentially all climbers. Please note that private vehicles are no longer permitted on the road leading to Timpohon Gate, so the shuttle bus is now the only option for transfer from Park HQ to the start point.
We must say that we were really impressed with the organization of the whole process. Everything was looked after and each step was quick and efficient. However, do factor in some time at Park HQ for this registration process and to travel to Timpohon Gate as you can't just start climbing as soon as you arrive.
Mount Kinabalu Climb Day 1
You will cover the first 6km on Day 1 with an average climbing time of 4-5 hours.
This is Timpohon Gate, the starting point of the climb. Our guide, Asli, was only 16 years old! The sign behind us says "Happy climbing".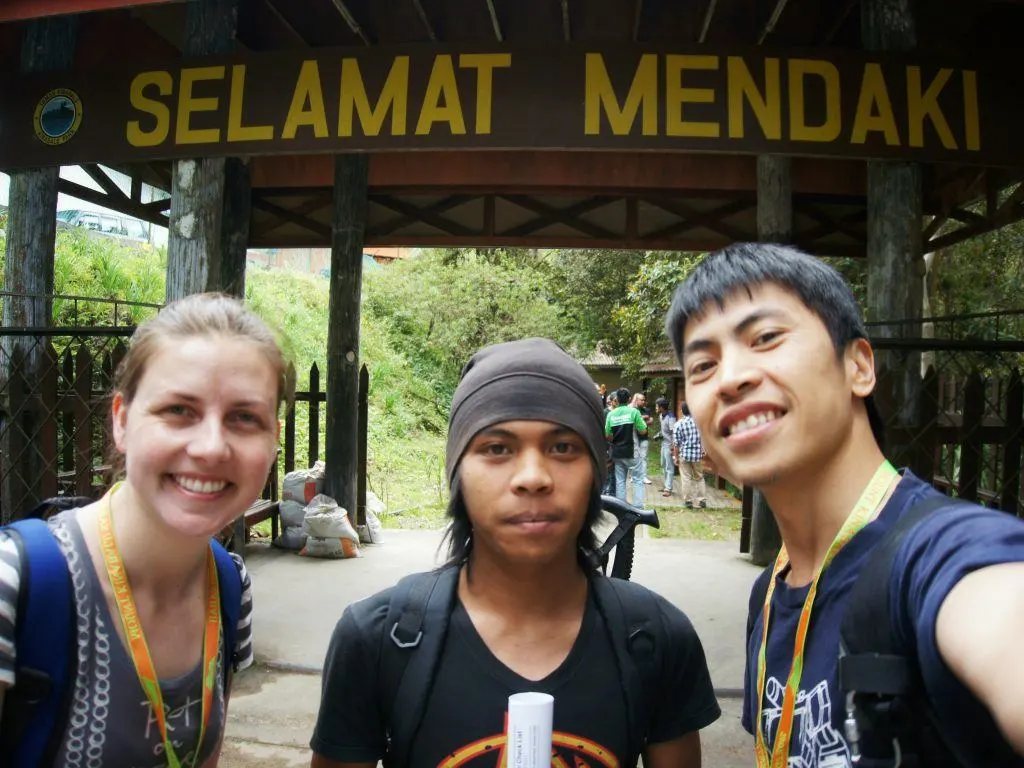 Note that there used to be two options for the start of the climb – the Timpohon Trail and the Mesilau Trail. The two trails merged for the final 2km of the climb on Day 1 between the Layang-Layang Shelter (4km mark, 2,702m) and Panalaban (6km mark, 3,300m, overnight rest stop). However, due to significant damage incurred during the 2015 Sabah Earthquake, the Mesilau Trail is closed indefinitely. All climbers now use the Timpohon Trail from Timpohon Gate, as pictured above.
The 6km on the first day of climbing covers a mostly forest environment. Expect stairs and some rocky terrain. The final kilometer of the first day is the steepest and most difficult and will see you emerge above the forest canopy and into an almost bonsai-esque landscape that reminded us a lot of Japanese gardens. Most climbers will stop at the Layang-Layang Shelter at the 4.0km mark to enjoy their packed lunch.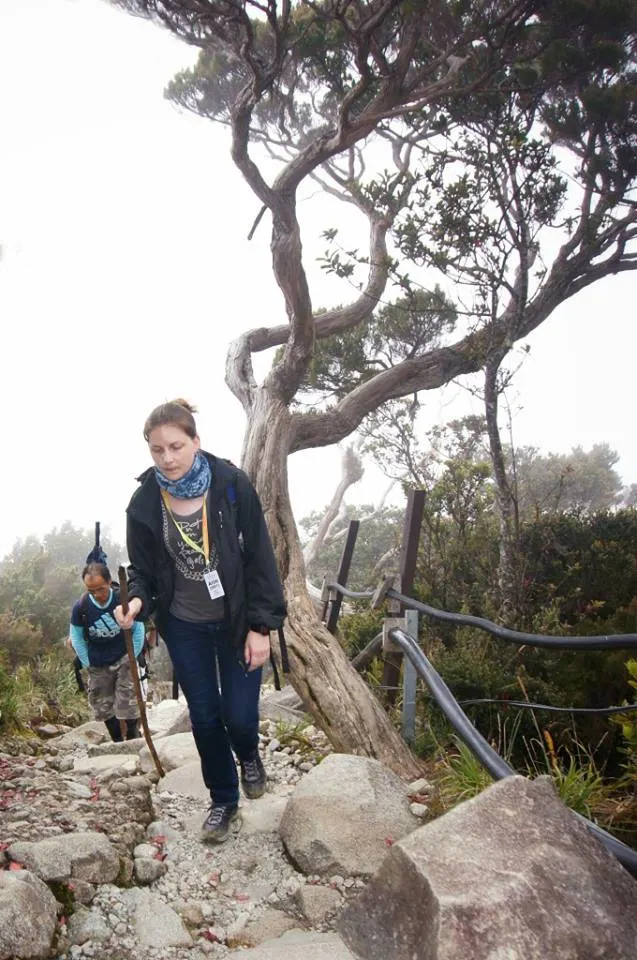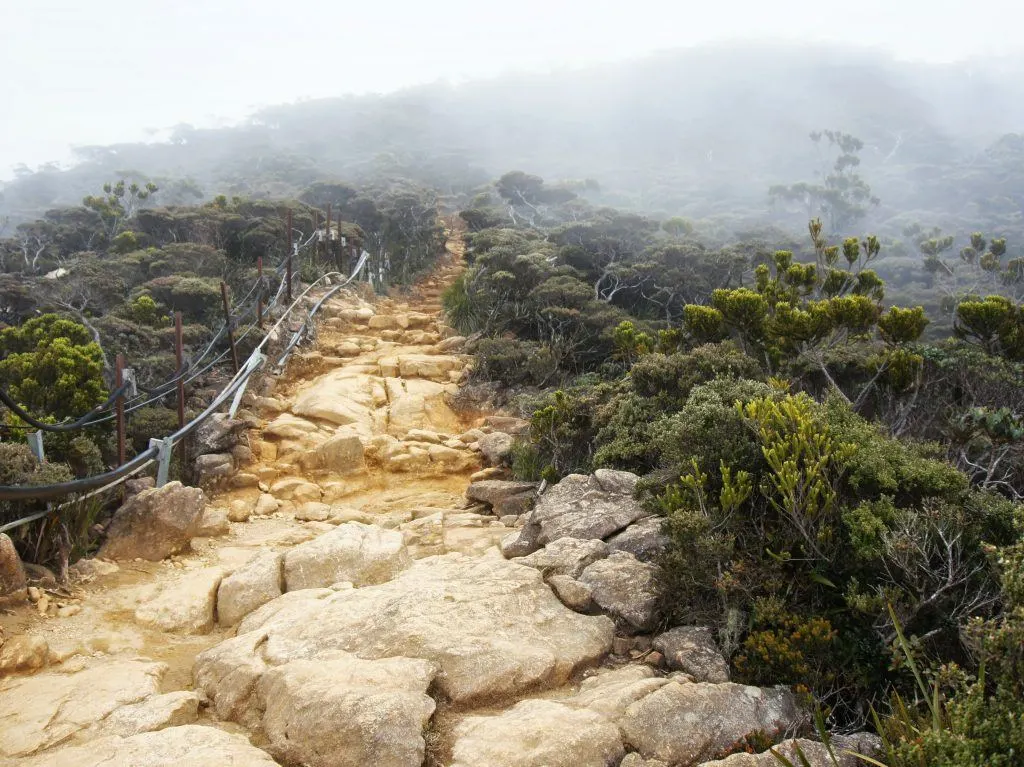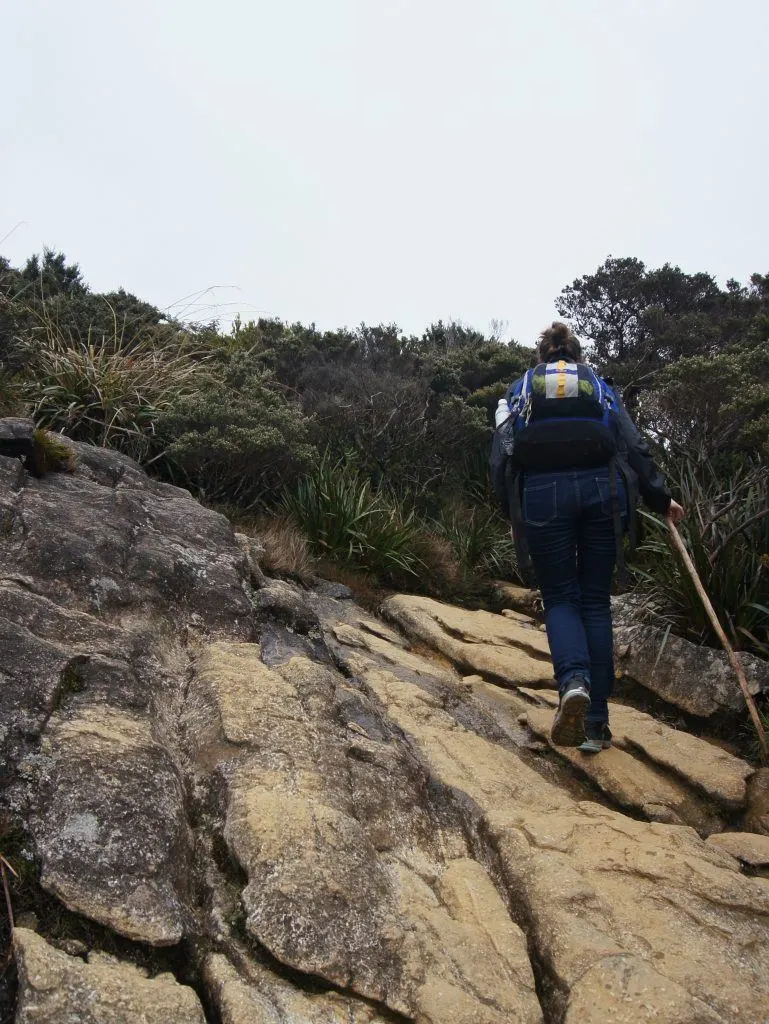 We began our climb at 9:30am and reached Panalaban at 2pm, a total of 4.5 hours.
Panalaban accommodation and meals
You must stop and stay overnight at Panalaban at the 6.0km mark (3,300m).
There are four accommodations on the mountain, run by different operators.
Laban Rata
Laban Rata is the biggest accommodation on Mount Kinabalu and is operated by Sutera Sanctuary Lodges (SSL). As it is where the majority of people stay and where dinner is served for all climbers, it has become synonymous with Panalaban, with many people referring to the whole resthouse area as Laban Rata.
Like with all the accommodations at Panalaban, the standard accommodation style is dorms. At Laban Rata, the smallest dorm is four beds and the largest is ten beds. Laban Rata caters for a maximum of 80pax per night and is for non-Via Ferrata summit climbers (10 of these spots are allotted for local Sabahan climbers, leaving 70 for other climbers). You may check-in from 2pm, unless you arrive earlier and the room is already available. Rooms are non-heated and bathrooms are shared with no hot water. (The bathrooms are supposedly fitted with a solar water heater, but we have not heard of anyone being able to get hot water from it).
Private rooms with an ensuite bathroom are available (both the rooms and water are also not heated). However, as there are only 2 x 2pax rooms and 1 x 6pax room available, they can be difficult to book. Not to mention that they are quite the extra added cost, especially if you're traveling solo or your group size is smaller than the full capacity of the room as you'll have to pay for a full accommodation and meals package for each spot even if you're not using them. Unless you have a special reason to book a private room, we'd recommend staying in the regular dorms as you will be rising in the very early hours of the morning anyway.

Note that due to lack of stable electricity supply, 24-hour electricity is no longer available at Laban Rata. Electricity is only available via generator ('genset') from 5pm-8pm and 1am-3am. You can expect similar (or slightly shorter) genset times at the other accommodations at Panalaban.

While access to boiled water has been a paid service for the past few years, there is now a water filter available just outside Panalaban Hostel (run by Sabah Parks) facing Laban Rata, which all climbers, regardless of where they are staying at Panalaban, are welcome to refill their water bottles from free of charge. We'll discuss the hostels run by Sabah Parks in more detail further down. Alternatively, you can buy a 1.5L mineral water from Laban Rata for RM15 (about US$3.50). However, please try to be eco-conscious and limit use of plastics whenever you can.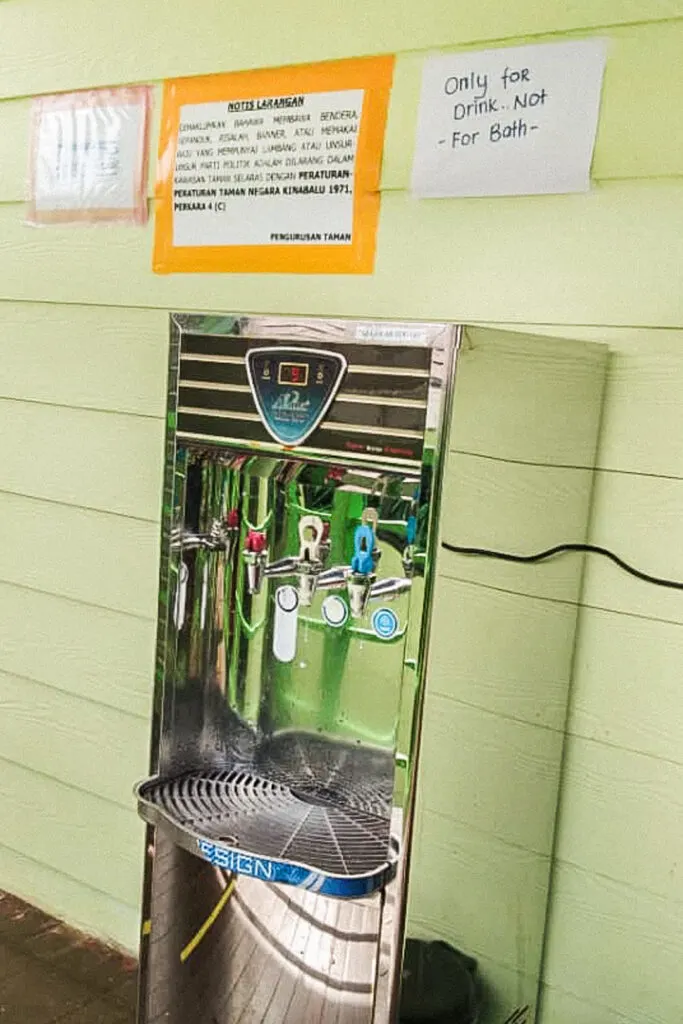 Buffet meals are included as part of your accommodation package, however, Laban Rata also sells food and drinks you can purchase outside of meal times (listed with pricing on the menus below), along with a variety of snacks and some small essential items.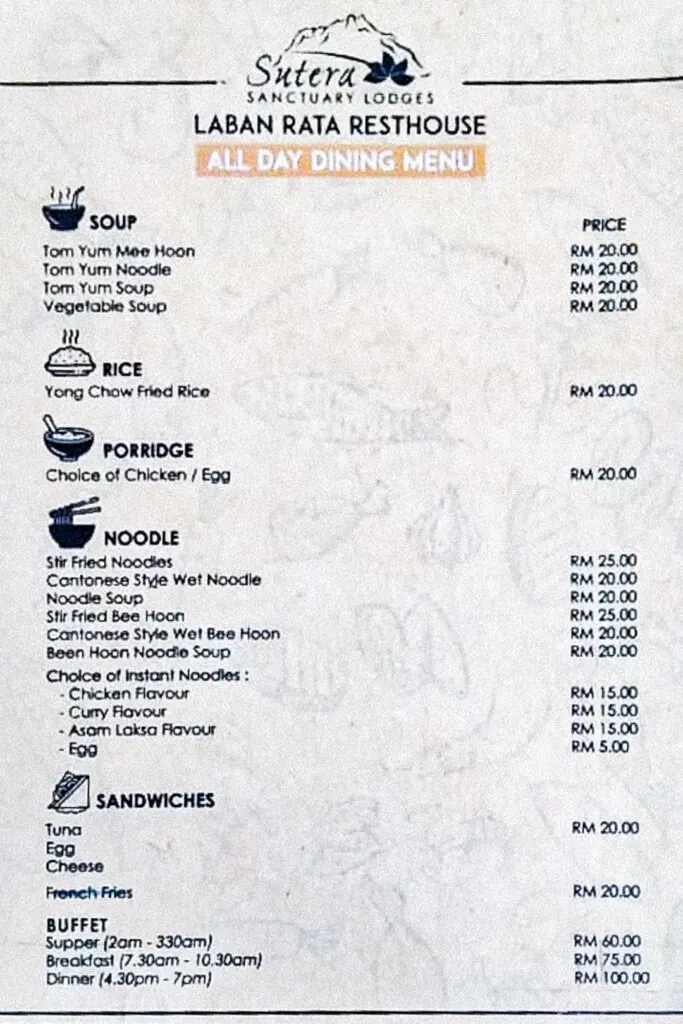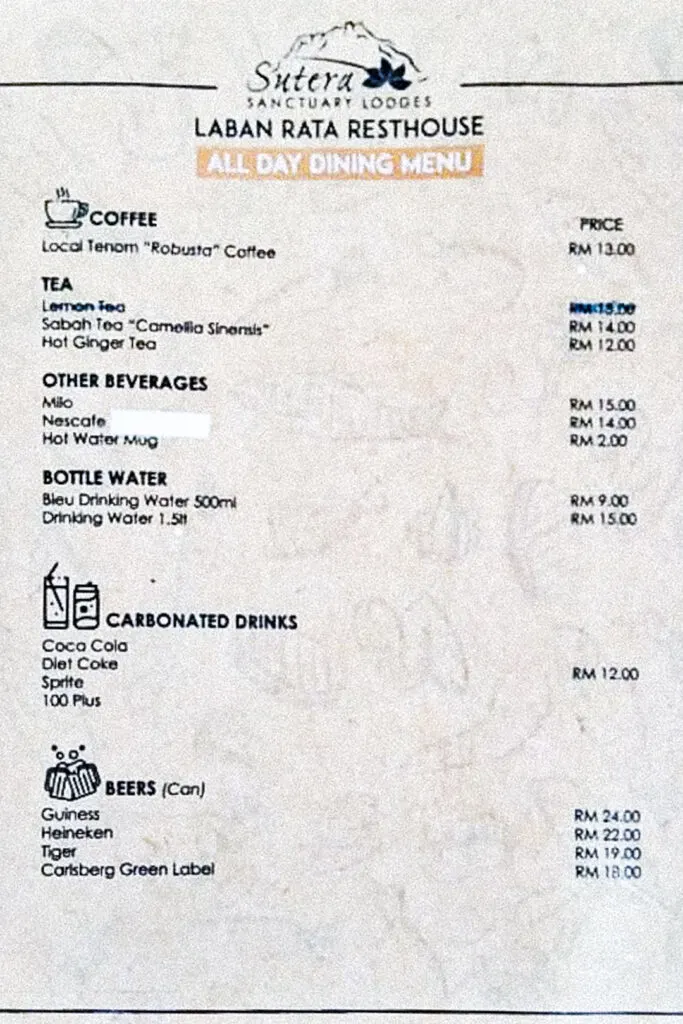 Please note that Laban Rata is cash only and all purchases must be paid in Malaysian ringgit at the time of purchase (no tab system).
Laban Rata meal times are:
Dinner 4:30pm – 7pm
Supper 2am – 3:30am
Breakfast 7:30am – 10:30am
Laban Rata meals are varied and plentiful. You can expect some local dishes like curries and rice, some salads, pasta and noodles, soup, fruit, and so on. It's a buffet so you can select what you want to eat and have as much or as little as you like.
Dishes that are suitable for vegetarians are marked. Vegans may need to ask the staff for clarification. However, there are always vegetarian and vegan friendly dishes available at the buffet. For climbers with more specific dietary requirements, such as those with particular allergies, you may be served a separate meal.
Always be sure to mention your dietary requirements at the time of booking so that these details can be passed on to SSL. You should also confirm your dietary requirements with staff when checking in at Park HQ. It is best to re-confirm any allergies with the staff at Laban Rata. Whenever necessary, they can arrange for the kitchen to prepare something especially for you.
Tea and coffee is provided at supper and breakfast, but not at dinner. Drinking water can be obtained from the water filters at Sabah Parks accommodation, next to Laban Rata.
Pendant Hut
Pendant Hut is operated by a company called Mountain Torq and is exclusively for those doing the Via Ferrata activity. It is located about 100m from Laban Rata, up a set of stairs.
With Via Ferrata, for part of the climb you will be hooked up to a harness and will be scaling rock faces and encountering various challenges similar to an obstacle course. This is more along the lines of rock climbing or mountaineering and should only be considered if you do not have a fear of heights and/or are willing to conquer them. There are two Via Ferrata options on Mt Kinabalu: Walk the Torq and Low's Peak Circuit.
Walk the Torq is the best Via Ferrata option for beginners. The course is a length of 390m (109m vertical traverse) with the highest point at a height of 3,520m above sea level and takes approximately 2-3 hours to complete. Highlights include the Cable Monkey Bridge, Tyrolean Traverse and balancing beam.
Low's Peak Circuit requires above average levels of fitness and is for more experienced climbers and active individuals. The course is 1.1km in length with a vertical traverse of 365m. The highest point is 3,776m above sea level, making it the world's highest Via Ferrata! It also includes one of the world's highest suspension bridges at 3,600m. It takes approximately 4-6 hours to complete.
Via Ferrata is done on the way back down from the summit (Day 2). If you like, you may choose not to summit and go straight to the Via Ferrata route, however, most people want to make it to the summit, too.
The Via Ferrata add-on is becoming increasingly popular as it is not restricted by the 2D1N 30-day rule that SSL imposes on Laban Rata stays. A 2D1N Via Ferrata climbing option may be booked more than 30 days in advance without restriction. If you need to travel on specific dates, only have two days to spend on/around Mount Kinabalu and are up for the challenge, this might be a good option for you. (Alternatively, if you can only do 2D1N and want to book more than 30 days in advance but do not want to do Via Ferrata, you can pay for the 3D2N option for a regular summit climb, with your summit trail accommodation at Laban Rata, and forego the 2nd night's accommodation in Kinabalu Park. Please note that you would not receive any refund for accommodation or meals not received).
Pendant Hut has three dorm rooms (with a capacity of 10-12 beds per room). They are also not heated, have a shared bathroom and no hot water. It is possible to book a 4pax private bunk bed room at Pendant Hut for an additional upgrade fee of RM800 (around US$180) (for the whole room, not per person). Unlike Laban Rata, you are not required to pay for any empty beds (and accompanying meals packages) in the private room. Do note that there is only one private room available and you will still be sharing a bathroom even if you book the private room option.
Via Ferrata climbers have dinner at Laban Rata, and supper and breakfast at Pendant Hut. Supper is a very simple continental breakfast of tea, coffee, toast and spreads. Breakfast at Pendant Hut is also pretty simple – eggs, sausage, toast, beans – however, is a little more substantial. Supper time at Pendant Hut is the same as at Laban Rata (2am-3:30am). However, breakfast is extended until Pendant Hut's respective check-out times (11:30am for WTT and 12:30pm for LPC), as it takes longer to complete the Via Ferrata activities and return to Panalaban. Tea and coffee is available all day free of charge at Pendant Hut, along with boiled water re-fills. This is only available for those who are actually staying at Pendant Hut.
The Via Ferrata safety briefing starts at 3:30pm on Day 1 at Pendant Hut and goes for around one hour (up to one and a half hours if it stretches on longer). This is mandatory for all Via Ferrata climbers. If you miss it, you will not be able to attempt Via Ferrata and you will not receive a refund, so be sure that you reach Pendant Hut in time.
If you decide you'd like to try Via Ferrata on arrival at Panalaban, provided that there are spots still available and you make it in time for the safety briefing, you can add a standalone Via Ferrata experience to your existing package for an added RM760 for WTT and RM1020 for LPC (correct as of March 2023). You must pay at Pendant Hut, either in cash (Malaysian ringgit) or by credit card (Mastercard or Visa with a 3% charge). If you do this add-on upon arrival, you will typically stay in the accommodation you originally booked and just join the Via Ferrata activity.
No snacks are available for purchase at Pendant Hut, but you may purchase them from Laban Rata.
Lemaing Hostel
Lemaing Hostel is located next to Laban Rata and is an accommodation for Malaysian climbers only. It is a special discounted no-frills package that is sold at much lower rates than the general Malaysian packages. Spaces are limited to 25 climbers a day (however as of March 2023, they are currently only allowing 20 climbers per day). Spaces open up a year in advance and are consistently sold out the same day (first come first served).
Please note that all members of your climbing party must be in possession of a valid MyKad ID card to book at Lemaing Hostel.
Accommodation is bunk beds across two dorm rooms. There is no heater in the rooms and while there is a water heater in the shared bathroom, just like Laban Rata we have not known anyone to get hot water from it.
Climbers must pay for accommodation, 3 meals, the climbing permit and insurance, along with a service charge, at the time of booking to secure their spot. The mandatory conservation fee (aka park entrance fee) and mountain guide fee, transfers to/from Timpohon Gate (not mandatory but recommended), along with the optional certificate and porter fees are to be paid in cash (in Malaysian ringgit) on the day of the climb.
The three provided meals are dinner, supper and breakfast at Laban Rata. Lunch on Day 1 and 2 from Balsam Restaurant (currently from Liwagu Restaurant instead, as Balsam is closed until mid-2023) is not included. Climbers staying at Lemaing Hut should bring their own packed lunch for Day 1 and make their own arrangements for lunch on Day 2 post-climb.
If you are Malaysian and wanting to take advantage of this special deal, see our post on booking Mt Kinabalu climbs for information on pricing and how to book.
Panalaban Hostel
This is the latest accommodation to become available at Panalaban and can accommodate a further 30 climbers per night spread over two blocks, Mokodou and Kinotoki. (While technically each block can accommodate 25 climbers, it seems only 30 spots are made available per night between them.)

Like Lemaing Hostel above, it is operated by the mountain authority Sabah Parks at a discounted rate. However, unlike Lemaing Hostel, Panalaban Hostel is open to both international and Malaysian climbers.

While this is an enticing option, it is naturally in high demand and is typically fully booked at least 8 months in advance.

Inclusions are the same as Lemaing Hostel above. Climbers must pay for accommodation, 3 meals, the climbing permit and insurance, along with a service charge, at the time of booking to secure their spot. The mandatory conservation fee (aka park entrance fee) and mountain guide fee, transfers to/from Timpohon Gate (not mandatory but recommended), along with the optional certificate and porter fees are to be paid in cash (in Malaysian ringgit) to Park HQ on the day of the climb.

The three provided meals are dinner, supper and breakfast at Laban Rata. Lunch on Day 1 and 2 from Balsam Restaurant (currently from Liwagu Restaurant instead, as Balsam is closed until mid-2023) is not included. Climbers staying at Panalaban Hostel should bring their own packed lunch for Day 1 and make their own arrangements for lunch on Day 2 post-climb.
Observations and tips for your overnight stay at Panalaban
The buffet style food at Laban Rata far exceeded our expectations and was surprisingly varied considering all the ingredients have to be carried up by porters.
When we went to dinner at Laban Rata around 5pm, it was difficult to get a seat, but it quietened down some time after. If you want to avoid the rush, we recommend being in the restaurant early (before the dinner starting time of 4:30pm) or waiting until a little later (5:30pm or so onwards).
The lodgings themselves were also better than expected, especially considering it's on a mountain with limited resources.
The bathrooms were good, but the water in the shower was brutally cold. Most people skip the shower and bring wet wipes to tide themselves over instead.
Bedding is provided (bed linen at Laban Rata/Lemaing Hostel/Panalaban Hostel and sleeping bags at Pendant Hut) but the non-heated rooms are freezing at night. Bring clothing suitable for cold mountain weather. We slept in thermal tops and bottoms, snow jackets, gloves and beanies. Yep, it's that cold.
Bring a change of clothes to sleep in/for the second day of climbing. You'll be drenched with sweat from Day 1 and even if you do hang your clothes to dry while you sleep, they won't dry in the moist mountain conditions by morning.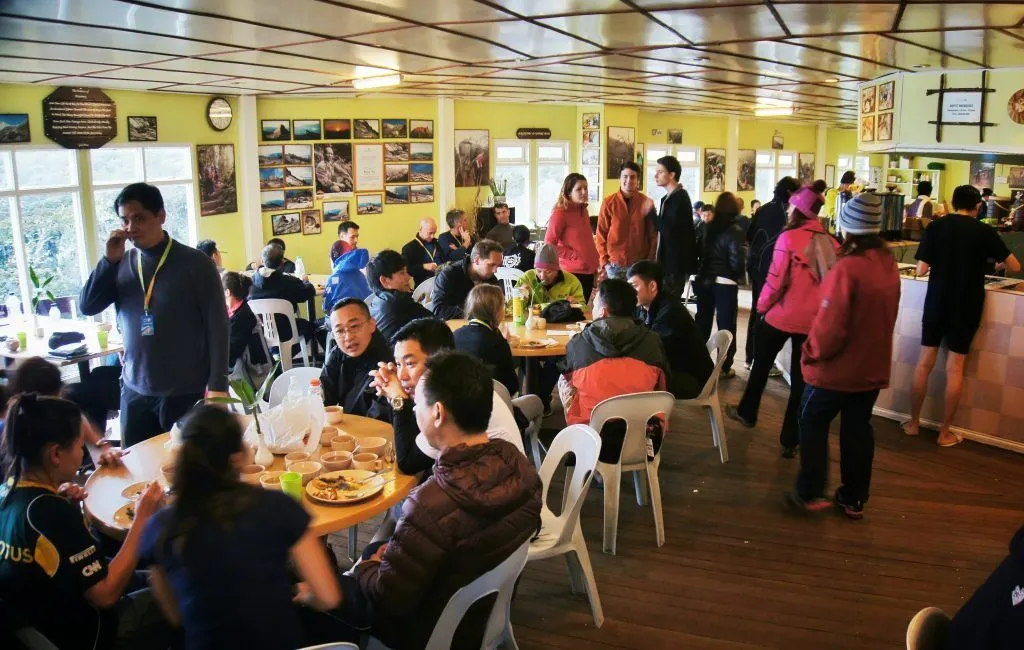 After dinner most people head to bed early to save their energy for the early morning ascent to the summit. Supper is served from 2am-3:30am. We suggest starting in the earlier part of this bracket so you are not rushed to get to the summit by sunrise.
We also recommend not over-eating. While you don't want to start on an empty stomach, you don't want to be really full either. It will just make you lethargic and sick, and we witnessed someone vomiting on the trail because of it. It's not the way you want to start your ascent to the summit.
Instead, have a light supper and bring some sugary snacks or energy bars for that quick surge of energy when your body needs it (we brought chewable jelly candies that were easy to keep in our pockets). Remember that you will get another round at breakfast on the way down.
Mount Kinabalu Summit Trail – Day 2
After waking in the early hours of the morning of Day 2 and having a light supper, you will begin the final 2.72km ascent to the summit in the hopes of arriving in time for the sunrise. Expect the final summit climb to take around 3 hours.
From Panalaban to the summit almost all climbers take the New Ranau Trail, which replaced the previous Ranau Trail after the 2015 earthquake on Mount Kinabalu. As sections of the Ranau Trail (from Panalaban to the summit) remained impassable due to large boulders, the New Ranau Trail was created around them along a slightly different route.
After the earthquake, a second 1.5km trail on the upper reaches of the mountain was created between Panalaban and the Sayat-Sayat checkpoint called the Kota Belud Trail. The Kota Belud Trail is intended to act as an alternate descent route should the New Ranau Trail become impassable in case of emergency.

Please note that the Kota Belud Trail is limited to 30 climbers per day and has a lower climber to guide ratio of 3:1 (5:1 for the New Ranau Trail). It is considered more difficult than the New Ranau Trail and advanced permission needs to be sought in order to take it. Climbers wishing to use the Kota Belud summit trail must inform Sabah Parks at the time of registration and it is subject to trail conditions and availability.
Both the New Ranau Trail and the Kota Belud Trail merge at the 7.5km mark (at the Sayat-Sayat checkpoint). The journey from Panalaban to the summit is when things really start getting challenging. You will be climbing in the dark so a flashlight is essential for this part of the climb. A headlamp is preferable as you'll need both hands for climbing during the ropes section.
The first part of the ropes section was the most mentally challenging for me. It won't come as a shock to anyone who has read about our bungy jumping experience in Japan, that I am scared of heights. And there were a number of moments when I was honestly really frightened. The feeling that you are hanging off the side of a mountain with only your own bare hands to hold you is somewhat terrifying.
I still have mixed feelings about the dark. On the one hand, it helps because you can't see the drop down. On the other hand, it can make it worse when fear gets the best of you. What really helped me though was just concentrating on what little rock I could see with my headlamp before me and channeling my energy into each step rather than allowing the whole situation to consume me. And how beautiful do the lights look coming up the mountain side?!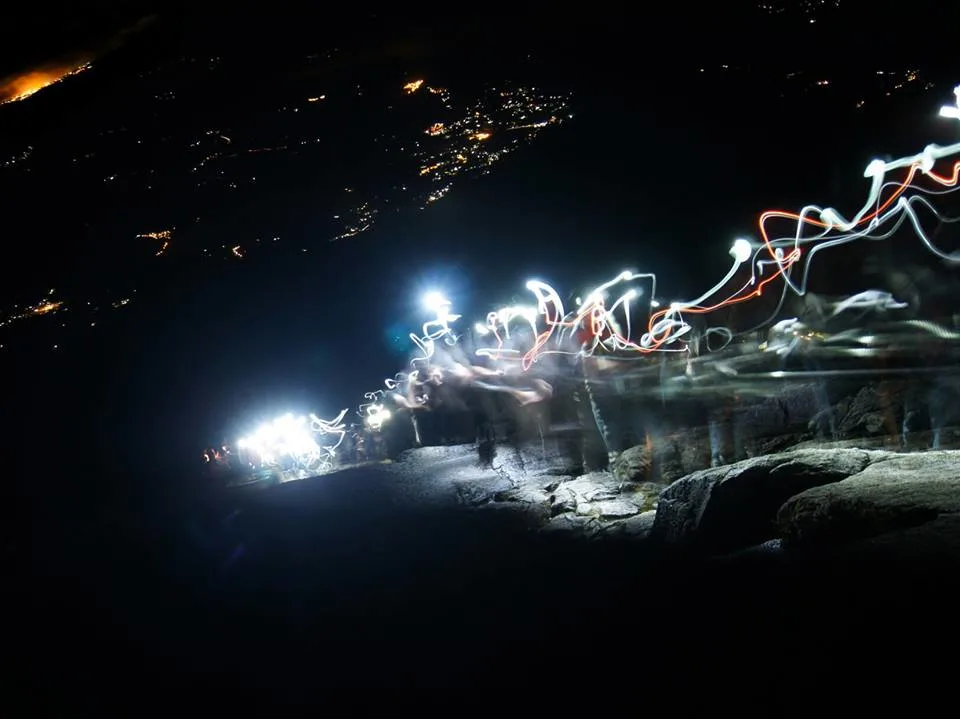 Reaching the Mount Kinabalu Summit & The Descent
Overcoming any fears you may have and the stunning view you get as a reward are what make the whole experience worth it. We had a bit of a cloudy morning so we don't have "that sunrise shot". But we have lots of others to remind us of our achievement.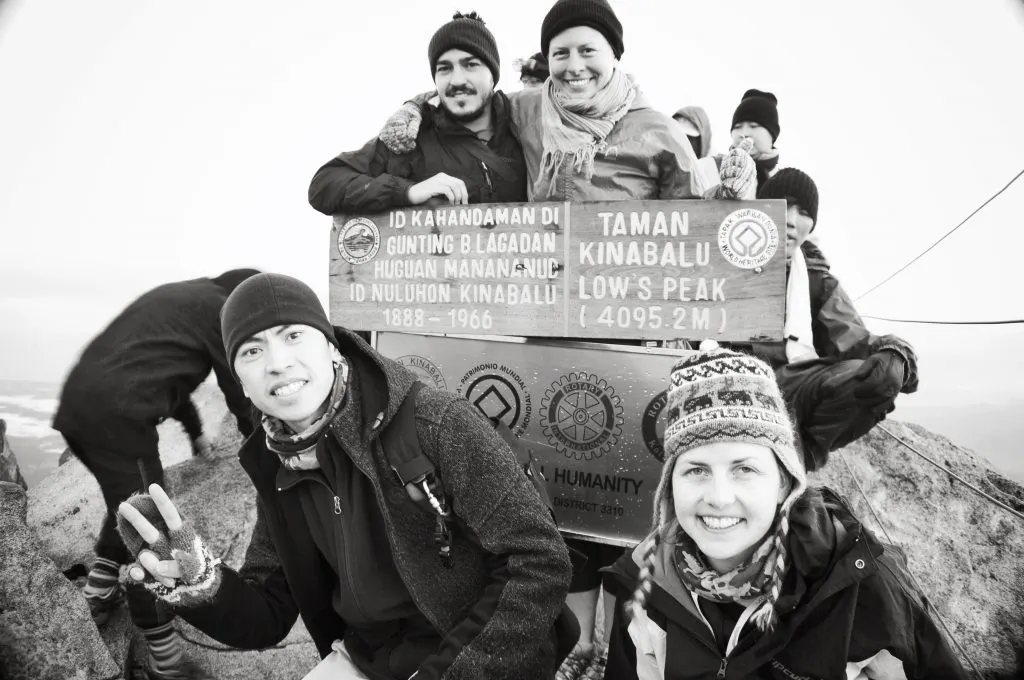 After sunrise and a few quick photos, we started the descent, in daylight this time.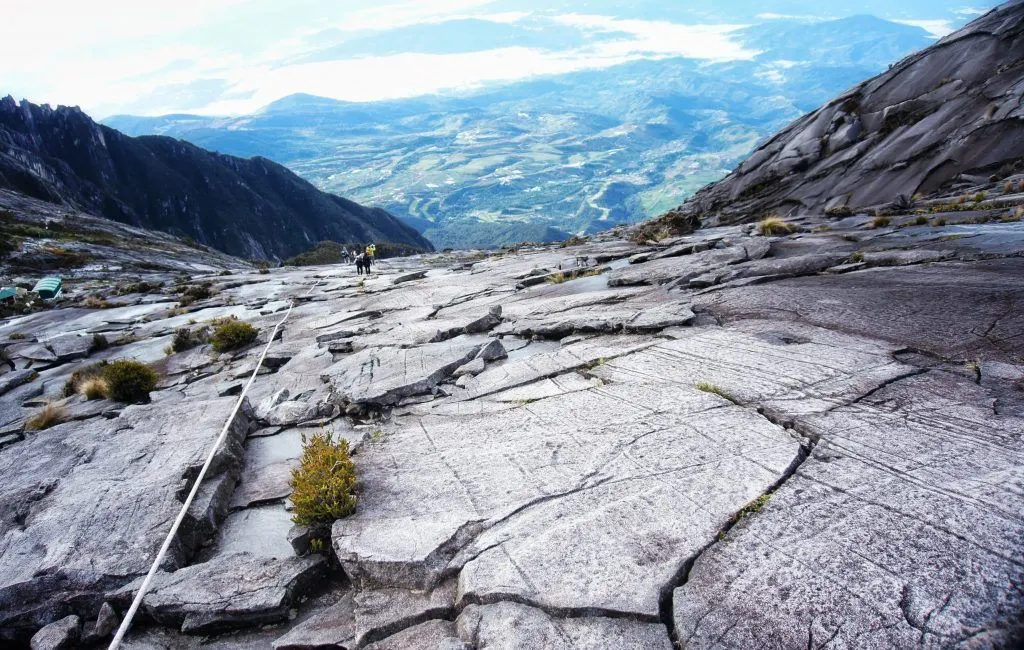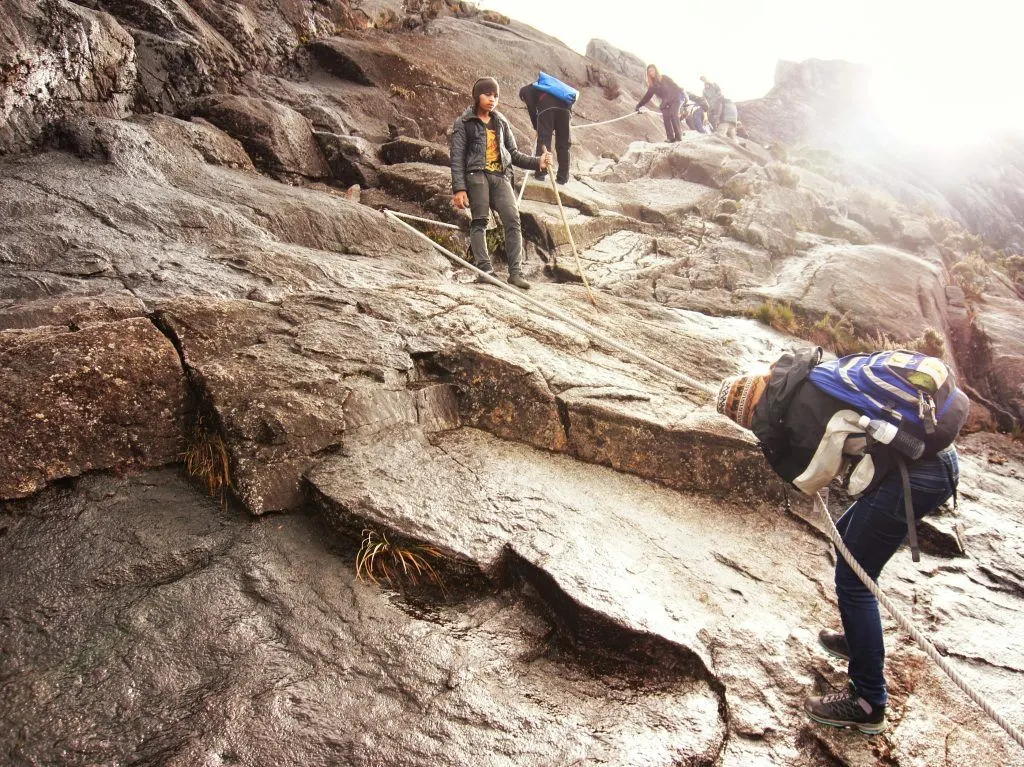 Once you get back down to Panalaban, you can enjoy "second breakfast" at Laban Rata, or at Pendant Hut if you are a Via Ferrata climber.
Check out time at Laban Rata is 10:30am at the latest. At Pendant Hut, check out time depends on which Via Ferrata activity you do – Walk The Torq (WTT) is 11:30am and Low's Peak Circuit (LPC) is 12:30pm. Late check out at Pendant Hut is RM50/30mins. You may use your bed to rest a little if you like before continuing your descent. It's yours until check-out.
While we had great weather during our climb up until that point, the skies decided to open and unleash a steady flow of torrential rain for most of the way down, turning the rocky paths into miniature waterfalls and makeshift rivers.
The rain was so heavy that we don't have any photos as we are sure our cameras would not have survived. Bring sealable bags for camera gear to prevent damage in the event of heavy downpours. We had waterproof pants and jackets as well as rain covers over our backpacks which luckily my husband Hai had the foresight of cutting from our main packs before the climb.
Unfortunately, there's only so much water anything can take before it is no longer waterproof though, so despite our best preparations, we, our bags and basically all our stuff in it (bar the electronics in sealable bags) were drenched. Due to the very slippery conditions, the climb down from Panalaban, which under usual conditions would take less time than up, ended up taking us exactly the same amount of time as Day 1 (4.5 hours).
Many people think about ascending as being the biggest challenge, however, if you've done mountain climbing before, you'll know that the way down is usually harder as there is constant pressure on your knees and ankles. As I have a poor knee from an old sports injury, I was glad that I brought along my compression knee brace. It's amazing how a small tube of material can make such a huge difference. If you have any niggling injuries you want to keep in check, you may wish to do the same.
When we saw the waterfall that we remember clearly from the beginning of the climb (an actual waterfall, not one that had formed on the way down), we knew that the finishing line was just around the corner. As we came up the last stretch, we grabbed hands and ran up those last steps towards the "You are successful climbers" sign.
Fully soaked, it was an uncomfortable bus ride down to Park HQ and meal at the restaurant. From Timpohon Gate, you will ride the KOKTAS shuttle bus back to Park HQ. However, until at least August 2023, the shuttle bus will also stop at Liwagu Restaurant, which is around 10 minutes' walk before Park HQ, as this is where the after-climb lunch is currently being served (Balsam Restaurant by Park HQ is currently closed for renovations).
Take your meal voucher, which you received at registration on Day 1, to exchange for a meal. Lunch is available at Liwagu Restaurant from 12 noon to 4:00pm. You can choose between a sit-down lunch or a packed lunch (an option for those who need/want to return to KK or get to their onward destination or accommodation as soon as possible, or those who are cutting it close to the end of lunch hours).

If you get off the shuttle bus at Liwagu for lunch, you will need to walk back to Park HQ on your own (about 700m or 10 minutes' walk). However, if you have booked with a tour operator, they will generally arrange transport by private vehicle from Liwagu Restaurant the rest of the way back to Park HQ (and to your onward destination) as this part of the road before the checkpoint is still accessible by private vehicle.

If you ordered a certificate, you can pick it up from Park HQ. Some tour operators include the cost in their packages. If it isn't or you are an independent climber, you will need to pay in cash (Malaysian ringgit) upon pick-up. It's RM10 for a summit certificate and RM1 for Laban Rata.
It took a number of days for my body to recover and every time someone would look at me strangely, I'd feel the need to explain "Dari gunung" (I've come from the mountain). But just like that first game of the sports season, that pain passes soon enough.
Essential further reading
If you're ready to book your Mount Kinabalu climbing adventure, check out our Climbing Mt Kinabalu on a Budget post with all the latest rates for 2023 and 2024 climbs. It sets out all the costs for various packages, group sizes, international and Malaysian climbers, and will leave you an expert on all the ins and outs of booking a Mount Kinabalu climb.
Other posts on Malaysian Borneo:
How to get from KK to Kinabalu National Park
Shuttle Bus from Kota Kinabalu Airport
Top #5 Travel Tips for Malaysia
Any further questions? Please ask away in the comments.