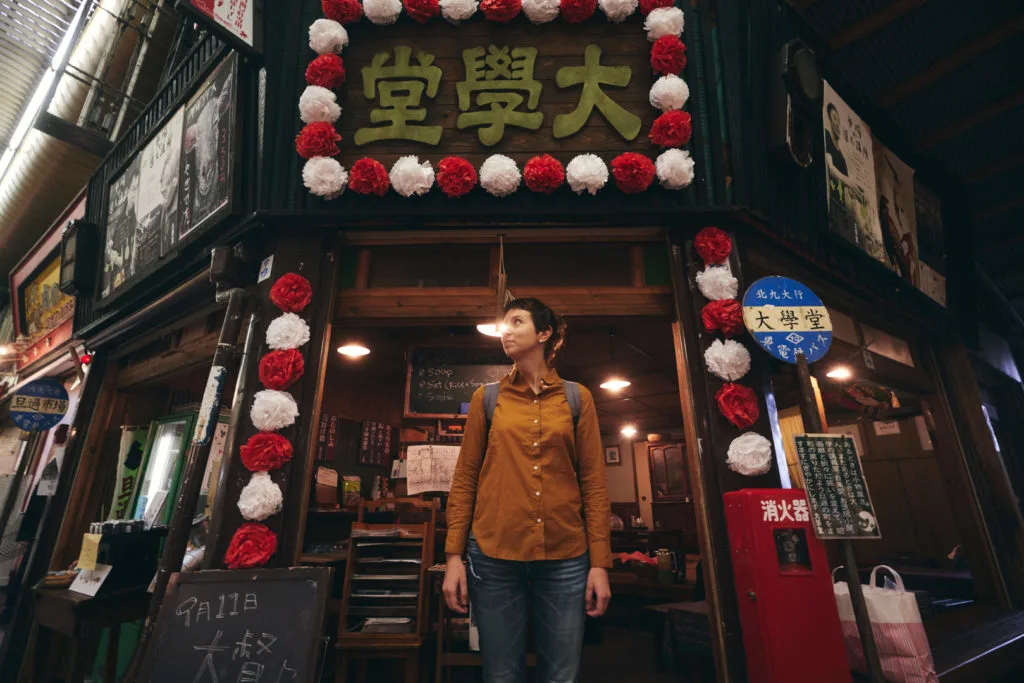 If you haven't yet travelled to Japan's southern island of Kyushu, you're missing out. Fukuoka is one of my all-time favourite parts of Japan. Seriously, one year I went three times.

While I loved living in Tokyo, I always said that if I didn't live in the country's capital, I'd live in Fukuoka, hands down.

Fukuoka City is the perfect combination of city-convenience with a countryside (inaka) welcome. I like to call it the 'city with an inaka heart'. The people have a sense of hospitality towards visitors that goes above and beyond even the usual standards of omotenashi (Japanese hospitality). And the city manages to be big enough without the sensory overload, making it a wonderful option for those who might feel a bit overwhelmed by some of the other larger cities in the country, but still love having access to a variety of food, accommodation and sightseeing options.

The food is seriously some of the best you'll find in Japan – the yatai (street stall) food culture is worth visiting for on its own. And don't get me started on the journey from the airport to downtown. Only six minutes by subway to central Hakata Station! Is this real life?

Beyond Fukuoka City, there's an entire Fukuoka Prefecture, with loads to see and do. There are four regions within Fukuoka Prefecture: Kitakyushu, Chikugo, Chikuhō and of course Fukuoka, which encompasses Fukuoka City, the largest city on the island of Kyushu.

In this post I'll be touching on places of interest in all of them, and I recommend giving yourself time to explore what each area has to offer.

So, let's dive into some interesting things to do in Fukuoka, Japan.
Kokura Castle
Of course I'd probably be remiss if I didn't mention at least one castle on this list of Fukuoka attractions. Kokura Castle (小倉城, Kokurajō), located in Kitakyushu, was built in the early 1600s at the beginning of the Edo Period, and like many wooden castles of old, has gone through a number of iterations thanks to fire and war.

The current castle keep is actually a ferro-concrete reconstruction completed in 1959, but despite being a loose replica, it's interestingly the only remaining standing castle keep in Fukuoka prefecture!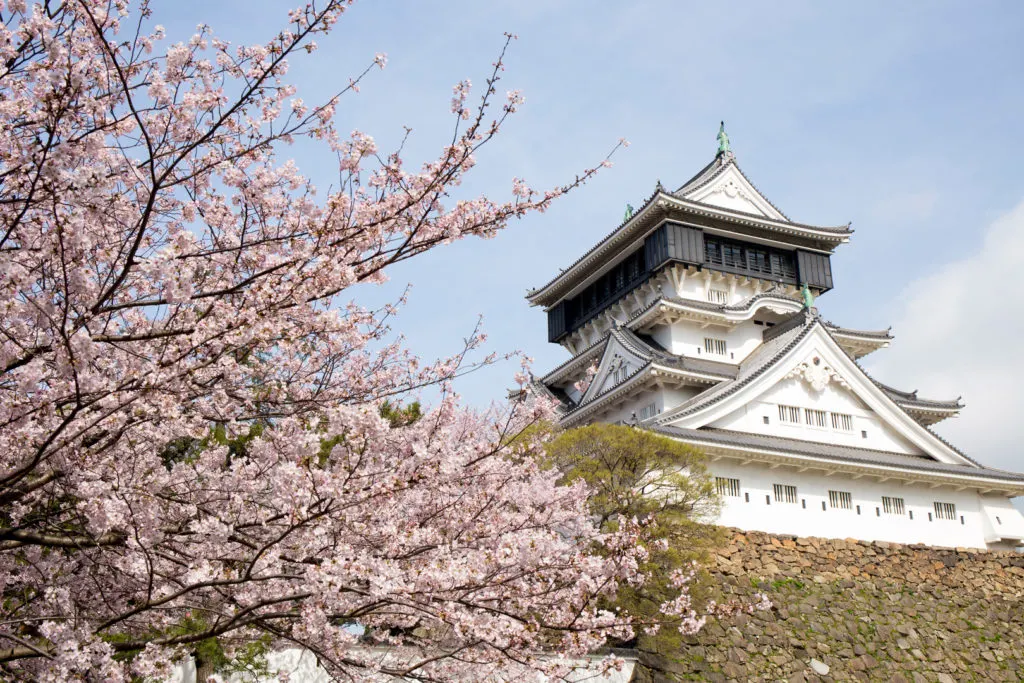 The castle has five stories and on your way up you'll find interactive exhibits that showcase the history of Kitakyushu and the castle, and early castle life. From the top floor, visitors are awarded a great panoramic view of the area.

The Kokura Castle grounds, collectively known as Katsuyama Park, are a popular cherry blossom viewing spot, with hundreds of cherry trees that bloom around early April, making it a particularly timely Fukuoka attraction to visit in spring.

Be sure to also check out the castle gardens with its traditional Japanese garden and tea rooms, and adjacent Shiro Terrace rest area which features art on display, souvenirs, and a small cafe – a great place to reboot before continuing on with your Fukuoka sightseeing.

Pro tip: drop by after dark and take a photo of the castle reflecting in the moat!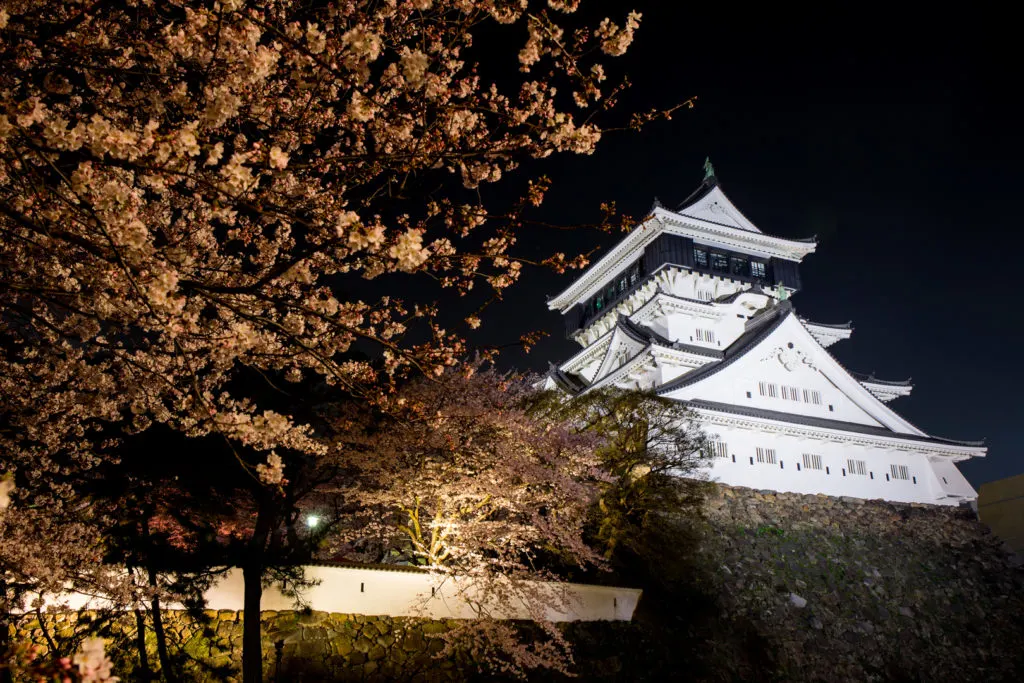 Admission to the keep is 350 yen for adults; the 700 yen combo ticket gives entry to the castle, the castle garden, and the nearby Matsumoto Seicho Museum.
Kokura Castle Access: Easy 25-minute walk from Kokura Station. Kokura Station is easily accessible by both local trains and shinkansen (bullet train).
Tanga Market
Tanga Market (Tanga Ichiba) is a roughly 180-meter arcade with about 120 shops. It exudes a real post-war, Showa vibe, and is the perfect place for local shopping and picking up a bite to eat.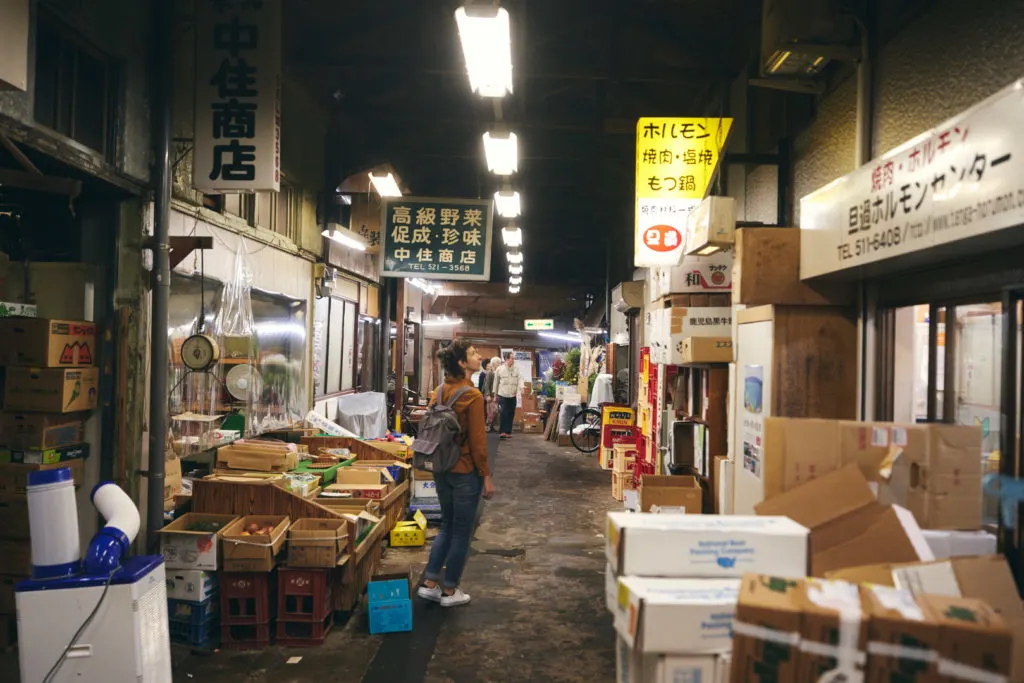 Tanga Market is often referred to as 'Kitakyushu's kitchen' and has a history dating back over 100 years. Expect lots of fresh fish, veggies and local specialties that are fun to peruse even if you're not self-catering. There are several hole-in-the-wall eateries serving up soba and udon noodles, as well as sushi, some of which have English menus.

One of the most famous dishes here is the daigaku-don, a put-together-yourself rice bowl and a nod to a zen priest who once happened upon Tanga while collecting alms. The priest was taken by the freshness and deliciousness of the food at Tanga and once he reached enlightenment was given the high title of Daigaku-dono. Eventually this word evolved into daigaku-don ('don' is a usual suffix for Japanese dishes served over rice in a bowl) and reflects the wonderful, fresh cuisine to be found at Tanga.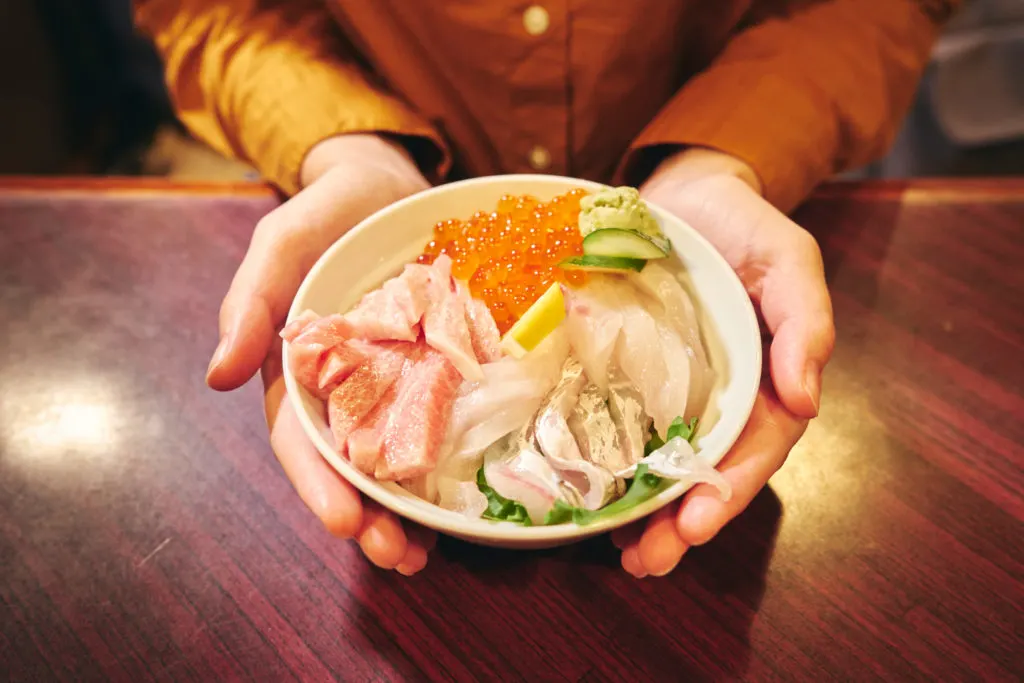 To join in on this tradition, visit the restaurant Daigakudo, where you can buy a bowl of cooked rice (¥100 for small, ¥150 for medium and ¥200 for large) and then wander the market with your bowl in hand, purchasing fresh ingredients that are placed straight over your rice. Once you've collected everything you want for your custom rice bowl, you then return to Daigakudo to eat. Tea and seasonings are provided free of charge and you can also purchase a hot bowl of miso soup to accompany your meal (¥100).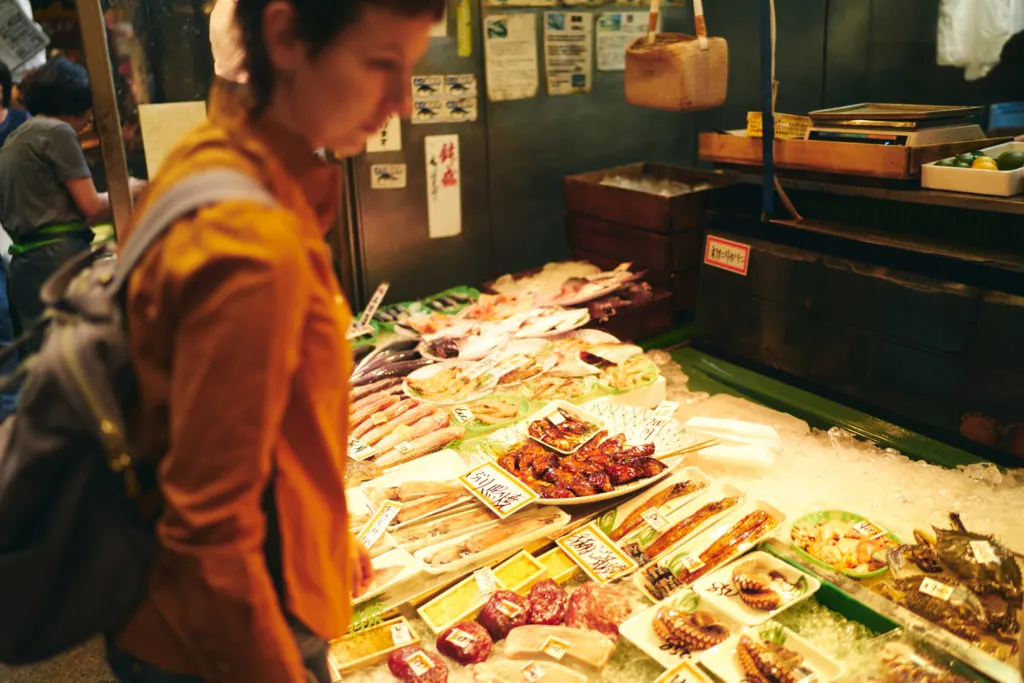 To see the market in full swing, it's best to go before 2pm. Business starts slowing down and wares become thinner in the latter part of the afternoon with many stores closing by 6 or 7pm. As this is a rather narrow arcade, be sure to pay attention to your surroundings and not block local shoppers.

Download an English map of Tanga Market.
Tanga Market Access: It's an easy 10-15-minute walk between the market and Kokura Castle. If you're starting at Kokura Station, you can drop by Tanga Market on the way to the castle and pick up a bento box to enjoy on the castle grounds, especially convenient for those who'd like to have a picnic under the cherry blossoms in spring.
Itoshima
If you're looking for sun and surf, you're in luck, because Fukuoka has one of the best-kept beach secrets in the country.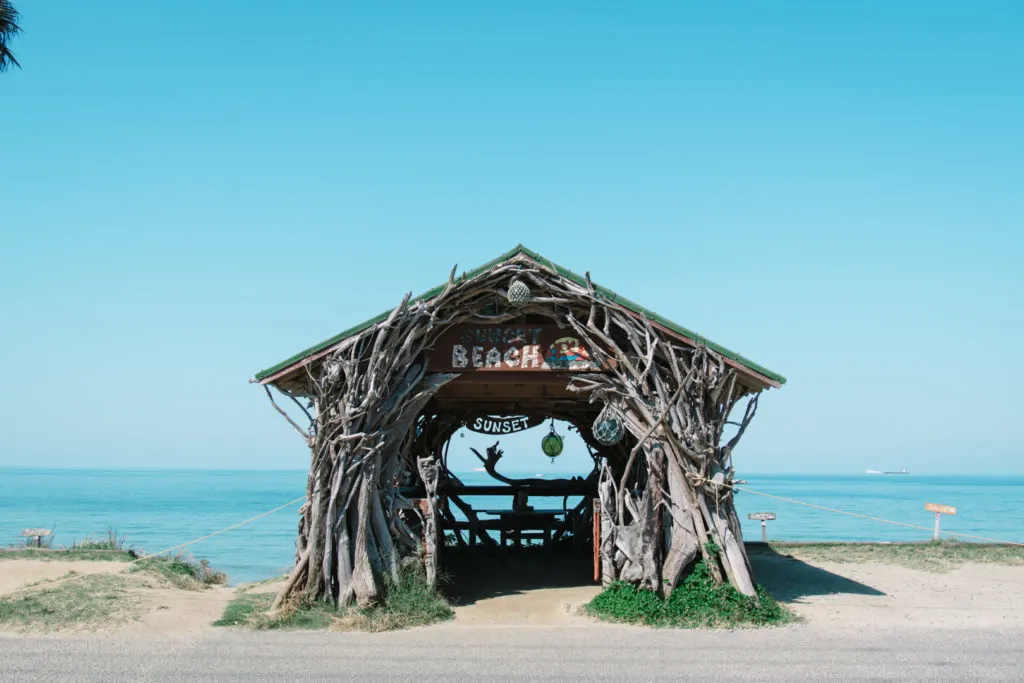 Itoshima has a Santa Monica-esque feel, full of palm trees and paved walkways, cute cafes and Instagramable spots that will keep even the most social media savvy among us entertained for days.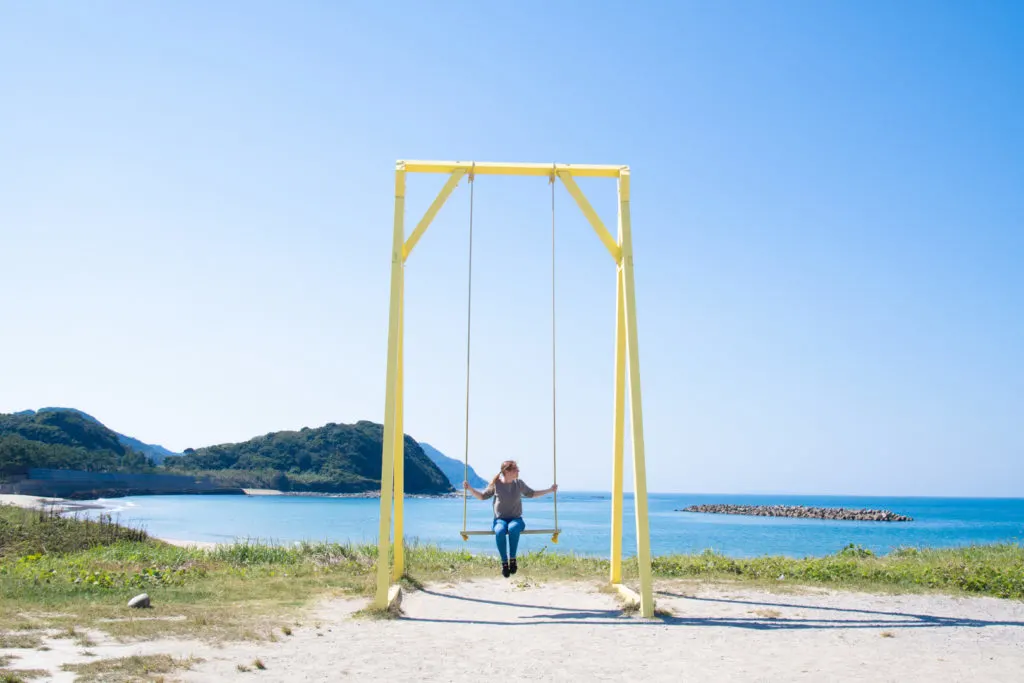 The beautiful coastline with its numerous beaches is a favourite among surfers and sightseers. A top spot for visitors is the Sakurai Futamigaura Meoto Iwa, the 'husband and wife' rocks (tied together with shimenawa rope) and white torii gate in the water. The beach here is one of the Top 100 Beaches and Top 100 Sunset Beaches in Japan, so it's worth timing your visit for later in the day or stopping by twice!

Shiraito Falls is another popular attraction in Itoshima. This 24m-tall waterfall is a particularly wonderful respite from the heat during summer when visitors can enjoy fishing for trout in the clear mountain waters with bamboo fishing rods, eating salt-grilled Yamame trout from vendors, and trying their hand at nagashi somen, a unique Japanese summer custom in which you catch cold somen noodles with chopsticks as they flow down a hollow bamboo halfpipe! In early June there is a festival to officially "open" the falls for the summer season and during June and July, you can also enjoy thousands of hydrangeas in bloom.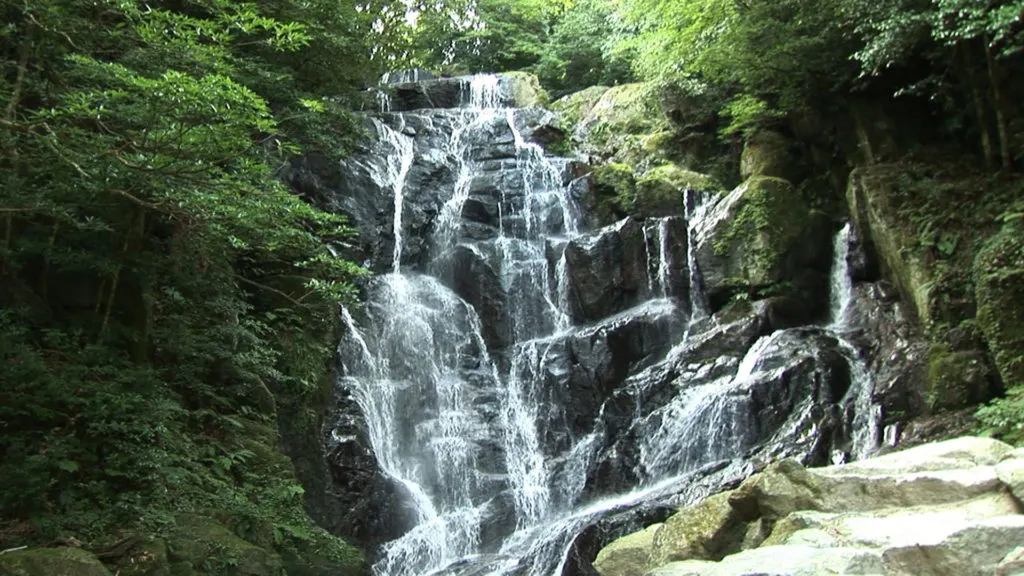 For those visiting Shiraito Falls in autumn, the 300-year-old Banryu maple tree, which stands in front of the falls and is designated a Fukuoka Prefectural Natural Treasure, is particularly spectacular as the green leaves turn into a magnificent red.

For a short jaunt out on the water, consider taking a boat tour to Keya no Oto at Oto Cape on the northwest tip of Itoshima Peninsula. This eroded cavern is one of the 'Three Major Basalt Caves' in Japan and the tour only takes 25 minutes.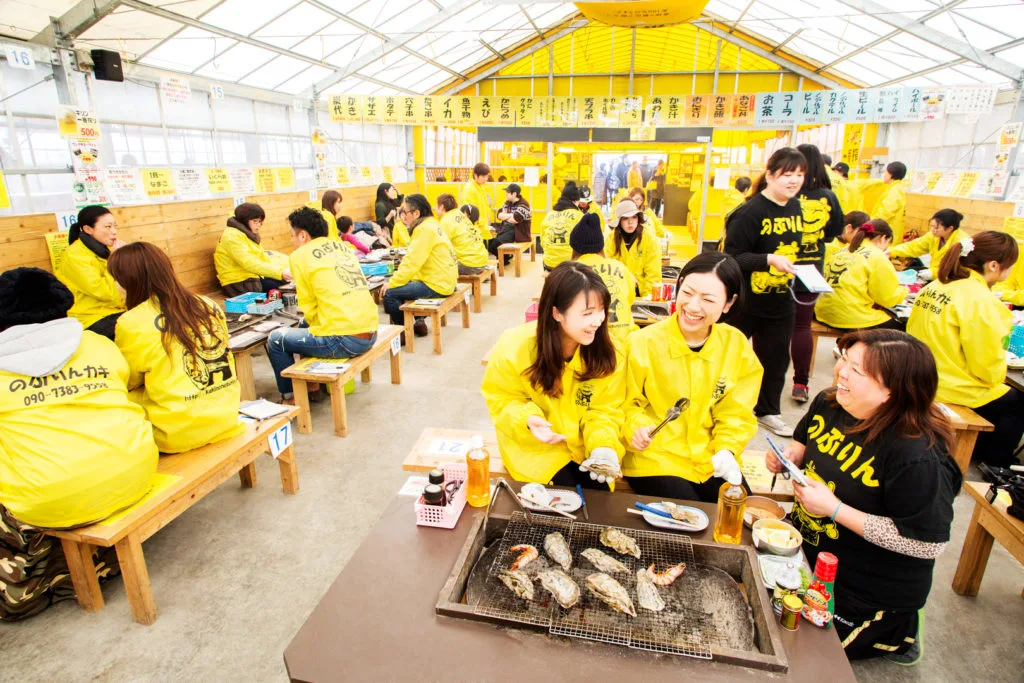 Itoshima is also putting its name on the map as a winter destination with its recent opening of some 20 kakigoya or 'oyster huts' across the city's six regions. The huts serve fresh Itoshima seafood such as oysters, sea snails, squid and more, which visitors cook up themselves over charcoal grills on their tables. Customers are welcome to bring their own accompaniments to the meal, including rice, sauce and condiments, as well as alcohol, making it the perfect combination between restaurant dining and homely self-catering. Kakigoya are open from around late October to late March.
Itoshima Access: Itoshima is most easily accessed by car and takes about 30 minutes to the city or around 45 minutes to the coast from central Fukuoka City. Bicycles are available for rent from central Itoshima City. For those venturing around by bus, the closest bus stop to Sakurai Futamigaura Meoto Iwa out of season is the Showa Nishi-no-ura (Futamigaura Iriguchi) stop, a 20-minute walk away.
Momochi Seaside Park
If you're wanting to enjoy a beach day closer to Fukuoka City, Momochi Seaside Park is a great option. There are actually three beaches that are part of the park, but we'll focus here on the main one, Momochi Beach.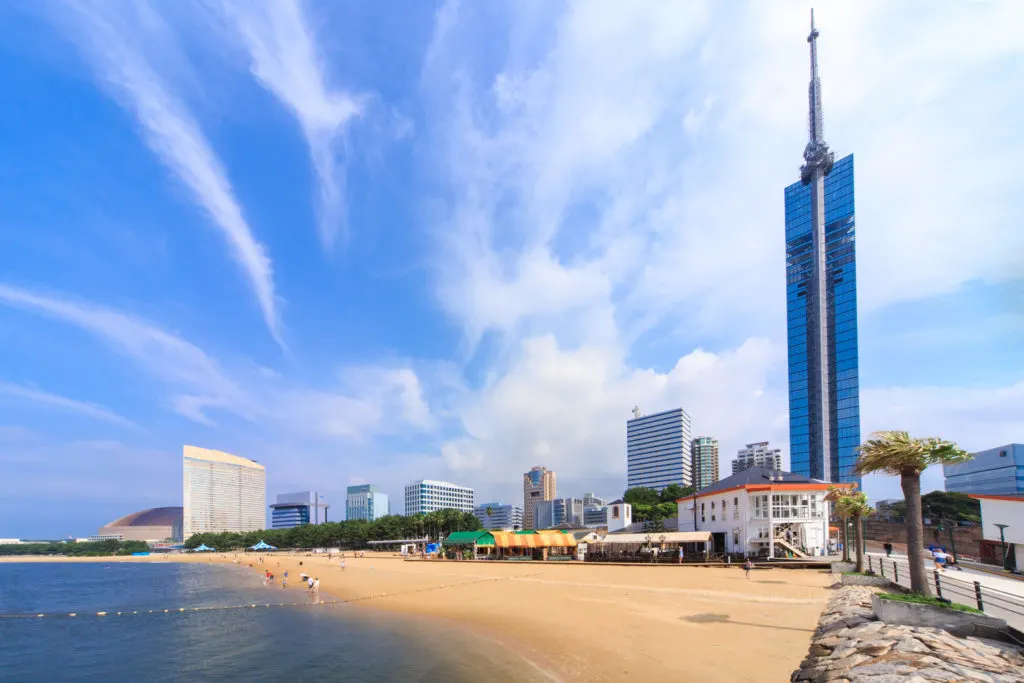 This 2.5km man-made, white sand beach is a particularly popular destination for water and beach sports like jet skiing, paddle boarding and beach volleyball, as well as a romantic waterfront date spot for couples.

The beach is not removed from the convenience and amenities of downtown, flanked by modern city buildings, including Fukuoka Tower, the tallest seaside tower in Japan. About halfway down the beach, you'll find a cluster of shops selling food, drinks and ice creams, and renting out water sports equipment. Jutting out over the water on stilts in front of it is also the recreational facility Marizon, containing a number of restaurants, shops and a chapel for waterfront weddings.

Access: A bus from JR Hakata Station takes 30 mins. Get off at the Fukuoka Tower Minami-guchi Bus Stop.
Yatai Food Stalls
Street food stalls, known as yatai in Japanese, are intrinsic to Fukuoka's culinary scene, culture and nightlife, and are one of the top experiences to be had in Fukuoka City.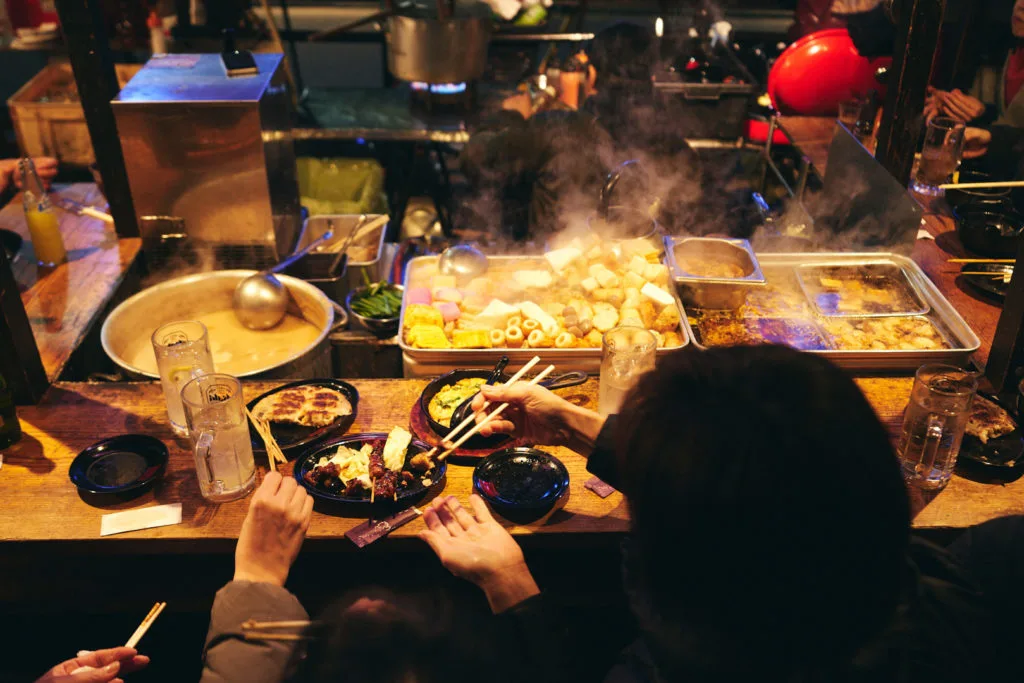 At nightfall, owners start setting up shop, lighting up their grills and welcoming their first customers for the evening. There are more than 100 stalls dotted around the city, mainly centered in the Nakasu, Tenjin, and Nagahama areas. These independently-run establishments may not open every night depending on their own scheduled days off, during inclement weather or if the owner is unwell, making the dining options a unique lottery on any given night.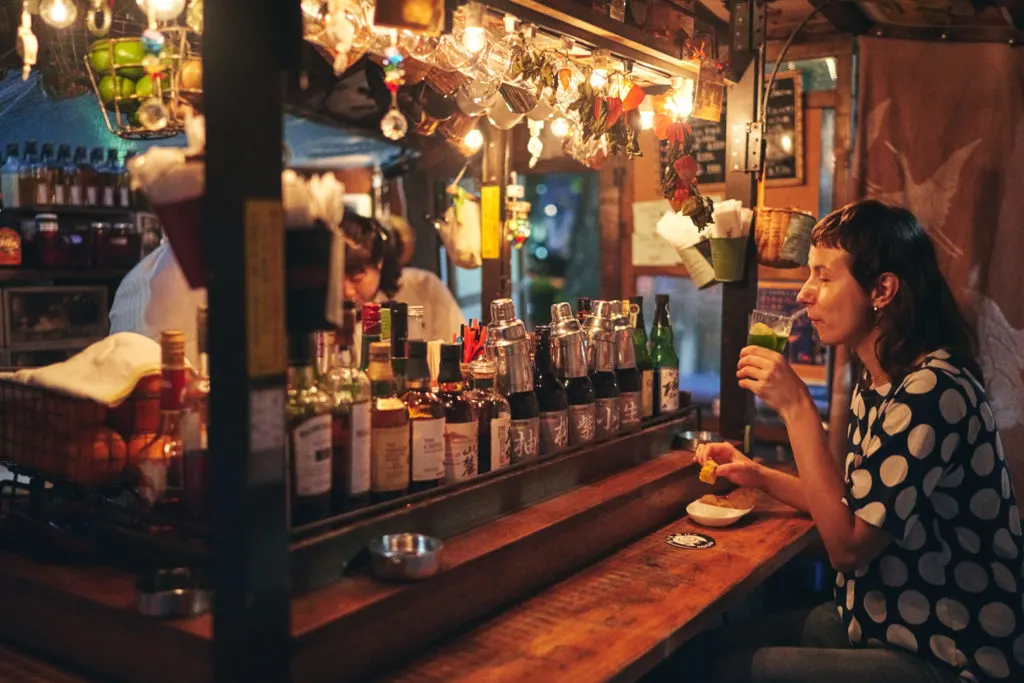 My personal favourite yatai in Fukuoka City is Mamichan. It was first recommended to me by a Fukuoka local and I've been a number of times now over several trips. Unlike the more tourist-oriented stalls that are lined up close together by the river, Mamichan's is usually just set up more or less by itself by a street corner in Tenjin, and it's usually filled with local regulars – always a good sign!

Most yatai can only accommodate around 7-8 people – which is part of their charm! – so avoid going to them in big groups and be mindful of other patrons by not lingering after you've finished your meal.

Find a list and map of the more than 100 yatai stalls in Fukuoka City here.
Toho Village
Toho Village in central-east Fukuoka is one of the 'most beautiful villages in Japan'. No, really, there's an actual list of most beautiful villages in the country, and Toho Village rightfully takes its place on it.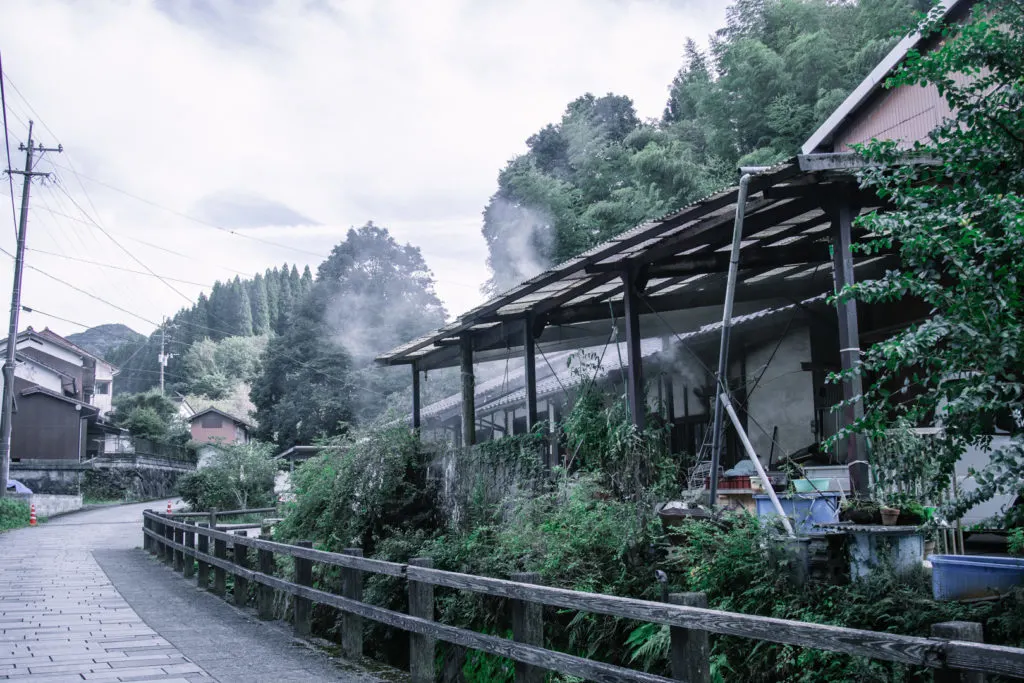 The village has a population of just two thousand people but an incredible 44 working potteries! The ceramic techniques here have a long history and have been passed down from generation to generation for centuries, usually father to son.

While each pottery has its own style, they are mostly based on the signature ceramic wares of the area, Koishiwara and Takatori. Koishiwara ware generally features lots of short engraved lines, while Takatori has a more fluid style, with the colour appearing to "drip" down and merge into other parts of the design. These unique techniques are generally not taught to anyone outside of the village, making it worthwhile checking out not only the beautiful ceramic crockery and homewares on sale, but seeing local artisans at work.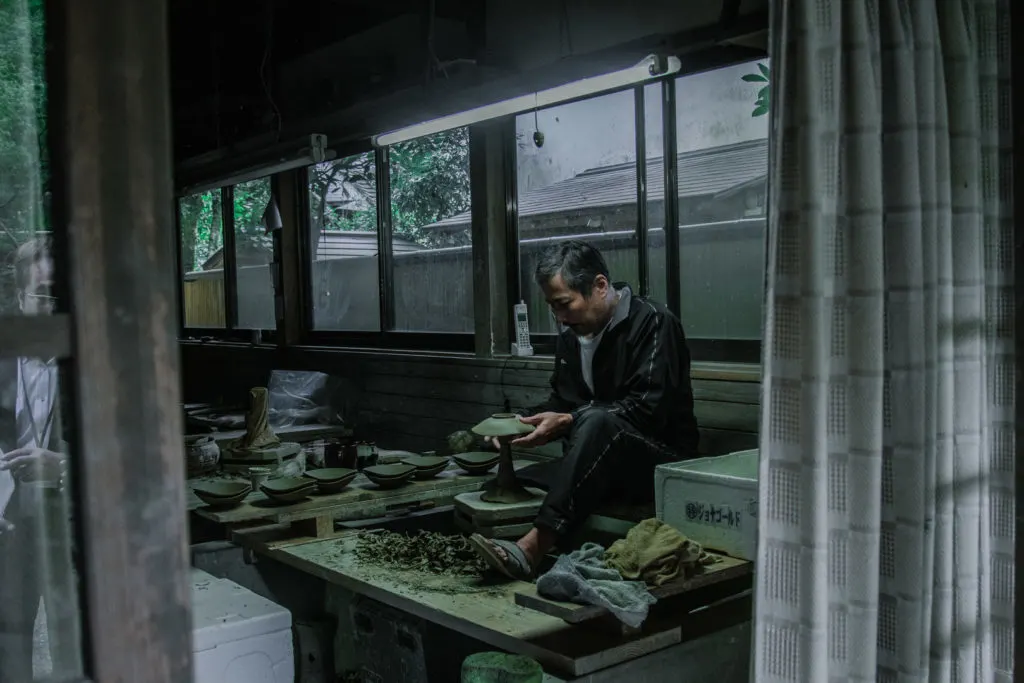 A recommended spot for doing so is Takatoriyaki Souke, where they even make their own clay from scratch. While the tour is conducted in Japanese, non-Japanese speaking visitors are most welcome to join and observe the ceramic-making process. To make a reservation, contact them in simple English via the contact form on their website.

Even if pottery isn't your thing, Toho Village is the perfect destination for some R&R. It has the distinct feel of a country hometown, where the air is crisp and familiar, and you don't have anything on your agenda but to sit in the background chatting among the fruit trees, savoring grandma's homemade condiments, or lounging at a local cafe with a good book for hours.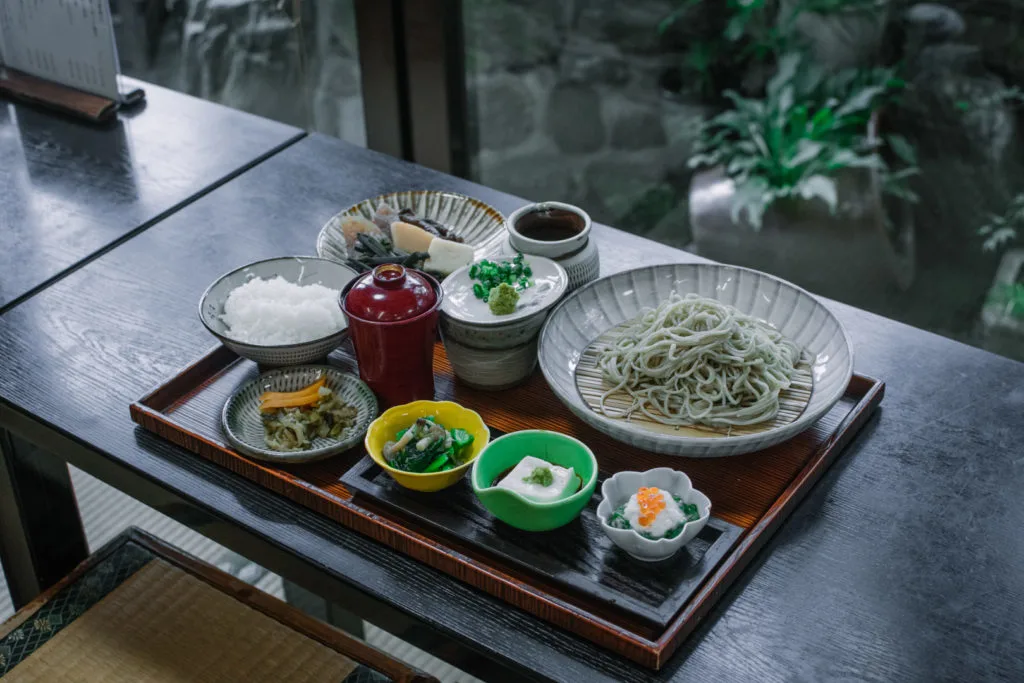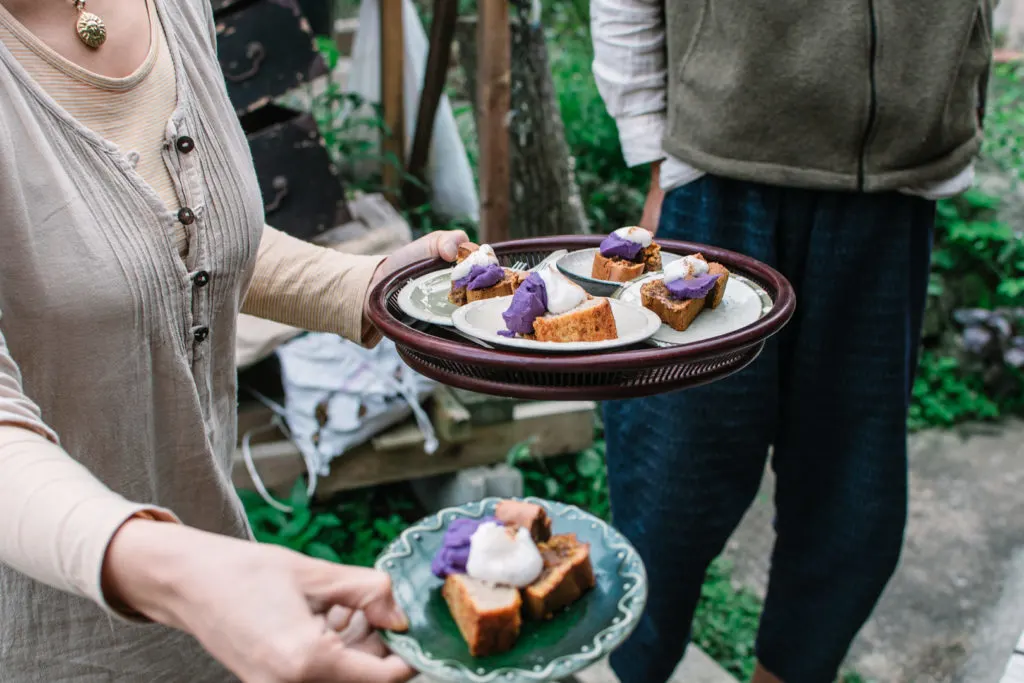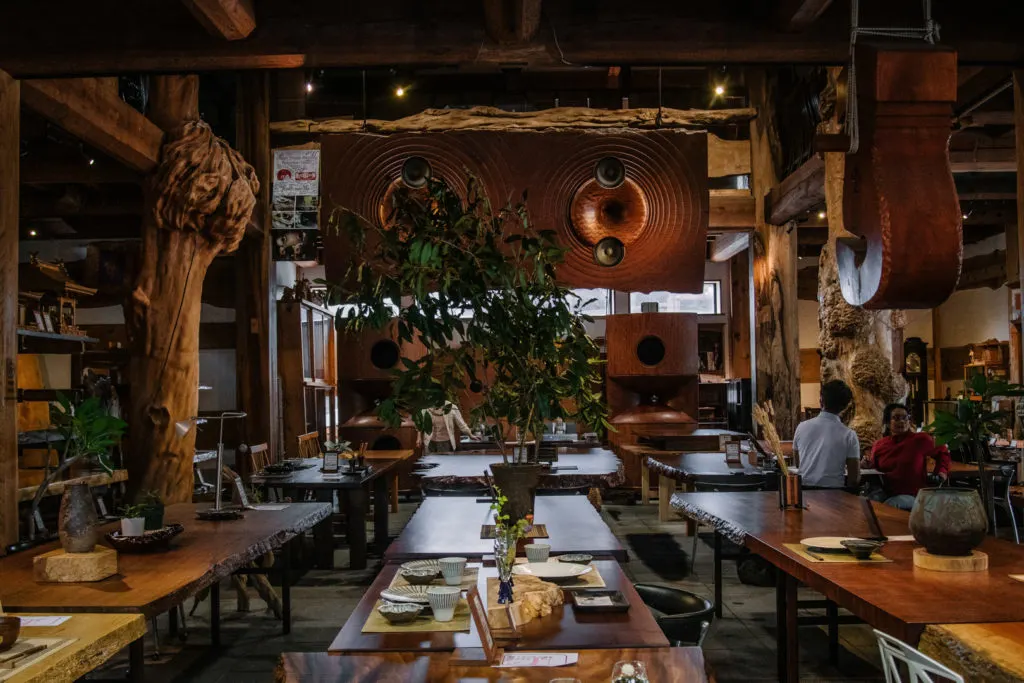 Toho Village Access: About one hour by car from Fukuoka City or two hours by train.
Dazaifu Tenmangu Shrine
Dazaifu Tenmangu is one of Japan's most important Shinto shrines, the head of 12,000 Tenjin shrines nationwide, and one of Fukuoka's most popular destinations.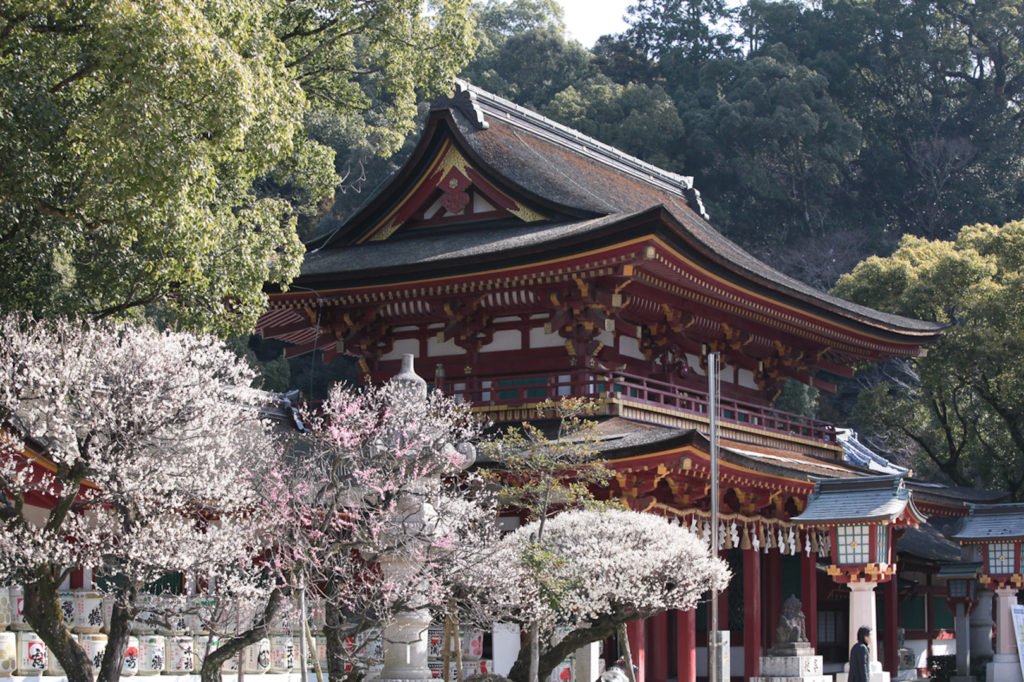 The shrine has 1,100 years of history and is dedicated to Sugawara Michizane (845–903), a scholar who was deified as Tenjin during the tenth century and is worshipped as the deity of learning, culture, and the arts.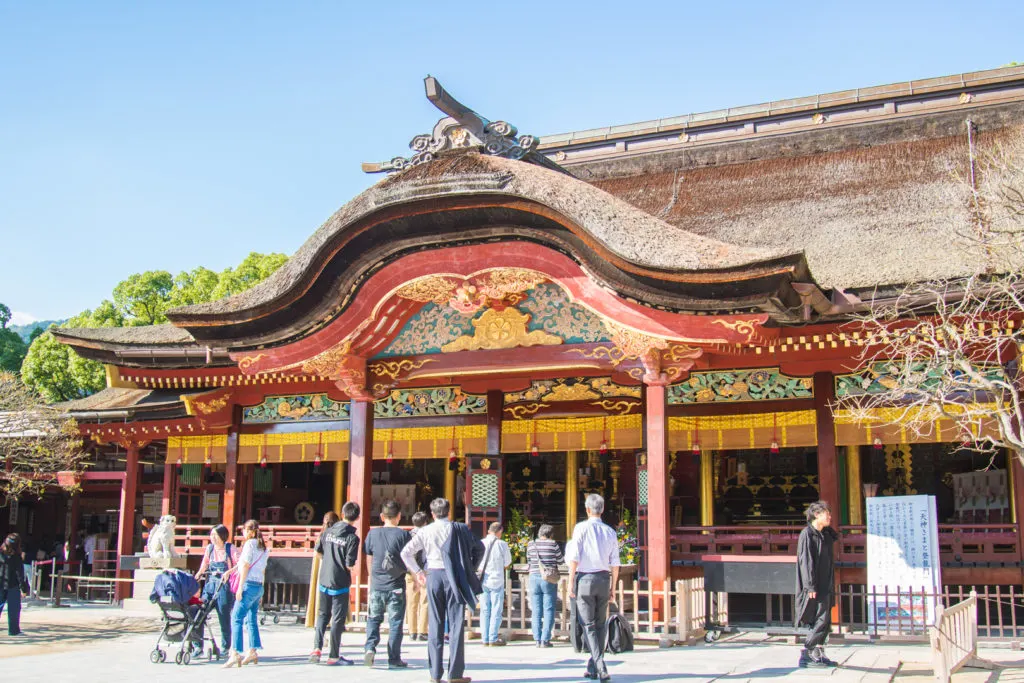 Dazaifu Tenmangu's seasonal changes make it a worthwhile destination all year round, however it's especially popular in late winter/early spring when the 6,000 plum trees on the shrine grounds come into bloom (late January to early March).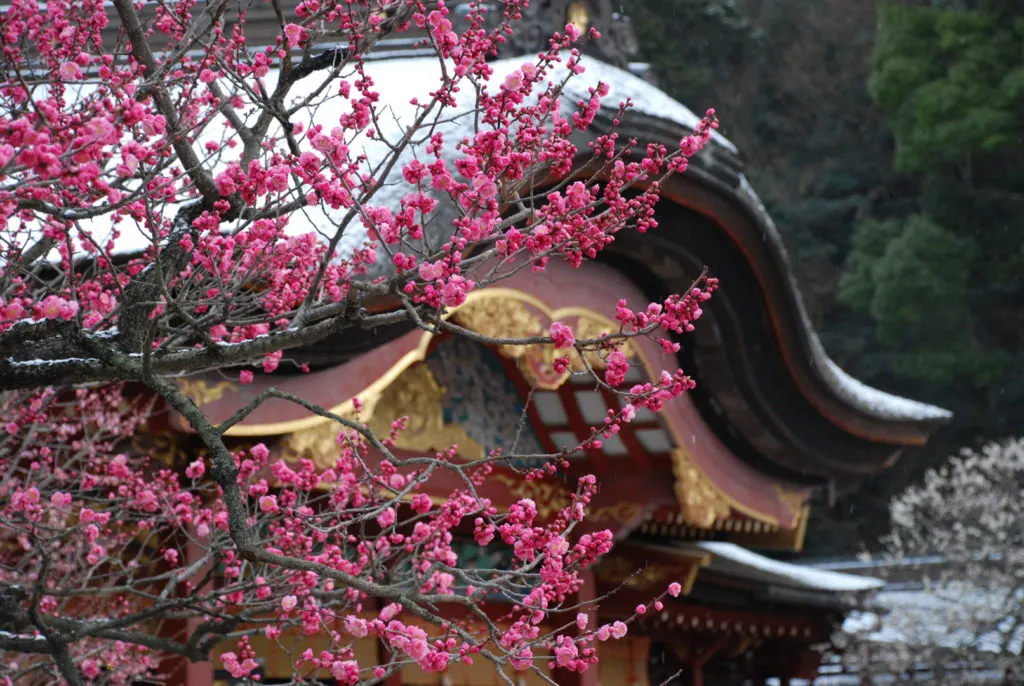 It is said that Michizane was very fond of ume (plum) trees, writing a famous poem from exile in which he lamented the absence of a particular tree he had loved in the capital. According to legend, this tree flew from Kyoto to Dazaifu in Kyushu to be with him, and the tree is still on show at Dazaifu Tenmangu. Because of this story, shrines dedicated to Tenjin are often planted with many plum blossoms.

The shrine's English website has detailed information on the shrine's history and how to get the most out of your visit, including instructions on how to pray. Be sure to check out the event page to see if any special ceremonies and festivals will be happening during your visit.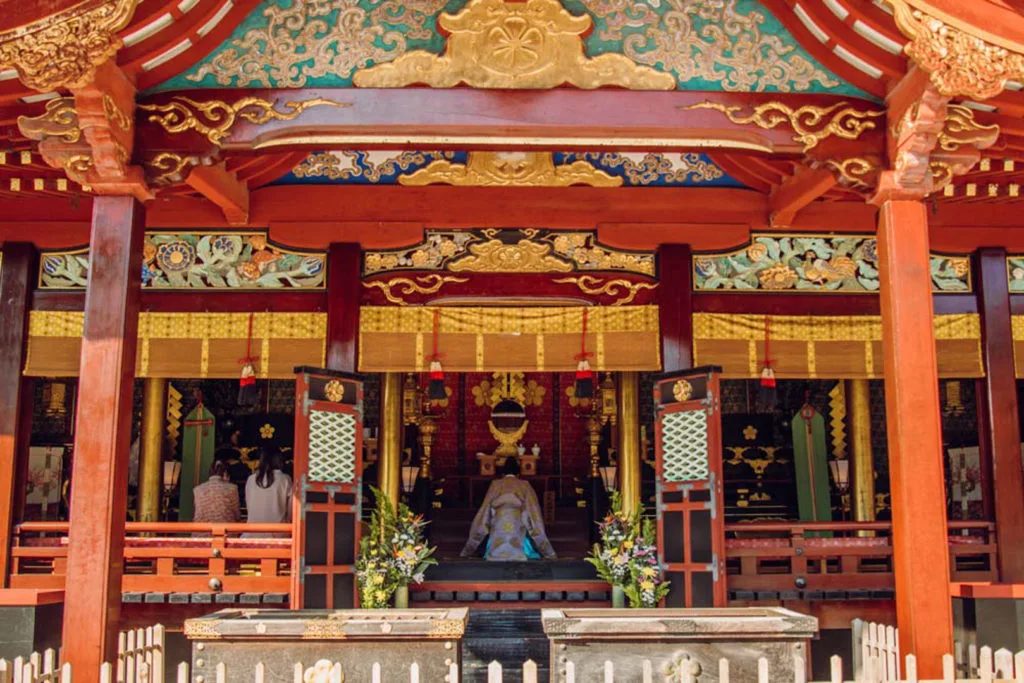 If you're feeling peckish, pick up an umegaemochi rice cake, the traditional sweet of the shrine, from one of the cafes on the approach or at the tea house within the shrine grounds. The rice cake is crispy on the outside and filled with soft azuki red bean paste on the inside, with the plum blossom crest (the symbol of Dazaifu) stamped on top. The cake is a nod to a story about a local elderly woman who made rice cakes for Michizane so he wouldn't starve during his exile from Kyoto.

Dazaifu Tenmangu Access: The shrine grounds are an easy 5-minute walk from Dazaifu Station, where buses and trains terminate. Bus is the easiest and fastest option from Fukuoka City. Buses leave from Hakata Station and take approximately 40 minutes.
This post was sponsored by ANA with the support of the Fukuoka Prefectural Government. As always, our opinions remain our own.
Have you been to Fukuoka Prefecture? Which place would you most like to visit?