For Hai's 30th birthday, I wanted to plan a celebration that he would always remember. He had been talking about bungy jumping for the longest time and I thought this milestone birthday would be the perfect time to make that happen. It was also perfect in that he would never guess that's what I had in store for him given my fear of heights and aversion to willingly jumping off bridges, cliff faces and the like.
So during the months leading up to his birthday, I secretly planned a long weekend away to picturesque Minakami in Gunma Prefecture (Japan). Even if you don't come for adventure sports, it's well worth a visit for the amazing scenery alone.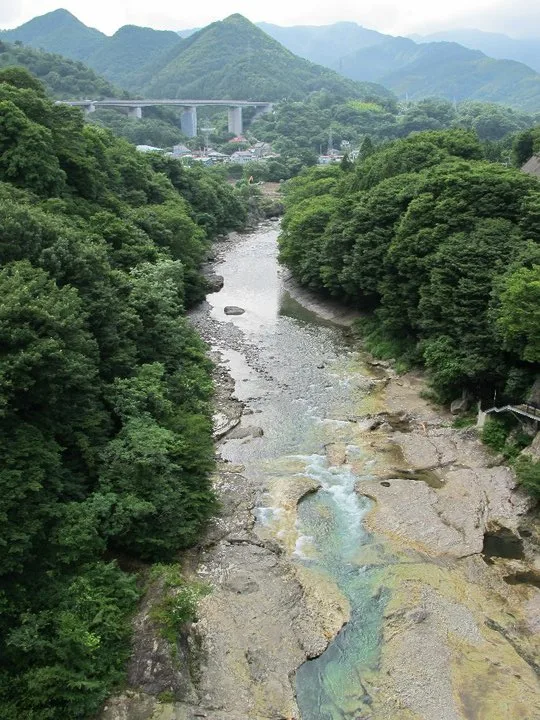 Bungy Japan provides a 42 meter (137 feet) bridge bungy jump, the only one of its kind in Japan. While this certainly doesn't come close to some of the crazy heights that can be jumped from around the world, if you think this isn't high, I challenge you to watch this video and see if it doesn't get your heart racing!
The Bungy Japan team were extremely professional and helpful. I sent them an email about my plans and interest in combining the bungy jump with other adventure sports. Despite Bungy Japan only operating the bungy jump itself, they work with other local tour operators to put together tailored combo packages. They called me to discuss my plans and provided great advice. They did all the calling around for me and in the end put together a 3-day itinerary of bungy jumping, paragliding, white water rafting, canyoning and accommodation for a great price. Keep in mind that weather is paramount for adventure activities so if you can spend a couple of days in the area, chances are you won't come back disappointed.
Paragliding was the first item on our agenda. I had arranged to meet our instructor at a convenience store carpark off one of the highway exits. At this stage, Hai still had no idea where we were going or what we were doing, despite knowing the general direction I had been driving in. We got some snacks while we waited and he asked "So are you going to tell me what we are doing now?" "We're going paragliding" I said. It was going to be a bit hard to hide much longer when the guy showed up with parachutes anyway. He started laughing. "You're right, I never would have guessed that."
When the instructor arrived, he told me that the wind conditions weren't right for paragliding that day and we could instead go do the bungy jump and then hopefully go paragliding the day after. The staff at Bungy Japan had already informed me that the schedule may need to be changed for such reasons but I suddenly felt the panic of "What, I have to jump off a bridge NOW?! I'm not mentally prepared for this! Don't I have another 15 or so hours to psych myself up?!"
Luckily as Hai was unaware of the context of our conversation, he missed the Japanese and the surprise was still a surprise. I was then able to tell him myself of the fact that we would not be going paragliding that day and reveal the big bungy jump. He started smiling, "Awesome."
Before we knew it, our paragliding instructor was driving us over to the bungy site. They could fit us in with a group that only had four jumpers in a couple of hours (they usual schedule six people in half hour blocks). They called our accommodation to see if our room could be made available earlier and then our paragliding instructor (still escorting us around) drove us there so we could drop off our bags and settle in, and then took us back to the bridge for the jump.
My heart was jumping out of my chest as I was presented with one of my biggest fears. I was the first to jump in our group. Jumping really goes against all of your body's natural instincts, and that is to get the hell away from the edge! But with will power and the support of fellow jumpers, soon I was flying through the air towards the river below. What I hadn't thought about much beforehand was the fact that once you are caught by the bungy you are thrown back up to basically the same height you jumped from, and you re-experience that fall several times at increasingly lower heights as the cord loses momentum. Finally the rope stopped bouncing and I saw the paddle of the boat extended for me to grab on to. Relieved to have done it after months of anxious anticipation, I was then able to watch Hai's jump from the banks of the river.
Back on the bridge, there were hugs all round. It felt perfectly normal to hug a stranger in the context of "We just jumped off a bridge and lived to tell the tale!"
Here are some pics of our bungy jumps.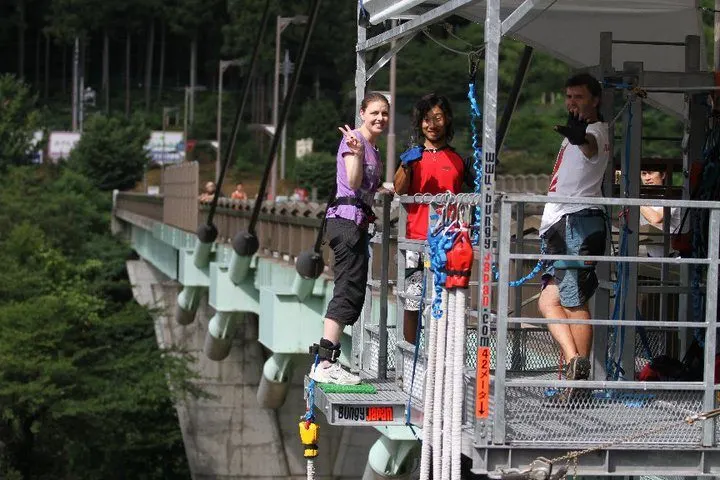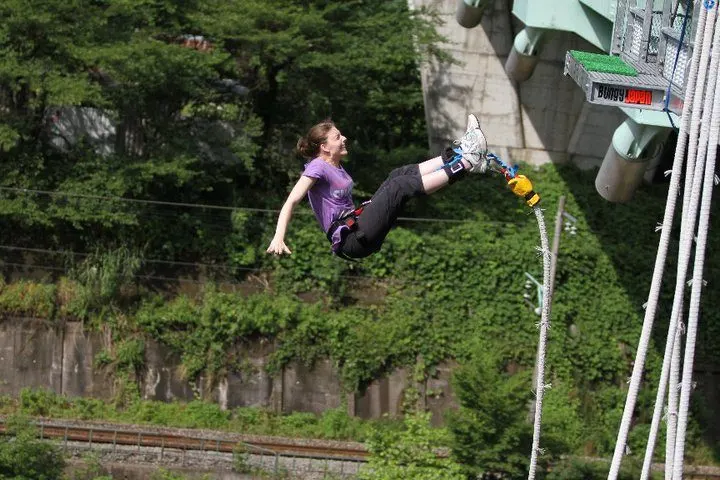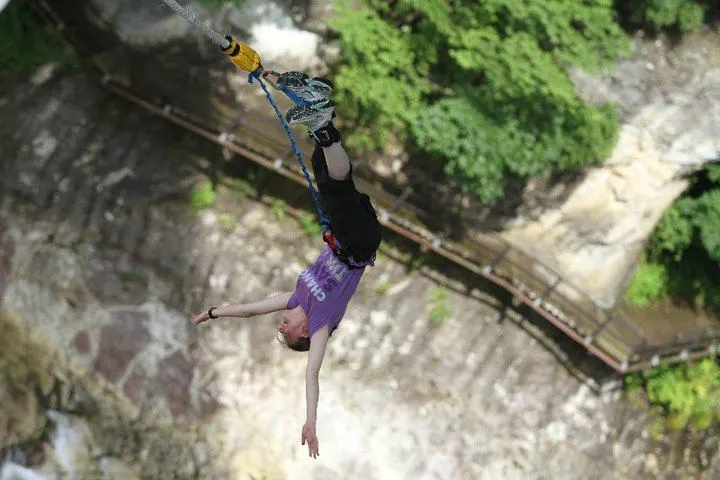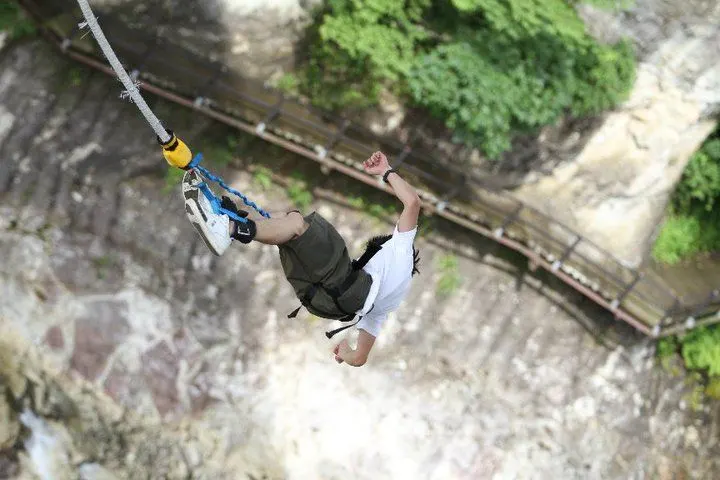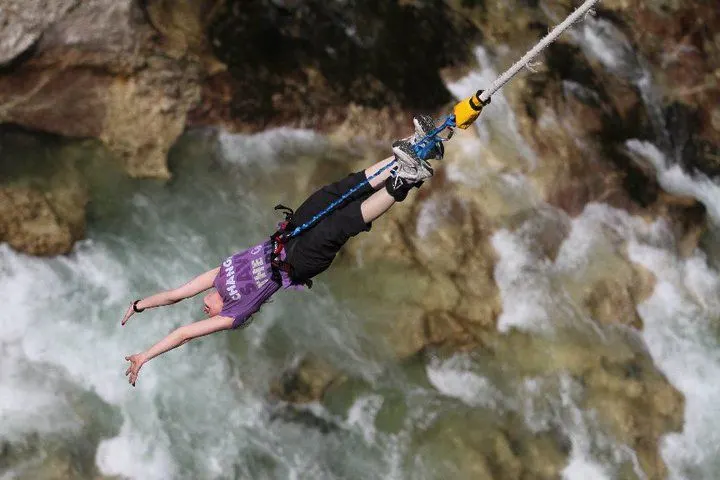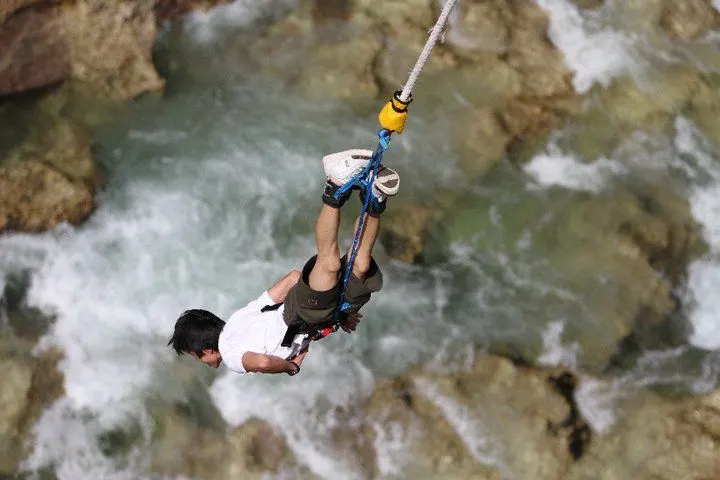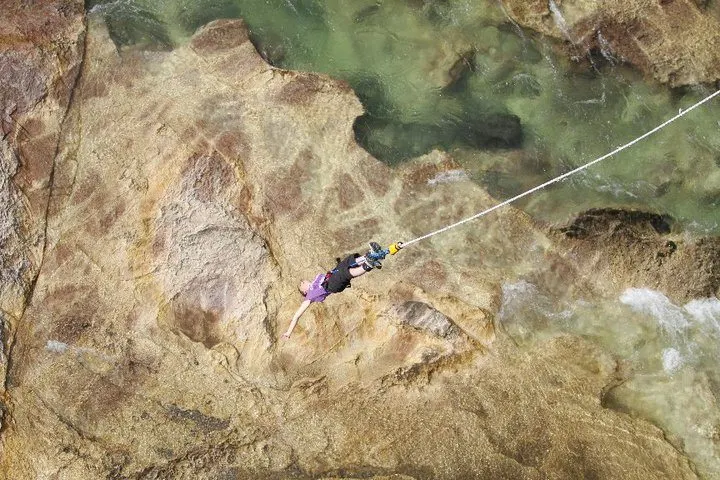 We did get to go paragliding the next day. Perhaps the weather was a little too calm so the lack of breeze meant we couldn't maintain a high flying altitude for long, but absolutely loved it.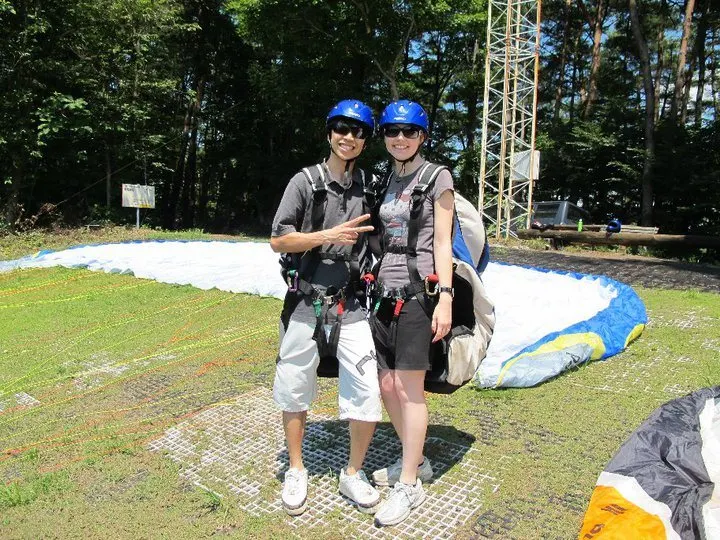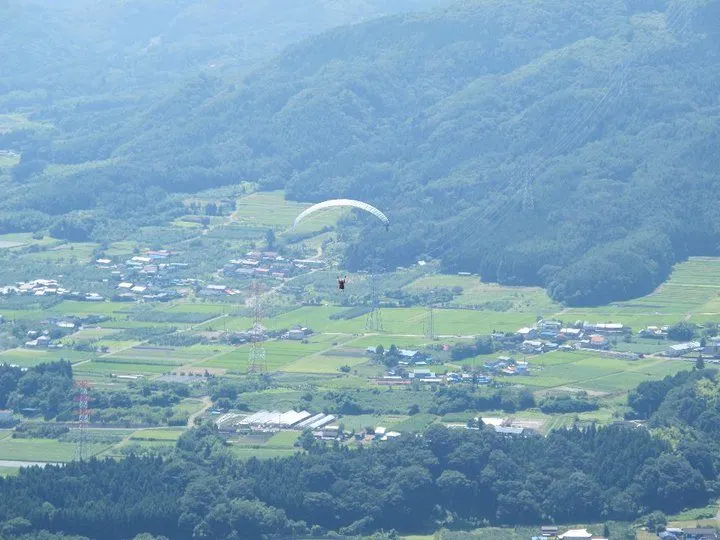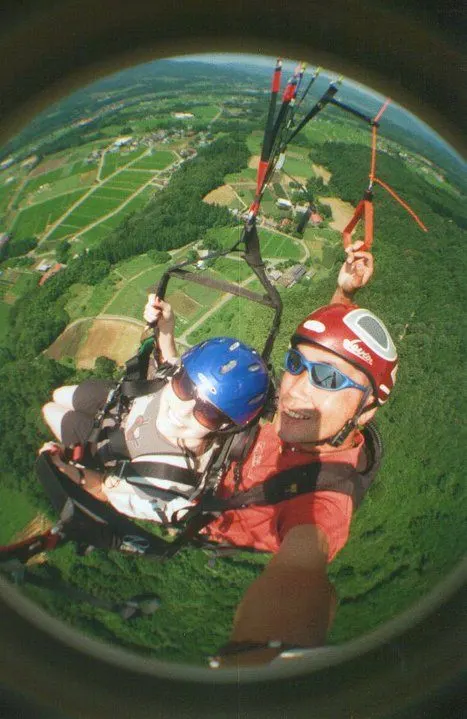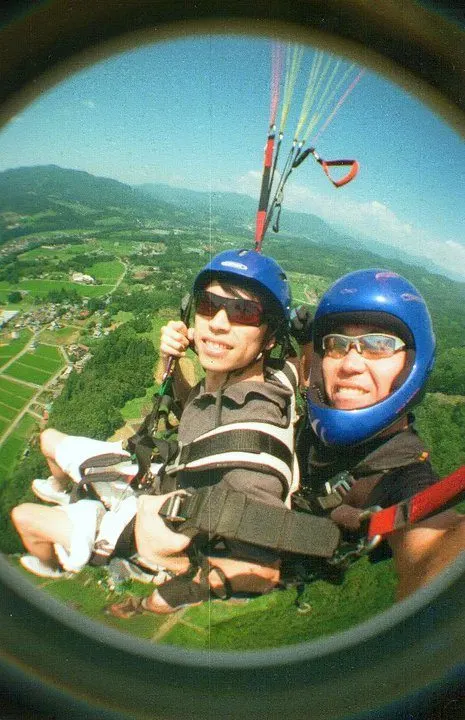 Rafting, as always, was good fun. During the summer time, the rapids are quite tame so if you are looking for family-friendly adventure then the warmer months are the ideal time. If you want the really fast rapids, you should visit in spring when the snow has started melting from the mountains. But when the river is high, that may mean no bungy (if you are planning on doing that too) as you are jumping down to that same river used for rafting. You should contact the tour operators to get more info on the time of year you plan on visiting.
Canyoning, what can I say? It ain't for the faint-hearted. Prepare for some serious body contact and waterfalls being your main means of getting from A to B. We couldn't bring our cameras along for obvious reasons but this video gives you a sense of what to expect.
What I took away from this adventure: you really can do anything when you put your mind to it!
For more info on adventure sports in Minakami, check out the websites of Bungy Japan and Canyons.