Saturday April 5th, 2014. Trafalgar Square, London.
The people had gathered, pretending not to be there. Just hanging about casually as you do on a fine Saturday afternoon.
A larger than average police presence patrolled the square and surrounding streets. "Nothing to see here, Officer! Have a good day now!" Knowing stares were exchanged, eyes darted with suspicion and anticipation. "Just bought a whole lot of linen, Officer." "Just taking my pillow for a walk, Sir…in my pajamas. Good day!" Keep walking, keep walking! The stage was set…and there was no stopping it.
It was International Pillow Fight Day and London wasn't going home without a fight!
International Pillow Fight Day is the conception of the Urban Playground Movement whose aim is "to reclaim public space, create new ways of having fun, and overthrow the dominant entertainment paradigm by rejecting corporate sponsorship and branding." Started back in 2008, the annual event is now in its seventh year and has grown from strength to strength with around 100 cities participating in 2014. The idea is essentially to set a date on which people in cities around the world can simultaneously stage their own public pillow fight. The times and locations of said fights are the choosing of whoever decides to organise one and the word is spread online. Basically, it's a pillow fight flash mob.
Now, London ain't a small city and Trafalgar Square no stranger to visitors. If ever an epic pillow fight could be had, this was perfect real estate. However, it seemed the struggle would begin days before with none other than local authorities. Speculation grew about whether this year's pillow fight would indeed be going ahead in Trafalgar Square when the Mayor's Office began sending out a series of emails stating that cleaning and maintenance would coincidentally be taking place in Trafalgar Square on April 5th with the majority of the area fenced off, making it "unsuitable and potentially unsafe for events." According to London Time Out, they were asked to remove all mention of the pillow fight from their website and when asked, the Major's Office refused to suggest an appropriate alternative location, partly due to the fact that the event had "no known organiser."
It seems those last words "no known organiser" gets closer to the real reason for the Mayor's attempts to halt proceedings. No official organiser means no one taking responsibility for public liability and the clean-up thereafter, which apparently amounted to £2,000 in costs in 2013.
Despite the best efforts by the Mayor into convincing the public the event wasn't happening, it didn't make much difference. They had indeed roped off most of the square, but the area out the front of the National Gallery was free and open. London would take it.
From about 2:30pm, it was clear these was no stopping this fight. A sizeable crowd had gathered who *just so happened* to be in the Trafalgar Square area with their pillows. And some must have *just decided* to save time and stay comfy that weekend by remaining in their sleeping attire.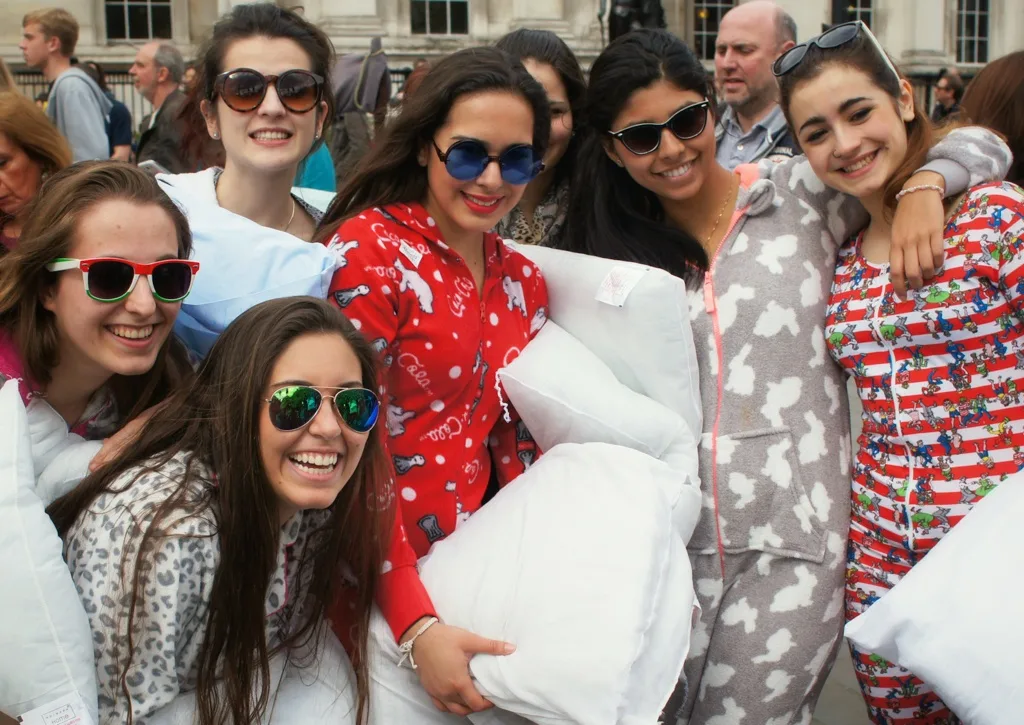 At 3pm on the dot, pillows were raised, targets were identified and the biggest pajama party the city has ever seen began. No one in the action was safe. And watch out for those children and children alike propped up on shoulders; probably the most vicious and indiscriminate of them all! Baam, baam, baam came the attacks from above.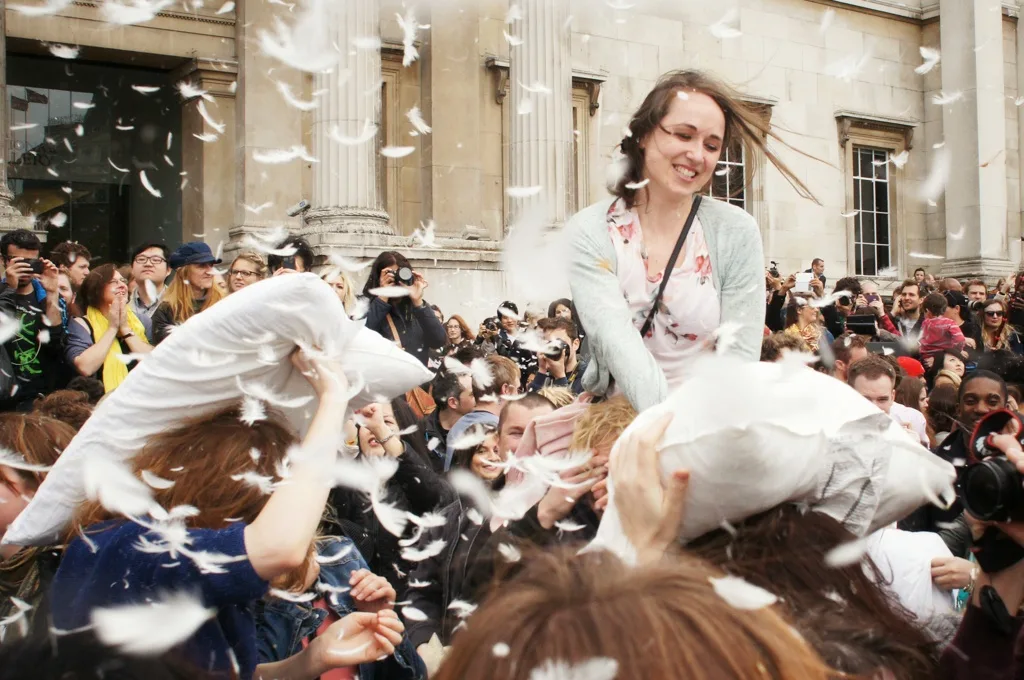 Soon feathers were aflurry, impairing your vision and causing the same symptoms as a hayfever sufferer on a windy spring day. Participants ducked out just long enough to pull the feathers from their mouths before heading in for more. Hell, I think I actually swallowed one.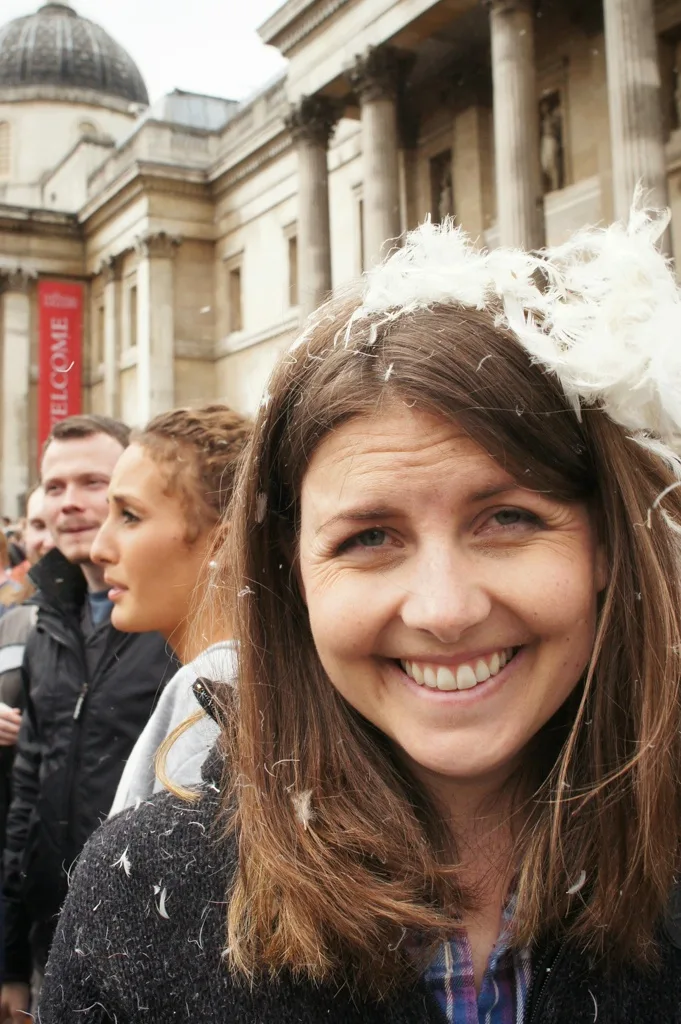 Your pillow is low on feathers? Never mind, just grab some from the ground and stuff them back in. But hurry, you're left defenseless in the process. The crowd grew and people were spilling off into the surrounding streets. The elevated entrance to the National Gallery became a prime viewing platform. Don't suppose many people were getting in and out of there.
Then there came the time when the only logical decision could be made, to make way for the expanding crowds, to give London back its square. The barriers came down and in exaltation Trafalgar Square was once again a place of the people.
For more than two hours, Londoners revelled in the centre of their city, letting their hair down and feathers fly in what has to be declared one of the biggest stress-relieving events on the capital's calendar.
Like the best get-togethers, the only thing to stop this party was pure exhaustion. Ready to hit the sack, better stop off at the nearest department store for a replacement on the way home!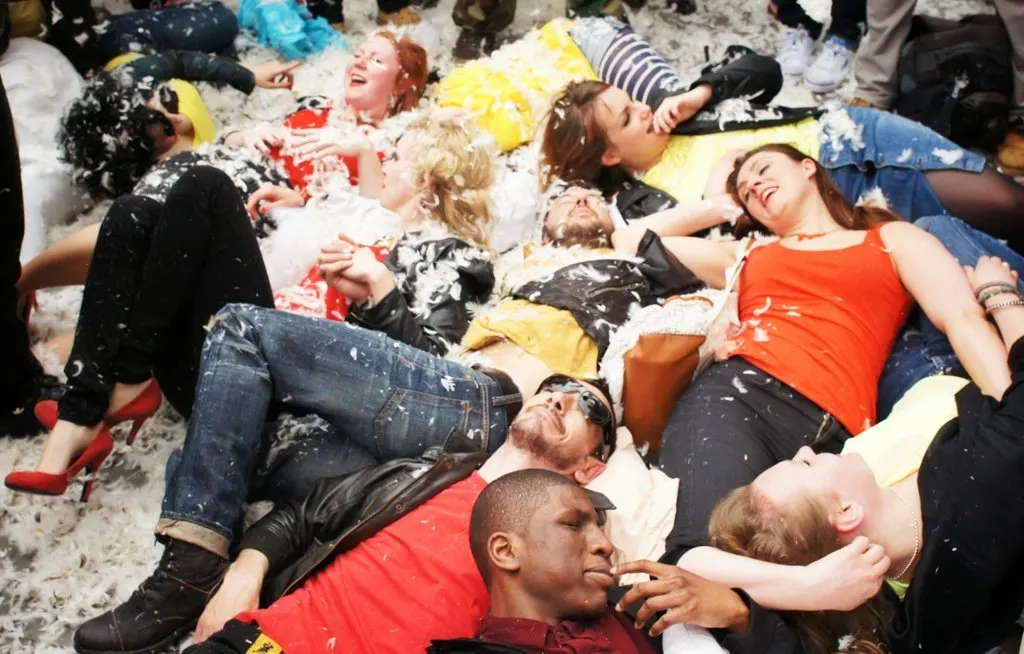 *We also took video of the event that we'd like to share. Unfortunately, due to our current location we are unable to upload it, but hang tight and we'll publish it ASAP #youtubeisblockedinturkey*
Did you participate in International Pillow Fight Day festivities in your city? If not, would you consider it next year?