Part Nine of my account of working as a volunteer in Ishinomaki, a town hard-hit by the earthquake/tsunami of March 11th 2011, as part of clean-up and recovery efforts.
~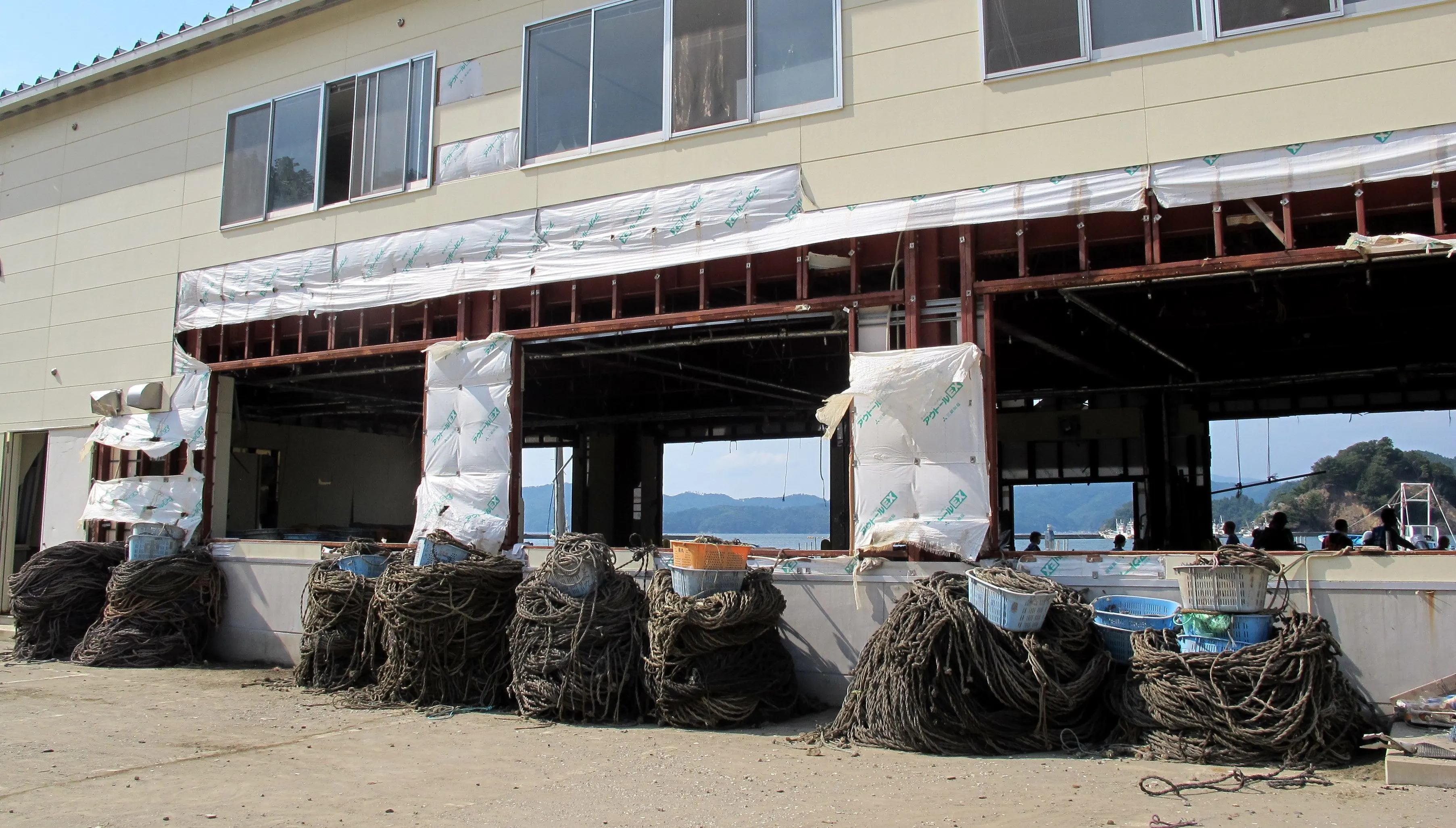 8/7 – Today was my last day and we were going back to Kobuchihama! Not sure how it was arranged and the fishermen seemed to be as surprised as we were about us being back, but it was a welcome reunion. It was the fishermen's day off however several of them were around the bay area doing their own errands. Of course, when they saw us they came over without hesitation to help us with today's task: sorting out ropes that had been collected from tsunami rubble.
This is the next task that follows on from what we did yesterday. Once the ropes have been untangled from the rubble and coiled separately into baskets, they then have to be sorted by type, length and color. We laid them out fully extended on the ground. When we had 30 of the same ropes we tied them together in three places before moving them aside. Often it was difficult to distinguish color as they had been covered with the mudslide that the tsunami produced. A rope appearing black, may in fact be white or yellow or purple and it was only with the expertise of the fishermen that such mystery ropes could be correctly categorized.
At lunch we sat upstairs in the makeshift working building, another aftershock causing the building to sway from side to side and wake those having a momentary slumber, the heat certainly taking its toll.
We continued on until all the ropes had been sorted. Then we carried the heavy bundles and coiled them on top of one another to form big stacks. Ropes attached to the side of the building were pulled up through the middle of the coils and secured so that the rising tide would not wash them away. The tide comes up a lot higher these days, the land sunk from the events of March 11.
Working alongside the fishermen, another task was completed. These ropes were ready for use once more. Friendships now firmly founded, I found solace in the certainty that this would not be the last time we'd meet.
Back at camp, I washed my boots and protective gear for the next volunteer. I may have washed away the physical dirt and grime of 10 day's work, but the stories stay fixed on my memory.
8/8 – The bus pulls up at 4am in the heart of Shinjuku. Youngsters stream out of karaoke bars in the early morning sunlight, a world away.