Part Eight of my account of working as a volunteer in Ishinomaki, a town hard-hit by the earthquake/tsunami of March 11th 2011, as part of clean-up and recovery efforts.
~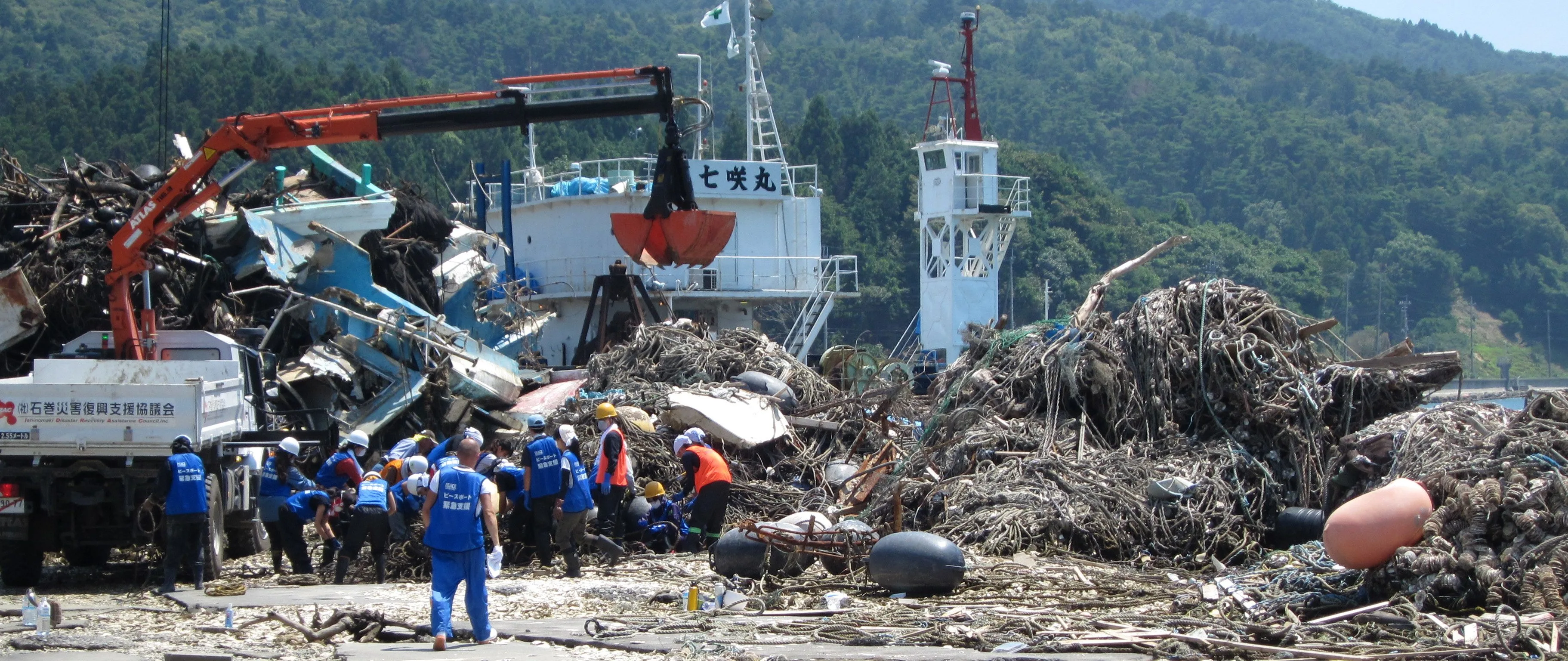 8/6 – Today I was meant to be going home with the rest of this week's volunteers but decided to extend my stay to lend a hand over the next couple of days.
During the early-morning briefing, the fisheries team were given one last gift, a key ring, another thank you sent from the fishermen. With it we listened to an emotional tale of friendship and strength beyond imagining that had us once again in a flood of tears.
After this last meeting, it was time for the team to depart for Tokyo. After heartfelt goodbyes to a team that had become close quickly, it was time to move tents and meet my new team. We were advised of our new assignment. We were going to Koamikurahama, another bay area, to help recover fishing ropes from tsunami rubble.
It was an incredibly hot day. Until now we had been lucky with overcast weather, even the occasional shower, a blessing in early August. We arrived to find piles and piles of ropes all tangled together while machinery was pulling even more debris from the bay and adding it to the growing mountains around us.
It was clear that Koamikurahama was worlds away from Kobuchihama where we had been working over the past week. It was not only about the untouched debris but the deserted and empty feeling of the place. There were a few fishermen around but they silently went about their business in the shell of a building that miraculously still had some walls in this barren wasteland. There was no bantering or interaction like in Kobuchihama. We were told that the fishermen were feeling so unmotivated to work, like there was no point in going on after all that had happened, all that was taken. It was only now that a few of them were coming back to the bay but there was not much that could be done, all their fishing equipment was either washed away completely or in these piles of ropes and rubble being scooped from the bay floor. Some volunteers who had been in the area for a while said that it wasn't that long ago that the Kobuchihama fishermen were in the same mesmerized state with no light in their eyes. I hoped that one day I could come back and help Koamikurahama rope oysters too.
It was a huge puzzle, pulling and tugging and scrambling over the piles to find where the ropes were leading us. I started with the colored ones, hoping they would be easier to spot in this rope jungle. Even freeing one rope felt like a huge accomplishment given the time and energy it took. We worked for hours and hours only to fill two small pick-up trucks with untangled ropes. It looked miniscule against the mountains behind us. After the high of working with the fishermen in Kobuchihama and successfully getting the fishing industry there at least in a position to get back on their feet, this task suddenly felt overwhelming, the enormity of the clean-up ahead dragging me back to the reality of how many years it's going to take to get the affected areas fully up and functioning again.
You might be wondering why we were recovering the ropes. Why not dispose of the debris and buy new ones? There are a couple of reasons. Firstly, there is really no where to dispose of debris, there is debris everywhere. While many streets and bay areas have been cleaned up with the help of NGOs and volunteers, once debris is sorted and collected, it is simply taken to huge makeshift dumping grounds. The debris that has been collected has been sorted as best as possible into wood, plastics, electronics and so on, but where will it go from there? The simple answer is: nowhere in the near future. There is nowhere else to take it and the area doesn't have the capacity to properly dispose of the enormous mounds of debris generated by the tsunami. So there it will wait. Secondly, the local fishing stores that used to supply rope to the fishing industry have been destroyed, swept away by the wave. Therefore, the fishermen can't get ropes from their usual sources and getting all new ropes from overseas will cost more than the devastated region can afford right now. So they need to save what they can. We collected buoys as well, also expensive pieces of equipment worth ¥15,000 (about US$195) each.
By the end of the day, we were hot, exhausted and a little deflated at the small dent we had made despite working to the best of our abilities. I tried to think positively. At least that was two small trucks closer to getting Koamikurahama to the stage where Kobuchihama is now.
On the bus on the way back to camp, I remembered the strings of scallop shells dotted with oyster larvae I had lowered into the bay the day before in Kobuchihama and imagined the same ropes we had just collected filled with the same shells bringing hope and prosperity to this community. One day.