Ishinomaki. A place with such heart that I will always come back.
~
As we approached Ishinomaki Station, we starting recalling the memories of these streets, these places. Images of the Kawabiraki Festival last year flashed across our minds. Even from the outskirts of Ishinomaki, it was clear that so much work had been done since we were last here, the piles of debris and boats and cars removed.
Getting off the bus, a familiar face welcomed us and drove us to It's Not Just Mud (INJM) headquarters. Starting off as an ad hoc group of volunteers wanting to do more on the grounds of Ishinomaki's Senshu University, the group has now attained NPO status and works from two houses that were damaged in the tsunami and set for demolition. INJM volunteers repaired the houses to make them liveable again and the owners kindly donated the houses for use as a volunteer base.
The main house has its reminders of what took place there but it is as homely as they come. Lovely meals are prepared every night and everyone pitches in with the household chores. The number of returnee volunteers will give you a sense of the wonderful experiences to be had here. Once you have been here, you become part of the family.
Unfortunately, it was a short stay for us this time, just two working days. However, we were grateful to have the opportunity to get up there again. We spent those days in Funakoshi where we were assisting with the process of accessory making and other forms of income generation. If you have read my previous posts about the situation of the fishing industry in Kobuchihama and Koamikurahama, you will know how severely affected it was. With the loss of so many jobs, many fishermen are seeking other means of income generation to get by. Funakoshi is an excellent example of people coming together and making the best of what they have available to them.
Ogatsu is a town within Ishinomaki City and is well-known for its Ogatsu stone. The roofs of many homes were tiled with this beautiful stone quarried from the local Kitakami mountain. With so many houses destroyed by the tsunami, these roof tiles lay shattered across Ishinomaki. Instead of adding them to the piles and piles of tsunami debris that remain in temporary dumps, a small group of fishermen and their wives are collecting these otherwise unusable, broken roof tiles and transforming them into pretty accessories such as necklaces and key chains, as well as larger pieces to display in your home or garden.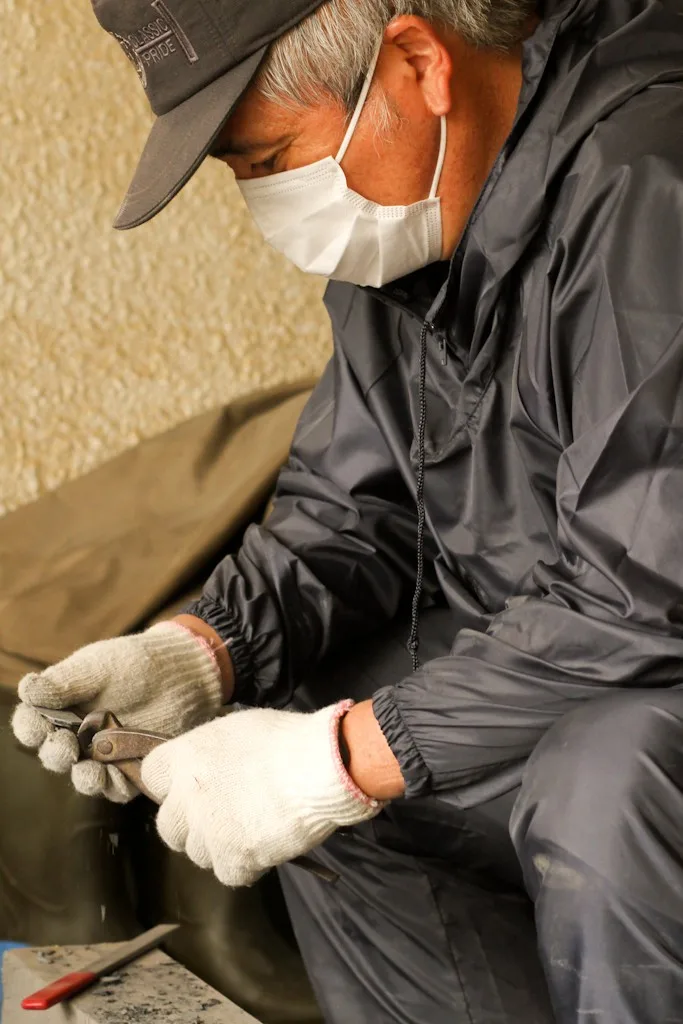 Using a former school building that remains standing as a base, the fishermen sit in a makeshift working area downstairs, breaking the stone into smaller pieces, filing them down and drilling holes for the chain. Hai and a few other volunteers were helping the local men smooth the sharp edges. Then they are washed and dried and sent upstairs where the women who have become known as the "Funakoshi Ladies" paint, polish and make woven chains to attach to the stone amulets.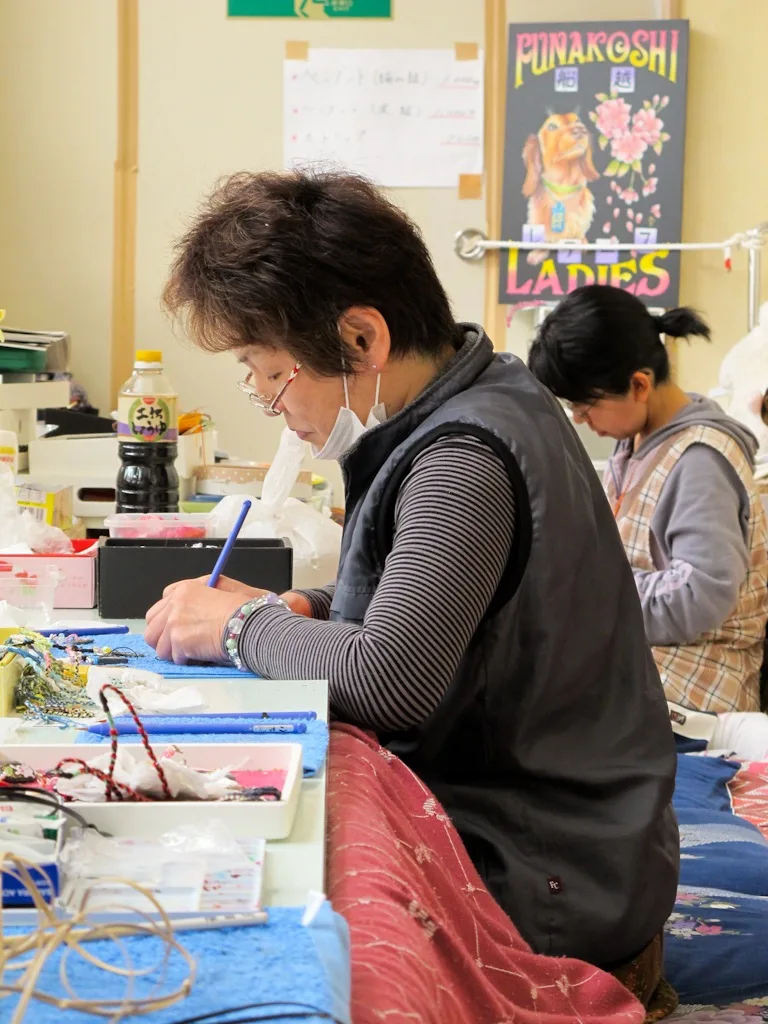 The women are very talented, making some very intricate and unique designs. The men assist with designs too once they have prepared enough stones to keep them going for a while. Mostly drawing what they know best, images of fish and the sea.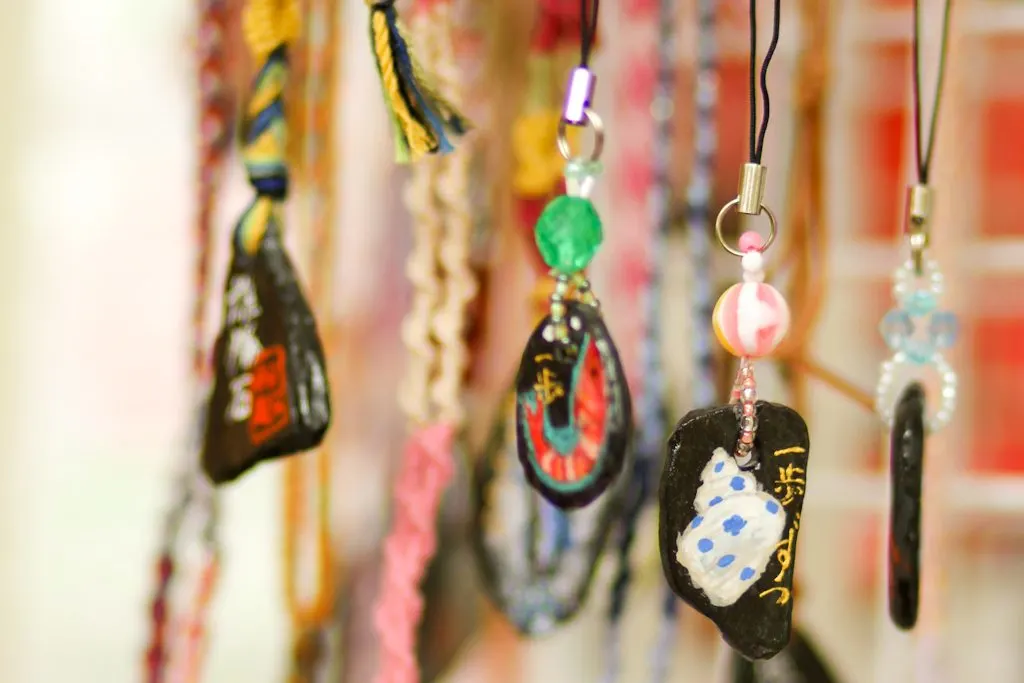 The ladies had received an order for two thousand amulets from France. There was a set design, these stones were to be unpainted and with a gold colored plate with the word "Merci". Being a huge task for this small group of women, four of us went upstairs and assisted them with preparing this order so they could continue painting other orders they had received and for general sale.
We took turns doing different tasks, polishing the stone amulets, folding paper for the packaging, cutting and sticking down one side of double-sided tape so that all the ladies would have to do is peel off the other side when they were finally to be packaged, and of course stringing up the amulets themselves.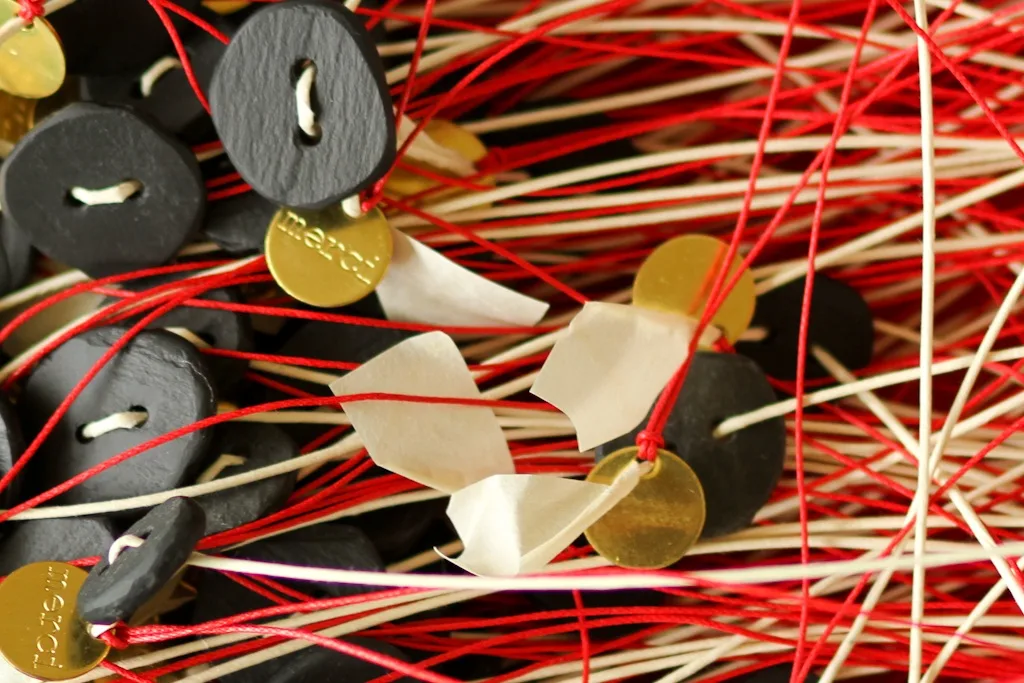 It was not difficult work and the women could have done it themselves given more time, but working together not only gets the job done faster and frees up time for other activities, but it shows support for the local community and that more than a year later we have not forgotten about them. In fact, this kind of community support is where many groups are heading now. Most of the major debris has been removed from the streets and so some of the more physical work is drying up. Don't get me wrong, there is still much to be done in the way of construction and rebuilding, and demolition of those precarious buildings that can't be saved. However, this process will take time and a lot of decisions are still to be made on town planning and even whether to rebuild some areas at all. In the meantime, the emotional and mental strain of the past year is mounting as people suffer from the loss and fear the future.
If you come to Tohoku now, you might be helping local people with re-starting their business activities, cleaning up their damaged shops, listening to the needs of those in temporary housing units, sifting through sand to remove glass and other dangerous materials at a local playground site so that a play set can be rebuilt there and kids can have a place to play safely again.
You may have some ideas about what volunteering in Tohoku will be like and some volunteers of late have been disappointed that work has not been more of the "physical labor" that they envisaged. But I urge you not to underestimate the importance and power of any small gesture of help, no matter how repetitive or tedious the task may be. You doing these tasks takes the burden off a local person having to worry about it.
Don't underestimate what it means to give someone the support to help them move on, the energy to kick-start their business, to make a space liveable and playable again, to offer a smile and a chat to someone who hasn't felt like they have had much to laugh about since the wave took away their lives as they knew it. Mental and emotional support can sometimes be left out of the equation when there are such pressing needs as finding survivors, setting up emergency shelters and trying to get enough food to those in need. With suicides in affected areas on the rise, emotional support is critical and cannot wait while plans for the future are debated.
The people of Funakoshi have plans for the future too. They are one of the few places where there has been community support to leave their properties and move up to higher ground. Fifty-four families of the approximately 150 that lived there before the tsunami have said they will return to Funakoshi and rebuild higher up. Due to the lack of level ground in Funakoshi, temporary housing had to be built elsewhere removing residents from their town. The plan is to cut through the nearby mountains, creating a level spot for permanent housing, allowing people to move back a safer distance from the sea below.
The fishermen too plan to return to their former way of life out on the bay. For them, the Ogatsu amulets are a temporary measure for survival. In the words of jovial fisherman and leader of the Funakoshi Recovery Working Committee, Nakazato san, "If I don't fish then I can't go on. We have to work hard now so that the people who evacuated the area want to come back.
"All the people have been washed away. It will take more time for people to be able to smile from the bottom of their hearts. But if I don't keep telling jokes I'll get depressed. Our wives look like they are enjoying themselves because when all of you come to visit we can smile and forget about the bad stuff. But next time make sure you bring some female volunteers," laughed Nakazato san during an interview with Peace Boat volunteers last year.
The Ogatsu amulets were also temporary for the women but the success of their micro-business from a small room on the third floor of the abandoned school building may see them continue past the restarting of the fishing industry in this area.
Before leaving, Nakazato san called me over and handed me an amulet shaped into a heart. He said he had made it himself, all except the woven cord which the ladies had made. On the front side he had written "Hai" "Jess" in Japanese, and then on the back the Japanese character 心 (kokoro) meaning "heart" or "soul".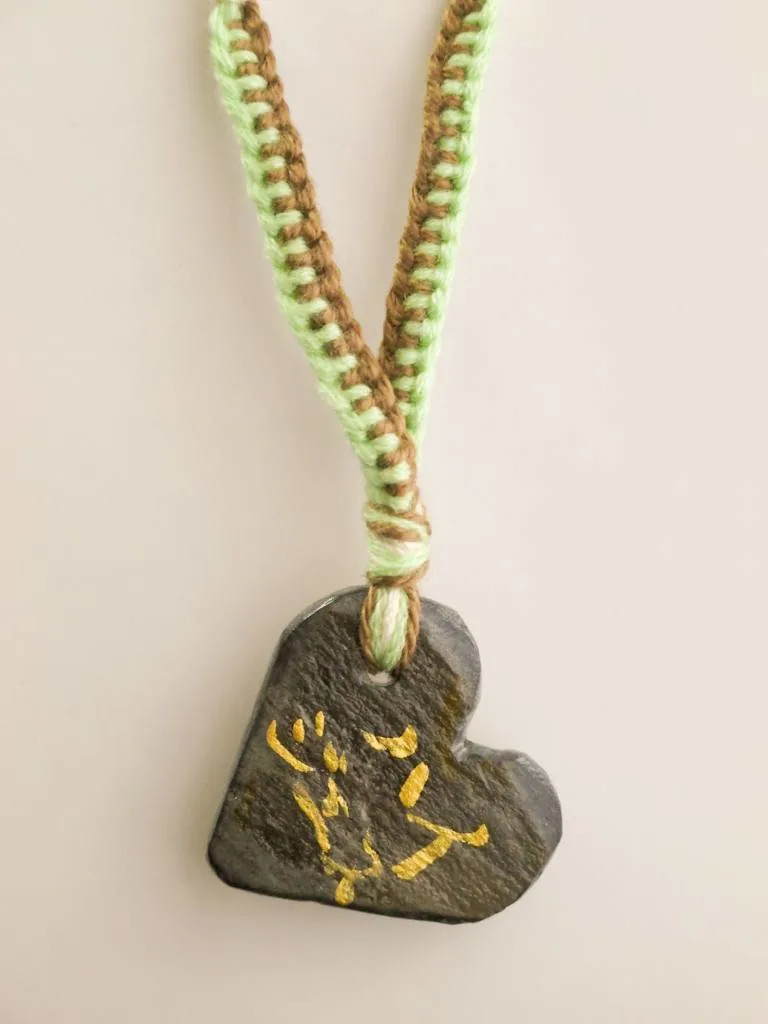 We all went outside for one last group photo. Nakazato san also staged an impromptu dance lesson, one he had learned from one of the other volunteers the day before, which quickly had the ladies in fits of laughter as they tried to capture us all following his lead with their camera phones.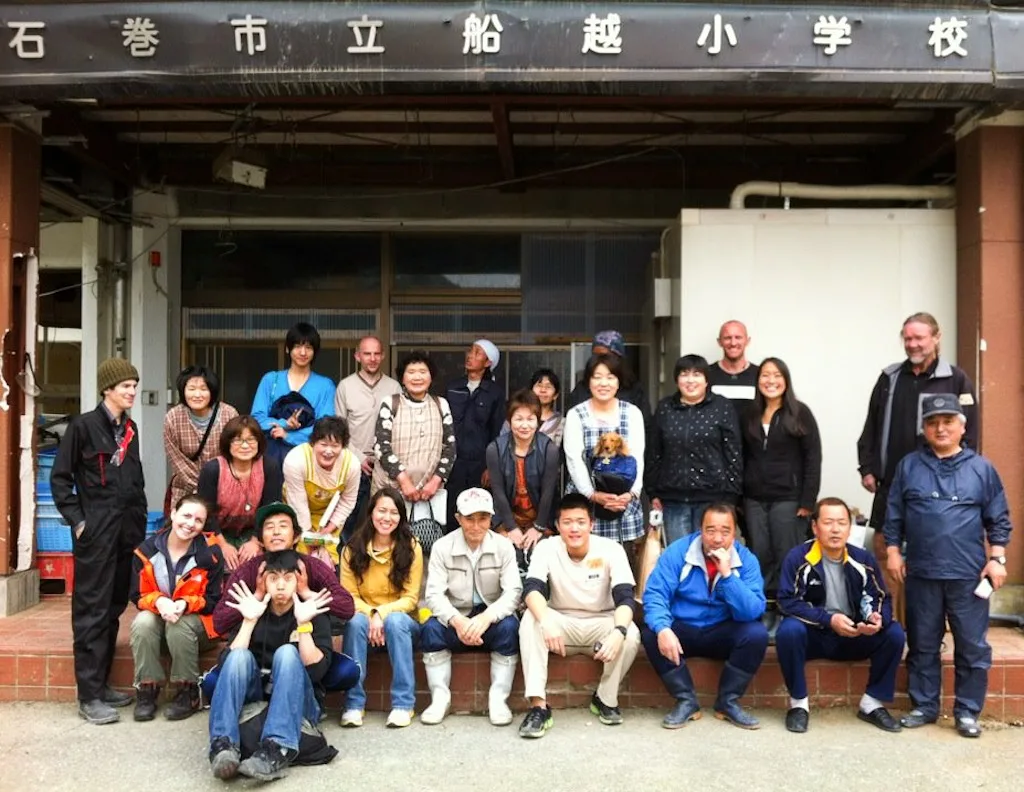 That night, we tucked into the octopus that the fishermen had gone out and caught that day and had given us as a gift. Over lunch, they had hung it from a hook outside on the school steps and cut raw chunks of it off for us to try. It was so slimy and slippery, I found it difficult to hold on to the tentacle while Nakazato san cut me off a chunky slice.
After dinner of octopus various ways, we and a couple of other former Peace Boat volunteers went to visit one of our friends, fellow volunteer from the grounds of Senshu University last year. We drove up the windy, mountain roads seemingly to the middle of nowhere. We found our friend at a dimly lit patch of land being used as a campsite. It was such a happy reunion.
We drove back into town for a drink and a chat before we had to make our way to the station's bus stop for the overnight bus ride back to Tokyo. As we waited together, one of the INJM family kindly came to see us off and we also bumped into others we had met here in Ishinomaki before. One of the things I love about Ishinomaki is how small it can be sometimes, just waiting for the bus after 10pm on a Tuesday night, we bumped into former fellow volunteers and even one of the Kobuchihama fishermen we had become so close to during our last trip. Even strangers hugged us at the bus stop and wished us a safe journey.
As we waved from the bus window and started the night drive, we were already planning when we would be dropped off at this same place again.
~
For more of our Ishinomaki volunteering stories, click here.
For more info about It's Not Just Mud in English and Japanese, please visit their website.