You know sakura (cherry blossom) season is approaching when your latte turns pink and your kombini (convenience store) snack becomes a floral tribute.
Just a couple of weeks ago, the cherry trees in Tokyo looked winter-bare. I had attended our local cherry blossom festival which unfortunately had to go ahead without the guest of honor.
But then only days after, as if in some sudden overnight whirlwind sweep of the city, we awoke to the most magnificent display of spring.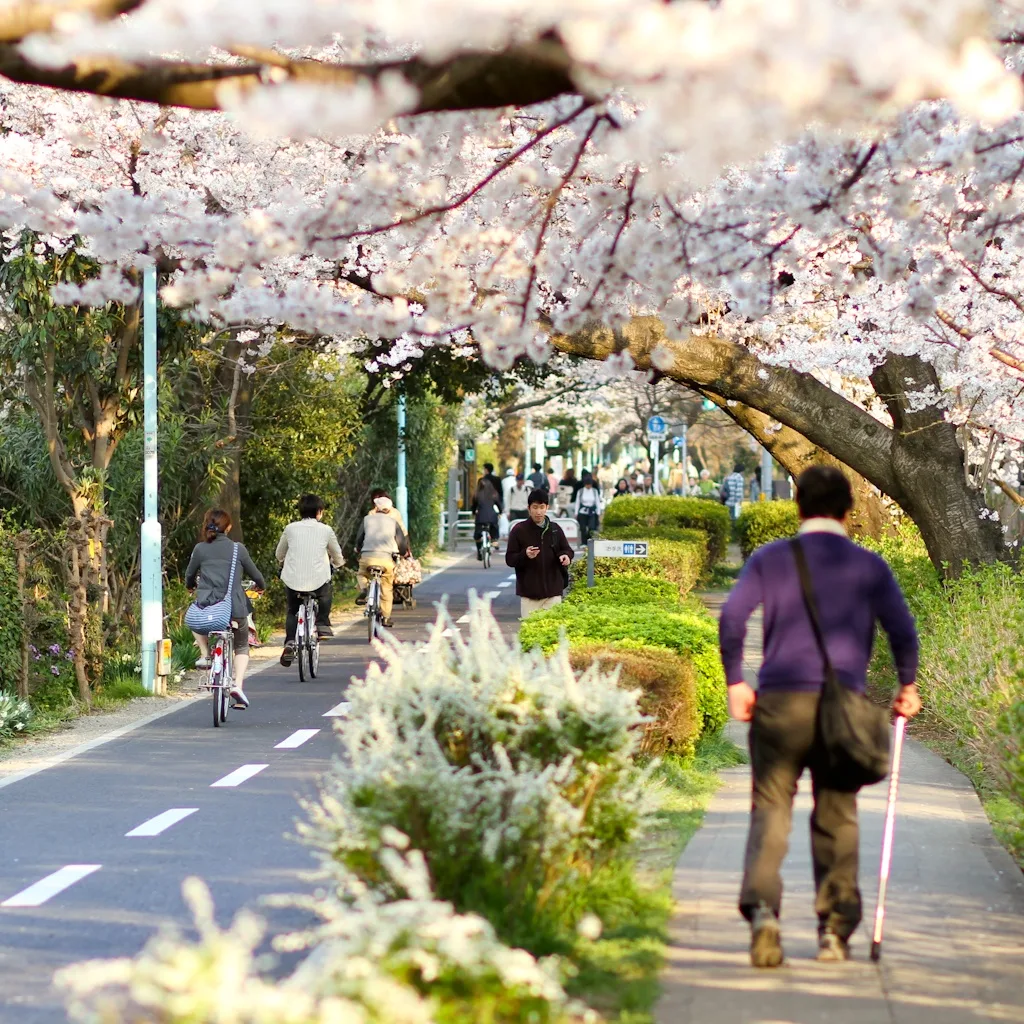 The cherry blossom season is short-lived, only a week or so, two at best. So for those who work during the week, the weekend when the flowers are in full-bloom is the one opportunity for the year to really enjoy them. Therefore the Japanese keep a close eye on the cherry blossom forecast in order to try to plan their get-togethers.
Cherry blossom viewing is known as "hanami" (花見) and the popular activity during this time is to have a picnic while enjoying the pretty blooms. This has, however, become more of an opportunity to drink with friends, with Tokyo's major parks and gardens having to instigate a "finishing" time for hanami party-goers to call it a day. Local newspapers report on the number of "revelers" who require medical assistance and/or hospitalization as a result of enjoying their hanami a little too much.
So popular is hanami that some people go to the park at midnight (when many parks officially start allowing you to claim your spot) to lay down their picnic mats for the following day.
Over the weekend, the cherry blossoms were in full bloom and that meant chaos in Tokyo's parks and gardens. I went to Inokashira Park (井の頭公園) in the city's west to meet friends for our own hanami party.
Our host had organized a wonderful vegetarian spread from a local café which we ate while keeping warm under a portable kotatsu that another friend had made himself. Yes, a portable kotatsu! (A kotatsu is a low wooden table which has a futon or a heavy blanket draped over it, upon which a table top is placed. Underneath the table is a heat source that keeps the lower half of your body warm as you sit cross-legged underneath the blanket trapping the warmth). While the weather wasn't exactly screaming spring yet, that wasn't going to stop the celebrations.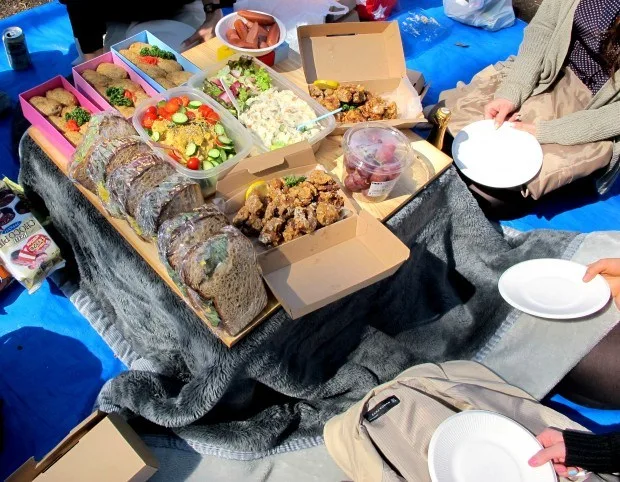 The following day, Hai and I visited a small bamboo park a short train ride away from our house. Being a Monday, it was a far more reserved scene with parents and their young children getting out and enjoying the outdoors. We sat and ate our obento (packed lunch) under the cherry blossoms and made some knee-high friends.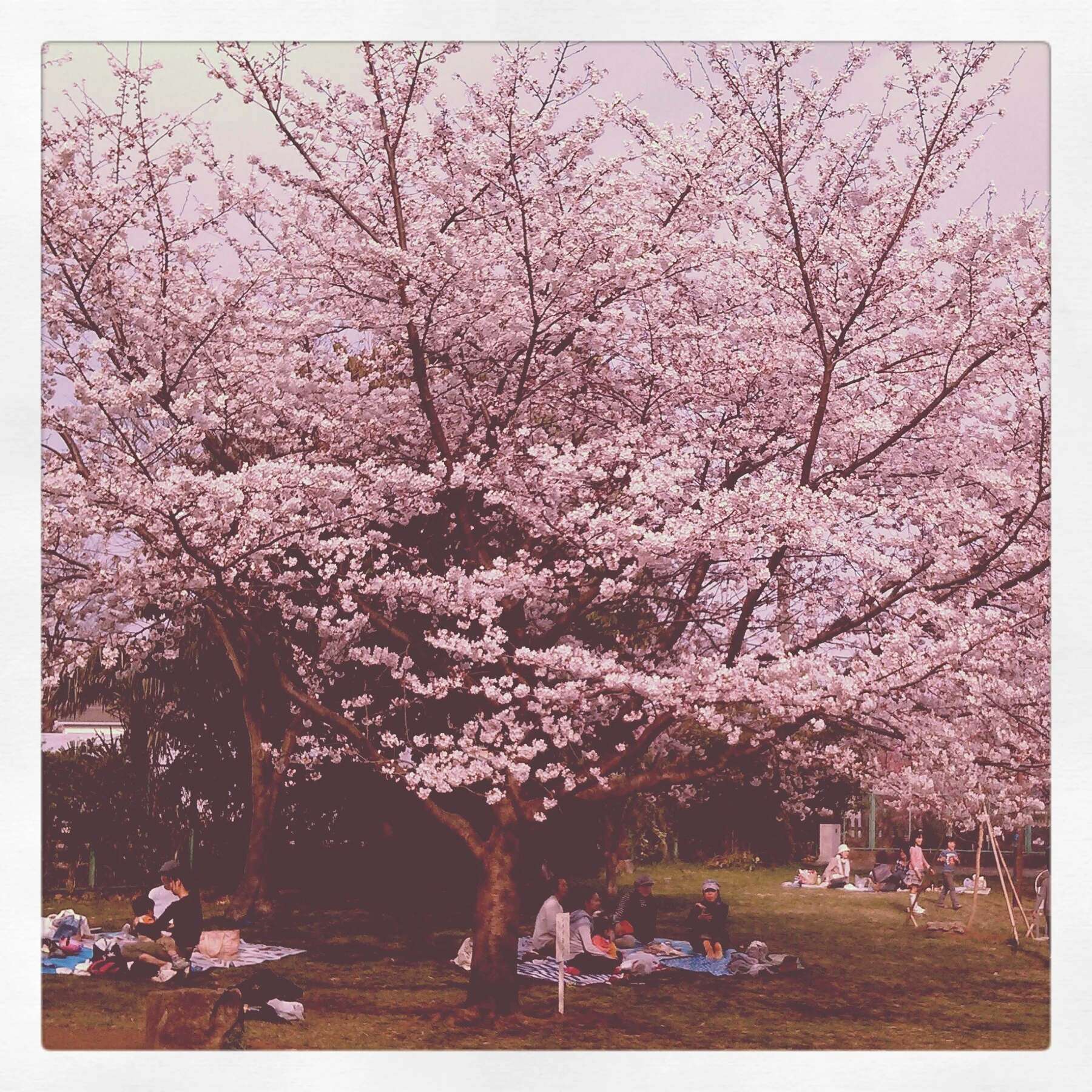 And to round out this year's hanami season, the next day we rode to Tama Lake (多摩湖). We pulled up to a lovely cherry tree with low-hanging branches, put down our plastic mat and enjoyed the floral view one last time. Almost symbolically as we packed up to leave, petals started falling to the ground. Past their prime, the cherry blossoms will soon vanish just as quickly as they appeared.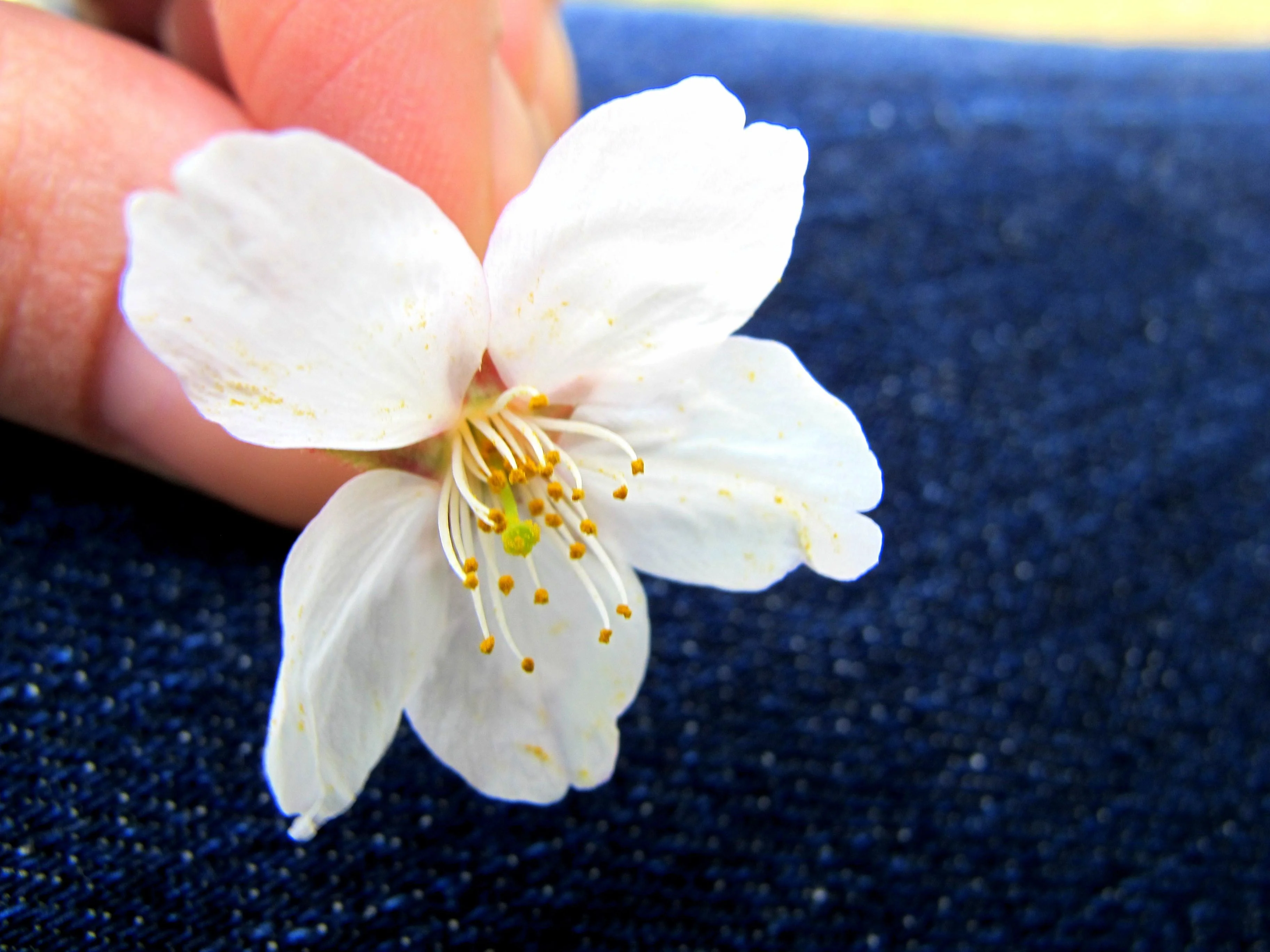 If you're overseas and wanting to plan a trip to Japan during cherry blossom season, you should check the forecast as the cherry blossom "front" can vary widely from year to year. Then allow enough time around the forecasted dates. Depending on the weather, they could bloom earlier or later than expected. Three weeks should safely cover it.
Remember that the cherry blossoms start blooming in the south first and then make their way north. So they are usually blooming in March in the south (although can be as early as late January on the southern islands of Okinawa), in the Tokyo/Kanto region in early April and then further north late April/early May.
For those situated in the northern areas of Japan, there is still time to catch this year's season. Happy hanami!