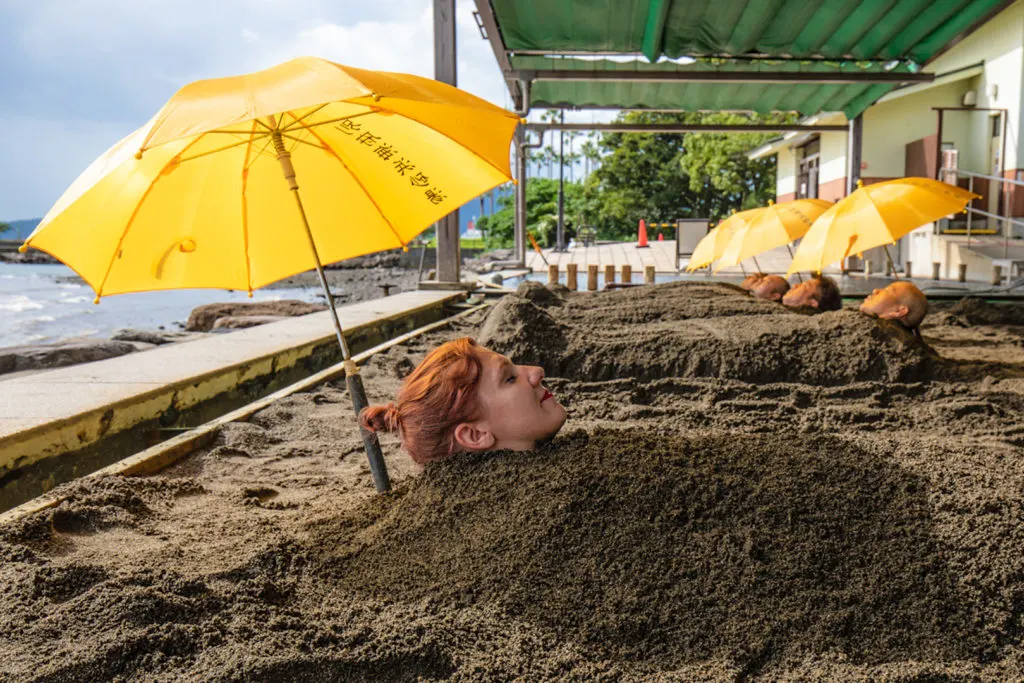 Oita Prefecture in Kyushu is just one and a half hours by plane from Tokyo and is the perfect addition to a trip to the capital or as a side trip from Fukuoka. Think hot springs, the outdoors, mountains and meditation, which all meld together in a kind of harmony between nature and man.

Beppu is probably the most well-known area of Oita thanks to its more than 2,300 hot spring sources, making it the world's second largest source of thermal spring water after Yellowstone National Park in the United States.

The "Hells of Beppu" – a circuit of seven scalding, to-be-looked-at-only onsen, ranging from vermilion red to azure blue, with bubbling mud and geyser spitting pools – have been so-named since their beginnings as their steaming waters and violent natural displays led locals to believe they must be cursed.

But there's far more to Beppu and Oita Prefecture than the Jigoku Meguri (Hell Tour). Here are 10 interesting things to do in Oita that show you where you should consider venturing instead.
The Kunisaki Peninsula
Let's begin our exploration on the Kunisaki Peninsula, which is not only the location of Oita Airport, but considered one of the most spiritual "power spots" in the region.

The peninsula is home to a unique local Buddhist culture called "Rokugo Manzan" (六郷満山), which contains elements of Buddhist, Shinto and mountain worship, and revolves around the 721-meter-tall Mount Futago.

The mountain and the surrounding countryside is dotted with dozens of temples and shrines, traditionally divided into six areas, which is where the name Rokugo Manzan, literally meaning "Six Districts, Full of Mountains", originates.

One of the unique aspects of the area is the large number of rock statues and carvings that have become one with the surrounding mountain foliage. In stark contrast to many of Japan's manicured rock gardens and botanical displays, you feel a sense of mystery and adventure as if time has stood still and you are happening upon overgrown and hidden relics of a past civilisation. In fact, Kunisaki is said to contain more than half of Japan's stone Buddhist statuary (and some of its oldest).

There are many places of worship you can visit if you have the time to explore, but here are a couple of the most well-known to get you started.
Futagoji Temple
Located close to the peak of Mt Futago, Futagoji (両子寺) dates back to 718 and is one of the most prominent temples of Rokugo Manzan.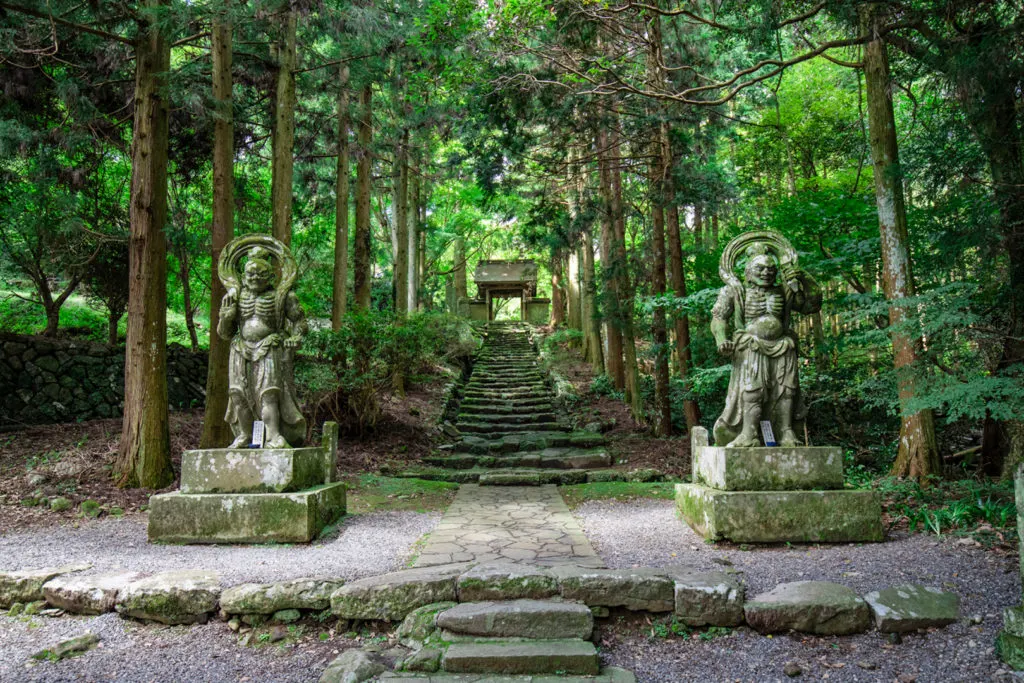 It is well known for its pair of stone Nio statues which guard the beginning of the temple approach just below the parking lot. From there it is a ten minute ascent up a flight of steps to the main temple buildings, including Gomado Hall and Okunoin Hall.
Fukiji Temple
About 15km away, one can find Fukiji Temple (富貴寺). Its main hall is a designated national treasure and is the oldest wooden structure in Kyushu, dating back to the Heian era (794-1185).

Set against a backdrop of greenery, this simple and serene scene is often considered the personification of the beauty and tranquility of Rokugo Manzan.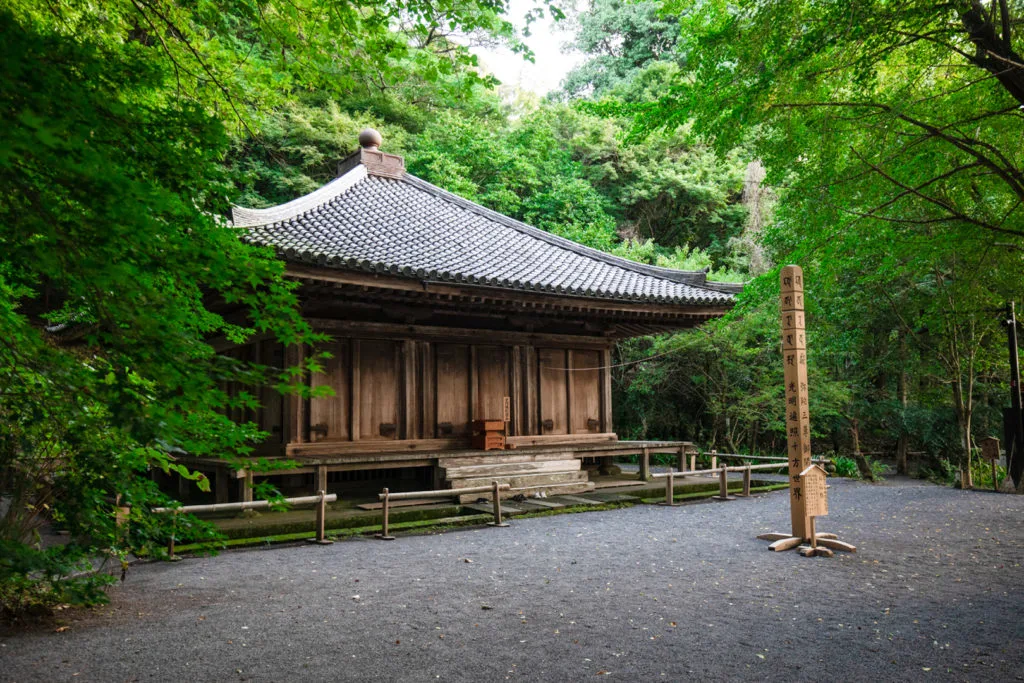 If you want to stay overnight on the mountain, Ryoan Fukinotou, next to Fukiji Temple, offers beautiful traditional-style rooms with dining and hot spring access. You can also participate in a special early morning zazen (seated meditation) and gongyō (reciting of Buddhist passages) experience at Fukiji Temple.
Kumano Magaibutsu
Magaibutsu refer to Buddhist imagery carved directly into a natural rock face and offer a surreal opportunity to witness religious worship of centuries past.

The Kumano Magaibutsu (熊野磨崖仏) in Oita features two large stone carvings on the side of a cliff, one eight-meter-tall depiction of Fudomyoo and a 6.7-meter-tall Dainichi Nyorai Buddha, making them the largest magaibutsu relief carvings in Japan.
They have been designated by the national government as an Important Cultural Property and while there is no record of when these carvings were created, it is estimated they were made during the Kamakura and late Heian periods respectively.

Visitors need to take a 20-30 minute forest walk to reach the carvings, including a 10-minute climb up uneven cobblestone steps, which according to legend were built by a devil in one night. In fact, if you believe local folklore of the Kunisaki Peninsula, the whole area is said to mean "land's end" and was created by demons in the service of powerful gods.

Note: The last toilet on the way there is 100 meters down the mountain before the car park/reception area.
Sobo-Katamuki-Okue Biosphere Reserve
Venturing a few hours further south and into the interior, we can encounter a part of Oita that sees even fewer visitors and in which we can experience dense primeval forest.

Biosphere Reserves, also known as Eco Parks in Japan, are UNESCO-listed areas that have unique species, ecosystems and landscapes, which are being protected through sustainable and appropriate conservation and development initiatives.

The Sobo-Katamuki-Okue Biosphere Reserve became enlisted in 2017 and encompasses Mount Sobo, Mount Katamuki and Mount Okue in Oita and Miyazaki prefectures. Of the 240,000-hectare area, 85% is forest and contains a high concentration of diverse and rare flora and fauna. Here you may encounter the Japanese serow, an unusual "goat-antelope" that is endemic to Japan. The Japanese serow was almost hunted to extinction mid-last century, but numbers have recovered significantly thanks to its protected status in designated conservation areas like this one.
Sobo Koubaru Hiking Course
There are a variety of hiking trails that can be taken here that allow you to experience this exquisite natural environment. If you're looking for a course that is both beautiful and not too challenging, the 2-hour Sobo Koubaru Hiking Course on Mount Sobo is a great option.

Not only are there barely any manmade stairs, there's also a small waterfall crossing over a rickety bridge, which gives just the right amount of adventure while keeping the surrounds in sustainable harmony between visitors and nature.

A small hut about halfway provides shelter and toilet facilities. Go left behind the rest house to continue on the course back to the car park.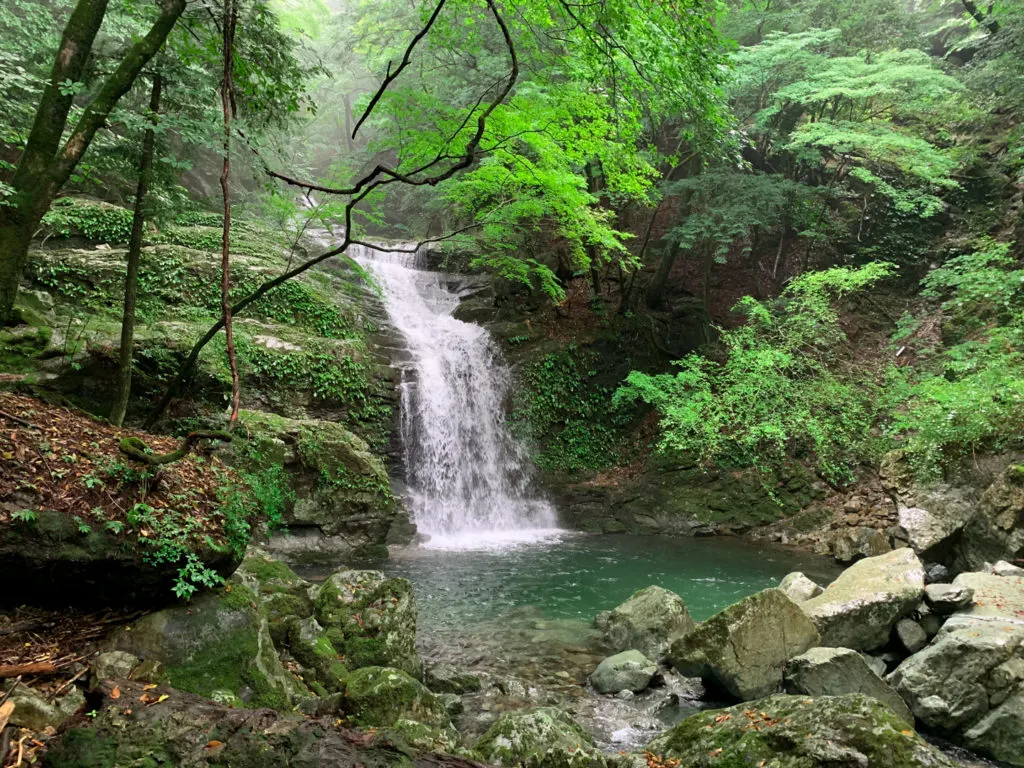 Note: The entrance to the Sobo Koubaru Hiking Course requires access by car and signage is currently not available in English. Therefore it's recommended to seek out maps and information about the trail before starting at the Kami no Sato Koryu Center Odamaki (approximately 10 mins by car from the starting point).
Yufuin
Yufuin is a district of the city of Yufu, only 10km inland from Beppu, making it an easy and popular day trip.

Yufuin is famous for its hot springs and pedestrian shopping street, Yunotsubo Kaido. Commanding over the town is the twin-peaked 1,584-meter Mount Yufu (Yufu-dake).
Climb Mount Yufu
For those who wish to climb Mt Yufu, a bus from Yufuin Station can get you to the starting point for the trails, Yufu-tozan-guchi (由布登山口) at 896m in around 20 minutes.

As there are two peaks, you can choose the one that best suits you in terms of time and difficulty. The east peak takes 2-3 hours and is more suitable for beginner or leisure hikers, while the west peak requires more climbing, including scrambling over rocks and use of chains, and will take around 4-5 hours to summit.
Yunotsubo Kaido
Yunotsubo Kaido is a pedestrian street lined with shops and restaurants that leads from Yufuin Station through Yufuin town to the picturesque Lake Kinrin.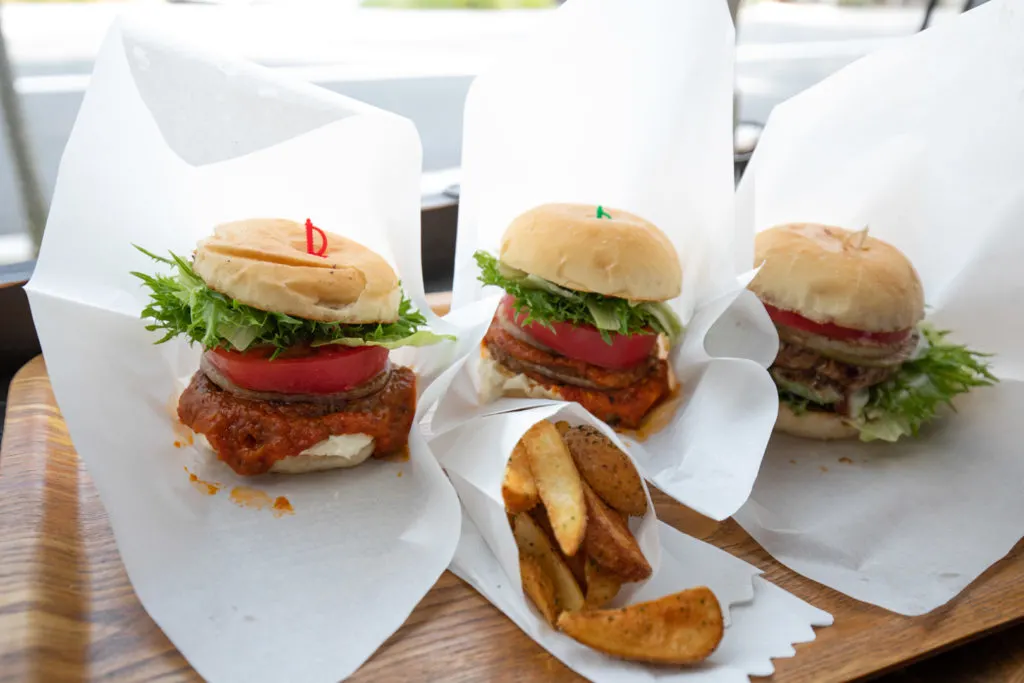 The approximately 1.5km stretch is full of quaint shops selling souvenirs, as well as restaurants and food stores for full meals and grazing. The street is geared towards visitors but still manages to be touristy without being overly-commercialised. And if you've been exploring the off-the-beaten-path areas of Oita, all these options in one place might be just the ticket for an easy afternoon stroll.
Miharashi no Sato – Nirinsou
If you'd like to stay the night in Yufuin and want the opportunity to interact with locals, consider a stay at Nirinsou.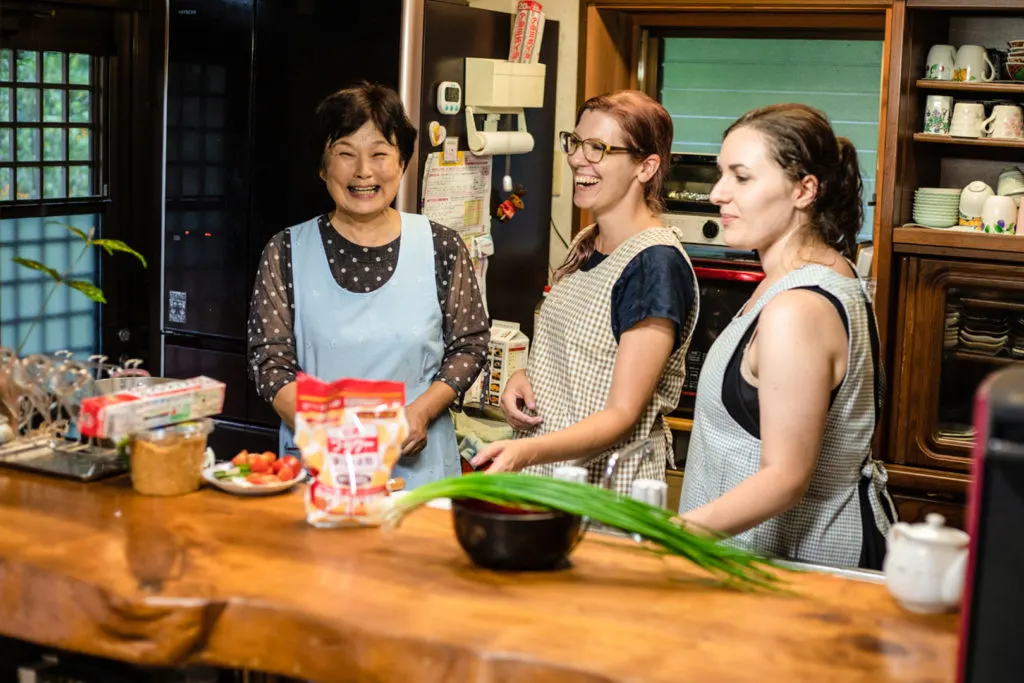 This local inn is run by a lovely couple who are keen to share their local ways with visitors. In addition to accommodation, they offer unique experiences to their guests, including homemade cooking and various agricultural experiences, such as vegetable cultivation, and planting and harvesting rice. Simply ask what experiences are available during the time of year you plan on staying.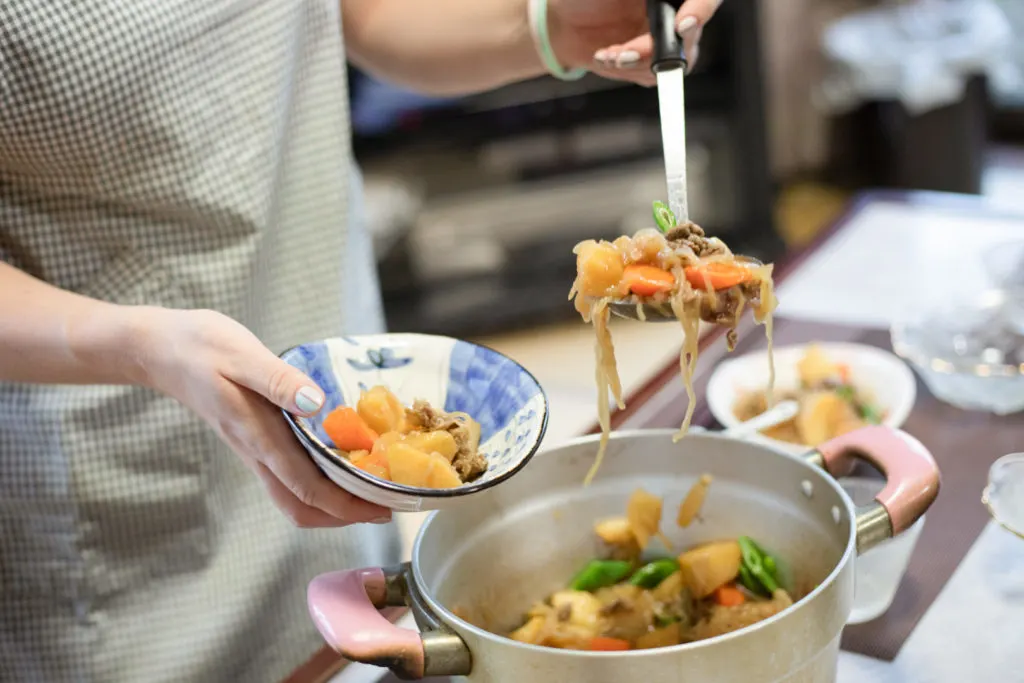 The cooking experience is a perfect way to check off a meal while learning about local specialty dishes (kyōdo ryōri). While your hosts don't speak much English, they are very used to communicating with foreign guests and are unfazed by lack of a mutual language, so you needn't worry about language skills. Your biggest problem will simply be how to eat your way through all the food they have on offer – be sure to come on an empty stomach!

Request your stay via this online contact form.
Beppu
Beppu is probably the most well-known onsen resort town in Japan. However, apart from the typical hot spring circuit, many visitors are unaware of the various ways they can enjoy both the abundance of hot spring waters in the area and the delicious local cuisine.

Here are a few ideas for a unique and relaxing stay in Beppu, that takes you away from the tour buses.
Do you have tattoos and want to visit hot springs? Here's a list of 100 tattoo-friendly onsen in Beppu.
Beppu Beach Sandbox
Sand bathing in Kyushu makes for a rather interesting travel tale. If you're looking for a unique way to enjoy the bubbling hot spring waters of Beppu, you can try bathing in sand at the Beppu Beach Sandbox.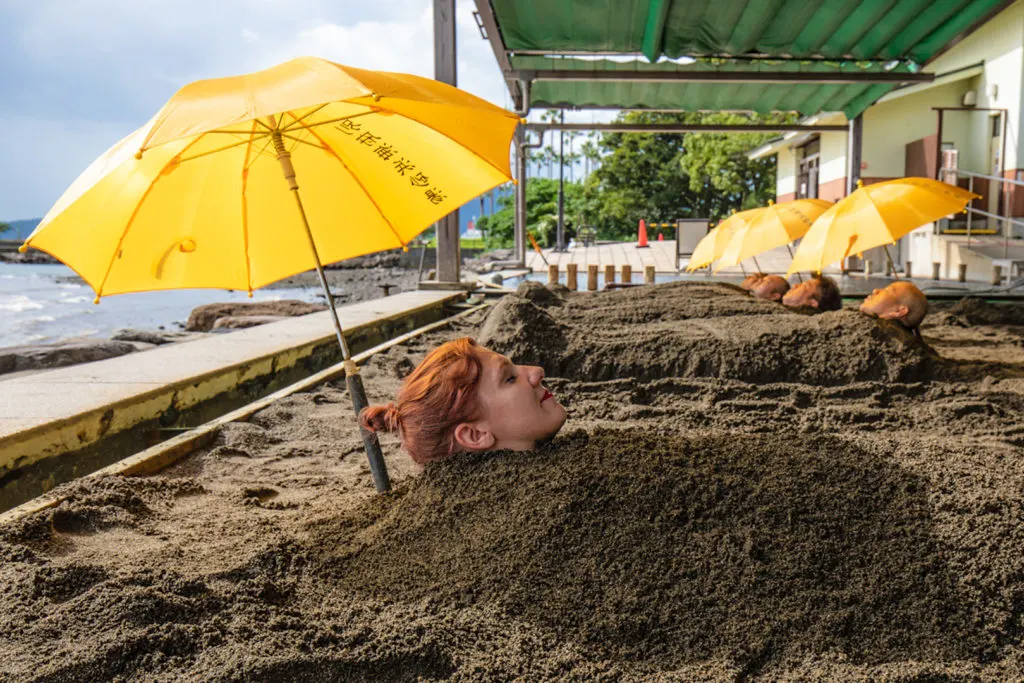 Here the sand is heated naturally by nearby hot spring sources and has equivalent health benefits of soaking in the water directly. You wear a Japanese robe, known as yukata, then lay down on the sand and are buried up to your neck.

Ten to fifteen minutes is the recommended time for sand bathing. Afterwards you can use their small regular bathing facilities to refresh and wash all that sand off.

Entry to the Beppu Beach Sandbox costs 1,050 yen, which includes a rental yukata, a small towel, one sand bath session and access to the public baths/shower.
Experience "Hell steaming"
Literally meaning hell-steaming, jigoku mushi is a traditional way of cooking using the steam of a hot spring, dating back to the 17th century.

While various tourist spots sell eggs and pudding cooked over onsen water, Sally Garden Yanagiya, a lovely ryokan meets hotel accommodation, allows guests to use their traditional steam ovens to make jigoku mushi meals. The process is incredibly simple and is a great way to self-cater without fuss, while also adding a unique experience to your Japan itinerary.

Check out how easy it is to cook up a delicious meal using an onsen steam oven.
Beppu cold noodles
Reimen, cold noodles, were introduced to Beppu from cooks returning from Manchuria after WWII, and a tweaked recipe for local tastes has made it a signature dish of the region.

The noodle is a chewier version of a buckwheat noodle similar in thickness to spaghetti. The toppings are usually a few slices of cold, well-seasoned beef, kimchi and boiled egg, all served in a clear, cold broth.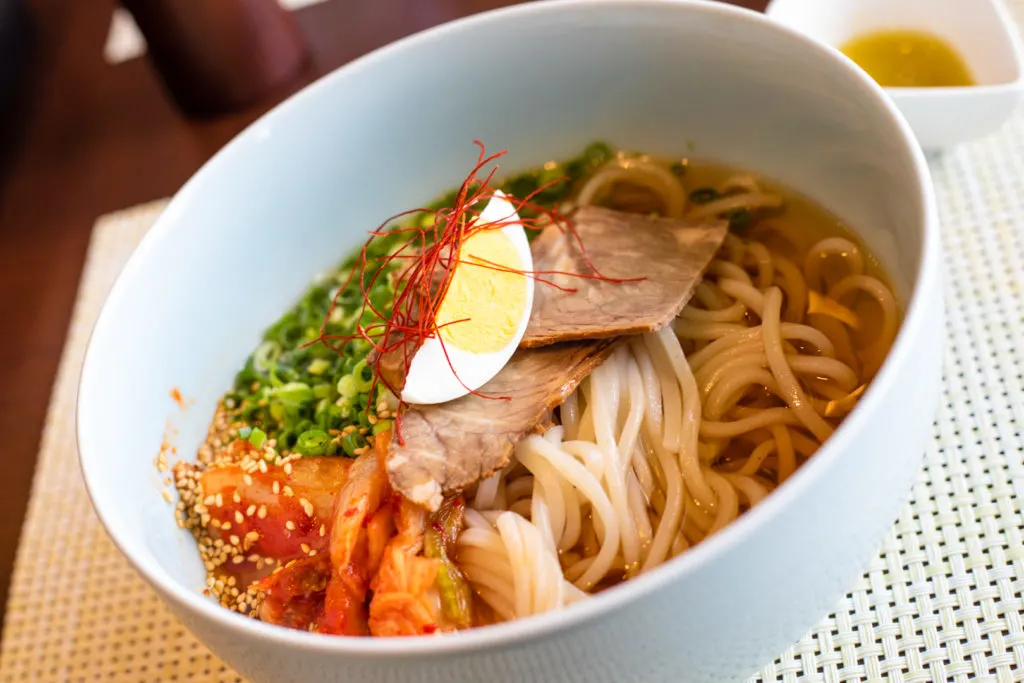 Beppu reimen is available at numerous local restaurants, but one that comes highly recommended is Ikkyu no Namida.

Check out how their signature reimen dish is made below.
Have you been to Oita? What places and activities on this list would you like to experience?
This post was sponsored by ANA with the support of the Oita Prefectural Government. As always, our opinions remain our own.
Pin me for later!