Matsuyama, Japan is a destination full of connections. Located in Ehime prefecture in Shikoku, it's a place where striking up a conversation with a stranger at the train station is commonplace, and someone tapping you on the shoulder and offering you a mikan (mandarin), the prefecture's renowned fruit, as a currency of kindness, is just another day in this part of Japan.
Trams chug along the city streets in the prefectural capital of Matsuyama, keeping a kind of yesteryear charm that extends to the locals, who happily make sure tourists get on the right service and facilitate the right tram fare by exchanging coins with one another, so everyone has the precise 160 yen to pop in the slot on their way out.
It's the perfect counter experience to Tokyo – one giving you the sensory overload of the lights, shops and intense train station flurry of the largest metropolis in the world, and the other giving you the laid-back feel of rural Japan, while still offering loads to explore.
I've broken up this Matsuyama guide into three parts: the Matsuyama City and Dōgo Onsen areas, the Iyo-Ōzu and Uchiko areas, and the Imabari area. At the end, I'll talk about what we did in Tokyo to give you some ideas about how you can easily combine your trip to cover both city and country Japan.
Let's get started.
Matsuyama City &
Dōgo Onsen areas
The Matsuyama City and Dōgo Onsen areas offer numerous accommodation, shopping and dining options. They're easy to explore on foot, tram or train, and provide a great place to base yourself on your Ehime explorations. The Ōkaido shopping arcade in Matsuyama and Dōgo Haikara Dori leading up to Dōgo Onsen are both convenient locations for meals and shopping.
1. Matsuyama Castle
The city's crown jewel, Matsuyama Castle, is a must-visit on any Matsuyama sightseeing itinerary. Perched atop Katsuyama Hill, it's an impressive city landmark that's been watching over Matsuyama for centuries.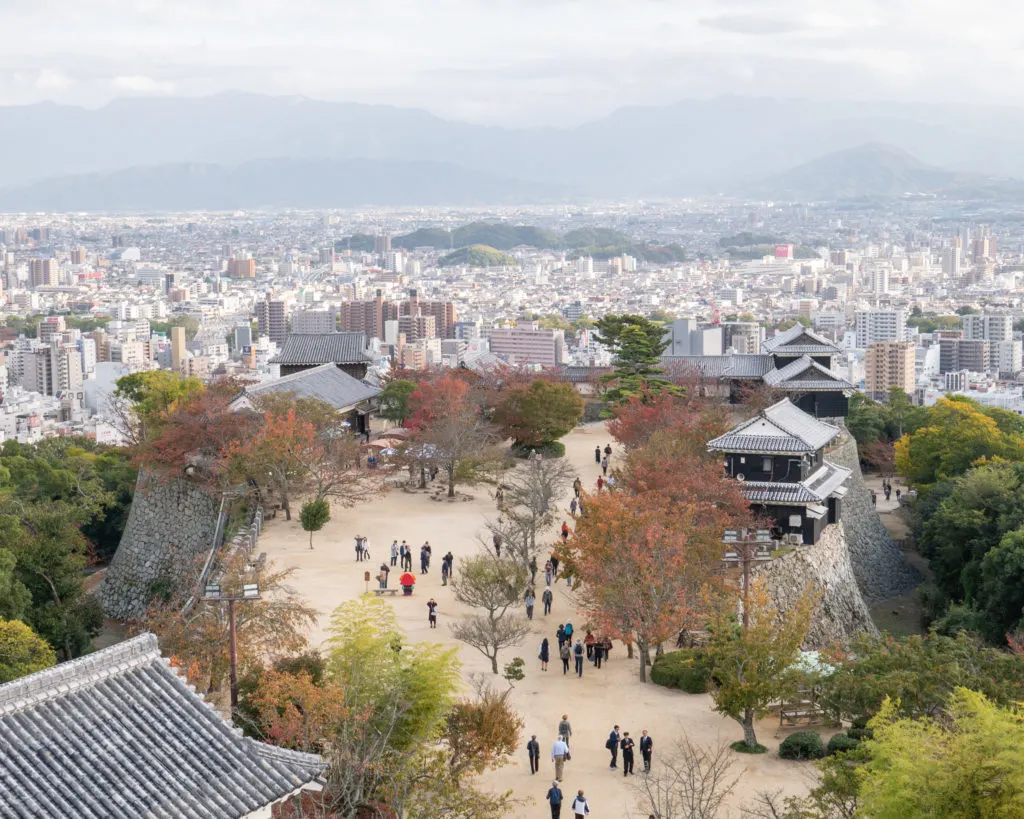 Matsuyama Castle was founded by Yoshiaki Kato, a soldier and feudal lord in the late 1500s and early 1600s. Construction is said to have taken 24 years and was completed in 1627. Interestingly, nobody lived in the Castle, but was used as a last line of defense in battle.
The longevity of the Castle is a testament to ingenious design that not only made it physically sound, but outsmarted those who attempted to infiltrate it. Today it stands as one of the 12 original castles of Japan.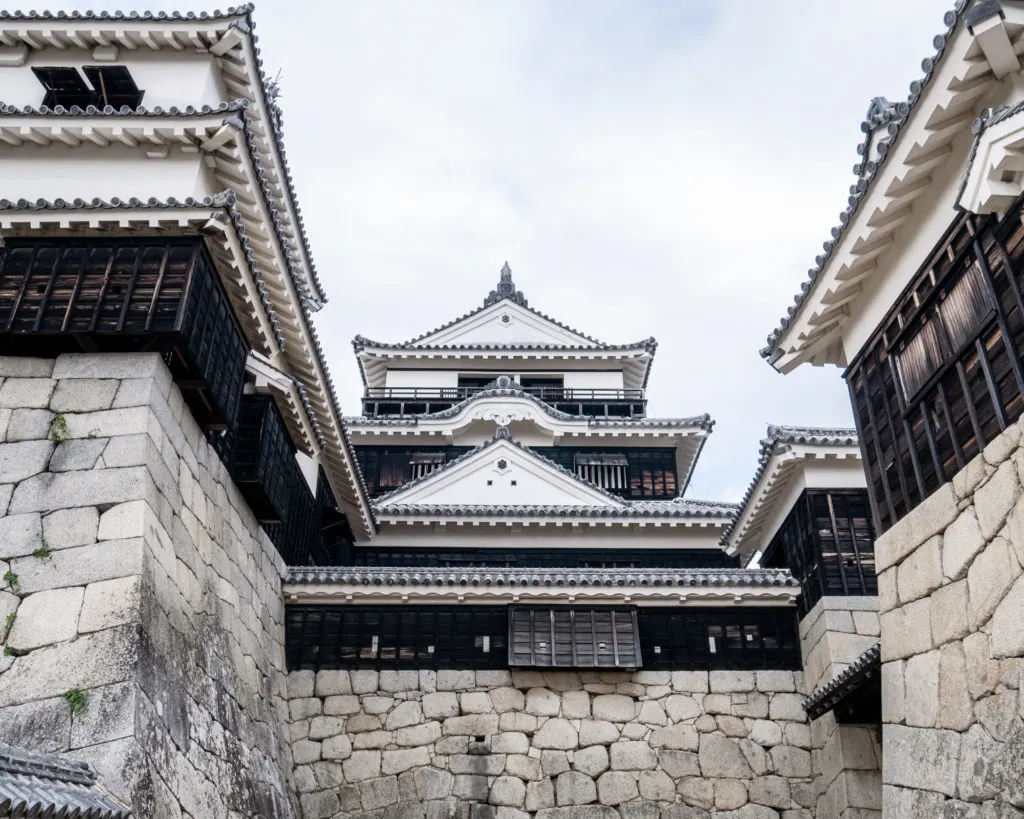 One of the unexpected highlights of our visit was how to reach the Castle grounds, of which there are three ways. You can take one of the four walking paths, taking around 20-30 minutes on foot, or you can ride the ropeway or chairlift.
The ropeway is an enclosed gondola, while the chairlift is simply a single seat, which you ride with no seatbelts and your legs dangling below! The ropeway is better for those with mobility issues, while if you're willing and able, the chairlift is a thrilling ride.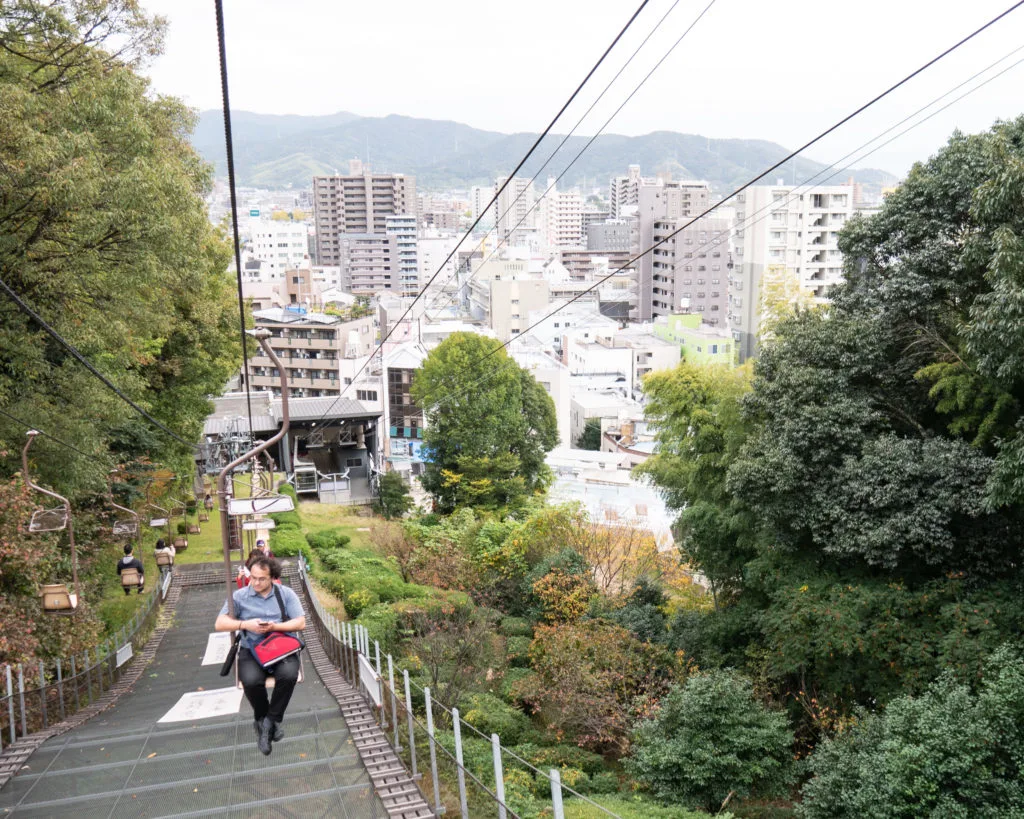 Tip: On the Ropeway Street leading up to the ropeway and chairlift station, there are a series of souvenir stores. Try the mikan juice on tap (100 yen a cup) and check out the range of amazing organic Imabari and other towel products, locally manufactured and a signature product of the area.
2. Dōgo Onsen

Honkan

If you're interested in Japanese hot springs, then Dōgo Onsen is one of the most iconic in the country. It's the oldest hot spring in Japan with an incredible 3,000 years of history.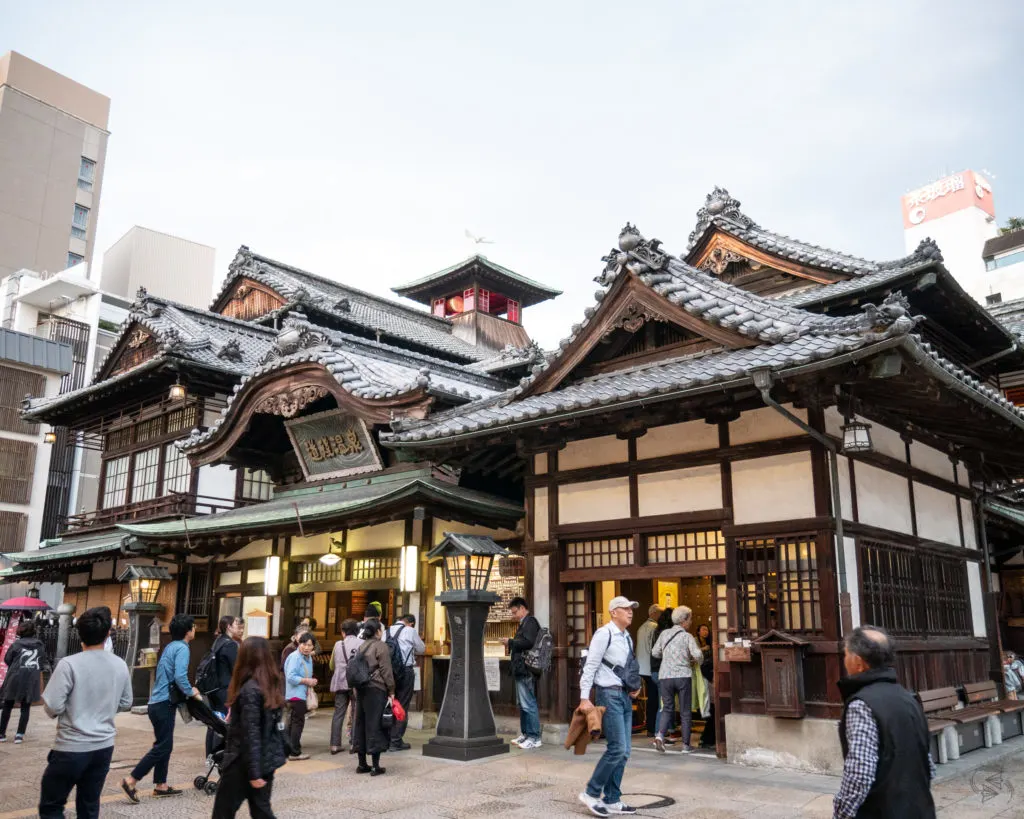 According to one legend, Dōgo Onsen was founded when a white heron put its injured leg into some hot water that was gushing out from a crevice between some rocks and found that its leg had healed. That's why you'll find imagery of a white heron depicted throughout the building, including one atop its roof.
Dōgo Onsen Honkan is the main building and is everything you'd imagine an old Japanese bathhouse from a typical anime to look like. The current building was built in 1894 and has three levels of narrow corridors, steep staircases and little nooks and alcoves, with the wooden flooring creaking under foot. There's even a special entrance and bath for the exclusive use of the Emperor! Tatami rest areas provide a place to relax after a bath, where snacks and tea are served. In order to maintain tradition, the tea is still heated with coal, rather than electricity. This building is said to have been Miyazaki's inspiration for Studio Ghibli's 'Spirited Away.'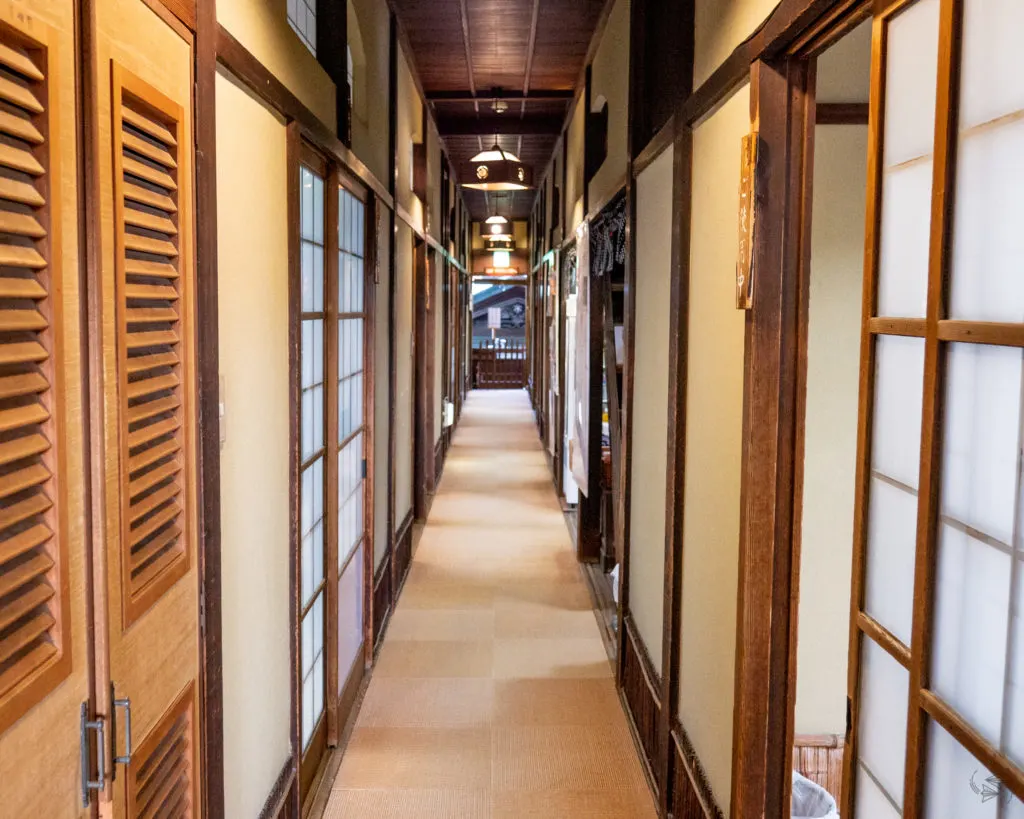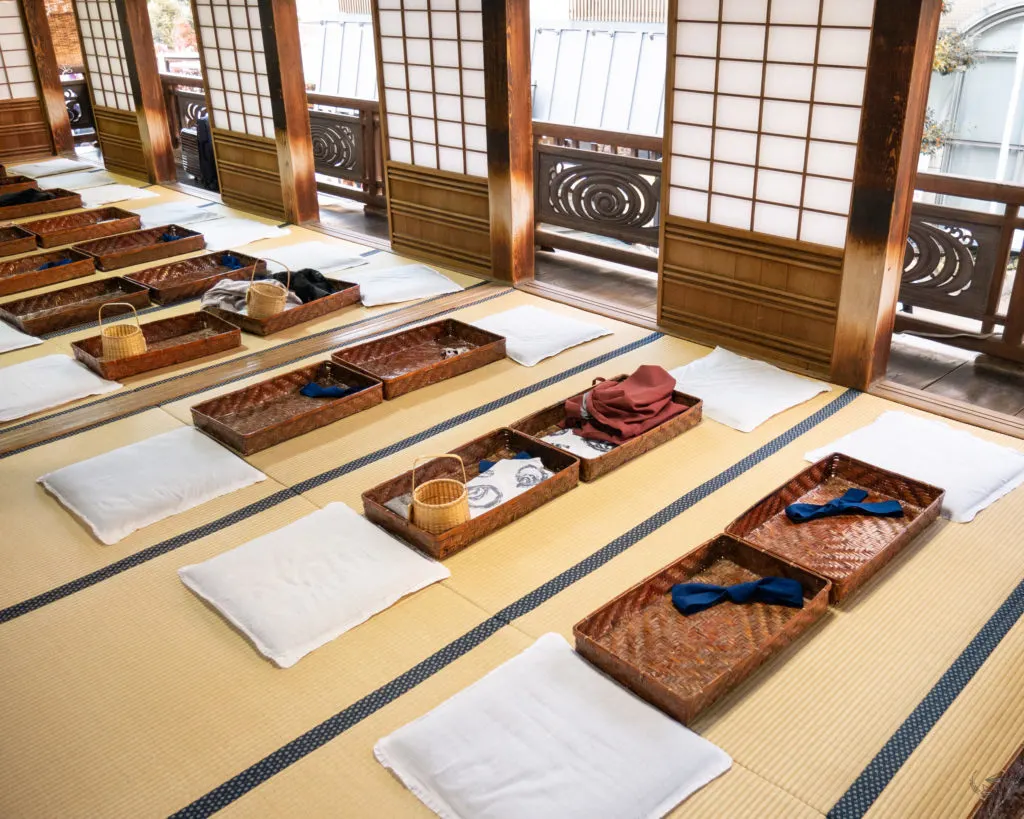 The main building has two public baths to enjoy, Kami-no-Yu (Bath of the Gods) and Tama-no-Yu (Bath of the Spirits). There is also another bath called Tsubaki-no-yu about 80 meters away from the main building. About 3 minutes away on foot, there is the Dōgo Onsen Annex, Asuka-no-yu.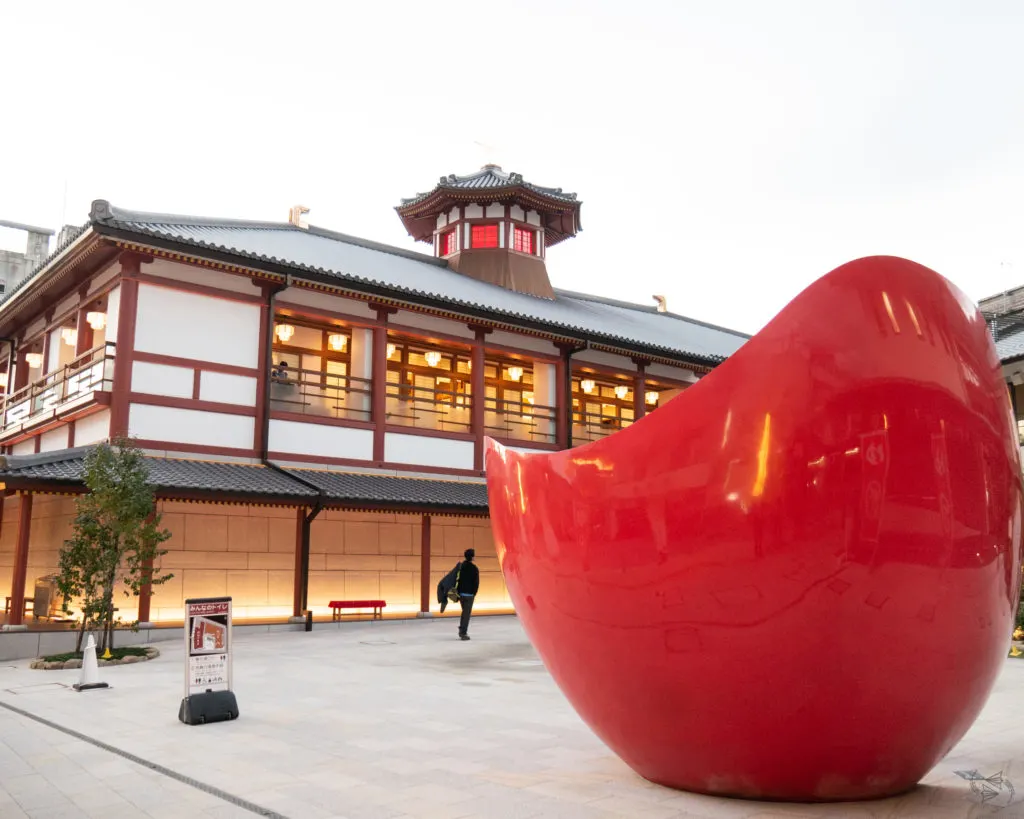 It's described as a "museum plus onsen" and contains unique design concepts, including a facade reminiscent of the style during the Asuka period in the late 500s to early 700s. Asuka-no-yu includes two replicas of the private bathing room for the Imperial Family found at the main building. However, this one you can actually reserve and try for yourself. An incredible 5 tonnes of water is used for each booking!
3. Iyonada Monogatari Sightseeing Train
This retro-modern weekend dining train brings together the elegance of vintage locomotive travel with a unique display of Japanese hospitality.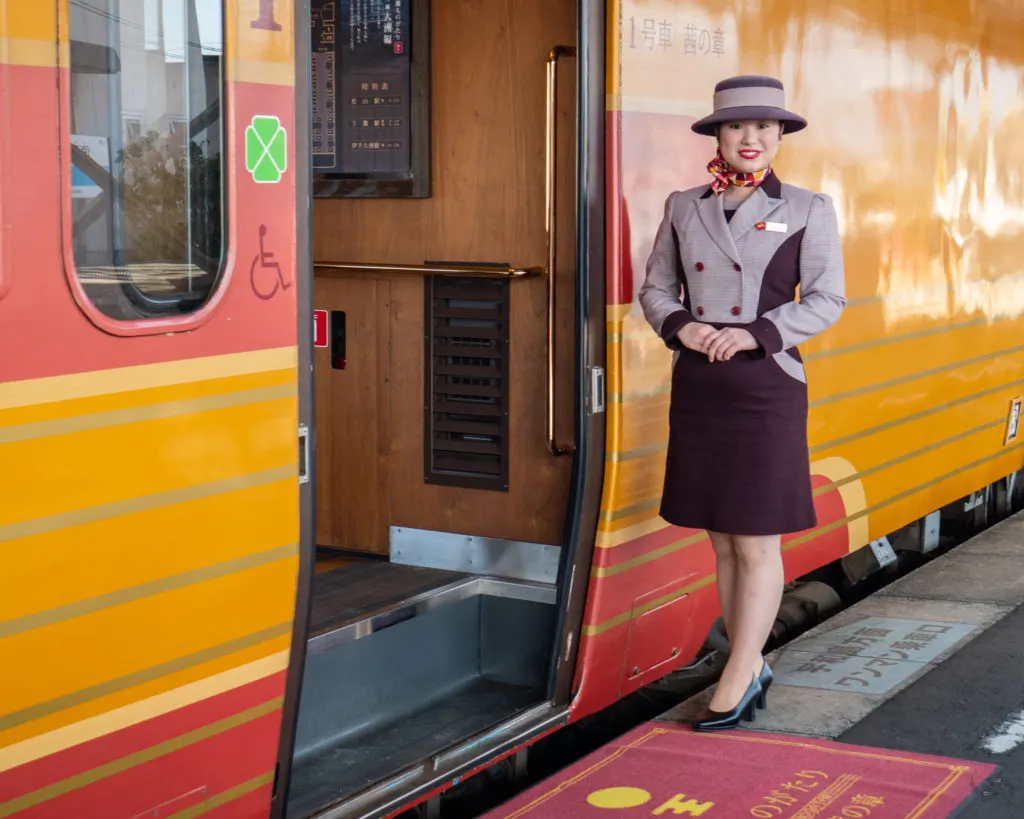 The Iyonada Monogatari is designed to provide a leisurely experience for its passengers, and hence trundles along at a pace four times slower than an express train travelling the same distance. There are two routes, a two-hour course that runs between JR Matsuyama Station and JR Iyo-Ōzu Station, and a longer course that takes an extra half hour to Yawatahama Station.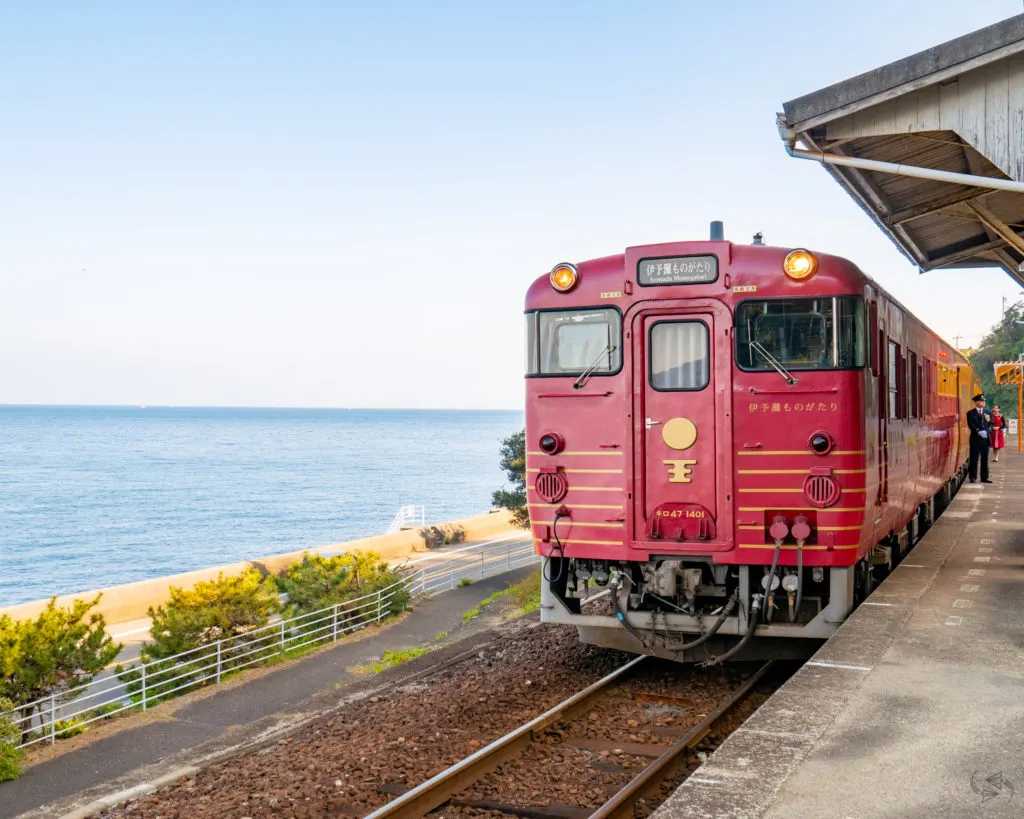 The train runs along the coastline, giving gorgeous views of the ocean. About halfway through the journey, the train will stop for 8-10 minutes at Shimonada Station, where you can get off and take photos. This station is popular for train enthusiasts and has been the set for a number of popular dramas and anime.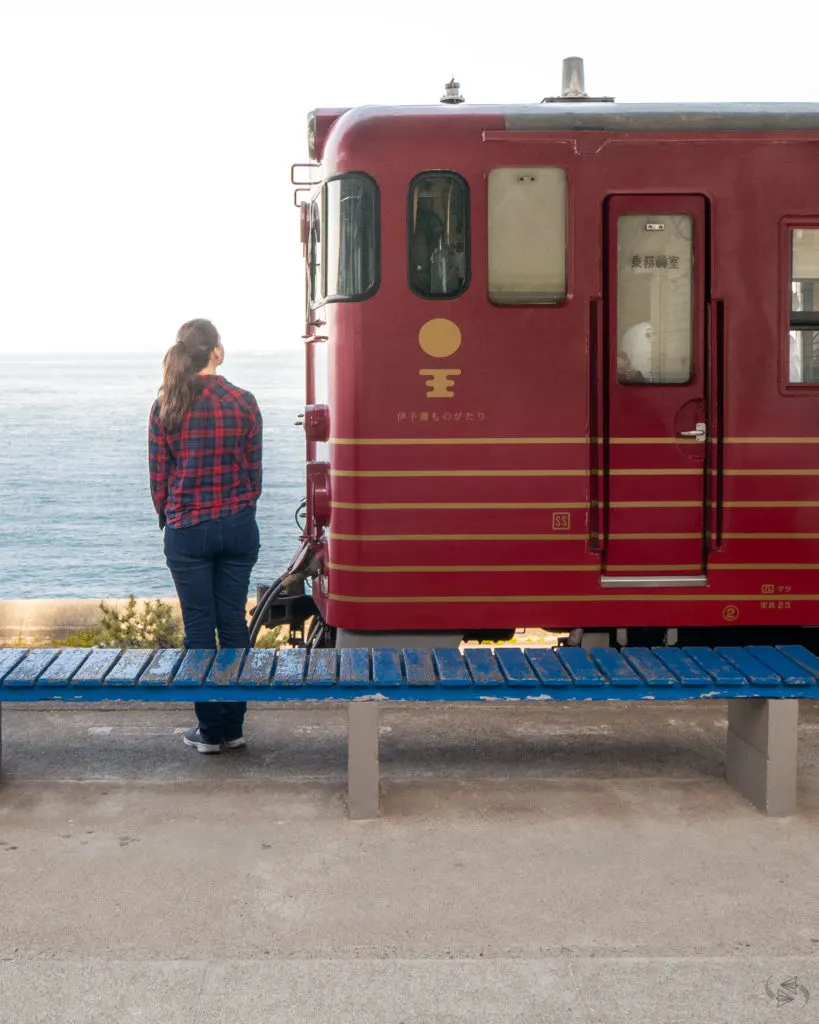 This is because it was once renowned as the closest train station to the sea in Japan. Until construction of the National Highway Route 378 that now separates the station from the Seto Inland Sea, waves would lap right up to the tracks. Because of the highway, the official accolade of "nearest station to the sea" now goes to Ōmigawa Station in Niigata. However, Shimonada remains a nostalgic favourite among its visitors.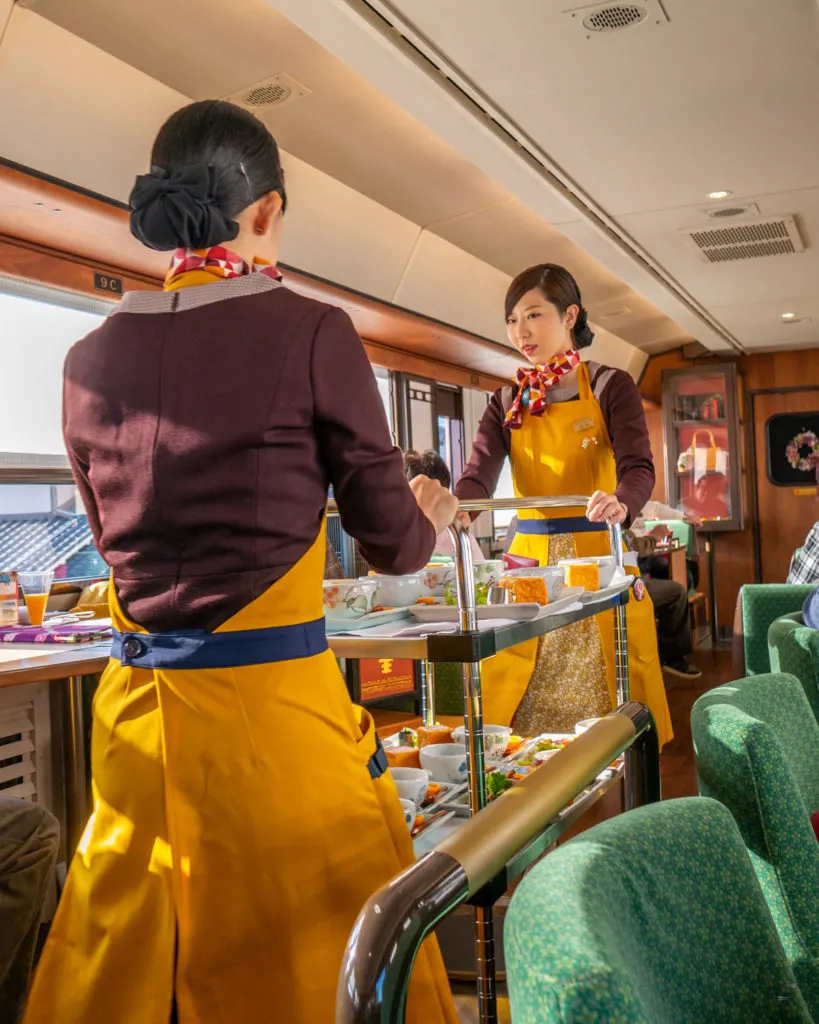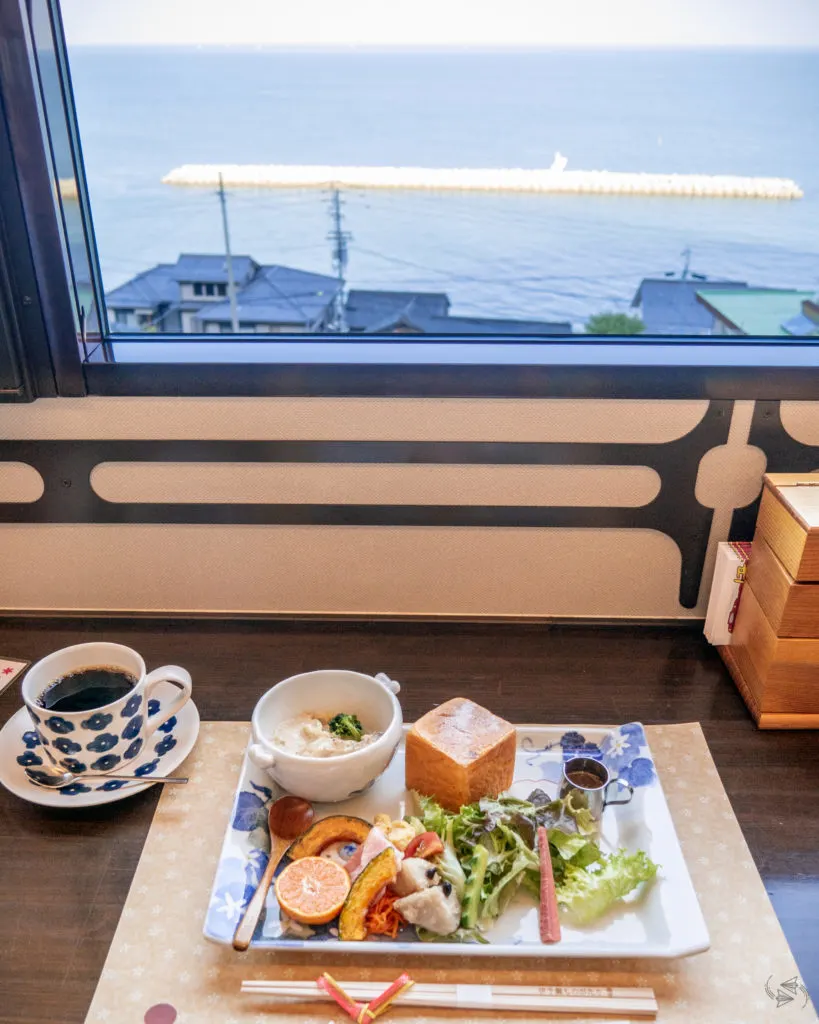 What adds to the luxurious feel of the train is the fact that it has a dining service, too. You can pre-order full meals or order coffee and cake anytime from the à la carte menu. Perhaps the most unique part of the journey, however, is the fact the station masters and staff, as well as local residents, welcome the train along the way, holding up signs and waving towels, and sometimes wearing costumes.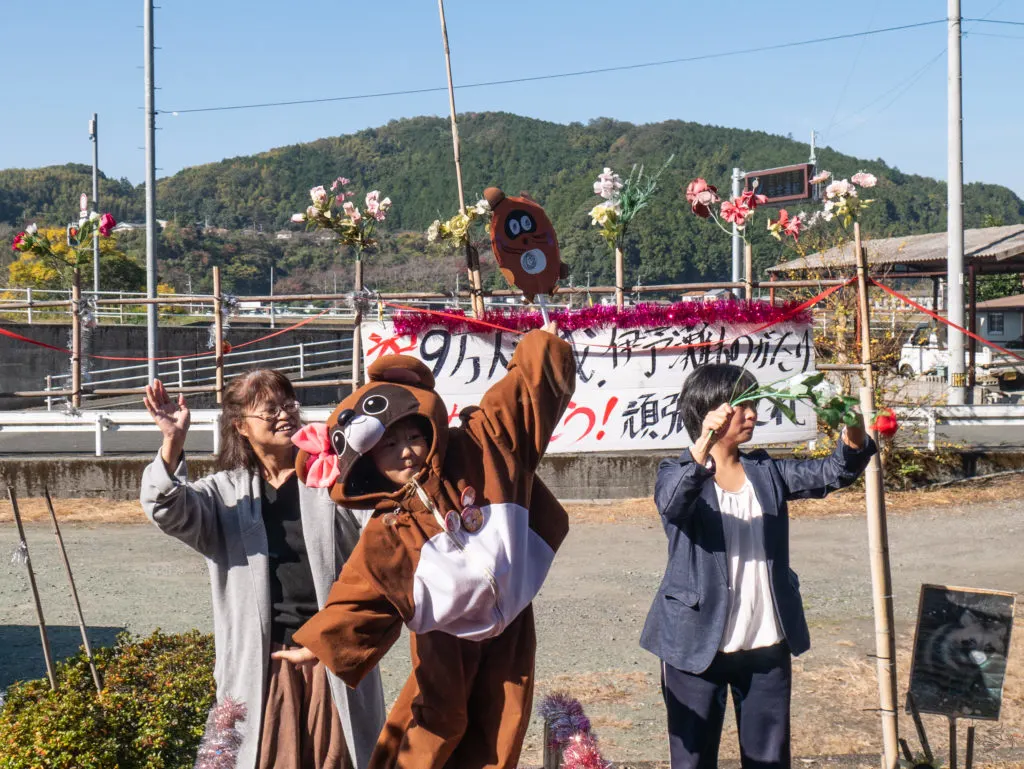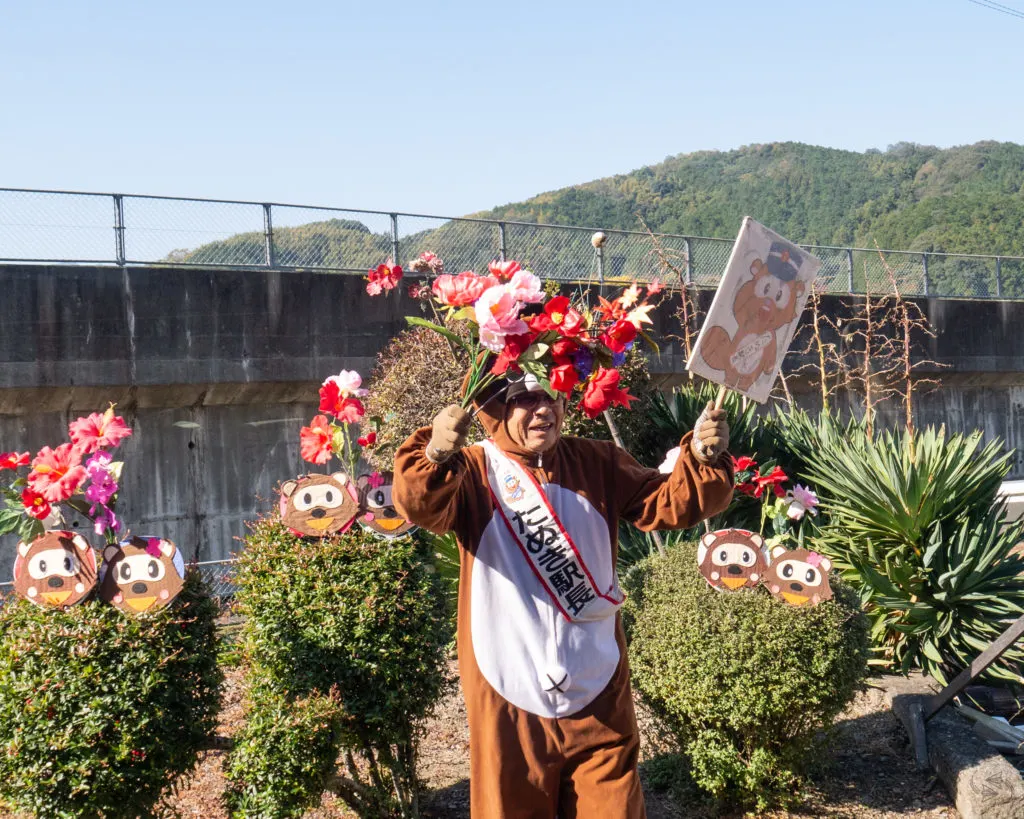 We were lucky to take the train on the day they were reaching their 90,000th passenger, so we received special gifts aboard the train, and there were special appearances along the route from the mascot of Shikoku, Smiling Eki chan, and one of the original station masters from when the train first started operating in 2014.
Iyo-Ōzu and Uchiko Station areas
You can also easily combine your Matsuyama stay with visits to attractions in nearby areas. Iyo-Ōzu and Uchiko are especially convenient to get to. Iyo-Ōzu takes around 30 minutes from JR Matsuyama Station on the express train, while Uchiko only takes 20 minutes. If you're riding the Iyonada Monogatari morning service, you can get off at Iyo-Ōzu, visit Garyū Sansō below, then proceed 10 minutes onto Uchiko, and after a walking tour of the town, return to Matsuyama for dinner.
4. Garyū Sansō
From Iyo-Ōzu Station, walk around 30 minutes (or take a 10-minute taxi ride) to Garyū Sansō or the Garyu Mountain Villa.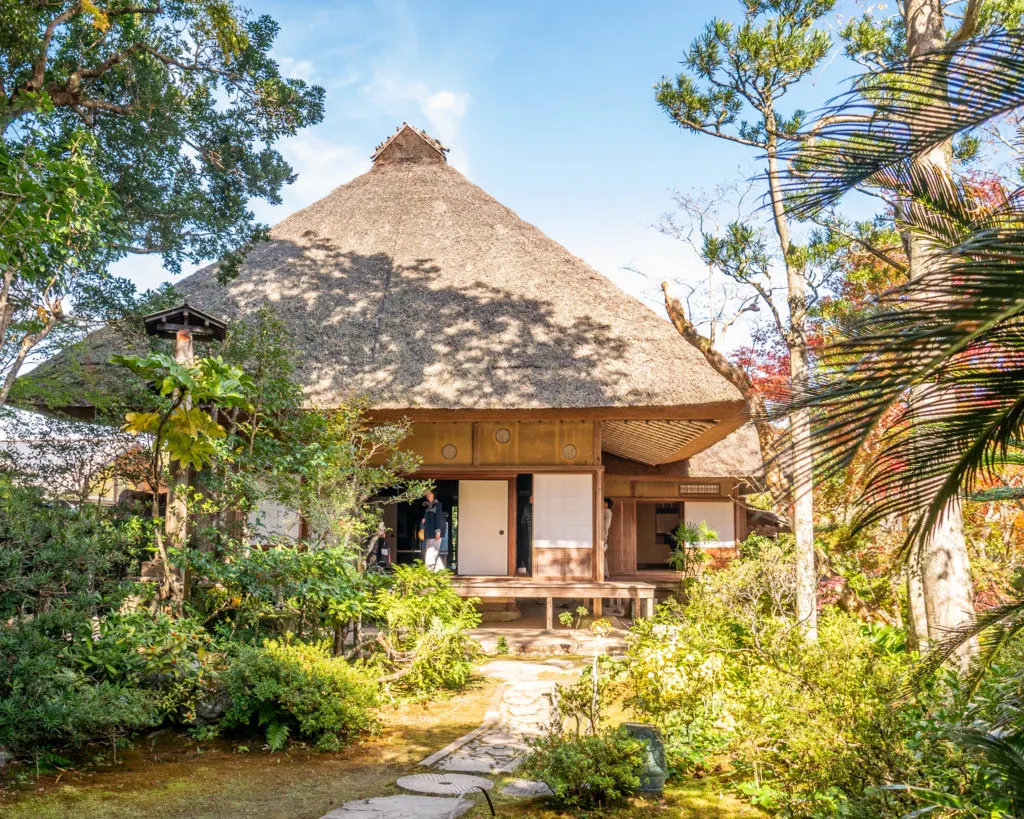 It is believed that Kanbe Watanabe, a close aide of Yakatora Todo who governed Ōzu in the late 1500s, first came to this picturesque spot in 1595. The villa is believed to have been named "Garyū" or "crouching dragon" by the third feudal lord, Yasutsune Kato, as he thought that the shape of the adjacent Horai Hill resembled one. Lord Kato transplanted cherry and maple trees, and created an aesthetically-pleasing garden that would become a place of leisure for successive feudal lords up until the end of the Shogunate era.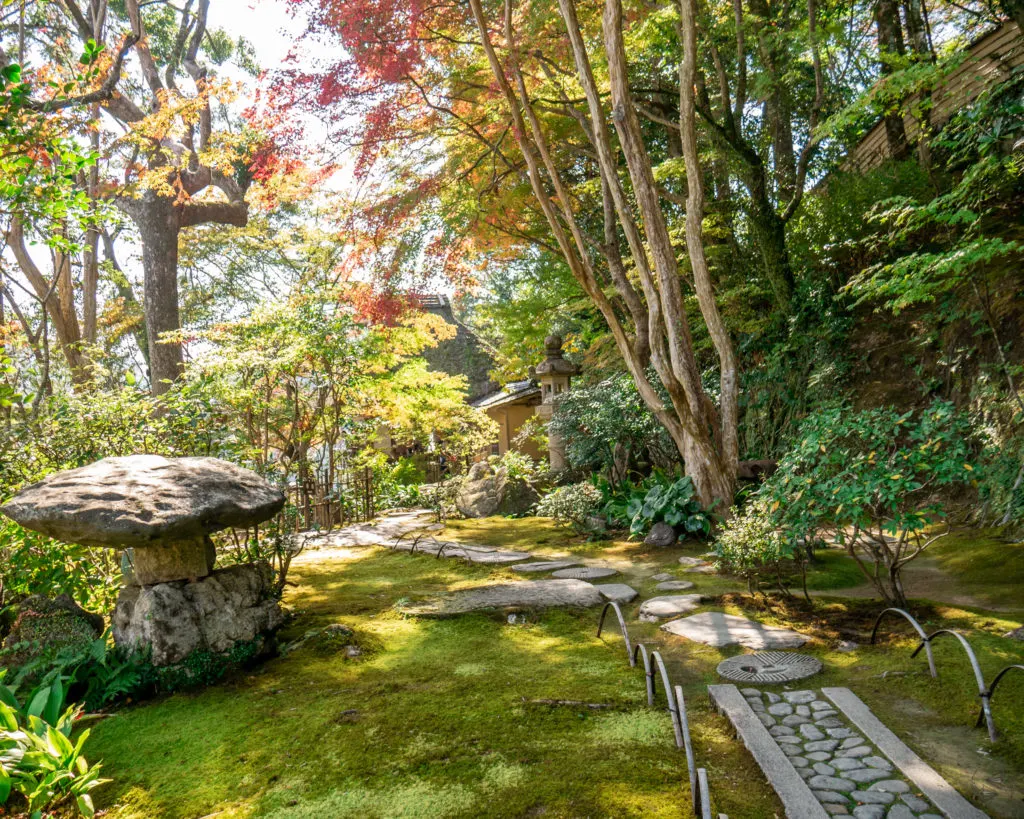 The present villa was built at the request of a trading merchant by the name of Torajiro Kochi, who invested his fortune in materials and craftsmen to create his final abode. It took ten years, from 1897 to 1907, for the whole complex to be completed. Sadly, Kochi never came to live at Garyū Sansō, passing away two years later in 1909. The last owner of the villa was Shozo Joko, the grandson of Otokichi, who supervised the construction work of Garyū Sansō in place of Kochi, who was in Kobe at the time.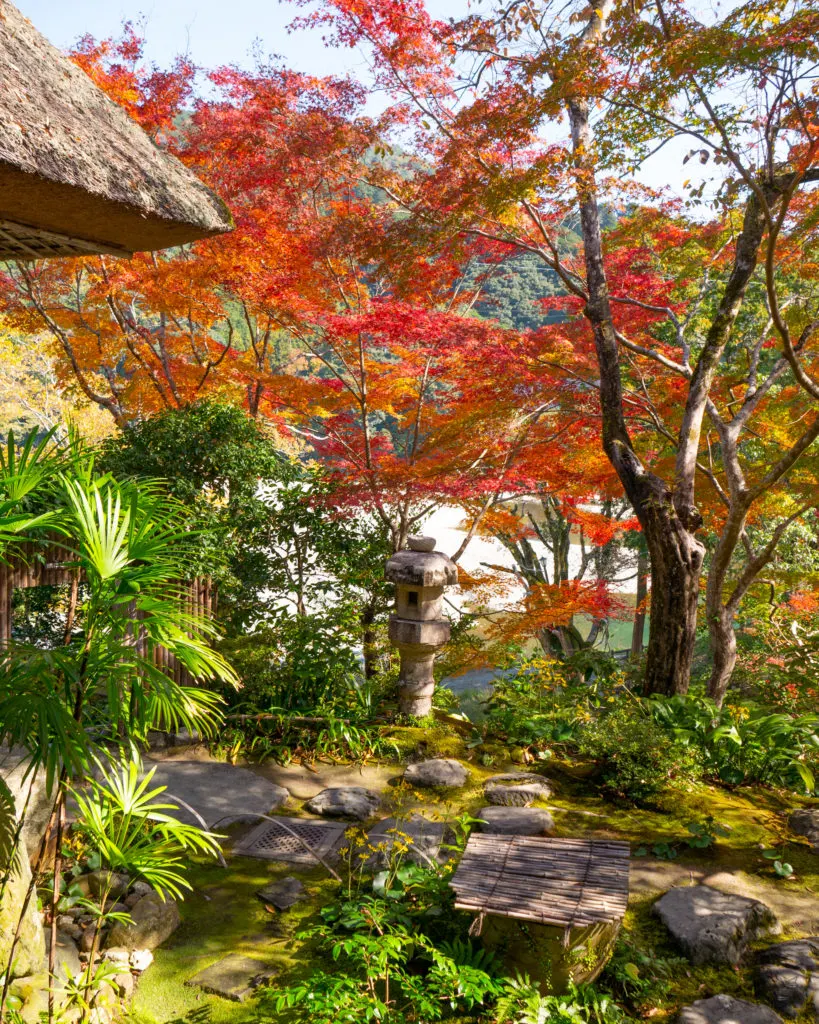 Visitors can now enter this quaint villa and gardens for a fee and admire the impressive architectural and botanical elements. If you're looking for a classic Japanese garden experience with a "summer house" feel, then this is it. Make sure you walk all the way down to Furo-an, which gives lovely views out over the Hijikawa River.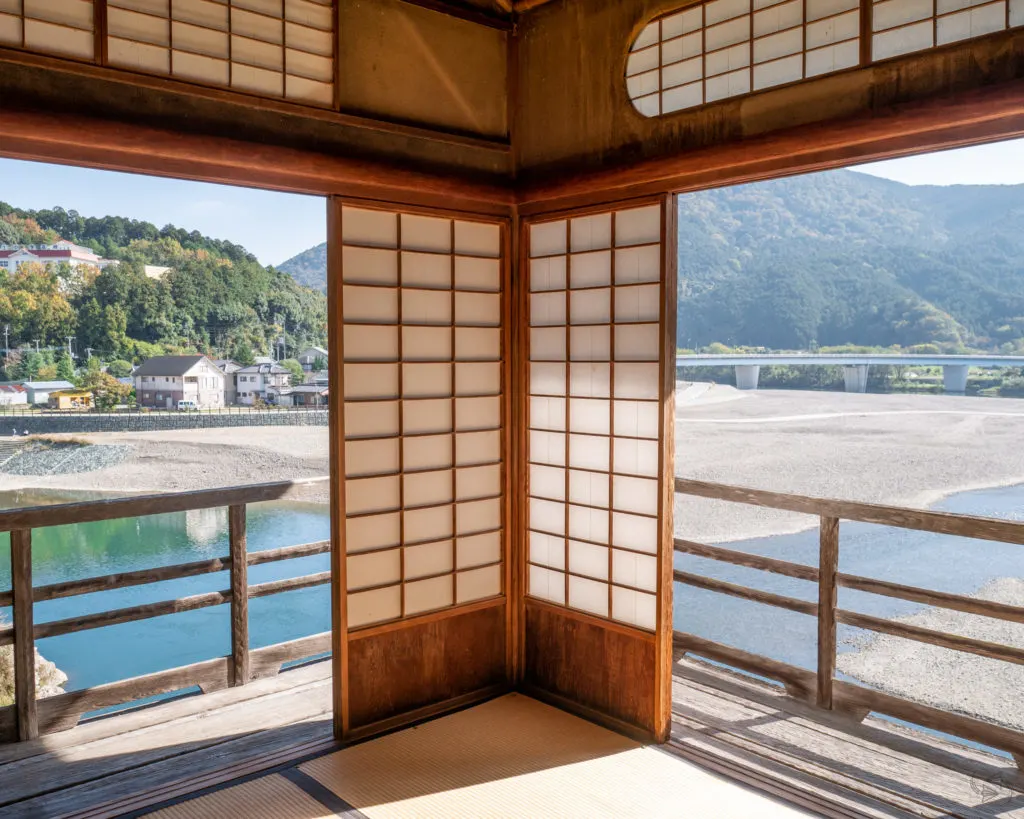 5. Uchiko Town Historic Walking Tour
After Garyū Sansō, return to JR Iyo-Ōzu Station and take a 10-minute train ride to JR Uchiko Station. Uchiko is a historic town that through designation as one of Japan's 'Important Preservation Districts for Groups of Historic Buildings' and locals playing a strong role in maintaining the history and culture of the area, retains its traditional townscape.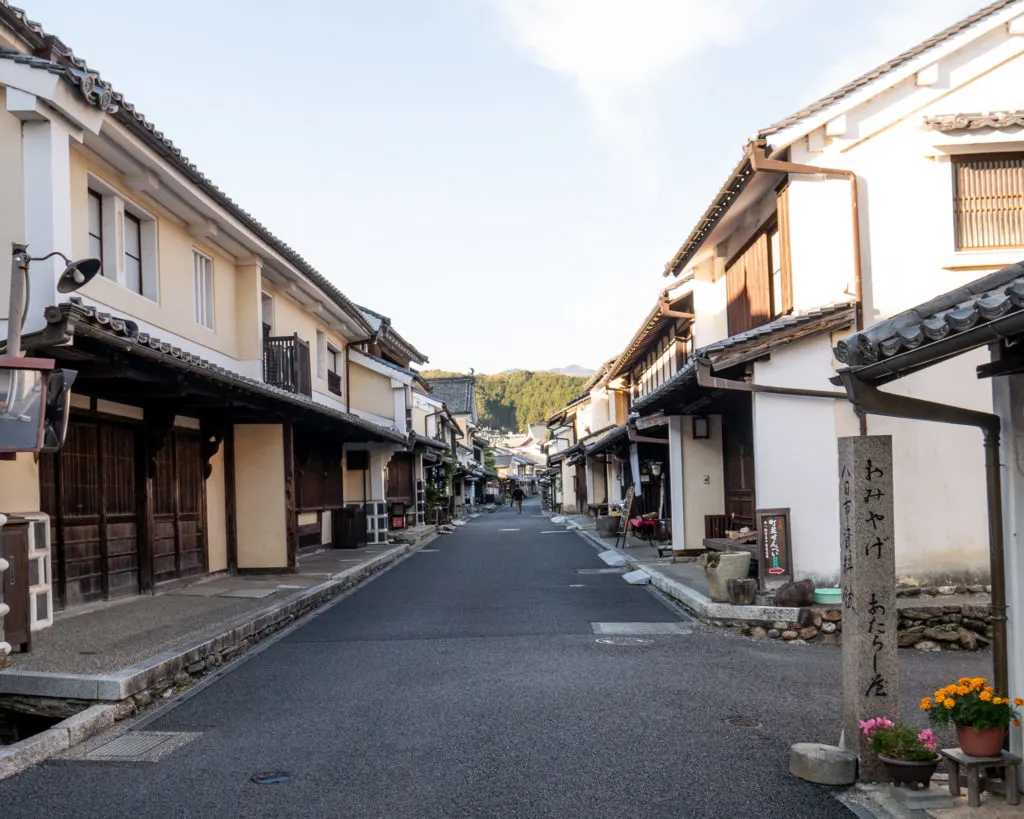 The construction of these grand and elegant houses is thanks to the town prospering as a manufacturing centre for vegetable wax in the Edo (1603-1887) and Meiji (1868-1912) periods. The local wax was made from the berries of the sumac tree.
You can do a walking tour of the area on your own or hire a volunteer guide in English (one week advanced booking appreciated), who will take you to some of the points of interest around town.
Some points of interest in Uchiko include:
Uchiko-za Theatre
Built in 1916, Uchiko-za was the town's main entertainment venue, with kabuki (Japanese classical drama) and bunraku (puppet theatre) performances. Over time, the number of performances decreased and its aging facade meant that it was in danger of being demolished.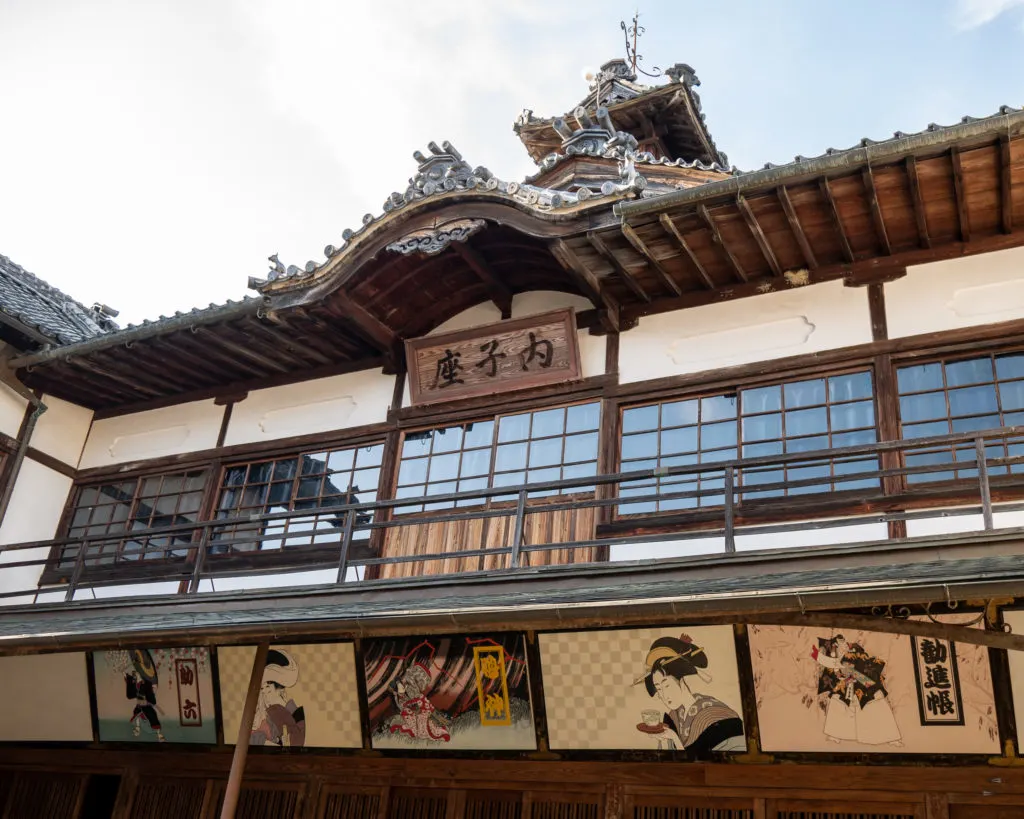 However, thanks to the area's preservation movement, the building was renovated and revived as a theatre in 1985. It is one of only 20 traditional theatres that still exist in Japan and is designated as a National Important Cultural Asset. Uchiko-za is still a venue for traditional performances today, and as such is affectionately referred to as a "living theatre."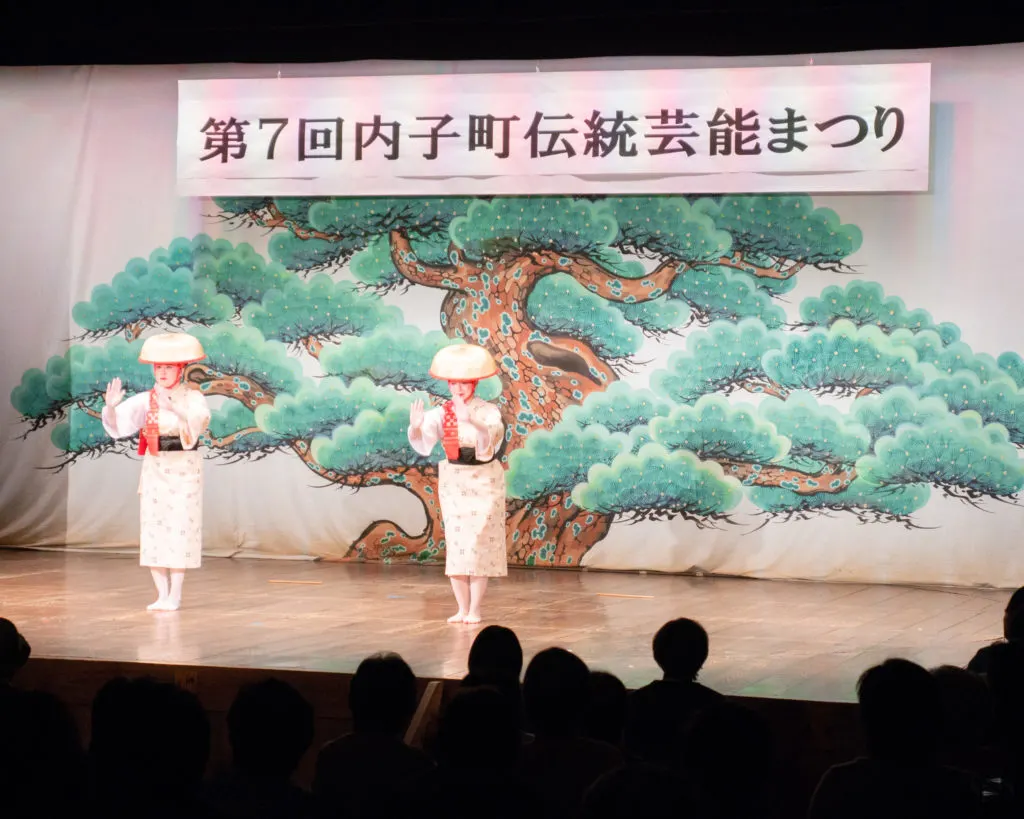 Museum of Commercial & Domestic Life
This is a traditional merchant house turned museum, in which you can get a sense of how Japanese merchants lived during the Taishō period (1912-1926).
Honhaga Residence
The Honhaga Residence is another designated 'National Important Cultural Asset' and was owned by a wealthy wax merchant.
Even among the other impressive buildings in the town, Honhaga Residence is a stand-out example of traditional Japanese architecture at the time of peak wax production.
Japanese Wax Museum & Kamihaga Residence
This is yet another 'National Important Cultural Asset' and residence born of a fortune made in Japanese wax production. The residence was formerly used as a place of work and the museum introduces the wax-making process.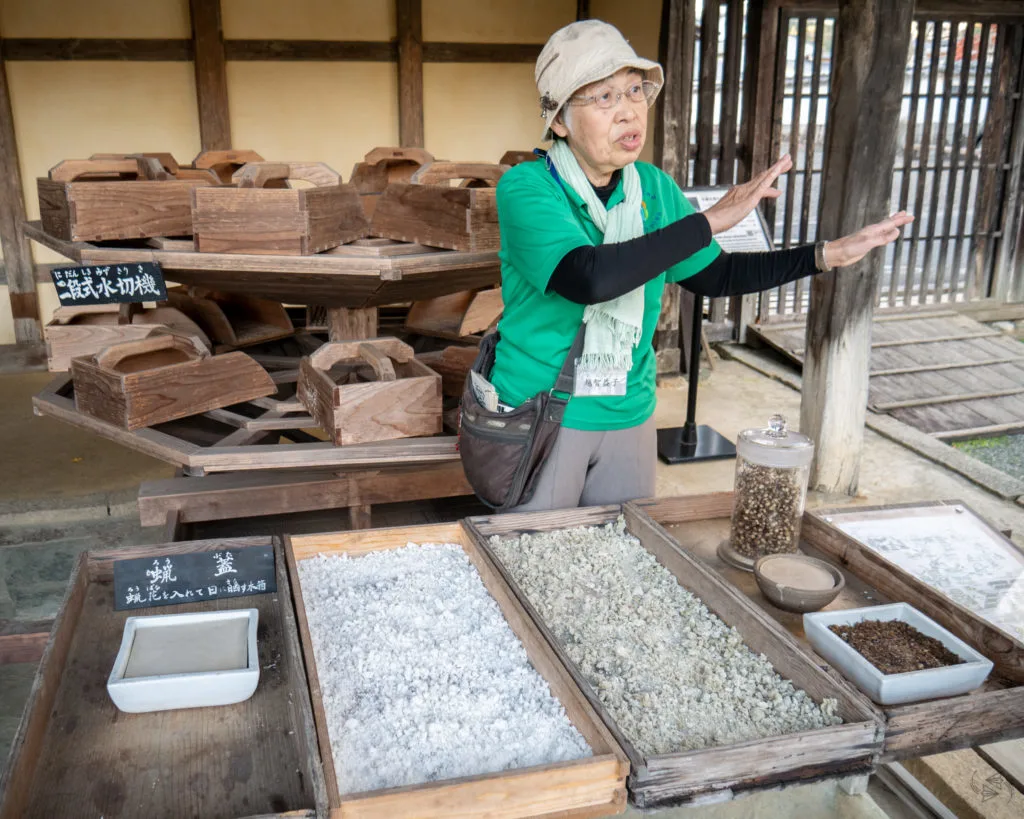 The recommended route starting and ending at JR Uchiko Station takes about 2 hours.
Imabari area
Another area easily explored on a day trip from Matsuyama is Imabari. It's the starting point for the famous Shimanami Highway and it's also where the region's famous Imabari towels are manufactured. JR Imabari Station is about 40 minutes on the express train from JR Matsuyama Station.
6. Cycling the Shimanami Kaido
The Shimanami Kaido (or the "Shimanami Sea Road") is a highway that connects Ehime with Hiroshima via a series of bridges across six islands in the Seto Inland Sea.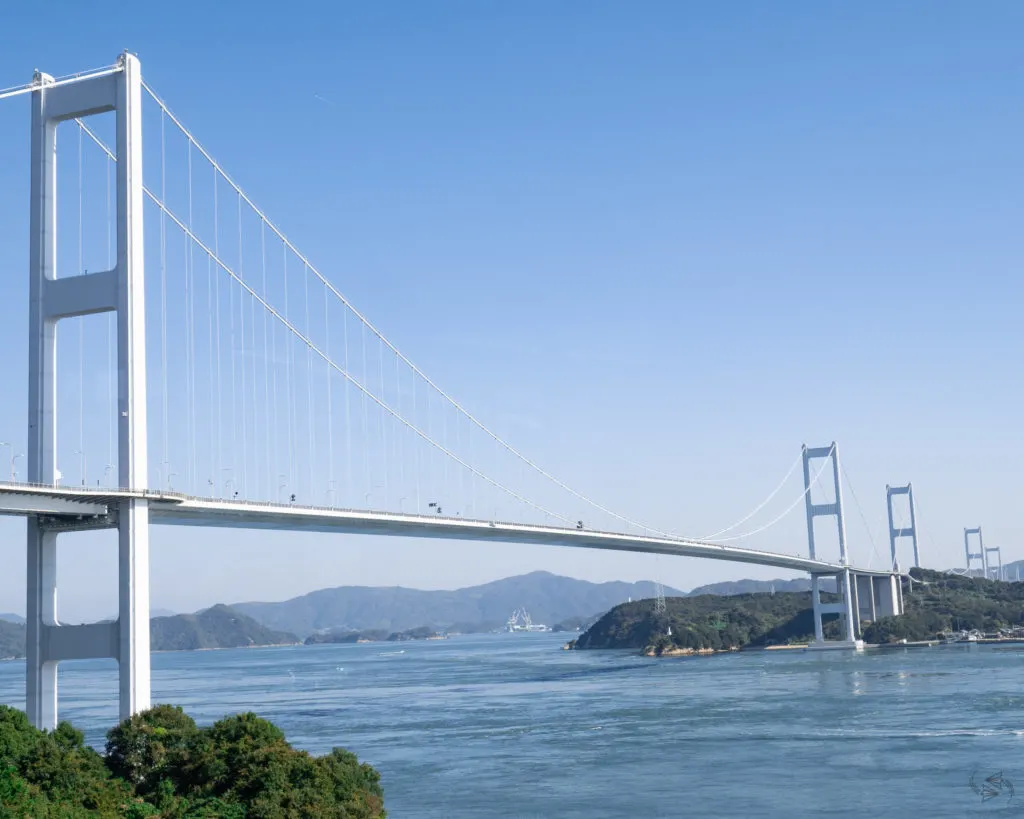 It is believed to be the only sea crossing in the world with a bicycle path, making it an attractive destination for both leisure as well as professional riders. Cycling is a great way to take in the fresh sea breeze and rejuvenating view. While you can bike the entire 60km if you like, you can also choose to cover select sections of it. We rode from Sunrise Itoyama in Imabari to Oshima, and back – a distance of around 15km.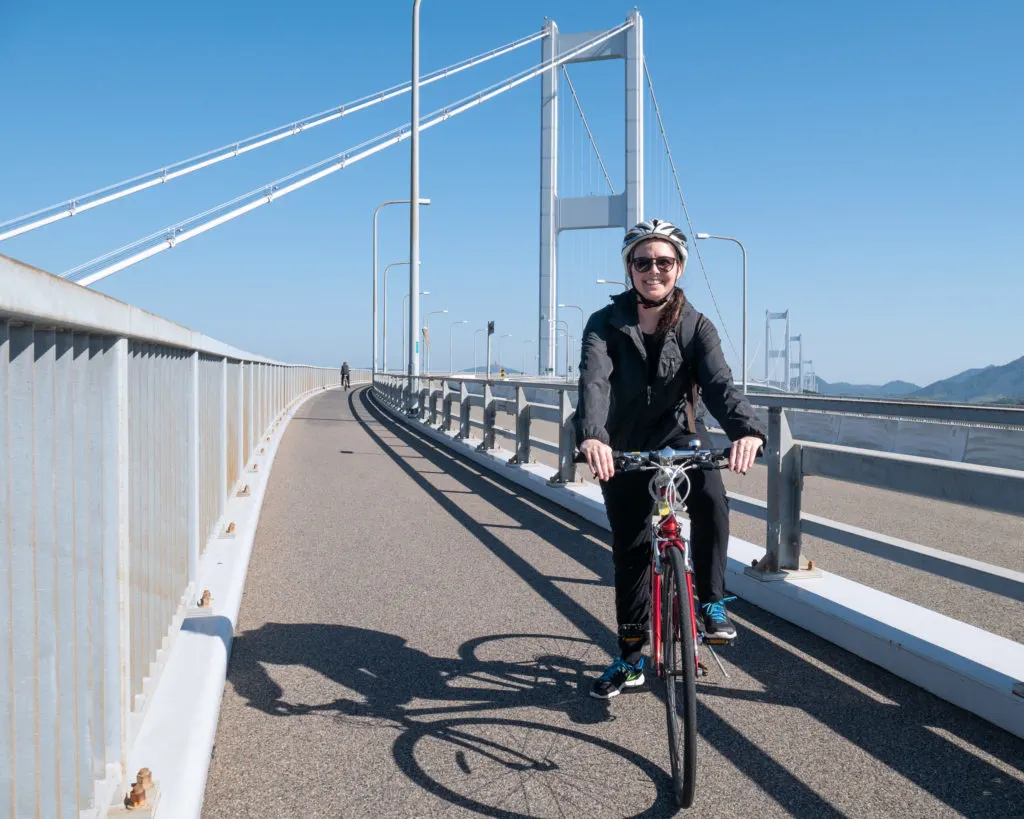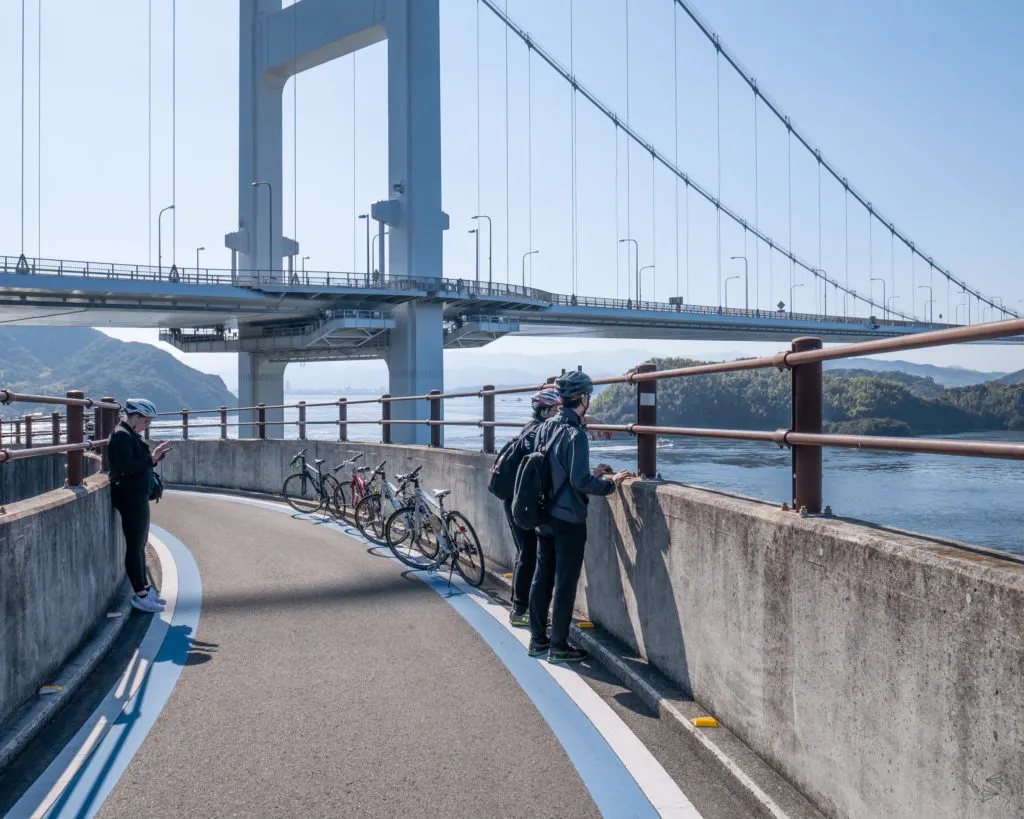 On Oshima, you can find a rest stop with a restaurant selling typical lunch sets. Alternatively, you can choose your own live seafood and vegetables and grill it yourself on the BBQs. The soft serve ice cream shop ("soft cream") offers six flavours. Since we were exploring Ehime, I went with the mikan flavour and wasn't disappointed!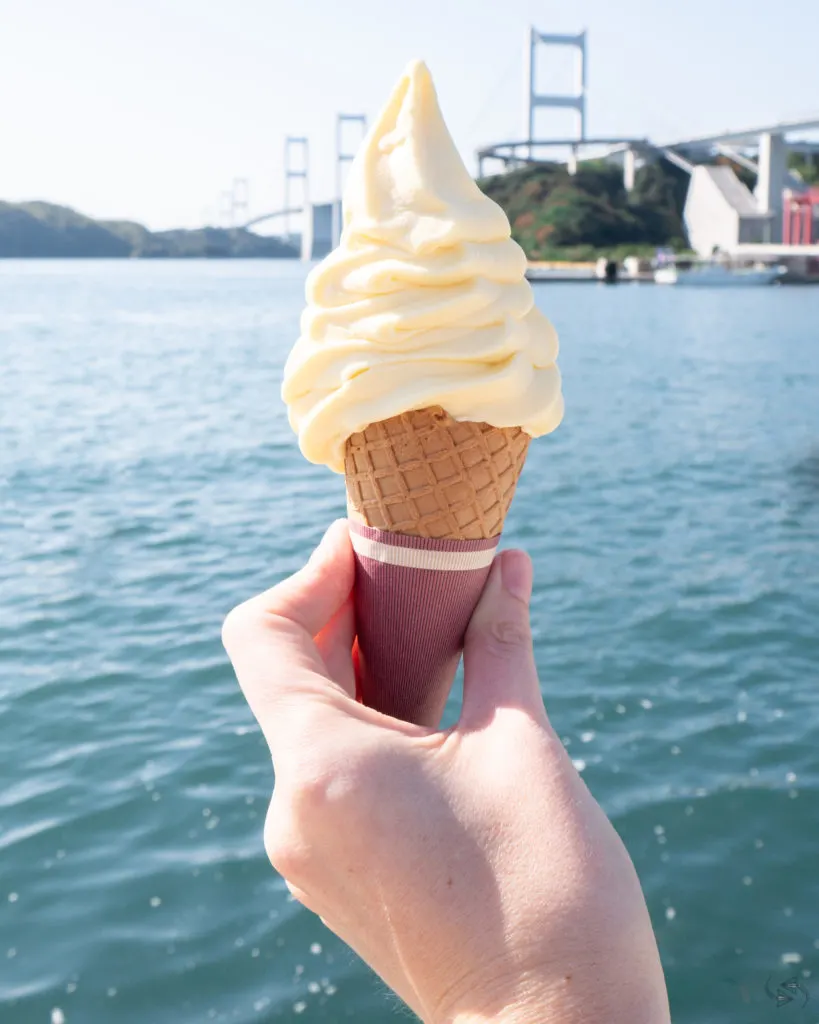 You can rent a bicycle at Sunrise Itoyama for just 1000 yen for a day. Sunrise Itoyama is about 15 minutes by taxi from Imabari Station.
7. Towel Museum Ichihiro
From Sunrise Itoyama, you can take a 20-minute taxi ride to the Towel Museum Ichihiro. Here you can learn more about the region's prized towels. Their extreme quality control means that they are some of the best towels money can buy. Apparently all towels are tested for absorbency, and any that are deemed not absorbent enough, will not be sold as Imabari towels.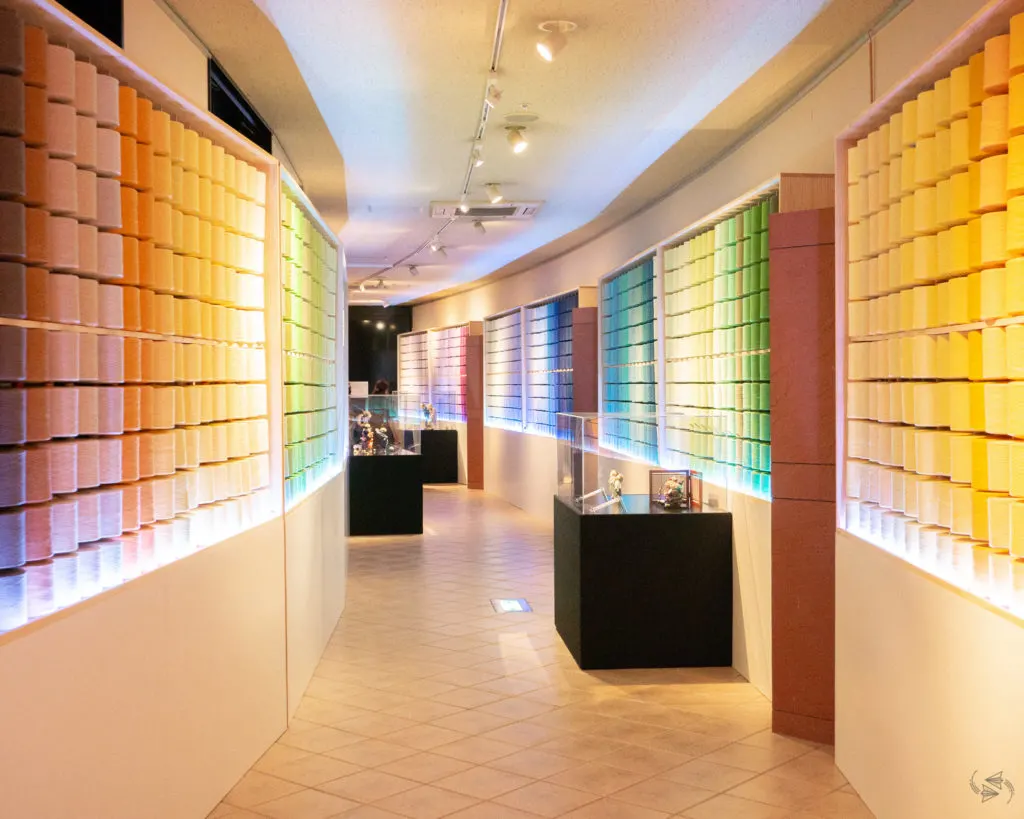 The museum allows you to see exactly how the towels are made. There are even special exhibitions, with works made entirely and/or partially of towels. You'll no doubt come away with a new appreciation for all that goes into making this bathroom essential.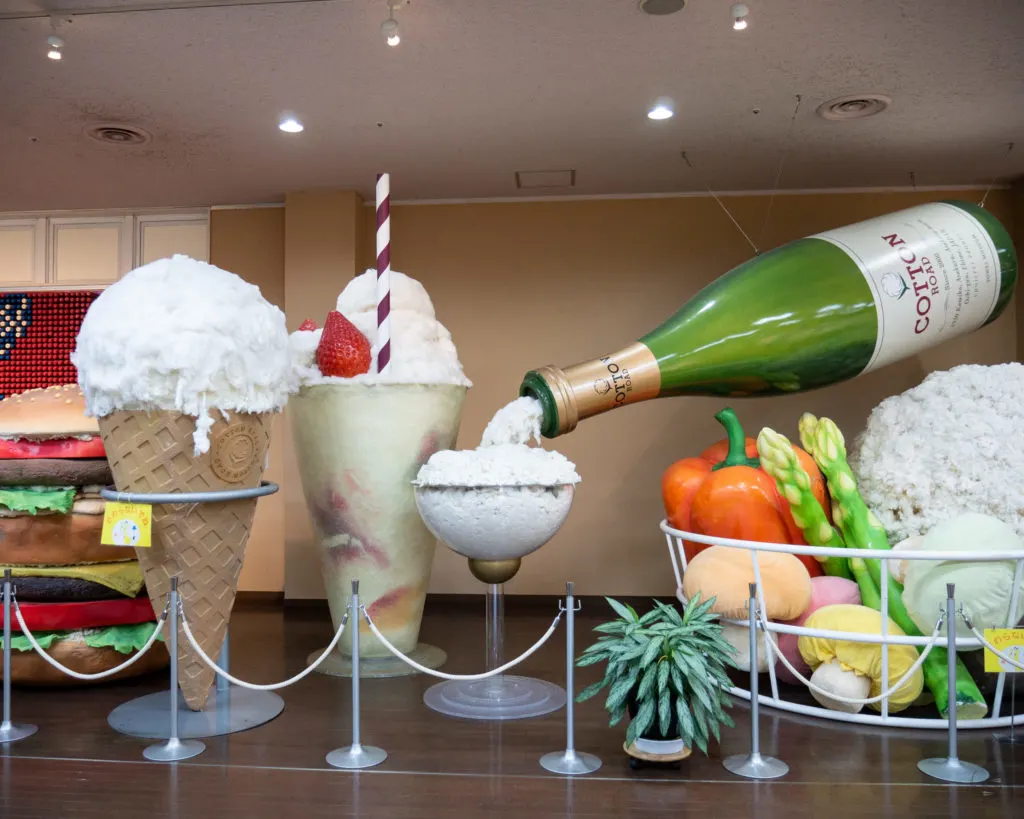 Part of the experience of visiting the Towel Museum is visiting the various gift shops and perusing the variety of products on offer. There are of course a plethora of towels available for purchase, but you'll also find clothes and other useful items also made of towels. The baby clothes looked especially practical!
Each visitor receives a small handkerchief towel (perfect for Japanese washrooms) as a gift with their entry ticket.
Getting to Matsuyama, Japan from Tokyo
Matsuyama is easily accessible from Tokyo's Haneda Airport, only taking 1 hour and 10 minutes. It's therefore easy to spend some time in Tokyo, and then explore a regional area like Ehime to see a completely different side of Japan.
We spent a day in Tokyo before heading to Ehime, exploring the Roppongi, Ginza and Tokyo Station areas.
Tokyo Station area
The Tokyo Station area is a convenient place to stay as it's a hub for connections to and from both Narita and Haneda Airports, and it's the starting point of shinkansen (bullet train) services to other cities. Tokyo Station was reopened in its current form in 2012 after extensive renovations. It's now not only a transportation hub, but a dining and shopping destination worth visiting in its own right. It's one of the best places to go souvenir shopping as you can find regional specialty products that are usually only available in specific prefectures.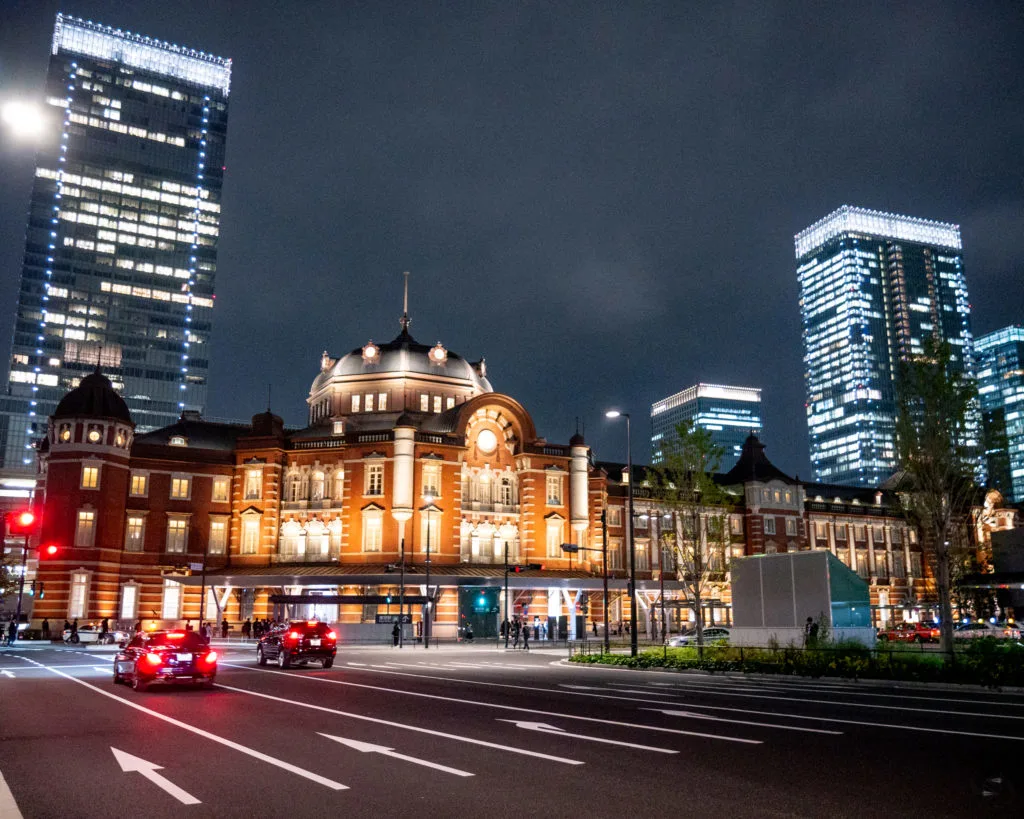 Tokyo City View – Roppongi
Just 15 minutes on the subway from Tokyo Station and you're in Roppongi. At Roppongi Hills, you can can get a 360 degree panoramic view of the city at Tokyo City View. There are two observation decks: an open air 'sky deck' on the rooftop and an indoor observation deck on the 52nd floor.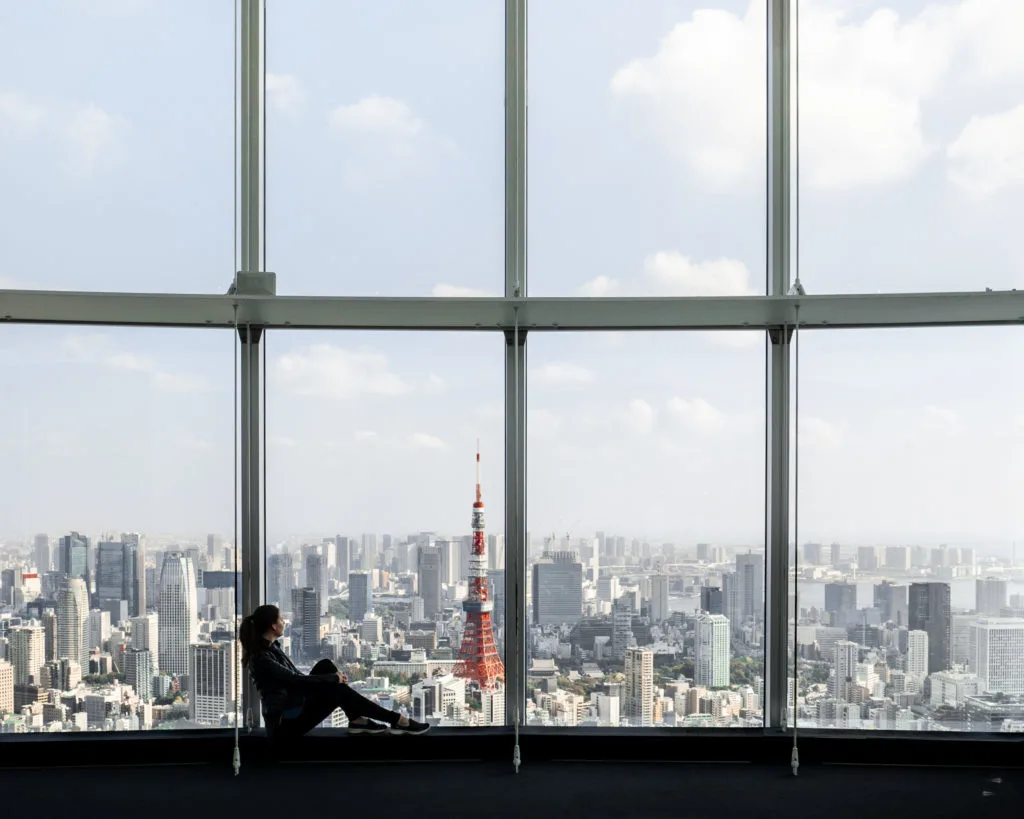 The Sky Deck has a huge helipad on top and really gives you a great overview of the city. What I loved about this attraction was that it was high enough to see the expanse of the city, but also low enough that you could see a lot of detail. This platform really gives you one of the best views of Tokyo Tower around. On a clear day, you might be able to see Mt Fuji, too!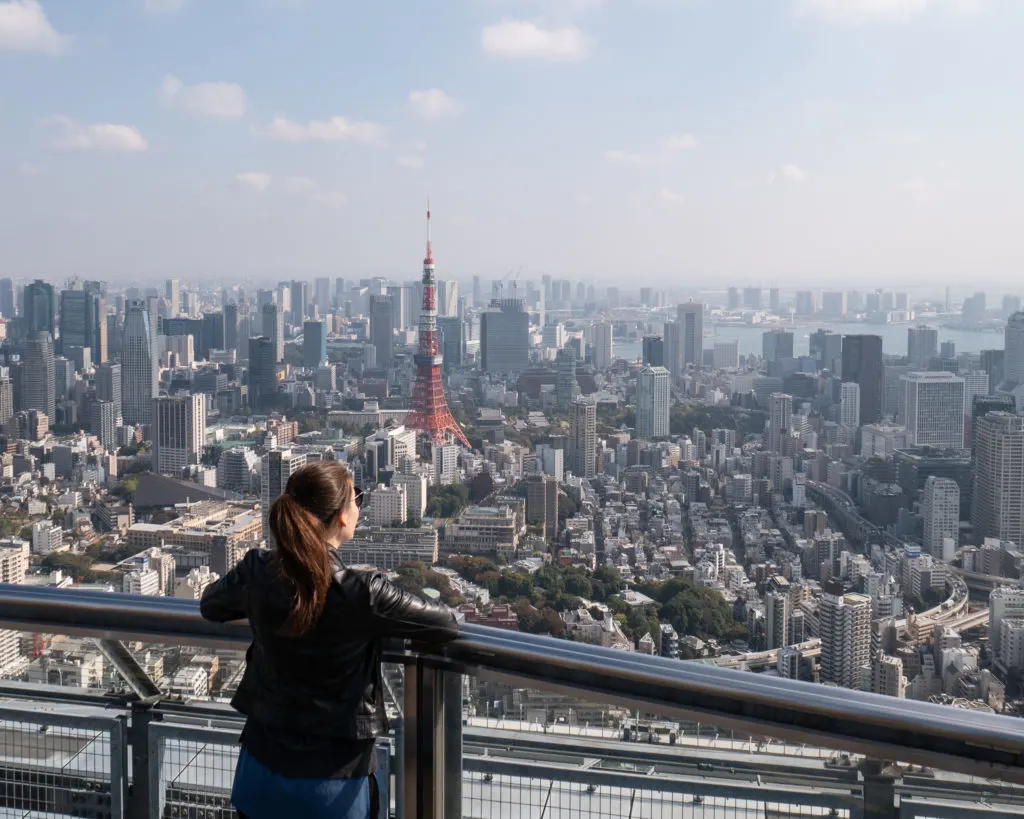 Rental Kimono Experience – Ginza
After lunch, we headed to Ginza to experience wearing a kimono. This was probably my favourite experience in Tokyo. Getting dressed in a kimono by a professional really gives you insight into the complex and beautiful art of this traditional Japanese dress.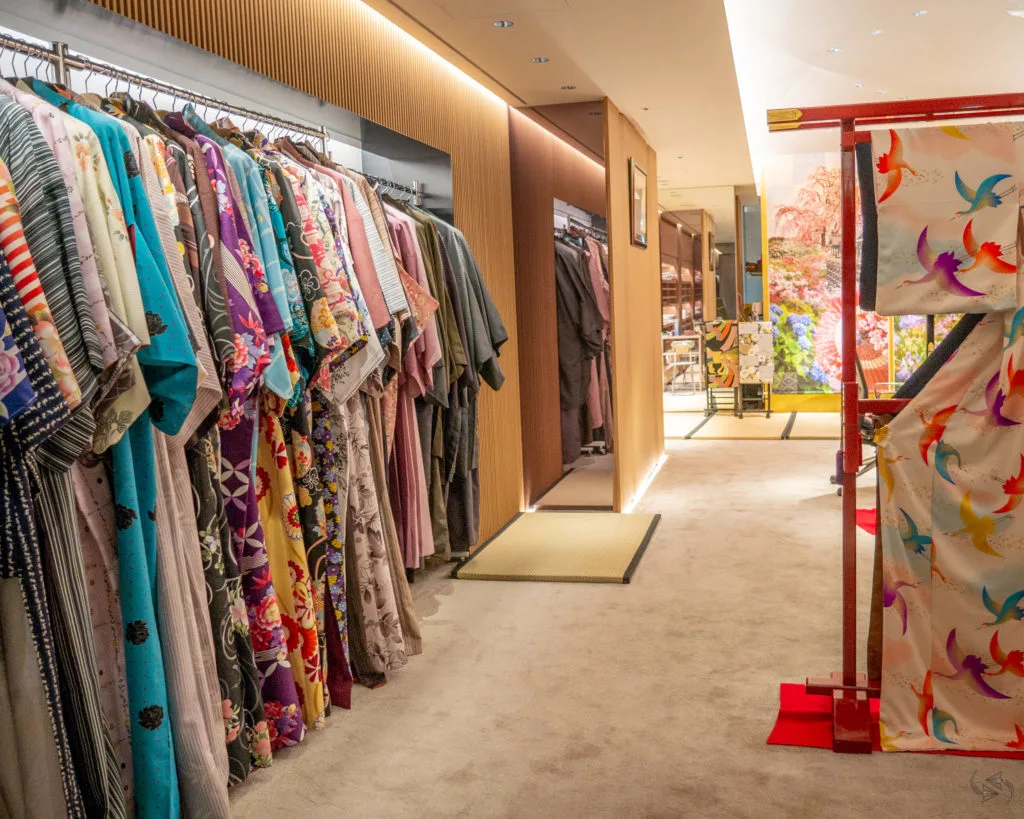 You get to choose the kimono and obi (sash) that you'd like to wear, along with the accessories, so you can really create a combination of colours and patterns that suits your personal style. For women with long hair, they'll also tie it up for you in an up-do with a hair accessory to complete the look.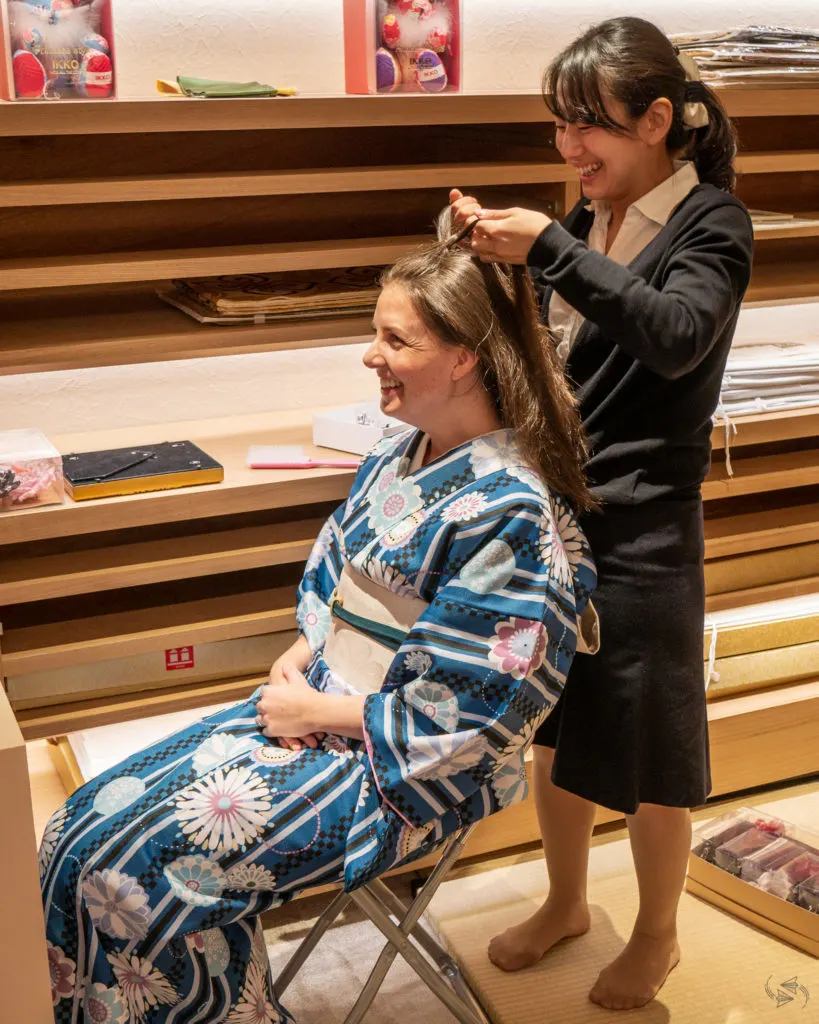 You then have several hours to roam around Ginza, taking fabulous holiday photos, with passersby smiling and commenting in delight at your embrace of their national dress. I recommend visiting the old kabuki theatre for some photo-taking and you'll definitely be one of the best dressed customers at any cafe in the area, even in fancy Ginza.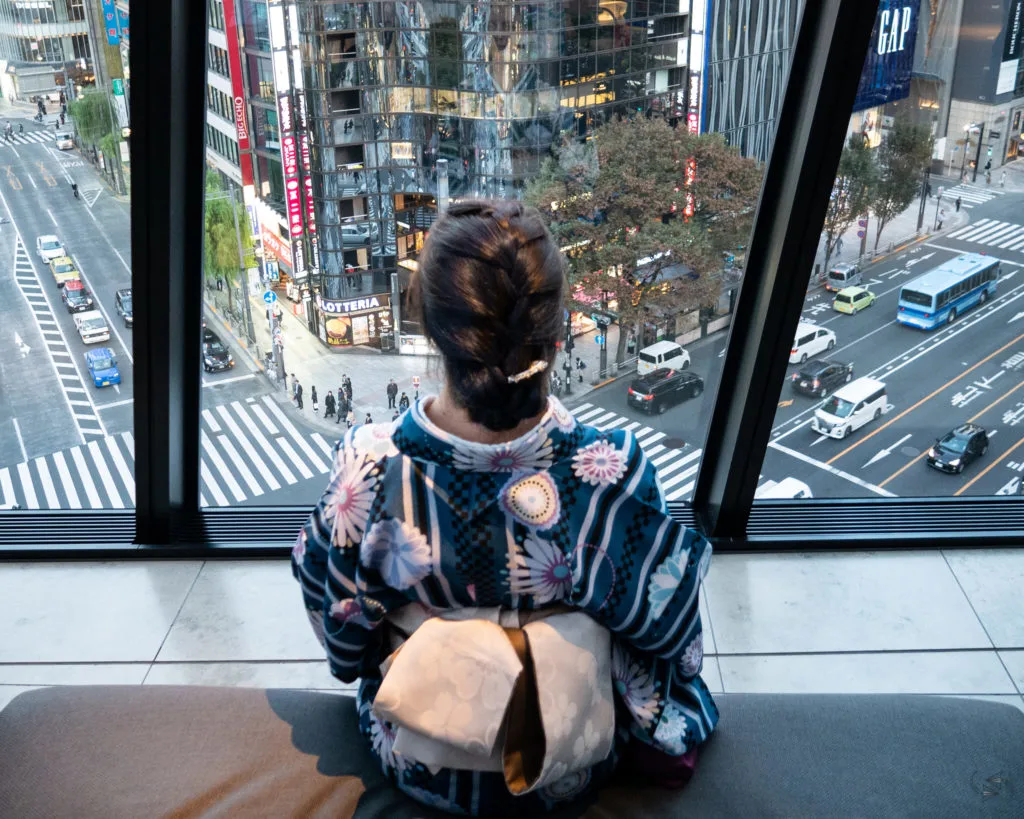 Sky Bus
The Sky Bus is an an open-air double-decker sightseeing bus that can take you on a number of sightseeing courses around the city.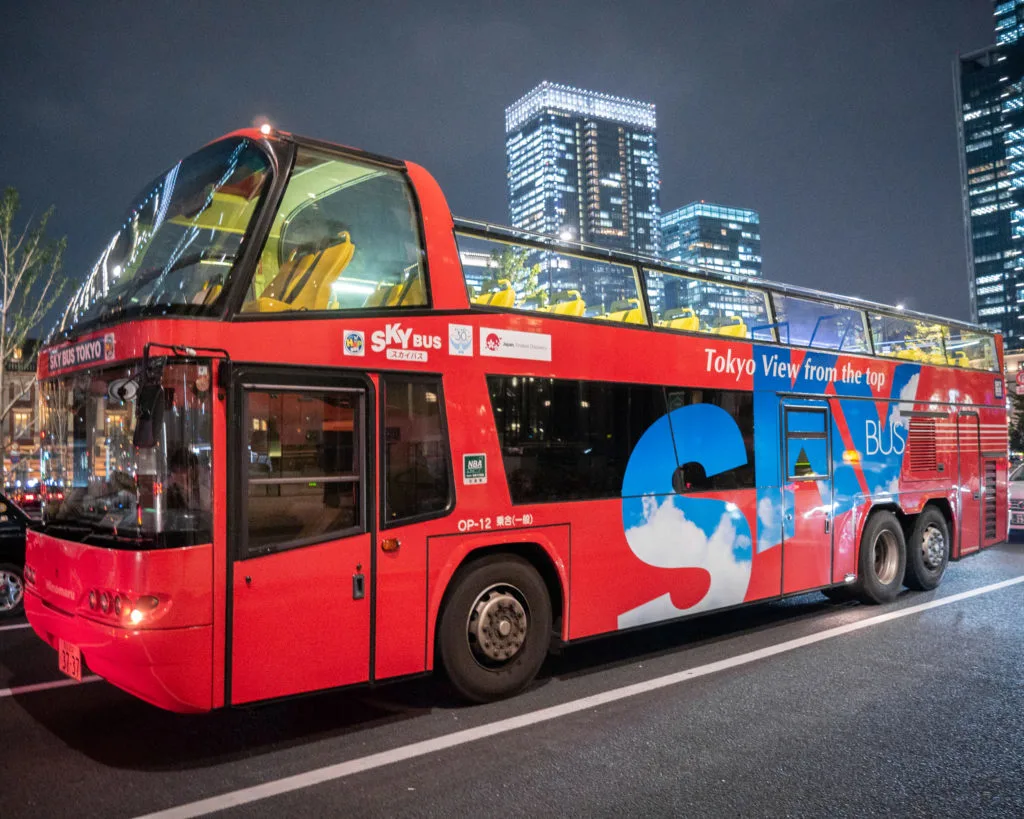 The one we rode started at Tokyo Station, took us through Ginza, Roppongi and over the Rainbow Bridge to Odaiba. We had a one-hour break at Odaiba's Aqua City, where we indulged in a very reasonably-priced, yet delicious sushi dinner. The tour ended back at Tokyo Station.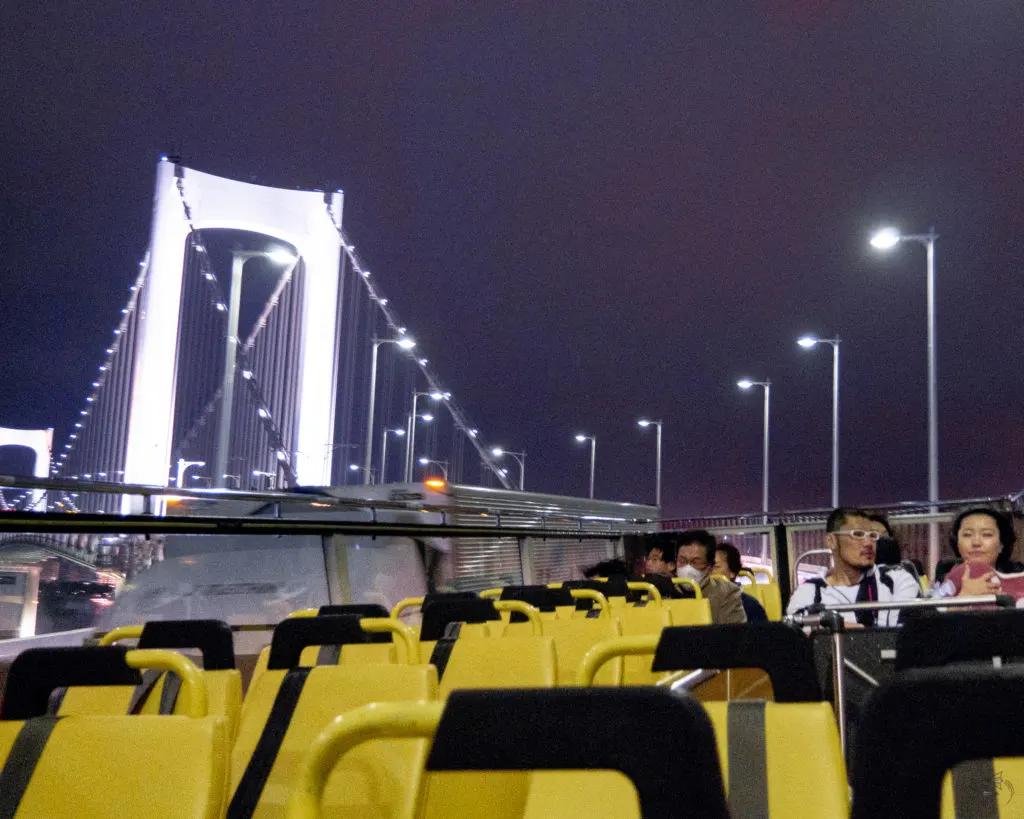 My favourite part of the tour was driving right under Tokyo Tower. You can get a unique perspective on the upper deck of the bus and really get a close-up look at this iconic landmark.
Next time you visit Japan, combine your city exploration with a trip to a regional area like Ehime. With some of the best and most efficient transportation in the world, you'll find a whole new side of Japan awaits you just an hour plane ride away.
Have you been to Japan? Where did you go? Hands up who's ready to explore Ehime on their next visit!
This trip was supported by the Tokyo Metropolitan Government. As always, our opinions remain our own.
Pin me for later