While many people spend the majority of their Japan holiday time in Tokyo, most don't realize that there are a whole host of amazing attractions they've never heard of just a train ride away.
Ibaraki is only around two hours north-east of Tokyo and it's packed with culture and nature, and some incredible spots that make it worth the trip.
Here are 12 interesting things to do in Ibaraki, Japan to get you started!
Ibaraki's Natural Wonders
Ibaraki really has something unique to offer in all four seasons, making it a great location to re-visit over many trips.
Hitachi Seaside Park
Hitachi Seaside Park is a world-renowned destination for good reason. Covering 350 hectares, 200 of which are open to the public, you won't understand just how spectacular a flower display can be until you have visited this magnificent display of the seasons.
The most popular blooms are the nemophila (baby blue eyes) in mid to late spring that see Miharashi Hill covered in a spectacular pastel blue carpet 4.5 million plants strong, resembling a scene straight out of a fairy tale. After the nemophila have bloomed, 30,000 kochia (summer cypress) are planted on the same hill. In summer, they are green, and gradually turn a yellow-green and then gold, a prelude to the main event in autumn when they become a vivid red.
In addition, you'll find a myriad of other blooms and garden spaces, cycling tracks, BBQ areas, restaurants and also an amusement park.
Entry is 450 yen for adults and 210 yen for seniors. Junior high school aged children and under are free.
Read more: Not-to-be-missed Flower festivals in Japan
Fukuroda Falls
There are a lot of waterfalls in Japan and they all seem to be on a top 3 or top 100 list, so when I read that Fukuroda Falls was considered one of the "three most beautiful waterfalls in Japan" I was pretty nonchalant about it. Once I saw it for myself, however, I have to say I was an instant convert.
What's great about this waterfall is that you approach it via a 276m-long tunnel so you're getting closer to it without actually seeing it. Then when you round the corner to the First Observatory Deck, you get this sudden assault on your senses – first the intense sounds of the water and then as you step closer out onto the deck an understanding of the sheer scale of this natural phenomenon.
Fukuroda Falls is 120m high and 73m wide, cascades over four layers, and looks dramatically different throughout the four seasons. It's a lovely spot to visit in autumn paired with the surrounding fall foliage and in winter it presents a dramatic scene when the waterfall freezes, and some adventurous visitors even climb it with crampons and ice axes!
An elevator takes you to the Second Observation Deck, which has three different levels connected by stairs. This deck allows you to see the upper reaches of the waterfall you can't appreciate from the lower deck, with each level giving you a slightly different perspective.
Entry is 300 yen for adults and 150 yen for children.
Kairakuen Garden and Kobuntei
Kairakuen is one of the "Three Great Gardens of Japan," along with Kenrokuen in Kanazawa and Korakuen in Okayama. See, what did I say about the Japanese loving top 3 lists!
The 11-hectare garden opened in 1842 and was created by Tokugawa Nariaki, the 9th feudal lord of Mito. He named it Kairakuen, meaning a "park to be enjoyed together" and planted it full of plum trees because he loved the fact that they are early blooming and that pickled plums could be stored as rations in the event of war.
Today there are as many as 3,000 plum trees in the garden of around 100 different varieties, six varieties of which have been chosen as the 'Six Trees of Mito' based on their supposed superior shape, fragrance and color of their blooms. These varieties are enclosed by hexagonal fences, making them easy to spot.
The recommended course is to enter through the Kobuntei Front Gate and first proceed through the calming bamboo forest, known as the Moso Bamboo Thicket. The Taro Cedars you'll reach at the other side are also worth taking a moment to appreciate. Proceeding on, you can then enter Kobuntei Pavilion for the small fee of 200 yen. Kobuntei is a historic three-storied wooden building made up of a main house, an annex and the nobility's private quarters. Nariaki would host parties there, inviting writers, poets and artists to entertain. The rest of the time it was mostly used by his wife.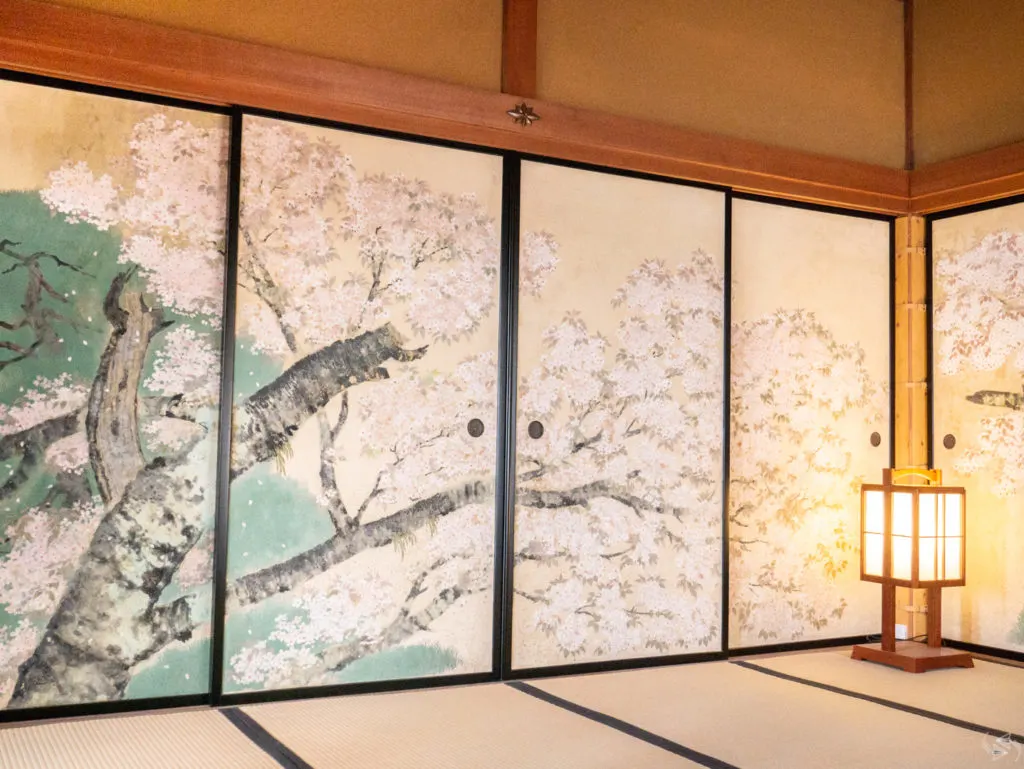 Seeing the exquisite artwork on the wooden paneling alone is worth the entrance fee, however, you can also get a spectacular view over the gardens and nearby Lake Senba from Rakuju-ro, the room on the third floor. As an interesting aside, the dumbwaiter at the foot of the stairs for sending up trays of food is said to be Japan's first elevator!
The one-night only Kairakuen Night Plum Festival (偕楽園の夜梅祭) in March that sees tea lights set up in various formations on the lawn with Kobuntei in the background, and the bamboo forest lit up with entrancing blue lights, is also worth checking out if you can time it.
Ryujin Gorge and the Ryujin Suspension Bridge
The Ryujin Suspension Bridge is the longest walkable suspension bridge on Japan's main island of Honshu. The 375-meter long bridge is striking with its azure blue hue and dragon art, representing the Ryujin Lake below that is said to resemble the shape of a dragon and is the bridge's namesake.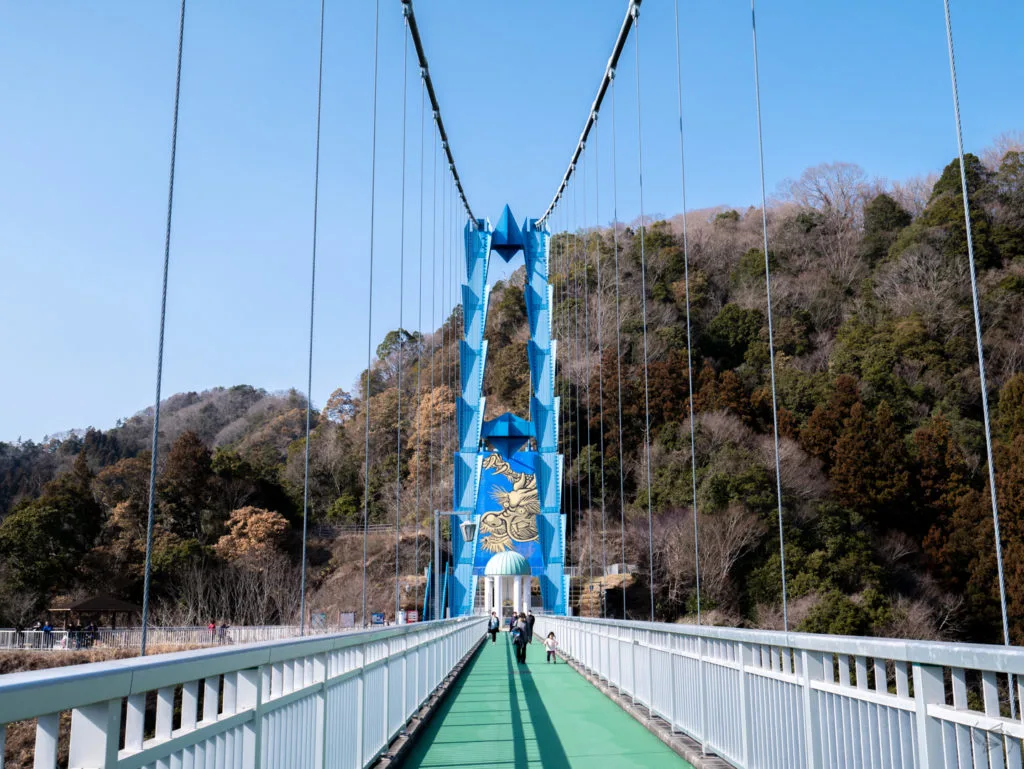 The view over the Ryujin Gorge is quite spectacular all-year-round, but is especially renowned for its incredible autumn colors. On May 5, Children's Day in Japan, the bridge is decorated with thousands of carp streamers and during the Ryujin Gorge Lantern Festival in mid-August, it's lined with hundreds of lanterns.
Walking across the bridge costs 310 yen and gives you wonderful picture-taking opportunities from the bridge itself and also from the other side. If you want to take your visit to the next level, by reservation you can bungy jump from the middle of the bridge over the gorge below. At a height of 100m, it's the tallest bungy jump in Japan!
Places of worship to visit in Ibaraki, Japan
Ibaraki has a lot of temples, shrines and places of worship to visit. Here are some particularly special ones to add to your list.
Oiwa Shrine
I've been to countless shrines in Japan and, let me tell you, there is something really special about this one. There's an almost tangible energy that you can see, feel and smell in the fresh mountain air.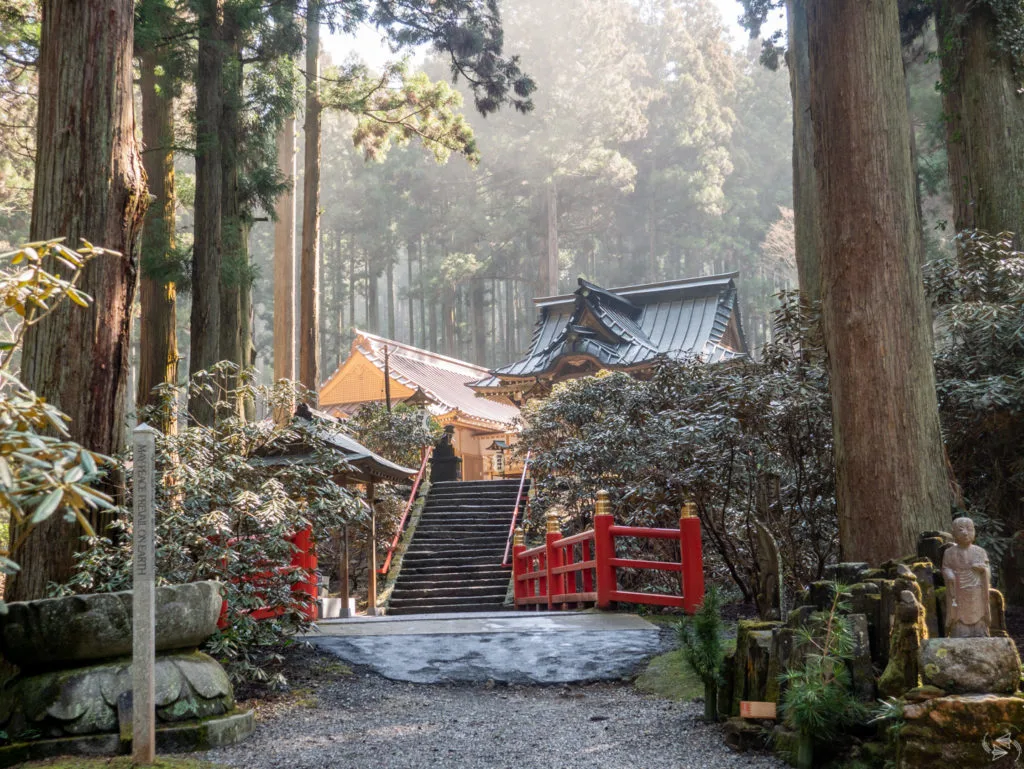 Nestled on Mt Oiwa, the shrine complex is dedicated to no less than 188 deities. There are little places of worship almost everywhere you turn. Whatever you wish to pray for, you'll no doubt find just the deity to listen to your wish here.
The forest approach is especially enchanting and allows you to really take in the atmosphere and step into a world that feels far removed from the distractions of everyday life. If you'd like to continue exploring this wonderful power spot, you can hike to the top of Mt Oiwa from the back of the shrine. It takes about 40 minutes one-way and you can borrow a walking stick near the shrine entrance.
Ushiku Daibutsu (Ushiku Big Buddha)
The Ushiku Daibutsu holds the Guinness World Record for the tallest standing statue of Buddha. At 120m in height and without any competing structures in the vicinity, it truly is a sight to behold from the moment you spot it on your way there.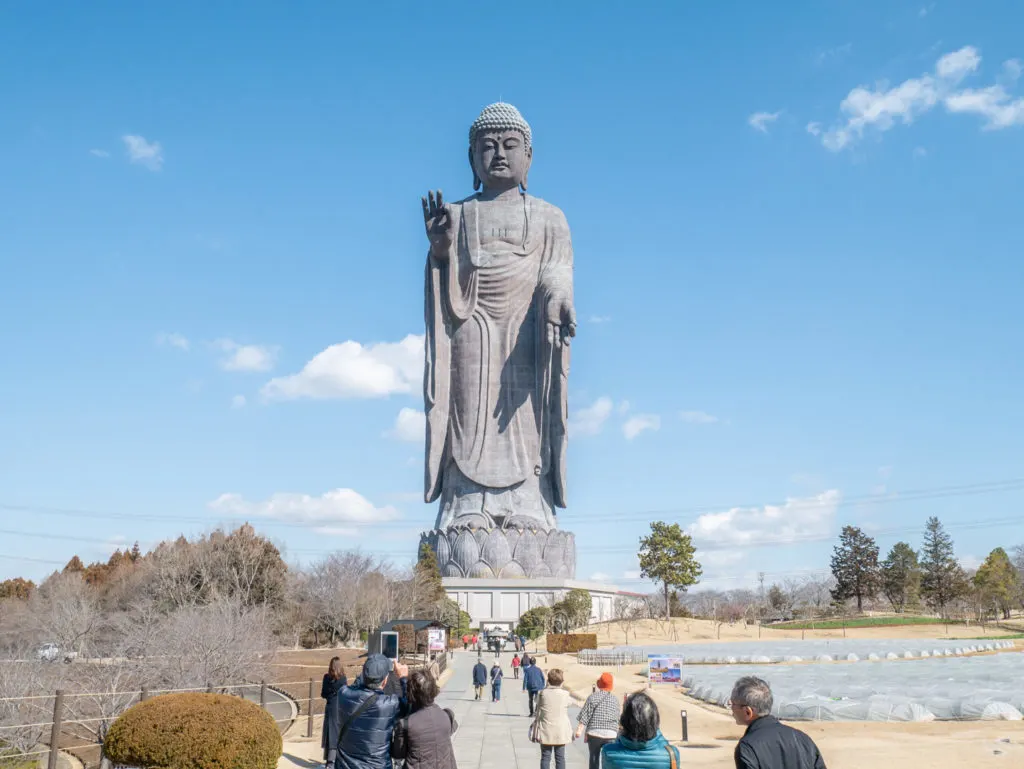 While the view of the Buddha from the outside is already enough to make it a worthwhile stop, you're sure to want to enter the inside too. You'll proceed through a series of levels with different displays and view points that create much more of an experience than a simple observation deck. The highest point is at 85m (accessible by elevator), at around chest level. On a clear day, you can even see Tokyo Skytree!
Admission costs 800 yen (April-November) and 700 yen (December-March) for adults, 400 yen for children, and includes access to the grounds and the statue.
Kashima Jingu Grand Shrine
Kashima Jingu is said to have a history dating back to the 600s B.C.E. and is considered one of the "three great shrines" in the Kanto region.
The shrine is dedicated to Takemikazuchi-no-Okami, the Shinto god of thunder and war, who is also associated with martial arts. Because of that, many dojos across Japan display scrolls with his image. The shrine also houses the oldest and longest sword in Japan, considered a national treasure.
While the shrine lost its main torii gate at the entrance of the shrine during the Great East Japan Earthquake of 2011, a new one was completed in 2014 using cedar trees from the shrine grounds.
The grounds are expansive and peaceful, and it's worth taking the time to stroll around and absorb the powerful energy that many people feel being present in this spiritual place.
Kamiiso no Torii Gate and Oarai Isosaki Shrine
The Kamiiso no Torii Gate stands on Oarai's shoreline atop rocks as the turbulent waves of the Pacific Ocean surge and crash around it.
According to Japanese mythology, two deities descended on this reef in 856 B.C.E., turned into human form and created the country of Japan. Oarai Isosaki Shrine was then founded just up from the beach and the two deities, Oonamuchi no Mikoto and Sukunahikona no Mikoto were enshrined there.
In 1959, a stone torii known as the Kamiiso no Torii or the "gate at the beach of the gods" was built to commemorate the arrival of the deities. Facing the east, it has become an incredibly popular sunrise spot, as the rising sun bathes the torii gate in warm hues each morning.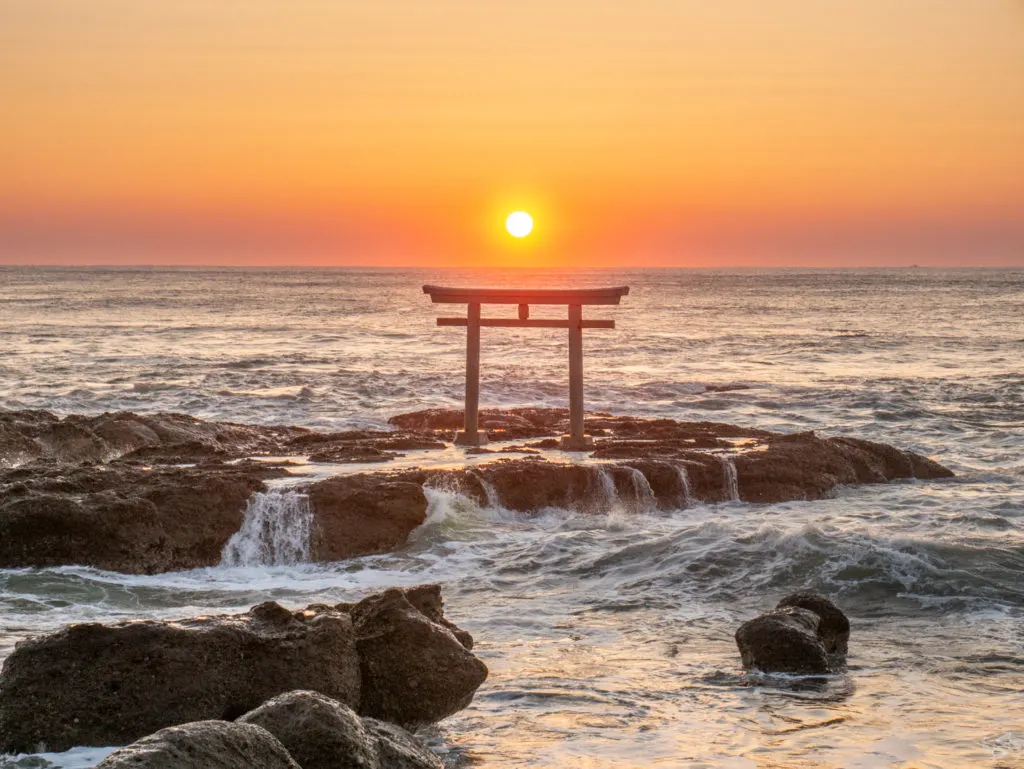 Including the Kamiiso no Torii, the Oarai Isosaki Shrine now has three torii gates. Interesting details you should be sure to take note of are the intricately carved koma-inu on the rōmon tower gate – the lion dogs that guard Japanese Shinto shrines, which instead of their usual animal-like form are made up of waves – as well as the wooden ema plaques. While ema are found at most shrines, where you can buy one, write a wish and then hang it, the plaques at Oarai Isosaki Shrine often include incredible artwork drawn by visitors, most of them featuring characters from 'Girls und Panzer', a popular anime series set in Oarai.
Hands-on activities and recreational spaces in Ibaraki
If you feel like doing some hands-on activities that are not only fun but allow you to come home with a one-of-a-kind souvenir, or want to find some kid-approved recreational spaces, check out some of these options.
Suzumo Chochin Lantern making at Suzuki Mohei Sh
ō

ten

If you had told me beforehand that making a lantern would turn out to be one of the highlights of my trip, I probably wouldn't have believed you. But this activity was so enjoyable that I wouldn't hesitate in recommending it to anyone, whether you usually consider yourself someone who is interested in crafts or not.

The traditional Japanese craftsmanship of chochin (Japanese lantern) making dates all the way back to the Muromachi Period (1337-1573). Suzuki Mohei Shōten began making "Suifu" chochin, the old name for the area around present-day Mito, in 1865. This was around the same time that it became a popular means of income generation for lower-ranking samurai in the Mito clan when the amount of rice produced in the area decreased dramatically. The lanterns were made with a durable paper known as nishi-no-uchi that was also produced in Mito and they soon gained a reputation for their quality.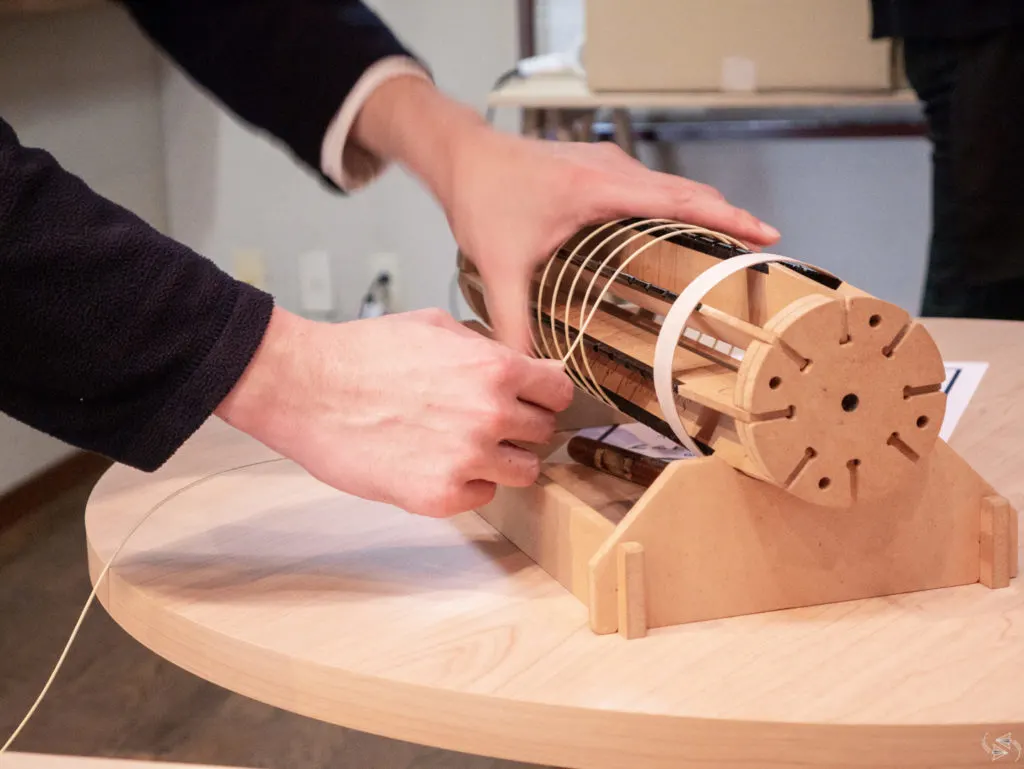 Nowadays, Suzuki Mohei Shōten is one of only a handful of manufacturers keeping the art of traditional Japanese lantern making alive. They make many different kinds of chochin that combine traditional techniques with modern innovation such as utilizing LEDs that safely mimic flickering candlelight, incorporating sound sensors to allow you to turn lanterns on and off with a simple clap of the hands, and lanterns that return themselves to the upright position if they are knocked over.
By reservation, you can book a workshop to make your very own one-of-a-kind lantern, and I couldn't recommend this experience more highly. The workshop was the perfect length and difficulty which kept the process super engaging and fun, without needing to be very skilled to end up with an incredibly impressive end-product. You definitely won't regret this very practical and personal keepsake of your trip.
Enquire about a workshop via email: [email protected] with the subject line 「ワークショップ申し込み」and include your name and contact details, desired date and time, and the number of people in the body of the message. Workshop cost is a very affordable 3,000 yen per person and includes your lantern to take home. If you wish to add a hanging device that allows you to carry the lantern around easily by hand, it's an additional 500 yen.
Tatami making workshop at Sekikawa Tatami Sh
ō

ten

Most visitors to Japan want to sleep in a traditional Japanese room with tatami mats at least once during their visit, but few get the opportunity to understand what actually goes into making tatami.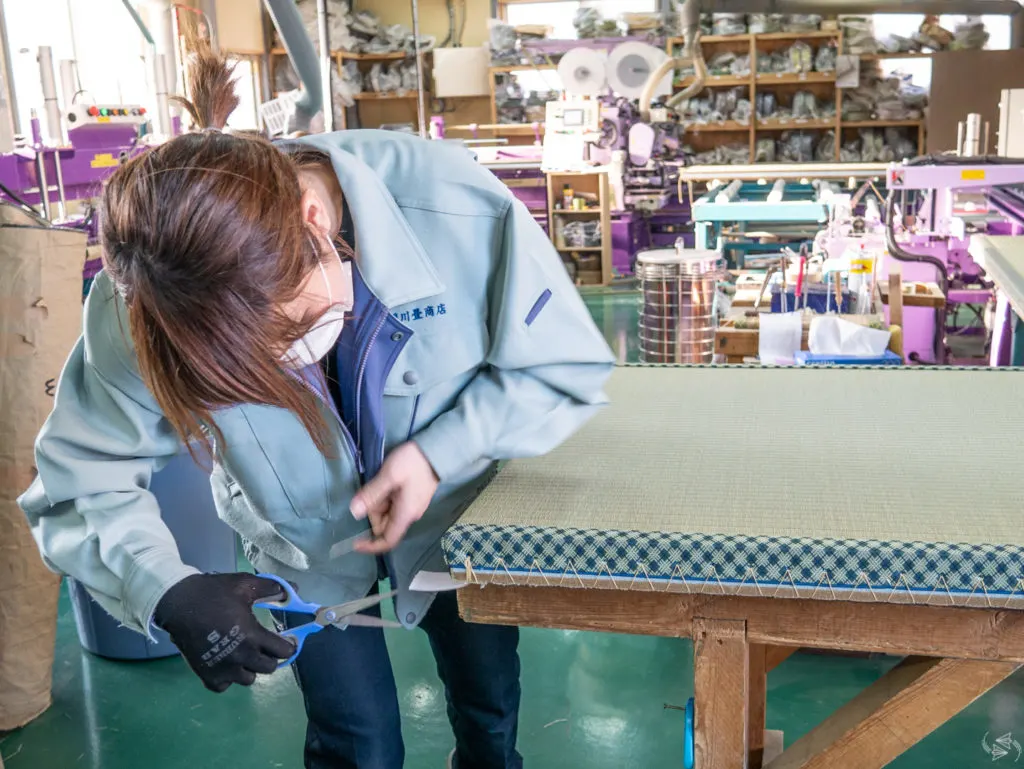 At Sekikawa Tatami's Mito store, you can go on a short factory tour in which you can see how a tatami mat is made from start to finish using a combination of cleverly designed machinery and human handiwork. Afterwards, you can join a mini tatami workshop in which you can make your own small tatami mat (30cm by 20cm). You can choose the color of the tatami and the border fabric to create your own unique design. The mat can be used as the base for a flower vase or other display item, or as a memo board.
While the factory tour is Japanese language only, they have very informative and easy to understand documentation in English that gives you a translation of what the guide is saying. The tatami workshop is easy to follow by watching and with guidance from the instructor. You won't feel like you are missing a thing!
Recognizing that the rush used in usual tatami might cause issues for those traveling back to countries with strict customs policies, your tatami will not be made with any grass or straw materials, and will instead be made with washi paper that mimics the look and feel of tatami.
Workshops are available Monday through Saturday (except national holidays), from 09:00 to 12:00 and 13:00 to 17:00. Allow 45 minutes to an hour to complete your take-home piece of tatami art. Make a reservation by email in advance to [email protected]. Please use the subject line "Factory Tour request" and include your desired date and time, and the number of people in the body of your message. Cost is 1,000 yen per person for everything (including the tatami workshop). Qualifying age for the workshop is 6 years and over.
Craft Hills Kasama
Kasama-yaki or Kasama ceramics and pottery using locally-sourced clay is a signature product of the area. At Craft Hills Kasama, you can peruse the wide range of souvenir Kasama wares on offer and if you have a few hours to spare, for a fee you can try your hand at making some pottery yourself. Your hand-made pieces will be shipped to you after two months.
If you'd prefer to take a look at the work of the experts or just want some inspiration, you can also head over to the Ceramic Art Museum that includes some of the finest ceramic works in the country. The museum opened in 2000 and is the first of its kind in Eastern Japan specializing in ceramics. Entry to the permanent exhibition costs 310 yen for adults, 260 yen for university and high school students and 150 yen for junior high and elementary school students.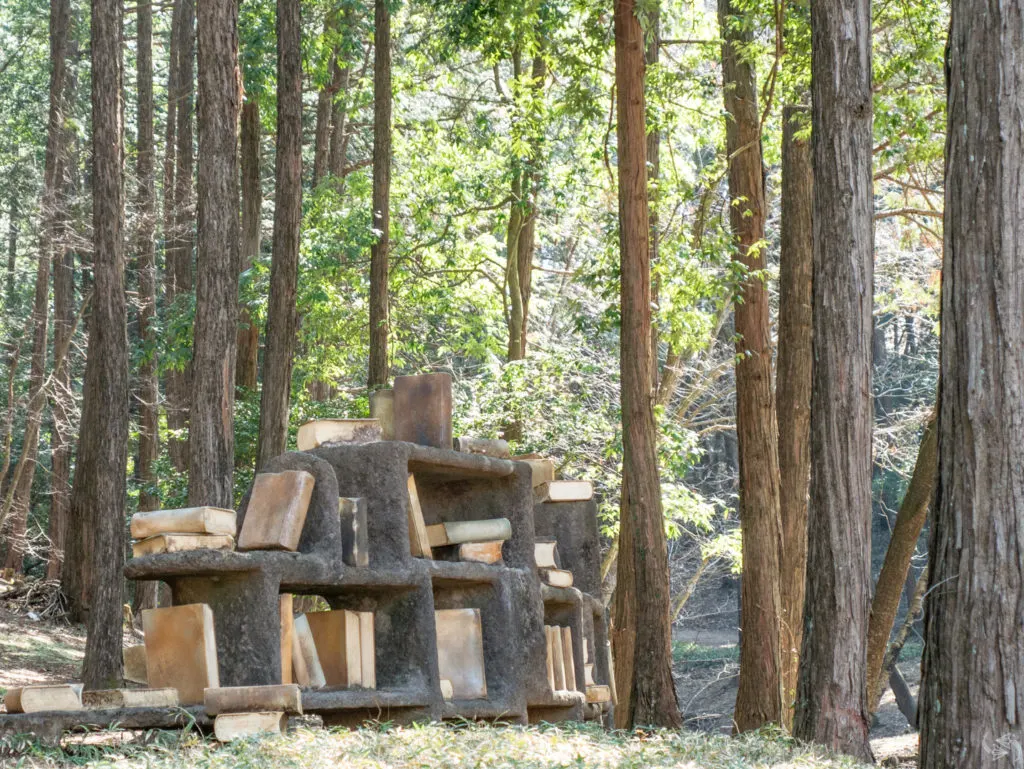 Perhaps one of the best parts about a stop to Craft Hills, however, is the Kasama Geijutsu no Mori Park. While it is really just an open space with lots of rolling grassed hills, a lake and forest trails, it's made more interesting by the fact that there are random artworks placed around the grounds in a kind of fairytale-esque scavenger hunt. Kids will no doubt enjoy the ability to run wild and spot all the "hidden" artworks – a random book shelf amongst the trees or doors on the forest floor that look as if they'll take you to another world. If you're looking for a nice place to have a picnic or for the kids to play, Craft Hills Kasama has got you covered.
Oku Hitachi Kirara no Sato
Another recreational facility for families looking for open space and playtime is Oku Hitachi Kirara no Sato. It's the size of ten Tokyo Domes, has playground and BBQ facilities, and even has cottages on site you can rent for overnight stays.
The biggest attraction is the "Wakuwaku Slider," a slide that's 1188m in length, the longest in Japan! You sit on a type of sled and control the brake yourself with a lever. One ride costs 520 yen for adults (high school students and above) and 320 yen for children (third grade elementary school to junior high school students). Young children from 4 years of age until the second grade of elementary school may ride with an adult (no additional ticket for the child is required). Since once probably won't feel like enough, there's a discount for a three-ride ticket.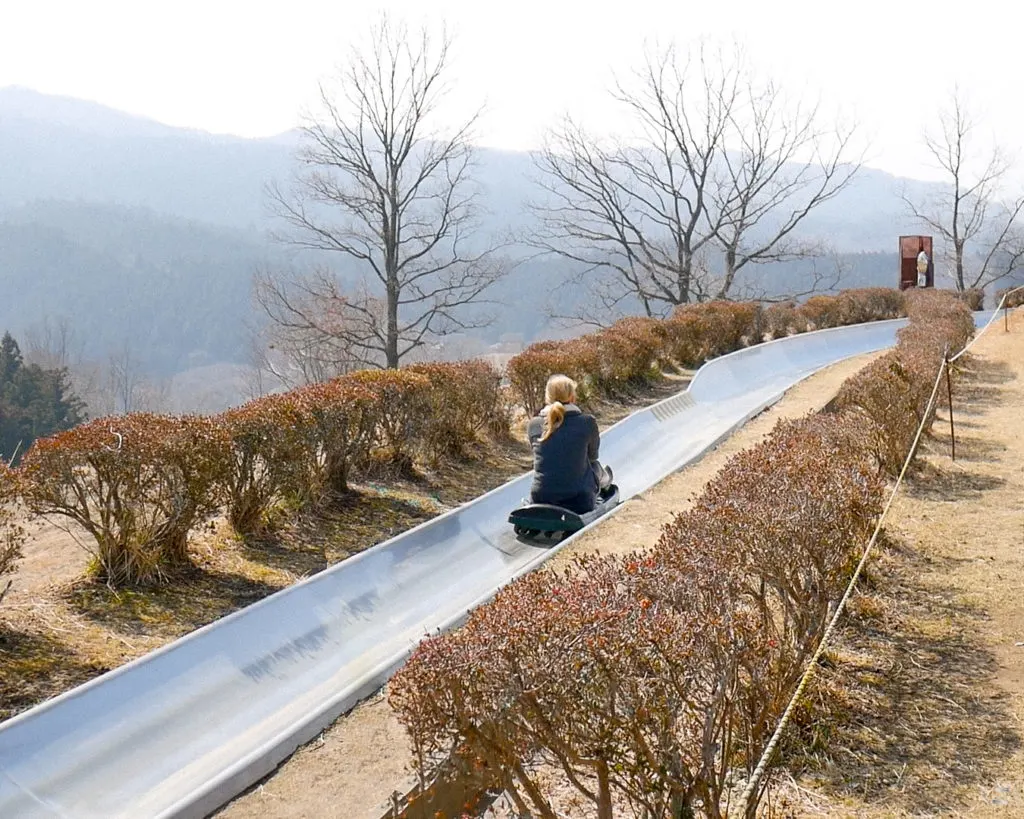 As the "road train" that transports people from one area of the park to the other is currently not in operation, it's best to visit with your own vehicle as it's quite the hike up to the various facilities and attractions. Fortunately, once you get to the bottom of the Wakuwaku Slider you'll be mechanically pulled back up to the starting point via a different route, so you can just hold the brake and enjoy the scenery.
Have you been to Ibaraki or would you like to? What's your favorite attraction that you've visited or one from this list that you'd like to experience?
This trip was supported by the Ibaraki Prefectural Government. As always, our opinions remain our own.