This post is a special personal essay on our homestay in Sapa, Vietnam with a Black Hmong family. Here you will see a completely different side to Vietnam – a place where two legs or four are the main modes of transportation, where the air is fresh and skies go on forever, and where there is scenery that has to be seen to be believed.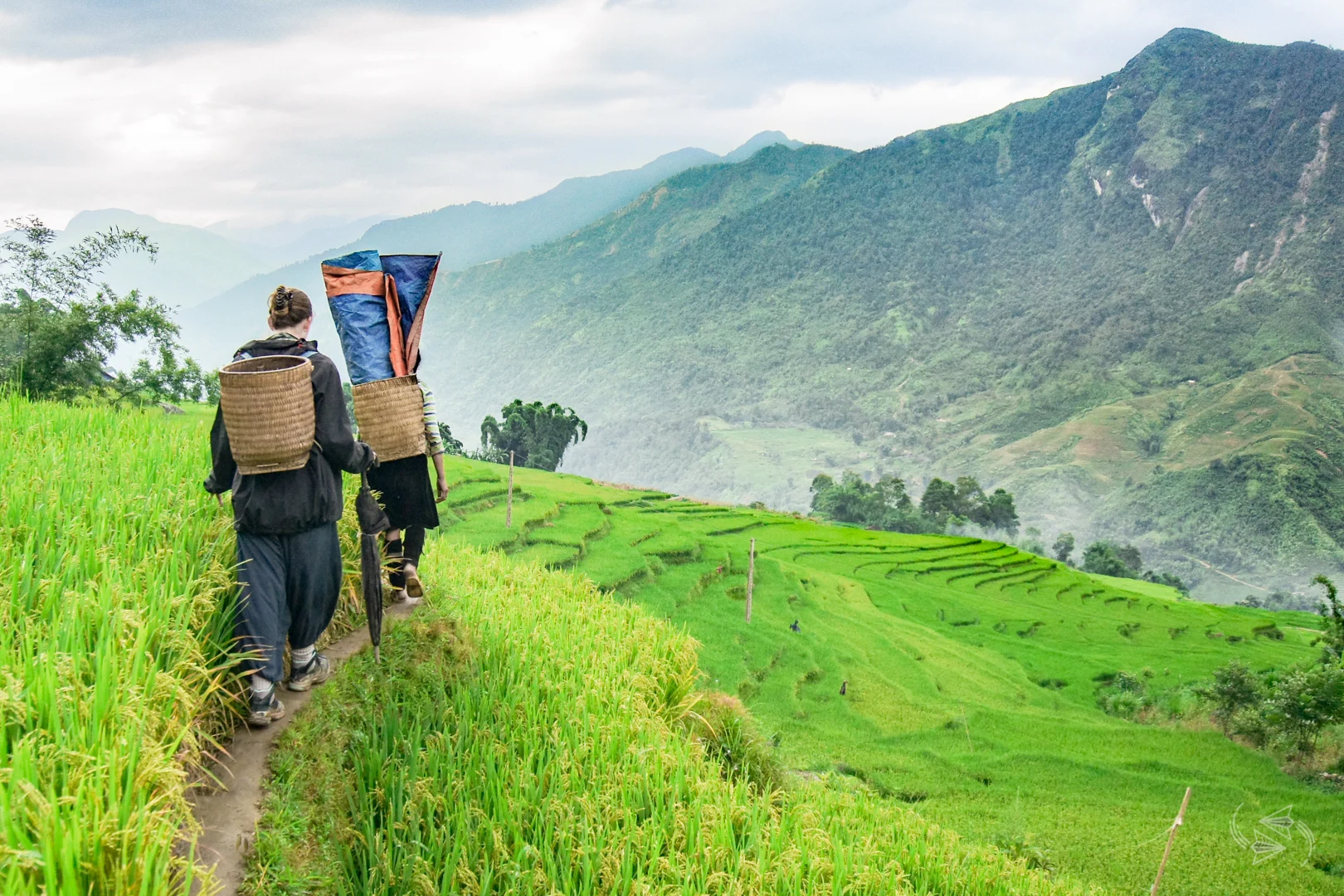 All we knew when we arrived in Sapa was that we were to meet our homestay, Ger, at the local church. During our short phone conversation from our guesthouse in Hội An, she said it was the only church in town so we couldn't miss it. Sitting on the steps in the early morning sunlight, we met countless friendly locals including many Black Hmong, one of the 54 official ethnic groups of Vietnam and easily recognizable in their traditional dress.
We had arrived earlier than expected, being able to hitch a ride from the train station in Lào Cai an hour away in a shuttle sent to pick up guests at some of the local hotels. As we waited, one lady came for a chat and asked where we were staying. Upon answering, she gave me a hearty slap on the thigh. "Get out! Ger is my neighbour. See you in the village!"
A little while later, an older woman with a huge smile beaming from ear to ear introduced herself as Ger's mother and told us that Ger was on her way and wouldn't be too much longer. In the meantime, Mama Chi took us to breakfast at the local market. She led us to a busy stall where locals were tucking in to huge bowls of steaming chicken noodle soup. Phở should be eaten quickly – the longer the noodles are left in the soup, the more they keep on expanding and re-filling your bowl in a battle you'll never win. Hence we averted the assured wastage of food by requesting half servings.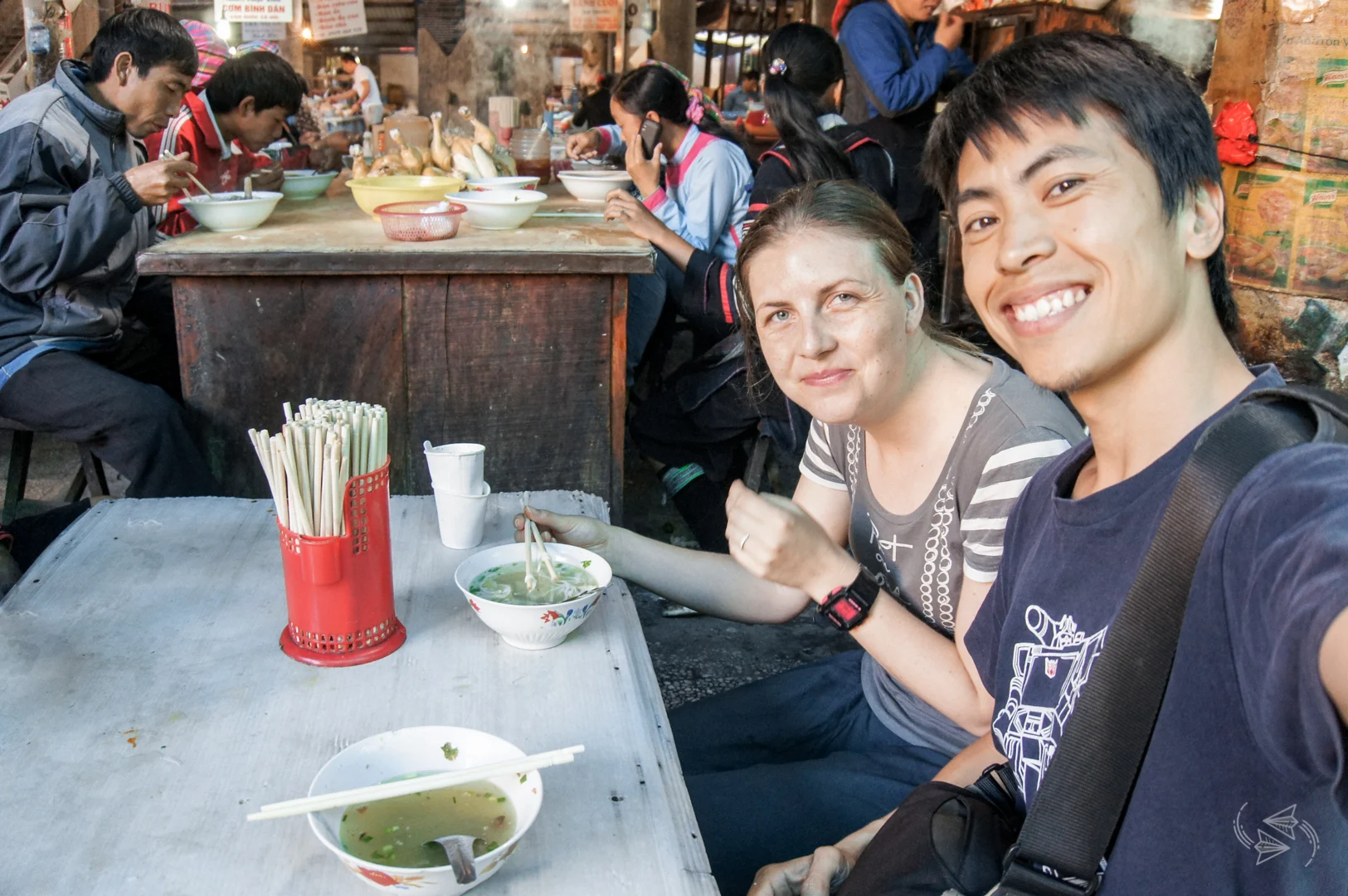 We joined the table and the circle of women and children all dressed the same with huge silver earrings dangling low on ears that had become accustomed to wearing the heavy jewellery over long periods of time. We exchanged smiles with the girls across the table who smirked at our astonishment at their speedy consumption of the mammoth bowl and our inability to do the same.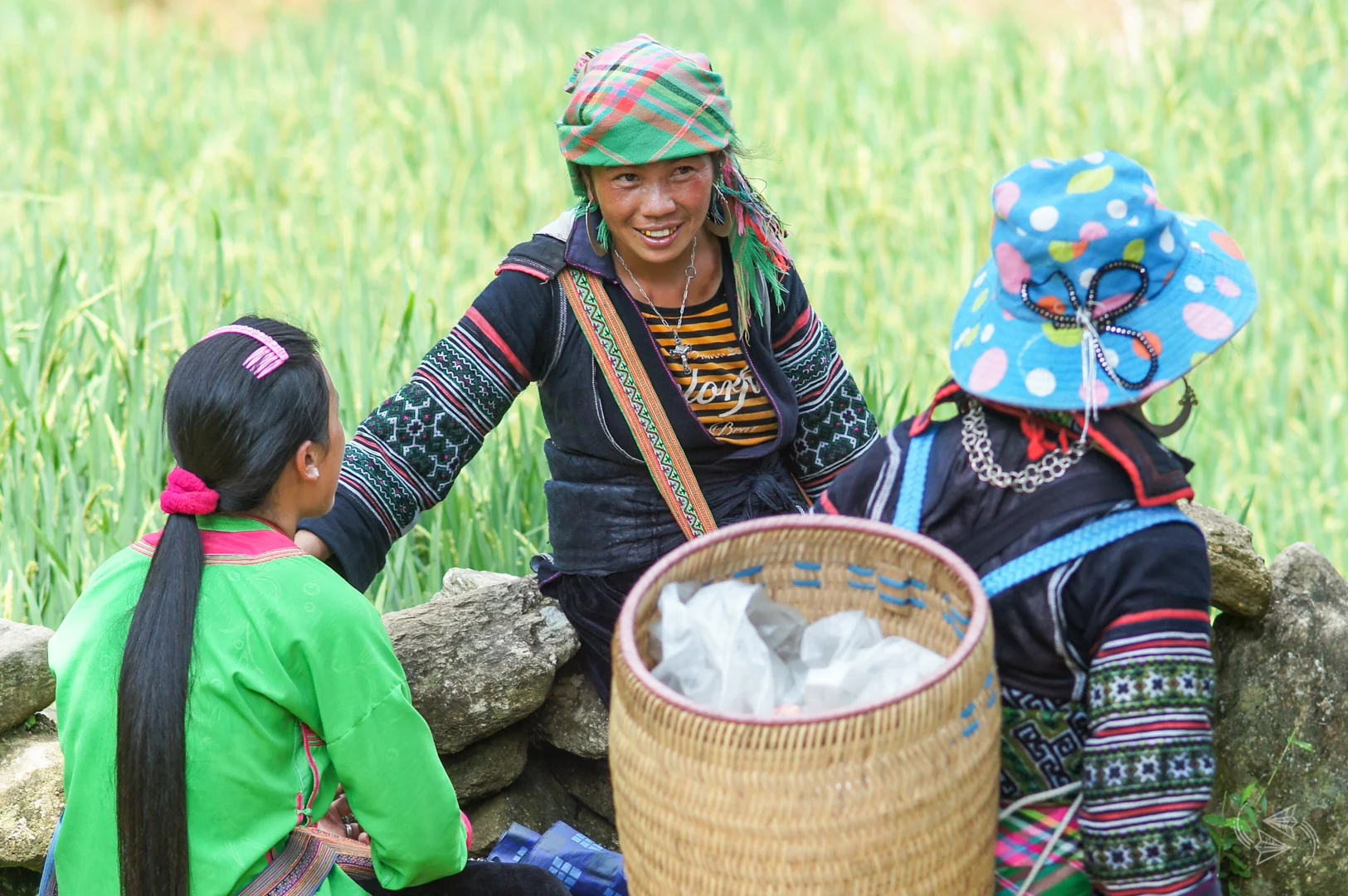 Ger had a warm face with wonderful lines of one who never stops smiling. For someone who stopped their schooling at 17, her English is astonishingly excellent. Mama Chi too a wonderful English communicator – a skill she must have passed down to her daughter.
It turns out the village was a four-hour trek from Sapa town. It was a stunning hike through jaw-dropping scenery that was worth every step along the muddy paths.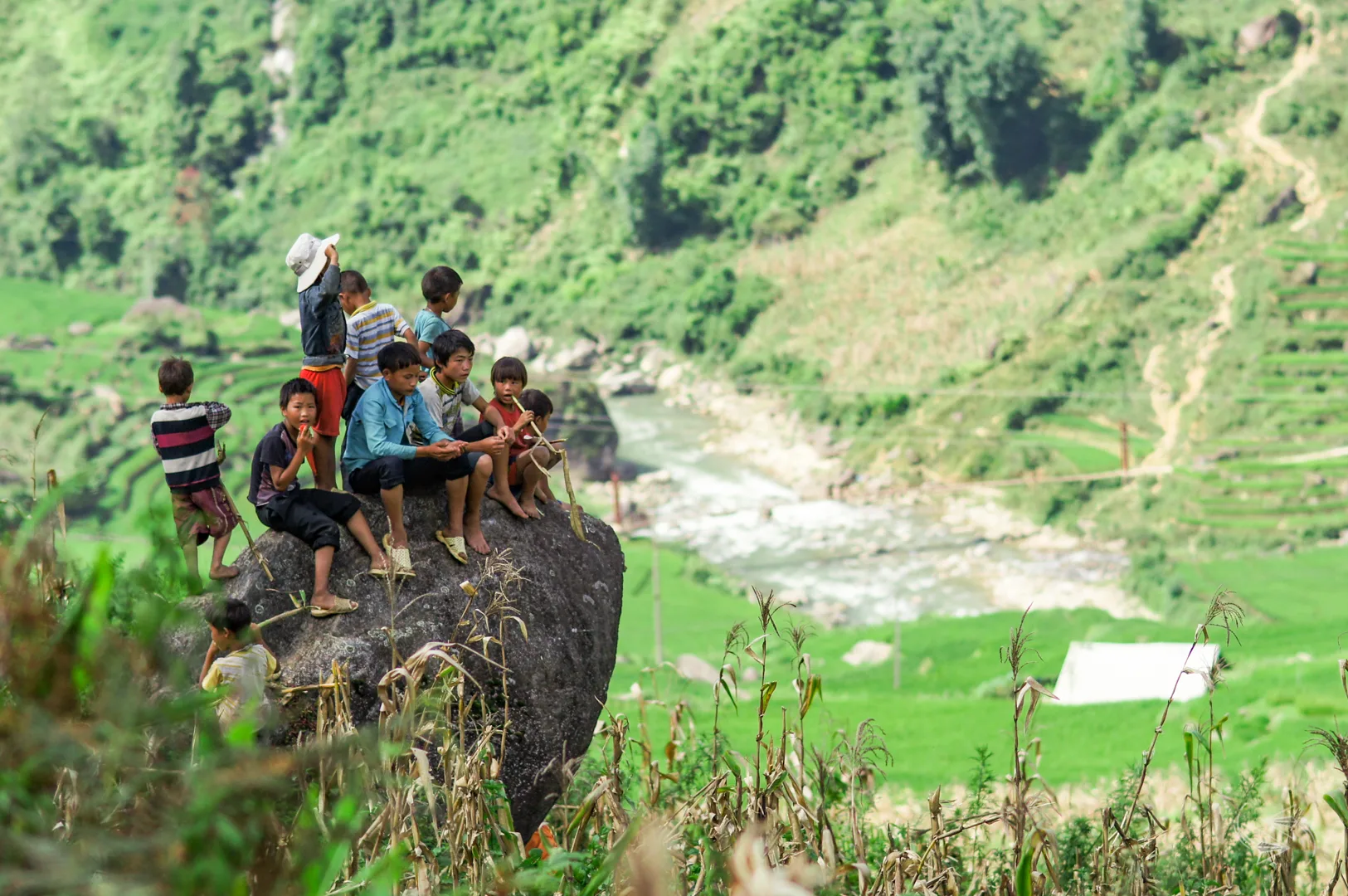 Spending time with a local family and learning about their everyday lives is one of the special opportunities that a homestay brings and is why it is one of our preferred types of accommodation.
The children of Sapa are truly amazing – independent and strong, they'll constantly astound you at what they do at such a young age.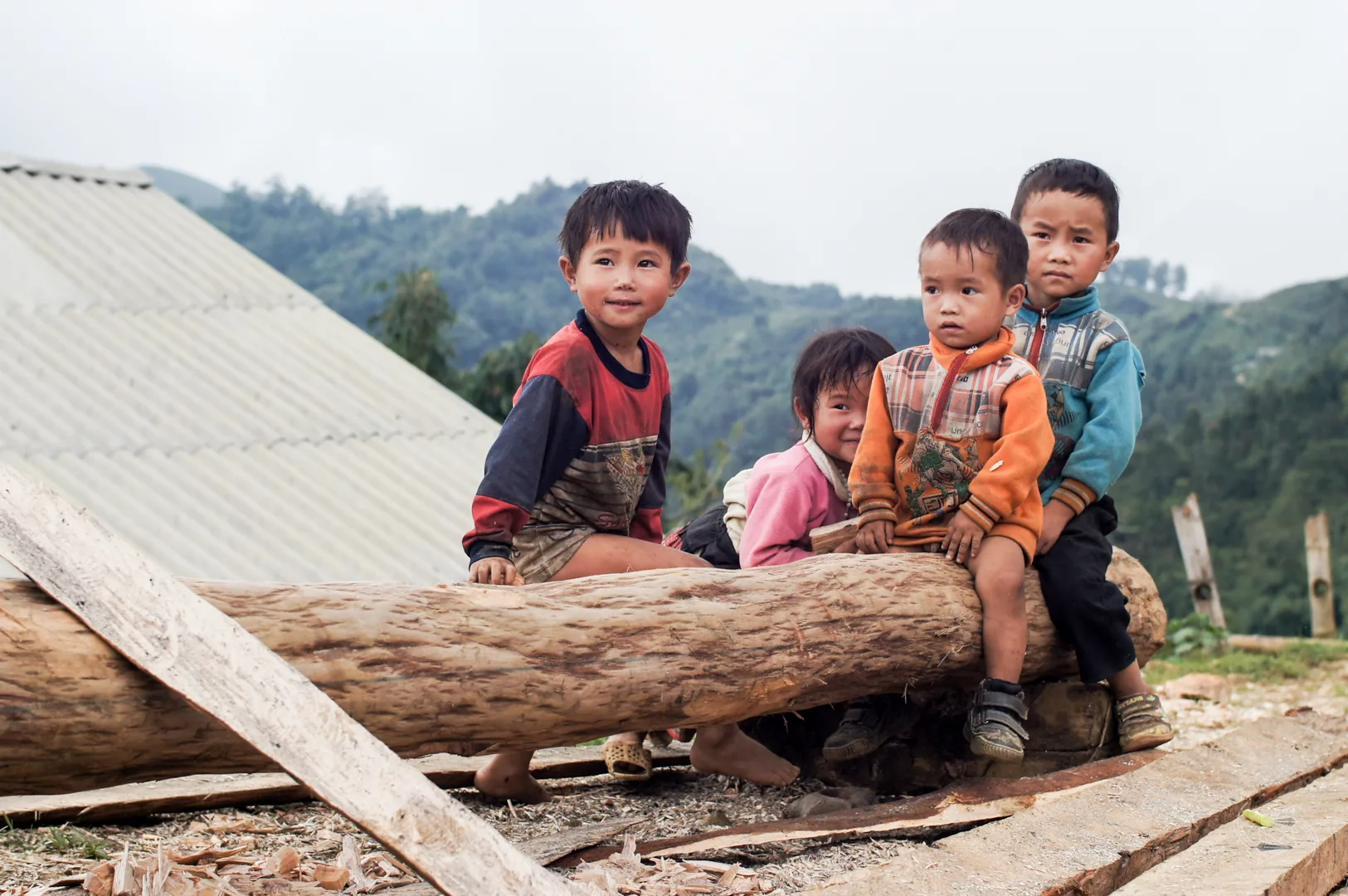 Transporting heavy baskets on their backs is all part of life in the mountains for these kids.
A seven-year-old joined us on the four-hour hike from town in thongs (flip flops) without even breaking a sweat. In fact, that was so easy she passed part of the time by making me a lovely wreath of vines and flowers.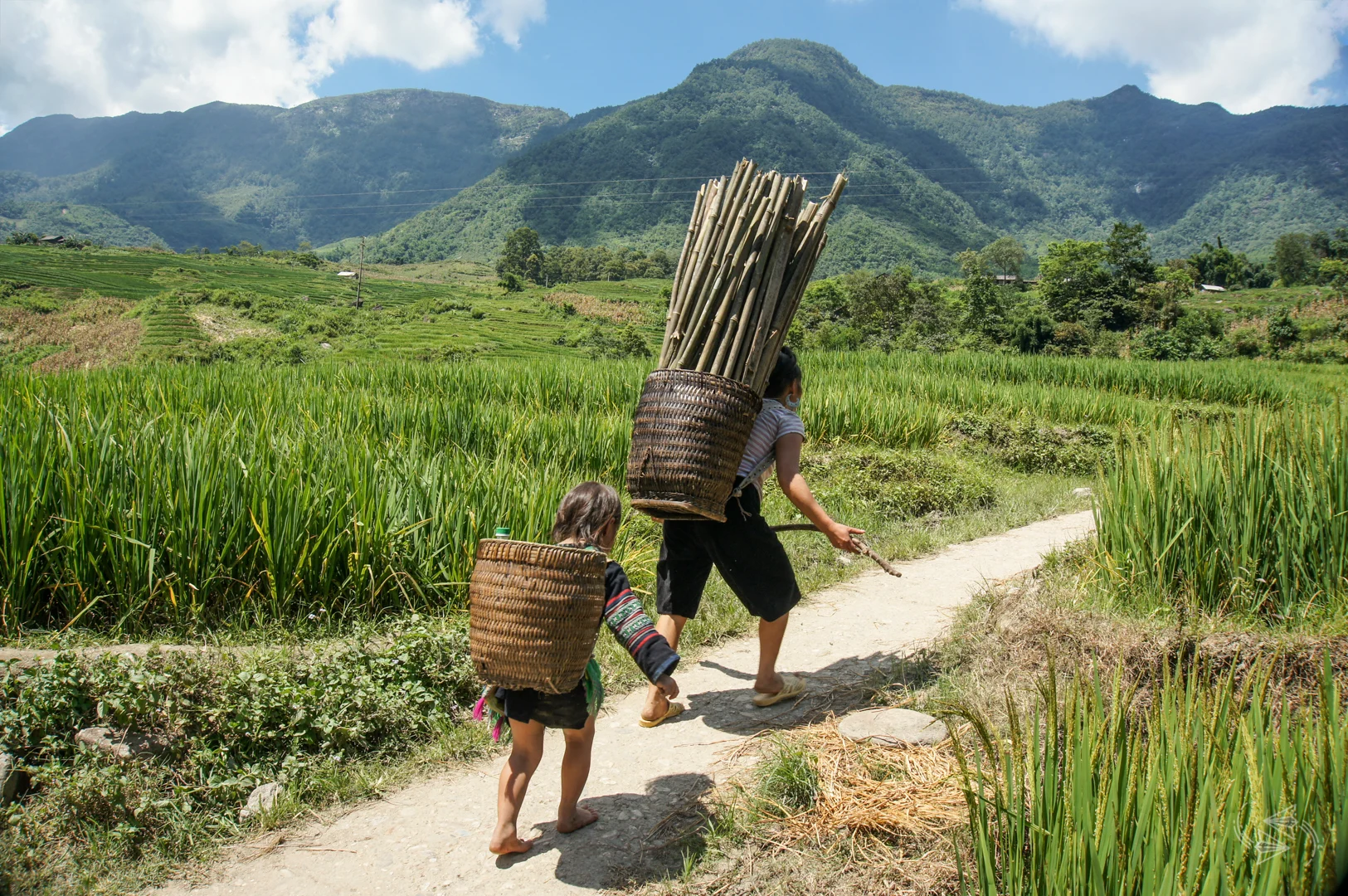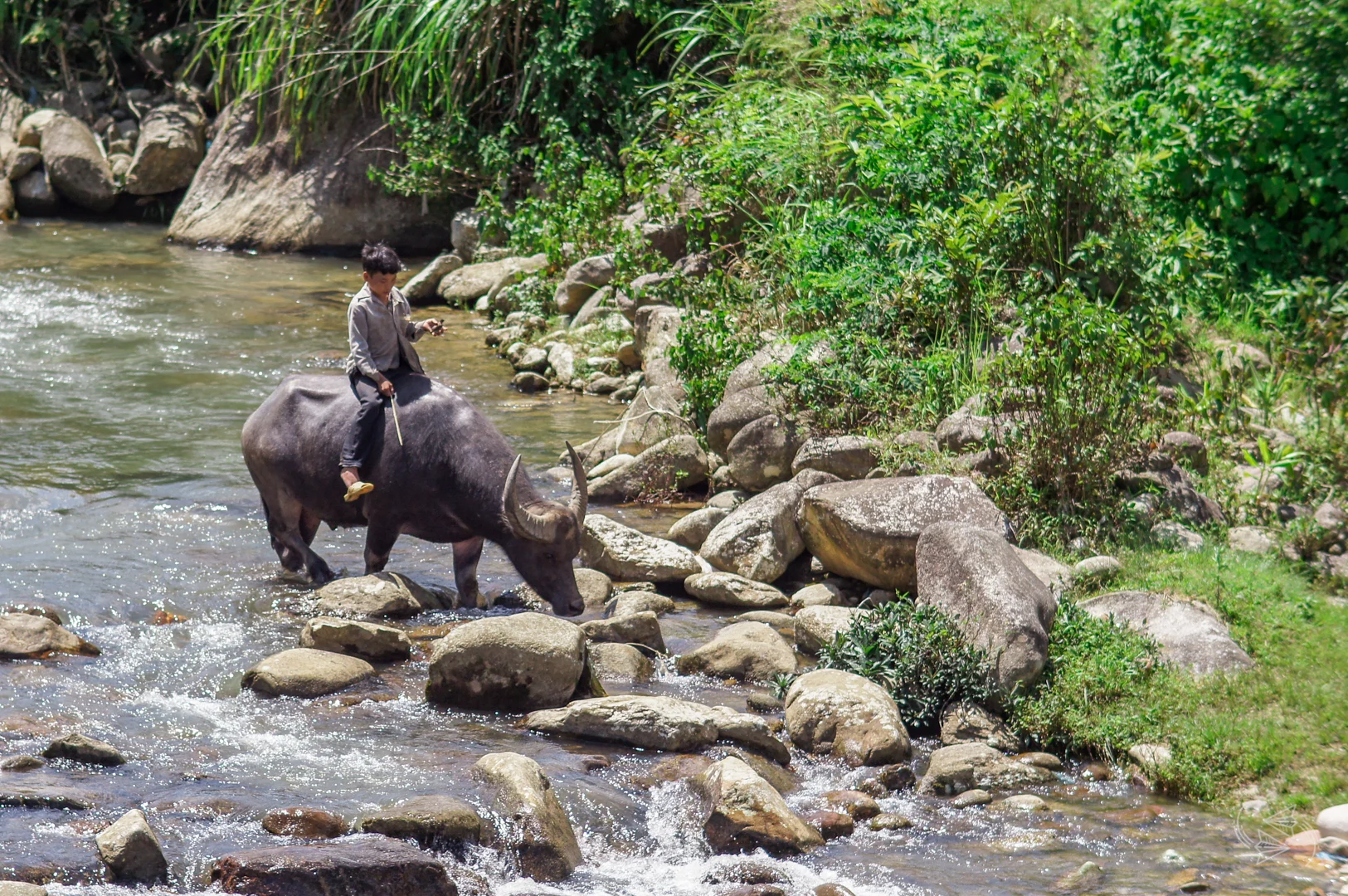 Just like for this kid, waterfalls were our means of showering in the mountains.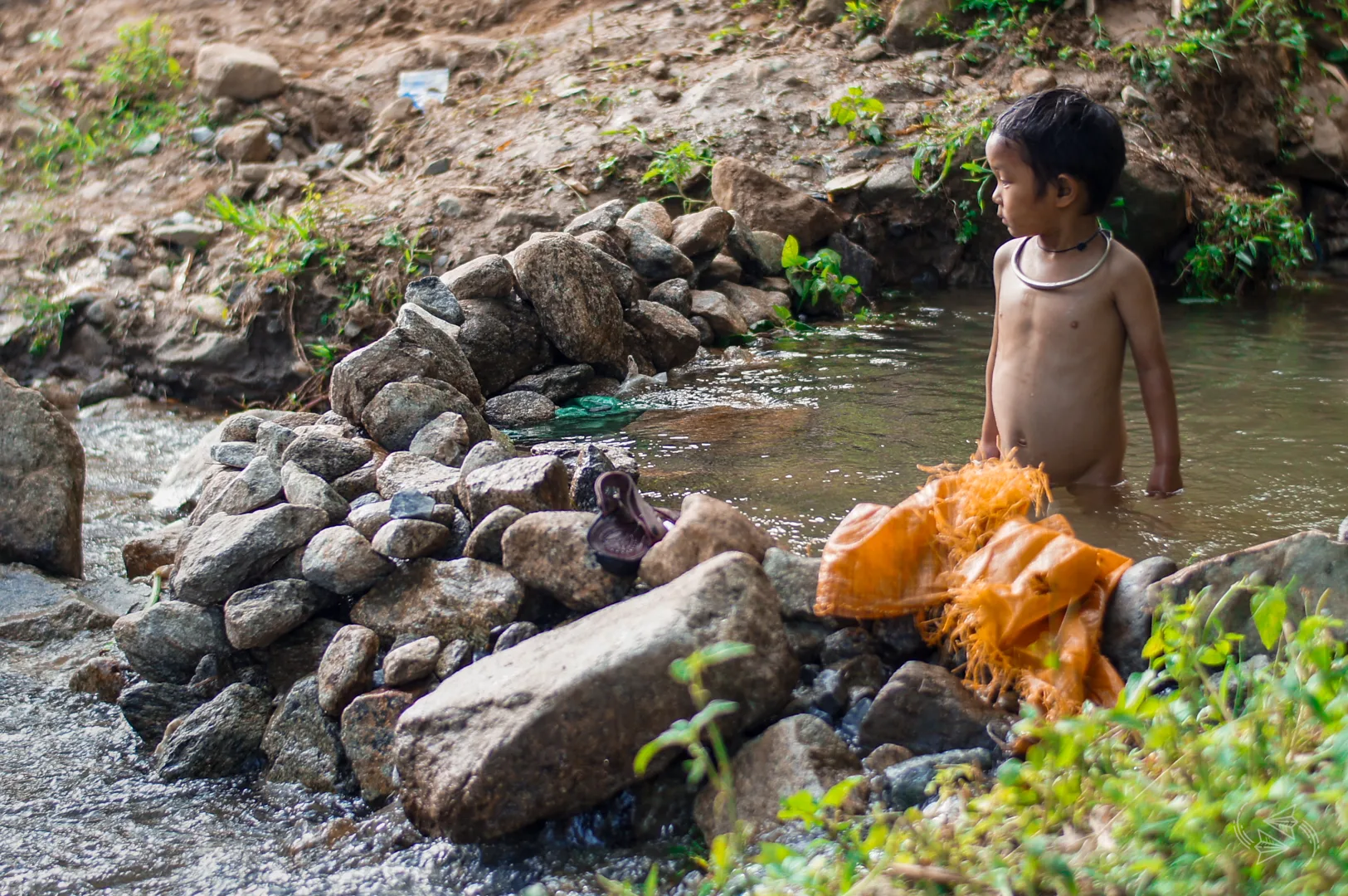 You can't say you'll go hungry at the Ger family household. Always followed by copious amounts of "happy water" of course. Chookaa! Cheers!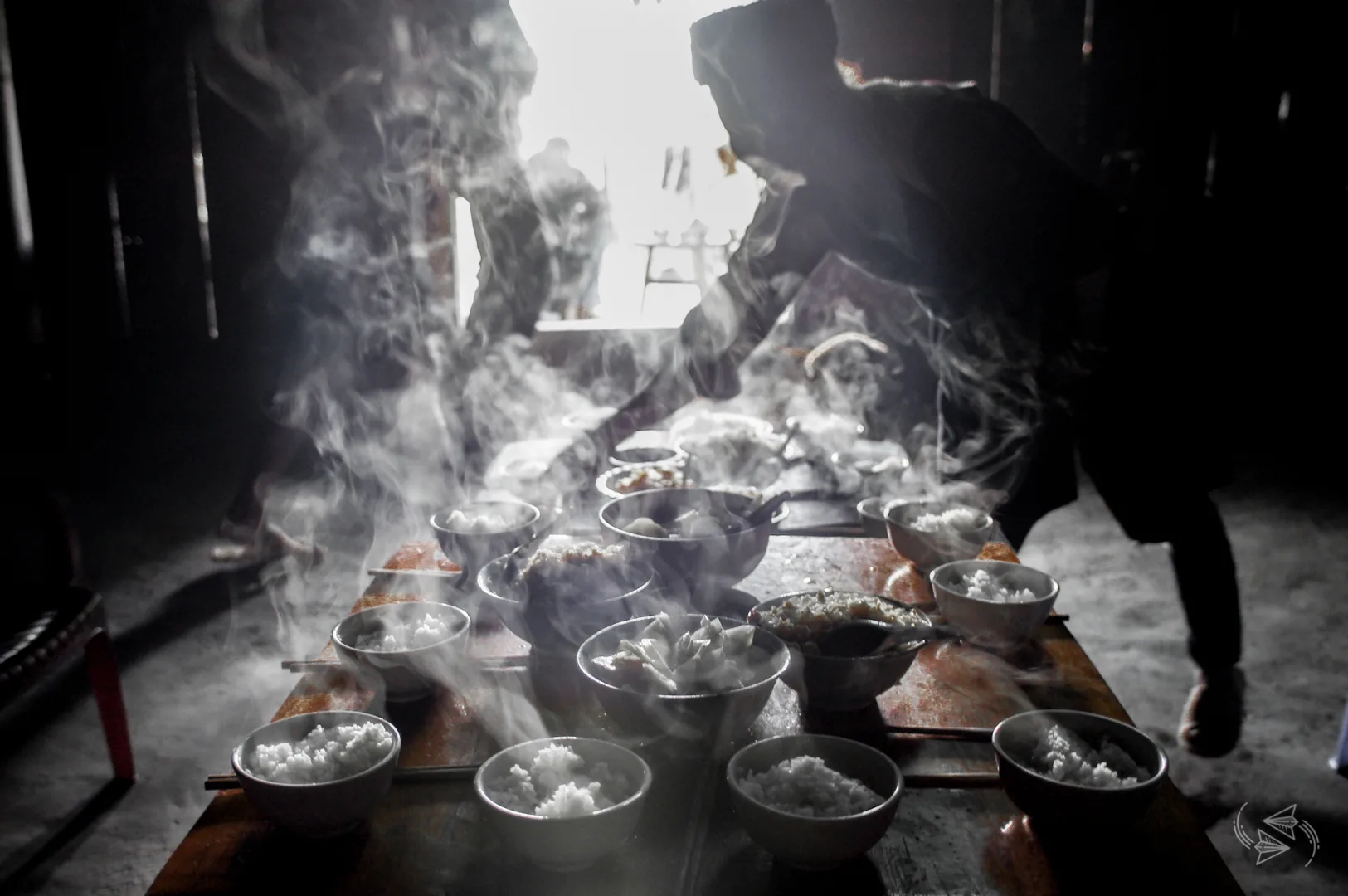 This is Mama Vang, a family friend, who was a leader in happy water shenanigans and a good laugh. One night after a few rounds of happy water, Mama Vang played us a traditional local instrument, the Jew's harp.
This is Ger's father, Papa Co, tending to the pigs.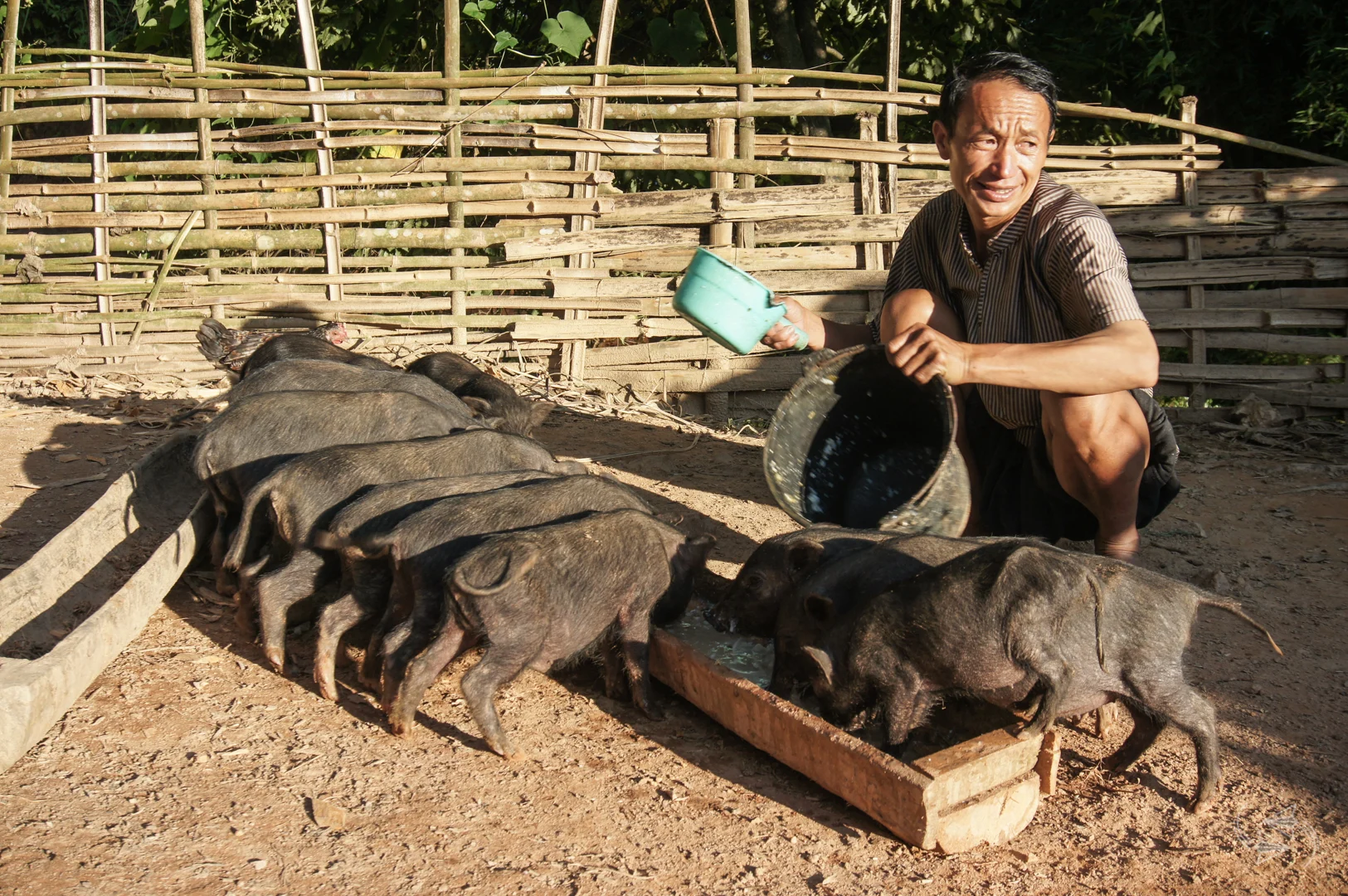 Papa Co is a fine artist and makes jewellery by melting down coins. If you have any loose change or random coins from other destinations on your travels that you can no longer use, Papa Co would love to have them as a means of additional income generation for the family. Give him a couple of days' notice and he'll turn your spare change into a one-of-a-kind souvenir.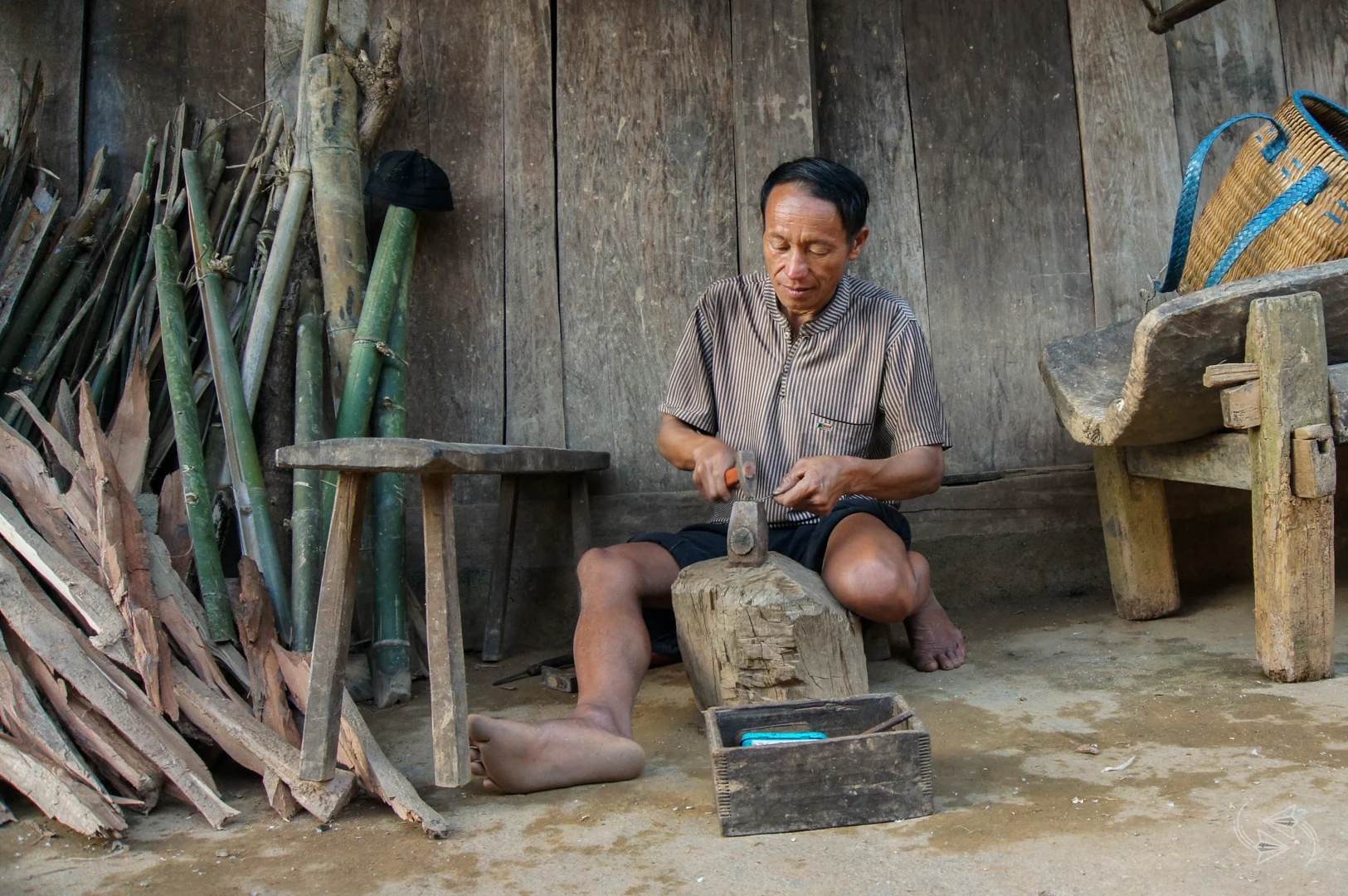 Living off the land around you means there are always jobs to be done. For us that gave us interesting insights into the corn harvesting process.
We told Ger that we were interested in how they harvest vegetables so Mama Chi escorted us to the cornfields where we used local tools to harvest the corn. Several children were already in the fields doing a much better job than us. It had started to steadily rain so we were instructed to use leaves as umbrellas. They were actually very effective in this situation as your hands were completely free to keep working.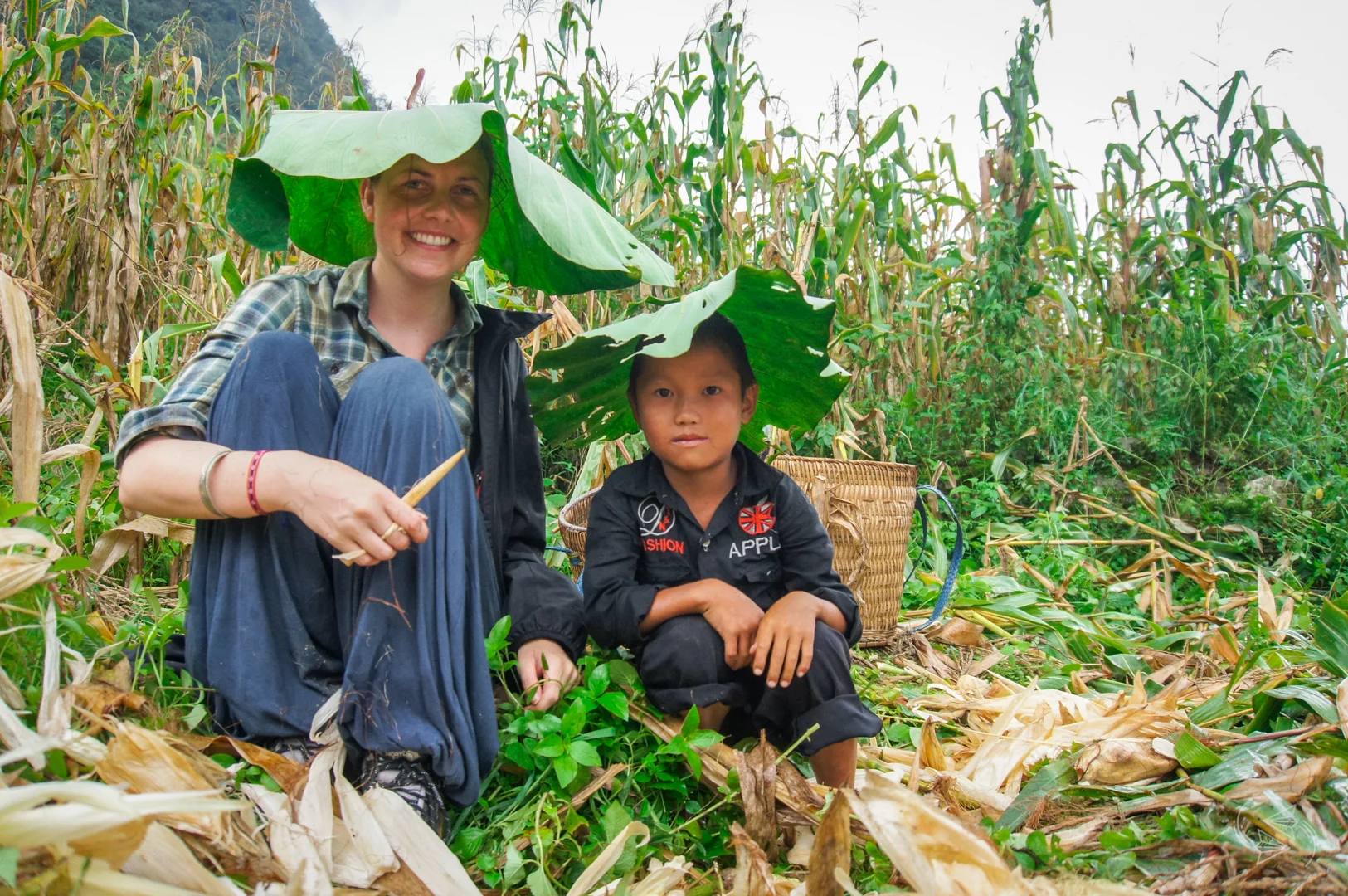 Interestingly, the corn is cultivated not for human consumption but for pig feed. The annual harvest is enough to feed the pigs for the entire year.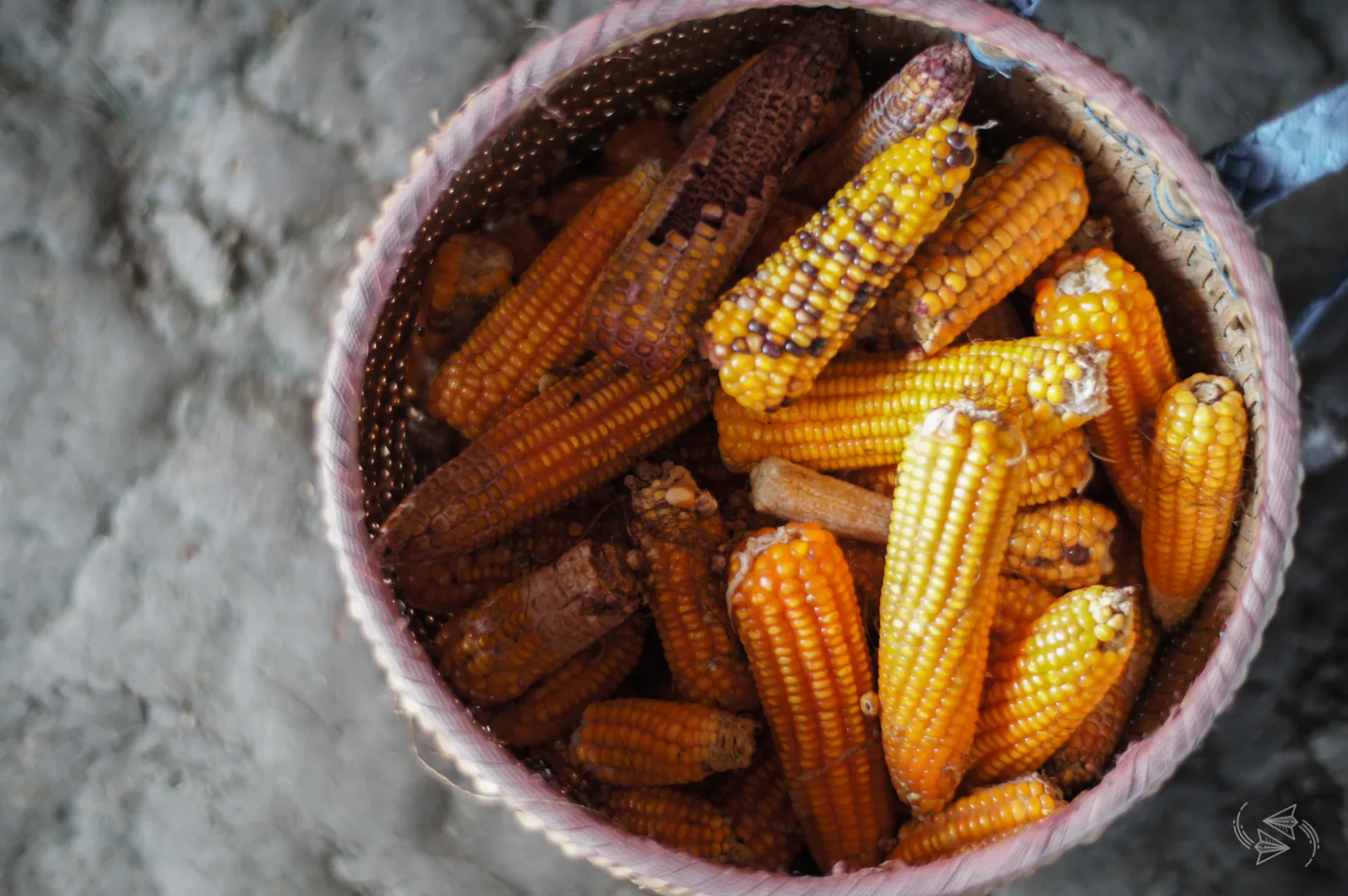 The final day brought torrential rain that made it virtually impossible to descend the mountain. We walked a little way down from the house to the point motorbikes can reach and Ger rounded up all the bikes in the village to get us down safely to make our train. As we left, Mama Chi thanked us for coming and said with a smile as big as her daughter's, "Next time you come, my face changed. I'll be very old!"
It was a special goodbye with Ger, a moment that needed few words to convey meaning.
Winding through the mountains on the back of bikes with waterfalls cascading over the roads and rain so heavy it hurt to open your eyes, it was an exhilarating ride that we'll never forget.
During our Sapa homestay, Sapa trekking and activities
This is not a commercialised homestay and is not on any booking sites, so you won't find set schedules or even a set fee, but this is what makes it one of the best and most authentic experiences you can have in Sapa.
The family can essentially arrange anything that you may be interested in, such as trekking in the Sapa Valley, seeing and helping out with their daily tasks or telling you all about the area and their lives there. Just let the family know what interests you.
Cost of this Sapa Valley homestay
While Ger will not ask you for a set amount, the going rate is the equivalent of around US$30-35 per person for two days trekking, one night homestay and food. If you arrange a longer stay, please calculate a fair price based on this scale.
All the money goes directly to the family and the community to support their livelihoods.
How to make a reservation at Ger's Sapa Valley Homestay & Trekking
This homestay is known as Ger's Sapa Valley Homestay & Trekking.
You can find information on how to make a reservations on Ger's Facebook page.
If you have any questions, feel free to ask in the comments. Have you ever been to Sapa? Would you like to?
Words by Jessica Korteman. Photos by Hai Huynh.

Pin me for later