With a brush with an anaconda under our belts, it was time to seek out some other Amazonian wildlife. This time we took to the river to swim with pink dolphins.
Amazon pink dolphins or Inia geoffrensis are one of just a handful of river dolphin species around the world and are unique to the Amazon and Orinoco river systems in South America. They have unique physical adaptations that make them well suited to their environments, such as a bulbous head, ridge instead of a fin and long nose for snatching fish and crabs in hollows, as well as an unfused neck vertebrae allowing it to move its head up to 180 degrees to maneuver around trees, especially important when the river floods and the forest floor becomes part of their habitat.
As to why they are pink? Well, there isn't consensus on that, but there are two major schools of thought. The first centers around their environment – the color of the water they live in and what they eat from the river system. The fact that river dolphins vary in color is good evidence of this. They seem to be grayer in clearer waters, while those who live in more discolored water due to the decaying vegetation that has fallen in it, are more on the brownish/pinkish side. Some sources state water temperature also plays a role.
The second theory relates to the blood vessels under the skin. Pink dolphins have thinner skin than your marine dolphin so their blood vessels are said to be more visible. The pinkish color is therefore just its own blood. Some say that the dolphins get pinker with age as their veins become more visible and skin more translucent.
They can also temporarily become a very vivid pink at times of excitement and hence react very similarly to humans when they blush.
In fact, pink dolphins are said to have many similarities with humans and Amazonian legend tells of the pink dolphins being shape-shifters known as encantado that have the ability to change into human form and back again. At night, they are believed to change into the form of men and seduce human women on the banks before returning to the river in dolphin form. This legend is said to originate from the similarity in genitalia between the pink dolphin and humans.
What's more, they are extremely intelligent. Studies show that pink dolphins have 40% greater brain capacity compared with humans. It's no wonder then that these clever creatures love to play a game or two when they have company.
Our guide stopped the boat someway down the river. It was silent and the water still. While no signs of animal life, we knew very well by now what lurked beneath – alligators, caimans, piranhas… After surveying the area, our guide announced that pink dolphins were here. Exactly how he knew this, I don't know. "Get in", he said.
Seeing our hesitation, he explained that if pink dolphins are here, the alligators and caimans aren't. Dolphins utilize sonar, or sound navigation ranging, whereby they emit sounds and wait for the sounds to hit objects and come back (much like an echo). They can therefore sense objects in the water from a distance – even interpreting the type of object and exactly how far away it is. It's safe for now.
To prove it, he jumped in first. After the inevitable jokes of being pulled down by an alligator, we decided to join him too.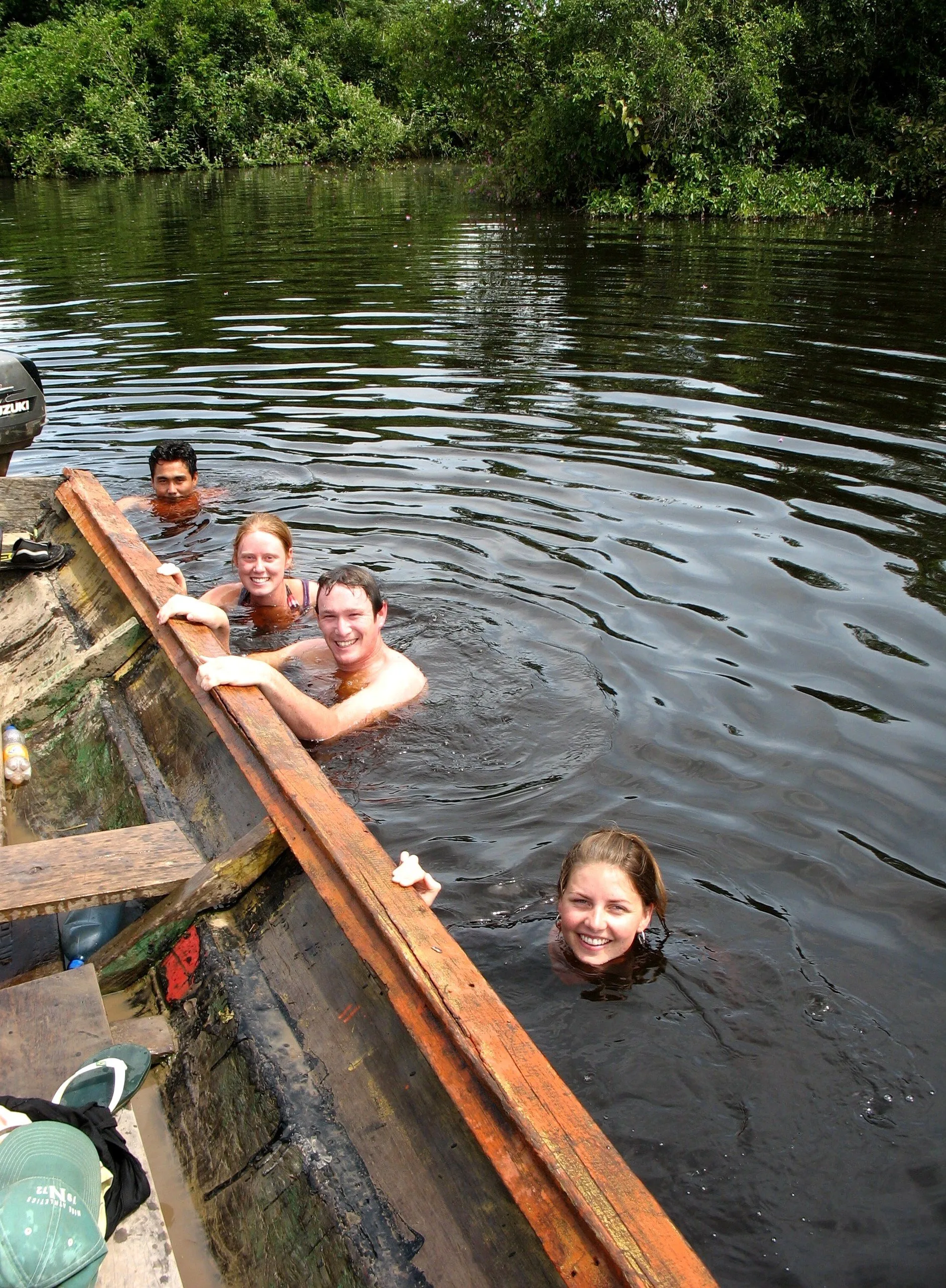 The Amazon water was incredibly difficult to swim in. Even to tread water felt like a battle to keep your head above the surface despite how quickly you moved your arms and legs.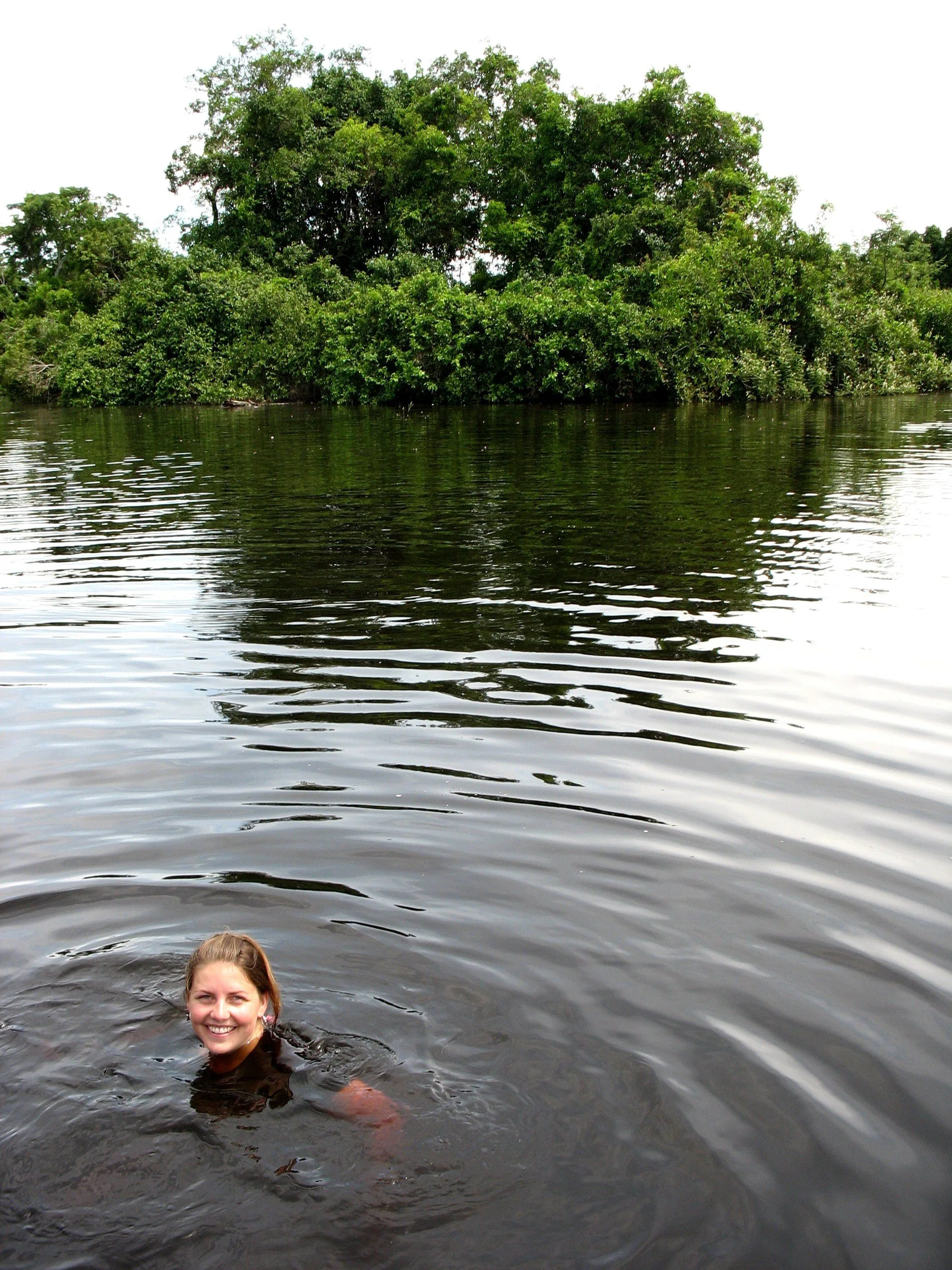 Then the dolphins came out to play. Cheekily playing hide and seek with us, this was the best photo we could catch of our clever playmates.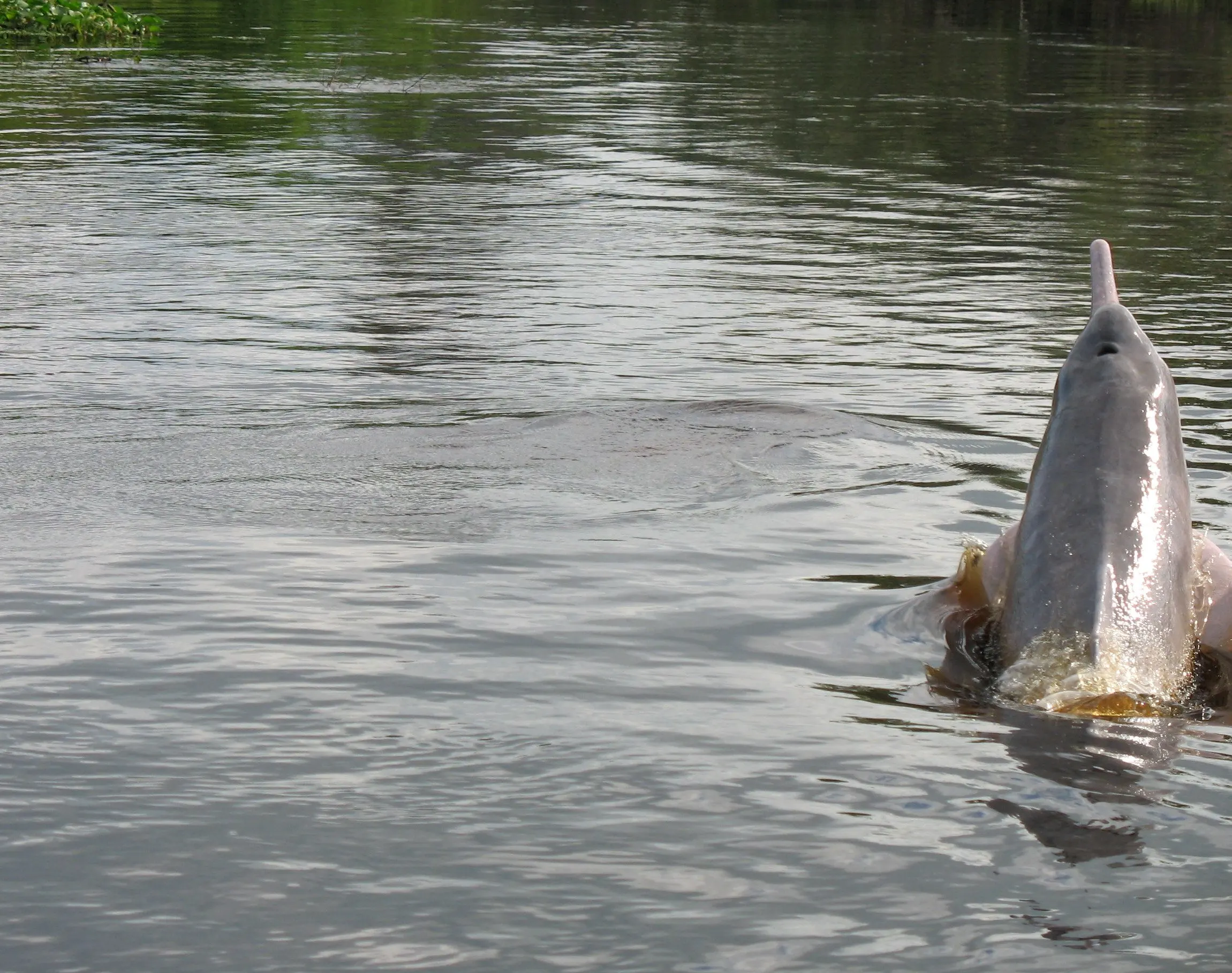 One of our travel companions was nudged under the water and his scream was indicative of just how nervous we all were.
Not long after, we all managed to haul ourselves up out of the murky water back onto the boat. Happy to have life and limb, and blessed to have seen these beautiful and endangered creatures in the wild, we headed back to camp.
We did get to meet a piranha, but it was at the end of our fishing rod.