We love a hotel that dares to be different and works to providing more than "just a place to sleep". Qbic Amsterdam is one such hotel that prides itself on thinking outside the box, or should we say cube? They are all about giving guests the basics they need and the out-of-the-ordinary experiences they crave.
Let's take a look around.
The rooms
The "Cubi" design is one of the defining characteristics of the hotel. All rooms feature this modern "cube" design that encompasses both the bed and bathroom in one sleek unit.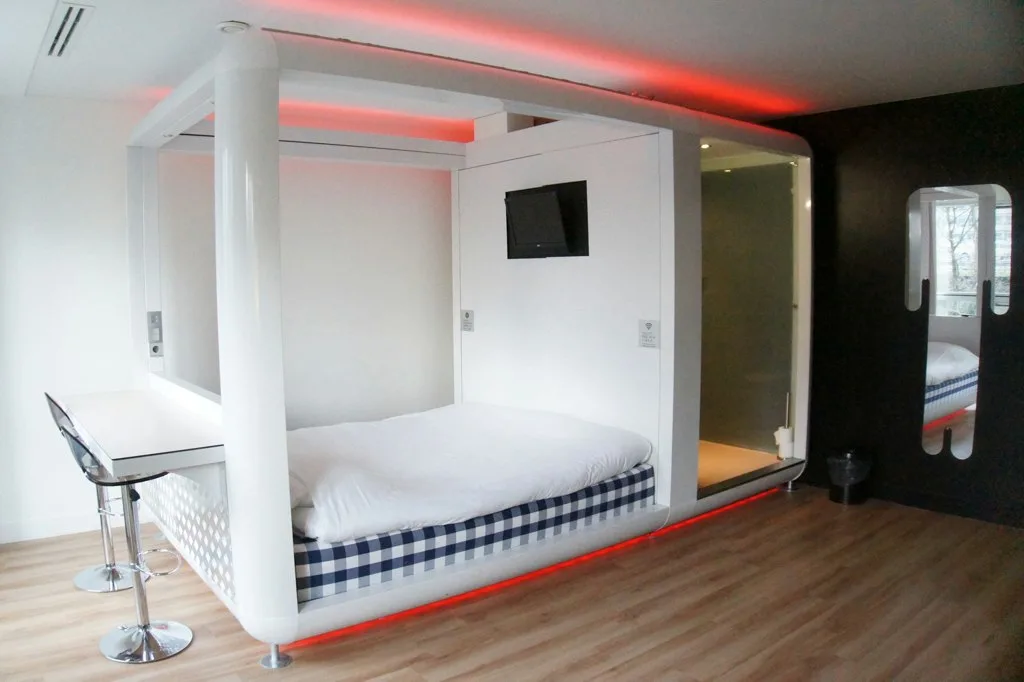 While the Cubi is a mainstay across the hotel, as the property has evolved over the past five years of its operation, so too have its rooms. This means you can stay in different rooms and have a really unique experience each time you stay.
The newest rooms are light and bright with interesting murals that give each one its own story.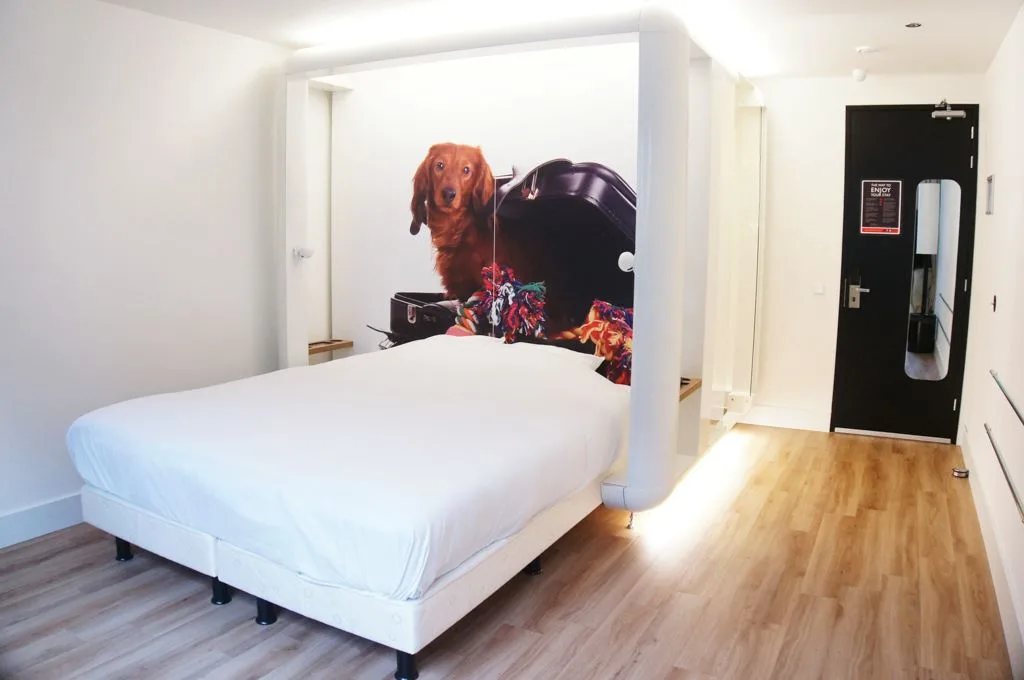 The original rooms feature funky coloured mood lighting that you can change depending on how you're feeling.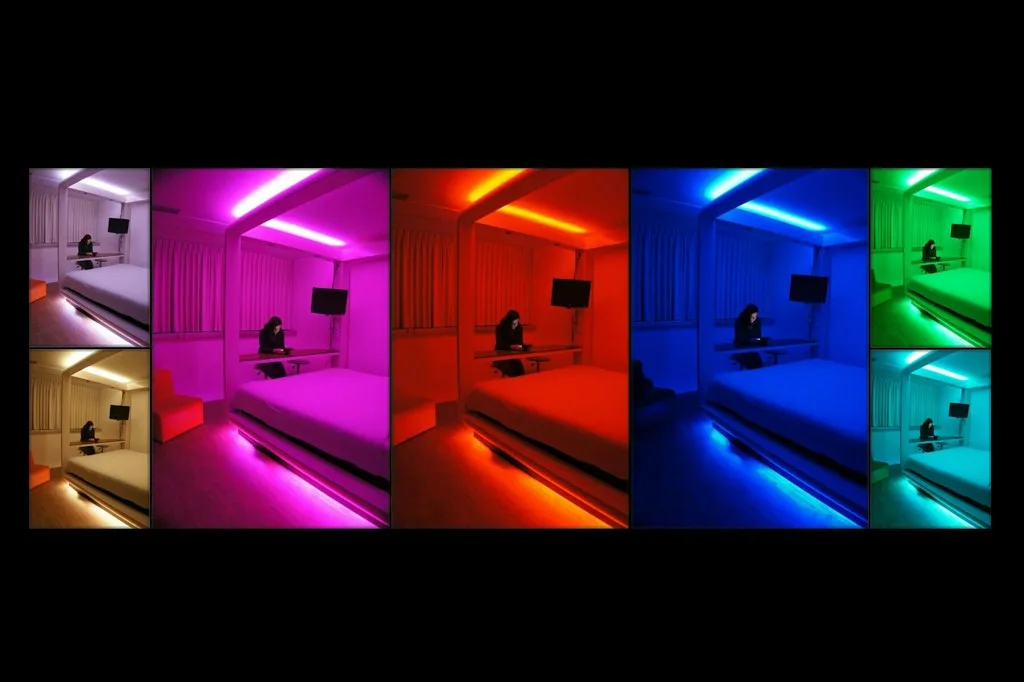 While those made in the interim provide a happy medium between the two with limited coloured mood lighting set to a single colour (as in the first picture). We stayed in the red room. #WhenInAmsterdam
Rooms vary in size and furnishings, although even the smallest rooms are perfectly adequate. The newest rooms have been designed with longer-term guests in mind so you'll find more free space with the idea of placing furniture specific to individual guest needs.
The beds in all rooms are comfortable "super king" size with organic bedding and an ergonomically placed TV for relaxed viewing. Rooms are secured with an electronic keycard system and an in-room safe is available for any valuables.
The rain water showers are spacious with a large shower head.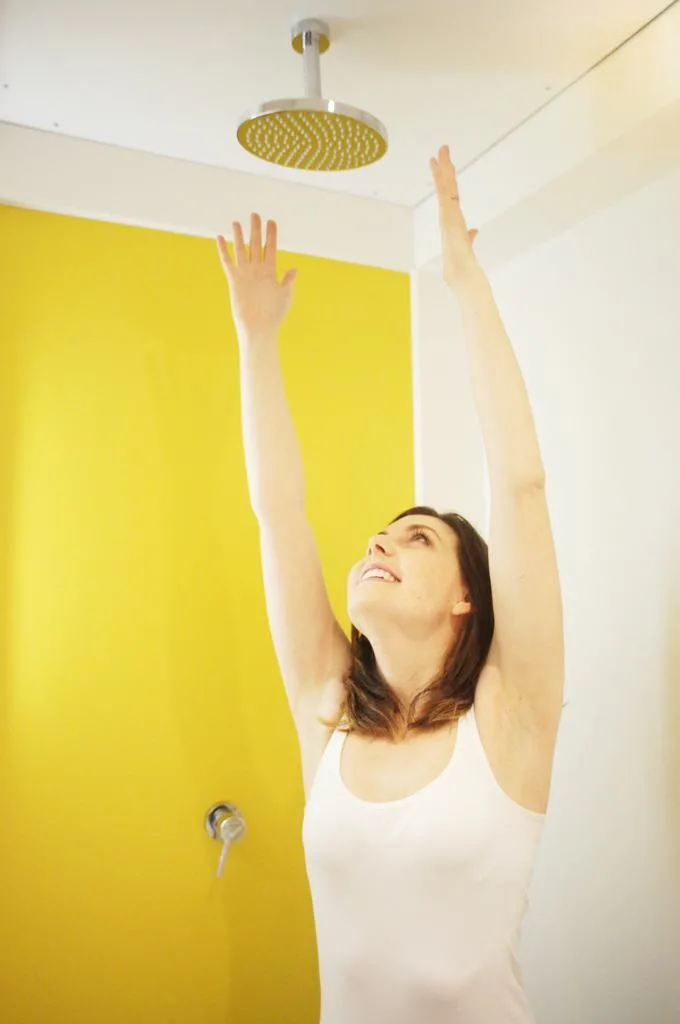 But while the bathrooms look cool, almost as if you are looking into some kind of display model, when you go to use it you'll quickly notice that one very prominent thing is missing: a door. Well, actually any wall on one side. Depending on your feelings towards privacy, this may or may not be significant for you. If you're travelling as a pair, it does make entering/exiting the room or answering the door to housekeeping while one is using the bathroom slightly difficult. Opening the door gives a prime view into the toilet and shower!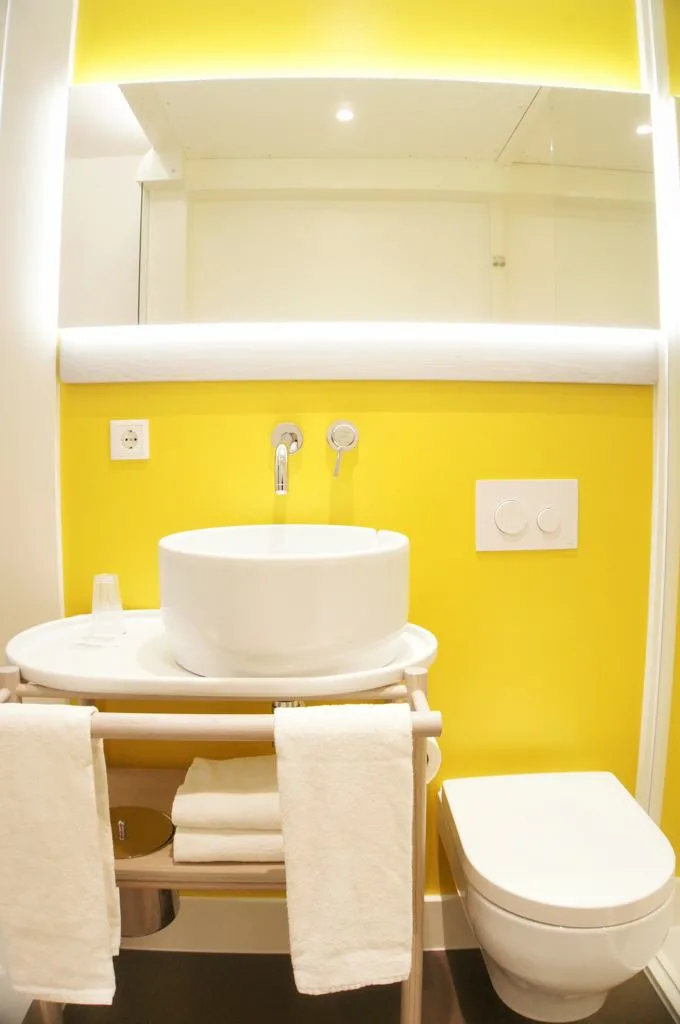 Other aspects of the bathroom could also be improved. For example, providing a door or curtain for the shower to prevent water from entering the main bathroom area, a bath mat, more bench space and better hooks. While the design is super fun, we feel it has come at the cost of quite a bit of functionality in the bathroom area. #FormFollowsFunction
Around the hotel
The coloured lighting concept that the hotel began with also extends to the hallways, giving the sense that you are entering a strange but cool twilight zone.
The rooms are located over four floors and the large, modern elevators make it easy to get you and your luggage to whichever one you are staying on.
Wi-Fi
Thank heavens there's a hotel that gets it's 2014! Qbic make it a policy of providing Wi-Fi that is not only free but also fast and reliable. In our experience of using it on various floors, the connection was also quite consistent across the property. Being able to get the information we need, when we need it = happy digital nomads!
If you don't have your own device, PC's are available for use free of charge in the lobby.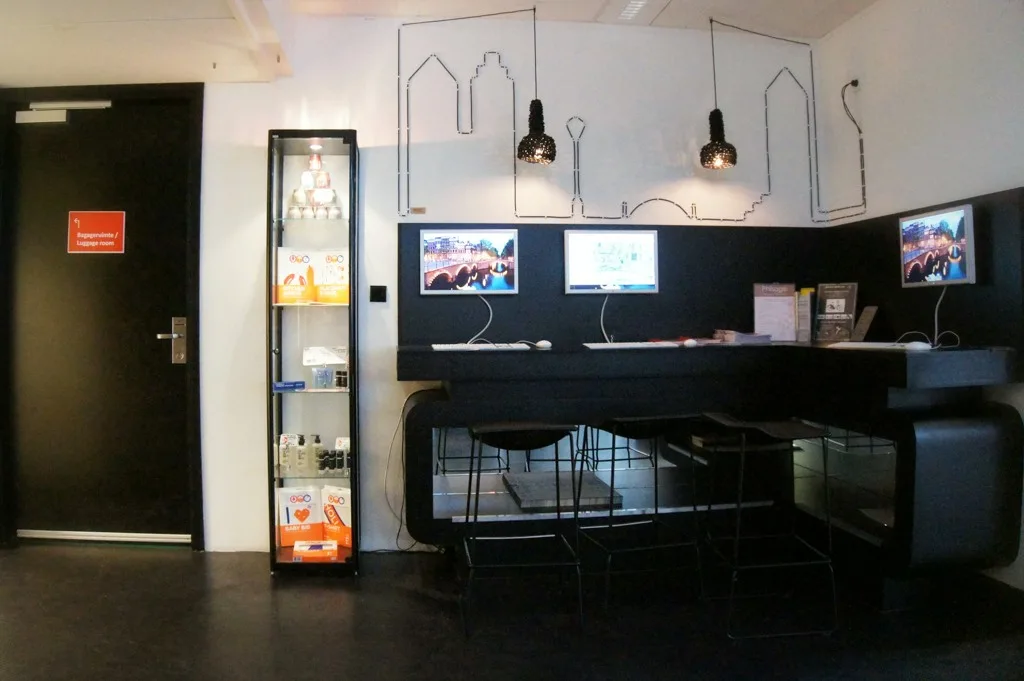 Communal/breakfast area
The communal area downstairs is quite spacious, modern and comfortable, and provides a relatively quiet place to relax and check your emails.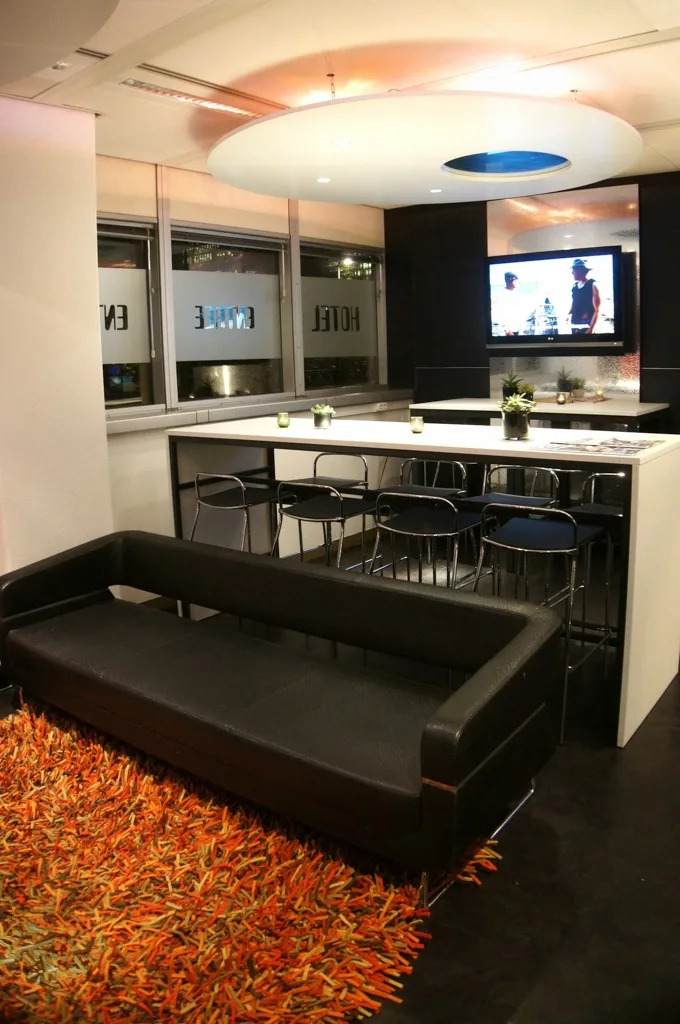 There are no tea or coffee making facilities in the rooms themselves, however, the hotel does offer hot beverages outside of breakfast time for €1.50 and hot water for free 24/7. Should you wish to heat meals, a commercial grade microwave is also available for use.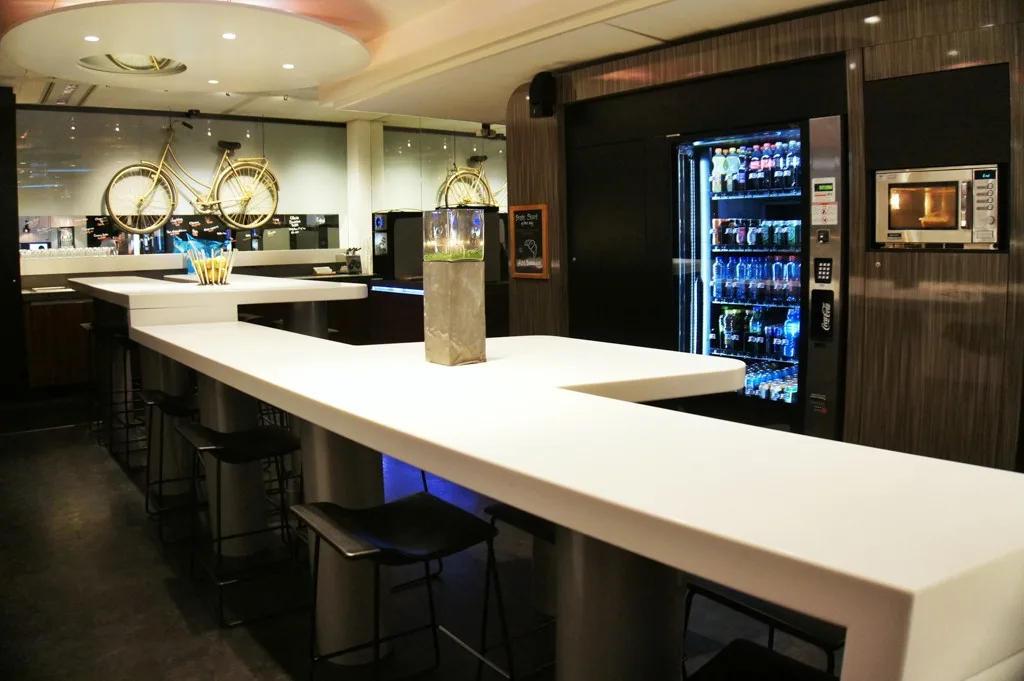 We found the communal area and the rooms to be very well cleaned and maintained.
Staff & Services
The staff are friendly and there is always someone available at the reception 24/7. They can help you with all your Amsterdam sightseeing queries including the sale of public transport cards and providing free maps to get your bearings.
Breakfast
A buffet continental breakfast is available from 7am-11am for a cost of €11 per person. We feel it's a little pricey for a continental breakfast but, that said, it had more variety than your average toast and jam, with a good selection of bread products (including croissants), spreads and cold cuts, cereal, fruit and juice. There is also a nice selection of teas and good quality machine coffee. The cups are rather small but, being a buffet, you can fuel up on as much as you like.
Probably the most convenient thing of all is that you can get your breakfast and hot beverage to-go. This isn't a service we have seen in any other hotel. It makes it super convenient to grab a bite as you head out the door for the day's sightseeing or head down five minutes before check-out.
Location
The hotel isn't in the centre of town, but it is really easy to get there. Conveniently located in the World Trade Center (WTC) building next to Zuid metro station and tram lines, the #5 tram will get you to the popular museum district in 10 minutes and the metro to Central Station or Schiphol Airport in about the same. There are also a number of shops and restaurants in the immediate vicinity so you don't have to go far for your dining needs.
Perception vs. reality
The Qbic Amsterdam generally delivers on what it promises. But their current website and booking system does lead one to believe that every room has the unique coloured lighting, when not all do, and fewer still have the ability to change colours. If you have a particular preference, you should contact the hotel in advance or ask what rooms might be available upon check-in. They will certainly try to accommodate you wherever possible.
Value
At present, there are two options for rooms – Cubi room only or Cubi with breakfast, and the price is set on any given night no matter which room you get – newer, older, big, smaller, with or without windows, coloured lighting or not.
However, prices are wildly inconsistent across dates. Some nights you can get a room for €38 euros and others €400, for the exact same room. Therefore it's difficult to rate the value here – sometimes you could be getting an excellent deal, while other times you might want to be looking at other alternatives for that kind of money.
Note: The hotel is planning to change its pricing policy to reflect the size and facilities of each room, so the days of getting one of the more sought-after rooms at the lower end of the scale will likely be a thing of the past. That said, we feel that smaller rooms even without a window for under €40 is still a reasonable deal – especially in a good location in a popular city. Even after the changes though, the pricing will still fluctuate depending on dates. You'll want to plan ahead to see when you can get the best rates.
For more bookings and more info, check out the Qbic Hotels website here. In addition to Amsterdam WTC, they also have a property in London City.
~
We stayed at the Qbic Amsterdam at a discounted rate. We strive to provide you with informative and honest reviews that reflect our experiences. All opinions expressed and random hashtags are our own.