We were feeling a great sense of excitement when we finally confirmed plans to head to Göreme in Cappadocia, fly in a hot air balloon and experience a few nights sleeping in a cave! Now, you're probably highly skeptical about our choice in accommodation but these aren't ordinary caves and Cave Hotel Saksagan isn't any ordinary hotel.
Read on to find out why.
The rooms
Far from being dark, damp and stale as most caves and the occasional hostel we've been in, Cave Hotel Saksagan offers comfortable rooms of varying sizes due to the nature of the natural rock formations. Each one, we've been told, was originally hand chiselled over half an century ago when it was first used as a family homestead.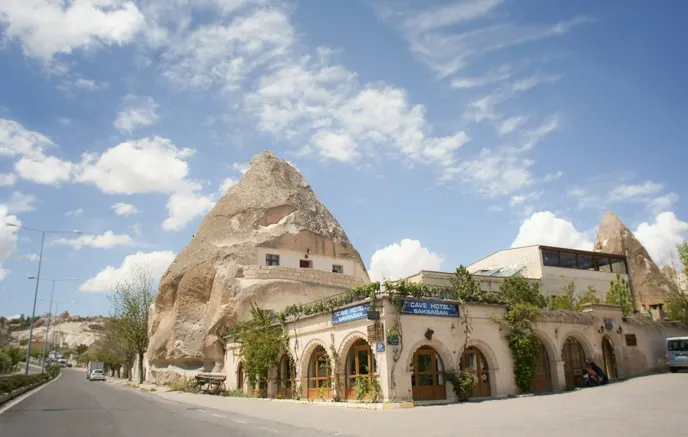 There are three room types: standard, fairy chimney and family with occupancy options from a single to a four person room. The decor of hand made rugs both on the floor and walls and wooden furniture both help to deliver a rustic and homely feel that complements each cave room well. All feature the usual amenities (central heating, electric kettle, slippers, hair dryer, bath products, towels and private ensuite with hot water on demand), plus a complimentary Turkish buffet breakfast and unlimited 24-hour tea and coffee service. Air conditioning wasn't missed as each cave room stays at a constant 18°C (64°F), a natural air conditioning one might say.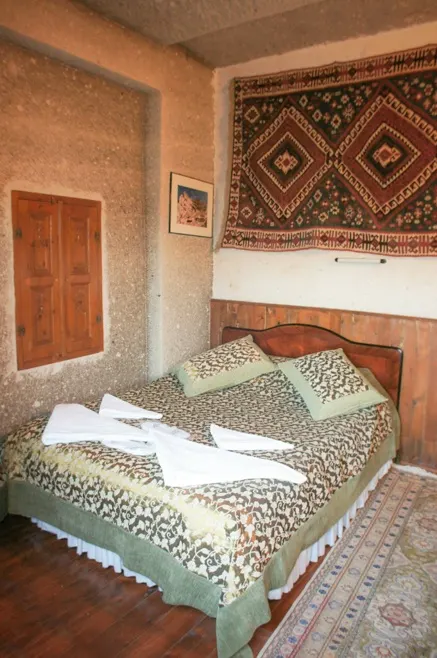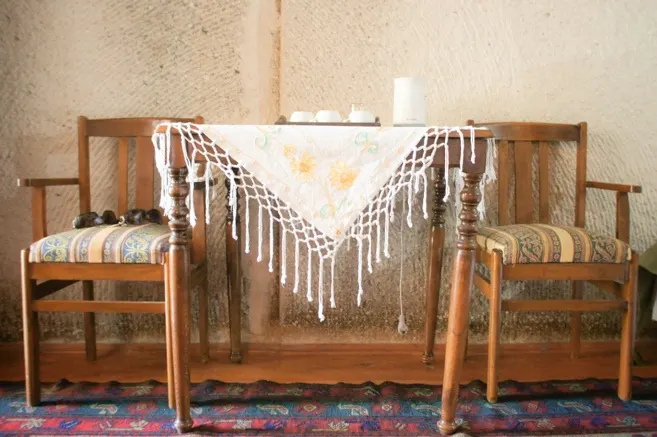 We stayed in the triple family room which had more than enough space for two, a comfortable queen size bed (plus single) and a wonderful private seating area under a carved stone archway where we were able to lazily recuperate from a busy day of sightseeing.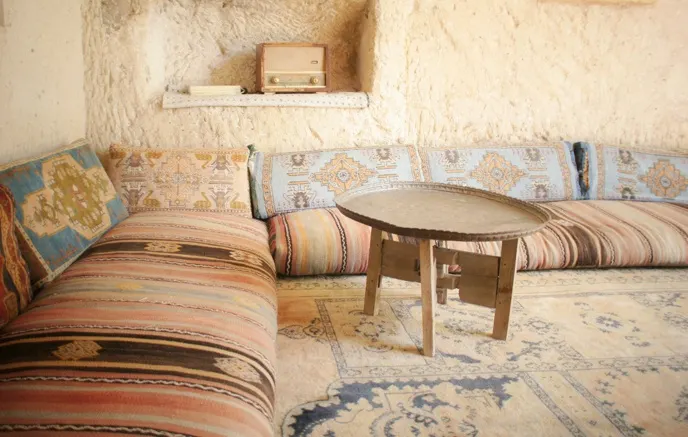 A couple of points of note though, the door frame leading to the ensuite is quite low. We're by no means very tall at 175cm (5'9″) or particularly uncoordinated, but still managed to bang our heads both of the early starts we had for our ballooning experience. And despite Wi-Fi being advertised as available in rooms, ours was not one of them. In fact, the only place we were able to get a consistently strong signal was in the reception/dining area, but to be fair this seems to be a consistent issue amongst all cave hotels with thick stone walls.
Staff & Service
The staff are young but professional and are always on hand to impart valuable advice from where the best restaurants are, booking tours, directions to sightseeing spots and even onward travel plans. Communication won't be an issue either as all reception staff speak English and the manager, who's never too far away, is proficient in a little bit of everything as it seems.
Breakfast
The included Turkish buffet breakfast is served everyday between 7-10am and can be enjoyed in either the dining area or our favourite, on the rooftop terrace overlooking the fairy chimneys. Each morning you get to choose from a selection of seasonal fruit, local cheeses and cold cuts, freshly baked bread, spreads, cereals and the aforementioned bottomless tea and coffee including the famous strong Turkish coffee.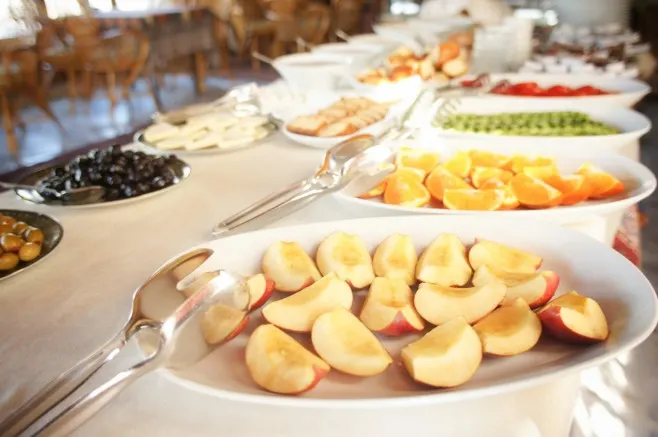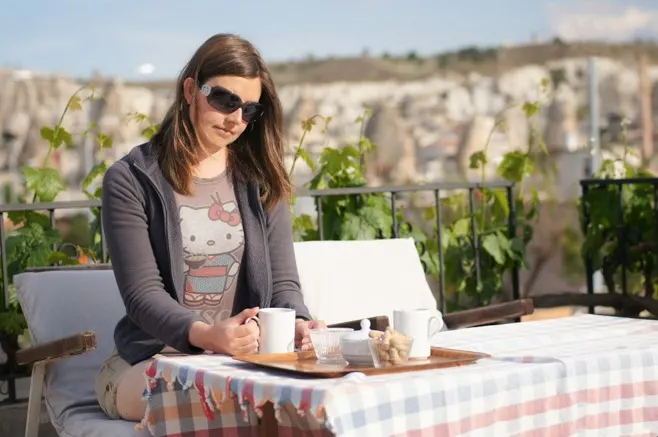 Location
Göreme is a very small but beautiful town and nothing would be more than a 10 minute easy stroll away from the bus station, including Cave Hotel Saksagan which we'd say only takes half that. Just keep an eye out on the left side on the road as you enter the town from the north as most buses do.
Perception vs. reality
This is a tough one as we weren't quite sure what to expect. We would have loved to have stayed in a towering natural minaret accessed by an endless spiral staircase or a room cut deep into a sheer cliff face but fantastic dreams don't have to abide by health and safety laws. What you do get is a truly authentic earthen abode without the acrophobia. Our only wish would be, as digital nomads, Wi-Fi access be available in more parts of the hotel.
Value
It's no five star hotel but neither is it billed as one, it's just an honest family run establishment giving guests a unique experience without the price tag. All things considered, Cave Hotel Saksagan offers very good value especially when compared to other hotels in town.
For bookings and more info, check out Cave Hotel Saksagan's website.
~
We stayed at Cave Hotel Saksagan as guests. We strive to provide you with informative and honest reviews that reflect our experiences. All opinions expressed are our own.