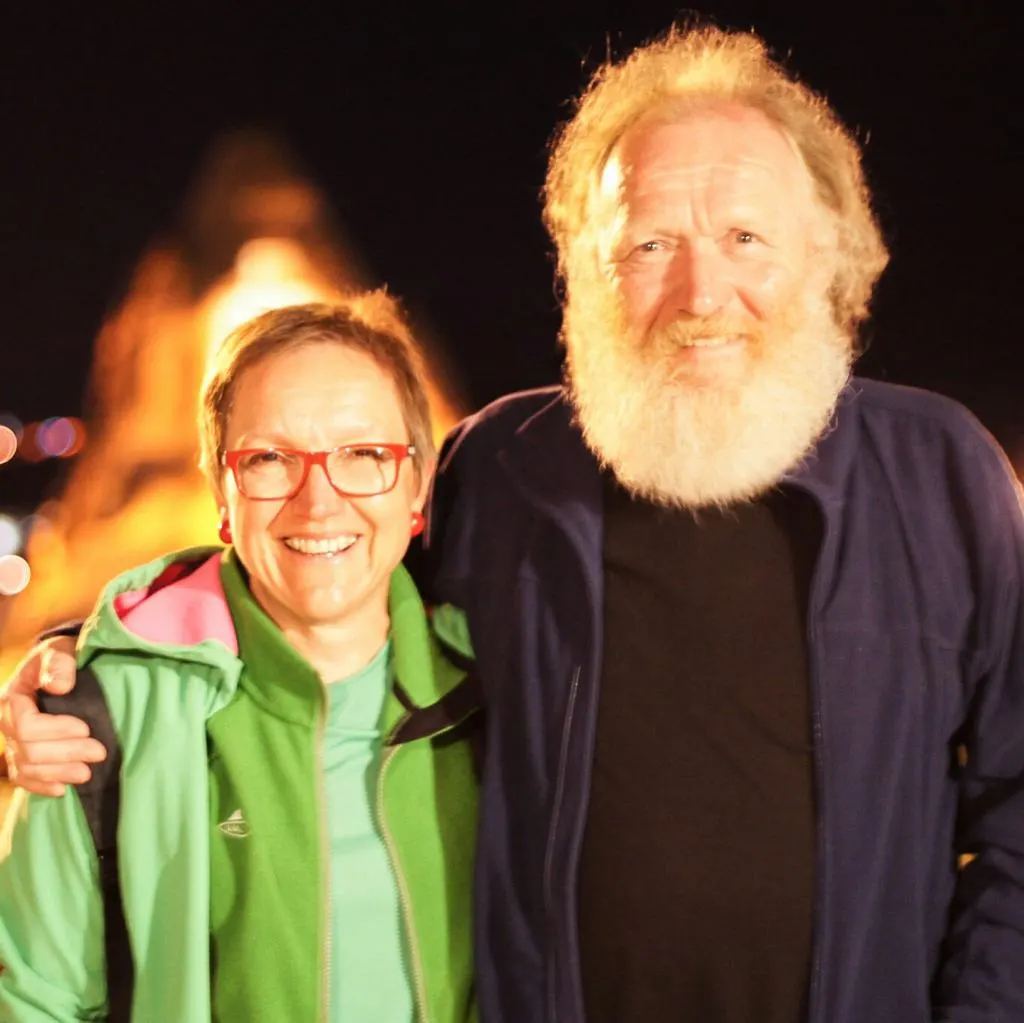 Meet Sigrid (56) and Karl (60), travellers, cyclists and book store owners from Stuttgart, Germany.
Sigrid and Karl have always placed importance on travel and believe you don't have to spend much to experience new places. They reminisced about staying at campgrounds and their old Renault 4 (some will remember, they say), and how they surprised all their camp neighbours with all the things they managed to fit in this small car. Travelling didn't stop when they had kids either – taking them on holidays in Europe, especially Greece.
Now that their two kids are all grown up, they spend nine months a year managing their antiquarian book store and three months a year cycling a different part of the world! "That we are travelling now by bicycle we owe to our son Johannes," Sigrid said. "He was crying a lot when he was a baby, but one time Karl put him in a bicycle seat – and he was quiet. That was so wonderful that Karl often made trips with him and so I had the decision of staying at home on Sundays or cycling. I started cycling and after some years we are in a good shape, and now we love travelling with a bicycle all over." Funnily enough, Johannes himself is not a keen cyclist nowadays.
We've had the good fortune of meeting this inspirational couple twice now – once in Germany where they invited us over for the most wonderful Christmas dinner in their lovely home and then again during their most recent bicycle adventure in Turkey.
Sigrid and Karl say that the main thing about travelling is to have an open mind for new and other ways of life.
Here's what they had to say about their lives and travel.
1. Where are you now and what are you doing?
We are now back from our latest 3 month bicycle tour. We spent two months in Turkey, first starting in Izmir and cycling along the coast to Antalya over the Taurus mountains to Konya, Kayseri, Göreme to Nemrut dagi, to the north along the Black Sea and Istanbul to Cesme. From Cesme, we took a ferry boat to the Greek island of Chios, then to Piräus/Athens with the bicycle to Patras and from there to Venice by ferry. Over the Alps Brenner and Fernpass to Reutte and finally to Stuttgart by train, because it was so rainy and cold!
Now we are working for 9 months again and thinking about where we will go next year or whenever…
2. How heavy was your baggage at last check-in?
Each of us have two back panniers and the weight is about 15 kg. Not much for 3 months, including a sleeping bag, a small tent and air mattress. But a lot if you climb up the steep mountains of Turkey! The weight of our touring bicycles is about 14 kg each.
3. Apart from your passport, what item can you not travel without?
There is nothing special – the bicycle and of course for me it is my husband Karl…I hope he think the same about me..:-) Karl: Yes. I think the same…
4. What was the first foreign country you ever travelled to?
Sigrid: The first country was Austria when I was a 9 years old child, travelling with my parents.
Karl: I did a bicycle tour to France when I was 14 years old with some friends.
5. What has been your favourite destination to date?
Sigrid: That is very difficult. Each time I come back, I think that was the most beautiful journey. But it also reminds me of many unforgettable moments in each journey. For example, cycling along the Pacific coast, near San Francisco; Patagonia; China; in former times, holidays in Greece with our children; the Dervish dancers in Turkey; there are so many awesome experiences.
6. Preferred accommodation: Hotel? Hostel? Randoms' couch? Other?
We are old and so we prefer a hotel or pension, but we have an open mind for all! That helps a lot and makes many things easier! Not only regarding the place to sleep…
7. Given an unlimited budget, where would you most like to go?
Sigrid: My dream was China and New York – and I am such a lucky woman that I have been to both places, so I am very thankful for each country or city I will see in the future.
8. What do you most like about travel?
Sigrid: Each day is an adventure, you are free to do what you want. If you are travelling with the bicycle, you are slow, you can stop where you want, look at flowers or animals, drink tea with Turkish people…You learn a lot about people and you always meet nice people. It is quite a different life as your life at home, working, shopping, cooking…
9. What do you most dislike about travel?
Sigrid: I was thinking many moments about this question, there is nothing I miss apart from our children… And as a cyclist – boring people and bad weather.
10. What is your most memorable travel experience?
There are so many to choose just one! The night we spent in the desert in Oman; an evening at the Russian River mouth (California) with the sunset over the Pacific and a big full moon over the river at the same time; the endless forest and the volcanoes in Chile and Argentina, a ceremony in a Buddhist monastery in Zhongdian, Yunnan, China…
Once we travelled in Greece near the Albanian border, dusk was descending and the pension in the small town where we wanted to stay had closed! We tried to hurry up for the next small town, but the road was very hilly and the night came – suddenly there came a man in a car and he stopped and took us with him – that is one of the moments when you are thinking about God, Mohammed, Buddha or destiny or something else…!
We'd also have to add visiting the Niagara Falls and getting a room in a hotel at the Grand Canyon which is normally booked out for months. This is just a random mixture of a few moments. So different is every journey – so different are the memorable experiences.