If you've seen recent photos of Halloween in Japan, you might be surprised to learn that Halloween has really only become "a thing" here over the past several years.
When we moved to Japan going on a decade ago, there weren't the huge street parties or number of parades there are now. Halloween was more or less celebrated only at Disneyland and by foreign residents, who would make their own fun by going out drinking in costume.
Over time, it caught on with the country's youth and learning about Halloween is now a staple October lesson for English teachers tasked with bringing the fun of foreign traditions to the classroom.
Halloween may be a new concept for the Japanese, but you'll see just how easily it could be adapted to Japan, and why it has become such a hit.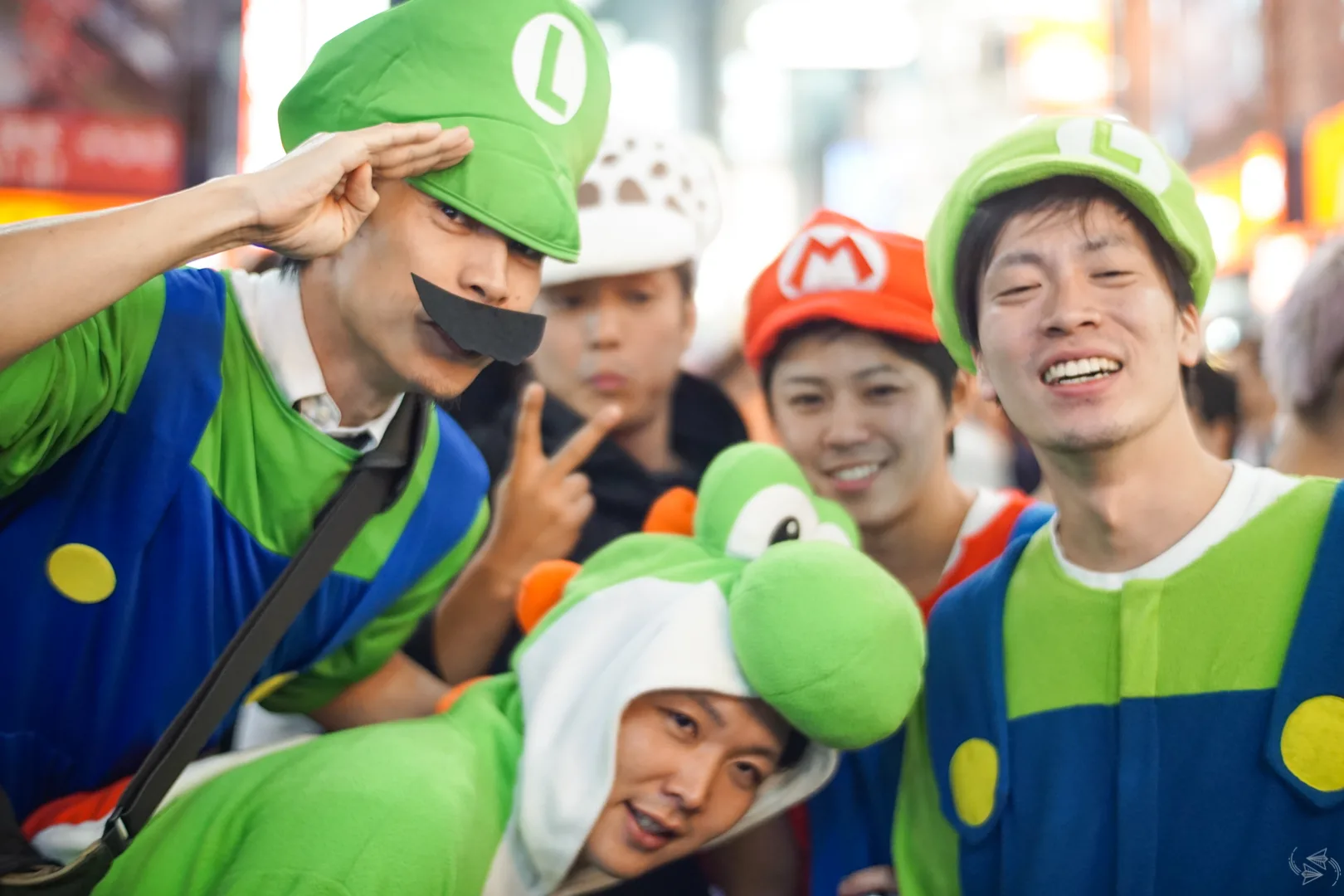 So, just how do the Japanese celebrate Halloween?
While many of the Halloween celebrations in Japan are very similar to those in North America or Europe, they are carried out in a unique way that reflects Japanese culture and society.
Street parties over house parties
House parties as we know them in the West are not common in Japan. This is largely a result of necessity, since many people live in small apartments that often can't accommodate more than a few visitors at a time.
But it's also cultural, too. Japanese have a strong sense of privacy and place emphasis on maintaining societal decorum. Disturbing others through loud music or conversation in this way is not accepted.
If you play a musical instrument, this often means paying to go to a karaoke booth to practice. No musical instruments is actually part of our apartment contract!
Outside the home is where most celebrations take place and it's in these situations where it is socially acceptable, within limits, to let your hair down. While the street parties that have popped up around Halloween never started as any official event, it's easy to see how they fit into the matsuri (Japanese festival) culture that already exists.
Drinking in public is legal and normalized through the country's many street events, and it was inevitable that the explosion in popularity of Halloween in Tokyo would mean that venues in busy areas just wouldn't be able to accommodate the extra foot traffic.
Nowadays, it's almost impossible to get into restaurants, bars or clubs in popular Halloween spots like Shibuya without an advanced reservation or ticket and it has naturally progressed into a Japanese festival-style street party, with the sheer number of party-goers taking to the streets forcing authorities to work with the event rather than against it.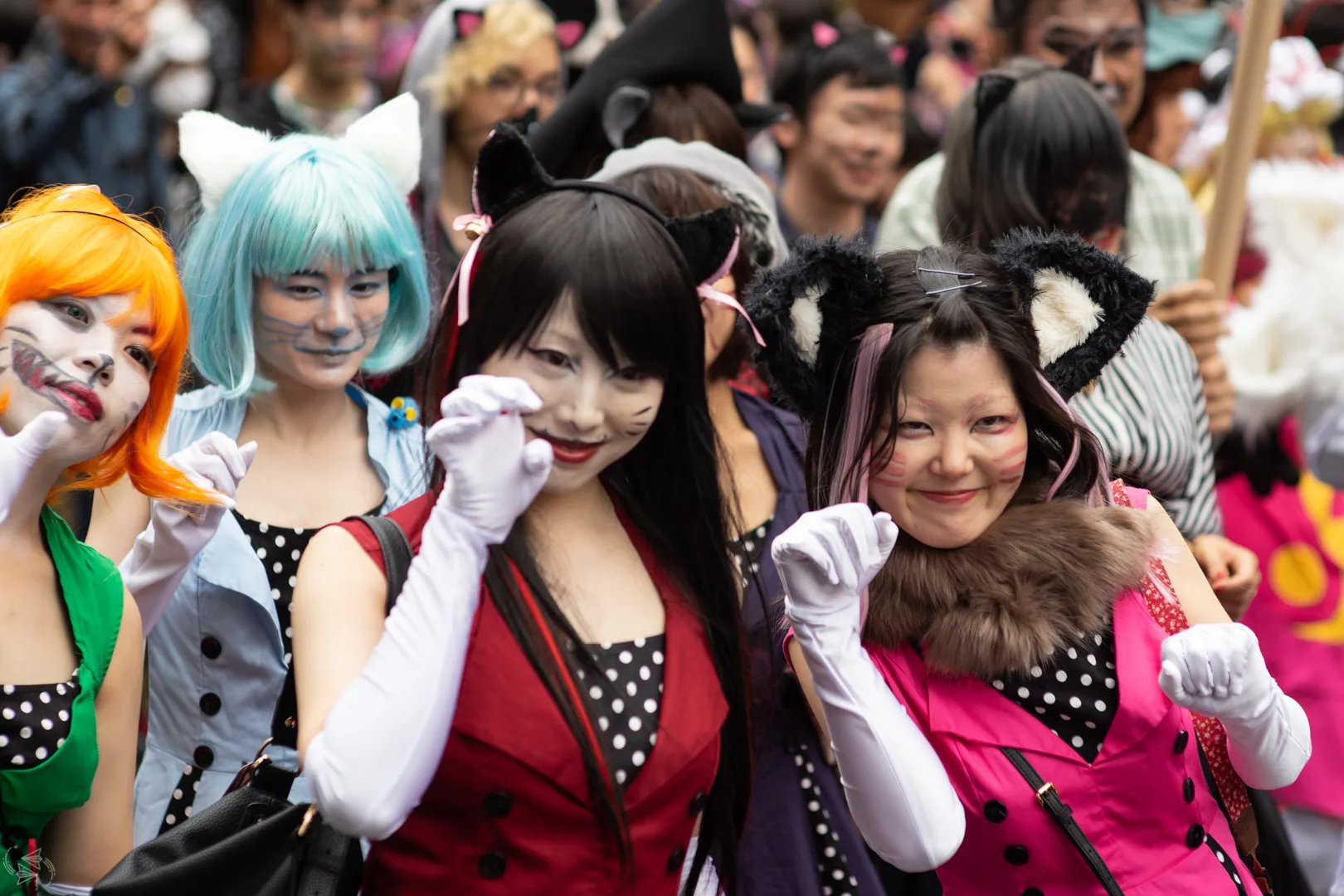 Planned trick or treating
Trick-or-treating is becoming more popular in Japan, but it is usually an organized, collaborative event in communities or among businesses in a certain area for a set time period. You won't find children going around knocking on stranger's doors in Japan.
As a general rule, people don't really drop by unannounced in Japanese culture and then there are safety and privacy concerns, and the uncomfortable notion of causing disturbance to other people.
Instead, children will be given a map or a stamp card at special trick-or-treating events and must go to designated points to collect candy, or to collect stamps to exchange for candy at the end. This is known as a "stamp rally" in Japan and fits in extremely well with existing cultural practices.
You'll find stamps in many places, such as train stations and attractions and you'll often find these activities offered at events to keep the kids entertained. If you collect everything on a stamp card, you can often exchange it for a small prize.
Costumes
The word 'cosplay' comes from Japan and for a country that loves to get dressed up, it isn't really surprising that the costume aspect of Halloween has caught on.
Costumes tend to be more on the "fun" than scary side. Some people say this is because Japanese people associate Halloween with being a fun American holiday and because Japan has its own traditions surrounding death and ghosts in the summer.
In August, the Japanese celebrate Obon, when it is believed that the ancestors come back to this world. In the summer, you'll also find epic haunted houses (seriously, no one does haunted houses like the Japanese) and on summer trips people will share terrifying stories of yūrei (Japanese ghosts that remain stuck between the physical world and the afterlife).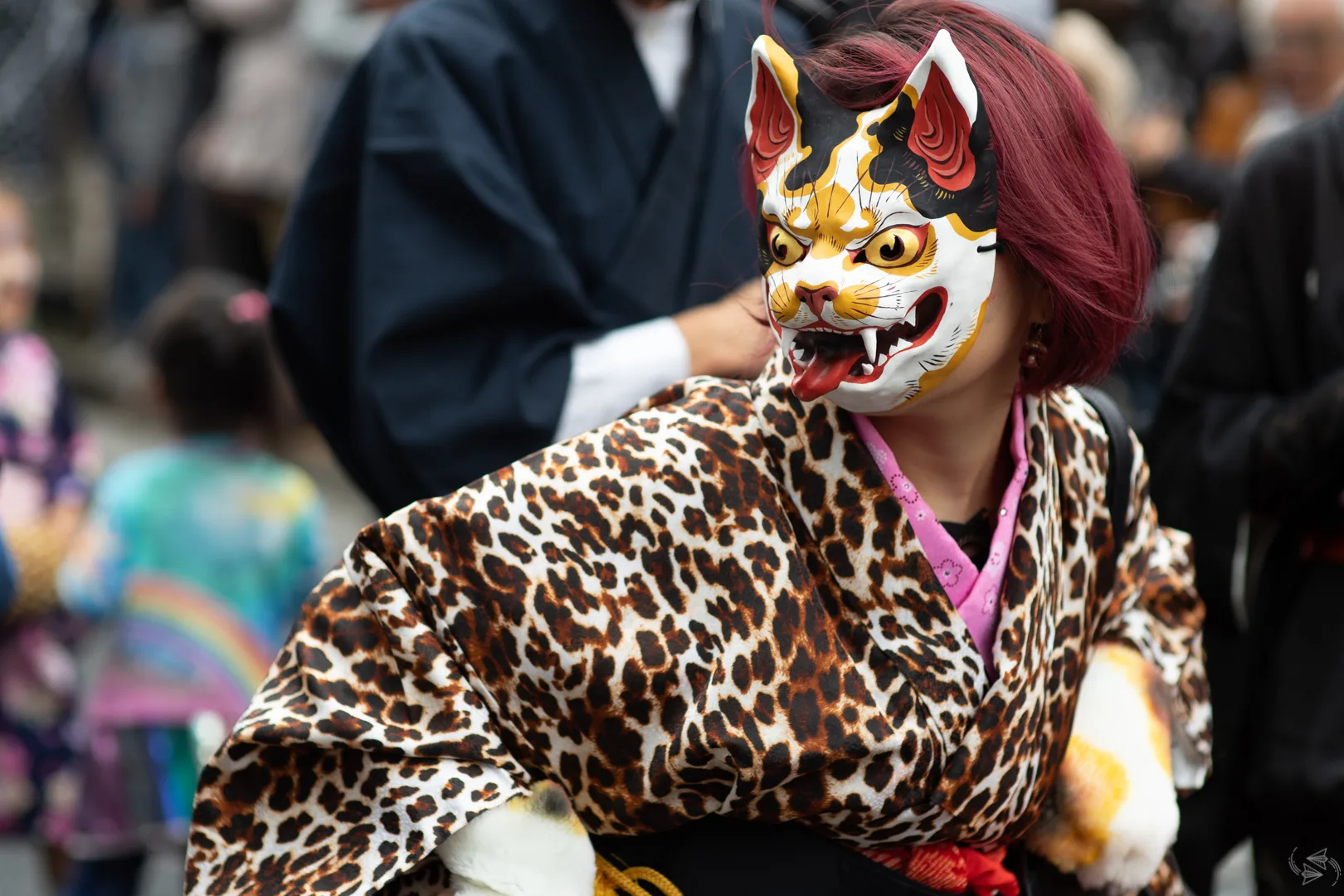 The most popular place to pick up a Halloween costume in Japan is Don Quixote, a chain store that's often affectionately referred to as 'Donki'. Here you find the narrow aisles filled with Halloween garb for around ¥3000 – ¥6000. Warning: it gets crazy crowded in the lead-up to Halloween, so be prepared for a frustrating time trying to move around and look at anything in there.
For cheap Halloween accessories, you can't look past 100 yen stores. They have a lot of easy and cute options for young kids.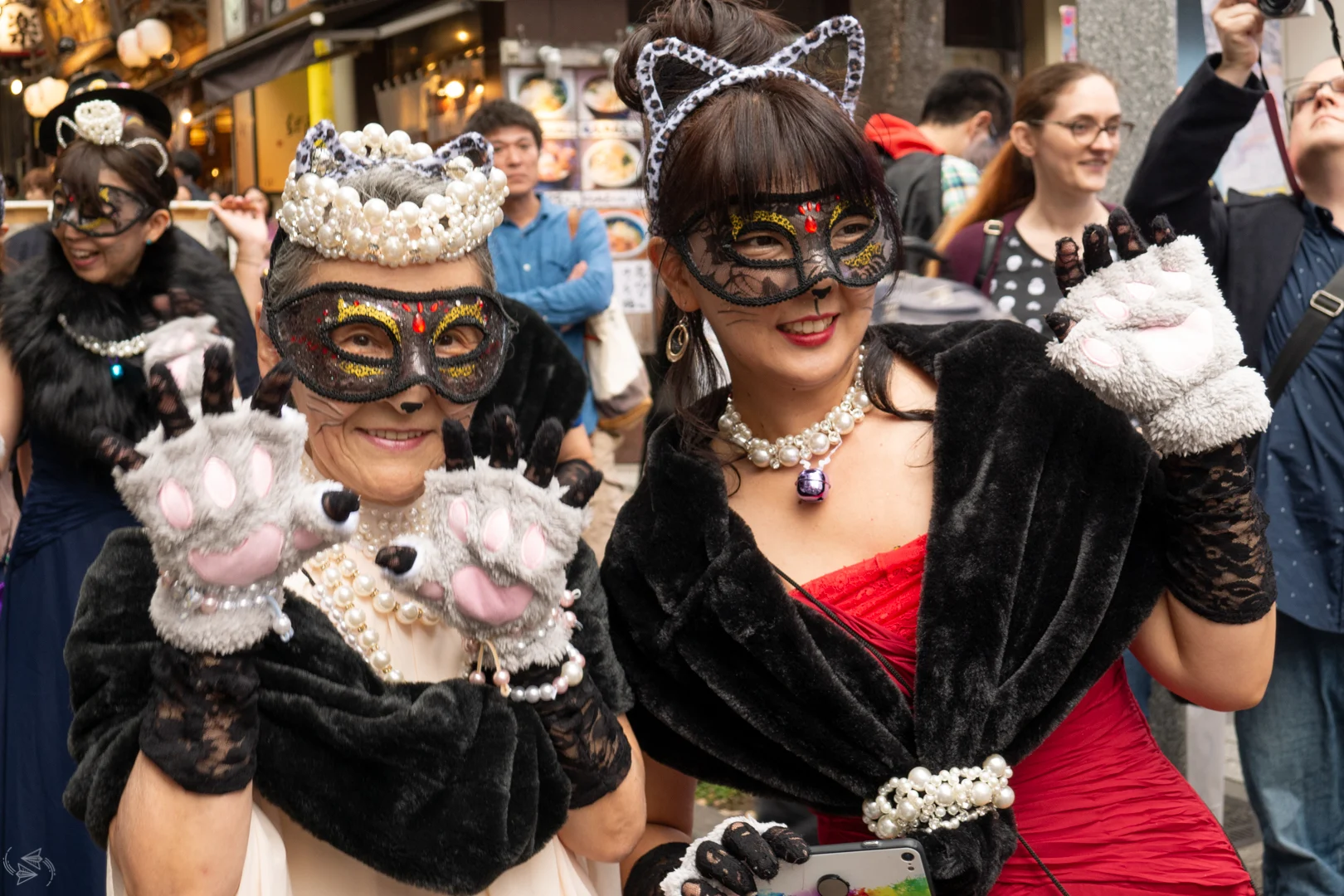 Where to celebrate Halloween in Tokyo
From street parties to parades, to music events and special restaurant menus, there's a Halloween celebration in Tokyo for all tastes, ages and budgets.
Shibuya Halloween
This epic street party in Shibuya has become the Halloween event in Tokyo. The streets surrounding Shibuya station will be closed to vehicles every evening from 6pm-10pm from Saturday, 27 October to Wednesday, 31 October 2018. Yep, that's how big it has become!
Simply show up in costume and have fun wandering the streets and taking photos with random strangers! Saturday the 27th is likely to be the most lively. Participation is free.
Roppongi
This clubbing area popular with foreign party-goers has to be largely credited for kick-starting Halloween traditions in Tokyo. Nowadays, there are a number of official events in the area, and bars and clubs will often celebrate with Halloween themed events, however, you'll still find many people loitering in street party style, just like in the early days.
People turn out in massive numbers to celebrate Halloween on the closest weekend before Halloween and also right up to the night itself, although it seems that Shibuya has taken away some of the spotlight in recent years.
If you're trying to decide between the two, Roppongi is more about the night-life and bar-hopping, whereas Shibuya has more of an inclusive vibe focused on reveling in the street.
Kawasaki Halloween (Oct 17-31st, main parade Oct 28th)
The Kawasaki Halloween Parade was ahead of its time, being one of the very first big Halloween events in the country. Now in its 22nd year, it has a lot of competition these days, but it is still one of the most popular and has now expanded into a series of Halloween-themed activities.
On the weekend of October 27-28th, there will be several Halloween parades for kids (12pm, 1:30pm, and 3pm, ¥500 participation, 500 participants max for each event), movie screenings and a Halloween makeup booth.
The main parade will be from 2:30-3:45 pm on October 28th, and it costs ¥1,000 to join, maximum 2,500 participants. This year's parade includes a Pride category.
Advanced reservation is required for the parades. Hurry if you want to join! If you simply want to watch, it's free and no reservation is required.
Tokyo Disney Resorts Halloween Celebrations (Sept 10 – Oct 31st)
There will be Halloween celebrations at both Tokyo Disneyland and Tokyo Disney Sea throughout the event period and anyone is allowed to dress in costume!
You can only come as a Disney character, however, and there are very strict rules about the types of costumes, makeup and props allowed. Be sure to read the Tokyo Disney Resort Halloween costume rules before deciding on your costume to avoid disappointment.
Hello Halloween Pumpkin Parade (Oct 28th)
This event down the zelkova-lined thoroughfare in Omotesando is perfect for any smaller kids you have in tow. Participation in the parade (2pm-3:15pm) costs ¥1000 and is for kids under 12 (must be accompanied by an adult).
Children who participate in the parade, will also receive an Okashi Rally Map, which maps out shops in the area that are giving out sweets to participating children who say 'Trick or treat.'
Registration for this event is required, please see the Hello Halloween Pumpkin Parade (Japanese only) for information and participation criteria.
Yomiuri Land Halloween (Oct 17th-31st)
Be greeted by friendly monsters and enjoy pumpkin-themed games right through to the end of October. If you dare, enter the haunted house 'Hyuuuuuudoro' or meet the zombies on 'zombie street' every weekend and on October 31 from 5pm.
On Saturdays, Sundays and holidays from September 29 and on Wednesday October 31, anyone visiting the park in costume gets in for free. As a bonus, the popular 'Jewellumination' winter lights event, featuring millions of LED lights, will be switched on from October 10.
More info: Yomiuri Land Halloween
Puro Halloween Party (Oct 19th-31st)
The Puro Halloween Party at Sanrio Puroland in Tama-Center has something for all ages. Enjoy kawaii Hello Kitty culture during the day, and stay on for a more spooky program at night.
A DJ event for those 20+ will also take place from 10pm on October 27th to 5am on the 28th.
More info: Puro Halloween Party 2018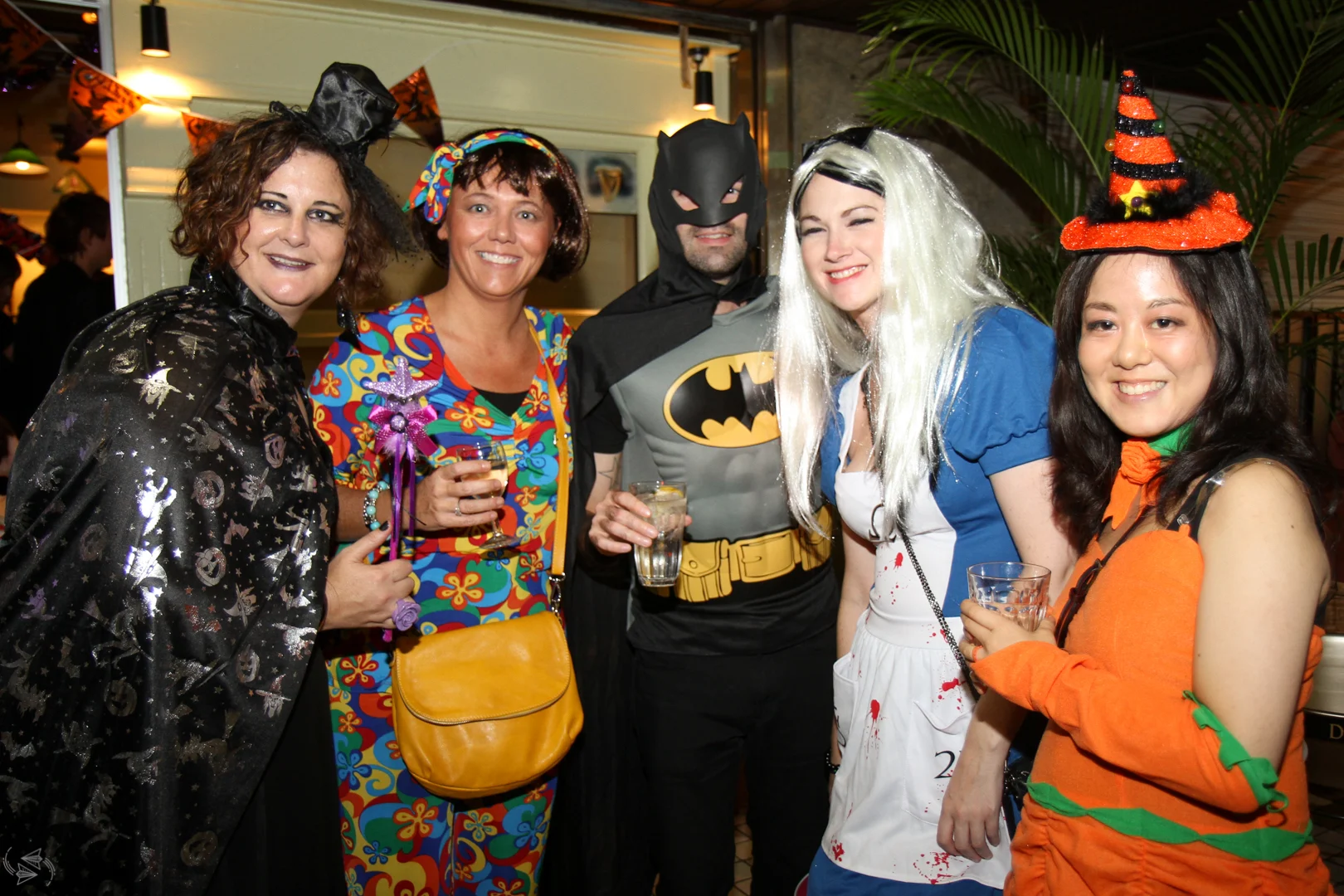 Halloween Party 2018 (Oct 26th-28th)
If you're a rock music fan, then Halloween Party 2018 at Makuhari Messe is the event for you. With appearances from several well-known Japanese rock musicians and a special orchestra put together especially for the occasion, it's a three-day extravaganza not to be missed.
More info: Official Halloween Party website (including line-up, venue and ticketing).
Yokohama Yamate Seiyokan Halloween Walk (Oct 28th)
This is a chance for the kids to get dressed up and go trick-or-treating. You can pick up a stamp card at any of the 13 designated spots around Yokohama.
At each designated point, participants can get free candy, and anyone who collects 12 or more stamps can get a prize.
Make sure you arrive early as only 6,000 stamp cards will be made available.
More info: Yokohama Yamate Seiyokan Halloween Walk
Futako-Tamagawa Halloween Party (Oct 27th-28th)
If you're looking for family-friendly fun, then the Halloween festivities at Futako-Tamagawa's shopping complex Rise should fit the bill.
Over the Halloween weekend, they'll be parades, workshops, a stamp rally and costume contests.
More info: Futako-Tamagawa Halloween Party
Vampire Cafe Halloween Menu (From 5pm, Oct 17th-31st)
This cafe in Ginza will be offering a special menu for the season named 'Halloween Course for Dracula's Castle'.
If you don't have a costume of your own, the restaurant will lend you one to wear during your meal to really get into the Halloween spirit!
More info: Reservations for Vampire Cafe
This is by no means an exhaustive list of all the Halloween events in Tokyo, but it's a great place to start.
Do you celebrate Halloween? Have you ever celebrated Halloween in Japan? Which event would you most like to participate in?
Pin me for later