Teleportation may not have been invented yet, but the fact that we can physically move from place to place around the world with relative ease has to be considered a pretty phenomenal feat in and of itself, don't you think?
While we are fans of slow travel and really getting to immerse ourselves in a destination, we also think it's pretty cool that transportation nowadays allows us to wake up in Hanoi, have a dumpling lunch in Shanghai and be tucking into a steaming bowl of ramen in Fukuoka before the day's through. We've really come to appreciate these little snapshots into destinations. Rather than feeling liked we've "missed out", we simply enjoy it for what it is: a new experience that can only add to our worldly adventures.
During the latter stages of our recent European travels, we needed to get from Paris to Rome and we needed to get there fast. We had a flight booked out of Rome for the TBC Asia Conference in Sri Lanka (the trip we've been posting about recently) so there wasn't much room for our usual flexible approach to our travel plans.
We had been given two 15 day First Class Global Passes by Eurail while we were in Greece, and this was the perfect opportunity to use more of those days and to drop into some of our favourite destinations.
This Eurail journey would begin in my beloved Paris, from where we would be starting our 24 hour rail adventure to Rome.
Here's what it looked like.
A quick morning stop in glorious Paris! Just enough time to grab a coffee, pastry and macaron before boarding our train to Cologne, Germany.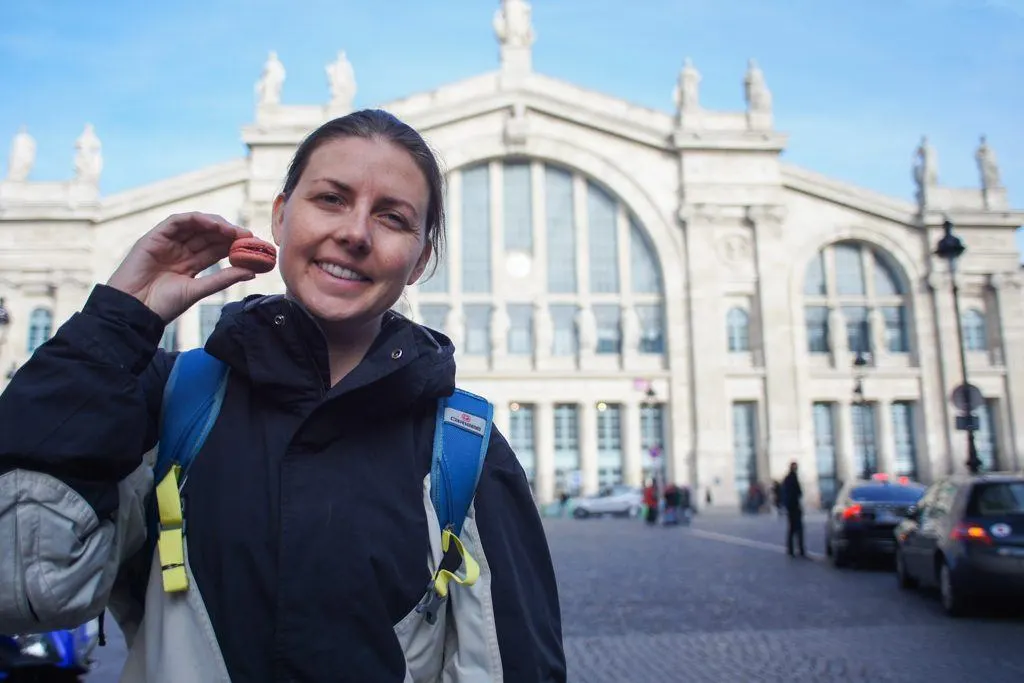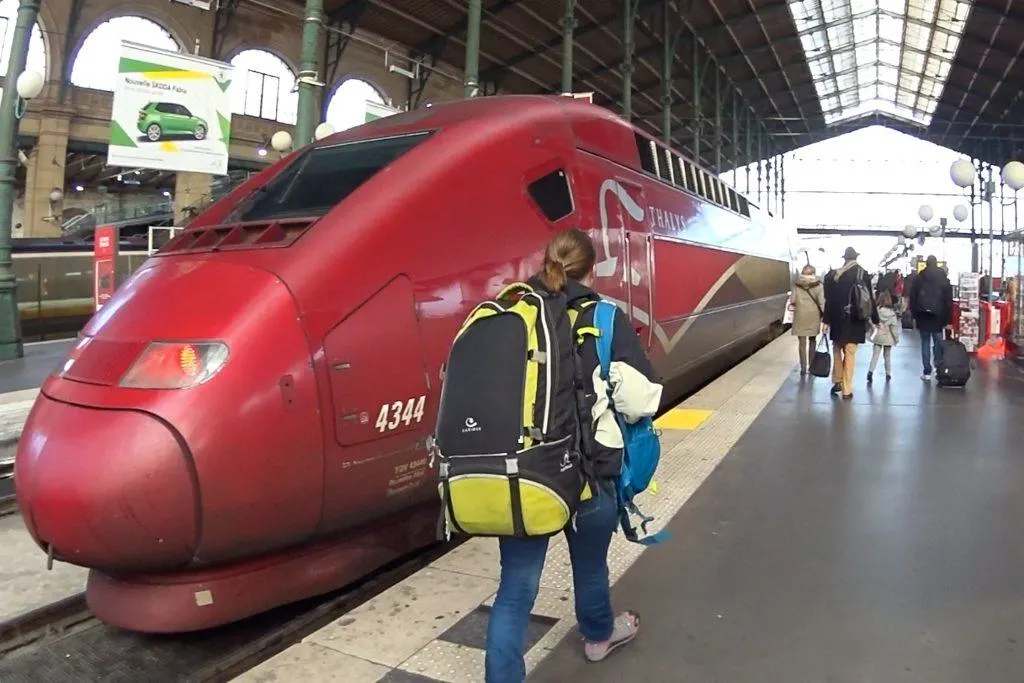 A meal, wine, metal cutlery, plush seating… It's all rather fancy here in first class. Thalys service from Paris to Cologne.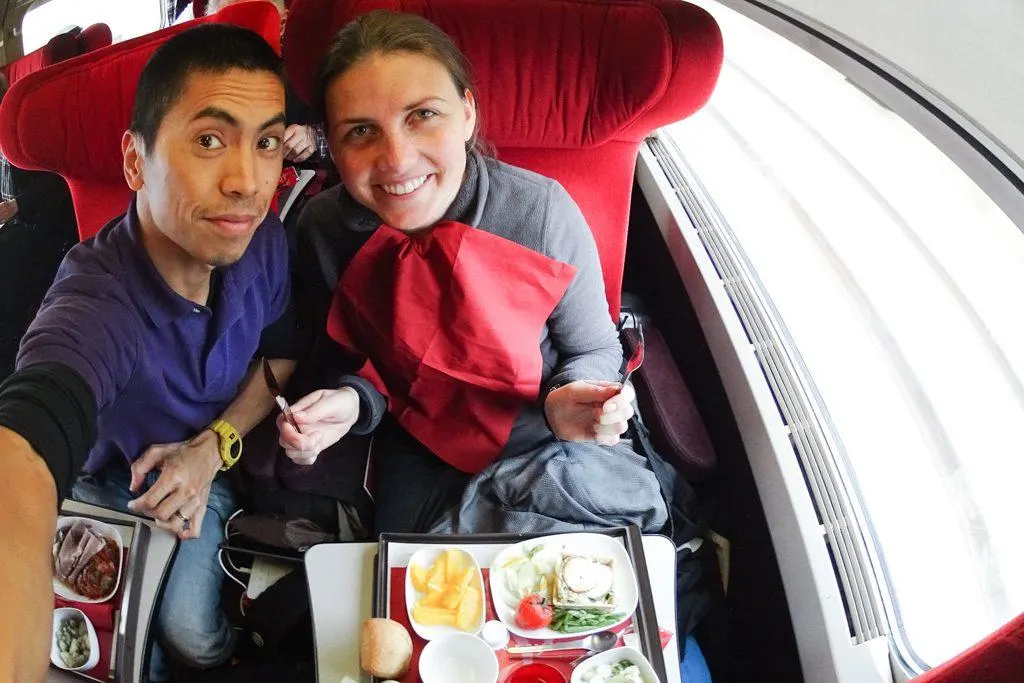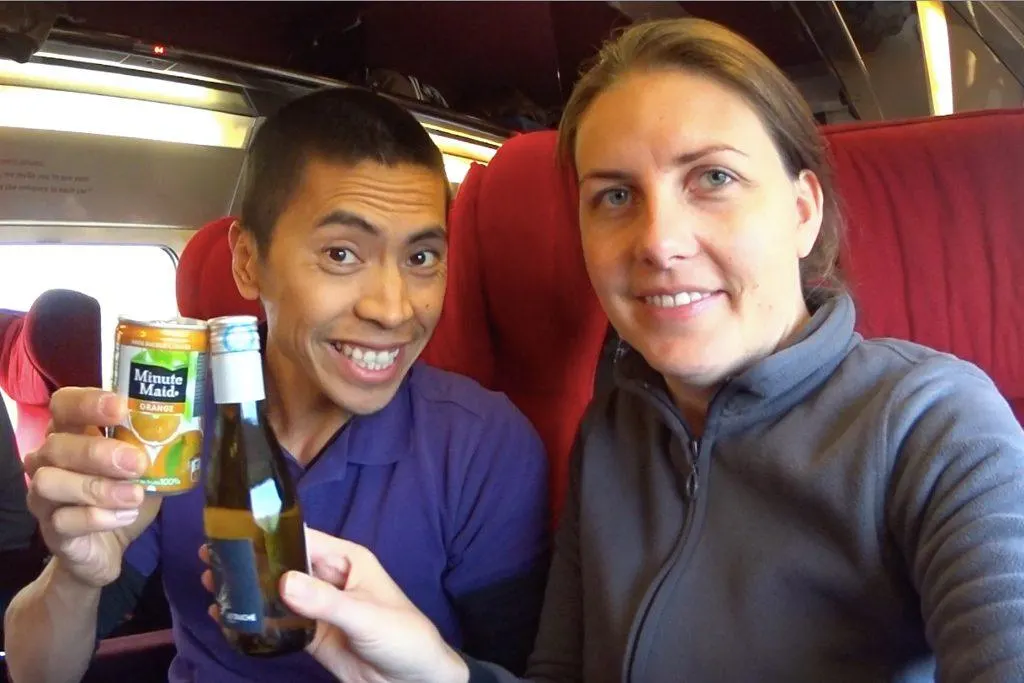 Well, you all know how obsessed Hai was with bratwurst at the Christmas markets in Germany the year before last!
During our brief stop in Cologne, we had just enough time to pick up a currywurst. Couldn't spot any Glühwein though. Is the beginning of November too early?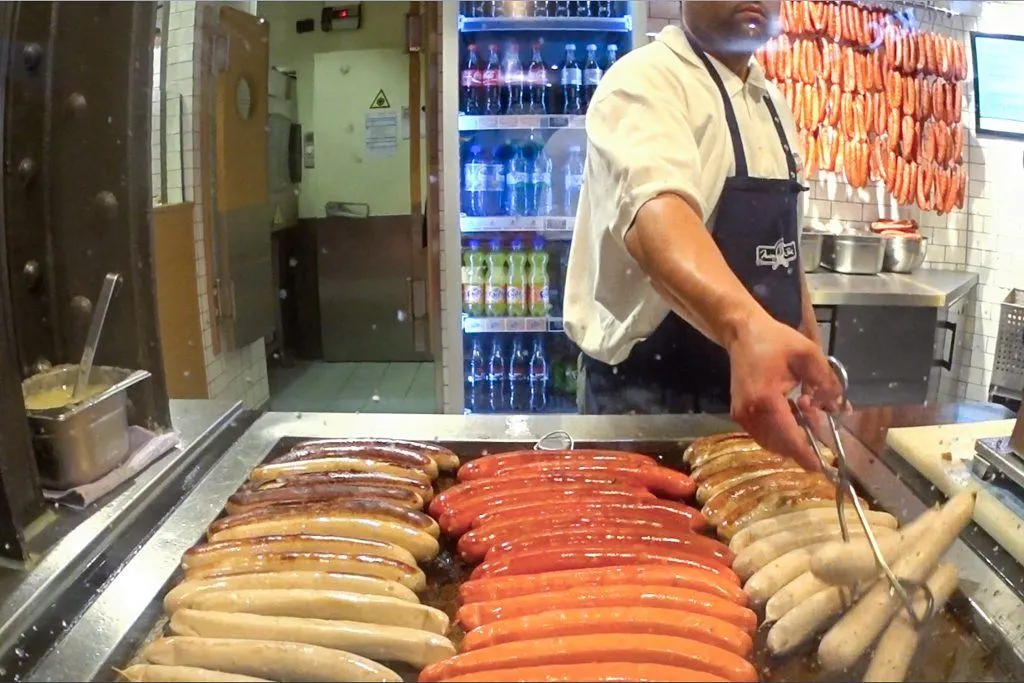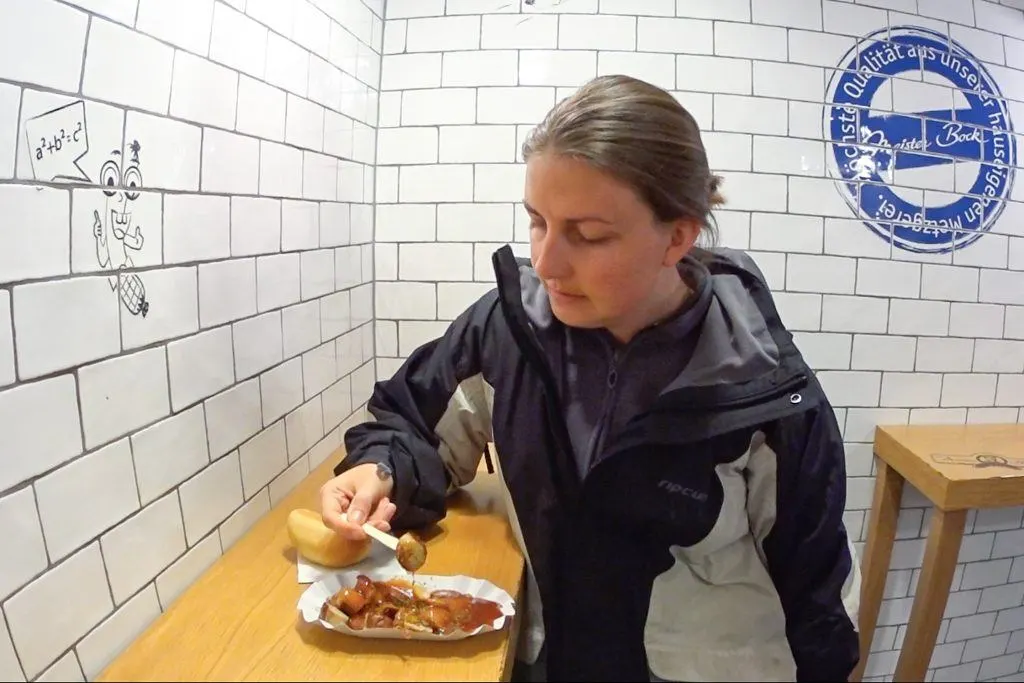 Twenty minutes to transfer to our next train, you say?
Why, that's enough time to pick up a steaming bowl of phở (Vietnamese rice noodle soup) from our favourite place in Munich!
Hai says it's the best train station phở you'll find outside Vietnam. And he's Vietnamese, so that must be a legit recommendation right there. ;)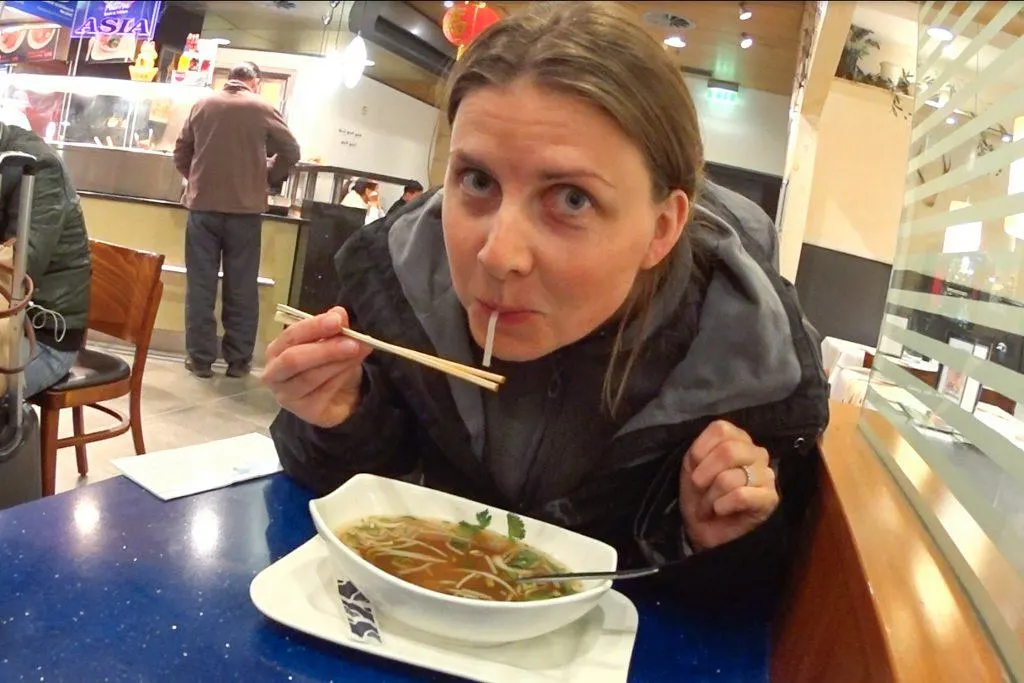 As you can imagine, we were pretty tired on arrival in Rome after spending so many hours in transit. However, our stomachs were filled with great food and our minds with fantastic scenery and wonderful conversation. Yeah, don't think I'll ever tire of breakfast in Paris, lunch in Cologne, dinner in Munich and waking up in Rome. We made it!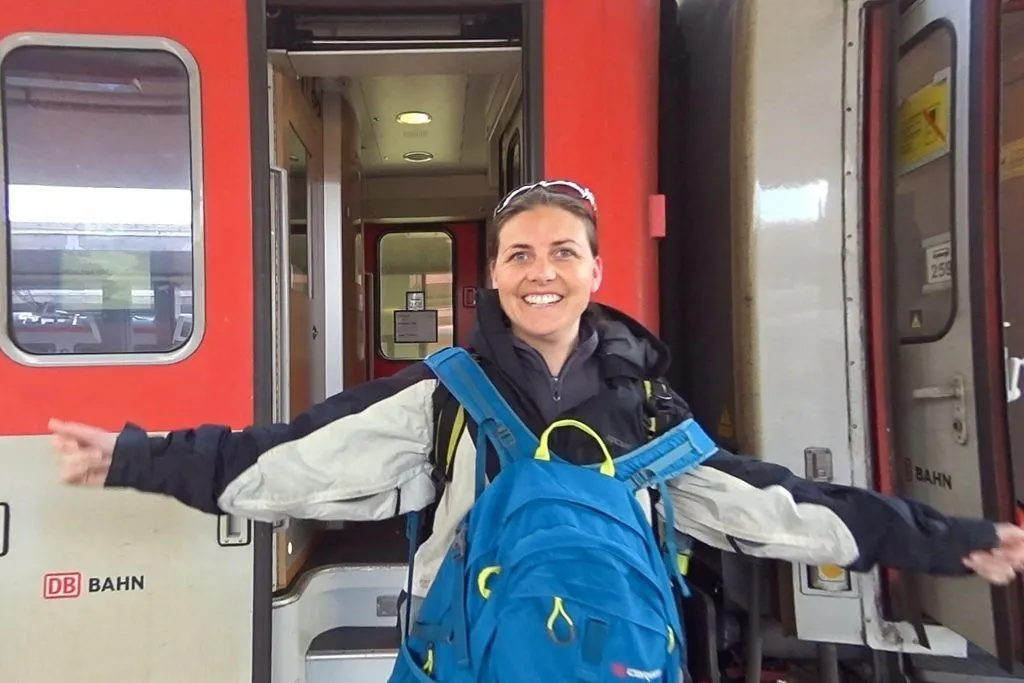 Here are some scenes from our trip in video.
Thinking of heading to Europe and curious about this rail pass? We learned a lot about the Eurail pass after experiencing it for ourselves and wanted to share our findings with you here.
1. Plan it
Our top piece of advice would be to plan your journey ahead of time. Map out your route, check timetables and work out what trains you need reservations for and book them.
Because…
(a) You can find the best route and avoid reservation fees
Night trains and some high-speed services require reservations, which are an added cost. However, you can avoid reservation fees by and large, or at least keep them to a minimum, by planning in advance. The Eurail website is an excellent planning resource. We recommend searching the various route options and reading through the comprehensive information there.
We were planning this trip very last minute and we didn't have much flexibility with dates/times. This meant that it wasn't an option to go to the train station on arrival and book a reserved train (when we needed one) because we didn't have any days spare in case it was already fully booked.
(b) You can use Eurail's convenient online reservations service
We had another option, which was Eurail's online reservations service. You can check the timetable on their website and then put in an order request for the trains that require reservations. This can be done up to 10 days from departure. We put in our order exactly 10 days out. Like I said, this was really last minute. Fortunately, the Eurail team got back to us quickly with the availability information and we paid immediately to secure our bookings. They will send the tickets anywhere in the world, which is very convenient. The service is free for tickets sent to a European address and 8 Euro per train for those outside. Well worth it for having them take care of the reservations for you and peace of mind, in our opinion.
(c) You don't have to worry about where/how to receive your reserved train tickets while on the road
The most worrisome thing for us was whether we would receive the physical tickets (reserved online) in time (unfortunately you can't pick them up at the train station or receive them electronically). We were in Greece at the time of booking, but the following week we would be in London for World Travel Market, before going to Paris to begin our train journey. We had no choice but to have them in our hands the day we left London and the complicated thing for us was where the tickets could be sent since at the time of the booking we were still trying to secure accommodation in London, which was packed to the rafters for WTM. I know, I know, we should have planned further in advance. Again, another last minute turn of events in what was an insane ending to our trip!
We were very fortunate that there were other blogging friends following the "conference circuit" from Greece to the UK and one of them was going to stay with a friend in London. So when we were putting our reservation request through in Athens, our friend asked his friend whether we could have the tickets sent to his address and, luckily for us, he was kind enough to agree. There was an added complicating factor though and that was when we realised the tickets would be sent by registered post and had to be signed for during business hours. We had already ordered the tickets at this stage but, very fortunately for us, this friend was a freelancer who worked from home and hence would be available to sign for them when they arrived. Phew! Still, it was an anxious week waiting for the news of their arrival.
(d) You can get your desired trains and class options
What the last minute booking meant was that despite having a first class ticket, we couldn't take first class reserved trains all of the time, including the overnight train from Munich to Rome, because first class seats were already fully booked. Due to our time constraints, we also ended up booking the high-speed Thalys train from Paris to Cologne, which was first class and super nice with a meal and wine, but we also paid for it too with the added reservation fee of more than 100 Euros for the two of us.
*An added bonus though was the fact that we could use the pass on the Leonardo Express train from Rome's Termini Station to Fiumicino (FCO) Airport. But be careful, the entire train is considered first class so those with second class passes who want to use this service should buy a ticket separately (do so at the train station because tickets are more expensive onboard).
So the moral of the story here, nomads, is to plan what you can in advance and get those reservations in when you have a fixed address. The only stresses we had (and added costs for the most part) were because we were trying to put this together so last minute.
The Eurail pass is actually excellent value when used effectively and you could make the most epic European journey using it. We definitely intend on heading back to Europe with a Eurail pass, hitting up destinations still on our list as well as returning to some of our favourite cities.
So how about you? Have you ever used a Eurail pass? What was your experience like? Where did you go or where would you go if you had one right now?
As mentioned, we were given these Eurail passes free of charge. All additional reservation and service fees were at our own expense. As always, we keep it real and tell it like it is.