There are certain things that are on most travellers' checklists when they visit Japan: eating sushi, visiting hot springs, watching sumo, to name a few. While it may not be at the very top of the list, sleeping in a capsule hotel has all the "weird Japanese" draw that so often delights visitors to Japan while also serving the very practical purpose of a place to stay for the night.
I'd always thought I'd be up for trying one, it's just that we always had accommodation while living in Tokyo, either our own apartment or staying with friends, so there really wasn't a need to go out of our way to stay in one. Capsule hotels also seem to have the reputation of the alternative to a manga (comic) cafe. That being, a place where drunk people (usually men) go when they've missed the last train. This in turns gives it the reputation of being a little seedy and loud, and the headquarters of the world's biggest snore-athon.
Staying in a capsule hotel went from 'Something I should do one day' to 'I'll do that next week', when I unexpectedly had to plan a trip to Fukuoka on the southern island of Kyushu (I'll be sharing more about why and about that trip very soon).
We learned that there was a capsule hotel called 'Nine Hours' at Narita Airport (Tokyo) when we arrived back in December and noticed the signs. Usually when we have inconvenient flight times, it means sleeping (or at least trying to) rather uncomfortably on metal airport seating or creating a makeshift bed out of our backpacks.
But this time around crashing at the other end of my flight wasn't an option (again I'll tell you all about it in an upcoming post) and there was no way I'd get to the airport in time in the morning using public transport (taxi really isn't an option since Narita Airport is so far from the city centre), so it was the perfect opportunity to tie in this experience with my trip.
I wasn't quite sure what to expect going in, but the whole experience was very smooth and the instructions clear (the staff are well versed in English considering the number of overseas visitors who come through the hotel).
Immediately after check-in, it's women through that door and men through the other, so if you are travelling with someone of the opposite sex, it's goodbye until the morning. The small lobby where the reception is located is the only "common area", although it most certainly isn't a place to hang out, just merely to check-in. You are allowed to come and go as you please once checked-in, but as most people are either just coming off a long flight or preparing for an early morning one, most can't wait for some shut-eye. Consider it more like a business hotel that's designed for getting people in and getting people out.
Here's a video of what the Nine Hours capsule hotel experience at Narita Airport was like. For those who'd prefer to read, I'll describe the rest in a bit more detail, along with my conclusions on this capsule hotel, below.
Once you enter, you change into the slippers provided and put your things into the locker. Also provided are a bath towel, a face towel, a robe (well, it's really a button-up night gown) and a disposable toothbrush and toothpaste. In the interest of cleanliness, you should shower and get changed into the night wear provided before getting into the capsule. Everyone wearing the same attire made it feel a bit like 'Grey is the New Black', but it definitely adds to the capsule hotel experience!
The showers were large and shampoo, conditioner and body wash were provided. There were also plenty of toilets and a long row of sinks/bench space, making it easy to get ready for bed or put on make-up in the morning.
Once you open the door to the capsules, you're suddenly in darkness, with the only light the glow from the free capsules or those who've yet to go to sleep. Your locker key number is also the same as your capsule number so you just need to locate it by looking at the markings on the floor that almost look like some kind of track and field start line. Take off your slippers and then climb into your capsule.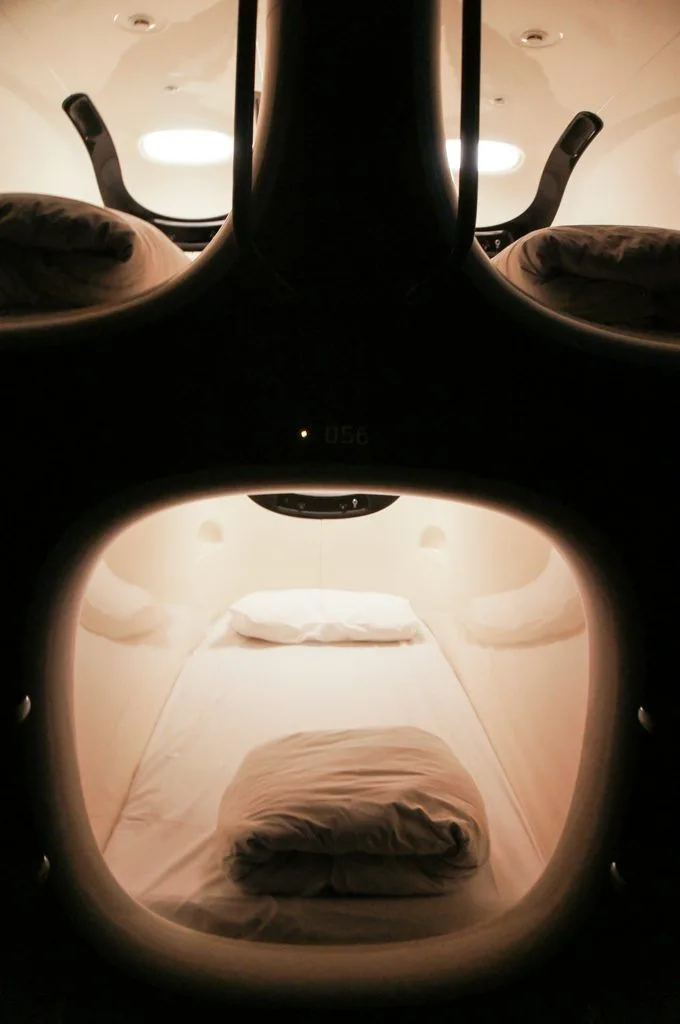 I guess I haven't really described what the capsule in capsule hotel actually is until now. It's essentially an enclosed bed. You climb in, close it (in this case it was a blind, some other hotels have curtains) and you have your own little private pod.
Inside the pod at Nine Hours, there was a Japanese plug for charging your electronic devices, a light (which could be dimmed or turned off completely) and a dial for relaxing ocean sounds to lull you to sleep (which you could also adjust, or turn off if you'd prefer silence). Their website refers to it as a "Sleep Ambient Control System".
I didn't sleep all that well to be honest, but that's only because I had a big day the next day and I have this thing where I can't stop checking that the alarm is set every hour as I'm completely paranoid that it won't go off and I'll miss my flight. The capsules were actually really comfortable and had everything I needed at my fingertips, even Wi-Fi! Just make sure you ask for the password at check-in because they don't offer it up as part of their usual spiel about the property. Once I remembered, I was already in my night gown, the password wasn't posted anywhere, and no one in the vicinity seemed to have asked for it either. I was almost about to make an embarrassing dash out into the reception area when luckily another guest came in who was already busy updating her Facebook status.
My preconceptions led me to believe that a capsule hotel would be a little creepy and totally claustrophobic. I'd always envisioned the bed being on wheels and getting pushed into the capsule, like a morgue, except you're alive and stuck in this tiny space until someone comes to rescue you in the morning. Well, it was nothing like that. You can open the end of your pod whenever you like, even sleep with it open if you want, and the capsule itself was really spacious. I could sit up comfortably and there was still quite a distance to the ceiling, making it suitable for taller guests.
I can't speak for the men's side, but I had no problems with noise in the women's quarters. Before sleeping, I was wondering if I'd get woken by mobile phone alarms all night as people would be getting up for their various flight departures. It seems that the pods really do insulate well against sound as all I heard were a few people quietly getting down from their capsules and opening the door, which can't be helped. Of course I have heard of the odd occasion of loud guests, but everyone was very respectful the night I stayed.
Would I recommend this experience to those flying in/out of Narita?
Definitely. For a shower, as much rest as I could possibly get the night before an early flight and the fun experience of staying in a capsule, I think it was worth the ¥4900 (around 50 bucks) I paid for the night.
What about you? Have you ever stayed in a capsule hotel? Or after reading this, would you want to? Let us know in the comments.
Thank you for using the affiliate links in this post so we can continue to provide more free travel content.