Hai had been eager to go fishing since we got here. Each body of water we stopped at during our four-day horse riding journey around Mongolia's Eight Lakes evoked a grimace. We could only bring a small bag for the pack horses to carry and his fishing rod wasn't in it. And, yes, even though we are backpacking for an indeterminate amount of time trying to carry as little as possible, he somehow keeps a Japanese 'tenkara' fly fishing set with him along with a box of flies he made himself. With free time back at camp and Ulaan Tsutgalan Waterfall, the largest in Mongolia, not too much of a walk away, we headed there with the hope of bringing something back to add to the dinner offerings.
The waterfall is set in a gorge in Mongolia's Orkhon Valley. To access the river would mean somehow descending into it. We had seen a couple of people down there on our previous visit so there must be someway to do it, but there didn't seem be any path. We searched for an easy way. There wasn't one. But there were two that were doable. Both were steep but one had less vertical drops. We'd take that one.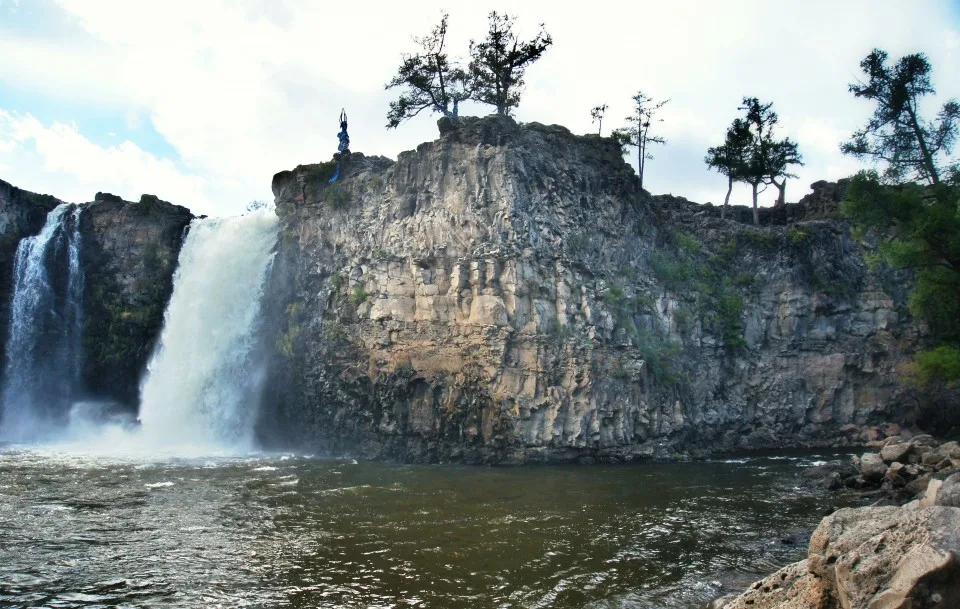 We started slowly climbing down, being careful where we placed our hands and feet. As a few rocks fell down the gorge with our movements, "It's a case of the Pyrenees," I said.
To understand this, we'll have to take you back a couple of weeks earlier to when we were listening to the Stuff You Should Know podcast on a bus in Laos. If you don't know of it, definitely check it out. Not only interesting, but awesome for filling in time while traveling. And, what's more, it's free!
We had been listening to an episode on vultures, which opened with a story about a woman who had been hiking with friends in the French Pyrenees when she lost her footing and fell 300 meters to her death. When help arrived just 45 minutes later, all they found of the woman were her bones and torn clothing, her body having been completely devoured by the local vulture population.
Now whenever we were at some kind of cliff face or mountain drop, that story came to mind. "Yeah, let's be careful. Don't want to be eaten by vultures." I wondered if there were any around here.
It wasn't that dramatic after all, and Hai got to his fishing, only he didn't have any luck that day.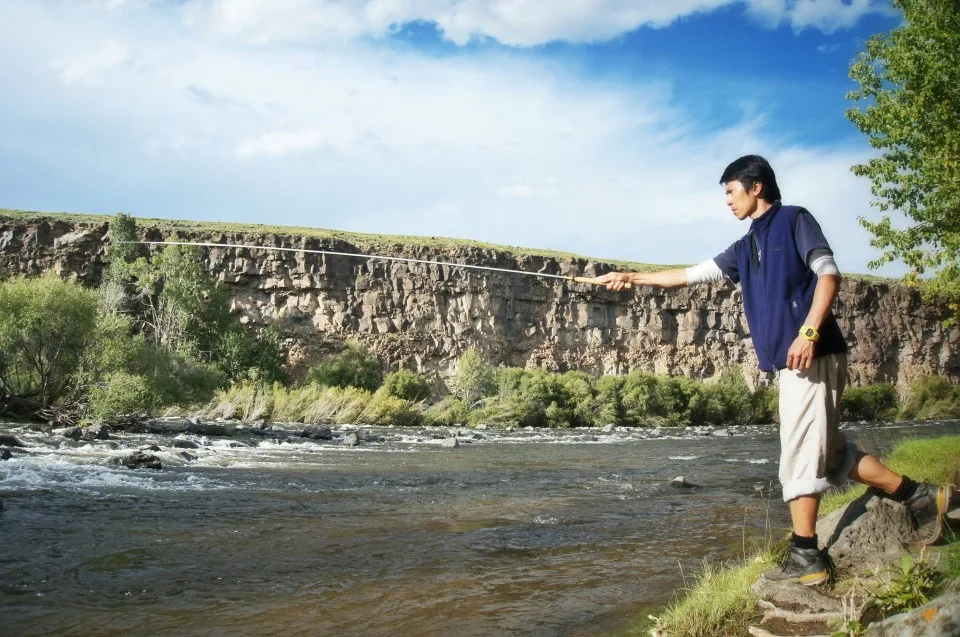 The following morning as we sped out of camp on the way to the ancient capital of Kharkhorum, the driver suddenly stopped the car. What was just ahead of us, but a vulture sitting on a rock with an eagle beside it!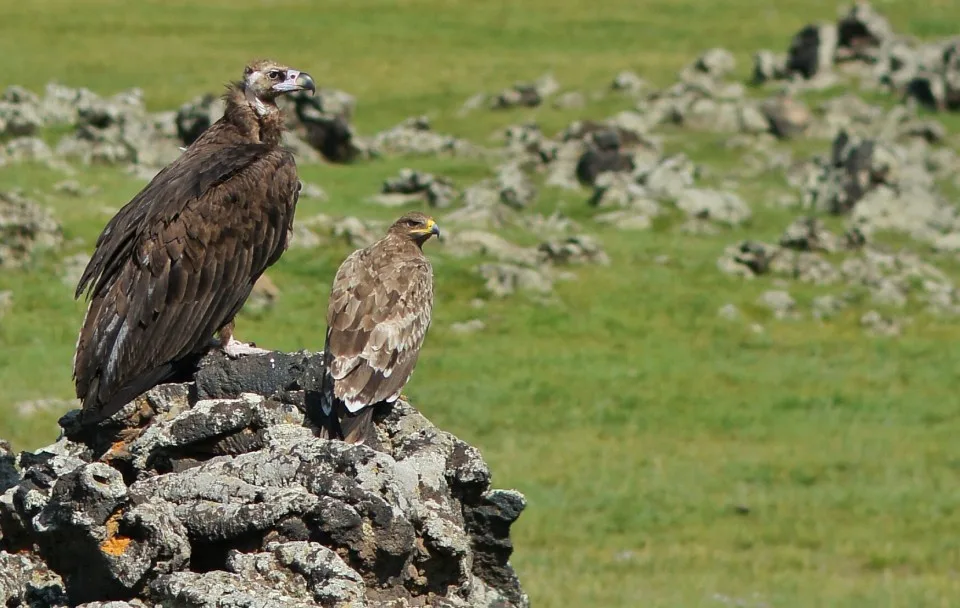 I know everyone says this, but the photo really doesn't do its size justice. The eagle next to it was massive in itself, but the vulture towered over it, and when it flew away, its wingspan demanded respect.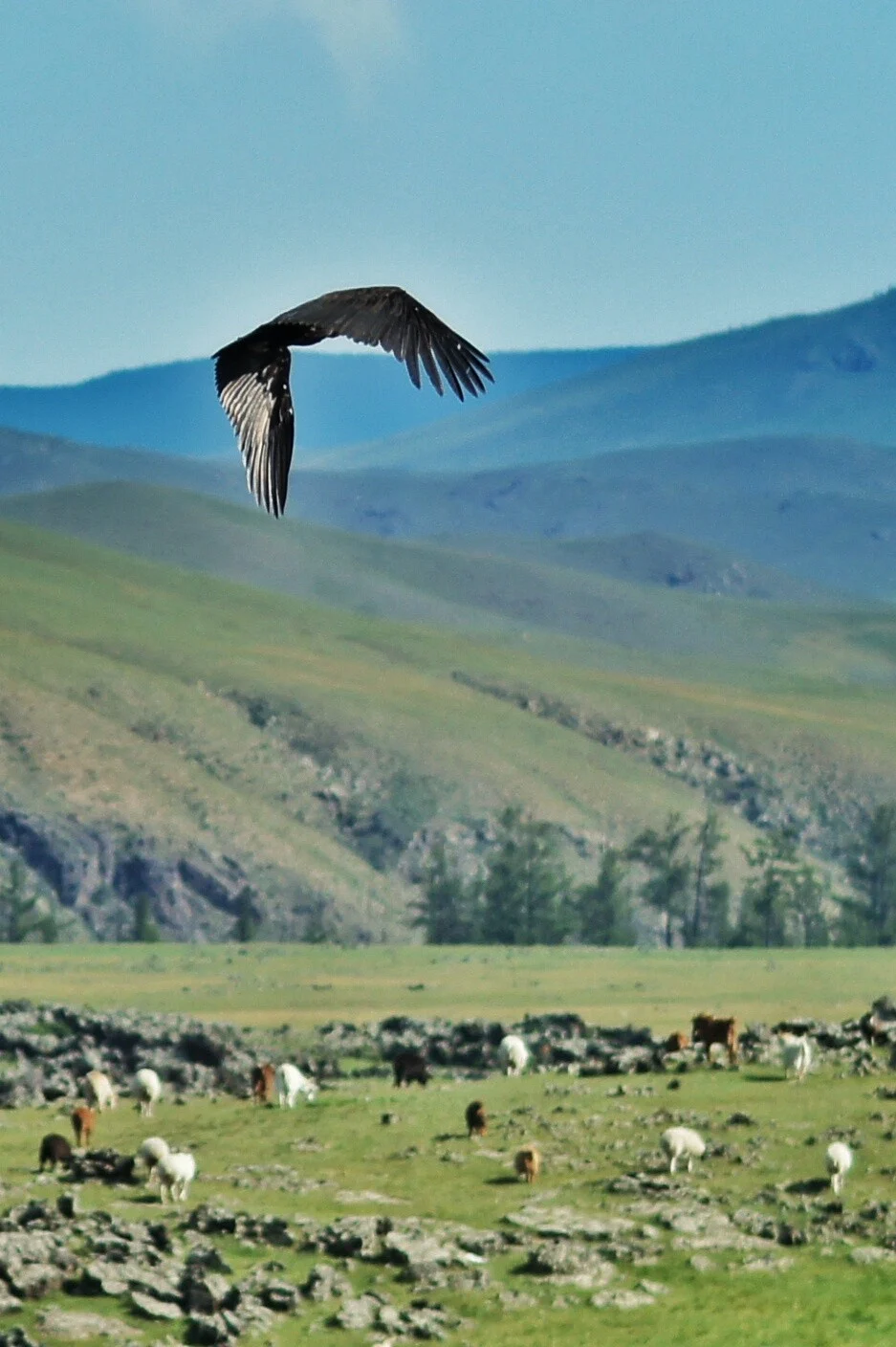 Are there vultures in the Orkhon Valley? The answer to that is yes, and that is actually a very good thing. Why? You'll just have to listen to the podcast to find out!