The Some no Komichi is a three-day event held in late February showcasing traditional Japanese textile dyeing techniques.
The event is held in Shinjuku's Ochiai and Nakai area, the center of Tokyo's traditional dyeing industry and is a nod to the town's rich cultural heritage.
The Some no Komichi 2018 will be held on 23-25 February 2018 (Friday – Sunday).
Now, before you click away and presume this is a niche event only for those into fabrics and arts and crafts, think again. There are a number of reasons why it's worth a visit, no matter your inclination for textiles, chief among them the River Gallery.
The River Gallery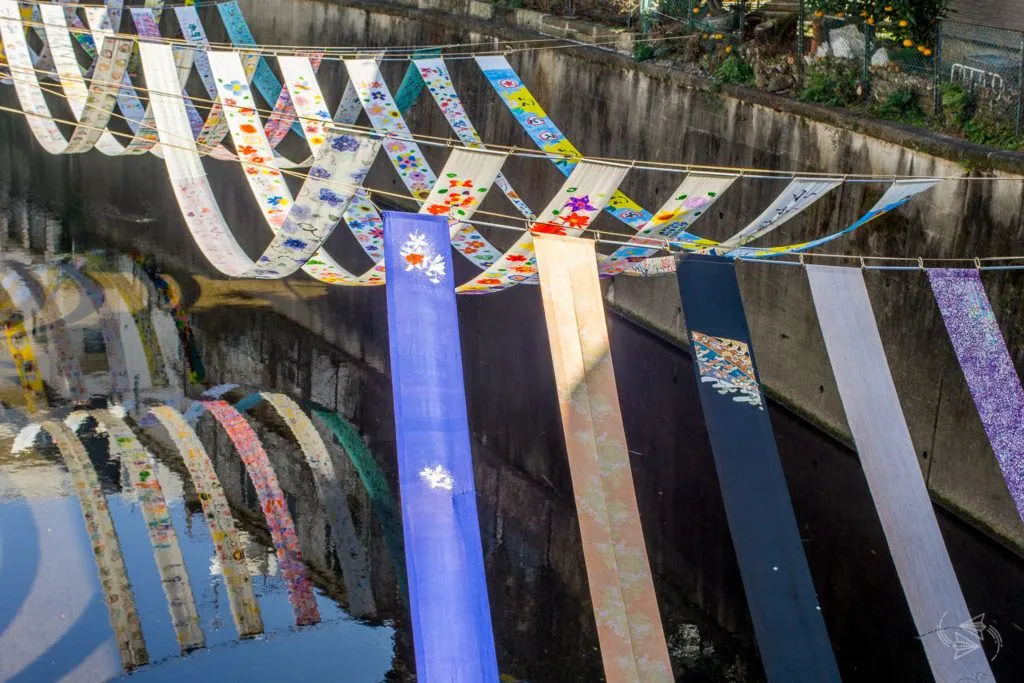 Up until the 1950s, workers from the surrounding 300 small cloth-dying factories would wash their colourful creations in the Kanda and Myoshoji Rivers, then hang them out to dry in the sun. Can you imagine what a sight that must have been?
Well, thanks to the Some no Komichi, you don't have to. During the three-day event, beautiful kimono silks are displayed over a 300-meter section of the Myoshoji River, recreating a wonderfully vibrant scene from a bygone era.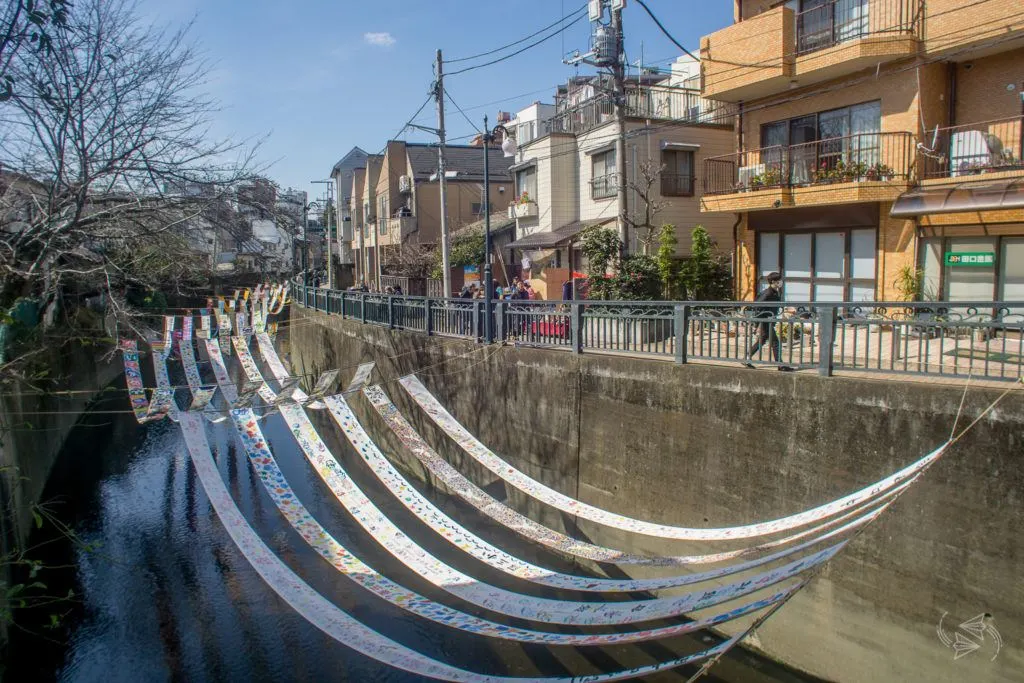 Each one of these narrow silks is actually one kimono, if you can believe it. Can you see those patterns on the black one below? Once sewn together, those patterns will match up at the bottom, making a beautiful formal-style kimono!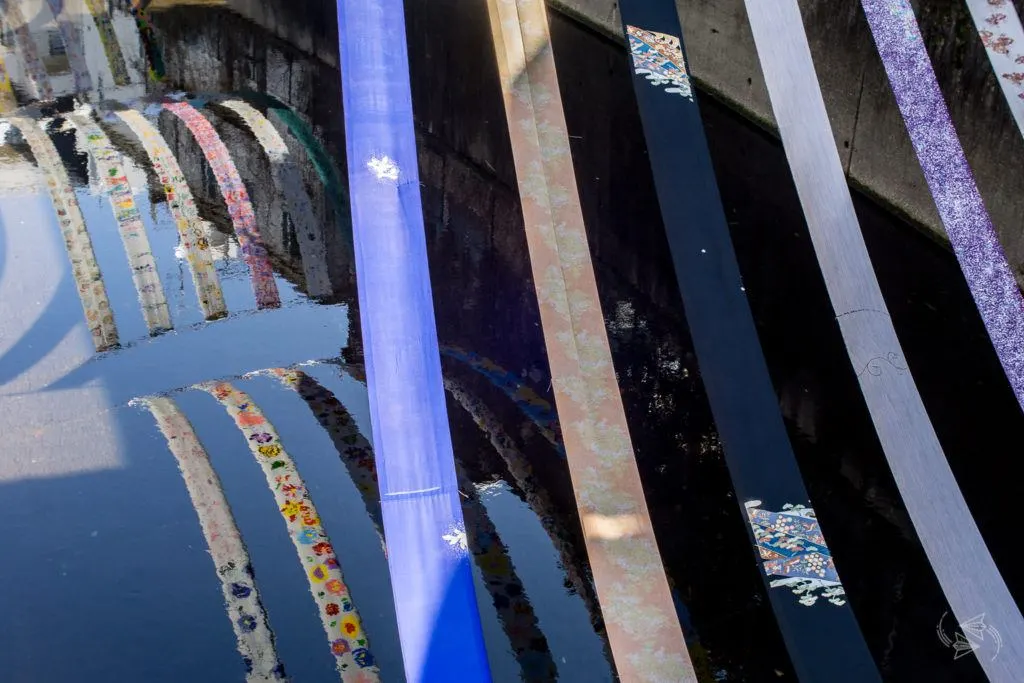 Tips: For the best view from above, head up to the bridge overpass. Come before 3pm, when the silks start getting pulled in for the evening. Although watching that part is actually quite interesting too.
The Street Gallery
In the Street Gallery you can view more than 100 noren, the slit material you often see hanging over the entrance ways to restaurants and businesses in Japan.
These are not your average noren, however. Here you can view more of the rich textile heritage of the area with designs painted free-hand, from hand-cut paper stencils, tie dye, natural plant dyes and more.
Tip: The handy free guide being handed out by local volunteers has a numbered map pointing out where you can view them around town.
Take a look at the event and some of the beautiful noren in our short 3-minute video.
Experience residential life
While only 8-10 minutes by train from downtown Shinjuku, Nakai feels worlds' away from city life.
The Some no Komichi reinvigorates this sleepy suburb and its economy with a steady stream of foot traffic. The whole neighborhood gets behind it; setting up stalls and showing visitors the richness of its old-world charm.
As this event is frequented by many kimono enthusiasts, you can also expect to see a number of people dressed up in traditional wear.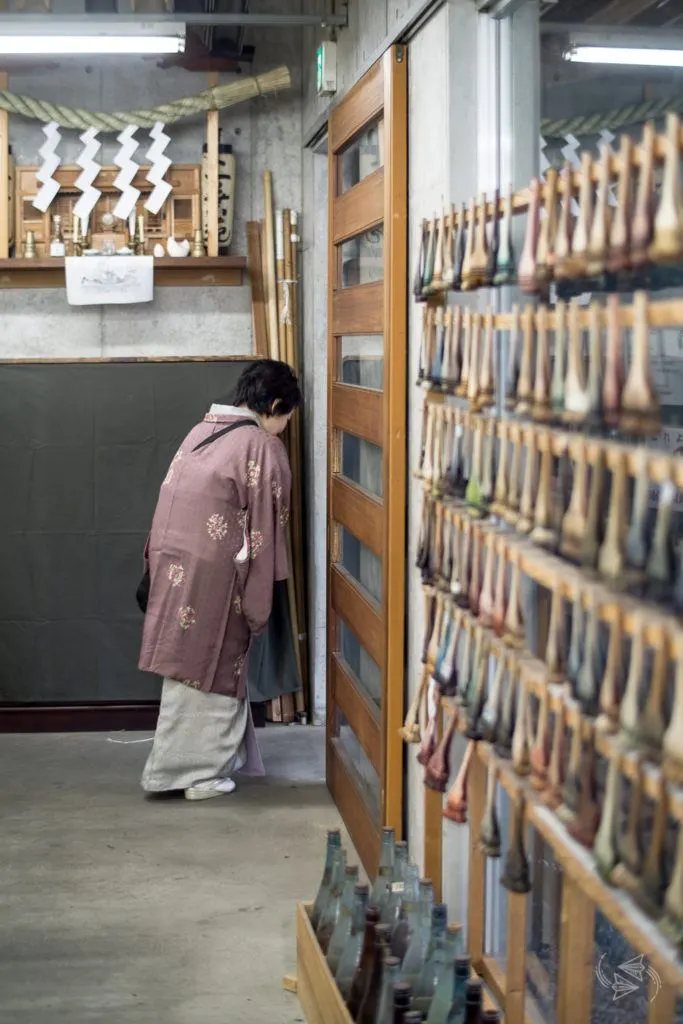 Tip: Explore the back streets to find local shops and stalls, more noren and participate in dye workshops. Check out Futaba-en for an interesting look into traditional dyes (free) and to make your own stencil postcard (500 yen).
Overall, the Some no Komichi is an easily accessible and interesting glimpse into another era and the artisans who continue to keep the area's rich traditions alive. You'll no doubt leave with an added appreciation for the skills and craftsmanship behind the fabrics and designs you see across the country.
The Some no Komichi is held in Nakai and can be accessed by the Seibu-Shinjuku line and Toei Oedo subway line. It is a free event held annually over three days in late February. This year's dates: 23-25 February 2018. Check the Some no Komichi official website for more information (Japanese only).