Until Vietnam, the town 'Trà Vinh' had just been two words that followed 'Place of birth' on Hai's passport. Usually taking care of most of the admin side of our travel, I had written those words on countless immigration cards over the years.
Although situated in the popular Mekong Delta area where floating markets are a big tourist draw card, Trà Vinh is still relatively untouched by tourism. The lady at the hostel tour desk in Ho Chi Minh City thought Hai must have mispronounced it until she realized he is of Vietnamese background, before launching into the same kinds of questions the immigration officer had at the airport. She called to organize a bus for us for the following day. By chance, the person on the other end of the line was her old friend from high school who apparently now worked for the bus company. They could do us a favor by dropping by the hostel in the morning to take us to the bus station.
The driver of this informal shuttle service was a middle-aged man with the mouth of sailor. We got in to find a Vietnamese couple already inside. We held on as the driver swerved violently in and around Ho Chi Minh's sea of traffic, not holding back on his thoughts about the apparent lack of driving skills of everyone else on the road or his prerogative to occupy every square inch of it. We jerked to a stop by the side of the road to pick up more passengers. Looking at the group waiting there, he started yelling at them to decide amongst themselves who would stay and who would go. There wasn't enough room for everybody and he didn't dance around with niceties. A couple with a baby was spared the wait and joined us in the madness of flying luggage and heart-stopping overtakes.
The driver received a phone call for more pick ups, which was answered with his usual barrage of profanities. "I don't have any more f***'n room for any more f***'n passengers! I've already got two f***'n foreigners in here!" Implying that we were already bigger than the average Vietnamese and therefore taking up far too much space.
Upon arriving at the bus station, I exchanged a smile and a "trời ơi!" (Oh my god!) with the Vietnamese couple who were also glad to be emerging alive and coincidentally were heading on the same bus to Trà Vinh. The driver went and got our tickets which we had already paid for at the hostel and pointed to the bus we should get on. Hai thanked him and told him he was crazy in a light-hearted way that one can express after the fact one's feet are firmly on the ground. The driver just started laughing because he knew it.
I wondered how Hai would feel when we reached Trà Vinh, whether he would feel a deeper sense of connection. Vietnam was always going to be more than just a visit to any country. There are few places in this world where we can have both a good understanding of language and a culture before we set foot there, despite whether we're up-to-date with current slang or the way we have come to celebrate a tradition has become influenced by another culture. There's a familiarity there that makes things comfortable, and Hai's language skills made getting around easy.
Our first look at Trà Vinh was a motorcycle ride from the bus station to the central streets. Riding down a beautiful tree-lined avenue with just a light sprinkling of traffic, it was clear we were no longer in the big city.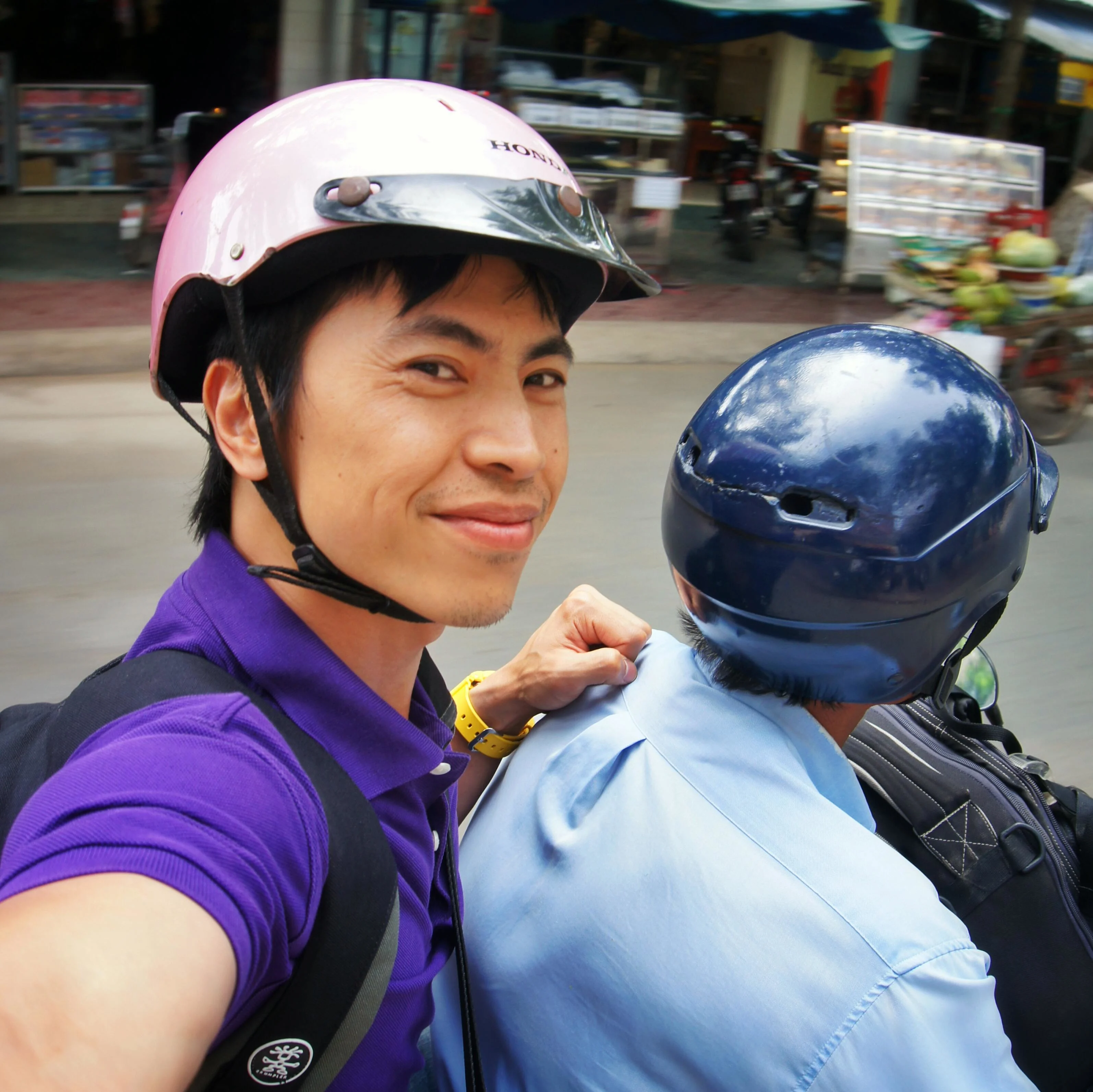 After having yet another conversation about his roots, only this time with more specific questions given that we were now in the town in question, we checked into a hotel room overlooking an interesting intersection and the market.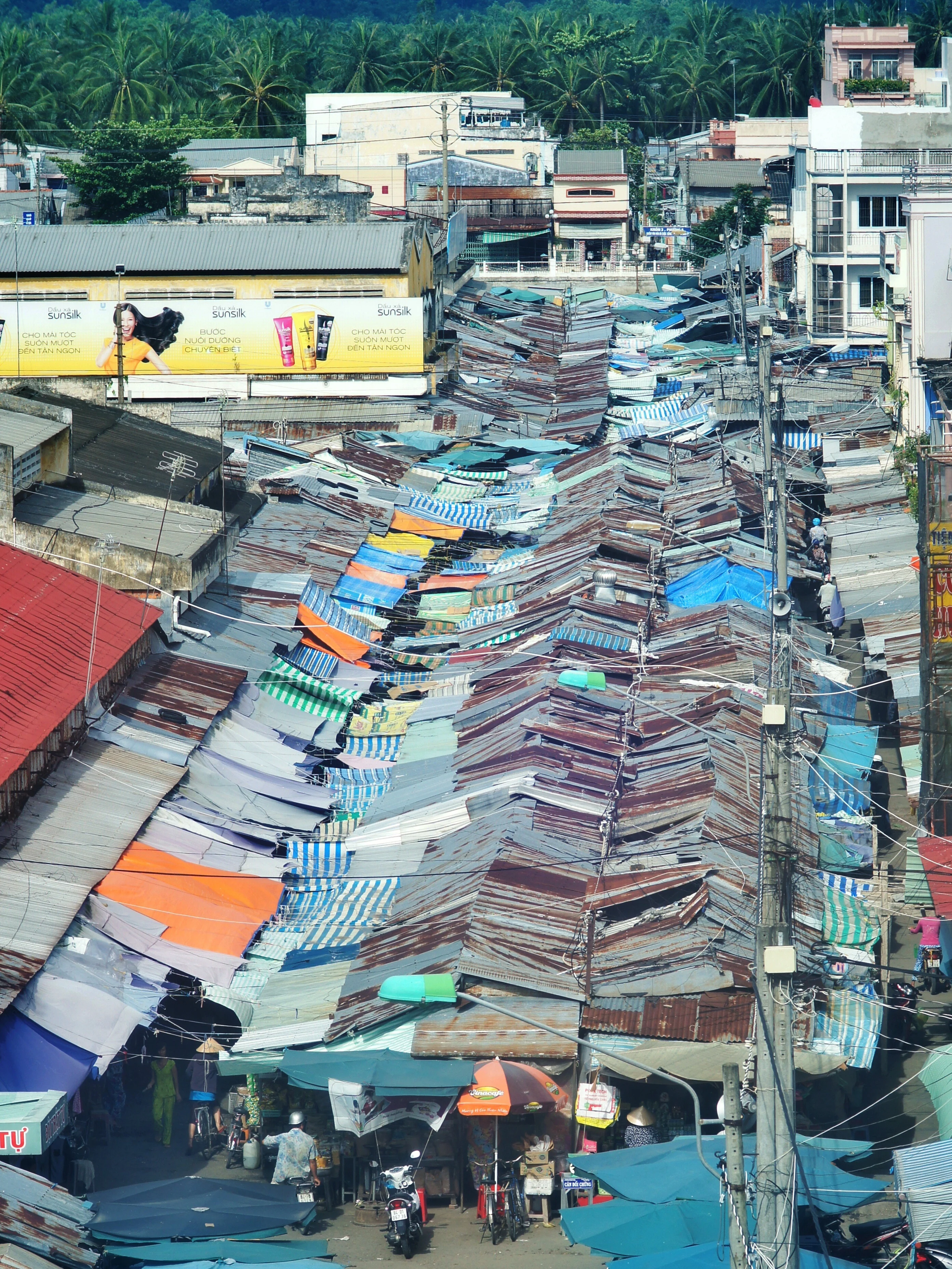 The owner was hospitable and direct – characteristics that generally come with the culture. No question was off limits on first meeting – our age, how much we earn and of course why on Earth we don't have children yet.
After spending the day wandering the streets and getting our first real Vietnamese coffee, we returned to the hotel with bánh mì thịt, Vietnamese pork rolls with pâté, salad and chili. "Where did you buy those?" the owner immediately asked as we came in. "You didn't buy it from that place over there, did you? Because their bread tastes like shit. You might as well just throw it in the bin right now and go get another one from somewhere else."
After learning where we bought them from, in a mixture of relief and surprise she said, "Oh, good. But how did you know about that place?" "We didn't actually," Hai said. "We were just walking past and lots of locals were there, so we thought it must be alright." It turns out this wasn't the place they usually frequent, but it was good all the same. Not full on one each, Hai went out to get more from their recommended stall across the way.
Walking around town, we were obviously "not from around here." When we walked into cafes, there was that momentary look of panic, but upon hearing the familiar sounds of their language, there were calls to the kitchen of "Don't worry, they speak Vietnamese!" After four years in Japan, the little Vietnamese I had acquired from study and being around Hai's family was almost gone. But I had "Two white ice coffees, please" down and it fooled more than a few people into thinking I was fluent.
People stared around town and in the market, and some were shy to speak until we initiated a conversation with a greeting or asking them about what they were selling. The fact that Hai looked and sounded Vietnamese, yet was from a completely different place and culture, and married to a non-Vietnamese woman was a recipe for utmost intrigue, and we spent many an hour in the markets answering questions about how old we are, how much we earn and why we don't have children yet.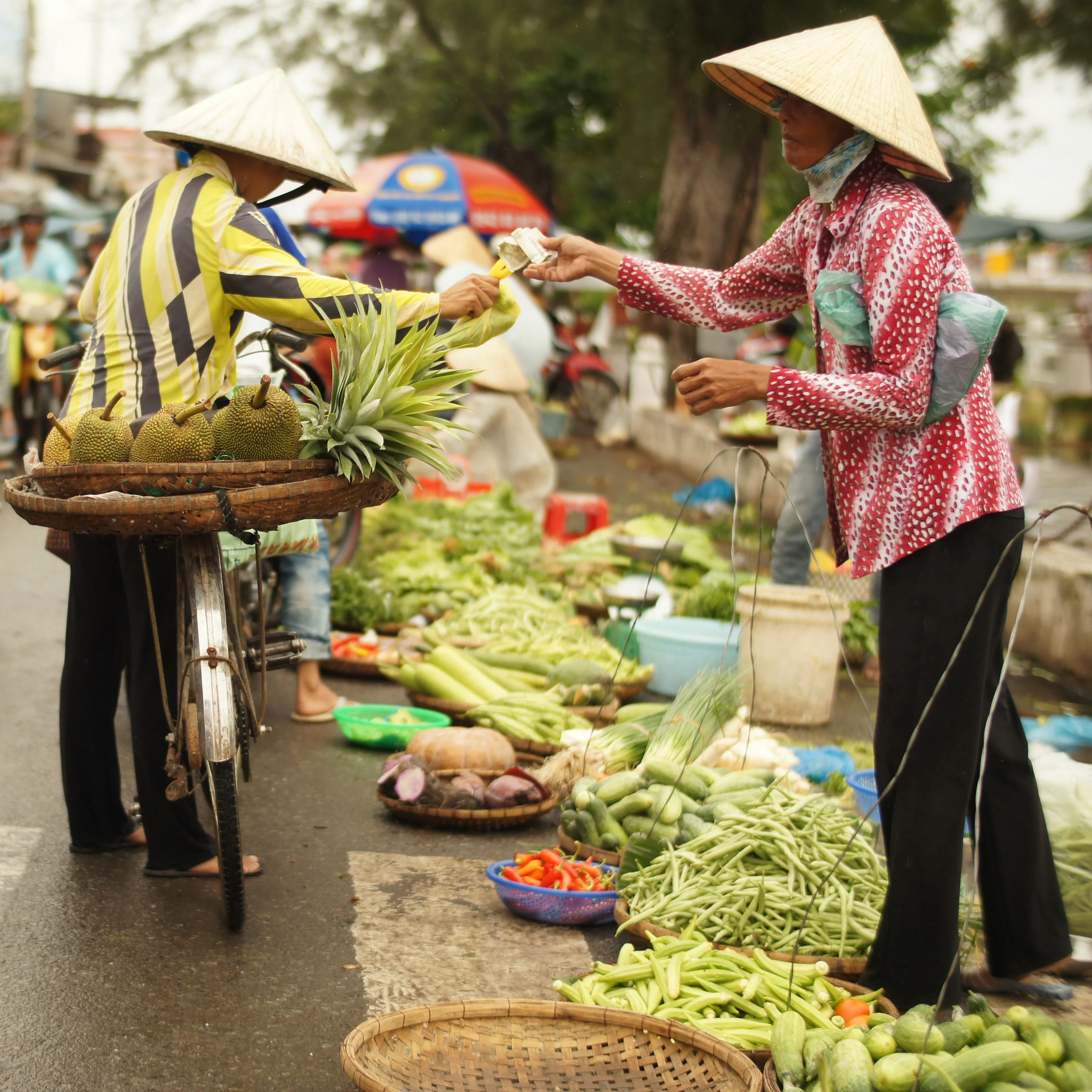 One group was particularly chatty and the younger ones were asking if it was easy to find a husband or wife in Australia and whether we could find one for them, but at the same time were too shy to pose for a photo with us. Jokingly, Hai said, "How are we supposed to find you a spouse if we don't have a picture of you?" "No, no, I'm too ugly, they can't know what I look like until after they agree to marry me!"
Nursing our first white ice coffee of the day one morning, I asked Hai the question that everyone had been so keen to know, "How do you feel about being here?" He smiled and said, "People seem to be expecting me to get all emotional about returning to the "motherland"." And it was true. The way people were asking had been with the hope of some grand tale of re-connection and the writer in me secretly hoped it to be so too.
But the reality was Hai didn't remember Trà Vinh. Having left Vietnam as an infant, there weren't any memories to get emotional about. He was seeing it as I was: for the first time. It was a trip out of curiosity rather than a burning desire to research his ancestry or find long-lost relatives.
It's like when you visit a new country and you can say, "Oh, so that's what it's like here." And after 32 years out of the country and having been to so many others, there was something nice about being able to say, "So this is where I was born." It was strange to think that his mum would have been carrying him through those very streets at a very different time and what his life would have been like if his family hadn't decided to escape post-war Vietnam in search of a better life in Australia. "I'd probably be serving you this white ice coffee worried about not being able to communicate in English." "But you still would have fallen in love with me anyway," he added cheekily. Well, I guess some things are just meant to be. :)