Exit Porte de Clignancourt metro station and start heading towards Paris' famed 'Les Puces de Saint-Ouen' flea market, and you might start getting that disappointing feeling of a wasted trip. Did I just wake up early and travel all the way to the 'burbs for this? Actually you're technically outside of Paris now, but let's not add insult to injury. With the streets lined with hawkers selling fake Louis Vuitton's and the latest "hot" items, it doesn't feel anything like the image of vintage brooches and antique jewellery you had in mind.
It has actually become a running joke amongst Parisians that if you have the unfortunate experience of being pickpocketed on the metro during the week, you can come here and buy your mobile phone back on the weekend…unlocked. In fact, it's this image that most Parisians have of the flea market so if you ask many locals about it, they'll probably wonder why in the hell you'd want to go there.
Luckily we weren't alone. With our expert guide Pierre of Discover Walks Paris by our side, he assured us that this was not what we had come for. So with strengthened resolve and the dream of golden finds on the other side, we walked the gauntlet, putting the surrounding sales pitches on mute. It wasn't all that long until things were silent in reality and we turned down a seemingly run-of-the-mill suburban street. Little did we know that beyond the façade to the right, was one of the many unassuming entry points into the world's largest flea market. If nothing makes your heart flutter more than a great secondhand find, then you'll probably want to plant a big kiss on your guide right then and there (or several, we are in France after all), firstly for ensuring you didn't scamper away at the first sign of faux-Louisville, and secondly for leading you to this hidden place. Nothing makes you feel more glad to have made the decision to go with a guide than knowing there is no way you would have found this place on our own.
In my mind I had imagined this entrance to open up to large sheds of organized stalls row on row. In reality, it was full of small walkways and alleys, a mixture of open-air stalls, glass-fronted shops and even multi-level buildings. The market covers an incredible 7 hectares containing 15 markets and 2,500 shops! With no signs or directions, we were completely reliant on Pierre to guide us.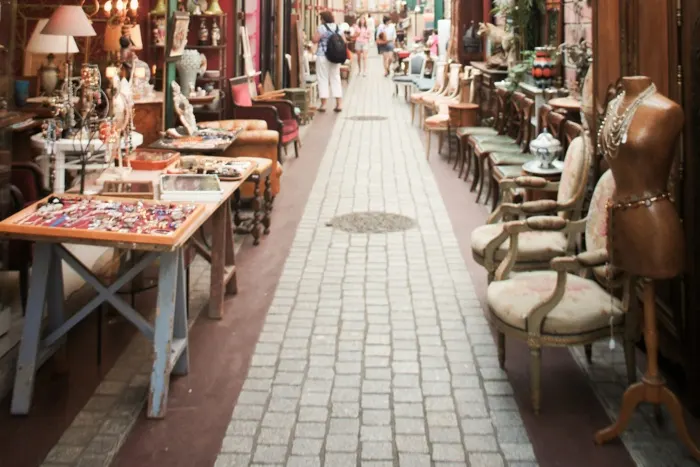 If you're serious about buying anything at the market, or just want to experience it like an insider, then you need a Pierre. He told us about the different markets, what to buy where, rules of thumb and how to negotiate. Perhaps the best part for us though was Pierre's personal anecdotes. Having had a nanny who worked at the market, Pierre had spent much of his childhood playing in and around the markets, getting to know them and the stall owners intimately.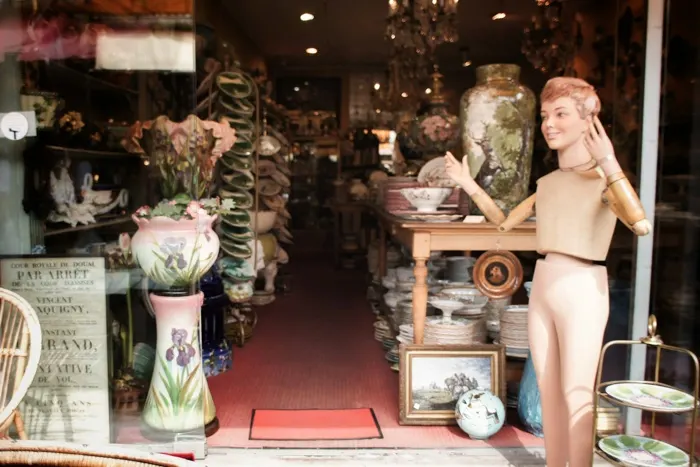 Pierre took us to some of the more interesting markets for visitors as well as a couple of his personal favourites. The small group size meant that we had no trouble hearing the guide (no need for headsets) and felt more like visiting a friend who was showing us the ins and outs of their hometown. It also meant there were lots of opportunities to ask questions and there wasn't anything that Pierre couldn't answer in depth.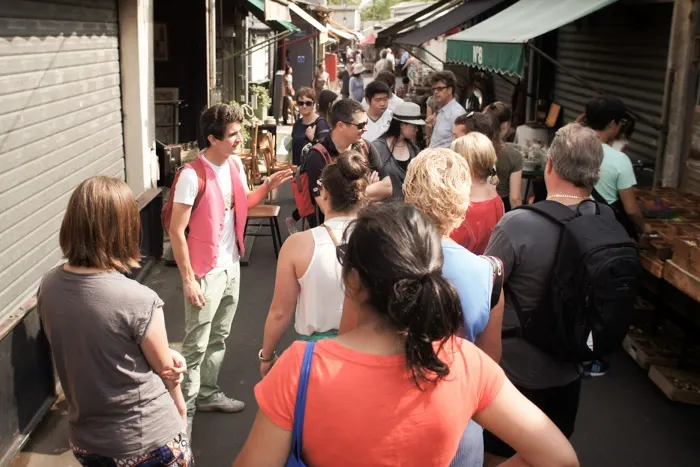 Armed with our newly acquired knowledge, we all left ready to revisit the stalls with the things that caught our eye during the tour. Some were off to negotiate some larger pieces, while we went to scour some of the more bric-a-brac items. We may not be able to acquire much while on the road, but there's nothing we love more than browsing trash and treasure for cool finds, just for the fun of it.
I spent ages looking at boxes of old postcards. Some were unused, while others had used postage stamps and even messages and addresses written in cursive script on them. My imagination went wild thinking about the stories behind some of them. I found one that had the most interesting reflective design. As I moved it in the light, the image of a woman and her ruffled skirt moved from grey to shimmering purples and blues, much like the scales of a beautiful fish in motion. Its message read, "Bon souvenir Suzanne." (Good memory Suzanne). I'm not sure whether it means it's from Suzanne or the good memory is of Suzanne. I bought it and sent it to one of our readers. Hopefully she's now enjoying conjuring up a befitting story.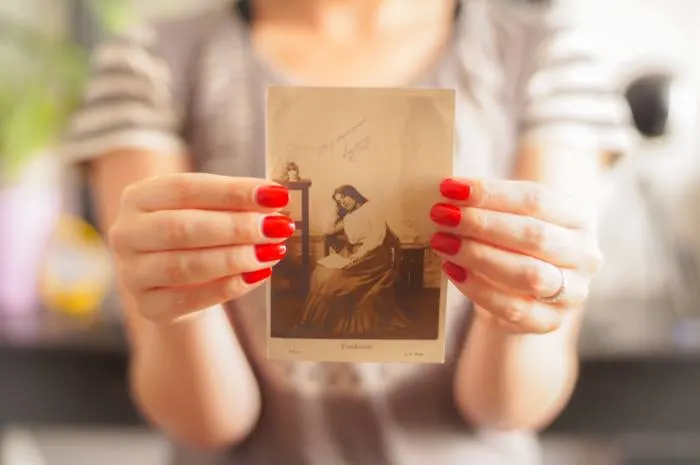 What's your take on this postcard's story?
~
Discover Walks Paris have a range of paid and tips-based tours with knowledgeable guides. This post refers to their Paris Flea Market: The Insider's Tour. Check out their website for more info.
Disclosure: We were guests of Discover Walks Paris. As always, all opinions remain our own.