If you're planning to be in Yamagata for the Flower Hat Festival this summer, you must fit in a trip to the breath-taking Okama Crater Lake.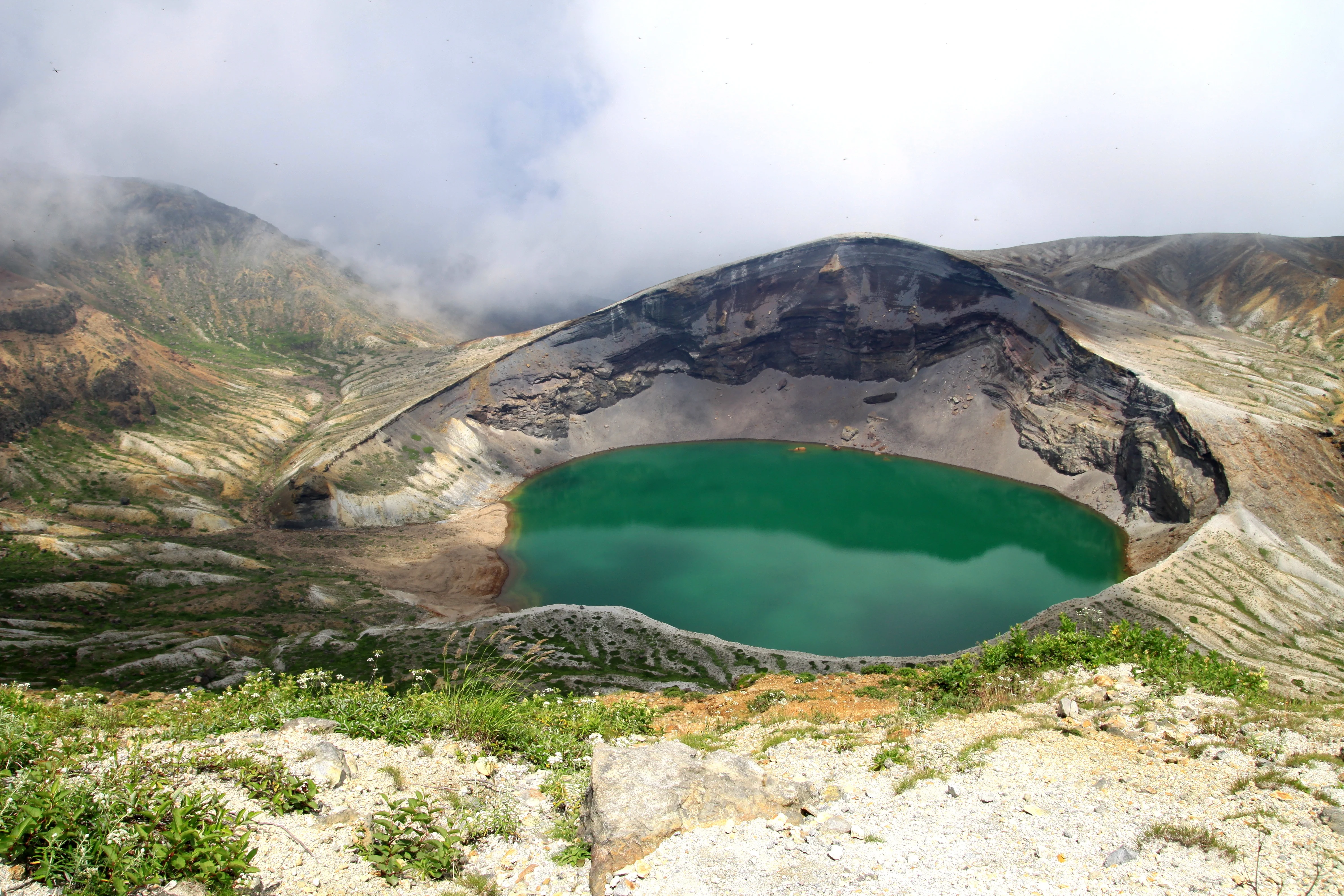 Nestled in the Zaō mountain range, a cluster of stratovolcanoes bordering Yamagata and Miyagi Prefectures, the Okama Crater Lake was formed after a volcanic eruption of Mt. Goshikidake in the 1720s. It is called "Okama" meaning "pot" or "kettle" in Japanese because of its shape. It is also known as "Goshikinuma" or the "Five-colored Lake" due to the frequent change in water color depending on the season, time of day or the angle at which it is viewed. The water is so acidic that it is uninhabitable, even by organisms.
While it is not close, about an hour and a half by car/bus from Zaō Onsen or Shiroishizao Station in Yamagata, the stunning greenish-blue hues of the water and the magnificent hiking opportunities make it well-worth the detour.
The lake can also be accessed from Zaō Onsen by the Zaō Sky Cable. One-way ¥750/Return ¥1200 (Children ¥390 and ¥600 respectively). 8:30am-5pm. Another option is the Zaō Ropeway (same price, times vary throughout the year) which will take you to Jizōsanchō Station, about an hour's walk from the lake. The Ropeway will take you over Juhyō-kōgen (Ice Monster Plateau) or you can hike between Jizōsanchō Station and Zaō Onsen. Inquire about a "Sky Hike" ticket which allows you to take either the Sky Cable or the Ropeway up and then the opposite on the return journey. Click here for more info.
The best time to view the lake is between May and October. During the colder months, the lake freezes over and Zaō becomes a mecca for winter sports lovers. The snow also brings another naturally occurring beauty, the "monsters" of the Ice Monster Plateau AKA conifer trees that have been covered and frozen with snow by Siberian winds. They are best viewed late February to early March and en masse are an amazing sight.
Here is a video we took during our visit to Okama Crater Lake. Taken in the height of summer during the Flower Hat Festival when more than a million visitors flock to this region, listen to how quiet and peaceful it is. You can even hear the insects!