Do you remember the Japanese public Wi-Fi service I told you about? For less than $5 a month and available at more than 60,000 urban locations, it's a steal!
But for the short-term traveler or sporadic Internet user, the free Wi-Fi service at Starbucks Japan might suffice your needs. And who doesn't like free?!
How to log in using social networking accounts
You can access the service on the spot using your Facebook, Google or Twitter account details.
Simply connect to at_STARBUCKS_Wi2, launch a browser and log in with your social account in the SNS section. A continuous connection is available for 1 hour. Should you wish to continue using the Internet after your time is up, all you have to do is log in again.
How to register via email
If you'd prefer not to log in via your social media accounts, pre-registration is required.
The one downside is that you need an Internet connection to be able to complete the registration process so unless you have a smartphone that already has connectivity, you can't buy your coffee and use the service then and there. This can be avoided, however, by registering before heading out for your latte.
The registration process is very simple, can be completed in seconds, and you only need to do it once.
1. Access the registration screen at: http://starbucks.wi2.co.jp and enter your email address and a password of your choice.
2. Check your inbox and a provisional registration email should be waiting for you. Open it and then click on the link provided to complete your registration.
Note that the provisional registration email only remains valid for 24 hours so be sure to follow through with Step 2 within that time period to avoid having to do Step 1 again.
How to log in via pre-registered email
Once at a Starbucks, simply connect to "at_STARBUCKS_Wi2", open a web browser and type in your log-in ID (your email address) and password into the log-in screen.
Multiple devices can be used with the same log-in but not simultaneously. If you do need to have another device logged on at the same time, however, you could easily get around this by registering another email address.
Where can I use the free Wi-Fi at Starbucks Japan service?
The service is available at stores that display this sign: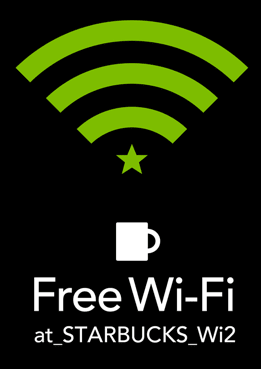 For more info about the service and which stores currently offer it, please check their website.