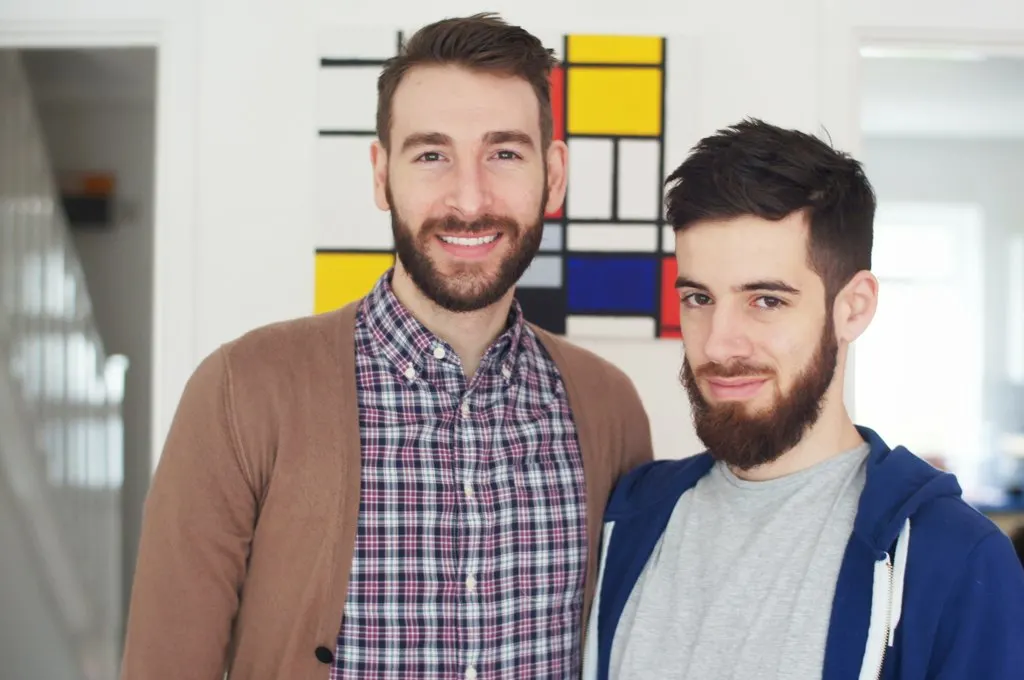 Meet Bryan and Gian Paolo, an American-Italian couple currently living in London.
Their story together began under fireworks at a rooftop 4th of July party in NYC back in 2010, a stroke of fate for the New York native and Italian visitor on three-month holiday in the Big Apple.
A few months after returning to Italy, Bryan and Gian Paolo were reunited in NYC where they lived together for 2 years until finally tying the knot in the city that brought them together in 2012. They have since travelled Eastern Europe together and now both live the expat life in London.
If that wasn't international flavour enough, even Gian Paolo's cat, Alò, has been racking up the frequent flyer miles, joining the pair from Parma for their stint in NYC, sharing time between friends back in Italy during their European travels and now calling London home.
Bryan and Gian Paolo say that their biggest takeaway from their travels and international moves is an understanding of the importance of communication, not only for sustaining a healthy relationship but for what you can learn from another person. Bryan says, "The amount you can learn about someone else simply by taking the time to talk to them reveals the true wonder of life. People are what have survived the test of time. Buildings come and go, even grand structures like the pyramids of Ancient Egypt, but people have always been here, and they are truly what make travelling and–most importantly–living life the wonderful experience it is."
We met Bryan and Gian Paolo as they were moving into their new London abode, creating a garden paradise in the backyard with Alò and the latest addition to their little family, Trouble, who enjoys living up to her name.
Here's what Bryan and Gian Paolo had to say about their lives and travel.
1. Where are you now and what are you doing?
Bryan: Living in London, and loving it! It was our destination city after travelling for a few months throughout Eastern Europe, and we've been here for 2 years already.
Gian Paolo: I'm on a bus towards Ikea to buy some stuff for this weekend's housewarming party. In London, yes.
2. How heavy was your baggage at last check-in?
Bryan: Just over the limit of 23 kilos!
Gian Paolo: Way too heavy. Living in NYC, a bit of the pressure to pay a lot of attention to what one wears brushed off on me, so I packed way more stuff than was necessary, and I didn't consider that a lot of cheap and fantastic things (like old soviet cameras) would have been abundant, and tempting, along the way.
3. Apart from your passport, what item can you not travel without?
Bryan: My iPhone. Between the maps function, local public transit apps and the ability to always have access to my favourite books, I don't think it ever leaves my hand when I'm on the go travelling.
Gian Paolo: My old Yashika. It belonged to Bryan's grandfather and it has a very funky, large embroidered strap; I feel like I am in a road trip movie, carefree and sunny and warm. And pen and paper, it's nice to draw your itinerary and doodle stuff when you're having a beer and watching people go by.
4. What was the first foreign country you ever travelled to?
Bryan: Vienna, Austria. It was magical.
Gian Paolo: I think it was Austria too, with my family. But I remember very little of it. The first foreign place I willingly travelled to was, surprise surprise, London, like, a thousand years ago.
5. What has been your favourite destination to date?
Bryan: Prague–it reminded me of a fairytale land.
Gian Paolo: I would say each trip I take to a new place becomes my favourite destination when I'm there. There have been a few times where I decided to travel but wasn't really in the frame of mind to do so, and so I wasn't as present as I would like to be, but it's this contrast that provides the receptive mindset that allows me to fully feel and appreciate new destinations, making a new favourite one each time. I find myself never wanting to leave, and I want to bring all my life, friends and cats there.
6. Preferred accommodation: Hotel? Hostel? Randoms' couch? Other?
Bryan: Randoms' couch! We're both big couchsurfers, and always make a point to get to experience a city from the inside-out, through the locals, by going to their favourite spots and really viewing a city like a person.
Gian Paolo: I like to experience the places I visit for what they really are. Sleeping in a hotel is a non-start in this sense, so couches (and floors and hammocks and beds every now and then) are my preference. It gets a bit crazy sometimes, like a loft in NYC where the sweetest naturist man would usually host 10 people at the same time, or when I slept in an unfinished basement in Marrakech where we were stealing electricity from a street lamp.
7. Given an unlimited budget, where would you most like to go?
Bryan: I think Asia and South America would top our no-boundaries travel list.
Gian Paolo: Anywhere, really. But I would make it a really long trip, and bring my friends with me.
8. What do you most like about travel?
Bryan: I love the challenge of experiencing a new environment, complete with the new culture, customs, traditions, foods, languages, etc. that come with it. When I travel, I love the sense of being able to act in new ways that define the cultures of the people who live in each destination, and I always end up taking a few of those things with me when I move on.
Gian Paolo: I like how, no matter what you think you are looking for in the trip, you end up finding yourself a little bit more. It's not all pretty, mind you. Sometimes what you realise is real unpleasant to swallow, and you have to learn to lose while not losing the lesson.
9. What do you most dislike about travel?
Bryan: The cost. Even though travel can be done quite inexpensively nowadays, it can really eat through your wallet. I think basic travel should be made inexpensive–if more people from different cultures were allowed to meet and mingle with each other, I think the world would, overall, be a better place.
Gian Paolo: Meeting new people, getting real close real fast and fitting great in one another's lives, and then having to say goodbye, knowing that it might be years before you meet again.
10. What is your most memorable travel experience?
Bryan: The first time I couchsurfed, being welcomed by our hosts in Bucharest as if we were old friends. The friendship we formed showed me a wonderfully bright, beautiful side of people.
Gian Paolo: The trip through Eastern Europe we took in 2012, it changed me (and Bryan, and us as a couple) and made me grow a lot.
Read more of Bryan's musings on his blog, The Gilded Tongue.