Coming of Age Day in Japan or Seijin no Hi (成人の日) is an important Japanese holiday held annually in January each year marking the rite of passage into adulthood for 20-year-olds.

Japan's Coming of Age Day, a national holiday, celebrates young people becoming legal adults, entering society with new freedoms that come with adulthood as well as the responsibilities that come along with that.

While previously you had to have already turned 20 in the past year to participate, it is now common practice to count the year from April 2nd of the previous year until April 1st of the current one, coinciding with the Japanese school year. This means that everyone in the same school year can participate in this coming of age ritual together, despite some still being technically only nineteen at the time.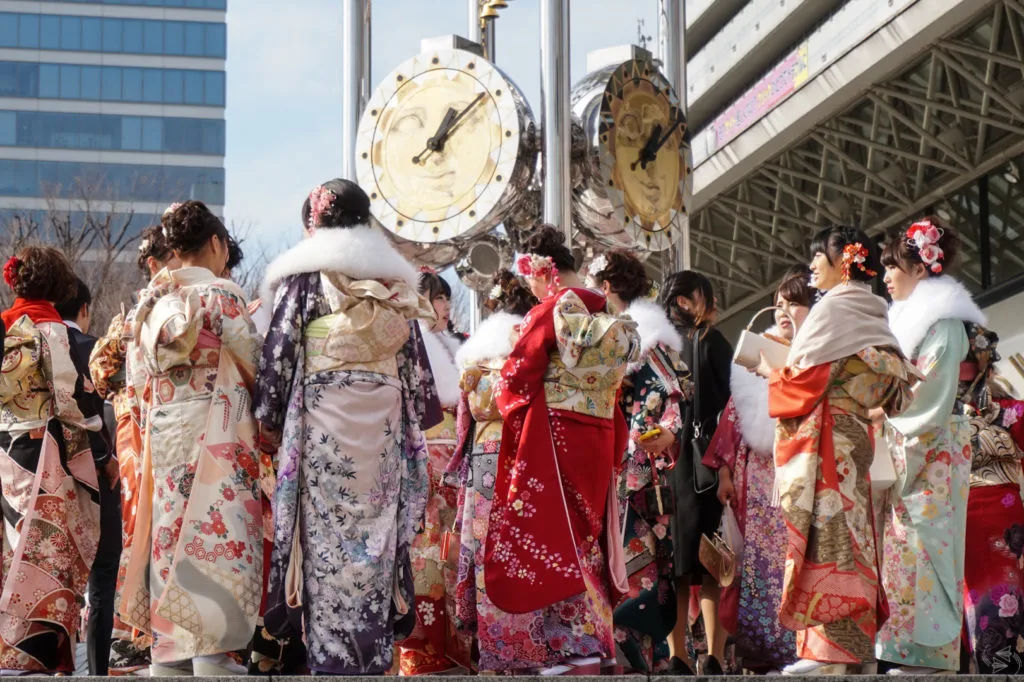 When is Seijin no Hi celebrated in Japan?
While Coming of Age Day can be traced back to the Edo period (and rituals related to rites of passage into adulthood even further before that), it didn't become a national holiday until 1948.
The holiday was originally celebrated on January 15th, but in the year 2000 was changed to the second Monday of January.
What happens on Japanese Coming of Age Day?
On Seijin no Hi, Coming of Age ceremonies are held en masse at local city offices across the country. While the exact timing is different from city to city, ceremonies are usually not held earlier than late morning, as time is required for the young people to get ready.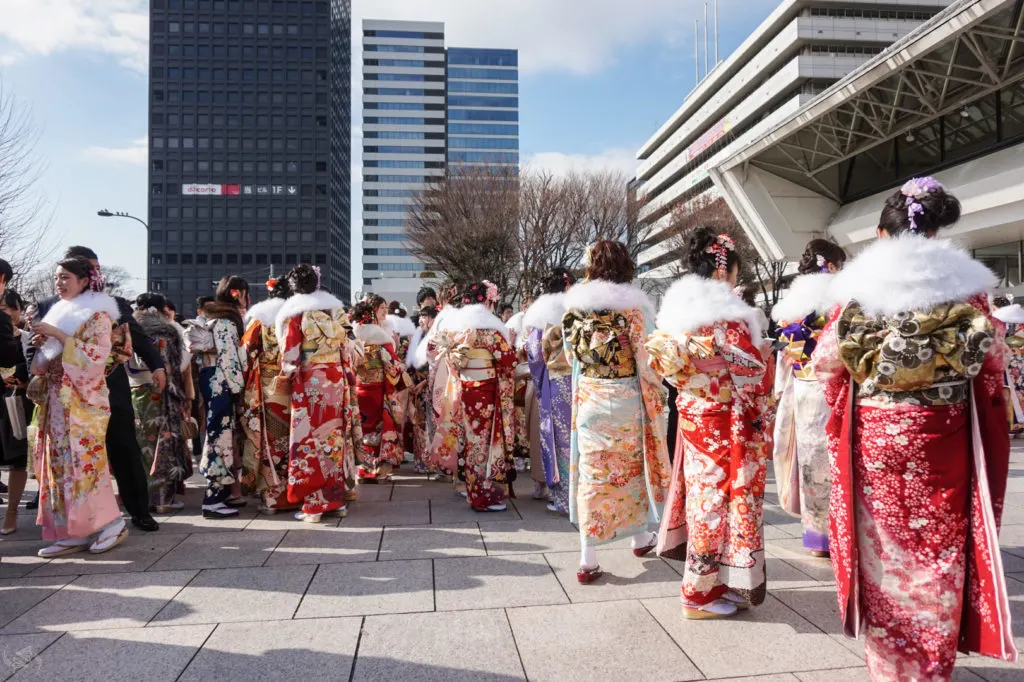 Coming of Age Day is a very busy day for kimono stylists and formal wear rental businesses, hairstylists, make-up artists and photographers. Akin to a prom, debutante ball or graduation, young women especially will usually spend several hours getting their hair and makeup done, and being fitted into formal kimono.

Outside ceremony locations, you can see throngs of young people dressed up in formal attire for the occasion, taking photos with friends also participating in the occasion, as well as with their families.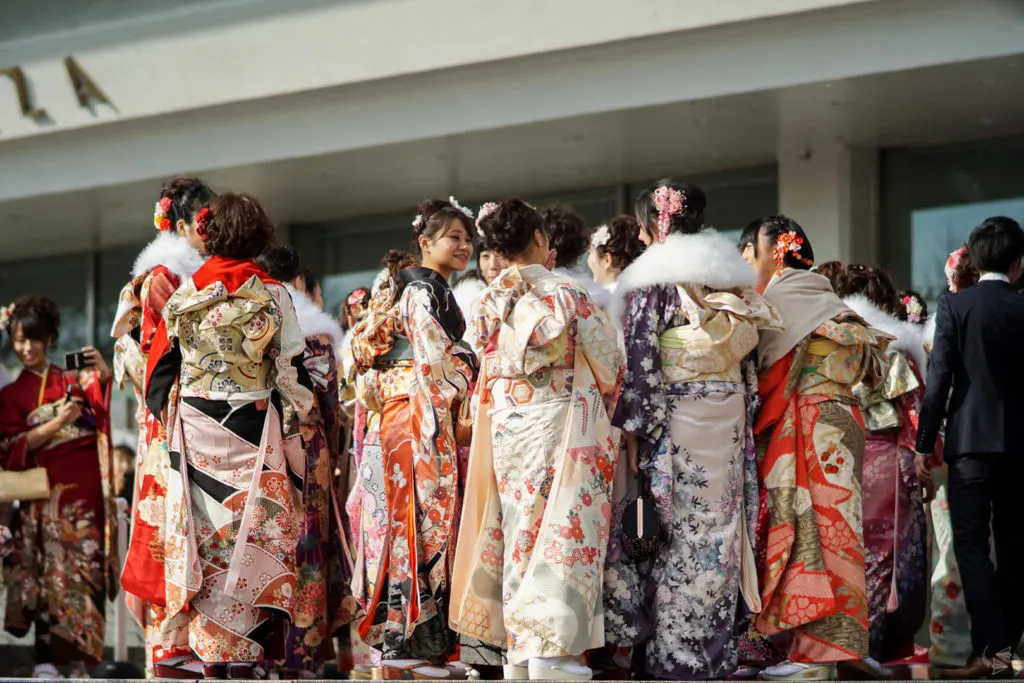 The ceremony itself is usually only attended by the young people themselves, which basically involves formal speeches congratulating them and encouraging them to fulfill their new-found responsibilities and become self-reliant members of society.
The ceremony is traditionally followed by a visit to a shrine. Then, with the formalities out of the way, the youngsters usually kick on at after-parties and drinking sessions with friends.
What is worn on Japanese Coming of Age Day?
Coming of Age Day in Japan is an important rite of passage and hence a great deal of effort is put into the attire and styling for the occasion.

Women usually don a special type of kimono called a furisode, distinguishable by its long hanging sleeves. Furisode may not be worn until a woman reaches adulthood so Coming of Age Day marks the first time young women can wear this garment.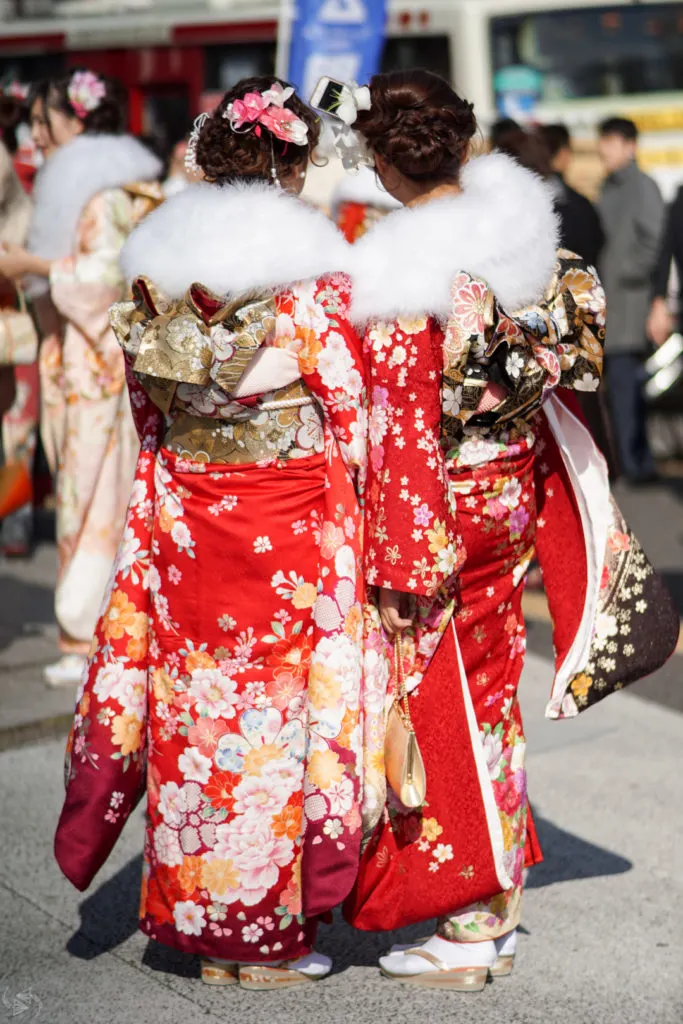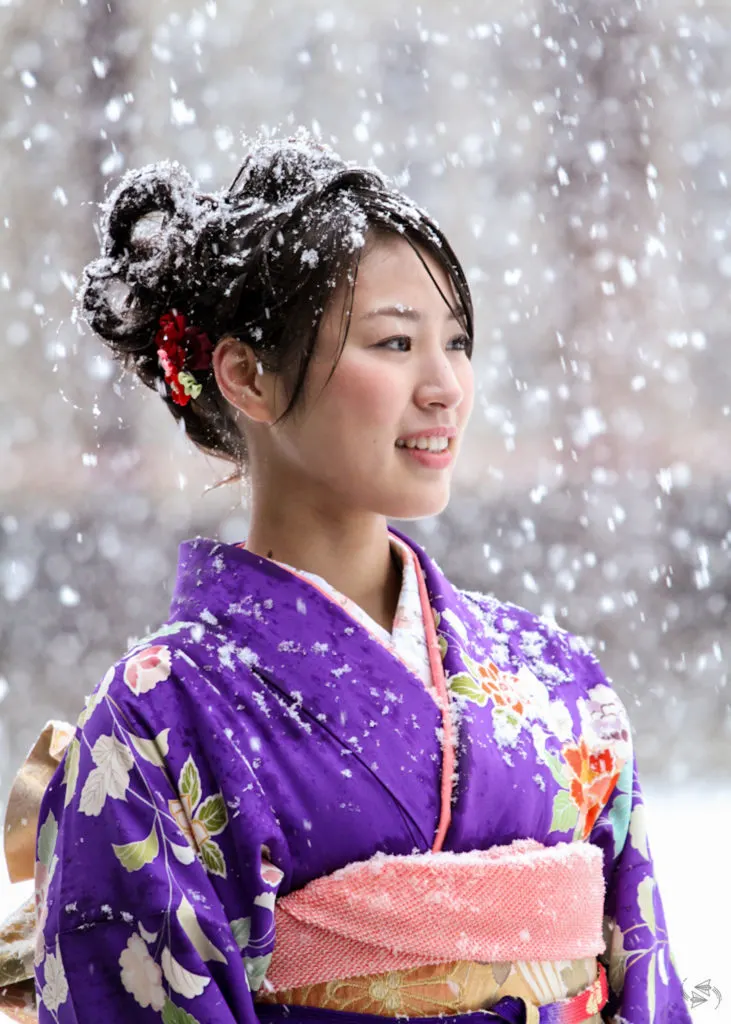 Wearing the furisode traditionally signifies that she is of legal age and available for marriage. It is the most formal kimono for single women and is usually worn when attending weddings or participating in tea ceremonies. The "swinging sleeves" are said to either dispel evil spirits or allure male suitors. The furisode may not be worn after wedlock.

Furisode are extremely expensive and can cost up to around 2 million yen (approximately US$20,000). Given the high cost of this elaborate outfit, many women choose to rent them. However, even a rental furisode costs between 200,000 and 300,000 yen, roughly US$2,000-3,000, making the cost of participating in the day no small expense.

There are many businesses that offer furisode kimono rental and accessories, hair and make-up, as well as photography packages specifically for Seijin no Hi.

The outfit includes beautiful hair accessories such as flowers and clips, a bag for carrying small personal items and wooden gehta sandals with split-toed socks called tabi. As Coming of Age Day is celebrated in winter, a shawl or stole is often worn over the shoulders for added warmth and flair. By far the most popular style is a white fur or feathered stole.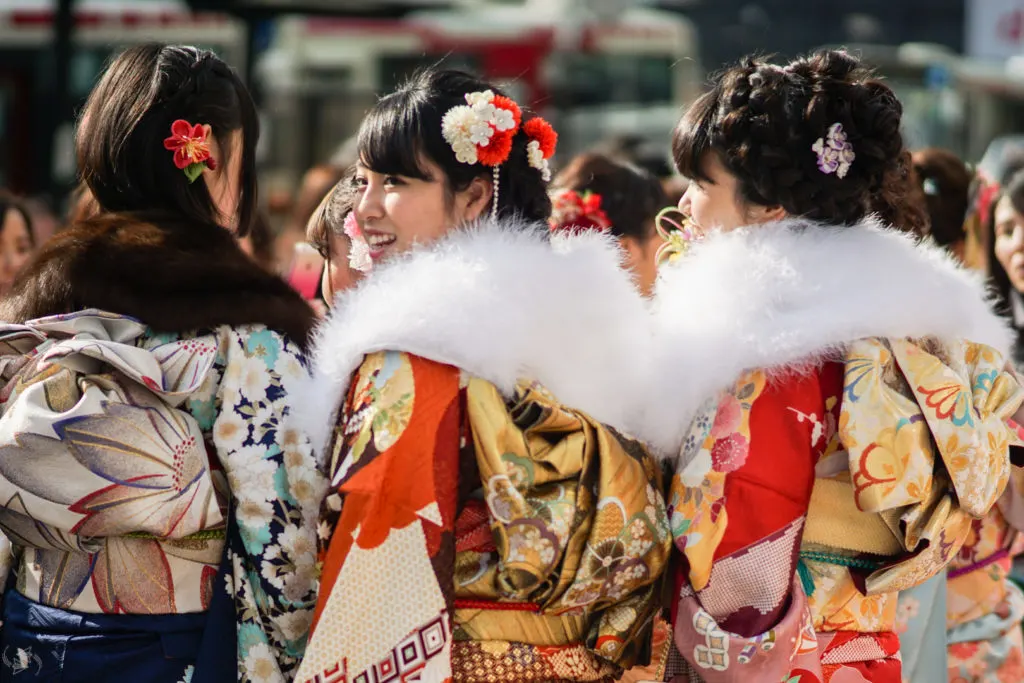 If young women do purchase a furisode or, if they are lucky enough, have been given one as a gift, it can be re-used after marriage by having the sleeves cut shorter to become a tomesode, a kimono worn by married women.

Tomesode means "to stay/remain" + "sleeves" and is said to signify the woman staying with her husband. The cut material, usually exquisite and colorful silk, can be recycled into such things as fancy cushion covers.
Some men continue to wear the traditional hakama, but most now opt for a Western-style suit.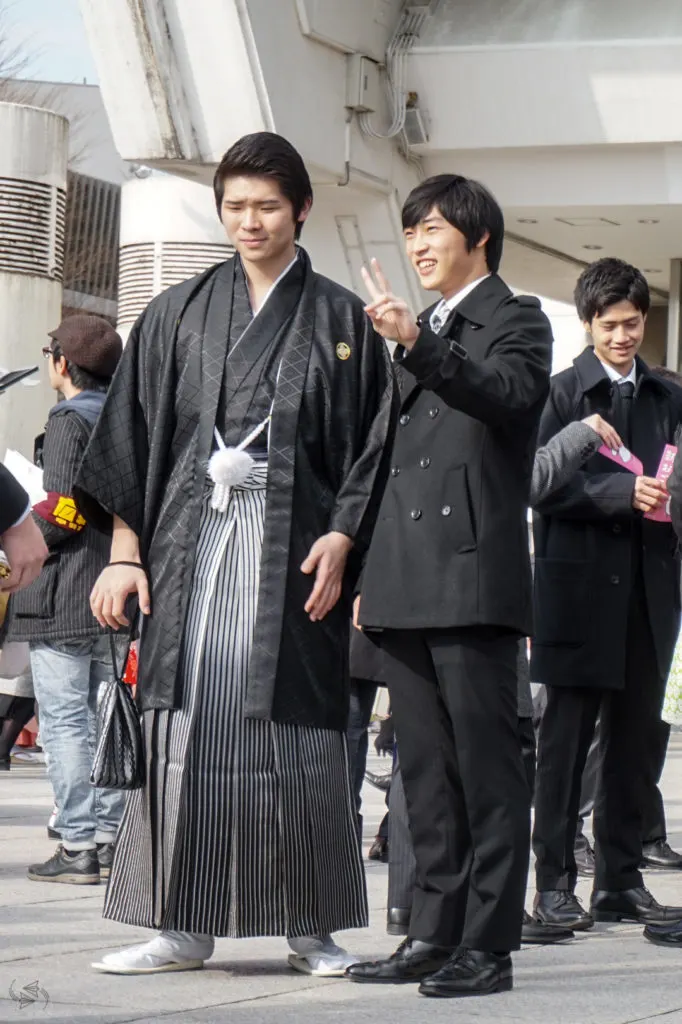 Changes to the law regarding Age of adulthood in Japan
The age at which young people in Japan became legal adults used to be quite simple: it was 20 years of age to vote, drink, smoke, and to marry without parental consent. However, changes to the law in recent years have meant that it's no longer twenty across the board.

In 2016, the age to vote in elections was lowered to 18, and in 2018 this was extended to include referendums as well. The move was made in a bid to increase civic participation and engage young people in the political process.

In 2018, a bill was passed lowering the age of adulthood to eighteen. It's the first time Japan's age of adulthood has been changed since it was set in 1876.

This means that from 1 April 2022 when the bill comes into effect, 18-year-olds will be able to take out credit cards and loans, apply for a passport valid for 10 years rather than five, and marry without consent.

Previously women could marry at 16 and men at 18, provided they had parental consent, otherwise they had to be twenty. But the revised Civil Code means that the age at which a woman can marry has been raised, and now both men and women can choose to marry at 18 if they wish, neither requiring parental consent.

The changes, however, do not extend to smoking, drinking and gambling, which stay fixed at 20, due to health concerns.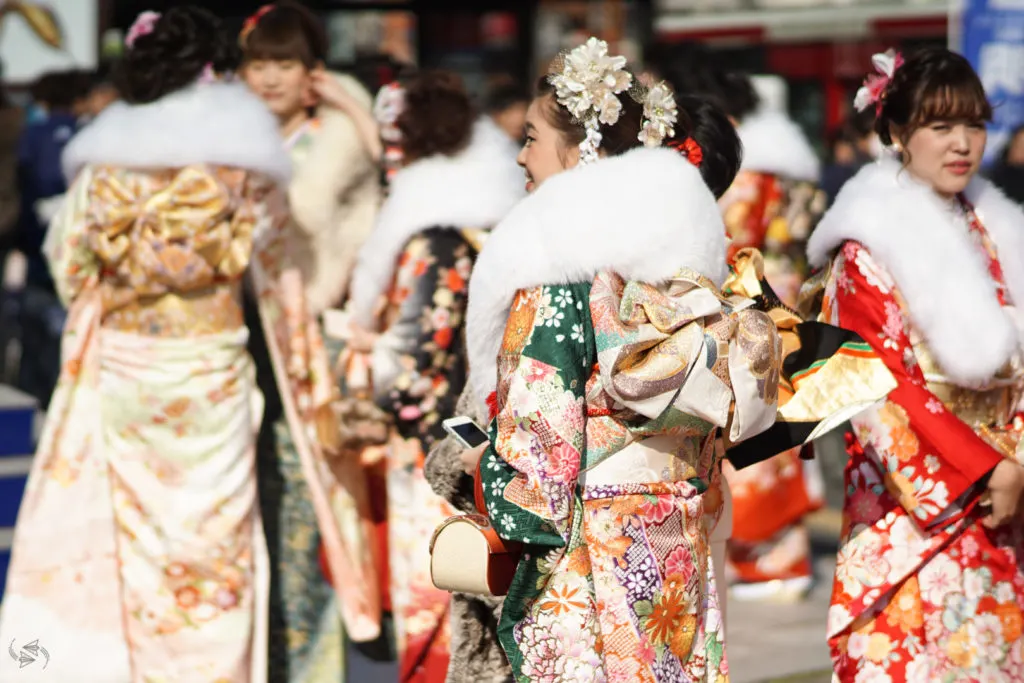 Can vote but can't drink? Will Seijin no Hi be celebrated at 18 now?
The changes to the age of adulthood in Japan and the fact that there are now different ages for different freedoms has called into question the logic of the revisions. Many younger people have taken to Twitter to question why they can vote, marry or get into debt, but can't drink.

There is also the big question of what happens to Coming of Age Day if young people are deemed adults at 18, rather than 20. Some Japanese people have pointed out that January is peak university entrance exam season, making Seijin no Hi at that time very impractical.

There is also the added cost-pressure, especially for young women requiring a furisode kimono, which, even if rented, is a near impossibility for students not yet out of high school to fund themselves, and an added burden for parents whose children plan on further education, as they usually foot the bill for university and need to pay the often quite hefty first sum to secure their spot following their entrance examinations at around the same time.

In addition, the rite of passage of going out to an izakaya or other drinking establishment and being able to legally drink, is a big part of current celebrations, which wouldn't be possible if Coming of Age Day in Japan was changed to a celebration of 18-year-olds.

As the law will not take effect until April 2022, Japan's Coming of Age Day won't be affected until 2023. That said, there is currently no official talk of lowering the age for participation in the day, and for now it looks like the tradition of celebrating 20-year-olds entering society with all rights and responsibilities will continue, at least for now.

Have you experienced Coming of Age Day in Japan? Do you have Coming of Age celebrations in your country or culture?

Interested in reading more about Japanese culture? Check out:
Japan's Rock Paper Scissors: How 'Janken' Rules Life in Japan
Japanese Dates: How to Read a Japanese Calendar
Fugu Fish: The Poisonous Japanese Puffer Fish you can buy online