Dubbed as the "Kingdom of Butterflies" by British naturalist Alfred Russel Wallace during his exploration of the area in 1957, Bantimurung Bulusaraung National Park has become a symbol of beauty and tranquility on Indonesia's Sulawesi island.
Just 50km from the island's southern capital of Makassar, and even closer to the city's international airport, it has long been established as a popular holiday destination for tourists and locals alike.
The national park covers 43,750 hectares and holds the claim to the second largest karst area in the world (karst refers to a type of geological formation that is shaped by the dissolution of soluble bedrock). It has a total of 286 caves with some dating back to pre-historic times. Visitors can view stalactites and stalagmites by heading into the one-kilometer long Gua Mimpi (Dream Caves) to the right of the waterfall or taking a short walk accessible from the stairs to the left of the falls to Gua Batu (Stone Caves). Save yourself the 15 rupiah rental fee by bringing your own flashlight.
The Bantimurung Waterfall at 15 meters high and 20 across is one of the major attractions of the park. The raging falls are not only impressive to look at but are a popular spot for beating the humidity, with some choosing to embrace the natural shower by leaning right up against it, while others find a calmer rock for less of a soaking, and many more enjoy countless hours of fun tubing down the small section of rapids. Large tubes can be rented for 15 rupiah and small ones for 10.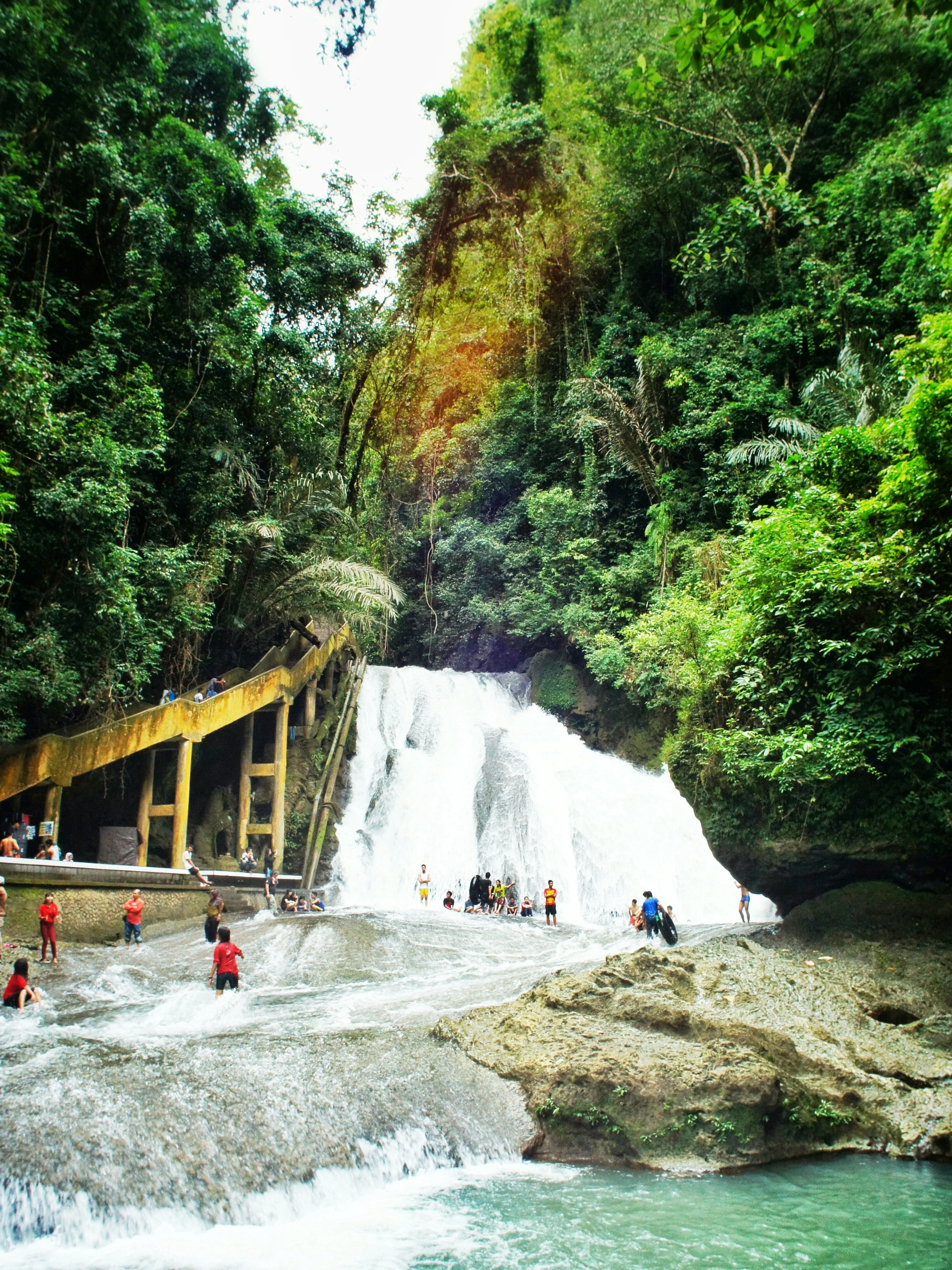 For those wanting a swim without so much excitement, other parts of the water park, including a man-made area for children, provide a calmer dip. The water itself is said to contain properties that aid in curing various illnesses.
While the waterfall is definitely a point of interest, unfortunately what made the park so famous, the butterflies, are a sad thing of the past. Gone are the heydays of hundreds of colorful butterflies fluttering around you, as many a local described to us as fond memories of childhood visits to the park.
When Wallace conducted his exploration in the late 1950's, he documented 256 different butterfly species. Sadly, by the 1970's this number was already in major decline and the butterfly population of Bantimurung is now basically non-existent in an unfortunate collapse into the hands of tourism. They are caught for the making of souvenirs that you can see lining the entrance to the park, mostly pinned butterflies in frames and accessories. Not only are they a cruel homage to the beauty that once could be found alive and thriving in the park, but are also a bizarre souvenir choice when they are meaningless as a reminder of what you actually saw there.
After glimpsing just two small butterflies during our entire visit, we had faint hopes that perhaps the Butterfly Museum (to the right just after you enter the park) would be providing somewhat of a sanctuary and area for rehabilitation. However, sadly it too is just in reverence to the butterflies that once were. The tiny enclosure that supposedly does house live butterflies is a sorry sight with as many as you can count on one hand.
Bantimurung Bulusaraung National Park itself is located in a beautiful setting. You can imagine what it would have been like in the early years, an oasis from the searing heat dotted with almost magical flying color. And while the waterfall is still quite a sight to behold, this attraction has to get a thumbs down for conservation. Another natural beauty mis-managed to its own demise.
~
What: Bantimurung Bulusaraung National Park.
Entry: Park – 50 rupiah for tourists, 15 rupiah for locals. Butterfly Museum – 5 rupiah.
What to bring: Flashlight for cave exploration and change of clothes/towel should you wish to swim. Note: most people cover up when swimming here so better to wear some clothes you don't mind getting wet rather than a swim suit.
How to get there: Local mini-bus known as "pete-pete" (pictured below) can get you there with several transfers from Makassar. Travel time: around 3 hours. An adventure with friendly locals. Just expect a long and hot journey. Alternatively, we're told a taxi can get you there in around half the time or in just 30 minutes from Hasanuddin International Airport.