So by now you probably know how much re-building Japan's Tohoku region after the earthquake, tsunami and nuclear disasters of 2011 means to us. If you're new to this website, you can check out our stories from the disaster area here.
Through volunteering in Ishinomaki, one of the towns hard-hit by the disasters, we have met so many amazing and inspiring people. Today I'd like to introduce you to one of them: Hashimoto mama.
Hashimoto mama is an Ishinomaki local who first met a group of volunteers in April 2011 when she was helping to clean up a friend's house of tsunami sludge. Feeling a sense of gratitude to those who came to help, she cut them up some oranges and served some instant coffee as a thank you, all that she had available to her in those early stages after the disaster.
When they returned each day, she continued to provide them with sustenance as best she could. This was the beginning of what would become a remarkable story of a generous and inspiring woman and her husband, who used their life savings to serve thousands of hot meals for volunteers, seven days a week for a whole six months from that initial meeting.
Their house became not only a base for volunteers to store their tools and eat, but a home away from home, and Hashimoto herself a mother figure for volunteers who fondly refer to her as Hashimoto mama.
Despite resource limitations like lack of electricity, a stove and ingredients in general, it was not just any food she created. It was warm, nutritious and of such high quality one might mistakenly feel they have landed in a fancy restaurant. And there was plenty of it too. Like a typical mother, she would scold anyone she thought hadn't eaten enough. "Eat up!" There is no such thing as a single helping under her roof!
Her food became the highlight of the day for volunteers who worked extra hard to earn the amazing feast that always awaited them at Hashimoto mama's place. Such a blessing when most volunteers were surviving on what little nutrition there was in convenience store food and energy drinks.
There are a million inspiring stories and anecdotes that could be included here, but I have deliberately kept this post brief. Not because I don't want to say more, but because I want to leave some mystery for the book! Yes, that's right! Hashimoto mama's most-loved recipes can now be shared with the world in the recently released "Hashimoto's Tohoku Recipes" (石巻ボランティアハウスの橋本ごはん)!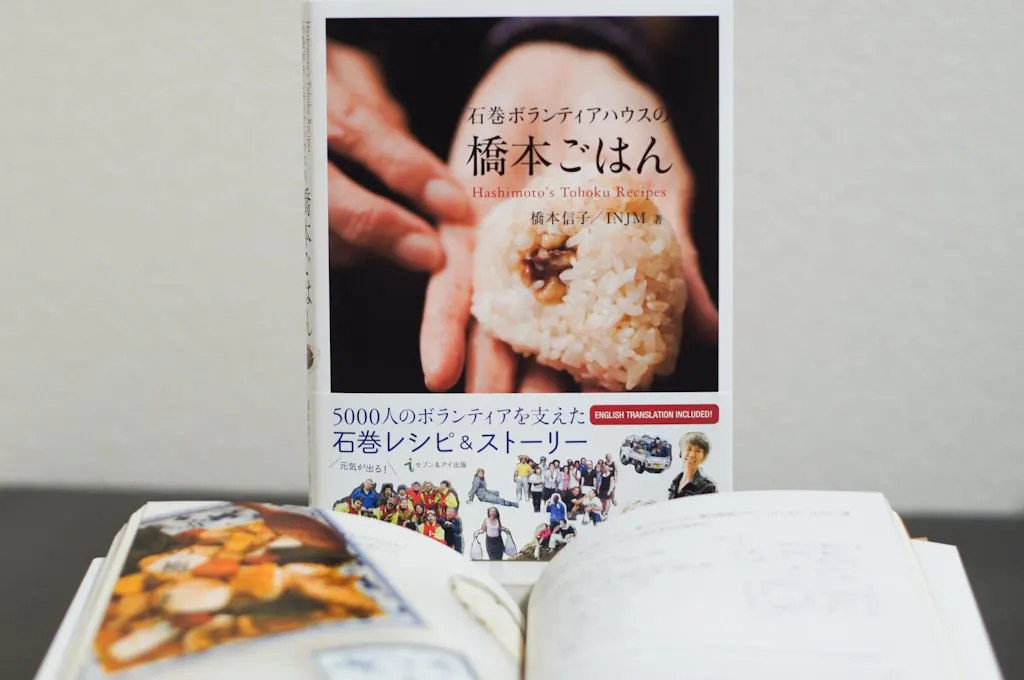 This book is the culmination of some of the most memorable dishes for volunteers, including the top two picks: her beef tongue stew and abura-fu rice bowl! In the book, you can learn exactly how she makes her unique style of Japanese home cooking, and bring some of that "Hashimoto magic" to your own dinner table.
This is not just a recipe book, however. Included is an interview with Hashimoto mama herself which delves far more into her story, from how she got involved with the volunteers to the day of the tsunami itself, as well as a number of quite extensive volunteer accounts. Whether you are into cooking or not, the book is worth getting just to read those personal stories. Sure, the English translation isn't perfect, but it is raw, beautiful and real, and guaranteed there isn't another book around like it.
Hashimoto's Tohoku Recipes is available for purchase from Amazon Japan for ¥1680 with free domestic shipping. If you live internationally and would like to avoid paying the costly international shipping fee, please get in contact with us and we can give you the details of an alternative way to purchase at a lower cost directly from It's Not Just Mud, the volunteer group who collaborated with Hashimoto mama on the book and whose volunteers enjoyed so much of her warmth and hospitality.
It's difficult to be able to express in words the huge spirit that Hashimoto mama embodies. You get a sense of her boundless energy the very first time you meet her. Ever humble, always claiming she doesn't do anything "special" despite her tireless efforts, she always puts others before herself. Hashimoto mama doesn't care who you are, where you're from or what language you speak. To her, you are you. Let's share a meal around the dinner table together. I guess that's what mother's do best.
In celebration of the launch of this special publication, we'd like to give away a copy to one of our readers signed personally by Hashimoto mama herself! For your chance to win, all you have to do is leave a short comment on this post by Friday, 15 March 2013.
Please be sure to leave your email address in the space provided so we can get in contact with you should you win (viewable only to us and held securely for the sole purpose of contacting the winner). If you are under the age of 18, please get your parents' permission before entering. We'll be selecting the winner at random. This giveaway is open internationally.
Thank you and good luck!