If you're heading to Japan for cherry blossom season, you're no doubt wanting to plan some time in your itinerary to enjoy them. This is a list of some of the best and most popular places to view cherry blossoms in Tokyo and enjoy hanami or cherry blossom viewing parties.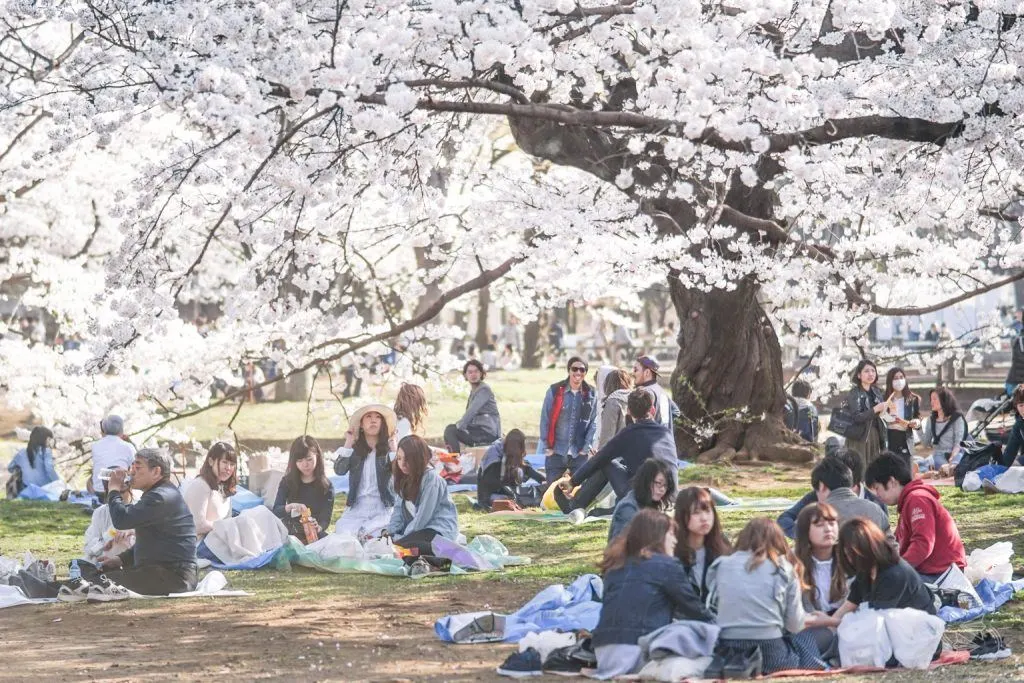 Ueno Park
Ueno Park is one of Tokyo's busiest and most lively hanami spots. There are more than 1,000 cherry trees along the street that leads from the Saigo Takamori statue towards the National Museum and around Shinobazu Pond.
This is one of the best locations to come if you're in Tokyo just ahead of blooming time as Ueno Park's cherry blossoms tend to open 1-3 days ahead of other cherry trees in the city. In contrast to most popular cherry blossom viewing parks in Tokyo where visitors place their picnic mats on either dirt or grass, much of Ueno Park's top hanami spots are asphalt – bring along something comfortable to sit on if you feel that will bother you. Some food stalls are available.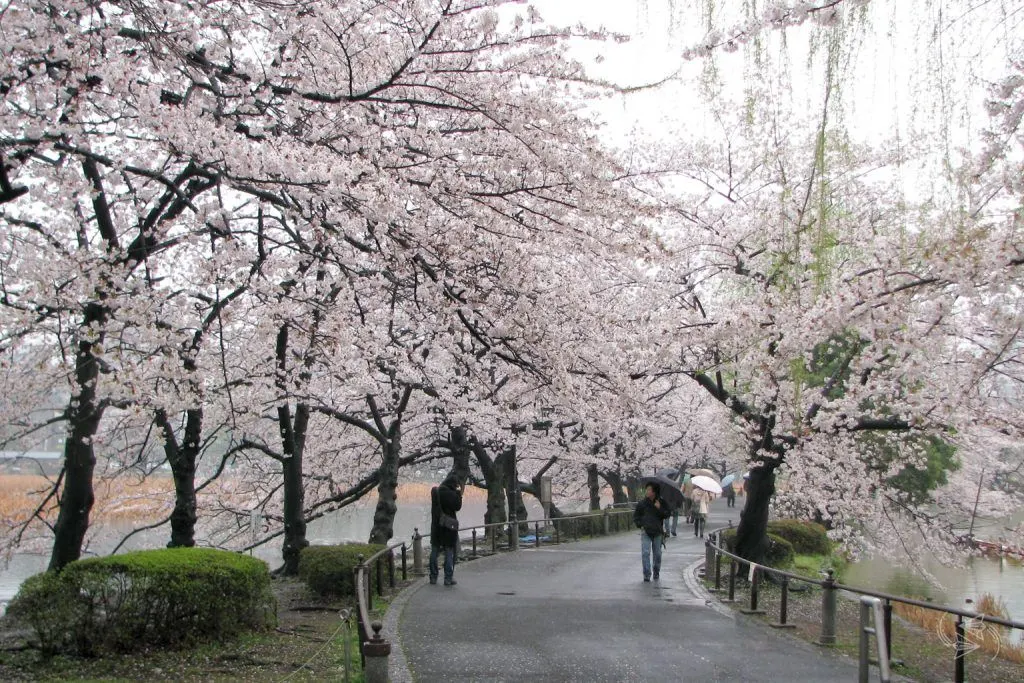 Access: Ueno Station (note that the Shinobazu Exit is preferable over the Ueno Park Exit for the purposes of cherry blossom viewing); admission free; illuminations in the evenings during blooming period; combine with a trip to any of the several museums and shrines in the park, Ameyoko market street or a stroll over to nearby Nezu Shrine.
Yoyogi Park
Centrally located in the heart of Harajuku next to the popular Meiji Jingu Shrine, this 134 acre (54.1 ha) park is a well-loved city respite. Year-round it's a relaxed place for bringing pets, throwing a frisbee or practicing pastimes.
Like Ueno Park, it's one of the livelier spots for hanami in the city with around 600 cherry trees. The areas where they are concentrated are naturally the most crowded, however, the spacious surrounds mean you can always find a spot to enjoy the atmosphere. The large open space past the pond is well suited for those looking for some extra space for the kids to run around or to play games. Some food stalls can be found outside the park gates.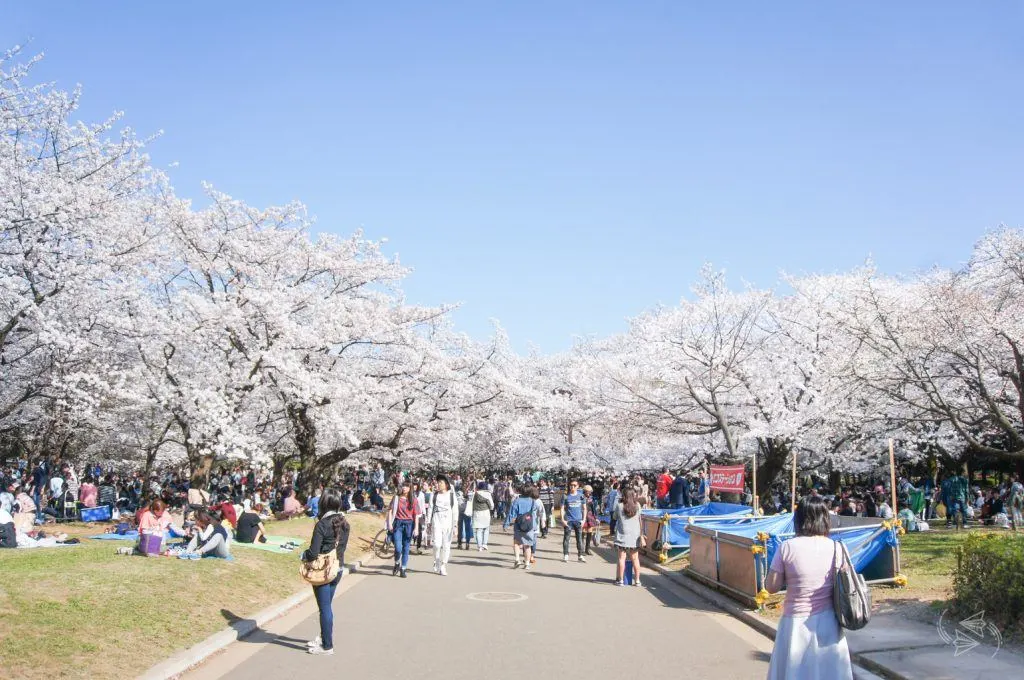 Access: 5 mins walk from Harajuku Station; admission free; combine with a visit to Meiji Jingu Shrine and a stroll down youth fashion strip, Takeshita Dori.
Meguro River
The eight hundred cherry trees that line a several hundred meter section of the Meguro River have made Naka-Meguro one of Tokyo's top cherry blossom viewing spots, and for good reason. The blossoms look gorgeous sweeping out over the riverside and the small bridges along the way give visitors the opportunity to get the perfect shot of it all. It's also a great choice for those who visit late in the season as the falling petals create a whimsical pale pink stream that has its own kind of beauty.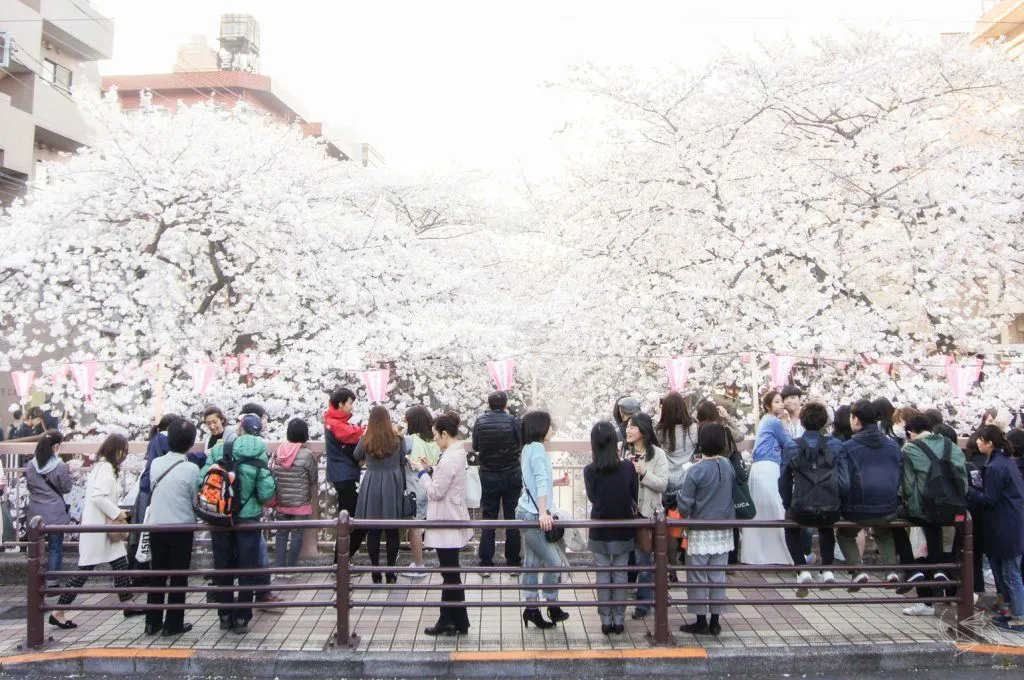 As it gets really crowded and there isn't much space to sit, this is basically a standing type affair (although if you head here during the day on a weekday, you can get away with a little picnic).
Consider this a rather upmarket hanami experience – the river is lined with boutique stores, gourmet eateries and pop-up bars selling sakura-inspired champagne and hot wine. For added class, the lanterns along the river are lit up at sundown so you can continue enjoying the blooms after hours. If you don't mind the night crowds, it's quite the romantic date spot.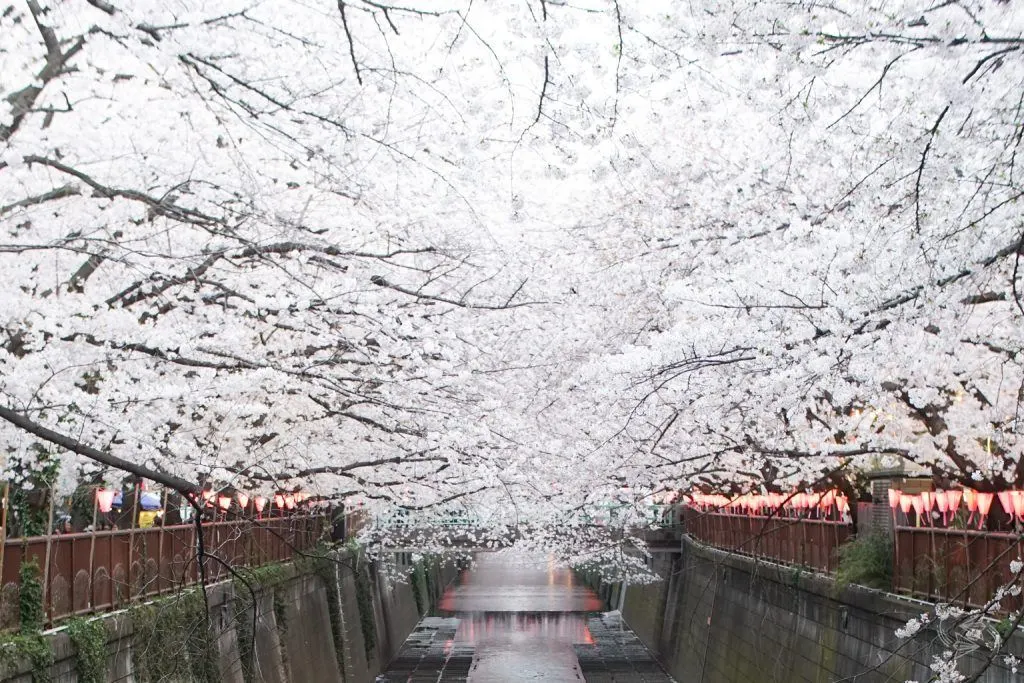 Access: A couple of minutes walk from Naka-Meguro Station – follow the crowds; admission free; illuminations during blooming period until 21:00; combine with a meal or drink at one of the area's hip restaurants or bars or head over to the city lights of Shibuya, just 6 mins away by train.
Inokashira Park
This public park in Kichijoji with its several hundred cherry trees draws big crowds during cherry blossom season. A popular activity is to hire a boat and view the cherry blossoms from the water. According to local legend, however, couples who take a boat together here are destined to break up, although I know of several couples "defying the odds", so take it as you will.
Access: 5 mins walk from Kichijoji Station (Park Exit); admission free; combine with a visit to the Ghibli Museum (also in the park – advanced tickets required) and a wander around the shopping streets near the station.
Shinjuku Gyoen
These manicured gardens are often on a visitor's to-do list at any time of the year, but coupled with the cherry blossoms and you have yet another way to enjoy them. There are over 1,000 cherry trees of both early and late blooming varieties, making Shinjuku Gyoen a great choice for those who miss the height of the season. As there is a small entrance fee and alcohol is prohibited, it tends to be more reserved than some of the other parks in the city. That combined with its large open spaces make it a popular spot for young families.
Access: 10 minute walk from Shinjuku Station; 200 yen entry; 9:00-16:30; combine with a trip to the Tokyo Metropolitan Building for a free view over the city, a snap of Godzilla in infamous Kabukicho, and downtown city shopping. Also close to Yoyogi Park, Meiji Jingu Shrine, Harajuku and Shibuya districts.
Chidorigafuchi
Hundreds of cherry trees line the moat of the Imperial Palace around Kitanomaru Park creating one of the best cherry blossom viewing spots in the city. Picnics are not allowed here but row boat rental is available for those who want to take in the scene from the water – just expect a wait of up to several hours during peak times.
For the perfect spring stroll, start at the Supreme Court of Japan (closest to Nagatacho station), go past the National Theater and then walk the 20-25 minutes to Yasukuni Shrine, where there are plenty of food stalls and another 1,000 cherry trees for your appreciation! A free sumo tournament is also held at the shrine in early April with the rare opportunity to mingle with the sumo wrestlers on the grounds of the shrine amongst the seasonal blooms.
Interesting fact: The sample tree that the Japanese Meteorological Agency goes by to predict and report on Tokyo's cherry blossom blooming period can be found at Yasukuni Shrine, so you can expect this spot to be right on schedule.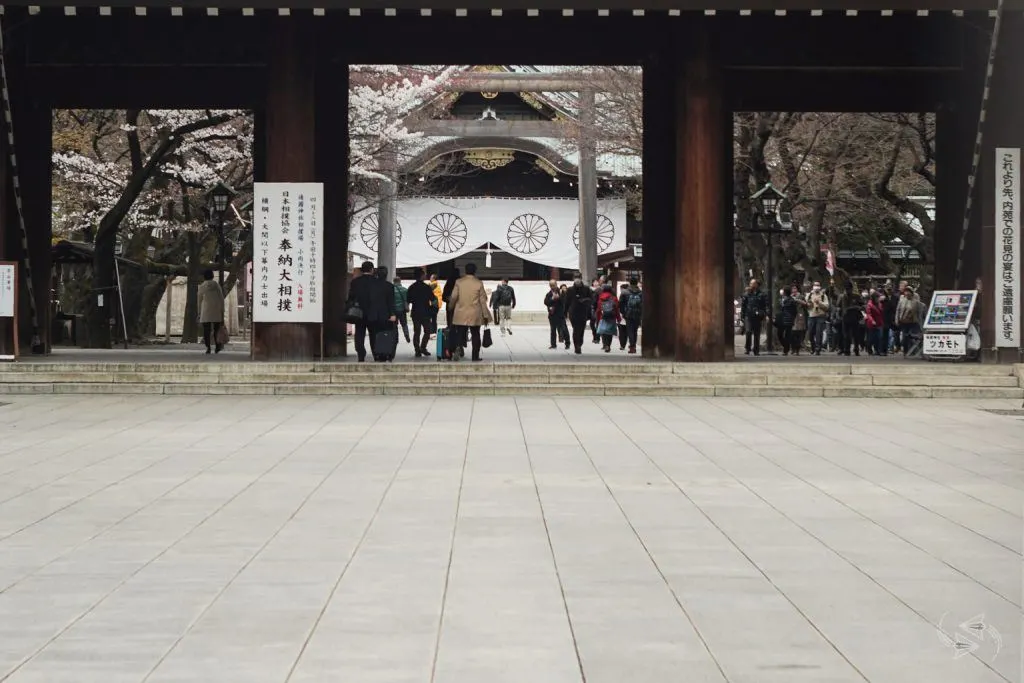 Access: Kudanshita Station; admission free; illuminations until 22:00 during blooming season; combine with a trip to the free Imperial Palace East Gardens (where you can see more cherry blossoms, 9:00-16:30, last entry 16:00) or Tokyo Station, where you can visit their 'ramen street' and also buy all kinds of edible souvenirs from around Japan.
Sumida Park
Sumida Park has more than 600 cherry trees that stretch for several hundred metres on either side of the Sumida River. While it has long been a popular cherry blossom viewing location, it now also draws visitors for its view of Tokyo Skytree. Cherry blossom viewing can be enjoyed from the riverside or from boats that cruise the river. The cherry trees are lit up at night during blooming season. There are some food stalls available.
Access: A few steps from Asakusa Station; admission free; illuminations during blooming period until 22:00; combine with a trip to Tokyo Skytree or Sensoji, Tokyo's oldest temple.
Asukayama Park
This hilltop park is one of the oldest hanami locations in Tokyo. Here there are several hundred cherry trees to picnic under that are also lit up at night. The playground, which includes a castle with tunnels and slides, makes it a great spot for families. There are also two preserved railway vehicles to check out and the observation deck provides an ideal perch for watching shinkansen (bullet trains) and other rail services zooming by. A short inclined monorail is provided free of charge on the north side of the park making it accessible for all visitors.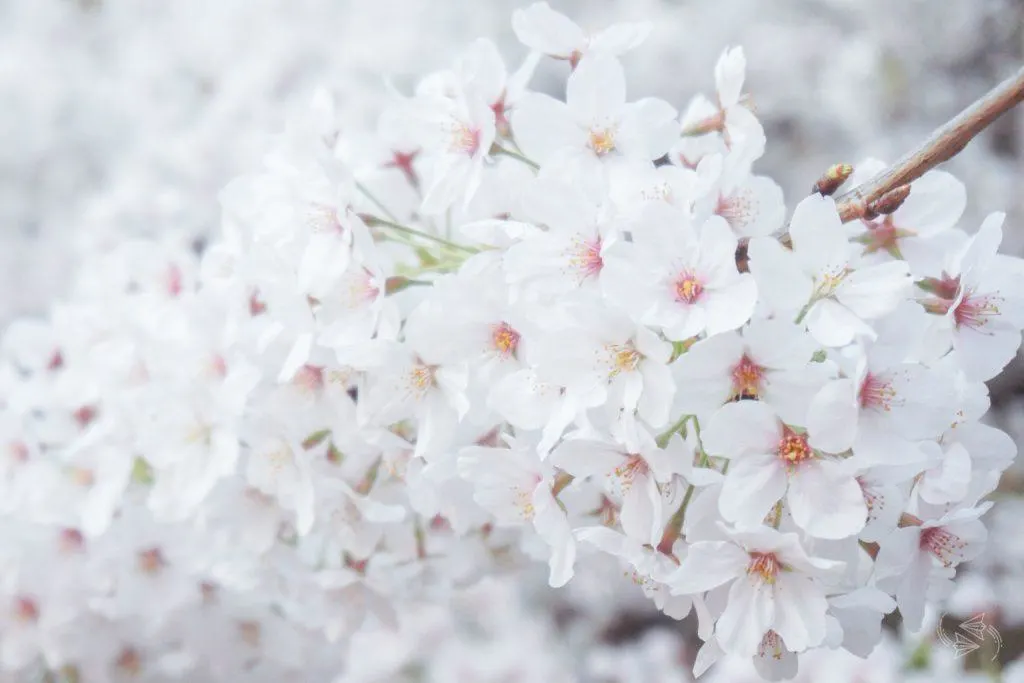 Access: Short walk from JR Oji Station; admission free; illuminations during blooming period until 21:00; combine with a trip to Ueno Park or Akihabara, Tokyo's electric town.
Outside Central Tokyo
Cherry blossoms outside of central Tokyo tend to bloom slightly later than those in the city, so it's worth considering these spots for late cherry blossom viewing.
Showa Memorial Park
At 440 acres (180 hectares), Showa Memorial Park is by far Tokyo's largest. Here you can find 1,500 cherry trees and plenty of things to see and do. The park is divided into five zones: water, forest, open grass, culture and exhibition. The latter two can be enjoyed free of charge before the ticket gates, but to really experience what the park has to offer, we recommend paying the entrance fee and spending a few hours exploring.
Access: Nishi-Tachikawa Station; admission 410 yen; 9:30-17:00 (18:00 on weekends/holidays); nearby Tachikawa Station has a number of department stores and restaurants and provides easy access to central Tokyo via the Chuo Line, allowing you to visit other cherry blossom viewing spots including Inokashira Park (Kichijoji), Shinjuku Gyoen (Shinjuku) as well as Koganei Park (Musashi-Koganei) outlined below. Travel in the opposite direction to visit Mt. Takao (also mentioned below).
Koganei Park
Koganei Park is a large public park in the western suburbs of Tokyo. It was more than 1,000 cherry trees and a number of interesting activity points to keep the kids entertained. Most of the cherry blossoms can be found in the Cherry Garden (Sakura no En) in front of the Edo-Tokyo Open Air Museum.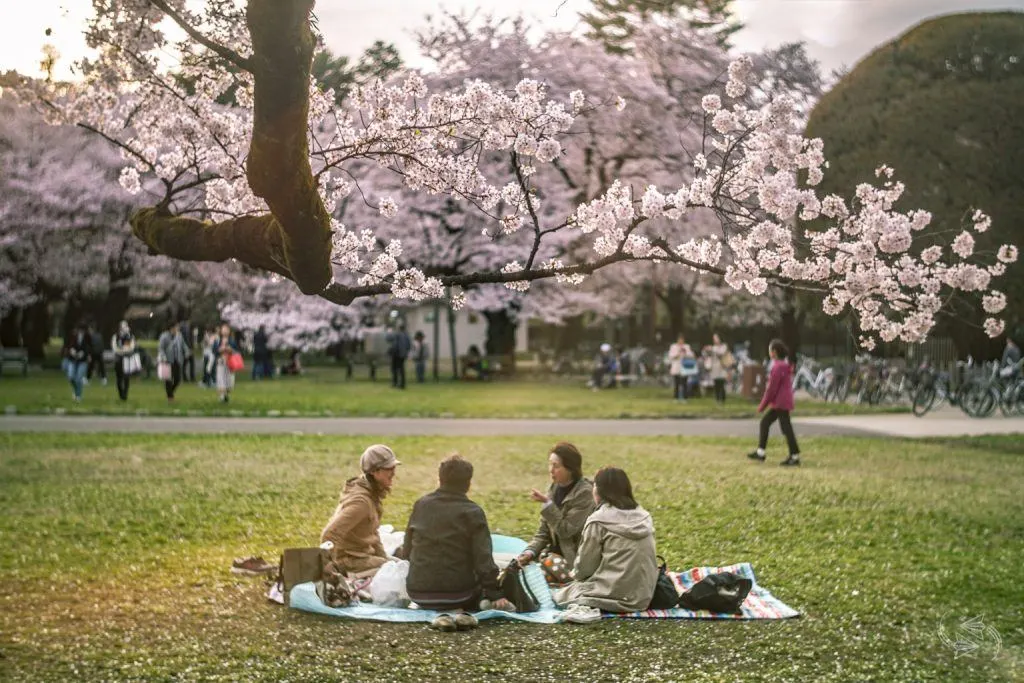 Access: 5 min bus ride or 20-30 min walk from Musashi-Koganei Station; admission free; combine with a trip to the Edo-Tokyo Open Air Museum where you can experience buildings from old Japan (400 yen, in March open 9:30-16:30, in April until 17:30, last entry 30 mins prior to closing).
Mt. Takao
Mt. Takao is Tokyo's highest mountain, yet its relatively low elevation (599 metres or 1,965 ft), mostly paved paths and proximity to the city (reachable within an hour), make it an extremely popular day trip destination for both locals and visitors alike.
There are some cherry trees scattered along the main trail and on the summit (reachable in about 1.5 hours from the base), but for the best cherry blossom viewing, you'll need to make the 30 minute hike beyond the summit to the Itchodaira area, also known as Takaosan Senbonzakura ("Mount Takao Thousand Cherry Trees").
Mt. Takao's higher elevation and great variety of cherry trees, means that you can usually view cherry blossoms here up to a couple of weeks after the main event in Tokyo. A cable car and lift (480 yen one way, 930 yen round trip) can get you about halfway up the mountain, essentially cutting the climbing time to the summit in half.

Access: Takaosanguchi Station; admission free; combine with a visit to the hot spring Keio Takaosan Onsen Gokuraku-yu right next to Takaosanguchi Station (1000-1200 yen, kids half price, 8:00-23:00 – last entry 22:00, bring own towel or rent one).
Do you have a favourite hanami spot in Tokyo? Or which one interests you the most?